Home

newsitems

UN Cyprus Talks' Setback: TextBook case against Abandoning Human Rights to Political bargaining.
UN Cyprus Talks' Setback: TextBook case against Abandoning Human Rights to Political bargaining.
Tuesday, 22 November 2016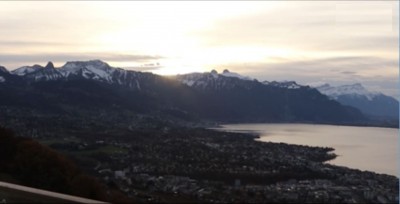 *Strasbourg/Angelo Marcopolo/- A sudden and strange Break-Down of UN sponsored Top Level InterCommunal Talks on the complex but Important, long overdue issue of Cyprus' ReUnification, still Pending since the 1974 Military Invasion and Occupation of a great part of the Strategically located Island, has not yet been clearly Explained, at least not at this Early moment.

Since Both Greek Cypriots and Turkish Cypriots had said that these Talks of  almost 10 Days at the superb Top of "Pilgrim Mountain"'s Swiss ressort had Earlier helped to make some Serious Progress,  (Despite several Remaining Disagreements to Bridge), in a quite Good overall Ambiance, as it was also attested by UN Secretary General Ban Ki Moon's Envoy for Cyprus, Espen B. Eide from Norway.

But, suddenly, an Official UN Anouncement reveals that, "Despite their best efforts, they have Not been able to achieve the Necessary further Convergences on criteria for Territorial adjustment, that would have paved the way for the Last Phase of talks". *
What does it Mean :  "Convergences on Criteria for Territorial Adjustment", and "Necessary ...for the Last Phase" ?

In Fact, the 1st Point concerned, Mainly (but not only) the Human Rights of about 200.000 Greek Cypriot Refugees/Displaced persons, (more than 23% of the Total Population of that small Country - almost as big as Luxembourg- at the moment of the Turkish Invasion of 1974), who had been notoriously Obliged to Flee the Foreign Military Invasion and Occupation of the Northern Part of the Country by Ankara's Troops since 1974, and are still Hindered to Return Back to their Familiy Homes, Private Properties and Ancestral Land, until Today (2016), Despite a series of ECHR Judgements clearly Condeming Turkey for such "Continuing" Violations, after relevant Both Individual and/or Inter-State Applications lodged by the Victims, already as early as since 1996 and 2001, etc., but also, more Recently, a landmark ECHR's Great Chamber's Decision,  of May 2014, (etc).

Indeed, as it had been already known, the Greek Cypriot Community had Agreed to Discuss "Territorial" issues on the Basis of "Criteria", which included, not only the Extension of Each Future Federated State's Land, as well as of its Coastline, (where f.ex. the Territories Occupied by Ankara's Military extend, since the 1974 Invasion up to More than 38% of Cyprus' Total Land, for Only 18% of its original Total Population, which, in Addition, has got since then, about 55% of the Island's Coastline), but Also the Number of Refugees/Displaced persons that would become able to Return Back Home, and their Family Homes/Private Properties, that they would recuperate, etc.  

This was the Only Way to try to Safeguard Refugees/Displaced Persons' Human Rights, who will play an Important Role also in the Popular Referendum for the Endorsement, or not, of any eventualy  Agreed Draft Plan for the Solution of Cyprus' Issue. At any case, it's also obvious that even the very Notion of "Territory" and its Equal Value, canNot Ignore the Fact that a given Piece of Land might, perhaps, be Only an Empty Wasteland, Lost somewhere at an insignificant point, or, on the Contrary, a well Populated and Fertile Area, located at a Strategic crossroads, etc.

=> That's why it had been clearly Agreed, between the two parties and the UN, that the Main Focus of the Talks on the "Pilgrim Mountain" would precisely be to Obrtain a Basic Agreement on the "Criteria" for Territory share, included at a Map, as a "Necessary" Condition, which would Open the Way to Advance, shortly Afterwards, to the Next, and probably Final Stage, of a Multilateral International Summit, due to Focus, on the Contrary, to the Differend, Security and Guarantees Issues.

But, at this, Crucial Point, various Converging, factual Indications started to emerge, which clearly showed that, somewhere at the Turkish Side, most Probably, there was a lot of Reluctance to Complete a Full Deal on Territory through InterCommunal Talks, before Starting to Deal with Security/Guarantees at a Final Multilateral International Summit, with the participation of the Turkish Government, Greece and the UK, (as well as, probably the EU, and UNO Security Council's Permanent Members, etc).

F.ex., among others, Turkey's President Erdogan reportedly made some Ambiguous Statements including an apparent suggestion for Ankara to alleviate, if not even entirely Skip, its Controversial Insistance for the Turkish Military to always have a "Right" to Unilateraly Invade Cyprus, also at Any Other Time in the Future, on Pretext of any (eventually Provoked) so called "Security" Risk, imaginable for Turkish Cypriots, on the Condition that Greek Cypriots make certain Important Concessions on Territorial Issues. Almost at the Same Time, some Felt that, amidst Turkish Cypriots, somewhere Started to Emerge a more or less obvious Reluctance to really Conclude a Deal on Territory Before any susbequent Summit, so that they appeared, at some point, to either drag their feet, stop exchanging constructive ideas for possible compromise, and/or even somehow Back-pedal from certain Earlier positions, which had initialy appeared as quite promissing, (etc).

Astonishingly, while the Greek Cypriot side had notoriously Limited its own Demands to the Return, under G/C Administration, of Only about Less than the Half of G/C Refugees/Displaced Persons to their Family Homes, Properties and Ancestral Land, (i.e. around 90.000 out of a Total of some 200.000), and, later-on, would even have accepted to discuss also a much Lower Number, (80.000 ), on the Contrary, some, reportedly pushed through the Turkish Cypriot side to Request to Drop deeply Down, even Lower and Lower, for Tens or even -20.000 to -30.000 Refugees Less than that... One of the Consequences may be also to Exclude any notable City (f.ex. Morphou) from being Restituted to its Original; predominantly Greek Cypriot, Lawful Inhabuitants)...

To the point that one Turkish Cypriot participant would have even Betrayed a quite Horrible Intent, eventualy Hidden behind 42 Years of Time-Consuming Obstructions against Human Rights' respect, by daring Claim that, in fact, the Greek Cypriots would Not Realize that, Meanwhile, ...Many Greek Cypriot Refugees/Displaced persons would have ... "Died" (sic !!!), vainly Waiting for Justice to be done...

(Comp. Experienced, former ECHR President, Luzius Wildhaber's sincere "Excuses", transmitted via "Eurofora"s co-Founder, then Published at "TCWeekly", for the 1st Tragic Case of a Woman Refugee from Cyprus who had really Died, by Old Age, while Waiting for Strasbourg's EuroJudges, and the CoE in general, to, at last, do Justice to her Family's complaint to the Court against Turkey's Refusal to let her Return back to her Home and ancestral Land, in the Occupied Territiories of Cyprus controlled by Ankara's Military).

+ In Addition, suddenly at this Same Crucial Point, attempts to Hastily Push towards an Immediate Multilateral Final Summit, even withOut having yet Settled any comprehensive Agreement on Territory, (i.e. Contrary to the previously Agreed overall Method of proceeding : Comp. Supra), became more and more Obvious and Frequent than ever before...

=> In Other Words, to put it in a  Nutshell, Turkey appeared (either to Speculate on a possible Failure of such a Hasty and Unprepared Summit, or) to Push for an Exchange between Security and Territorial Issues, i.e., in Fact, between Foreign Military Intervention and Refugees' Human Rights, (Comp. Supra) !...

>>> To put it Harshly but Clearly, such a Slipery Slope could even lead in a situation where the Greek Cypriot People might be, in Fact, asked by Turkey to Either Abandon all or most Refugees/Displaced Persons' Human Rights, or Submit to even More Risks of Foreign Military Invasions and Occupations by Ankara's Army !...

I.e., in substance, a sort of "Blackmail" situation, Ordering to "Choose" EITHER Human Rights OR Peace, Between Freedom OR Life !...

Precisely that kind of "Schyla or Charibdi" Tragic Dillema, that Greek Cypriots, in Agreemeent with the UNO, (and, at least Initialy, and officially, also with the Turkish Cypriot side), had desperatedly Tried to Prevent, by Clearly Distinguishing, in real Practice, betweein the Different Issues of "Territory" and those concerning "Security" and/or "Guarantees", etc, (Comp. Supra).

Otherwise, he above mentioned Tragic Dillemas could become, more of less Inevitable, and even  Dangerously Vicious...

An obviously Unacceptable Threat against Freedom and Peace, which, at any case, looks Absolutely Contrary to ECHR's well established Case-Law, (initialy Forged, precisely, though such Greek Cypriot Refugees/IDP cases :  Comp. Supra), which was, later-on, notoriously Endorsed also by the UNO's Human Rights Council at Nearby Geneva, from 1997-2005, 2007, etc, and even Officialy Systematized, compiled, Declared and Disseminated accross the whole World, at a landmark, Historic Set of "Principles", (the World Famous "Pinheiro Principles" : Comp. Professor Pinheiro's 1997 Drafted initial Report, which became  an International Reference UNO Booklet, later-on, and his own Statements to "Eurofora"s co-Founder, then Published at "TCWeekly"), issued by UNO's High Commissioners for Refugees, for Human Rights, and UN's Secretary General, in the recent Past,

=> calling for Real Refugees/Displaced People to have an elementary Right to voluntarily Return Back to their Family Homes, with their Belongings, at their Ancestral Land, in basic Conditions of Human Dignity, Freedom and Safety.

-------------------------------------------

All this, and the Current sudden Standstill in the InterCommunal UN sponsored Talks for a Peaceful ReUnification of Cyprus, (despite some recently achieved Advances, at least in certain points), in Fact, clearly shows that, in Substance :

- Human Rights must Never be Abandoned to mere Political Bargaining !

>>> Political Deals may, eventualy, Facilitate the Implementation of ECHR Judgements, and/or Alleviate the various repercussions that this might, perhaps, have for some.

    But they should Never Replace an Objective, Competent, Impartial and Independent body's mission to simply Impose at least an elementary Respect of certain Basic Legal Principles concerning Serious, Massive and Persisting Violations of Human Rights !

=> Thus, among others, a Controversial Decision of the Past, pushed by some inside CoE's Committee of Ministers, (even Contrary to a Crystal-Clear Appeal by ECHR's Great Chamber, just a few years ago : since 2014, to practicaly Act, as a matter of Urgency, in order to put, at last, a Stop to Turkey's persisting illegal Confiscation and even Exploitation of Greek Cypriot Refugees/Displaced Persons' Homes and Properties), rather to ... "Postpone" any real Pressure on Ankara, on the Pretext that a Solution might be found through those "Inter-Communal" Talks, (in fact between what remains from a Free Cyprus' Republic, and an Area meanwhile Filled up with illegal Settlers from Turkey's Anatolia, and still Controlled by Abnkara's Foreign Invasion Military), has Now obviously Proved to be Dangerously Unsubstantiated.

Apparantly, the Time has come for EU and CoE's PanEuropean Organisation of Human Rights, Democracy and Rule of Law, to Either Actively and Efficiently UpHold, at last, its own, Officialy Proclaimed Principles, in Real Practice,

or Openly Acknowledge that, in fact, it has Droped them Down, like a Fake "Castle" made only out of Cards or Sand, (instead of Rock-Solid Principles)...

-------------------------------------

Personaly, we Hardly Resisted, (with Luggage Ready to Move at any moment, among Many Rapidly Evolving Political Developments, from the USA to France, Berlin, etc., up at this Last Minute !), to a Strong Temptation to Get Back, (almost 20 Years After : 1997 - 2016...) to that Symbolic Location, at the Other Side of Geneva Lake, near Montreux's UNO-sponsored Top Level Talks on Cyprus, between f. President Glafkos Clerides and T/C Leader Rauf Denktash, hosted by f. UN SG Boutros-Ghali, now on the "Pilgrim Mountain"'s, present Cyprus' Talks, between new President Nicos Anastassiades and T/C Leader Mustafa Akintzi, hosted by UN SG Ban Ki Moon.

But, from the most Tragic Human Rights' issue of Cyprus' "MISSING" People, set aside then, officialy far from crude Political Deals, (while, at the Same Time a Hope for an Emerging Strong Role of the EU had Started to Rise : Comp. EU Council's Representative at Montreux/Glyon Statements that he gave us then, on 1997, Published at "MPAgency"), and the Wide-spread and Multi-facet "Refugees/Displaced persons" Drama, still remaining, now, on 2016, even "Hotter" than ever, at least from the point of view of Principles, (applicable, mutatis-mutandis, unfortunately, also in too Many Other Areas of Europe and the World nowadays), what really Remains Today ?

>>> Perhaps only the Firm Belief, based on even More Solid Proof now, that serious Human Rights issues must Never be Totalu Abandoned to mere Political Bargaining !

--------------------------

20 Years After, as (by another Timely Coincidence), already the 1997 World Famous "PILGRIM" Song by Eric Clapton, had Warned :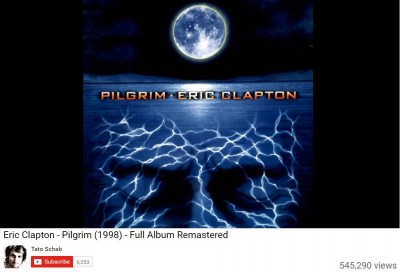 https://www.youtube.com/watch?v=xOTFxF6dpR0

- "Where to Draw the Line, between Truth and ...Pain ?" in such Dramatic and massive Human Rights issues, which seriously Affect many Thousands of People's Lives ?

- "Where (could we) Get (the) Belief that Things Will be all-Right again ?", and "What Words (should we) Use to Try to Explain, to those who have Witnessed, (many in) Tears ?"
 
 - "What does it Mean to Know all these things",
"When... All these Years" "'have been Wasted" ?

- "It's like living in a Nightmare,
Like looking in the Blackest hole,
Like standing on the Edge of nothing",
.....
"Now, where have (we all -and mainly Europe) been All these Years ?
"And How come (they) just couldN't See?"
"Like a Blind man walking 'round, In Darkness"...

Whoever were "Standing in the Shadows",
"With (their) Heart right in (their) Hand",

as simple, naive "Pilgrim"(s) for (the) Love" of Human Rights, (and what Europe could and should have become),

=> Did they merely ... "Wasted all these (20) Years" ?

Or, Will, perhaps, Emerge, at last, in one way or another, at least Now, through a lot of Hard Political and other Struggles and Changes, in Europe and elsewhere in the World, a kind of "SPRING 2017" ???

+ By another more "Coincidence", meanwhile, Small (but notoriously Strategic) Cyprus will be Chairing Big PanEuropean CoE's powerful Committee of Ministers then, (Starting right from this very Morning whose Sun sould Arise from one Moment to anOther, Now in Strasbourg)...

Without illussions, could this, perhaps, Help, at least get some things positively Moving, a little bit ?


+ In Addition, Parallel, but Wider Developments in the EU Parliament, (convening this Week in Strasbourg to a Full Plenary Session, near the CoE), have just Anounced even mainstream, Big Political Groups' Intention, (just after that of Many Other, emerging MEPs' Trends from the Further Right side of the Political Spectrum, which had suprisingly Succeeded, however, to Attract even .. Leftist and/or Centrist mainstream MEPs from almost All Groups - See, f.ex. : ...), to, if not fully "Stop" (as the Latter wanted), at least "Suspend" Turkey's controversial and UnPopular EU bid, (with the natural subsequent Restrictions in EU Funds Wasted Each Year for Ankara)...

That -still Emerging- EU Move, (Exceptionaly Supported by almost All EU Parliament's Political Groups, at various degrees),  significantly comes just after a Growing Series of fresh, and more Massive than ever,  Human Rights Violations inside Turkey itself, added to Turkish Military Invasions/Occupations or Threats around almost All its Borders, inside Iraq and Syria, as in Cyprus, and now even Threatening Greece, particularly with Repeated Negative Claims against the Lausanne Peace Treaty, (withOut, However, Daring even Think at the Previous, "Sevres" Peace Treaty of 1919)...



***

Fillon invites EU to invent "New Horizons" behind Oil crisis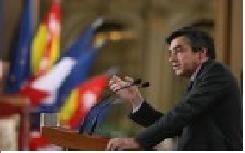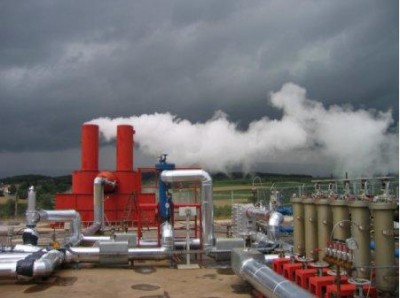 Soultz-under-Forests, June 13, 2008

A pioneer Franco-German research project on GeoThermy, near Strasbourg, served as "Symbol" of EU's will to become Independent on Energy by developing innovative Technologies, while imported Oil prices threaten to provoke a World-wide crisis.

It's essential to demonstrate Europe's will to "invent New Horizons", by creating Environment-friendly, Independent and Renewable Energy sources, while price rises continue for Oil, a polluting old ressource with insufficient stocks, stressed French Prime Minister Francois Fillon, anouncing that this will be a focus during the forthcoming French EU Presidency (July - December 2008).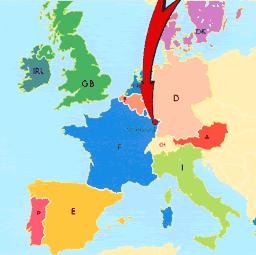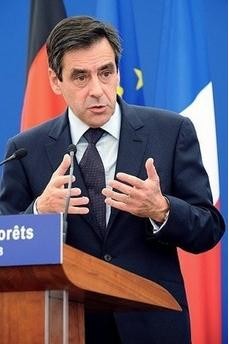 Fillon symbolically injected a 1st KWh produced by GeoThermy into Strasbourg's Electricity grid, during a special gathering of German and French officials at Soultz-under-Forests ("Soultz-sous-Forêts"), using a geothermal innovation which is "the most advanced in the World" :

The innovation uses Strasbourg's underground water richness to capture Heat, by injecting liquid among Rocks 5 km deep, where temperature is 200 c. Thus, it can be activated at any moment and location, even without natural warm water springs : A big advantage compared to old biothermal tools.
Engineers, Scientists and the Industry will have 2 Years to invent practical ways for this innovation to become productive and cost-efficient in real Economy, said Fillon.
115 Millions of Euros invested, 15 Research Labos, 430 Scientific Publications including 34 Doctoral PhD, and a systematic cooperation between French and German Governments and Public Agencies on Research, succeeded to prove that the new method works.
Already able to serve Electricity to a village with 1.500 inhabitants, the pioneer project intends to reach a capacity to serve 20.000 inhabitants before 2015, as part of a larger Plan to make all Renewable Energy Resources (together with Wind, Solar, etc) able to cover more than 23% of all Electricity needs before 2020.

- In fact, "behind the challenge" faced with the current Oil crisis, there "is a New Horizon that we can shape all together", by "creating New Tools for the Future", Fillon launched towards EU Member States.

Meanwhile, we should intensify Energy Savings, simplify Transports, and help the Poorest cope with growing Oil prices, until EU joins a World-wide lead into inventing reliable and sufficient Renewable Energy Sources, he added.

Many, technologic and other Challenges exist, but they can be overcome : F. ex. the new GeoThermic method tested at Shoultz since 1987, had provoked an Earthquake at a nearby site, close to Bale, by injecting big volumes of pressurized Water in underground broken Rocks near a Seismic Faultline in 2003. But the move was rectified later-on, by diminishing the amount and pressure of the water injected in underground rocks, so that no Earthquake is provoked.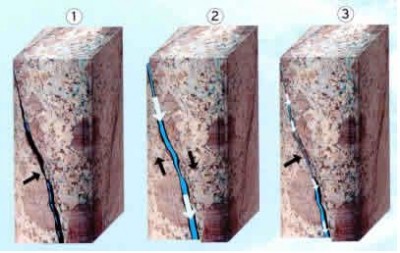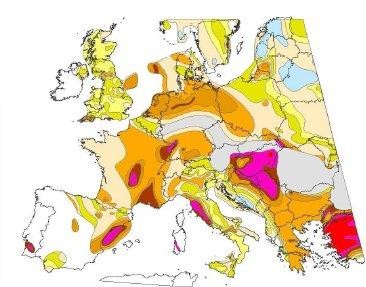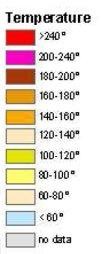 More than 1 Billion Euros are invested by France on Scientific and Technologic Research about Sustainable Development until 2012, aiming to take a 10 years advance, there where innovation can become source of Growth, Competitivity and Jobs, which, according to some evaluations could reach more than 220.000 before 2020, Fillon observed.

During the forthcoming French EU Presidency, together with our German friends, we shall do all necessary efforts for Europe's World-wide lead against Global Warming, thanks to Energy tools able to ensure its Independence, Growth, and Citizens' well-being, he concluded.

-------------


The "Enhanced Geothermal System" (EGS) stems from pioneer research initiated by teams from France, Germany and Italy, joined also by Swiss, the U.K., and Sweden, even U.S. and Japan, since the 90ies.

In 1996, a European Economic Interest Group (GEIE) was founded, in order to exploit Electricity-produsing Heat from deep underground Rocks, including France's EDF and Germany's PfalzWerke.

In 2002, a Pilot scientific project started to be tested in Soultz-under-Forests, 50 kms north of Strasbourg.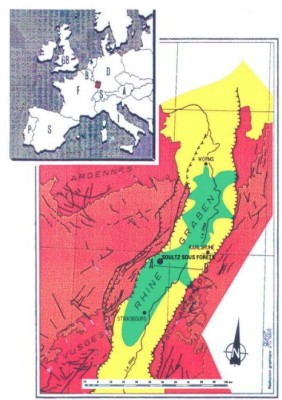 Polls