Αρχική

newsitems

UN Head Guterres: eventual new Geneva Conference on Cyprus must be Effective + Not Miss opportunity
UN Head Guterres: eventual new Geneva Conference on Cyprus must be Effective + Not Miss opportunity
Wednesday, 17 May 2017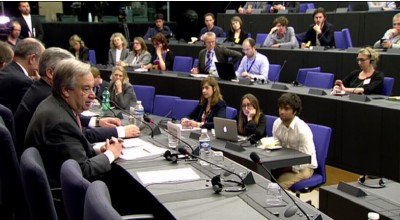 *Strasbourg/Angelo Marcopolo/- At an EU Parliament's Press Conference here, UNO's new Secretary General, Antonio Guterres, experienced former Prime Minister of Portugal and f. UN High Commissioner on Refugees at nearby Geneva, (Comp. various Guterres' Replies to "Eurofora" co-Founder's Questions earlier, including at the CoE in Strasbourg, at EU Parliament, etc, f.ex. at: ... + published at "TCWeekly", etc), appeared open for an eventual new International Conference on Cyprus' issue at nearby Geneva, but also Warned that it should, this time, be "Effective", and "Not Miss the opportunity" that may be given for a Peaceful ReUnification of the Strategic island, (which is also an UN, OSCE, CoE and EU Member State).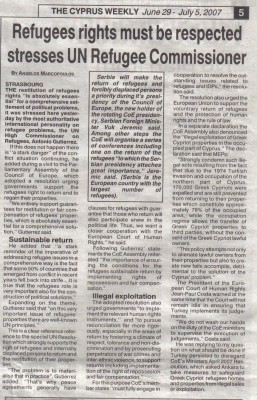 ------------------------------
- Asked by a Visiting Collegue from Cyprus, simply if he has "any Plans for the Next Steps", in general,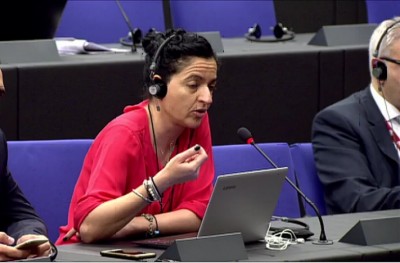 ----------------
UNO's Secretary General reminded that the International Organisation is "Working closely with the Parties", i.e. mainly "the two Cypriot Communities" in the island, which hold at their "hands" "the Leadership of the Process".

- "UN has a role of Support", for them "to be able to Come together (i.e. Meet to gold Talks between them), and to come together to an Agreement, allowing for the ReUnification", which "needs to be Endorsed by the Guarantor Powers", (Greece, Turkey and the UK, since the De-Colonisation process of the 1960ies), he highlighted.

- "So, ... as soon as the Parties Believe that there is a Scope of Re-Convening the Conference", (which had recently brought together in Geneva Both Cyprus and the Guarantors, in the presence of the EU and UN SC Permanent Members' diplomats, under UN auspices, last January 2017, resulting in a Posponement sine die, particularly after Disagreements surfaced mainly on Ankara's claims to Keep its Military troops on the island, and an Unilateral Right to Intervene, also After a Solution, in the Future, something that the Greek Cypriots and others find Unacceptable and Dangerous), "we (UNO) will do it", he ensured.

- This will be in order "to try to Find a Global Solution for the Outstanding Problems", in general, Guterres clarified, after Highlighting, earlier, a Distinction between "Security and Guarantees, that ...is the central Question in which relates to the Guarantor Powers", and "the Remaining problems to - I would say - more Internal Questions" of the Cyprus' issue, (i.e., f.ex. those of Greek Cypriot Refugees, Turkish mainland Settlers, Territorial adjustments between the Future Federated States, Governance of the future Federation of Cyprus, Economy, Taxes, and Foreign Trade, Natural Resources, Courts, EU Law, etc), for which, "my Special Envoy (Norwegian diplomat Espen Barth Eide, appointed by former UN SG Ban Ki Moon, some Years ago), "has been Working closely Togeher with the two Leaders of the two Communities" in Cyprus, "to see if" these matters "can be addressed".

- Concerning Both these two differend aspects, "We (UNO) are Ready to convene a New Conference, when the Parties Believe that we Can di it, in an Effective way", Guterres underlined, as the sole condition for a renewed attempt at nearby Geneva.  

- Because, we are "Very Much Hoping, that this (New) Opportunity ... will Not be Missed", UNO's Head stressed in Conclusion, (obviously wishing to be in a position to have a Better Result in Summer or Autumn, etc, that what it occured Back on Winter-time : Comp. Supra).

+ For that purpose, and given the fact that "Greece and Turkey have ... a very important role", among the "Guarantor Powers", (Comp. Supra), "I was this Week-End both with President Erdogan and Prime Minister Tsipras, and I Appealed for a flexible and Constructive approach of the two Countries, in order to be Able to address Effectively the problem of Security and guarantees that...is the Central question in what relates" to them, (the UK included), Guterres pointed out.

 - Naturaly, "I do not say that we (UNO) will only convene (a New Geneva Conference) When we are Sure about Success, because the obligation of the United Nations is not to only act when there is a perspective of success, but to act in all situations to promote peace and to promote understanding among peoples", he conceded.

- But, despite that, Guterres repeatedly referred to the current Need to be Able "to do it in an Effective Way", i.e. to "Have a Scope" for "a Global Solution for (all) the Outstanding Problems", and a real "Hope" that such a new "Opportunity ...will Not be Missed", (Comp. Supra).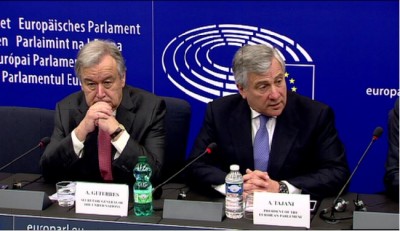 He was speaking side by side with EU Parliament's President, Antonio Tajani, who had invited UNO's Head to address this Month's, May 2017 full weekly Plenary Session in Strasbourg, earlier Today in the Hemicycle with the MEPs, where Tajani repeatedly Stressed that the EU and UNO "Cooperation" was of "Central" importance particularly "in defence of Human Rights", as a matter of General Principle, which also has a notoriously Key role in the Cyprus' issue, (f.ex. on Refugees/IDPs and "Missing" or "Enclaved" Persons, etc).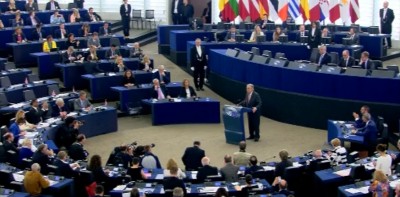 Guteress also spoke to MEPs about the "Need to Mobilise a Broader Coalition for Human Rights" Nowadays, "all over the World", with "a Comprehensive view", but withOut "Double Standards". Reminding that he had served personaly, as a former MEP, at least "during three Years", "with your neighbours in the Parliamentary Assembly of the Council of Europe", at an adjacent Building in Strasbourg, he observed that, Today "We are seeing a multiplication of new conflicts ....and old conflicts seem never to die". On the contrary, "– all these conflicts are becoming more and more interlinked", and risk to become, in one way or another, directly or indirectly, a "threat to our global security, wherever we live". So that "we need to strengthen Multilateral capacity to Address Conflicts", "and this is an area where the European cooperation with the UN is absolutely Crucial", in order "to Solve many of the Conflicts around the World", where "we also see Horrible Violations of international Humanitarian law and Human Rights Law", as he strongly denounced, making an Appeal also to the "Values of the Enlightenment" (18th Century AC), which "are the most important contribution that Europe has given to World Civilisation", as he stressed in Conclusion.
However, concerning Cyprus, some European expectations that the Turkish Government might, eventualy, adopt a more relaxed stance After the recent, April 2017 Referendum for a New Constitution, (v. f.ex. : http://www.eurofora.net/newsflashes/news/coechairmanandclraepresidentoncyprusandturkey.html), allowing, eventualy, to overcome the January 2017 Geneva Deadlock around Turkey's claims for Military presence and even Future Unilateral Interventions in EU Member Cyprus, were recently dashed.
(../..)


***


______________________________________
Ο ΡΕΝ ΑΓΝΟΕΙ ακόμα και ΠΡΟΣΦΑΤΑ ΣΤΑΤΙΣΤΙΚΑ ΣΥΜΠΕΡΑΣΜΑΤΑ ΕΔΑΔ για Τουρκία !...
 + Ο Ρέν αγνόησε και πρόσφατα συμπεράσματα ΕΔΑΔ για Ρεκόρ καταδίκες Τουρκίας για βαριές παραβιάσεις Ανθρωπίνων Δικαιωμάτων όλη την Δεκαετία αμφιλεγόμενης "υποψηφιότητας" για ένταξη σ ΕΕ (+1999-2008) !

-----------------------------------
    >>> Η Εκθεση Ρεν ΑΓΝΟΕΙ ακόμα και πρόσφατα σημαντικά συμπεράσματα ΕΔΑΔ, απ τα οποία προκύπτει ότι, όλη την Δεκαετία αμφιλεγόμενης "υποψηφιότητάς" στην ΕΕ (1999-2008), η Τουρκία διατηρεί ΡΕΚΟΡ καταδίκες από ΕΔΑΔ για βαριές παραβιάσεις Ανθρωπίνων Δικαιωμάτων, όπως δολοφονίες, βασανιστήρια, "εξαφανίσεις" ανθρώπων, αυθαίρετες φυλακίσεις, καταπίεση ελευθερίας λόγου, υφαρπαγές ή καταστροφές σπιτιών-περιουσιών, κπα :   
 - Οι καταδίκες Τουρκίας από ΕΔΑΔ αυτή την Δεκαετία : 1.857, αγγίζουν το 20% του συνόλου των 47 Κρατών-μελών ΣτΕ, ιδίως για ΒΑΡΙΕΣ ΠΑΡΑΒΙΑΣΕΙΣ δικαιώματος στη ΖΩΗ (177, αντί 96 για Ρωσία, 15 Βουλγαρία, 13 Αγγλία, κα), για ΒΑΣΑΝΙΣΤΗΡΙΑ κι Απάνθρωπες/Ταπεινωτικές μεταχειρίσεις (204 καταδίκες, αντί 127 για Ρωσία, 39 Βουλγαρία, 32 Μολδαβία, κα), ΑΥΘΑΙΡΕΤΕΣ ΦΥΛΑΚΙΣΕΙΣ (329, αντί 193 για Πολωνία, 176 Βουλγαρία, 138 Ρωσία, 42 Αγγλία, κα), ΚΑΤΑΠΙΕΣΗ ΕΛΕΥΘΕΡΙΑΣ ΛΟΓΟΥ (166 καταδίκες, αντί 23 γι Αυστρία, 13 Γαλλία, Μολδαβία, κα), ΥΦΑΡΠΑΓΕΣ/ΚΑΤΑΣΤΡΟΦΕΣ ΠΕΡΙΟΥΣΙΩΝ (446 καταδίκες, αντί 286 για Ρωσία, 270 Ιταλία, 241 Ρουμανία, 60 Μολδαβία, κλπ), κπα.     
Αντί να βελτιώνεται, αντίθετα επιδεινώνεται δε μάλλον η κατάσταση, εφόσον αυξάνεται ο αριθμός ατομικών προσφυγών στο Στρασβούργο που καταγγέλουν στο ΕΔΑΔ παραβιάσεις απ την Τουρκία μεταξύ 2006 - 2007, όπως και 2007 - 2008...   
 - "Λέγεται ότι ο σεβασμός των ΚΡΙΤΗΡΙΩΝ ΤΗΣ ΚΟΠΕΓΧΑΓΗΣ θα πρέπει να ελέγχεται για όλες της Υποψήφιες Χώρες, αλλ υπάρχουν ΑΜΦΙΒΟΛΙΕΣ άν οι αρμόδιοι υπάλληλοι της Κομισιόν ΕΕ πέρνουν στα σοβαρά τη Νομολογία του ΕΔΑΔ, ή όχι !", αντέδρασε  ο έμπειρος Διευθυντής Γραμματείας Ολομέλειας ΕΔΑΔ, Βινσάν Μπερζέρ (Γάλλος), μιλώντας μας πρόσφατα στο Στρασβούργο.   
 - "Πχ. πρίν από 2 ή 3 χρόνια, όταν αποφασίζονταν άν θ αρχίζαν "Ενταξιακές" Διαπραγματεύσεις με την Τουρκία, υποδεχθήκαμε (στο ΕΔΑΔ) ένα στέλεχος της υπηρεσίας Διεύρυνσης της Επιτροπής ΕΕ, που έμεινε ΕΚΠΛΗΚΤΗ όταν της περιέγραψα την πραγματική κατάσταση Ανθρωπίνων Δικαιωμάτων στην Τουρκία ! Αλλ, από τότε, εμείς (το ΕΔΑΔ) δεν είχαμε καμμία επίσημη επαφή με την Επιτροπή ΕΕ γι αυτά τα θέματα.." "Ισως μίλησαν γι αυτά μ άλλους απ το ΣτΕ, αλλ όχι με το ΕΔΑΔ", τόνισε.     
Polls