Αρχική

newsitems

EU Chair, Czech v.Prime Minister, to EuroFora on Eastern Partnership: Ukraine has "Special position"
EU Chair, Czech v.Prime Minister, to EuroFora on Eastern Partnership: Ukraine has "Special position"
Tuesday, 05 May 2009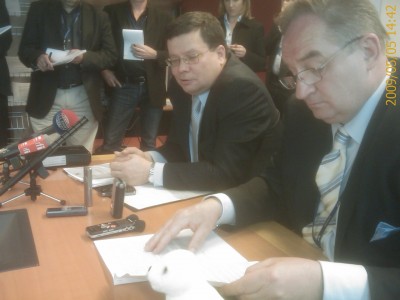 Regardless of "Antonov" Airplane cooperation prospects, Ukraine has a "Special position" and "a Prominent role to play", "in the Multilateral part of EU's Eastern Partnership", while also keeping "its own system of cooperation with the EU", said EU Chairman-in-office, Czech vice-Prime Minister for EU affairs, Alexandr Vondra, in reply to "EuroFora"'s question, without denying Kiev's aspiration to eventually become in future also a Candidate to EU accession.

    Vondra, together with EU Parliament Foreign Committee's President, Polish MEP Jacek Saryuz-wolski, had just presented to Journalists in Strasbourg, the aims of the forthcoming EU Summit for the launch of the "Eastern Partnership" with 6 Countries : Moldova, Belarus, Ukraine, Georgia, Armenia and Azerbaidjan, at nearby Prague on Friday, May 8.

- "How does this fit with Ukraine's wish to advance towards an eventual EU accession in the future ?", asked "EuroFora".

 - "I think Ukraine is in a Special position, of course", the Czech EU Chairman in office agreed.

- "It has its own System of cooperation with the EU, so I would expect that Ukraine, as the largest country from the others, will be in the Multilateral part of the Eastern Partnership", he replied.

He earlier explained that its "Menu" will be composed both by "Multilateral" and "Bilateral" aspects and various "tools" from which each country could "choose".

- "I think we can rely on the Active Engagement of Ukraine, and certainly we shall have this... So, we expect the Highest Level participation, and, certainly I would expect Ukraine to have a Prominent role to play", Vondra added.

Vondra revealed, in his reply to "EuroFora", that he "was just talking with (Ukranian vice Prime Minister) Hrihoriy Nemyrya, in entering the (Strasbourg's EU Parliament) building" "We (Czech EU Chair) are working closely with Ukraine", he underlined.

During the last EU - Ukraine Summit, with Presidents Sarkozy, Jushenko and Baroso, of France, Ukraine and EU Commission respectively, the French EU Chairman on September 2008 in Paris had anounced EU's crystal-clear acknowledgement that Ukraine was unquestionably "un European Country" and offered an "Association Agreement". I.e. similar to those that former Central-Eastern European Countries had initially concluded before becoming, later-on, EU Candidates and ultimately EU Members, as Jushenko reminded then.

Paradoxically, Turkey, a mainly Asiatic country with an obviously different culture and grave Human Rights problems, including Military occupation, threats or interventions in neighboring countries, profiting from its Cold-War Past, snatched back in 1999 a controversial EU Candidate status, while Ukraine, a peaceful European country with historic European Culture and High-Tech industry, without equally grave Human Rights problems, has yet to struggle in 2009, to get a promise for a European perspective in future...

 - "Eastern Partnership is not a substitute to EU Enlargment", and "its' not directed against anyone, and, in particular, not against Russia, who doesn't wish to take part, and has other links to the EU, Vondra added.

An important boost to EU - Ukraine links, (which may benefit also to Russia), might be given not only by the well known Energy Transport issues (by Pipelines and/or Ships, via the Black Sea and Danube), could be given also in case of a cooperation between Airbus and Ukranian "ANTONOV's aircraft production capacities :

While Vondra found the "Time too short" to reply to a 2nd "EuroFora"'s question on a possible Airbus - Ukranian ANTONOV cooperation to build an efficient European strategic Military Transport Airplane, costing less, and being more efficient and timely than an old plan for a Turkey-sponsored "A400M"' plane, whose delivery has delayed and become uncertain, on the contrary,EU's Rapporteur on the 7th Scientific and Technologocal Research framework Program, mainsteam Polish MEP Jerzy Buzek, (ChristianDemocrat/EPP), a former Prime Minister, was enthousiastically positive :

 - "It's a very good idea, and I am sure that they (Ukrania's ANTONOV) would like to do that, and are able to achieve it", replied Buzek to "EuroFora"'s question whether he found more useful for European Countries to develop a more performant but cheaper Military Transport Airplane in a cooperation fex. between Airbus and Antonov, instead of waiting, again and again, for the old Airbus A400M, with its limited capacities, to be delivered from its strange and repeated setbacks and deadlocks in mass production, which were recently denounced even by a Report drafted by the French Senate..
Russia also had reportedly shown an interest in the past to cooperate with Antonov and EU countries to jointly create a new airplane, and this possibility might, eventually, be anew explored to satisfy the present European needs in the best way possible for EU's High Technology and funds.
Meanwhile, Saryuz-wolski indicated to "EuroFora" that, as EU Parliament will confirm this week in Strasbourg also by writting in a special Resolution, Eastern Partenship's Parliamentary dimension, "EuroNEST", intends to follow the example of the Union for the Mediterranean's Assembly, by bringing together 60 MEPs not only from the neighbouring but from all those interested among EU's 27 Member States : It's well known, indeed, that several other EU Countries have close links with the Black Sea area area, via big Investments, Ship transports, etc.
Meanwhile, Vondra is reportedly due to pass later-on EU's relay baton to a renewed Czech Government, his main successor expected to be the forthcoming New Deputy Prime Minister and Foreign Minister, Jan Kohout.

Kohout, who is well known in Strasbourg from his earlier visits, has already stressed to "EuroFora" Czech Republic's wish to examine carefully Foreign Policy issues, while also boosting Renewable Energy sources, Modern Technologies, Education, etc, as key-tools both for EU's independence and security, and for enhanced cooperation with developing countries accross the World, and mainly in Africa and Asia.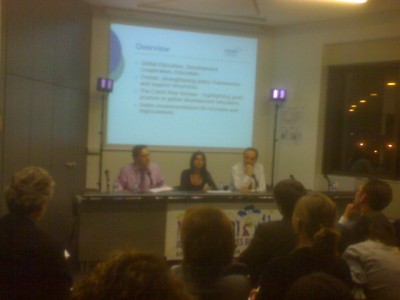 (+ New Czech deputy Prime Minister and Foreign Minister, Jan Kohout, replying to another "EuroFora" question at an earlier meeting in Strasbourg : 3rd, at the right side).
 
 ***
BRIEF NEWS
00:00 - 02.06.2021

00:00 - 18.10.2020

00:00 - 19.06.2020

00:00 - 18.05.2020

00:00 - 20.04.2020

00:00 - 02.02.2020

00:00 - 09.12.2019

00:00 - 27.11.2019

00:00 - 16.11.2019
Statistics
Επισκέπτες: 54924088
Archive
Login Form
Other Menu
Η ΚΣΣΕ αποκρούει αδιαλλαξία Ταλάτ και Τουρκίας

- Αμμόχωστος, Εποικοι, Ψηφίσματα ΟΗΕ, κπα προστέθηκαν αναπάντεχα !

- με μοναδική καυτή εξαίρεση την αμφιλεγόμενη ρήτρα για "Αμεσο Εμπόριο από Λιμάνια" Κατεχομένων (βλ. ειδική Είδηση).
-------------------------------------------------------------------
* Στρασβούργο/ΑΚΜ/+1η Οκτωβρίου 2008/-
--------------------------------------------------------------------------
Αναπάντεχα αδιάλλακτες δηλώσεις του ΤΚου ηγέτη Ταλάτ στο Στρασβούργο, (αντίθετα απ την διαλλακτικότητα που είχε δείξει εδώ ο Πρόεδρος Χριστόφιας), προξένησαν αντιδράσεις στην ΚΣΣΕ η οποια ψήφισε ως επι το πλείστον εναντίον των περισότερων Τουρκικών αιτημάτων, (με μοναδική εξαίρεση το καυτό θέμα του Αμεσου Εμποριου απ τα Λιμάνια των Κατεχομένων, για το οποίο βλ., ειδική Είδηση).

Απαντώντας σ ερωτήσεις μας άν δέχεται την πρόταση του Προέδρου Χριστόφια για ΑΠΟΣΤΡΑΤΙΚΟΠΟΙΗΣΗ της παλίάς πόλης ΛΕΥΚΩΣΙΑΣ. μ απαγκίστρωση Στρατευμάτων, και την γνωστή πρόταση για την ΑΜΜΟΧΩΣΤΟ, που είχε υποστήριξει κι η Λουξεμβουργιανή προεδρίας ΕΕ, ο ΤΚος ηγέτης ειπε μεν ότι η 1η πρόταση "δεν κατατέθηκε ακόμα στις συνομιλίες", αλλ άν κατατεθεί, "θα την συζητήσουμε", (χωρίς να εξηγεί πώς θα πείσει τον Κατοχικο Στρατό της Αγκυρας) , αλλ απέρριψε εντελώς την συμβιβαστική προταση γι Αμμόχωστο :
Απαντώντας σ ερώτηση μας είπε ότι απορρίπτει κάθε πρόταση για κοινή διαχείριση Αμμοχώστου από ΕΚους και ΤΚους μ άνοιγμα λιμανοιύ κια εξωτερικό εμπόριο κι επάνοδο προσφύγων, (την οποία είχε, αντίθετα, υποστηρίξει κι ο Πρόεδρος Χριστόφιας, όπως κι η Λουξεμβουργιανή προεδρία ΕΕ με τον πρωθυπουργό Γιούνκερ απ το 2005), "γιατί αυτό αφορά το Εδαφικό που δεν συζητάμε σαν ΜΟΕ αλλά μονο για την τελκή ολική λύση, κι εντωμεταξύ, εμείς θέλουμε να χρησιμοποιούμε όλα τα δικά μας λιμάνια", όπως μας τόνισε χαρακτηριστικά..
Επανέλαβε δε πολλές φορές στην ΚΣΣΕ κατά κορον φρασεολογία για ξεχωριστόν "ΤΚ'ο Λαό", για "2 Λαούς" στην Κύπρο, δικαιολόγησε την Τουρκική Εισβολή, χωρίς να εξηγεί την διατήρηση μακρόχρονης Κατοχής, (όπως είχε επικρίνει κι ο Πρόεδρος Χριστ'οφιας), ενώ κατηγόρησε τον ΟΗΕ για το Ψηφισματά του για την Κύπρο που "μας βαραίνουν" όπως είπε μέχρι τώρα, κατηγορησε τον Χριστόφια για συμμετοχή στο "ΟΧΙ" στο σχέδιο Αννάν ("η φιλία δεν αρκεί για λύση". όπως μας είπε ο κ, Ταλάτ ξεχωριστα), επέκρινε τον Εισηγητή ΚΣΣΕ Χέρστερ, ζήτησε "Νέο Συναιτερικο Κράτος", κι απόλυτη "Ισοτητα" μειψηφ'ιας και πλειοψηφίας, ως και "ΠΑΡΕΚΛΙΣΕΙΣ" απ το κοινοτικό κεκτημένο ΕΕ, και να πάψει η δ'ηθεν "Απομονωση¨" των Κατεχομένων, οχι μόνον Οικονομικά αλλά και Πολιτικά, κλπ.
Μετά από πολλές αντιδρασεις διαφόρων ΕυρωΒουλευτών, απ τον Εισηγητή κ.Χέρστερ, που παραπονέθηκε 'οτι ο Ταλάτ έφυγε εμποδιζοντας να του απαντήσει, μέχρι πολλούς άλλους που εξέφρασαν "απογοήτευση" για τις αδιαλλαξίες Ταλάτ, η Ψηφοφορ'ια της ΚΣΣΕ ειχε κ'αμποσες εκπλήξεις για την Τουρκική πλευρά : 
Πχ, Ρεκόρ ψήφων (98) στήριξε αναφορά σε Κυπριακή Δημοκρατία που ήθελαν να σβήσουν Τούρκοι βουλευτές, ενώ απερ'ίφθη κάθε αναφορά στο "Νέο Εταιρικό κράτος" που ήθελε ο Ταλάτ,
Η ΚΣΣΕ δέχθηκε τροπολογια για "ΕΠΙΣΤΡΟΦΗ ΤΟΥΡΚΩΝ ΕΠΟΙΚΩΝ", κι επιβολή "σεβασμού Ψηφισμάτων ΟΗΕ" σ οποιαδήποιτε βήματα για διεθνείς επαφές Κατεχομένων, που δεν ειναι επιτρεπτές άν κάνουν πολιτική κατάχρηση αντίθετη απ τον στόχο επανένωσης της Κύπρου.
Στην διάρκεια της ψηφοφορίας έγινε ξεκάθαρο δε κι ότι ο σεβασμός Νομολογίας ΕΔΑΔ για ΕΚους Προσφυγες, μ αναφορά σ υποθέσεις Λοιζίδου κλπ. αφορά σεβασμό ΑΤΟΜΙΚΩΝ δικαιωμάτων Πολιτών, κι όχι την ΜΑΖΙΚΗ διευθέτηση για την οποία μίλαγαν Τουρκοι βουλευτές
Προστέθηκε δε κι έκκληση ΚΣΣΕ γι αναστήλωση Θρησκευτικής Κληρονομιάς, η οποία "έχει μεγάλη σημασία για να διασωθε'ι η Ιστορική Μνημη κι η αξιοπρέπεια όλων των θρησκευτικών κοινοτήτων", όπως μας τόνισε κατοπιν, μιλώντας μας αποκλειστικά κι ο Εκπρόσωπος του Πάπα Βενεδ'ίκτου, Διευθυντής Τύπου Βατικανού, Φεντερίκο Λομπάρντι, που 'ηταν εξαιρετικά παρών στο Στρασβούργο.
+ Μ αναπάντεχη υιοθέτηση τροπολογίας του γερουσιαστή Ζαν Πιερ Μονφίς και της Γαλλίδας Αρλέτ Γκροσκοστ, η ΚΣΣΕ ζητά δε απ την Τουρκία "να σεβαστεί το Ψήφισμα ΟΣΕ 550 ... θέτοντας την πολη της Αμμοχώστου υπό Διοίκηση ΟΗΕ" : Κάτι που θ άνοιγε και δυνατότητα υλοποίησης της πρότασης για την Αμμόχωστο. (βλ. ειδική Είδηση γι Αμμόχωστο, κι άλλα θετικά σημεία του τελικού ψηφίσματος)
- "Ενώ η Τουρκία συνεχίζειι να παρεμβαίνει στο Κυπριακό με πολυάριθμες τροπολογίες" Τούρκων βουλευτών, αντίθετα, ¨όπως είδατε, εμείς (ΕυρωΒουλευτές Ελλάδος, όπως και Κύπρου) δεν υποβάλαμε καμμία τροπολογία", παρατήρησε δε ένας Ελληνας ευρωβουλευτής (../..)
ΓΙΑ ΤΟ ΠΛΗΡΕΣ ΚΕΙΜΕΝΟ ΒΛΕΠΕ ΟΤΙ ΣΤΕΙΛΑΜΕ ΗΔΗ ΠΡΙΝ ΑΠΟ ΠΟΛΛΕΣ ΕΒΔΟΙΜΑΔΕΣ
Polls