Inicio

newsitems

Turkey Attack in Syrian Kurds' ARFIN Canton: No Border Security, But Military INVASION - Occupation!
Turkey Attack in Syrian Kurds' ARFIN Canton: No Border Security, But Military INVASION - Occupation!
11.03.18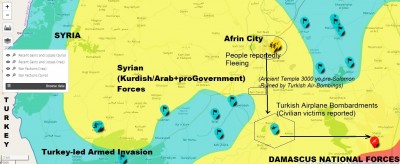 *Strasbourg/Angelo Marcopolo/- It's, obviously, No more a Border Security operation, But a fully-Fledged Foreign Military Invasion and Occupation, even a massive Population Replacement plan, as Maps clearly show Today for that Turkish Army's intrusion, leading various Islamist Jihadists, Deep inside Syria's Kurdish Canton of Afrin, but Deviating Far Away from the Syrian-Turkish Borders... 
       
Astonishingly, such a Big Change, occurs at the Eve of Important EU Parliament and CoE Assembly's Sessions, this Week in Strasbourg and Paris, respectively, where, inter alia, it's also (if not mainly) this UnPrecedented series of Deadly Turkish Military Attacks and Intrusions inside Syria's Kurdish Canton of Afrin, which is due to be Discussed also in Public by MEPs, who, normally, should also Vote one or another kind of European and/or PanEuropean Measures, in order to Tackle such a Challenge.

Indeed, instead of Keeping its Foreign Troops all Along and Near the Borders, between Turkey and Syria, on the Contrary, Ankara's regime ordered a Massive Intrusion even inside Central Areas of Syrian Territoiries :

- After Completing an already Strange, Thick Horizontal Line establishing a Strip of Foreign Military Occupation All the Way between the Mediterranean Turkish Borders and Syria's Alepo City area, (controled by Damascus' Government Syrian Army), which also Separated the Northern Syrian Kurdish Canton of Afrin, from the Biggest OverConcentration of various Extremist Islamist Fondamentalistes and/or outright Terrorist, Armed Gangs of Idlib, at its South,

- Ankara suddenly Started to Attack the Center Core Area of Afrin's Canton, Dangerously approaching its Capital City : the Homonymous Afrin, Both from the North, and from the South, without giving a damn for all the Rest of that Canton of Syria's Kurds, (and, apparently, Forgetting all about its own Borders, from Now on, Located Far Away from the main scene of Action) !...

Curiously, this New Move, Contrasts with the Tactics followed until now by Turkey, which appeared to be a Thick but Limited Extension all Across its Borders towards Syria, (as if Ankara had Initially wished to Disguise its Real Intention, Pretending to Respect the Limits set, f.ex., during Erdogan's earlier Phone Exchanges with the US and, particularly, the French Presidents, Trump and Macron, probably also with others, during which a supposed basic Distinction had been reportrdly established, between a Border Security Operation, and a Foreign Military Invasion of an Independent Country.
-------------------------------------            
+ Moreover, once this Hypocritic "Mask" had, Obviously, just Fallen Down (Comp. Supra), Turkey added, even anOther "Strange" Move : Instead of Starting immediately to Attack the Syrian Kurdish Canton's Capital City Afrin, (that its Military had now Approached from 2 Sides : Comp. Supra), on the Contrary, the Invading Turkish Army, suddenly, Turned towards the East, in the Direction where Aleppo City is located, at a Nearby area Controlled Exclusively by Damascus' Government's Syrian Army, and Surrounded Afrin City Only from that Side, (Leaving its Other Side : towards the West, Intact and Free), obviously Attempting to Close Any Outward and/or Inward Transports' Communication possibilities of Afrin with the Rest of Syria, (See UPDATED MAP).

With a Spectacular Symbolism, the Invading Turkish troops Only Stopped their Manoeuvre to Surround Afrin City's Eastern Side, when they ArriveD, Face to Face, in front of the Historic Location of the Ancient Temple of Ain Dara, (believed to have served as a Prototype for King Solomon's World Famous Temple, Dated from the 9th Century BC. -See Infra- and whose Remaining Structure, around 3.000 Years Old, was notoriously Destroyed, turned into Rubbles, by Turkish AirStrikes earlier)...
The Only Road which still Remained "Open" for the Communication of Afrin's Inhabitants with the Rest of Syria, was, However, Blocked, Shortly Aftewards, punctual, Deadly AirStrikes Targetting 3 Villages which formed a Strategic Crossroads, in the Direction towards Freedom, (See that Same MAP cited Above).

Why, all that ?
Is it in order to, simply, Cutt off Afrin City, (and a Big Area Behind it, still Free), from any possible, Military and/or Humanitarian Aide from the outside World ? Or, also, in order to "Trap" all the Inhabitants of that Syrian Kurdish Enclave, so that they would Not be given any Chance to Escape, but, on the Contrary, Obliged to be Exposed to imminent Threats of an imminent Massacre, and/or Brutal Asservissment ?

    At any case, one thing seems certain now : It all looks as if Turkey got (or Believes that it has got) a Sign, by someone, somewhere, that, in fact, even its Blatant, UnProvoked and Deadly Foreign Military Invasion, against an Exceptionaly Peaceful, until now, Syrian Kurdish Canton, as Afrin, might remain, perhaps, UnPunished by the European, PanEuropean and/or International Community... And/or, as if Ankara's regime found that, Both Europe and/or the World, would be totally Unable to ReAct Efficiently against such Brutal Crimes and Violations of International Law...

---------------------------------------------------
IMMEDIATE REACTIONS COMME FROM ELSEWHERE :
- BEFORE EUROPE, even BY ...ARAB NATIONS !
----------------------------------------------------------------------------------
    A dangerously irresponsible Spectacle, surprisingly given at the World WIde Web, by a Press Officer of the prestigious EU Parliament, at a particularly Crucial Moment for the Events and Choices concerning the Bloody Syrian Conflict, Friday Morning from Brussels, might have obviously served for at least to give a fatal Impression to Turkey that Europe might be totaly Indifferent, and Not Give a Damn for an Imminent Massacre and/or Asservissment of that same Syrian Kurdish Population,  which had just Helped Syria, Iraq and the West, as well as Russia and many other Countries, to live, at last, Free from EveryDay Threats of ISIL's Deadly Islamist Terrorist Attacks, cowardly Targetting defenseless Innocent Civilian People, throughout almost All the European Continent, Russia included, but also in the US, and Elsewhere in the World, (as things notoriously were between 2015 - 2017, full of Bloody, InHuman Tragedies, popping up almost every week, in a way UnPrecedended in History)...

    Indeed, speaking about the forthcoming EU Parliament's Public Debate and Vote on a Draft Resolution about "Syria", by its full Plenary Session, Next Week in Strasbourg, that Agent, curiously, did NOT even MENTION the Name of the Tragic Syrian Kurdish area and Population of "Afrin" ! She Only spoke, exclusively, for a Pocket of Violent Islamist Extremists' Armed Gangs, in a Suburb of Damascus, who still keep Hostages a number of Civilian People, Dangerously exposed to their provocative Shelling and/or Rockets' throwing against Inhabited areas of Syria's Capital City's center !... (I.e. she mentioned Only "Eastern Ghouta", withOut even citting Afrin's Canton, not even once, while People are notoriously being Killed there NowaDays by an "Intensified Offensive", (as UNO's Secretary General, Antonio Guterres, just noted himself) of a Deadly Foreign Military Invasion by the Turkish Military and its Extremist Jihadist Armed Gangs ! (See Infra)

------------------------------------------

    >>> On the Contrary, UnExpectedly, a Strong, Explicit, and Immediate Reaction, emerged, this Same Week-End, paradoxically, from anOther, entirely Different Direction :

    It's not just some anonymous Sources, cited by certain Mainstream Medias, about alleged NATO observers' Criticism for the Fact that Turkey acts Now very Differently from the so-called "Border Security" Aims that Ankara had Initially presented as a Pretext in Brussels...

    => The most Surprizing Event is that, just 1 Day Afterwards, on Saturday, 10 of March 2018, TURKEY WAS URGED, in Public, and by Writting, TO "RESPECT THE SOVEREIGNTY" OF ITS "NEIGHBOURS", (as, obviously, First of all, "Arab" Countries as Syria), BY the United ARAB Emirates' (UAE) State MINISTER for Foreign Affairs, Anwar Gargash !

    - Nowadays, "It's UnDeniable that Arab - Turkish relations are Not at their best.", he Denounced, via Twitter, (as USA's President Don Trump notoriously uses also to do, on various "Burning" and Topical Political Issues).

    >>> In particular, "Ankara ...Must ... Respect the Sovereignity of Arab States," the Experienced UAE Minister Gargash, clearly stressed, at the Same Moment that Turkey's Military Intervention inside Syria was Revealing that, instead of seeking "Borders Stability", as it had Hypocritically claimed Before, it was, in Fact, brutally Invading another Country, (Comp. Supra).

    - On the Contrary, "Ankara Must deal with its Neighbours Wisely", he pointed out.

    - Because, Otherwise, ""The Arab World will Not be Run by its Neighbors", (as Turkey),  "and its current Situation is Not Permanent", the UAE Mnister Warned Ankara.

    Gargash has almost 700.000 Registered Followers just on his personal Twitter Account at the Internet, and his Tweet was, in Addition, immediately re-Published by several Medias, including in Arab, Turkish, and English, stirring a row.

- UAE's State and Foreign Minister Anwar Gargash was apparently Reacting to Turkish President Tayip Erdogan's Boast, Yesterday (Saturday), that Now, Turkish-led Army could Enter inside the Syrian Kurdish District Afrin's Capital City "at Any Moment", as he claimed.

- According to "GulfNews", by a Coincidence, he was "Speaking ...in Mersin", i.e. from where the Turkish Military Invasion and Occupation of the Northern Part of Cyprus had Started, Back on 1974, and still Persists, provoking also Many "Missing" Persons, and a Massive Forced Displacement of 20% of the Population of the Island, who Continue to be Hindered to Return Back to their Family Homes and/or Access their Private Properties (Most illegaly Usurpated, mainly by Turkish Settlers Imported from Anatolia plateau) even 44 Years Later, provoking serious UnResolved Problems to European and International Organisations, as the EU, CoE, UNO, etc.

- The Turkish President used this occasion, (Paradoxically, at the Eve of an Important Meeting between Turkish and Russian Officials, Later-on...), in order to Launch a Call to NATO's Western Military Organisation to Follow, Turkey's Army Invasion of Syria's Kurdish Region of Afrin, (as several Armed Gangs of Jihadists already do, with Many Casualties among them) !

=> ""Hey NATO, where are you?" "Now I am making the Call : - <<Let's Go to Syria.  Why don't you come ?>>", urged the Turkish President, as "GulfNews" reported, just Before Anwar Al-Gargash's Public Criticism, (Comp. Supra).

    + "GulfNews" also Added, at anOther Article, that "some may have underestimated the Kurds' Determination  to Defend Afrin", while, it's a Fact that "so many Major political and military Leaders of the Kurds are from Afrin, and Afrin, in the Kurdish Heart and mindset, is an inseparable part of Rojava, Syrian Kurdistan", as an "Analyst in Washington", USA, reportedly stressed, just 1 Day Earlier, (on Friday, 9 March 2018).

-------------------------------

    >>> Meanwhile, UAE Minister Anwar Gargash, had Already provoked "Hot" Angry Reactions from Turks, also Recently, at the End of December 2017, when he had, Notoriously, Warned Turkey's Government that : - "The Arab World will Not be Led by ... Ankara !"

    - Denouncing what he Named as a "GeoStrategic Competition", between several Arab Countries (such as, f.ex.; UAE, Egypt, Saudi Arabia, Jordany, Syria, Bahrain, Mavritania, etc), and Turkey's "Regional Ambitions", Gargash called "for Strenghened Arab Unity" against such Threats, Criticizing the Turkish vociferous Public Reactions as a "Sectarian ... approach" which "is Not Acceptable".

    - Topically, the Occasion for that Earlier Row, had been given by Ankara regime's Harsh Reactions against the Criticism, by UAE's Foreign Minister Sheikh Abdullah bin Zayed al-Nahyan, of the Turkish President's "Ancestors", (i.e. the former Ottoman-Turk Empire), to have Plundered Islam's second Holiest City : Medina, when they Ruled it :

    => -  "Did you know that in 1916, Turkish Fahreddin Pasha committed a Crime against the People of Medina, Stole their Properties, and put them on a Train en route to Damascus and Istanbul ? Also, the Turks Stole the handwritten Books in Mahmoudia Library and took them to Istanbul. This is the History of Erdoğan's Ancestors and What They Did to Muslim Arabs," readed another Tweet, "originally posted by an ordinary social media user, an Iraqi man living in Germany", and simply "Re-Tweeted by UAE's Foreign Minister Zayed al-Nahyan, reminded "Russia Today". (See Relevant PHOTOS from those Events).

    Turkish President Erdogan reportedly "Responded to that claim with a Personal Attack", accordding to "RT", particularly by calling that UAE's Senior Official as "Impertinent" and "Spoiled" man, (sic !)...

-------------------------------------------------------------------------

    * Medina is the Historic City from where Prophet Mohammed spread the original Islamic Religion, mainly throughout the Arab peninsula. He Lived there 10 Years, (between 622 and 632), and returned to Die, at an advanced Age, in Medina, on 632, where his Monument is located until Now.

    - Almost a Thousand Years Later, around 1.517-1.518, Medina was Invaded and Occupied by the attacks of the Army of the Ottoman-Turk Empire.

On 1.804 the Saudi Arabs managed to Liberate Medina themselves  from the Foreign, Ottoman-Turk Occupation.

But  on 1.818 the Saudi Arab's 1st State was "Destroyed" by the Ottoman-Turk viceroy Ali Pasha.

Meanwhile, Significantly, ... Nobody among the "Sultans" of the Occupying Force, (the former Ottoman-Turk Empire), Ever Visited Medina and/or Mecca, during all this Time !

Finally, after the pan-Arab Revolt of 1916-1918 against the Ottoman-Turk Empire, and the Victory of the Allies against Nazism and Fascism at the End of the 1st World War, all the Arabia Peninsula was Liberated from any Turkish Occupation.

During 1 Century, No Turkish Military ever Returned in the liberated Arab Peninsula, (with the Only Exception of the re-Establishment of a Turkish Military Base in Qatar, recently on 2017).

--------------------------------
ARAB CIVILISATION and
its DESTRUCTION BY former OTTOMAN-TURK EMPIRE
-----------------------------------

Arab Countries notoriously, already had some very Important Civilisations in Ancient History, BC., including those of the Egyptian Pharaons, of Assyrians and of Babylon, of Hannibal's Catharge, of Phynecians, (at nowadays Lebanon/Syria), side by side with the Jewish People, etc.

But the so-called, Wider "Arab Civilisation", reportedly Extends from around the 9th Century AC, until about the 16th Century, (i.e. during almost 7 Centuries).

Seizing an Opportunity given by the Division of Christian People between Eastern and Western Europe with the "Schism", Arabs ensured a regular Transport of valued Asian Products, (including from the "Silk Road", and/or via Ship Sea Transports until the Red Sea, etc), by Organizing an innovative (then) Network of Camel Transports throughout the Sahara Desert until Spain. They were Helped to succeed that, by using and/or developing several Practical Innovations, particularly on Earth Sciences and Technologies, (as : Astronomy, Agronomy, Water management, etc), mainly Inspired by a systematic Translation of Ancient Greek Civilisation's Texts, which had Started particularly in Baghdad from the 9th Century AC, (and notoriously Contributed also at Europe's "ReNaissance", by the way).

The Destruction of that Arab Civilisation Started, progressively, from the Mongol-Turkic Invasions since the 13th Century AC, and was Completed with the Invasions of the Ottoman-Turk Empire around the 16th Century AC, after which, almost All Arab Countries were Under Turkish Occupation for Many Centuries.

By Losing their Freedom for so Long, they inevitably Lost also their own Civilisation, being Exploited and Degraded, compared to their Glorious Histories, (both of various Ancient Civilisations BC, and of the Arab Civilisation AC : Comp. Supra). So that, Weakened, some of them facing also Brief Periods of Colonisation, they didn't re-Start to Surface but Only during the 19th Century, after various National Liberation Movements, with their Contradictions.

=> Thus, inter alia, f.ex., just Earlier this Year, on February 2018, a Street still Named after the Ottoman-Turk Sultan "Selim 1", In Cairo, Egypt, is due to Change it and Take a New Name, after a Decicion taken by the Governorat of Cairo to Consult the Inhabitants on their Future Preferences. Because Salim I had been a Sultan of the Othoman-Turk Empire, which was "the 1st Colonizer of modern Egypt", (as it was Reminded Nowadays also by the Media "Egypt Independent").

The Move was Triggered by a Recent Attempt, even of Nowadays Turkey, to Interfere and Meddle itself, with an Unilateral, Neo-Colonialist manner, against the Sovereign Agreements between Egypt and Cyprus for the Peaceful Exploration and Exploitation of Natural off-shore Energy Resources at the Sea in the Exclusive Economic Zones (EEZ) of the two Neighbouring Countries. Ankara's Unilateral Move was Followed, during the Last Weeks of February 2018, even by anOther, this Time Open Threat of Military Violence by 5 Turkish WarShips against a European Drilling Ship from Italy which was Brutally Hindered to Peacefully Explore for Oil/Gas a part of EU Member Cyprus' EEZ, facing Israel, in Reaction to which, the latest EU Summit in Brussels, Warned that it may Cancel an EU - Turkey Top Meeting scheduled for Later this Month (March 2018) in Varna, Bulgaria, (See: ...).

+ But it''s also a Fact that the above-mentioned Ottoman-Turk Empire's Sultan Salim I, had also Invaded and Occupied even Mecca and Medina on 1517-1518...

This was Part of a Wider Series of Ottoman-Turkish Military Invasions and Occupations of Arab Countries in the Mediterranean between 1512-1520, (i.e. including Nowadays Syria, Lebanon, Israel and Palestinian Authority, Egypt and the Coasts of Algeria, etc, soon Followed also by Libya's Coasts, under anOther Ottoman-Turk Sultan).

Tunisia, (the Historic Fatherland of Hannibal's Carthagenian Civilisation, which had Dominated the Center of Mediterranean in Ancient Times), Resisted Longer than others.

 And Morocco (the Land of Famous Ancient Greek Myth about its Mountain of "Atlas", as a Heroe safeguarding all the People of the World by Holding the Sky up to the Heavens), Despite several Ottoman-Turkish Attacks, it Resisted so Strontgly that it was NEVER Occupied by the Turks !  So that it's Unique to still Host, Nowadays, the Best Surviving, Touristic Sites of authentic Historic Arab Civilisation Monuments, (as well as of Tanger's Cosmopolitan local Society, etc).

- Algeria's Highlands and the Biggest Part of its Territory, at the inner Hinterlands, also managed to Escape from the Military Occupation of the Turks. By a Coincidence, those Areas which Escaped were almost the Same known for Historic personalities Famous for their Resistance in the Pas : As, f.ex., the Berber Leader Dahia Al-Kahina, Famous from the 7th Century, as well as Dhabba, the former Queen of Carthage in Tunisia, (etc), which Remind, Nowadays, the, also Famous Syrian Kurdish Young Women that Dared Risk their Lives in order to succesfully Fight Against the Deadly Islamist Terrorists of ISIL's Cowards who Target innocent Civilian People in Syria, before, Now, Facing also Bravely the current Turkish Military Invasion at Afrin...

Often by Sacrificing their Lives, and even being, sometimes, Atrociously Mutillated, their Dead Body Sullied by some Cowards Gangs of Jihadists armed by Turkey, as a notorious and widely commented Video Recently proved, (See, f.ex. : ...).

-----------------------------
COINCIDANCE OF HISTORIC EVENTS' ANNIVERSARIES (Invasions, etc):
-----------------------------------------------

    - By an Astonishing Coincidence, Now, on 2018, when the Syrian Kurdish Canton and its Capital City of Afrin, (which is also an Historic area, from more Ancient Times : See Infra), are Facing a Blatant Foreign Military Invasion by nowadays' Turkey, (Comp. Supra),

>>> it's also, almost the ...500th Anniversary of Islam's 2nd Historic Holly City, Medina's Invasion/Occupation by the Turks ! (1517-18 and 2017-18)

    + And, by another Coincidence, it's around the 400th Anniversary of Medina's Invasion by the Turks, i.e. from 1918-1919, that the International Peace Treaty of Sevres (in France) was Negotiated and Signed, marking the former Ottoman-Turk Empire's quasi-Total Collapse...

    => What might happen, just 1 Century Later, around the 500th Aniversary of Medina's Invasion by the Turks, Nowadays, on 2018, (i.e. at the Eve of the First Centenary, 100 Years Anniverary for Sevres' International Peace Treaty, on 2018-2019 - which also, Timely Coincides with the forthcoming, May 2019 European Elections) ?


-------------------------------------------------------
FOREIGN INVASION BY TURKEY AT SYRIA's KURDISH AFRIN Canton IS DIFFERENT+MORE GRAVE than DAMASCUS Eastern GHOUTA Pocket's CLASH,
Contrary to Establishment Medias' Claims
---------------------------------------------------------------------------------
 In Fact, the Above-mentioned, Surprising Total Ommission even to simply Cite the Name of "Afrin"'s Syrian Kurdish Canton, curiously committed by an EU Press Agent in Brussels last Friday, when, speaking about the Draft Resolution on Syria, she didn't explicitly refer but Only to Damascus City's "Eastern Ghouta" urban pocket's clash, while, on the Contrary, it's, Astonishingly, an ... Arab Senior Official who Dared to be the 1st to openly Denounce Turkey's now Open and Blatant Military Invasion and Violation of a Independent Country's Sovereignity, (Comp. Supra), is Not an Isolated incident at all...

Indeed, Several Critics have already Denounced the Fact that, curiously, Most Establishment's Medias seem to Forget even Elementary Press Deontology, often abusing of "Double Standards", when it comes to Syria.

+ Even more Important : Most Establishment's Medias, Curiously "Forget" to even mention the Fact that there are certain Fundamental Differences between Afrin and Ghouta...

And there is a Long List of such Important Differences :

-----------------------------------------
(1) FOREIGN MILITARY INVASION, or not ?
-----------------------------------------------------

-  In the 1st case, it's a Foreign Country, as Turkey, which commits a Military Invasion inside an Independent and Sovereign, Neighbouring Country : Syria, in blatant Violation of Intenational Law, and with Obvious Risks to provoke Crises, Conflicts and Instability accross that Sensitive Area, Both in the Short and/or the Long Term.

- While, on the Contrary, in the 2nd case, it's almost the Opposite : I.e. just a Bunch of Extremist Islamist Armed Gangs, (often accused to be Paid by some Foreign Countries and/or Networks), including some Al-Queda-like Terrorists, (Near, even, to an Adjacent ... "ISIL"'s, SImilar Block !), who have Intruded and taken by Arms Control of a Suburb of a Syrian City, which is, even, ... the Capital of the Country : Damascus itself, Penetrating almost until its Center (f.ex. the "Jawbar" Block, etc), DownTown (See locacious MAP, that, curiously, most Establissment's Medias Avoid to show)  !  Which other Countries would have Alliowed such an unbelievable, outrageous and obviously very Dangerous thing to happen, even at the Center of their Capital City, and for so long ?

 If the Turkish Government might Pretend that it would have so-called "Security" Excuses at Afrin, located Out of that Country, and Many Hundreds of Kilometers, Far Away from its Capital, Ankara, then, one can easily imagine what could claim, "a fortiori", the Syrian Government, concerning Armed Rebels and even several Terrorists confiscating eternally  a Big Part of its Capital City's Center, (even Near an .. ISIS' Block) !

As about what would say and do Mr. Erdogan to anyone who might be so naive as to ask him to tolerate, mutatis-mutandis, an Equivalent situation inside Turkey's Capital, Ankara, f.ex., with a ..."PKK" included Block of Armed Rebels extending in the Center-City, and a "Gullenists" Opponents' Block, full of Armed Warrions paid from Abroad, nearby, with a Leftist "Block" of Marxist "Guerillos", side by side, added, also to another, special "Block" of the Capital's Center, full of Armed ..."Putchists" from the July 2016 strange, too Short-lived "Coup" Attempt, (Only ...6 Hours-long !), etc., everybody can certainly imagine what would be his (at least partly Justified) Reply...


----------------------
(2) CIVILIAN VICTIMS, POPULATION + LAND AFFECTED :
------------------------------------------------

+ Moreover, even the Magnitude of Victims, or the Total Population and Land affected, comparatively, in Damascus City part of Eastern Ghouta, and inside the much Bigger, Afrin Canton, are either Treated UnEqually, or even really Not the Same, but Very Different :

F.ex., most Establishment's Medias, Persist to "Bombard" the People with more and more unverified and/or uncertain Claims about Too Many (some say "1000", others "800", almost at the Same Time, or only 2 Days after they had claimed just the Half : "400" or "almost 500".. !) Civilian Victims in Islamist Jihadist/Al Queda-like Armed Gangs'-controlled "East Ghouta"... Cautious, UNO's Secretary General has Only spoken, now, about "many Hundreds" (UPDATED on 12 Marh).

While, on the Contrary, they are Ommitting scandalously to Publish about the Fast-Evolving Number of Civilian Victims at Afrin, or doing so Only Rarely, and/or by, comparatively, Diminishing the Numbers, speaking Rarely about "Displaced People" (apparently much More in Afrin), etc.
------------------------------

- F.ex., according to Approximate "UN Estimates", eastern Ghouta's pocket might have had almost "400.000 People" traped inside that Damascus' Suburb, (Before the recent sharp Reductions).

- But, inside the larger Canton of Afrin, just its (homonymous) Capital Afrin City, would have, Nowadays, at least "500.000" Inhabitants, according to the London-based Syrian Observatory on Human Rights, (SOHR), i.e. a much "Larger" Number.

+ In fact, All the Canton of Afrin, (i.e. with the Addition of several Other Cities and Many Villages too, which are Parts of that Total), already as Early as since a 2004 Census, (i.e. 14 Years Before), reportedly had more than 200.000 Inhabitants, to whom were Added, Since June 2016, "about 316.000 Displaced" People, so that Afrin Canton would have gathered More than 650.000 People, already as Early as on 2016.

=> So that, +2 "Hot" Years Later, on 2018, the Total Number of Afrin Canton's Inhabitants should have Grown, Today, up to around ..."1 Million" People, (as at least 3 Mainstream Newspapers observe, Nowadays).

>>> I.e. X 2,5 times More than what eastern Ghouta used to have in the Past, (Before the latter lost 60% of its Initial area, on 2018), the Population of Afrin Canton becoming Now at least ... 250 % Bigger than that of eastern Ghouta's pocket (inside Damascus City) :

- Less than 400.000 (in the Past), for Ghouta's pocket, Compared to More than 1.000.000 People Now, for Afrin's Canton.
---

++ The Difference becomes Huge, when one Compares also the concerned Territories :

- Indeed, some Establishment Medias' Attempts to Present as Equals these 2 so Different in Magnitude cases, become almost ...Comic, when they are Examined closer with a Critical eye :

F.ex., "Die Welt" Newspaper, recently Published a Graphic presenting Maps of Damascus' eastern Ghouta Suburb, and of Afrin Canton, placed Side by Side, in 2 squares of ...Identical Size !

But, if Readers looked better at that Picture, with a Critical Eye, then, they could easily Realize that, in Fact, instead of being Equal, or even comparable, on the Contrary, these 2 Territories were So Different, that they could Not even be Compared at all :

- Indeed, the Reality represented in one of those two Squares, (that which pictured the Canton of Afrin), is ... FIVE TIMES (i.e. 500 %) BIGGER than than the Other, (Damascus' Suburb of Eastern Ghouta) !
Thus, in the 1st of these 2 Maps published by "Die Welt", (that which Pictures Afrin), a Line referring to Real Distances, reveals that it represents "25 km", while, on the Contrary, in the 2nd Map, published at its Side, (picturing East Ghouta Suburb), that Same Line (Comp. Supra) represents, in Fact), ...Only "5 Km" !

I.e. it's as if someone seeked to Compare a Huge Elephant with a ...Baby Squarrel : However, nobody must Forget that in Fact, ... Both might be "Sympa", but Only 1 can Transport You !

-------------------------------
(3) EFFECTS ON SYRIAN KURDS' HELP TO FIGHT ISIS' TERROR
---------------------------------------------------------------------------------
=> Even USA's mainstream Newspaper "Wall Street Journal" recently Denounced the Fact that the Turkish Mlitary Invasion at Afrin has just Provoked a Massive Departure of Many Syrian Kurdish and Arab soldiers of the "Syrian Democratic Forces" (SDF) from the Front-line BatterFields against the Deadly ISIL's Islamist Terrorists who cowardly Target even Civilian People, (such as Raqqa and El-Zhor : See MAP) leaving behind  them "a VOID".

 USA's Pentagon, White House and State Department had already Warned against a Risk for Turkey's controversial Attacks against Syria's Kurdish Region, to "DISTRACT" Efforts to Defeat the Deadly Islamist Terrorism of ISIS, which has notoriously Targetted and Killed Many innocent Civilian People throughout Europe, even USA, etc.

And, Indeed, Afterwards, a "PAUSE" has been already Provoked, at least "on the Ground", by Turkey's Military Invasion in Syria's Kurdish Region, concerning the US-led International Coalition against ISIS.. And American Government sources don't see yet how this could be overcome in the present circumstances, according to converging reports.

+ Shortly Afterwards, several other Medias reported that, indeed, after a Long Time, ISIL's Armed Jihadists, (who Remain Present, particularly in Large Areas Near the Syrian-Iraqi Borders, but even close to Damascus, etc), have Just Launched an Attack against an Oil-Field at Neighbouring Iraq, followed also by anOther Attack from Syria towards Iraq, whih was repelled with a Fight, (etc). The UK Media "Independent" reports also for at least 2 Other Recent ISIL's Attacks, one in Syria and another in Iraq, each having killed a Dozen of People, in Addition to a Car full of Explosives, etc. In the Meantime, ISIL's Leaders, including El Baghdadi himshelf, still Escape Arrest, Hidden somewhere, Despite a CoE Assembly's Resolution, voted in Strasbourg on January 2018, asking to Search, Find and Punish the main Instigators of at least the Worst Atrocities committed in the Past by ISIL's Coward Extremist Islamist Terrorists Targetting innocent Civilian People.

New USA President Don Trump has notoriously Boasted at his 1st "State of the Union" Speech in the US Congress at the Beginning of 2018 that his Best Achievements in one Year were, in Addition to Starting an Economic Amelioration, also the Fact that ISIL's Terrorists had Lost almost All their Territorial Conquests. And he Recently Vowed to, Finally, "Get Rid of ISIL in Syria, and (then) Get Back Home !"

But some local observers at North-Eastern Syria, reportedly remind, at least, that ISIL's Worst "Security" Agents had been always circulating, even inside Raqqa, by Hidding their Faces with Masks, so that "Nobody Knows" yet, "Who they were". While, almost at the Same Moment, other reports from Afrin, claim that, at least some among the Various Islamists Jihadist Armed Gangs used Now by Turkey during its Military Invasion of that Syrian Kurdish area, would have been Recruited also among former ISIL's Terrorists, who have been "Re-Trained" by the Turks for that purpose.

Several Videos currently circulating at the Internet, (some even "checked" by the London-Based NGO "Syrian Observatory on Human Rights"), show, meanwhile, during the still on-going Turkey-led Military Invasion, several Atrocities and/or Dangerous Threats :  Including, f.ex., Mutillations of Killed Kurdish Women's Body, Cowardly Sullied by Armed Islamist Extremists' Gangs ; or POWS being Questioned by Turkish Soldiers and, shortly Afterwards, Brutally thrown Down and Cowardly Killed by accompagnying Islamist Extremist Gangs ; Civilian Elders being Investigated by Armed Gangs about ... How Many Prayers they do to Allah each Day, (a Method already used by ISIL's Deadly Terrorists since 2014, in order to chose f.ex. Yazidis that they were going to Jail, Enslave and/or Kill afterwards, as SOHR's Director reminded); an Armed Thug taking ..."Shelfies" with the atrociously Calcinated cadaver of a Victim of the Turkish Military Invasion of Syria's Kurdish Afrin area; Islamist Armed Gangs to Brutaly Hit POWs and Excibit their Victims in front of Video-Cameras, and/or Trample underFoot their Heads, Thrown at the Ground, even ...Threaten Civilian People with atrocious ...BeHeadings, if they do not Convert "to Allah", (etc)...

- Indeed, various converging Observers, including Mainstream Medias, have Recently Started to Wonder, and Raise Questions, about What might Happen to All those Syrian Kurdish and/or Pro-Damascus' Government Militants, POWs, as well as simple Civilian People, often Captured and Taken Away by the Invading Foreign Turkish Military and/or by various Armed Islamist Extremist Gangs, (as Many Videos and Photos attest), withOut Knowing yet where they might be Detained, and What might Happen to them ?

UNO Security Council's latest Resolution 2041 clearly Calls All Forces involved in Syria to Respect elementary "Human Rights" and relevant International Law, particularly concerning Civilian People. But, Who Checks ?...

------------------------------------
(4) "TRAPED" CIVILIANS, or FREE TO GO ?
-----------------------------------------------------

+ AnOther Big Difference, (including from a Human Rights' point of view), which became more and more Visible these Last Days, is also the Fact that the Islamist Jihadists' Armed Gangs who have Seized Control of some Urban Pockets such as "Eastern Ghouta" inside Damascus City, have Already Declared, (f.ex. to "El Jazeera" Media, Headquartered at Qatar, etc), that they Strive and "Press" to Keep All their Militants and even the Civilian Population under their control, Away from Fleeing the Conflict by Going Elsewhere, and that they Seek to Convince All of them to Stay where they are, (Regardless of the Risks from the on-going Violent Clashes, InFights, AirStrikes, Bombings, Artillery Shellings, Attacks, Kidnappings, and/or Harsh DePrivations, etc), f.ex., "until this (f.ex. Assad's) Regime Falls Down !", (etc)... 
 
And, indeed, Syrian and Russian Authorities have Recently Denounced, f.ex., the Fact that, even when they Opened a Corridor for Humanitarian Evacuation of Civilian People from Eastern Ghouta's pocket, vainly Waiting for People to Escape the Clashes during a Regular, 5 Hours-Long, Everyday Cease-Fire, Nevertheless, several Armed Gangs of Islamist Jihadists Hinderd Civilians to get out, even by Firing Gunshots, Artillery Shellings, Rockets, etc., almost "Every 30 Minutes" accross such Humanitarian Corridors...

On the Contrary, the Turkey-led Military Invasion of Syria's Kurdish Afrin Canton, Despite its Initial Claims that it would be only a so called : "Border Security" Operation, Nevertheless, Afterwards, they obviously Send their Troops to Attack even inside the Canton's Central Heartland, towards its Homonumous Capital Afrin City, Far Away from the Turkish/Syrian Borders (See MAP), and even Hurried up to ... Cut Off all Roads Leading Out of that Canton, towards Damascus Government-controlled areas, near Aleppo, except from only One Road, which was, Finally, Heavily "Bombed" by Turkish AirStrikes , reportedly making several Civilian "Casualties", (see relevant MAP, based on "SCWM" Data).

------------------------------    
+ (UPDATED) In Addition, these Days, while the Syrian Government and its Russian Allies are repeatedly Opening Humanitarian Corridors for Civilian People from East Ghouta Suburb, (some of whom have just Started to Escape from the Armed Islamist Extremists-held Pocket, there and elsewhere),

on the Contrary, the Turkish Military Invasion has reportedly Blocked even the Latest Free Road for Syrian Kurdish and other People from Afrin Canton's Enclave, (as even London-based SOHR confirmed), just after Targetting, earlier, a strategic crossoads by Deadly AIrStrikes affecting Civilian Victims. (See MAP).

------------------------------------------------
(5) HOW MUCG "HUMANITARIAN AID", "CEASE FIRE", "COUNTER-ATTACKS", "MEETINGS", "WATER/ELECTRICITY/TELECOMS+", etc ?
-------------------------------------------------------------

+ While the Syrian Kurdish Canton of Afrin, (nowadays with a Population of a Million, Refugees included), did Never get more than Only a(n undetermined) Share of just One (1) "HUMANITARIAN ASSISTANCE" convoy, provided "for 50.000 People" in Total, Also to anOther area near "Aleppo", contolled by the Syrian Army, as UN SG noted,

on the Contrary, there are Three (3) "Humanitarian Convoy(s)" which already Arrived at Armed Islamist Gangs - controlled Areas, such as "Dar el-Kabirah at Northern Homs", with "Assistance to 33.500 People ; "Douma in eastern Ghouta"'s  Suburb, "for 27.500 People", and Again "to Douma" Later-on, while even a ...4rth Humanitarian "Convoy Ready ... to proceed", ("in the coming Days"), also "to Douma".

I.e., almost a Ratio of 1 to 3 Convoys, respectively : "On 1st March" for one side, and "on 4 March", "5 March", "9 March", (soon to be Followed by even a 4rth, "Ready" to go on 12 March - UPDATED), for the other side.

Indeed, a 2nd "Relief Convoy to Afrin", for which "the Syrian Arab Red Crescent has announced its Intention" to organize, (as UNO's Secretary General noted),  did Not yet became possible, because of "Security Conditions" (during the still on-going Turkish Foreign Military Invasion).
-------------------------

+ While the Syrian Government and its Russian Allies (already since Last Month : on February 2018) have Declared an "Unilateral CEASE FIRE" for a Regular "Pause", EveryDay, during 5 continuing Hours, defined in a Clear and Stable Way for All Mornings, on "Humanitarian" grounds, for the Suburb of East Goutha inside Damascus, Held by Armed Gangs of various Violent Islamist Extremists, (including some officially declared Al-Queda like Terrorists at UN list, until nowadays),

on the Contrary, the Turkey-led  Armed Forces which are Now Invading Syria's Afrin Kurdish Canton, have Not yet anounced Any "Pause" at all, (i.e. totally Violating the latest UN SC Resolution on Syria) !
-----------------------------------------------

Last, but not least, while the Syrian Kurdish Canton of Afrin has, notoriously lived Peacefully, and Never Launched ATTACKS inside Turkey, Before the Turkish Miltary Invasion, (with Rare Exceptions, as, f.ex., that of 1 Rocket against a Military Base, after the Turkish Army's Invasion had Started, without known casualty, etc),

on the Contrary, the Armed Islamist Extremist Gangs holed in Eastern Ghouta pocket of Syria's Capital City Damascus, have Often Targetted Inhabited Areas of Damascus, "Killing Dozens" and Wounding "close to a Hundred" of Civilian People, as UN SG Guterres observed, (reportedly making, f.ex., 3 Dead and 32 Wounded with such Bombings this Weekend, etc).

Significantly, UNO's Secretary General's latest Report to UN Security Council in New York, notes "Civilian" Casualties from "Shelling from Eastern Ghouta to Damascus", but NOT at all from Afrin to Turkey. (UPDATED).  

Already since February 2018, UNSG' Special Envoy for Syria, de Mistura, speaking to UNO's Securiy Council at New York, had Denounced the Fact that "we have reports of Heavy mortar Shelling falling even across Residential Damascus, Wounding and Killing Civilians, and Damaging Infrastructure, Embassies, and even close to the Hotel where the UN is".

-----------------------------------------

+ Despite that, Recently, for the First Time, 3 to 4 Political "MEETINGS" between the Syrian Government and at least one among the Armed Gangs of Islamist Jihadists holed in Eastern Ghouta's fortified pocket, started to take place, on 8, 10, 11 and 12 March 2018, mainly about CeaseFire and Humanitarian Issues, after persisting Diplomatic Pressure on Damascus and Russia by the UN Secretariat, as its Chief, Antonio Guterres has just revealed, (UPDATED).

It seems that this might have facilitated the Departure of at least some among the Al-Quaida like Islamist Terrorists (inscribed in UN List of Terror); a Supplementary Cease-Fire by the Syrian Government, arranged with the Armed Jihadists of one among the Groups : "Jaish al Islam", (Helping to conclude an Humanitiarian Aid Convoy, earlier partially interrupted), etc.

But, until now, Nothing Similar did not happen, concerning the Syrian Kurdish and Arab Forces defending Afrin Canton vis a vis the Turkish-led Military Invading forces from Abroad : No Meeting, No Cease-Fire, Not Any Humanitarian Deal between them...

The Office of UN Envoy de Mistura Received several relevant "Letters" by "3 Armed Groups" of Islamist Jihadists holed "in eastern Ghouta", proposing to "Negotiate", "Opened Channels with All" of them, "inside and outside of the enclave", and even, once, had expressed an "Intention to Invite" those "Armed ... Groups" to a "Meeting with Russia in Geneva" (sic !), But Nothing Equivalent did Not occure yet for the Syrian Kurds and Arabs Defending their notoriously Peaceful Afrin Canton from the Deadly Turkey-led Military Invasion from Abroad... Despite several, even Written Appeals to the UN and others, f.ex., from the Elected local Leadership of Afrin, Headed by a Syrian Alevi Kurdish Woman, Hevi Ibrahim, to Help Implement the latest UN SC Resolution 2401 which clearly Calls for "immediate Cease Fire" throughout "All" Syria, etc.

- Why ?

Could it be, perhaps, Only because those Desperate Appeals (including even by the Government of Syria itself) to Help Implement International Law and the UN SC Resolutions by Turkey too, were Not "Conveyed" to UN Secretariat "from the Syrian National Council", i.e. a Controversial and Shaky Body established at Istanbul and Backed mainly by Turkey), notoriously linked with the "Muslim Brotherhood", and criticized for allegedly keeping "a heavy Islamist Agenda", as well as to have Often served as Intermediary for Money send by Foreign Sponsors to various Islamist Armed Gangs Violently Attacking the Syrian pro-Government Authorities, in order to Buy Weapons ?

But, in that case, isn't there an obvious "Conflict of Interests", and/or a Blatant Contradiction with UNO's official Mission to Help Peace and basic Humanitarian Values ?

--------------------------------------------------------------------

+ Nowadays, after various Witnesses' Reports, UNO's Secretary General just Denounced also "numerous... Damages to Infrastructure", (that various other Converging Sources, described as including even "WATER Cuts", "ELECTRICITY Cuts", "Mobile PHONES Network damaged", and "INTERNET severed") by various "Destructions fromTurkish (Invasion) AirStrikes" and/or Shelling against Afrin City these Days, where others added now also "FOOD Shortage", after latest Turkish Army Manoeuvres to progressively Surround Afrin from all sides. (UPDATED)

ISIL and Other Islamist Terrorists had Already attacked Damascus' Drinking Water System in the near Past, (according to several International Press reports), Obliging the Syrian Government to Send its Army at Nearby Mountains in order to re-establish an elementary Helthy Drinking Water for all.

These can be, obviously, Attempts to Provoke, in Addition to Massive Human Sufferings, also, particularly, a Massive Displacement of Big Numbers of Population, (often with the Aim to "Replace" the Genuine People with Deep Roots in a revendicated Area, as Turkey has notoriously, already Vowed to do in Afrin's Canton, as it has also done Elsewhere, on Many Occasions in the Past : F.ex. against Armenians, Greeks, Kurds (of Turkey), Greek Cypriots, etc. (See also Infra).

+ [A special, Tragic, case, is that of alleged "deliberate" or indiscriminate Attacks against HOSPITALS, naturally Horrible, (where Both Sides have been Accused in the Past, in this and other Conflicts, including several allegations about certain Syrian Bombardments previously, etc), which, However, do Not concern so much Attempts to provoke Massive Displacements of Poipulations, but rather Focused Crimes as such.]
            
---------------------------------------------------------
(6) + ETHNIC CLEANSING RISKS at Afrin
=> IMPORTANCE OF People's HISTORY !
------------------------------------------------------------------------------

Afrin's Canton (or Efrin in Kurdish) seems to have Ancient Historic Roots with a strong Symbolism, particularly Important at the Present Times, apparently full of Threats for "Forced Population Replacement" by the curren Turkish Military Invasion (See Infra) :

[Obviously, it's very Difficult, if not Totaly Impossible, to make Similar Claims only for a Block of Urban Buildings, seized and traped, in recent years, by one or another Violent Extremist Islamist Armed Gangs]...

-------------------------
F.ex., in Addition to being Located near Kyrros' Ancient City's Theater, at its North, and having served as a Roman Army Base facing nowadays Turkey, Becoming, already as Early as since the 4rth Century AC a Christian Community with a Bishop of its own, (while it also Hosts a notable Yazidi Minority even Nowadays),

+ even Afrin Name's Etymology seems Challenging :

- Indeed, taking its Name from "Afrin (or Efrin) River" Flowing through the City, Near the Famous "Ephrates" ("Εφράτης")   " in Greek), River, whose Name reportedly seems to stem from the Ancient Greek : "εu" (ef) = "good" and "ϕράζω" (frazo) = "Speak Well", Afrin or, rather, EFRIN, sounds Strikingly Alike the Ancient Greek Words : "Ευ" (ef) + "φρονώ" (frono) = "Think Well", or, even Better : "Ευ" (ef)+ "Ρέειν" (rein) = "Flows Well".

+ Concerning Hard Stone Monuments, Afrin is even More Equiped : F.ex. the Ancient Temple of "Ain Dara", which was almost entirely Destroyed by Turkish Airplane Bombings from the Beginning of this Foreign Military Invasion, was Classified by "UNESCO", and considered as More Ancient than - and a Prototype for- the World Famous "Solomon's Temple", (as Described in Jewish Bible, etc).

In Addition, another Historic Monument : the "Afrin Stele", reportedly refers to the Ancient God "Teshub" or "Tarhunzas", (as it's actually Written on that Stele), considered to be a "God of Sky and Strorms" (i.e. Weather), who, (according to the Mythology of the Ancient Civilisation of "Hittites", developped at Anatolia Plateau's Centre until Northern Syria, between -1.300 and -600 BC), had Succeeded to Slain a Giant Dragon... , as another Monument reminds, (See PHOTO).

What a Symbol, particularly for the current "David versus Goliath" situation, between Syrian Kurds and the Turkish Military Invasion !...

[+UPDATED] And, is it a Total "Coincidence", that the Turkey-led Military Invasion's advance seems currently to Avoid the Historic "Ain Dara" Temple (Comp. Supra), since it's the Only Route Now left "Free" for Civilian People Fleeing from the Roads towards the Damascus' Government-controlled adjacent Area, while, on the Contrary, All Other available Routes have been already Occupied by the Turkish Armed Invasion ?

Indeed, Ankara's Military moves seem to have, at least for the Time being, attempted to Surround, not Afrin City itself, but, rather, all Roads Allowing People to Escape, (as annotated MAPs clearly show). [+UPDATED)

----------------------------------------------------

Ancient History suddenly Becomes Now a Topical Issue, since the Turkish Government is suspected to aim at Imposing a Massive "Population Remplacement", by UnRooting Hundreds of Thousands of Syrian Kurds, from their Family Homes and Ancestral Land, in order to "Replace" them by Mobs of Strangers chosen, manipulated and controlled by Ankara's Foreign Regime, due to be Massively "Imported" from Turkey, mostly with a Heavy "Islamist" Fundamentalist, often even Extremist profile and Agenda, by Brutal Force, and by usurpating the Family Homes and the Ancestral Land of Afrin's original, autochton Population.

--------------------------------------------

And Here, at Afrin's "Kurdish Mountains", the presence of Kurdish People is reported at least SInce the Ancient Times of Alexander the Great's (-3rd Century B.C.) "Epigones" (successors), particularly Seleucus, according also to French a.o. Scientists cited by "Wikipedia", etc. Some go even Earlier, since Ancient Greek Historian Xenophon's times (-5th Centry AC), who describes an Homonymous People, living at nearby Mountains, on whom Other Historians add that their Descendants worshiped the Hittite God Teshub, (during the BC era), to whom is dedicated the "Afrin Stele" (Comp. Supra). Some Jewish, early Islamic, but also Modern sources Link the early Kurds even with the King Solomon, around the -9th Century BC, while the "Ain Dara" Temple in Afrin, (destroyed nowadays by the Turkish Invasion on 2018), is considered Older and a Prototype for Solomon's Temple.

While, on the Contrary, the appearance of Turks in Anatolia's plateau, is reported Only After the Desastrous "Mongol-Tukic Invasion" Starting from the 13th Century A.C., (i.e. more than + 2 Thousand Years AFTER the Kurds !),  with "Othoman-Turks" Beginning to Surface surfacing only Since the 15th Century AC, and Turkey itself, having Less than ...Only One (1) small Century of shaky and troubled existence (1923 - 2018) 94-95 years only...

------------------------------------

    Thus, it's a Surprizing Irony of the Sort, that when Afrin's Kurdish People were Nowadays Forced, by Turkey's Foreign Invasion and Occupation, to Try to Flee,  the Only Road Left was via a 3.000 Years Old Temple, of Ain-Dara, recently Destroyed by Turkish Military Invasion's Air Bombings

+ As well as, anOther Timely Symbolic Coincidence, concisting to the Fact that an Ancient God referred to an Historic "Afrin Stele", is the Hittite Civilisation's God "TarHunz", alias "Teshub"), who is Often Pictured on a ...Bull, and also Related by Scientists to the Ancient Greek God "Zeus", notorious also for the World Famous Mythos of ... "Europe" :

 - I.e. a Young Woman Deity, that God Zeus kidnaped at Nearby Ancient Phenicia (Nowadays ... Syria !), Disguised as a Bull with Wings, who took her on his Back (as "Teshub" or "Tarhuz" : Comp. Supra), flew over the Mediterranean Sea, and Brought her to our Continent, which got her Name...

A well known Ancient Mythos, which is, Nowadays, Reminded by a Modern Statute of a ...Huge, "Sacred" Bull, allegedly transporting the Young "Europa" on his Back, that a Group of MEPs (led by Long-Time former Minister of Economy, Kostis Hatzidakis from Crete, a mainstream ChristianDemocrat/EPP MEP, active also in the Youth Movement, as EU Parliament's current Secretary General, Klaus Welle), has Installed, (after an Official Ceremony, where "Eurofora"s co-Founder was Invited), right in front of ... EU Parliament's Building, at Schuman Street, in Strasbourg !

I.e., there where an EU Resolution on Syria events (naturally including Afrin's Deadly Invasion by Turkey a.o.) is scheduled to be Debated (on Tuesday) and Voted (on Thursday) next Week...
(../..)
------------------------
BRIEF NEWS
00:00 - 09.07.2018

00:00 - 31.05.2018

00:00 - 26.12.2017

00:00 - 26.05.2017

00:00 - 30.01.2017

00:00 - 14.10.2016

00:00 - 24.09.2016

00:00 - 27.07.2016

00:00 - 03.07.2016
Statistics
Visitantes: 28957279
Archive
Login Form
Other Menu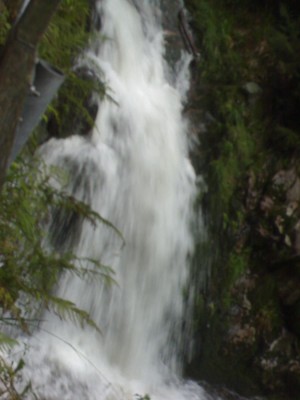 Benedict's "Source" to revitalize Europe : - "The World needs Hope", Pope says, calling to relaunch E.U. via Human Rights !
Paris - Lourdes - Strasbourg : 12 - 17 September 2008.

The vital need to re-launch Europe can be succesfully met by defending fundamental Human Rights of the People, said Pope Benedict XVI in his 1st speech in France, at his meeting with President Nicolas Sarkozy, who currently chairs the EU.

Sarkozy replied by welcoming Christian and other religions' contribution to indispensable Public Debates on crucial issues which affect Human Dignity, Europe, even Humankind, as BioGenetics.

- "When Europeans will see and personally experience that the inalienable Rights of the Human Person .., those of their free Education, their Family life, their Work, ..their Religious Rights, ..are respected and promoted, then, these Europeans will fully understand the greatness of the European construction and will be actively involved in it", Benedict XVI stressed.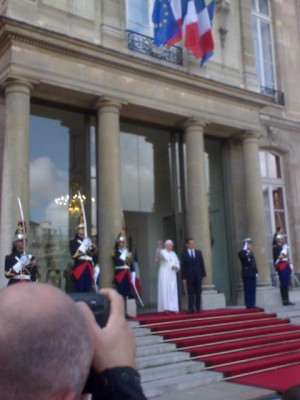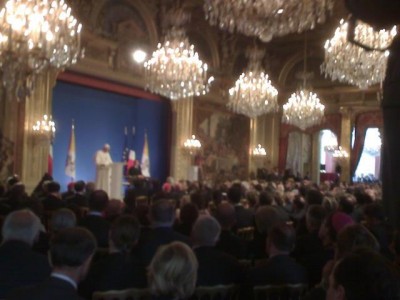 - "It's important that during France's EU Presidency, there is, indeed, a desire for the Church to contribute to protect Human Person's integrity, and I think that there is also a growing Conscience, beyond any polemics, to defend Human Rights, and, thus, contribute to ensure respect for Human Dignity", added to "EuroFora" the Pope's Spokesman, Vatican's Press Director Federico Lombardi.

- "Nobody really told us here that Lisbon Treaty was good for this or that reason to the People. They only told us that we "had" to ratify it, and tried to scare us, but failed", said 2 Irish pilgrims to "EuroFora", after 2 Majority Abstentions in 1999 and 2004 EU Elections and 3 "NO" to Referenda in France and the Netherlands in 2005, followed by the Irish "No" in 2008, during a Decade of EU Crisis since the controversial Turkey EU- bid (1999-2008).
More than .."224 cases of Murders, Torture, "Disappearancies" or Destructions" by "agents of Turkish Security forces", where all those responsible for so heavy Crimes still remain scandalously unpunished, despite regular condemnations of Ankara by Strasbourg''s European Court of Human Rights from 1996 to 2008, were examined the same week by CoE's Ministers, who decided to launch a fresh call "urging" the Turkish Authorities to end this dangerous "virtual Impunity" of criminals, without comparison to European countries.

- "Why not Ukraine, instead of Turkey ?", asked EuroFora a Journalist from "Kiev : the city where it's enough to cross the streets in order to realize that it's a European town", as Sarkozy recently said, before solemnly declaring this week, together with Ukranian President Jushenko and EU Commission's chair Baroso, EU's "recognition that Ukraine is a fully European Country, linked to Europe by culture and History".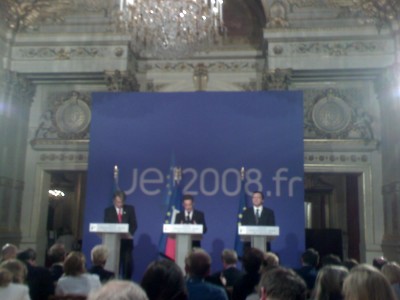 Europe's "Christian roots" and Values, with "openess and mutual respect" to other cultures and beliefs, were highlighted by Sarkozy in harmony with Benedict XVI.

The Human person should be protected "from his inception until his natural death", added the Pope, faithful to BioEthic principles defended by his predecessor and collaborator, John Paul II, of topical importance in France, Europe and the World today, as Sarkozy announced :

- "Fast and important progres in Genetic Science and procreation raise delicate BioEthical Questions to our Democracies", which "involve our view of Humans and Life, and can lead to Social Mutations. That's why they cannot remain only a business of experts", hestressed.

- "It's Politician's responsibility to set a proper framework for such Public Debates", as "France will do on BioEthics in 2009". "Religious and Philosophic traditions must take part, with their ideas and centuries' long experience : A positive Laicity is an open invitation to Dialogue", he said.

- "France engaged in Europe at another Debate on how to make Financial Capitalism more moral", and the "Social doctrine of the Church fits well what is at stake in modern Globalized Economy"

- "But, a "Real Dialogue is not for an elite of a Globalized world : It penetrates deep into the People : That's why Churches should actively participate : .. It's bringing New Oxygen to Public Debates", stressed Sarkozy.

- "Democracy must not be cut off Reason", which is "compatible with Faith", thanks to "the meeting between Christianism and Greek philosophy ", he added, referring to Pope's views. "It means to advance with logic arguments, search what's best and respect common principles of thinking :... It's an everyday need for Public Administration and the Political Debate", he added.
----------------------------
Pope Benedict's 1st visit to France looked like the start of a brillant, manifold demonstration that this was well-founded and could become true in the lives of the People : After its Theoretical foundations unfolded at a "speech to the world of Culture", inaugurating Bernadins' cultural centre, and its dogmatic instrument shaped at an address to the Clergy in the Historic Notre Dame' Cathedral, he started to resolutely reach out to the People :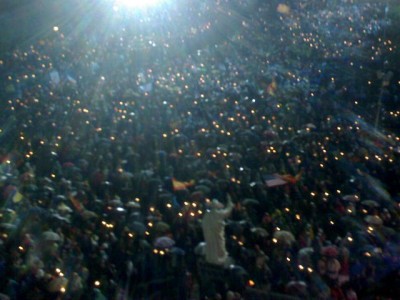 The move went upwards like Bach's music : Begining with a call to more than fifteen thousand enthousiastic Youngsters gathered at Notre Dame's parvis with overnight celebrations, it gained strength in an impressive open-air Mass at Paris'central Invalides'area facing Alexander III's bridge, attended by more than 150.000 people, French Prime Minister Fillon, many Ministers, Foreign Ambassadors, etc, and culminated in a series of pan-European Mega-meetings at Lourdes 150th anniversary, together with all French Bishops, EU Commission's vice-Chairman Barrot, and some 200.000 enthousiastic People from all over Europe and beyond : After a Sea of Lights astonishingly braved Saturday Night's rain, an open-air mass at riverside fields among Pyrenees' Mountains Sunday Morning, was followed on Monday by a Sea of "Compassion" to those facing Health or Life threats, surrounded by an endless gathering of People, whose gigantic dimensions obviously surprised the organisers..

Meanwhile, Benedict had the occasion to speak to the French Priests at Notre Dame of Paris, and with the Bishops at Lourdes, where they prepare a crucial November plenary meeting, due to take important decisions on imminent EU debates and choices about Europe's identity, BioEthics, etc.
-------
- "A new way of thinking about Laicity has become necessary", agreed the Pope with President Sarkozy at Elysee. While keeping the "distinction between Politics and Religion, to guarantee Citizens' Liberty", "religion is important for shaping Consciousness and contributing, together with others, to create a basic Ethical Consensus in society".

- "Searching Essential realities", (as "God" for christians), needs "Speech : "Logos" in greek, i.e. Reason", "able to shape a Community","with creative work transforming Human History". But "Dialogue" is instrumental for "Reason", because it's the way to "search" for Truth", in "Liberty", according to Greek Platonic Philosophy, with Socrates' dialectics. "Reason" implies "Spirit and Liberty", hence the polyphonic "Music" of "Dialogue", in a responsible, "well balanced" way, to avoid "destruction".

Starting with a "Dialogue between christians and intellectual or artistic movements" highlighted at Bernardins' Cultural Center. with former Presidents Chirac and Giscard d'Estain, UNESCO's chair Anastassopoulos, etc., as well as representatives of Muslim Communities, (including a separate Turkish), after contacts with Jews at Vatican's Embassy, the Pope turned towards the People :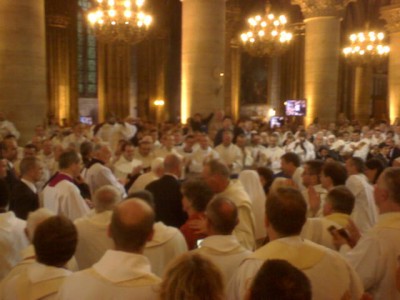 -------------------
To French Priests : "Church built on the rock" !
---------------------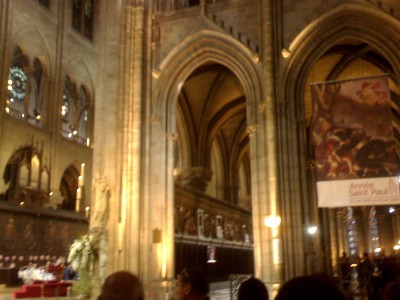 - Speaking to thousands of French Priests at Notre Dame's Cathedral, Benedict highlighted a solid "Church built on the Rock" of conscious and active persons, transmitting "a lively, energetic and sharp" "God's Speech, actively working on Human History".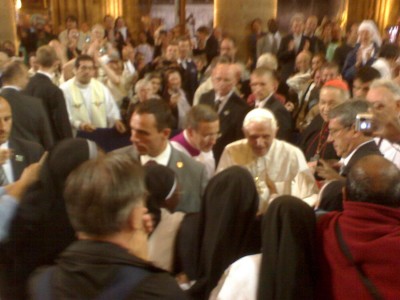 "Praying together" with "representatives of Christian Churches and ecclesiastic communities", (as Orthodoxes, Armenians, Protestants, etc), he called "to reinforce the Unity of the church", against "any form of Division", around Holy Spirit', "the Word","Christ's Justice", and "Love" to fellow- humans : Essentials which "resume all holy scripts", as he said.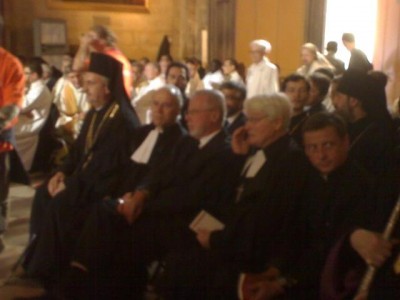 -----------------------
To Young People : "New Horizons"
------------------------
To some 15.000 enthousiastic Young People at Notre Dame's parvis, along Seine's river, Benedict spoke about "the Energy of the Holy Spirit" and "the Mystery of the Cross" : - "The Holy Spirit opens New Horizons to Human Intelligence .. and makes it conscious of the real greatness of Christ's sacrifice, dying and resurecting for World's life".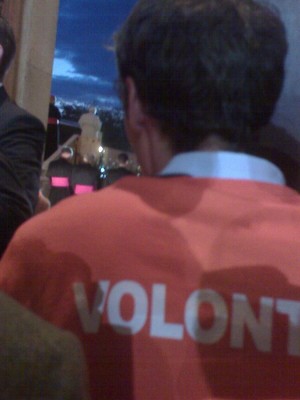 Some "may slander you as crazy, laugh at you, or even persecute you. But, "the Holy Cross is a symbol of God's love", and "givesmoral strength" : "Witness of People's pains, it's at the same time, a precious, unique expression of their Hopes", he told them at Paris' dawn.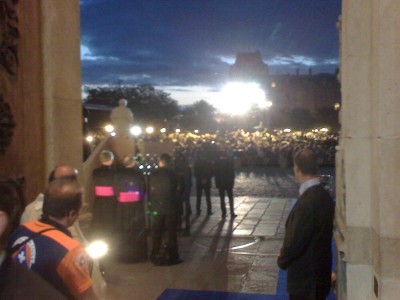 ----------------------------------
Invalides' plateau : "People chosen to become God's friends"
---------------------------------------
At the 1st open-air Mass in Paris' center area of Invalides, facing the Grand Palais, along the river Seine, during an impressive gathering of more than 150.000, French Prime Minister Fillon, Ministers Alliot-Marie, Bachelot, Dati, Jouyet, Assembly's President Accoyer, Senate's Chair Poncelet, former 1st Lady Bernadette Chirac, former Prime Minister Raffarin, many foreign Ambassadors, and other political personalities were present. (While earlier, from the Socialist opposition, Paris' Mayor Delanoye, artist Robert Hussein a.o. assisted at the Elysee meeting).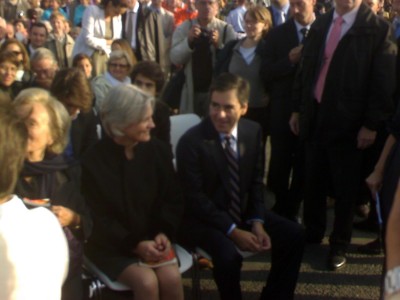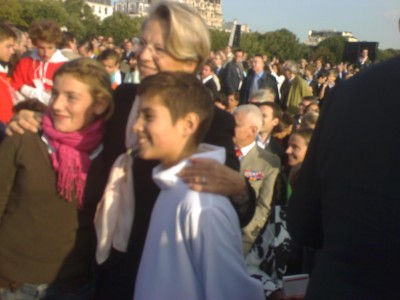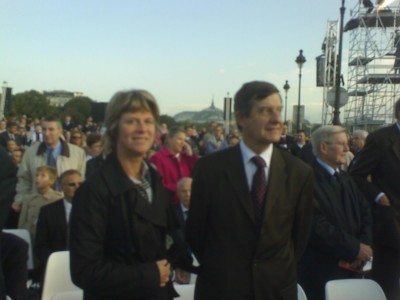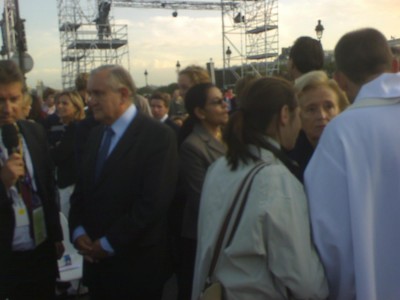 But the "Entry Song" focused on the "People chosen to become God's Friends". The September 11 mass was Dedicated to "Saint Chrysostomus, that great priest of Constantinople", with his "wonderful eloquence and great courage to face challenges", who "made out of despaired and godless people, a people of brothers", opening a possibility to "become all one complete entity", as Pope Benedict reminded.

- "Reason never enters in real contradiction with Faith", stressed Pope Benedict, who prepared his speeches for France during a short Summer rest at Brixen/Bressanone's Seminar, whose Library honors both "Faith and Science".. - "We must use not only our Reason, but also our Faith" : "Get away from Idolatry", "cupidity", "avidity for money, power or even knowledge deviating from essential aims", and other "falses appearances". and "build your Home on the Rock", "with the force that Holy Spirit gives to those who let it act in them", he said to the People of Paris.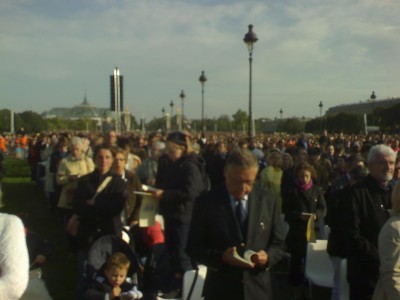 --------------------------------------------------
Benedict at Lourdes : - "Become Light (even) in the Dark !"
------------------------------------------------------------------
- "Our World needs Hope", stressed Pope Benedict, addressing an impressive TorchLight procession at Lourdes' sanctuaries, where a Sea of Lights held by Hundreds of Thousands of People gathered at Pyrenee's Mountains from all over Europe astonishingly kept their flames despite a heavy Rain at a windy Dark Night...

- "150 years earlier (1858 - 2008), ..here, in the cave, ... a simple young girl, Bernadette .. saw a Light". "The everyday life of her Family was, however, made of Misery, Sadness, Sickness, Misunderstandings, Rejection and Poverty... It was hard to live in Jail". Today, "we think to all Human Beings who suffer : The innocent Victims who face Violence, War, Terrorism, Hunger, Injustices, Catastrophes, Hate and Oppression, Violations of Human Dignity and of their fundamental Rights, of their Liberty to act and think. We also think to those who face Familial problems, sufferings from Unemployment, Sickness, Infirmity, Isolation, or their situation as Immigrants, without forgetting those who suffer and die for the name of Christ", he said.

- "But the Shadows of the Earth, did not hinder Sky's Light to shine : <<The Light shines in the Dark>>" ..."A Way full of Light opens in Human History even in its Darkest moments" : ..."As Night falls, Christ tels us : <<- Keep your Lamps alight !>>."Hold a Light while walking in the Night .. sums up our condition as Christians on their way : "We need light, and we are called to become Light !", Benedict stressed to People setting in motion Lights, Flags and Songs with enthousiasm.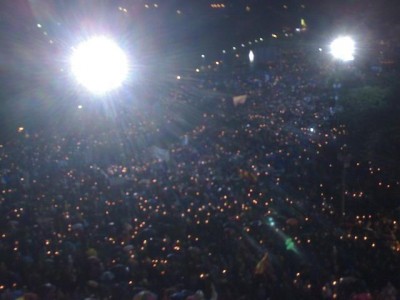 "<<- She looked at me as a Person, who speaks to another Person>>, the poor girl had noted."Light emerges from such a Dialogue", stressed the Pope : "A small Flame called Hope, Compassion and Tenderness dwells inside those who return after being moved by Lourdes' experience". "Christ .. entrusts us with the Mission to let the Light of Charity shine : To make of our Prayers an Act of Love to our brothers and to Fraternal Charity", he concluded.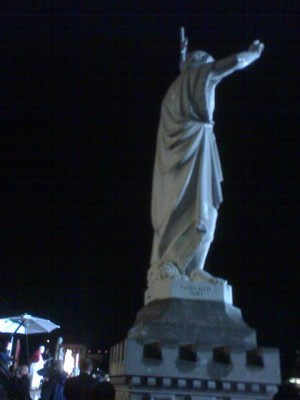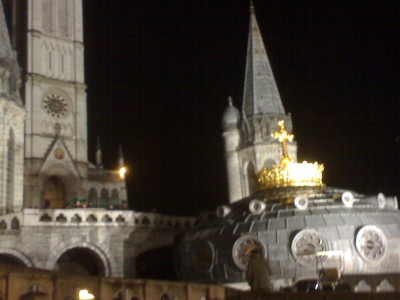 (../..)
Polls