Home

newsitems

CoE/ECHR: Turkey Fails to show Content of Enquiry for MISSING Cypriots, doesN't Pay, Hides Proof
CoE/ECHR: Turkey Fails to show Content of Enquiry for MISSING Cypriots, doesN't Pay, Hides Proof
Tuesday, 19 September 2017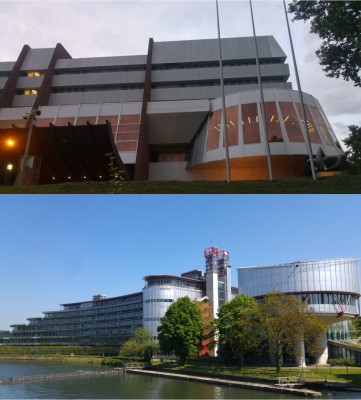 *Strasbourg/Angelo Marcopolo/ [UPDATED]- Eve of a crucial CoE Ministers' meeting on ECHR case-Law Implementation (19-21/9/2017), Turkey Failed to show Any concrete Content of Investigation on Cyprus' "MISSING" People even After Decades, does Not Pay to the Victims' Family any due Just Satisfaction, and is also Accused now to Alterate material Evidence on what really happened to them and who is responsible, according to Recent UN Findings.

This was Revealed by Official Documents, just published by the CoE, concerning the execution of Both ECHR's landmark Judgments in the "Inter-State" Case of "Cyprus v. Turkey" (2001) and on a series of Individual Complaints by Victims' Families in the "Varnava" case (2010), but also on more recent occasions (f.ex. 2012, 2014, etc), according to Letters send by their Lawyers and Human Rights' NGOs, as well as by the Governments of Cyprus and Turkey on 2017.

ECHR has repeatedly Condemned Turkey, inter alia, mainly for Failing to Investigate the Fate of Greek Cypriot "Missing" persons, since the 1974 Military Invasion/Occupation of the Northern part of Cyprus by Ankara's Foreign Army, (which notoriously made also more than 190.000 real Refugees/Displaced People, forced to flee and still Hindered to Return, despite another set of Damning ECHR Condemnations of Ankara), according to Strasbourg's PanEuropean Court's Established Case-Law, which traditionally asks, from the respondent State, to make Efficient Investigations on what realy Happened to those gone "Missing", Find and Punish all those Responsible for her "Disappearance".

CoE's Highest Political body, that of its 47-Member Countries-strong Committee of Ministers, eeeeeis entrusted with the Duty to "Supervise the Execution" of ECHR's Judgements, and which can, theoretically, take a Variety of Decisions in case of Blatant DisRespect, going from concrete Demands, more or less strong Criticism or Denonciations, etc., up to Declaring that the Responsible State eventually Failed to abide by CoE Statute's Obligations for Respect of the Legally Binding character of ECHR's Judgements on Human Rights, eventually leading, in fine, at a Threat to Suspend or Exclude the recalcitrant State from Strasbourg's Pan-European Organisation, (as, f.ex., in the case of a Military Regime in Greece during the 1967-1974 Past, etc). In parallel, CoE's Parliamentary Assembly, (which meets here soon, in October 2017), can, eventually, take several Other Sanctions also vis a vis the recalcitrant State's MEPs, (f.ex., Block their Voting Rights, etc).

-----------------------------
Ankara on Cyprus' "Missing" People :
 - Many pages with 0 Content of Investigations, (for Decades) !...
----------------------------------------------

 - "Truth Now" NGO, refers Nowadays (9/2017), in a Letter just received by the CoE in Strasbourg, to a Series of Individual Complaints which had been lodged to ECHR in the Past by Families of Dozens Greek-Cypriots "Missing" since 1974, but were, curiously, Dismissed, by a Chamber of the ECHR, on 2012 and 2013 as ... "Premature" (sic !).

 - Indeed, 7 out of the 47 ECHR's EuroJudges had found, then, that Turkey hadn't Started to make "Investigations" in those cases (of Persons "Missing" since 1974), but Only "since Late 2010"...

=> Therefore, a Chamber of ECHR had concluded, on 2012 and 2013, that it was, then, "Too Early" (sic !) "to impugne" Turkey's response as "InEffective", and/or "a mere Sham or that there is Bad Faith, wilful Footdragging and calculated Prevarication". Merely because this was "Not Yet" possible, at that Time.

>>> But, ECHR, had, nevertheless, Repeatedly Warned, on 2012 and 2013, that, even in similar Cases, "Prolonged Inactivity and Silence by the (Turkish) Authorities over a More Significant period of Time, Might eventually render Such a Conclusion Possible", i.e. result in New Condamnations of Ankara.

- Therefore, ECHR, "Concerned with complaints as to the response of the (Turkish) authorities Following the Discovery of the Remains" of "Missing" Greek Cypriots,  in Fact, did Not Exclude to, eventually, Find, Later-on, f.ex. a "Lack of Effectiveness or Expedition", an "Obstructiveness or Callous Indifference", But had Not Yet enough elements "at the Current Time", or "at This Stage", as it had said Back on 2012.

+ However, ...even 5 More Years Later, on 2017, the Turkish side reportedly send to the Lawyer of the Victims a Letter (only in Turkish Language !), which appears to Claim that "Alleged Investigations ... had reached No Result, and that the Case-Files would be Closed" for ever !

=> Thus, "Truth Now" NGO concludes  Today that "the Turkish Government has so far Failed to carry out an Investigation, let alone an Effective one", on what really Happened to all those "Missing" Persons, and "urgese" COE's Committee of Ministers to Remind Turkey "its Obligations under the judgments of the Court both in respect of Damages, as well as individual and general Measures".

+ That NGO also Informs the CoE that (partly Similar to an Old "Eurofora"'s  Suggestion, made in the Past to a former UNO's Envoy for Cyprus, during his Visit to EU Parliament in Strasbourg, as a way to also Facilitate a Peaceful ReUnification of the Island), and Afterwards endorsed also by Lawyer Achileas Demetriades, mutatis-mutandis), it Stands ready to "Support the Creation of a <<Truth Commission>> in Cyprus" for All "Missing persons", in general.

----------------------------------

 But, Astonishingly, the Only "Reply" given by the Turkish Government on those Cases of many Dozens more of "Missing" persons, just Received by the CoE in Strasbourg on 9/2017, is a Long Letter, with Many full Pages, Contesting all the above-mentioned Arguments of the "Truth Now" NGO, ...withOut, however, Mentioning ...Any Concrete Content at all, from Ankara's alleged "Investigations" on that matter !...

It's, indeed, Only a mere Mention of Strictly Procedural steps, curiously Empty of Any (even the Slightest) Mention of one or another Content of the "Investigations" that Turkey claims to have made : F.ex., No Lead, Nor Hypothesis, Not Any Finding, No Arguments, No mention of any Circumstances, Acts, Suspects, Witnesses' depositions, Searches, Objects and/or Locations Examined, Remains analysed, etc. I.e., absolutely Nothing on the Substance of all those Tragic Cases !

---------------------------

>>> This seems, indeed, to be a Wider, almost General Problem with Turkey's attitude vis a vis "Missing" Persons in Cyprus, as a more Comprehensive, Critical set of Observations presented by the Cypriot Government to the CoE Denounces Now :

- "The actual and/or precise  Content of these Investigations has
consistently and purposely Not been Disclosed" by Turkey, even if  Ankara "seeks to create a (False) Impression ... of ... alleged .. Investigations and of an ...Output", fallaciously, the Cypriot Government criticizes mainly, in, its observations on the Implementation due to ECHR's landmark Judgement on the "Cyprus v. Turkey" InterState case.

------------------------------------------------------

+ Secret "ReLocations" of Victims' Remains :
- Attempts to "Conceal Evidence of Crimes" ?

-------------------------------------------------------

- Moreover, Recent Findings by UNO's Committee on "Missing" Persons at the Island, have "determined that a Large Number of Missing Persons' Remains were ... Intentionally Removed" from their Initial Burial Place, and "Transferred to UnKnown Locations" by Turkey, Denounces Cyprus' Government now (9/2017) :

- Indeed, as "CMP has determined", this was done with "Considerable Effort", and "Heavy Machinery", in a way "Undoubtedly Deliberate, and Intended to Conceal Evidence of a Crime", Nicosia's Authorities point out.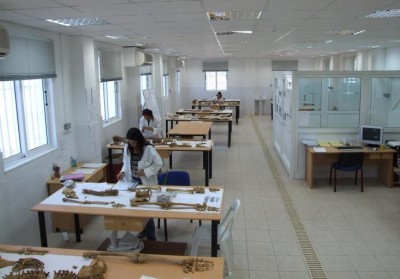 - In particular, "This is Evidenced by the Archeological Findings, and results of Fragmented and Disarticulated Remains that have arisen from a number of CMP's Excavations". Also, "so far, it has been Established, that the Intentional ReLocation of Remains has occured in 4 Sites in the (Turkish) Occupied Areas of Cyprus", Nicosia denounces.

- And, "Despite repeated Pleas to Turkey, including through various Decisions (of the CoE) to Provide Information ... of the New Locations, at which the ReLocated Remains have been Deposited", nevertheless, "Turkey Continues to Deny ... any relevant Infirmation", Cyprus' Government reveals.

>>> But, meanwhile, "that ReLocation Leads to Distortion of Burial Sites, and the Loss of valuable Forensic Information (Evidence)", including even "to the Loss of the Remains themselves, ... partially or in whole", Cyprus Warned.

-------------------------------------------------------

Unfortunately, Turkey's own Latest 2017 published Report's observations on all these Cases and Critical Points, once again, does Not reveal Any Substantial Content of Investigations, Neither any concrete reply.

+ It Only reveals that Ankara still Persists, anew, to Refuse to even Pay Any Just Satisfaction Awarded by ECHR's Judgements to Victims of such Enforced "Disappearances", and/or of Massive Usurpations of Greek Cypriot Refugees/Displaced Persons Family Homes and/or Private Properties,  in the Occupied Territories of Cyprus, still illegaly Controlled by the Turkish Invasion/Occupation Army since 1974, despite several UN SC Resolutions asking for the Withdrawal of Foreign Troops.

=> That's why, Nowdays, also another Victim of the Latter, Professor Dr. Andreas Orphanides, from a Family of Greek-Cypriot Refugees/Displaced persons, who is also a Lawyer, asked from the CoE to "Declare Explicitly that: "Turkey has Seriously Violated Article 3 of CoE's Statute", on the PanEuropean Organisation's Member States' Obligation to Comply with ECHR's Legally Binding Judgements on respect Human Rights, (Comp. Supra).
----------------------------------------------------
+ [UPDATE] In a Note, apparently Dated "19.9.2017", but seen by "Eurofora" Later, Turkey curiously Adds, at the Last Minute, a lot of never mentioned before Claims, in an obvious Attempt to avoid CoE's eventual Sanctions for Lack of Efficient Investigations on the cases of "Missing" People from Cyprus :

- But the alleged Facts convern Only one (1) case, and the Fate of Only one (1) Greek Cypriot "Missing" person, among more than 1.500...

- Ankara's Government already had Many full Months, since the Previous CoE Committee of Ministers' Human Rights session, and more than 42 Years since those "Disappearances", soon after the 1974 Turkish Military Invasion and Occupation of the Northern Part of Cyprus, in order to Make serious Investigations on their Fate.

Therefore, there is No Excuse for Starting to present the slightest trace of One alleged "Investigation" Only During the Day in which CoE had just Began to Examine and Discuss All those cases.

- Even if Turkey Admits that this Case "concerned one among the Most Serious Crimes", which still remains totally UnSolved, nevertheless, it Announces that its "File has been Closed" by its subordinate authorities  !

- Under Pretext that, as Turkey Claims, its agents would have "conducted (UnDetermined) Searches" (sic !), But ..."did Not Find Any Evidence or Trace", Not Even there Where UNO's Committee on Missing Persons (CMP) had, on the Contrary, Managed to Find, Earlier "the Remains" of a Killed Greek Cypriot "Missing" person...

+ In Addition Turkey Claims that, according to what had Merely "said the Son" of a key Suspect, ("Named" by the Family of the Victim), he would have "Died in 1992", and, therefore, Not even a simple "Statement could Not be Obtained from him" Now.

But, (even if this would be Supposed as, perhaps, True), However, "Eurofora" knows (on the Basis mainly of Official Documents and Testimonies, since 1992 in Strasbourg), that it was ...Turkey itself which notoriously Persisted to Block, even a simple Publication, of the 1st ever CoE's Official Report which had Initialy Examined, Verified and Denounced the Fact that serious Risks of Crimes to have been Committed on many Greek Cypriot "Missing" People, really Existed, and Must be Efficiently Investigated, before it becomes too late, as it had Concluded, already as Early as since the 1980ies !

Indeed, this concerned an Official Report on Cyprus by the former European Commission on Human Rights (which Historically Existed since the Creation of the ECHR, until a Reform of that System on 1998), which had been Kept Secret, during several Years, and classified as "Confidential", until the Cypriot Government Accepted to promise Not to pursue the matter further into the Court, but to consider that this Procedure had Finished merely by its Publication (i.e. withOut any Investigation to Find those Responsible for the Enforced "Disappearances", and withOut any Sanction against eventual Criminals)... And, indeed, this was Agreed, among Diplomats, on that Initial Inter-State case, ...Exactly on 1992 : I.e., by an Astonishing "Coincidence", precisely When that Suspect No 1, would have, allegedly, "Died", all out of a Sudden (Comp. Supra) !

=> Therefore, Turkey, whose Negative Behavior is the main Responsible for Blocking ECHR's functioning until, at least, 1992 (in that key Initial Case), canNOT, Now, Find Any alleged "Excuse" in an eventual Obstacle to the Required Efficient Investigation, that Ankara Provoked by itself, (Obviously in order to Block such Investigations)...

++ Moreover, Nowadays, Turkey also Claims on 9/2017, that, Despite some (UnDetermined and Vague) "Searches", and/or (also UnDetermined and Vague) "Interviews", allegedly made by Ankara's agents Recently, in that individual case of a "Missing" Greek Cypriot found Killed, (Comp. Supra), nevertheless, the mere "Passage of 43 Years since the event (1974-2017), had Rendered UnFeasible (sic !) the Questioning of the relevent Persons, and Collection of further Information and Evidence" !

If such a strange Turkish Claim was, eventually, accepted, then, ... it's practicaly All, or almost, More than 1.500 Cases of "MISSING" Greek-Cypriot People, which would Risk to be Definitively and Totally Blocked, and All eventual Criminals would Escape entirely UnHarmed, withOut even Discovering, ever, the Truth on what really Happened to them...

Moreover, WHO bears the main Responsibility for that Delay ? Who provoked that awful Waste of precious Time ? - Who else than ... Turkey itself, which has notoriously Attempted to Block and/or Delay, during almost All these Years, any Independent and Efficient Investigation on what really Happened too all those "MISSING" Greek Cypriots, and Who is Responsible for their Enforced Disappearance...

It's, precisely, for that reason, that ECHR initially Concluded on Turkey's heavy Responsibilities with that Report written on the 1980ies and Published on 1992, Comp. Supra), and Afterwards Condemned Ankara at another "Cyprus v. Turkey" Inter-State Case on 2001, added also to the susbequent ECHR Condamnations, in a Series of Individual Applications, lodged by the Victims' Families, at the Famous "Varnava" Case on 2010, (etc). And all this has been, practically, Confirmed, even more Clearly than ever, also with a landmark ECHR Great Chamber's Decision of 2014, which Explicitly reiterated Turkey's Obligation to, at last, Investigate all those Cases of so many Greek Cypriot "Missing" People, and the subsequent CoE Committee of Ministers' Duty to Convince Ankara to, at last, Abide by ECHR's Judgements which undeniably Require such Efficient Investigations. Many CoE Committee of Ministers' Decisions also, at several occasions, Until Recently, have Explicitly "Urged" Turkey to do so, the Soonest, as a matter of "Urgency", Before it Might Become, eventually, in this or that particular case, Too Late, by provoking the Destruction of Evidence of Crimes.

That's, indeed, why Turkey was Repeatedly Condemned by the ECHR under Article 2 of the PanEuropean Convention of Human Rights,; which Protects Life, for Lack of Any Efficient Investigations in the Cases of Greek Cypriot "Missing" People, and even under Article 3, for Inhuman and Degrading Treatments of Victims' Families, because Turkey has for Decades Refused or Failed to give them Any useful Information on What Happened to their Beloved ones, who "Disappeared"", in Life-Threatening Situations, at Areas Controlled by Ankara's Invasion/Occupation Army.

=> Therefore, obviously, Turkey canNot, Now, (After all these Decades of Silence, Delays, Obstructions, and/or Failings to really Search the Truth and Do Justice), Find a Pretext or Excuse on what it has illegaly and scandalously Provoked itself !

+ Unless, it all Means, in substance, that a New Fact has been Created, more or less Recently : The Destruction of Evidence of Crimes by Turkey's earlier and prolonged Behavior.

>>> In that case, such a New Fact must, naturally, be clearly and Distinctively Denounced and Condemned in itself, by the ECHR, with relevant, specific Sanctions by CoE's Committee of Ministers : 

=> If, indeed, some Turkish Officials provoked, by their Acts and/or Ommissions, during Decades (f.ex. from 1980 up to 2010+ : Comp. Supra), such a Huge and Scandalous Cover-Up even of Horrible Crimes committed in the Past by Others among their populations, in the areas that Ankara's Military Controls, then, All those "New" and Supplementary Wrong-Doers, Culprits, and/or Additional Criminals, Must Face adequate Sanctions and Justice be done, also as far as their, Additional and Subsequent Wrongdoings (f.ex. Complicity to Crimes, Destruction of Evidence, Recell, Obstruction of Justice, etc) are concerned !

This should, normally, be much More Simple to do, since almost All of those Additional Culprits would probably be still Alive (since their Acts and/or Ommissions are much more Recent), and Easily Identified. ]

-------------------------------------------------------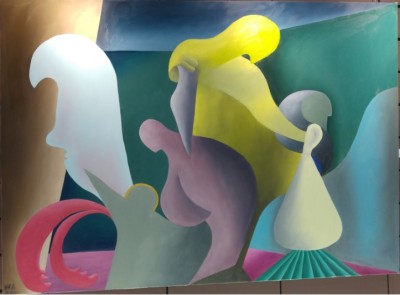 => By a Timely Coincidence, the overall scandalous Picture of All these Facts, astonishingly Fits with a very Expressive, Original Painting presented these Days at an Exhibition of 2 German Artists inside the CoE, sponsored by the PanEuropean Organisation's Cultural Club, where "Eurofora" was Invited, right in Front of ECHR's Building in Strasbourg :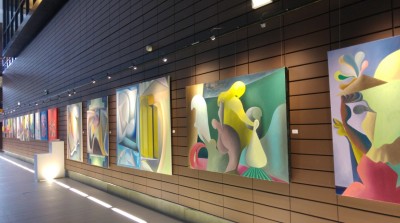 - Among the Various Colorfull Artworks exhibited here by Painters Gertrud E. Wurth and Harm Gerdes, both from nearby Darmstadt (Germany), the Latter included also a Spectacular Tragic Picture, in which, the Spectator may see a Criminal attempting to Kill, with one Hand, his Victim, while, by anOther, Usurpating his Money, Together with his Cultivated Fields and Land. This translates, at the Painting, with a Yellow Color becoming Brighter at that Criminal's Figure, as he Steals the Life and Belongings of his Victim, who, by Dying, progressively Loses his own Color, Falling Down into a more and more Gray Nothingness, and Threatened to be soon Totaly Erased, Drown at a Flood of Red Blood below his feet. But, at the Last Minute, that Victim finds the Moral Strength to, at least, Launch a Final, Dramatic Appeal for Help and/or in order to, at least, Denounce those Horrible Crimes, exclude that they might be Forgotten or Covered up, and Ask for Justice to be done. Then, Suddenly, that Victim's Appeal is Magically Transformed into a kind of Bright Light, which Flyes Upwards, joining a Vertical Bright Beam of Energy, which Succeeds to Advance High at the Top of the Sky's Horizon, (from where, on the Contrary, the Criminal's lower Figure seems Excluded)...

- "Eurofora" was, sincerely, Astonished, by that, Exceptional Painting, (placed among Many Other, various Paintings with Different Images), even if its Creator, the 22 y.o. Young Painter Gerdes (who studied Art in Germany and the UK) prefered Not to tell us what he wanted to say with that, but Rather ... Ask us, with a Serious, but kind Smile, what We were seeing in its colorful, tragic Content ! 
We only Guessed the True Meaning of that Exceptional, Tragic, but Superb Painting, when we realized that Gerdes' Mother (nowadays a Beautiful, Serious and Kind German Lady), was of Cypriot origin, Born at the Island...

--------------------------------------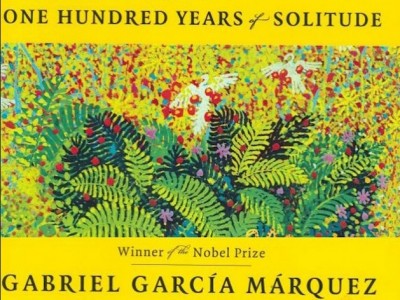 In fact, speaking of Art, Nowadays, the prolonged Turkey's Disrespect vis a vis  ECHR's Case-Law reminds World-Famous Gabriel Garcia-Marquez' Nobel Prize Winner book "100 Years of Solitude" :

- The Writer describes an area where Massive Horrible Crimes were allegedly committed against Many Innocent People, who have Mysteriously "Disappeared", all gone "Missing", including most of their belongings, withOut leaving any visible sign to nowadays travellers.

>>> But, the Tragic Despair of those vainly Trying to Find the Truth on what Really Happened to all those Human Persons, and where have they been, who is Responsible for their "Disappearance", or any trace of their remains and History might still Exist Today, is, unexpectedly, Dissipated :

- A Colorfull "Cloud" of beautifull Butterflies, suddenly Fly accross the Sky, coming and going around a focal point, now lost amidst a Dense Forest which has grown throughout a long forgotten area : There where, once, an Historic Community of Many People used to Live, for Thousands of Years, Free, with a vivid Culture, with a Memory and a Future at the Horizon. Until they were Brutally Aggressed, Tortured and Slaughtered, or Forced to Flee, while their Homes, Cultivated Fields and Land were Usurpated by a Violent Invasion of Armed Bands, who Systematically Erased Any Trace of their Victims.

Such a "cloud" of Butterflies, which started to Fly around such spots, Marks a Hidden Tragic History, that it's our elementary Duty to Help Reveal, in order to do Justice to the Victims by, at last, Unmasking and punishing those Responsible for their "Disappearance" and their Accomplices, so that the People would Not be Afraid that such Horrible Crimes might, eventually, be Committed again in the Future.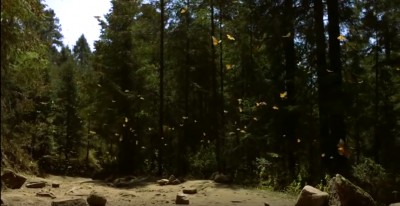 (../..)


    The recent paradox of freezing EU Talks with front-runner Croatia, while continuing controversial EU - Turkey talks, despite Zagreb's acceptance of Refugees' Human Rights to return, that Ankara refuses fex. in Cyprus, while both have "Good Neighborhood" problems vis a vis Slovenia, or Greece, Cyprus and Armenia respectively, can it be justified by the non-fullfilment of EU criteria, as Slovenia says, or, is it "Double Standards" ?    
The question became unavoidable after statements by Presidents of Slovenia and Croatia, Tuerk and Mesic, respectively, to "EuroFora", exclusively or among Strasbourg's journalists this week at the CoE, on the sidelines of its 2009 Summer University for Political Schools, which topically brought them together as successive key-note speakers.

    Comming only a few Months before EU checks Turkey's compliance to its commitments on Cyprus, etc., scheduled for December 2009, this obviously has a special importance for the coherence of EU Enlargement's principles.

     Suspension of EU Negotiations is a normal consequence in case of a Candidate Country's failure to fullfil EU Conditions, such as "Good Neighborhood relations", stressed at first Slovenian President Danilo Tuerk, current CoE's chair.

    But, regarding EU's Criteria,  there shouldn't be any "Double Standards",  reacted Croatian President Stjepan Mesic, commenting the fact that Turkey's controversial EU negotiations continue, while they were recently "freezed" in the case of Croatia, an "unquestionably European Country", which oficially accepts to respect Refugees Human Rights, contrary to Ankara's notorious refusals or reluctance.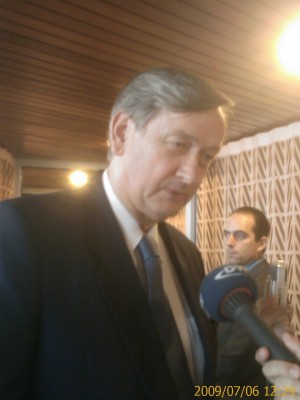 - "EU itself has set as a Criterium (for EU Enlargement) the "Good Neighborhood relations",  and their absence justifies the "Suspension" EU Negotiations, (f.ex. with Croatia), because of a Border dispute affecting the territorial integrity of an EU Member Country, stressed Slovenian President, Danilo Tuerk, CoE's Chairman in office (May - November 2009), speaking to Journalists in Strasbourg including "EuroFora".    
Questioned earlier what "consequences on EU's Enlargement policy" can have the "Ban on EU Membership Negotiations", imposed to Croatia, Tuerk replied that "this question comes down to the fulfillement of (EU) Criteria for membership. One has to look at each Candidate Country ., from the point of view whether it fullfils the Criteria that EU has set. One of them are Good Neighborhood Relations, I'd like to remind. And also, there are other factors, such as Justice, Home affairs, Rule of Law, and others".

    - "Now, ..Candidate Countries are at Different Levels of fulfillement of Criteria", he observed.

    - " Croatia is obviously the closest to that. I'm rather optimistic : I think that in the coming Months we'll have an opportunity to look at all these issues constructively and hopefully we'll be able to make progress". "My main concern, at this point, is the situation in Bosnia : We haven't seen enough progres domesticaly. We haven't seen enough during ..political parties within their country.We need a New Energy, a new energetic move towards the Candidature for EU membership. "Other (Western Balkan) Countries (Serbia, Montenegro, FYROM, Albania) have been making soaring Progress, and I think that they should be ready, in a few Years, for the Candidate status".

    - "As far as the Western Balkans are concerned, .. nobody should be left outside" the EU, Slovenian's President concluded, ommitting to mention Turkey's controversial EU bid.

    - "This process may be seen as Slow, but..  Slovenia has also has also been exposed to various "Booms of Slowness" in our accession period. But now we can say that the process was relatively quick, because changes which occur after becoming EU member, are quite large, and they require proper Preparations before the (EU) membership becomes a new factor, an impacting line for a new (EU) member country".
----------------------------
EU "Solidarity" ?
------------------------------   
Slovenian statements made some participants from certain 3rd Countries as FYROM, etc. claim that "the Principle of EU Solidarity" would "produce a.. rising European Union Nationalism (sic !), against Non-EU Countries", as they said, asking unhappy foreign countries to form a "bloc" to exert pressure on the EU...    
But Croatian President Stjepan Mesic dismissed that, supporting "EU Integration", "after the Economy also in Political" issues, as "the achievement" of our times. In EU there is "diversity, but it's United", he stressed, "EU has to be United so that it can become a central factor of Peace" also at the surrounding areas, he replied.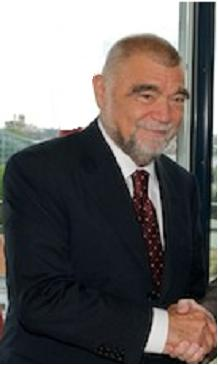 Speaking later exclusively to "EuroFora", the experienced twice President of Croatia, former President of the International "Non-Aligned" movement, denounced "Double Standards" in the way EU treats recently Croatia compared to Turkey :   
 - "I think that there shouldn't be Double Standards", stressed the Croatian President, in reply to a Question comparing the freeze of EU - Croatia talks, with the continuation of EU - Turkey talks, despite the fact that Croatia is an "unquestionably European country", while Turkey's EU bid is notoriously controversial.

    Mesic was reacting to the observation that, even if he confirmed his "respect of Refugees' Human Rights to return, etc. (See infra), nevertheless, EU talks are suspended with Croatia.. While for oher, controversial candidates, who refuse to respect Refugees' Rights to return, etc., as fex. Turkey does in occupied Cyprus and elsewhere, EU negotiations continue".

    - "I believe that Croatia's accession will confirm that all European Countries who fulfill all of the Conditions and achieve European Standards, have to join the EU. There shouldn't be any Double Standards", went on to add in reply President Mesic.

    In this relation, Croatia's President found "of paramount importance", CoE's "mechanisms enforcing ECHR's judgements"
    
    - "On Refugees and Displaced persons, the process will be completed only after the last person demanding to return will be allowed to do so !", President Mesic Croatia stressed earlier, setting a general standard of obvious importance also for otherr candidates, as f.ex. Turkey, often accused to exclude or heavily restrict Greek Cypriot Displaced persons' return to their Family Homes and ancestral land, provoke difficulties to Turkish-Kurd IDPs return to their home regions at the South-East, etc.

    Some "2.000 People are still reported Missing" in former Yugoslavia, for some Years, (as in Cyprus, modern Europe's oldest case, for 3 Decades. Nagorno-Karabach, Tcecnya in Russia, etc, more recently), and Investigations "will only be completed after establishing the fate of the last one of them", he added.
    
    Speaking earlier on "War Crimes", President Mesic stressed that "Leaders are responsible for (the) Wars (of the Past), not the People", and called against Impunity :  "Individuals have to be held Responsible for Crimes. International Penal Tribunals have to persecute those individuals", perpetrators of War Crimes, he underlined.

    Such statements naturally made Mesic rather popular at ECHR, whose President, French EuroJudge, Professor Jean-Paul Costa, looked particularly smiling when he welcomed him later on Wednesday afternoon, after Slovenian President Daniko Tuerk earlier this week.
           

***
Polls