Home

newsitems

EU Commission's vice-President Tajani to EuroFora : EU can become Autonomous in Space High Tech.
EU Commission's vice-President Tajani to EuroFora : EU can become Autonomous in Space High Tech.
Monday, 18 January 2010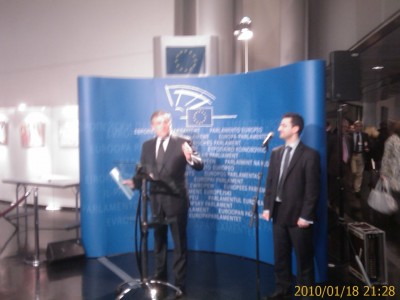 *Strasbourg/- Europe is able to develop all High-Tech means guaranteing an "Autonomous Access to Space in the next 5 years", and can become "a Protagonist" on Space Technology, fex. with GALILEO's Sattelite Navigation System, replied to an "EuroFora" question EU Commission's vice-President in charge of Transports, Antonio Tajani, who is designated, in the Barroso II New Commission, to lead EU's "New Industrial Policy".

- "EuroFora" asked Tajani if, when he refered to "Space" as a "new area" of EU competence "after the entry into force of Lisbon Treaty", at an earlier Hearing by EU Parliament's Commission on Industry and Research, he believed, or not, that EU could and should ensure an "Autonomous Access to Space in 2010-2015".

Currently it's only USA and Russia, probably followed by China, who notoriously try to develop new re-usable vehicles both for Orbital and outer Space flights, starting by projects such as "Orion" and "Kliper", etc. respectively. But ESA's latest proposals to cooperate on building a Space Vehicle, either faced a refusal (USA), or were droped because of internal disagreements, as fex. after a December 2005 ESA session in Berlin, when, reportedly, the lack of only one (1 !) vote, cancelled a Russian offer..

- "In my view, Yes.. I think that we (EU) are pretty able to make it", clearly replied Tajani to "EuroFora"'s question.

- Considering also that "Europe must have its own Space Policy, according to Lisbon Treaty", he added. "We (EU) are already working with GMES ("Global Monitoring for Enironment and Security") and GALILEO (EU's Satellite Navigation System, equivalent to USA's GPS and Russia's Glonass, etc), We have already EGNOS, which works well", and "on 2014 we shall see also GALILEO working".

-"That's why, I think that Europe will be a Protagonist" on Space Tech., particularly "if we'll (EU) have the Political Will to support this great project : I think that GALILEO is a pretty great Challenge, that Europe must win. I am committed to succeed on that", Tajani promissed.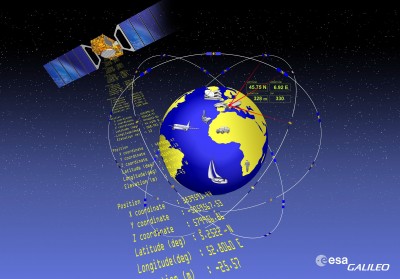 Significantly, EU Commission's vice-President made these statements in Strasbourg, located near Stuttgart, whose Stockmarket hosts the German "Family" SME which won recently the competition for the EU procurement to fabricate 24 GALILEO Satellites. Strasbourg also hosts a World-famous Seismologic Laboratory at its "Globe Institute", which was recently cited by Reuters even for the analysis of the Earthquake which stroke ... Haiti, at the other side of the Earth, in the Gulf of Mexico (!), as well as an "International Space University", a performant Earth Observation Center for Maps made by Satelites (CERTIT), etc., while being also close to the EU "Space Operation Center" at nearby Darmstadt (between Frankfurt and Strasbourg), the European Austronaut Center (at Mainz), Germany's biggest Atmospheric Dynamics' Research Labo, etc. An even longer list of interesting Space-related EU assets, that the "European Science Foundation" (HQ in Strasbourg) has already tried to synthetise all together as "Earth Sciences", and that French Senator Philippe Richert recently anounced his intention to support as "Pole of Excellence" for "Eco-Technologies"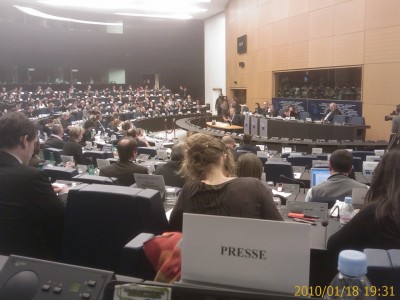 "2014 will be a key year for GALILEO", because "we (EU) shall start to see Practical Benefits" from it.  But, as far as GMES is concerned, it has already started to be used in Crisis situations, f.ex. after the recent Earthquake at Haiti, where it helped dispatch aid on the ground, he anounced earlier.

    He was replying  to a British MEP concerned if what she called "alarming Costs" for GMES and GALILEO might "delay" them further ("550 Millions € per Year", and "74 Millions €", as she said),  the EU Commissioner did "not exclude" to ask EU Parliament to act "if there is a need for further funds", since, eventually, there might be "extra costs of about + 16% in average".

    But, "for the moment", on GMES, "we are IN the Budget", he observed. Moreover, the realisation of such Space programmes could generate ..."Savings of 90 Millions €", Tajani observed.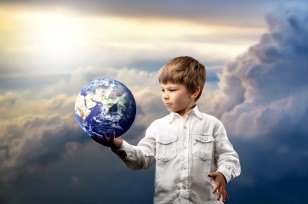 Curiously,  some British worries about comparatively small overcosts on Space High Tech projects, did not extend also on the controversial old A400M military transport Airplane project, deprived of any important novelty, but requiring ...more than  5 Billion € as overcostrs, in addition to the 22 Billions € already wasted there, (and which could become available for   other, much more interesting EU projects, as in Space Tech., "Airplane of the Future", etc,  if the controversial A400M was droped, as various people suggest)...Meanwhile, however, GMES' Satelite Earth Observation's mecanism succeeded to help Rescue operations after Haiti's tragic earthquake, while A400M would never be of any help there, because it's unable to fly so far..

    "Galileo is a Global project, and not only European", observed Tajani in another reply to the same MEP's questions about China's moves and Galileo Satellites' "safety". That's why  EU Commission's President, Barroso himself recently 'wrote to  the Chinese President, in order to find a way to  "harmonize the EU and the Chinese systems", for a future use of both infrastructures, so that Galileo will be able to pick up Signals compatible to both systems, so that it won't damage any of them, but work with both. For a similar aim, "Barroso wrote also to Russia", Tajani revealed.

    In general, there is, today, "a Political Need for a New Industrial Policy" for Europe, based on "Innovation", "Green" Growth, and open to SMEs,, Tajani stressed earlier, speaking with MEPs.

    On the Topical point of "Carbon Tax" extended at EU's external Borders, his statements were welcomed by several MEPs, including French MEP Rachida Dati, traditionally close to President Sarkozy, because, unlike other Commissioners, he appeared open to "Anti-Dumping" measures, if EU has to face "Unfair Competition" by "Social and/or Environmental Dumping"  from 3rd Countries, (fex. China or Turkey, etc), who produce "cheaper" just because they don't respect neither Workers' elementary Rights, nor the Environment.

    -  The idea of a "CO2 tax .. is an Hypothesis to consider, actually laid down in the ITC Legislation", but "it's better to wait until (UNO's) Copenhagen Summit's process is completed, (i.e. by collecting the Commitments of each Country, on January 2010, and by advancing towards a Binding Treaty : See "EuroFora"'s NewsReports from Copenhagen, 12/2009), assess the situation, and take EU decisions on the basis of informations given by the UN also on other Countries' stance, Tajani advised.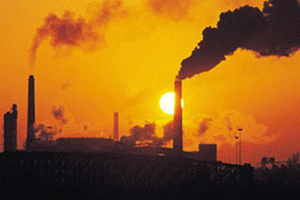 Indeed, Copenhagen was "a 1st step", insufficient but useful, achieved by Europe in the Global World, since it incited USA, China, and other Countries to undertake commitments to fight against Climate change for the 1st time, the EU Commission's vice-President observed.

    Meanwhile, the "Green Economy" is a New Market growing more than +5% per year  : It's not only about Environment, but also an Economic choice, and has already become a huge Economic opportunity, Tajani stressed.

    But, while placin "Innovation" as "1st Priority", Tajani was also careful to address the issues of immediate concern to EU Citizens :

    - Markets are not only about Economy, but also about Human Health, Environment, Jobs and other Social issues, etc., he said, reiterating his promisses (See relevant "EuroFora"'s 12/2009 Publication) to systematically "consult" all People involved before taking important decisions, to update and "revise" EU Regulations on Dangerous Substances (as "Reach", etc), to defend the "Memory of Sacrifices done by our Fathers" who created the first factories, by protecting "Europe's Industrial Heritage",  to support "Solidarity" as a European value, and to "tell the Truth" to workers, whenever they have to face hard "industrial restructuring" provoked by the "Global Crisis".

    In particular, Tajani, who is also in charge of "Enterpreneurship", stressed the importance of "SMEs", both as "Start-ups" for Technologic Innovations, and as "Micro-Enterprises" helping Workers who became "redudant" in some old big Industries, to find an immediate way to re-integrate the Labour market and gain a living.

    Therefore, Tajani anounced his intention to push for an adequate implementation of EU's "Small Business Act", and mainly struggle to guarantee "SME's Access to Loans", as well as to "Public Procurements", etc., by slashing "Bureaucracy" and convincing Banks : It's unacceptable, f.ex., for EU's Investment Bank to keep some 30 Million € unused, while they should had been distrubuted to SME's, he criticized, agreeing with MEPs' remarks, and promissing to "go to Luxembourg" to try to unblock the situation at the EIB, but also to generalise almost everywhere the Simplification facilitating SME's access to EU and National Public Funds and/or Procurements, as he has earlier done, as Transports' EU Commissioner, on the "Marco Polo" programme for intermodal transports.¨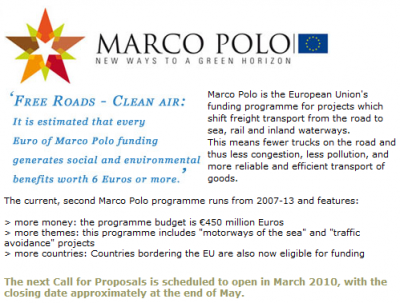 Often SME's are hindered to benefit from States' procurements at all levels, simply because "they don't know" what, when and how to act in cumbersome Bureaucratic procedures, unlike to "Big" Companies, Tajani critically observed : A timely remark which  could apply even to Financial incentives and support given fex. by the French State to new On-line Media, which were practicaly usurpated by some old apparathiks coming from traditional big Media without any really new idea, simply because they were informed before others when exactly the legislation was completed, while, on the contrary, really innovative On-line Media projects of quality, lost "tight" Time Deadlines merely because they were not timely warned...

    But, at any case, Europe should face Global Competition and threats of outsourcing industrial production, by promoting "Quality", and not necessarily by "Quantity", he argued, pleading f.ex. for "New Cars of the Future", and other Innovative products, while also supporting the view that even the oldest industry in the world : that of Textile, "can become a key in the Future"; a,d "Modern", particularly if it creates innovations with High Tech, (as  a recent Exhibition at EU Parliament has shown in Strasbourg, pointing at concrete realisations, fex. by fabricating clothes for Austronauts and/or other textiles used in various Air-Space or Defence activities, during special Industrial processes, etc, extending even to innovatie "Nanomaterials"). ..
***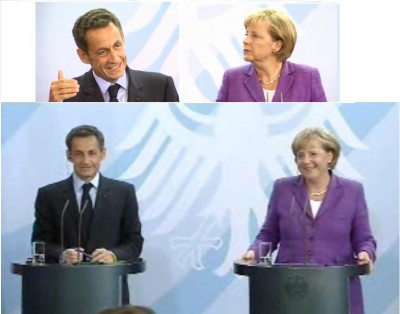 Before the end of 2009, France and Germany will take strong initiatives to open "new Horizons" needed by Europe and the World, going well beyond the current Crisis' management, anounced French President Nicolas Sarkozy and German Chancellor Angie Merkel, reassuring that both a judgement on Lisbon Treaty by nearby Karlsruhe German Federal Court, and the forthcoming National Elections in Germany would confirm their capacity to act.    
They were replying to Press questions in Berlin, after key-regional elections on Sunday, where Merkel's ChristianDemocratic party kept everywhere a strong 1st and won the possibility to forge a New Majority with Liberals at the largest of 3 Landers : Saxony (4 millions inhabitants), while its main competitor, the Socialdemocrat party fell to unprecedented lows : Tackled by the small "Linke" (left) party in Saarland (1 million inhabitants), it became even smaller than it in Saxony and Thuringen (3 million inhabitants), where SPD arrived only third. While its usual partners, the "Greens" also fell down, contrary to CDU's new partners, the FDP Liberals, who go up.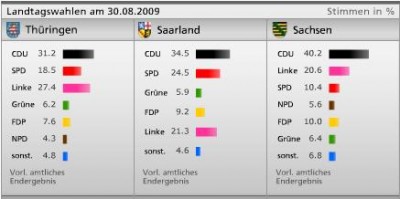 - "At any case, at the end of the year (2009), if things go as scheduled, we shall take strong initiatives, showing that Europe needs a Franco-German axis, as well as the World, even if it never excludes other" countries to join, replied Sarkozy to a question if France and Germany will revive the "European dream", by "relauncing the EU motor" for the Future, with actions going further than the mere management of the global crisis, (as it was done fex. in the Past with the creation of the "Euro" Monetary zone, etc).

    - "I am convinced that the Franco-German friendship must be constantly nourished by New Projects", he added."There are many areas of cooperation where we intend to take, very soon, some Franco-German initiatives, which will allow to open more Horizons" to the EU, Sarkozy stressed.

    But if "we don't speak about that now, it's only in order to avoid interfering in important elections coming in Germany", he observed. However, "we have already started to consider the Future with the (German) Chancellor, and what we can do in order to honour our predecessors". "We are already speaking about that, and we are preparing things". "I am working very well together with Mrs Merkel, and I wish that it goes on", Sarkozy concluded.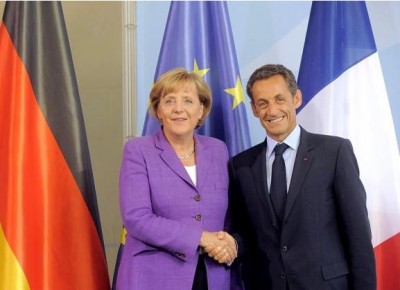 - "It's important for EU's credibility that France and Germany advance forward together", stressed Merkel from the outset. "Don't worry about Germany's capacity to undertake initiatives" with France, she added. "France and Germany will be perfectly able to make proposals" for the EU.

    -  "After-crisis" plans must be prepared, meanwhile, with measures "advancing progressively", Merkel anounced. And, for the short term, we must deal also with EU Citizens' dismay since they feel that it's a Scandal for some in the Financial Markets to be paid with excessive "Bonuses", etc, she agreed with Sarkozy.

    - "Abuses in financial markets must stop", stressed also Sarkozy. Backing Merkel's announcement that France and Germany call for an EU meeting to forge "a crystal-clear European position" in view of the G-14 Summit at Pittsburg, he warned that "everyone will have to undertake his responsibilities, in front of World's Public Opinion. particularly those who don't want to make the same effort of regulation as France and Germany".

    Moreover, "Global Trade cannot be correctly dealt, without taking into account also Environmental and Social rules", Sarkozy added, referring to recently expressed positions against Unfair Competition via Environmental and/or Social Dumping, (See earlier "EuroFora"'s publications).

    Such moves are obviously linked to the need to ensure at least an elementary respect for Human Rights by Third Countries, (f.ex. exploitation of Children's work, etc) in order to avoid, precisely, any such Social Dumping.

    - "EU has Values, protecting Human Rights and Human Dignity", and "it cannot close its eyes" in front of grave violations, particularly "Torture and/or killings", added, indeed, Sarkozy.

    Thus, "the time comes, where decisions must be taken". But, in case of "Sanctions", "all International opinion should be convinced of the need to take action", he observed.

    Expressed on the occasion of recent developments in Iran, the same principles should logically apply also to other similar cases, including fex. that of Hundreds of ECHR judgements' condemning f;ex. Turkey for grave crimes, (as Torture, brutal Killings, Enforced "Disappearances", Destruction of Family Homes, harassments and oppressive violations of Freedom of Speech, etc).

    Meanwhile, questioned on (EU Commission's chair)  Barroso's bid to succeed himself for a second mandate, they both expressed a "wish" or a "feeling" that "EU Parliament"'s various political Groups might fix a date for decisions "during September". However, is he is endorsed before the entry into force of the Lisbon Treaty, it will be legally necessary to re-vote anew for a full term of office afterwards, according to EU Legal Experts, revealed recently in Strasbourg the experienced former President of EU Parliament's Constitutional Committee, German Socialist MEP Jo Leinen. And Germany will not vote for Lisbon Treaty's ratification but only "on September 8 and 18", revealed Merkel, ( i.e. after EU Parliament's plenary session in Strasbourg).

    - Therefore, "for EU Commissioners' appointment, it's too early yet, because we must wait for the ratification of Lisbon Treaty" by all 27 EU Member countries, including naturally Ireland's Referendum on early October, said to "EuroFora" the influential President of EU Parliament's largest group of MEPs, Joseph Daul, expressing, however, the hope that a controversial deal with the head of the Socialist Group of MEPs, Martin Schultz of Germany, might hold for Barroso alone, at a forthcoming vote due to fix the Strasbourg plenary's Agenda.

    But MEPs reportedly just "postponed" for 1 week all their previously scheduled group meetings (See : http://www.euractiv.com/en/future-eu/barroso-unveil-summer-homework-week/article-184825 );

    However, while the choice of a new EU Commission's President by EU Parliament is supposed, according to many MEPs' wish, take place according to EU policy issues, paradoxically, this would mean that Barroso's bid would pass before even the anouncement of France and Germany's "initiatives" for EU's "new Horizons"...
Polls