Rumours that Socialists negotiate with Rightists in Austria !
Thursday, 19 October 2017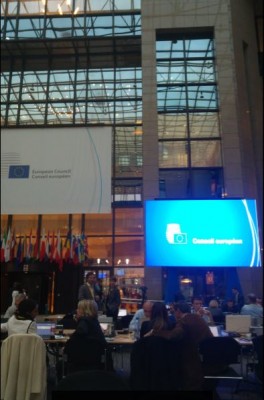 *Brussels/EU Summit/Angelo Marcopolo/- While speculations are still going on about possible Coalitions for a New Government in Austria, lead by Frontrunner, and Number 1 Winner, Sebastian Kurz, Leader of ChristianDemocrats/EPP, paradoxal rumours started to circulate also here, about alleged Negotiations between the Socialists and the Rightists of FPO !...

Such an UnExpected, Counter-Nature "U-Turn", might not be so UnThinkable in Austria, where, already, some kind of Socialists - Rightists (FPO) unholly Cooperations reportedly exist, already, in one way or another, on the Local - Regional level.

Moreover, sheer Numbers clearly show that, indeed, if the Votes for Sociaists and Rightists were Added Together, they might snatch the Top Job...

Even if each one among them has been clearly Distanced by the very Higher Result of the ChristianDemocrats/EPP, led by Kurz. Even if the Political Ideas with which they have been nourishing their Voters all this Time was, obviously, at the Extreme Opposite of each other  !

Meanwhile, normally, the Austrian President, Alexander Van Der Bellen, is expected to give a 1st Mandate to Sebastien Kurz in order to try to form a New Government, either oBrief n Friday or Next Monday.
 Van der Bellens initial Political Party : the "Greens", were Swept away from the National Parliament, without even 1 MP, at the recent Elections (See:...). But he had been elected, himself,, by a Wider Political Spectrum, including at least a big part of mainstream ChristianDemocrats/EPP.


However, such Incredible, but possible, eventual developments, inevitably provoke an unexpected Uncertainty, (that some might even find Scandalous)...
------------------

(NDLR: Concerning Kurz's Brief but Topical statements to "Eurofora" See: ...)

----------------------

(../..)

-----------------
BRIEF NEWS
00:00 - 09.07.2018

00:00 - 31.05.2018

00:00 - 26.12.2017

00:00 - 26.05.2017

00:00 - 30.01.2017

00:00 - 14.10.2016

00:00 - 24.09.2016

00:00 - 27.07.2016

00:00 - 03.07.2016
Statistics
Επισκέπτες: 28910640
Archive
Login Form
Other Menu
Ο ΡΕΝ ΑΓΝΟΕΙ ακόμα και ΠΡΟΣΦΑΤΑ ΣΤΑΤΙΣΤΙΚΑ ΣΥΜΠΕΡΑΣΜΑΤΑ ΕΔΑΔ για Τουρκία !...
 + Ο Ρέν αγνόησε και πρόσφατα συμπεράσματα ΕΔΑΔ για Ρεκόρ καταδίκες Τουρκίας για βαριές παραβιάσεις Ανθρωπίνων Δικαιωμάτων όλη την Δεκαετία αμφιλεγόμενης "υποψηφιότητας" για ένταξη σ ΕΕ (+1999-2008) !

-----------------------------------
    >>> Η Εκθεση Ρεν ΑΓΝΟΕΙ ακόμα και πρόσφατα σημαντικά συμπεράσματα ΕΔΑΔ, απ τα οποία προκύπτει ότι, όλη την Δεκαετία αμφιλεγόμενης "υποψηφιότητάς" στην ΕΕ (1999-2008), η Τουρκία διατηρεί ΡΕΚΟΡ καταδίκες από ΕΔΑΔ για βαριές παραβιάσεις Ανθρωπίνων Δικαιωμάτων, όπως δολοφονίες, βασανιστήρια, "εξαφανίσεις" ανθρώπων, αυθαίρετες φυλακίσεις, καταπίεση ελευθερίας λόγου, υφαρπαγές ή καταστροφές σπιτιών-περιουσιών, κπα :   
 - Οι καταδίκες Τουρκίας από ΕΔΑΔ αυτή την Δεκαετία : 1.857, αγγίζουν το 20% του συνόλου των 47 Κρατών-μελών ΣτΕ, ιδίως για ΒΑΡΙΕΣ ΠΑΡΑΒΙΑΣΕΙΣ δικαιώματος στη ΖΩΗ (177, αντί 96 για Ρωσία, 15 Βουλγαρία, 13 Αγγλία, κα), για ΒΑΣΑΝΙΣΤΗΡΙΑ κι Απάνθρωπες/Ταπεινωτικές μεταχειρίσεις (204 καταδίκες, αντί 127 για Ρωσία, 39 Βουλγαρία, 32 Μολδαβία, κα), ΑΥΘΑΙΡΕΤΕΣ ΦΥΛΑΚΙΣΕΙΣ (329, αντί 193 για Πολωνία, 176 Βουλγαρία, 138 Ρωσία, 42 Αγγλία, κα), ΚΑΤΑΠΙΕΣΗ ΕΛΕΥΘΕΡΙΑΣ ΛΟΓΟΥ (166 καταδίκες, αντί 23 γι Αυστρία, 13 Γαλλία, Μολδαβία, κα), ΥΦΑΡΠΑΓΕΣ/ΚΑΤΑΣΤΡΟΦΕΣ ΠΕΡΙΟΥΣΙΩΝ (446 καταδίκες, αντί 286 για Ρωσία, 270 Ιταλία, 241 Ρουμανία, 60 Μολδαβία, κλπ), κπα.     
Αντί να βελτιώνεται, αντίθετα επιδεινώνεται δε μάλλον η κατάσταση, εφόσον αυξάνεται ο αριθμός ατομικών προσφυγών στο Στρασβούργο που καταγγέλουν στο ΕΔΑΔ παραβιάσεις απ την Τουρκία μεταξύ 2006 - 2007, όπως και 2007 - 2008...   
 - "Λέγεται ότι ο σεβασμός των ΚΡΙΤΗΡΙΩΝ ΤΗΣ ΚΟΠΕΓΧΑΓΗΣ θα πρέπει να ελέγχεται για όλες της Υποψήφιες Χώρες, αλλ υπάρχουν ΑΜΦΙΒΟΛΙΕΣ άν οι αρμόδιοι υπάλληλοι της Κομισιόν ΕΕ πέρνουν στα σοβαρά τη Νομολογία του ΕΔΑΔ, ή όχι !", αντέδρασε  ο έμπειρος Διευθυντής Γραμματείας Ολομέλειας ΕΔΑΔ, Βινσάν Μπερζέρ (Γάλλος), μιλώντας μας πρόσφατα στο Στρασβούργο.   
 - "Πχ. πρίν από 2 ή 3 χρόνια, όταν αποφασίζονταν άν θ αρχίζαν "Ενταξιακές" Διαπραγματεύσεις με την Τουρκία, υποδεχθήκαμε (στο ΕΔΑΔ) ένα στέλεχος της υπηρεσίας Διεύρυνσης της Επιτροπής ΕΕ, που έμεινε ΕΚΠΛΗΚΤΗ όταν της περιέγραψα την πραγματική κατάσταση Ανθρωπίνων Δικαιωμάτων στην Τουρκία ! Αλλ, από τότε, εμείς (το ΕΔΑΔ) δεν είχαμε καμμία επίσημη επαφή με την Επιτροπή ΕΕ γι αυτά τα θέματα.." "Ισως μίλησαν γι αυτά μ άλλους απ το ΣτΕ, αλλ όχι με το ΕΔΑΔ", τόνισε.     
Polls