Home

newsitems

EUParliament: Snowden slams NSA Opponents' Discrediting as Spying targets Sarkozy after Russia call
EUParliament: Snowden slams NSA Opponents' Discrediting as Spying targets Sarkozy after Russia call
Monday, 10 March 2014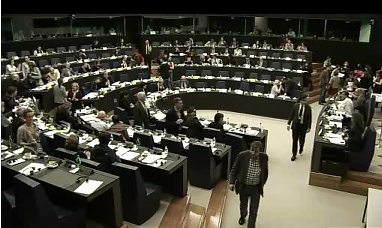 *Strasbourg/- A last-minute decision by MEPs to discuss Mass Surveillance Whistleblower, Edward Snowden's, replies to EU Parliament's Questions, before a Debate and Vote in Plenary, Tomorrow (Tuesday) and Wednesday in Strasbourg, timely revealed NSA a.o. attempts to "Destroy the Reputation and Discredit" Political Dissidents  and other Persons "targetted because of their Political Beliefs and Activism", "on the basis of (their) Private Communications", shortly after an astonishing wave of Press Leaks with various Tape Recordings of unknown origin hardly hit and targetted former French President Nicolas Sarkozy and his entourage, even Wife and private, Family Life, almost at the same time that his Lawyer's office was searched and even his Professional Phone confiscated, shortly after it was revealed that Sarkozy and several former Elysée Top Officials or Ministers have been submitted to Surveillance soon after  a New Socialist Government got in office,  provoking a Row at the eve of crucial Municipal and European Elections from March to May 2014.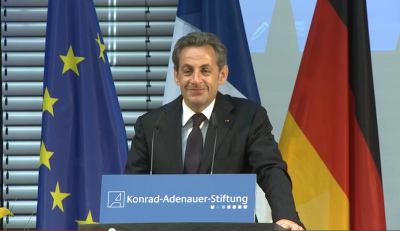 The unprecedented move closely followed an important and topical Political Speech by Sarkozy in Berlin, at the Adenauer Foundation, on an invitation by its Head, former EU Parliament's President Hans Gert Poettering, long-time Chair of the ChristianDemocrat/EPP Group of MEPs, where he launched, on February 28th, a vibrant call Warning against current attempts to push the EU to engage in a "Confrontation" and "Conflict" with Russia, on the occasion of the recent events at Ukraine and Crimea, which would have "Catastrophic" consequences for both, and would dangerously undermine Peace and Stability in a European area which had just recovered from 1 Century of "Hot" and "Cold" Wars' Divisions and Destructions.

    The still very Popular French Politician, - who has notoriously played, already, a crucial role in the Past, in preventing further escalation and War which risked to spread widely, between Russia and Georgia, back on August 2008, when he rushed immediately to visit Moscow and Tbilisi, succeeding to Stop Deadly Military Clashes at the last minute, as EU Chairman in office then, while Brussels was empty from all EU Officials, absent on Summer Holidays - was exceptionaly speaking in Public, in front of several Media and transmitted by a TV station, for the 1st Time in 3 Years since his voluntary retreat from Politics after the controversial 2012 National Elections in France.  Comming just a few Days before Crucial, Strategic choices at an exceptional ChristianDemocrat/EPP Summit in Dublin, and an EU Heads of State/Government Summit in Brussels focused precisely on the Ukraine and Russia issue, Sarkozy's unexpected, last-minute move, (which was significantly preceded also by an exceptional, 1 Hour long, meeting with German Chancellor Angie Merkel at her Prime Ministerial Office), apparently contributed into inciting the EU to initially keep a rather reserved attitude, at least for the moment, vis a vis USA President Obama's rush for Sanctions against Russia.

    In the meantime, at the eve of the above mentioned Summits, (at about 5  and 6 March) i.e. only a few Days after Sarkozy's call (largely disseminated among the Medias), suddenly, an unprecedented Series of Compromising Leakages of various Tape Recordings reportedly containing many Private Discussions of Sarkozy with several among his close collaborators, even inside the Presidential Elysée Palace, during his term of office (2007 - 2012), but including even his own Wife and Private Life, etc., broke out in many Media, often with full Transcripts and even Audio Copies of the Recordings, choosing particularly a variety of points obviously intended to be abused in attempts to Discredit the former French President, provoking a row in France and elsewhere,  affecting or even shocking a lot of People. Even if they had reportedly copied some Note-taking Recordings routinely done Years ago by a close Sarkozy's political counsellor, Buisson, (targetted by Critics who accuse him to be Ideologicaly too "Rightist" for their taste), nevertheless, it still remains Unknown who and how their Contents were Capted by Other Persons, who obviously copied them, selected what they found to be more compromising, and leaked them to the Press : Some claimed that this might have been done by abusing of copies already taken by some French Judges in the course of certain proceedings targetting Buisson and/or even Sarkozy himself, (who has often complained against Harassment from State Agents since the entry into office of his successor, Socialist President Hollande). But most of the concerned Media denied that, leaving the Question of the real Origin of such Tapes, of their Copying, and of their  illegal Transmissions, wide open...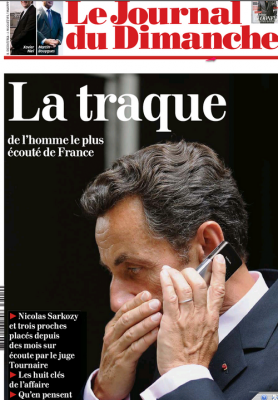 + Moreover, by an astonishing "Coincidence", Sarkozy's main Lawyer, Me Herzog,  was targetted by a controversial Judicial Search at his Office, as it was anounced almost the Same Day that the former President was Speaking on topical European Politics in Berlin for the 1st Time in Public after 3 Years. This including even a Confiscation of the Lawyer's Mobile Phone, reportedly "Unprecedented in the History of violations of Defence's Rights and of Professional Secret", while, in Addition, Revelations that, a year after the Socialist Party got the Government, Tapping and systematic, constant Phone and other Communications' Surveilance had been imposed against Sarkozy and his closest former collaborators at the Presidential Elysee Palace, including several former Ministers !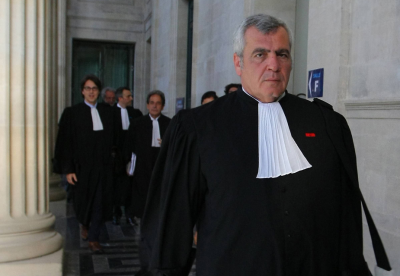 => -  Some "500 Lawyers were associated" to a written "Appeal" to the Government, launched by a Group of Famous Lawyers against "Risks for Democracy" provoked "by such Drifts"s and for the "imperial Necessity to protect the Professional Secret" which is "at the Foundations of Lawyers' profession", according to the "Association for the Defence of Penal Lawyers (ADAP)", while the Head of Paris' Bar, Pierre-Olivier Sur, reportedly Warned that "Our professional activities are put in Danger".  Earlier Today, France's "National Council" of Lawyers' Bars (CNB) slamed the State Authorities' behavior : - "If Rule of Law still exists here, such  Surveillance must be Cancelled", the collective body representing Lawyers' professional interests stressed, accusing the prosecuting Judges to have committed "an Abuse of procedure".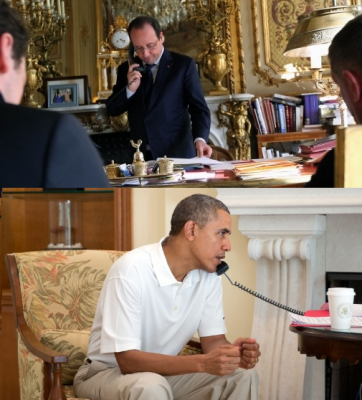 Sur anounced that he's going to lodge a formal complaint to the current French President, "as guarantor of Civil Liberties", while, on the contrary, other Critics reportedly wondered if Hollande knew, or not, about Sarkozy's surveillance, (almost at the same time that Snowden was notoriously concerned about US attempts to push EU States to refuse anti-surveillance whistleblower's demands for "safe passage" and/or asylum [See Infra], while Obama's and Hollande's Phone calls multiplied these days on the occasion of the differend with Russia over Ukraine events, after having discussed ICT Surveillance much earlier)...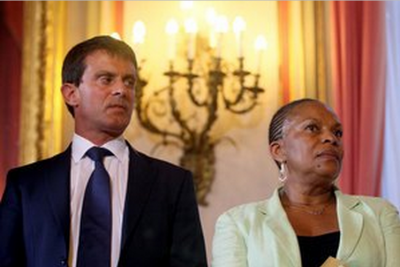 (Valls and Taubira according to a "JDD" Photo published Today on this issue).
   But, nevertheless, all such Lawyers' and MPs' protests were reportedly dissmissed by the controvercial Socialist Minister of JHA, Mrs Taubira, (who had provoked a series of Giant-Demonstrations with more than 1 Million People, last year in Paris, protesting against a Legislation which imposed unpopular Homosexual Mariages with a power to Adopt Children and Threatened Mayors who refused to celebrate such events personaly, with Heavy Prison and/or Fines, recently submitted to ECHR's control in Strasbourg by a group of dissident elected Mayors who complaint mainly for Violations of their Freedom of Conscience). Taubira and the Minister of Interior, Manuel Valls, reportedly claimed that noone among them didn't even know that a former President of the Republic, several Ministers and even his Lawyer had been put under constant "Surveillance" for many Months now, since "nobody informed" them...
 
-----------------------------------------------------------------------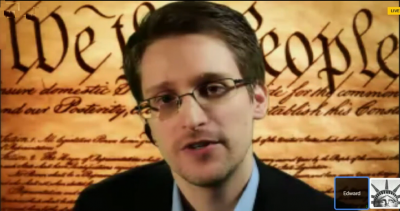 (Ed.Snowden at an ACLU Video published on March 2014)

     - "We learned only Days ago", that, f.ex., "Conservatives were ... Targetted on the basis of their Political Beliefs and Activism", when "NSA had made efforts to use .... material of the sort GCHQ was Collecting as a grounds for Destroying their Reputations and Discrediting them", denounced, shortly afterwards, Edward Snowden's Replies to various Questions raised by MEPs through EU Parliament's Committee on Civil Liberties, Justice and Home Affairs, that it decided to start Discussing ToNight, at the eve of EU Parliament's Plenary Debate on Internet, Phones and Tapes' electronic Mass Surveillance, scheduled for Tomorrow (Tuesday) Afternoon, before Final Decisions in Votes on many Amendments tabled on a Resolution due to be adopted by the Plenary on Wednesday Noon in Strasbourg.

    + Such abuses can go even much further, as f.ex. when "GCHO compromised a Popular Yahoo service to Collect Images from Web Cameras inside Citizens' Homes", while "around 10% of these Images that they take from within People's Homes involve Nudity or Intimate activities", "this sort of Webcam Data (being) Searchable via the NSA's XKEYSCORE system, which means the GCHQ's ... regime was used not only to Capture bulk Data that ..most probably Violates EU Laws, but to then Trade that Data with Foreign Services, without the Knowledge or Consent of any Country's voting Public", he went on to add, referring to recent, documented Press Reports. ( http://www.theguardian.com/world/2014/feb/27/gchq-nsa-webcam-images-internet-yahoo )

    ++ Moreover, a "Report dated 2012, reveals that the UK Governent was Aware of ... NSA's attempt to use Sexually explicit material" against "Religious Conbservatives", "as part of a class that the NSA refers to as "Radicalizers", "indicating a Deepening and increasingly Aggressive Partnership", the World Famous Whistle-Blower's replies to MEP's questions also revealed.

    +++ "A few Weeks ago, we learned the GCHQ has Hired Scientists to study how to Create Divisions", f.ex. "among Activists and Disfavored Political Groups", "how they attempt to Discredit and Destroy Private Business, and how they knowingly plant False Information to MisDirect Civil Discourse", Snowden's list of various, recently published, concrete examples pointed out, ( https://firstlook.org/theintercept/2014/02/24/jtrig-manipulation/ )

    ++++ "Global surveillance capabilities are (also) being used on a Daily basis for the purpose of Economic Espionage.That a Major goal of the US Intelligence Community is to produce economic intelligence is the worst kept secret in Washington"; he added in response to EU Parliament's Shadow Rapporteur, MEP Cornelia Ernst's Question. F.ex., In September, we learned the NSA had successfully targeted and compromised the world's major financial transaction facilitators, such as Visa and SWIFT, which released documents describe as providing "rich personal information," even data that "is not about our targets" (http://www.spiegel.de/international/world/spiegel-exclusive-nsa-spies-on-international-banktransactions-a-922276.html). .... In August, we learned the NSA had targeted Petrobras, an energy company (http://g1.globo.com/fantastico/noticia/2013/09/nsa-documents-show-united-states-spiedbrazilian-oil-giant.html). ... Australia's DSD targeted Sri Mulyani Indrawati, a finance minister and Managing Director of the World Bank (http://www.theguardian.com/world/2013/nov/18/australia-tried-to-monitor-indonesianpresidents-phone).

    => Thus, "recently, Governments have Shifted their talking points from claiming they only use mass Surveillance for "National Security" purposes, to the more nebulous "valid Foreign Intelligence purposes", Snowden concludes.  
   
    So that "Report after report has revealed Targeting of "G-8" and "G-20" -(Heads of State/Government) Summits. Mass Surveillance capabilities have even been used against a  (UNO's) Climate Change Summit" ! , he denounced, while "the alleged operations against Belgacom, SWIFT, the EU as an Institution, the United Nations, UNICEF, and others, based on documents I provided,  have actually occurred", he confirmed.

    >>> - "If You were Targeted, on the basis of your Political Beliefs, would you Know?  If they sought to Discredit you, on the Basis of your Private Communications, could you Discover the Culprit, and Prove it was them?", wondered Snowden, Topicaly raising Questions,

 that certainly f. President Sarkozy and others would legitimately medidate now after the recent incidents (Comp. Supra), after which, both his Wife, former France's 1st Lady and famous Singer Carla Bruni-Sarkozy was obliged to Urgently lodge a Complaint in the Courts against the Publication of her Private Life-related personal Data by a scandal-mongering Media, while one of hs Counsellors complained against a controversial move over his own personal notes by the Minister of Justice of the current Socialist Government, and several Lawyers started to denounce alleged "Violations of many (Legal) Principles", etc...

     - "And you are Parliamentarians. Try to imagine the Impact of such activities against ordinary (EU) Citizens, without power, privilege, or resources" : ". I don't want to outpace the efforts of Journalists, here", but "I expect similar operations Will be Revealed in the Future that affect many more ordinary Citizens", Snowden Warned MEPs in this regard.
---------------------------------------------
    
    - However, "the Good news is that there are Solutions !", positively finds the World's most famous whistle-blower :

    (A) "The international community must agree to Common Standards of Behavior", from a Legal and Political point of view, since, f.ex. "the French will not be Safe from mass surveillance until mericans, Argentines, and Chinese are as well", he observed. In addition, "better Oversight could (is) always performed by Opposition Parties, as under the Democratic model", "Additionally, we need better Whistleblower Protections, and a new commitment to the importance of International (political) Asylum. These are important Safeguards that protect our collective Human Rights, when the laws of National governments have Failed".

    
    (B) "And jointly Invest in the development of New Technical standards to Defend against mass surveillance" : F.ex., "the Weakness of mass Surveillance is that it can very easily be made much more Expensive, through Changes in Technical standards: Pervasive, end-to-end Encryption can quickly make indiscriminate surveillance impossible on a CostEffective basis", Snowden suggests.     
-------------------------------------------------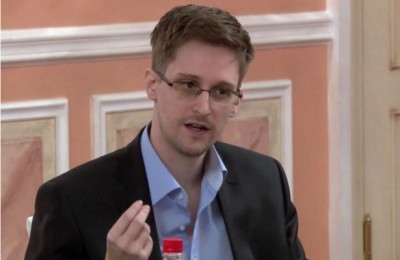 >>> At any case, "European governments, which have traditionally been Champions of Human Rights, should Not be Intimidated", the World-Famous Internet Spying Whistle-Blower incited.

    - Meanwhile, replying to another Question by EU Parliament's co-Shadow Repporteur Jan Philip Albrecht, he acknowledged that he does "Seek EU (Politcal) Asylum". - "But I have yet to receive a positive response to the requests I sent to various EU member States. Parliamentarians in the national governments have told me that the US, and I quote, "will Not Allow" (sic !) EU partners to offer political asylum to me, which is why the previous (EU Parliament's) Resolution on Asylum ran into such Mysterious Opposition", he denounced.     

    - At least now, "I would Welcome any offer of Safe Passage or permanent asylum, but I recognize that would require an act of extraordinary Political Courage" by a European Government, he observed, spêaking from Russia...
    
    - However, "in the face of the extraordinary campaign of Persecution brought against me by my the United States Government on account of my Political Beliefs, which I remind you included the grounding of the President of Bolivia's Plane by EU Member States, an increasing number of national Governments have Agreed that a grant of political Asylum is Lawful and appropriate", at the same time that "Polling of Public Opinion in Europe indicates I am Not Alone in Hoping to see EU Governments agree that blowing the Whistle on Serious Wrongdoing should be a Protected Act", Snowden concluded, in reply to another Question by EUParliament's Shadow co-Rapporteur Timothy Kirkhope
,
    after denouncing the fact that current US "President Obama", when he "reformed a key executive Whistleblower regulation" back on "2012",  "it Exempted Intelligence ommunity contractors such as Myself. The result was that individuals like me were left with No proper Channels" of protection as Whistle-blowers, replying also to Dutch Liberal MEP EUParliament's Shadow co-Rapporteur Sophie Int'Veld, whether there "are ...adequate procedures in the NSA for Staff to Signal Wrongdoing", or not.

-----------------------------------------------------------------
CoE's Committee on Media swifts from Moscow ... to Paris on Snowden-related move ?!
-------------------------------------------------------------------------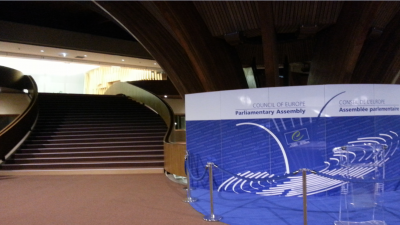 Meanwhile, CoE officially revealed in Strasbourg last Friday afternoon, that an important Meeting of its PanEuropean Assembly's Committee on Media's Freedom, initially Scheduled at Moscow for this Monday to Tuesday, March 10 -11, in order to Discuss and Vote also to adopt a crucial Report drafted by the New Head of Germany's Delegation to the CoE, MEP Axel Fischer, of the main Governing ChristianDemocrat Party CDU/CSU, on the "Protection of Internet Users", (Comp. Axel Fischer's relevant Statements to "EuroFora", part of which was earlier published at : http://www.eurofora.net/newsflashes/news/euparliamentpresidentonsnowdenhearing.html ), was suddenly ... transferred from Russia to Paris !
    
    Was it, in fact, because (Ukraine events' Pretext perhaps added), as the new Head of the German Delegation to the COE's PanEuropean Assembly had warned "EuroFora" since January, there was an initial intention to try to find some practical ways to have, at last, a Direct Contact with Edward Snowden himself at Moscow, (that some would like to Hinder) ?    

    No CoE Officer from its Cultural and Media Committee was available this Afternoon in Strasbourg for any Comment on this Strange, last-minute Change, (contrary to the custom to always leave a Contact present at CoEs Headquarters whenever a Committee meets elsewhere)...


(../..)

-----------------------


***


(NDLR : "DraftNews", as already sent to "EuroFora"s Subscribers/Donors, earlier. A more accurate, full Final Version may be published asap).


***

-------------------------------------
BRIEF NEWS
00:00 - 18.05.2020

00:00 - 20.04.2020

00:00 - 02.02.2020

00:00 - 09.12.2019

00:00 - 27.11.2019

00:00 - 16.11.2019

00:00 - 28.10.2019

00:00 - 08.05.2019

00:00 - 23.04.2019
Statistics
Visitors: 37753123
Archive
Login Form
Other Menu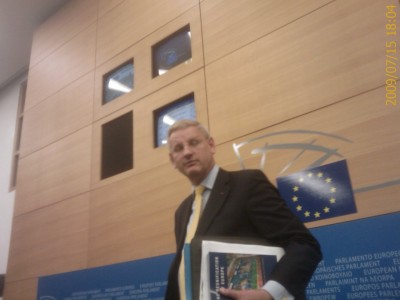 Swedish Foreign Minister, Carl Bildt, speaking  to "EuroFora", denied rumors on Turkey's attempts to avoid an EU check of its obligations on Cyprus on December 2009 by blackmailing Nicosia to either accept any deal with intransigeant Turkish claims contrary to EU values on the island's political issue, or face threats against the territorial integriy of the EU island, semi-occupied by Ankara's army.
On the contrary, the incoming EU President-in-office, speaking exclusively to "EuroFora", promissed that he will act for EU Council's decisions on December 2009 assessment of Turkey's commitments on Cyprus to be kept.

    Bildt was asked to react to Cyprus' President Christofias' denunciation, earlier this week, that some want to exert "pressure" on Cyprus in order for Turkey to escape from its obligations.

    Avoiding to mention any precise Deadline, Bildt, however, warned about "Consequences" in case of "failure" to reunite Cyprus, but without saying whose responsibility an eventual deadlock might be.  
 Asked by "EuroFora" if there is a risk for "Turkey's commitments to "be forgotten or downgraded", "despite crystal-clear EU Council decisions and EU Parliament's latest Resolution on the assessment to make at the end of this year on Turkey's obligations", according to rumours that, instead of pressing Turkey, on the contrary, there might be "pressure on Cyprus", even "blackmail", as Media reported and President Christofias denounced this week, Bildt denied :
- "No ! ", he clearly replied.

- On the contrary, invited by "EuroFora", to "reassure that the Swedish EU Presidency (7-12/2009) will keep a fair stance, based on principles",  Bildt promised that "we (Swedish EU Presidency) will be very clear on all of the decisions taken by the (EU) Council".

He added, however, that "we have very numerous decisions that have been taken" by EU Council, as if he warned, also, on something else.
- "'I am not aware of any sort of statements coming out today''", Bildt started to say, on our reference to Cyprus' President Christofias" denunciation of Turkish lobby's manoeuvers this week, replying earlier to 'another"EuroFora"'s question during a Press Conference at EU Parliament in Strasbourg.

 - '"I know the issues that you' are concerned with'", he added, remembering  the statements he gave us when Sweden was chairing the PanEuropean CoE on 2008.

- "But, obviously, .. I think that Cyprus' Peace negotiations are extremenly important".

- And "'I think that we are at a unique moment in History, in the sens that both (Cyprus') President Christofias and Mr. Talat (the Turkish Cypriot leader), are personally convinced of the need to overcome the division".

 - "It's 20 Years since the fall of Berlin Wal, but we still have a Capital in Europe (Nicosia) that's divided". ,

- 'I don't that we should loose any time in overcoming that"..

 - ''We should be aware of the fact that success will bring great benefits, but failure, will also have major consequences. There will not be Status Quo' " It's a question of seeking a solution, or entering another situation, which is somewhat difficult to see exactly how that could evolve", he warned.

- "That being said, this is a negotiation for Cyprus itself", Bildt admitted.

 - ''We (EU) can support, the (EU) Commission primarily, be technically helpful, and then, of course, there is a specific role for the UN, when it comes to the Cyprus' situation".  
- "At least so far. It might not be for ever'. Certainly not for ever, but for this period of time", Bildt added, skiping now any reference to concrete threats on UNO's Peace keeping force in face of more than 40.000 Ankara's soldiers, contrary to some Press claims, (See previous NewsReports).

     Replying to another "EuroFora"'s Question,  if anyone might attempt to "impose a Deadline for the conclusion" of Cyprus' Talks on December 2009, Bildt avoided to speak of any precise Time-frame, and indirectly evoked the fact that  35 Years of Turkish Invasion/Occupation obviously durated too long :

'- "If I was from Cyprus, I would say that the Deadline was Yesterday ! '",
Bildt concluded.
Cyprus' Government Spokesman, Stephanou, reportedly pointed out that "a settlement is possible on December if Turkey changes its stance", accepting a solution for the reunification of the island based on UNO resolutiona and EU principles.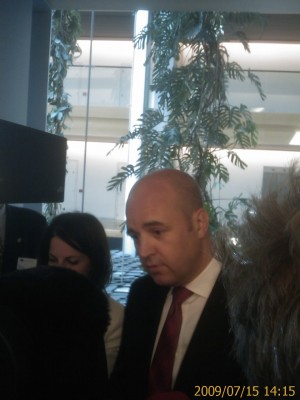 Earlier, EU Chair, Swedish Prime Minister Fredrik Reinfeld, highlighted an "historic opportunity" to "re-Unite" Cyprus according to EU's "basic Values"' (i.e. Human Rights) and 'Rules'", in a last-minute change of his draft speech to EU Parliament in Strasbourg.

    The initial Draft spoke only about "healing" the island.

    Significantly, Reinfeldt linked Cyprus' reunification with Turkey's obligations to respect EU's "Values" and "follow" EU's "common Rules" :

    - What is "called Membership Negotiations" should lead, "at- the end of the day", into "sharing a set of common Basic Values (i.e. Human Rights, Democracy, etc), and following common Rules", stressed Reinfeld from the outset.
    
    - "This is something that those on the Outside (of the EU), are now  contemplating", up "to Ankara", for "a solution" on "Cyprus", observed the EU Chairman, immediately afterwards..  
    - "Both sides of Cyprus have been granted a historic opportunity to together reach an agreement on a solution to re-Unite the island, that has been divided for far too long", said Reinfeldt, modifying his draft text.

-  "The Swedish Presidency will act ...in accordance with Commitments EU has made, on the basis of Criteria that apply", "as a Honest Broker", he promised.    
- "To those on the inside (of the EU), allowing the membership process to become an opportunity to solve protracted disputes, can be tempting", he added.

    "In such cases, we must find solutions that can benefit both sides, and open up a way forward. Otherwise, it would jeopardize the progress we have made towards EU integration", Reinfeldt said.


***
Polls