Home

newsitems

Springtime for Sarkozy Win in French Election:People vote 2/3 Right but Potential marred by Division
Springtime for Sarkozy Win in French Election:People vote 2/3 Right but Potential marred by Division
Sunday, 22 March 2015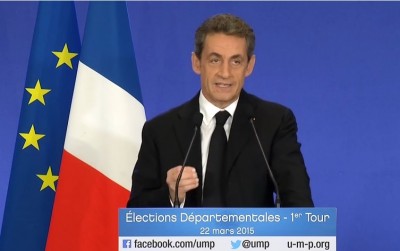 *Strasbourg/Prefecture/Angelo Marcopolo/- It's early Springtime for Nicolas Sarkozy's popularity in France of March 2015, as it results from the 1st real New Test for the experienced former President of the country, (who has also chaired the EU, €uroArea's 1st Summity, as well as G8 - G20, etc), since his recent re-Election at the Head of mainstream Center-Right UMP party before the Beginning of this year (late November 2014)  :  His party Leads this Sunday at the Top of the Nation-Wide Departemental Elections' first round this Sunday, followed by strengthened Rightists, while the governing Socialists trailed shortly behind, trying to limit their Sharp Fall since the latest Municipal and European Elections of 2014.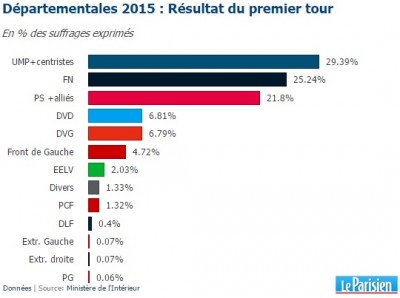 => In particular, Sarkozy's Center-Right UMP-led movement comes 1st and marks on March 2015 a much Better Result than his party did in the May 2014 EU Parliament's elections, and even Higher from its February 2014 Municipal and 2012 Presidential Elections.- Political "Change is on its way, and Nothing will Stop it !", he stressed Today. 

    Moreover, Rightists of Marine Le Pen's "National Front" continue to surf near the 1st place by ameliorating even their exceptionaly strong result at the latest, May 2014 EU Elections, confirming a qualitative leap since the Past.

    On the contrary, Socialists of current President Hollande, continue to Fall much Lower than their Past results of the 2012 Presidential and even February 2014 Municipal Elections, even if they apparently manage to redress a bit their huge Loss at the May 2014 EU Parliament's Vote, (mainly thanks to various smaller allies).

    If added all together, French People's Votes towards the Right side of the Political spectrum Total almost a qualified Majority of 2/3, confirming and Extending even much Further a Trend which had started to emerge already earlier.

    But, this obviously Huge political Potential still remains notoriously untapped and wasted by a persisting Division between the Center-Right vis a vis FN's Rightists, which still persists, despite a recent attempt by Marine Le Pen to partialy renovate the FN party, and the 2014-2015 example of Norway, (after also various others, f.ex. in Austria, the Netherlands, Bulgaria, Czech Republic, etc, in the Past,  to which was just added now Israel on 2015, etc).

    + Moreover, even inside several UMP-led Center-Right areas, Popular Votes' growing potential is astonishingly curtailed by unpopular Concessions made particularly to some in fact Anti-European and/ro Anti-Democratic Lobbies by certain controversial individualist politicians, (already co-Responsible for repeated Local and National Defeats in the Past), reveal varuious concrete examples especially obvious around Strasbourg's area, etc, (See Infra).

    On the contrary, whenever such kind of controversial and unpopular concessions haven't been made in the recent Past, (as, f.ex., it seems to be the case at least at nearby Mulhouse area, at the South of Strasbourg's region Alsace, bordering both Germany and Switzerland, etc), then, Socialists are swept away by a massive Popular Vote to the Right side of the political spectrum, UMP and FN winning the exclusive privilege to be present up to the 2nd and Final Round of these Elections, next Sunday, March 29, (Comp. also Infra).

    French Departments are Competent partly on Economic issues, and mainly on Social matters, as well as on Tourism, Environment and Sport, added to High Schools and a Network of Public Transports between Villages and Cities, etc. However, despite their Long History, their "survival" as Institutions is not guaranteed for the Future. But, this week's Election of Districts' Representatievs for 6 Years (2015-2020), offered a Timely real "Test" of French People's Political orientations, since the Vote covered all the Parties and all the areas throughout the entire Country, astonishingly on the basis of a mainly "National" Debate, while the Electoral modealities are not far away from that of French National Assembly's MPs, and close to Citizens.

    Moreover, a Stronger than usual People's will to Vote was revealed, Today, by an Exceptional Electoral Participation which grew from 44% up to 51% in 2015, compared to the previous similar Departmental Election of 2011, i.e. an Augmentation of almost + 7 % Nationwide, despite the local dimension of Districts and a recent complicated reform of the mechanism.
----------------------------------------------

     => - "This Vote reveals a Profound popular Will for a clear Political Change, which Starts from Departments", stressed from the outset Tonight, UMP's Chief Nicolas Sarkozy at an official statement.

    - People "Massively droped the Left", "because they felt that, during 3 Years (2012-2015), they have been told Lies, on UnEmployment, Taxes, Security, Education, and many other Issues", he denounced.

    - In consequence, "in many Departments, Tonight, the conditions for a Massive Swing towards the Republican Right (UMP+) and the Center have been fullfilled", he observed. Thus, a Political "Alternative is coming", and "the only way to Prepare a Change, is to Vote, Next Sunday, for the Candidates of the Republican Right and the Center" : "All those who Want that Change" are "called to mobiilize" their energies "in order to Strengthen the Momentum registered Today", Sarkozy stressed, looking ahead to the various Forthcoming Elections in French Departments, Regions and Presidency, between 2015 - 2017.

    - As for "the National Front"'s Rightists, they "woN't bring any Solution to the Problems",  but, "on the Contrary, will aggravate them", inter alia, also since "this Party", "has a similar Economic Program to the Leftists", and "Welcomed the election of the New Greek Government of Extreme Left". So that, "there won't be any Agreement, local or National, with the Leaders of that Party" of the Rightists, he confirmed.

    - Faithful to a traditional stance, already decided by the Collective organs of his Party, Sarkozy pointed out that, "In the rare cases where our (Center-Right) Candidates won't be present in the 2nd Round,  UMP won't Call to Vote, Neither for the (Rightists of the) NF with which we don't have Nothing in common, Nor for the Candidates of the Left, against whose Policies we are Fighting".

    - Nevertheless, "I'd like to say too all those who have chosen to Vote for the FN" Rightists, "that We (UMP) Listen to their Exasperation", Sarkozy stressed vis a vis several Millions of French Citizens.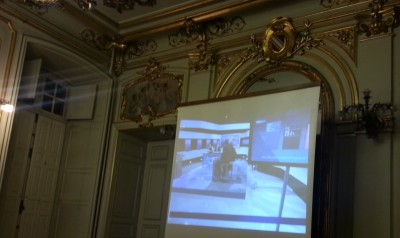 On the Contrary, controversial FN Rightinsts' Leader, Marine Le Pen, preferred this time to leave her Voters "Free" to decide themselves what to do at the 2nd Round of the Departemental Elections Next Sunday, (contrary to what she had done in the Past, at the 2012 Presidential Elections, when she had launched a Call to Abstain or Vote "Blanc" : Something notoriously exploited by the Socialist candidate Francois Hollande, then)...

----------------------------------
But, some Local Contradictions leave "in limbo" Strasbourg City, (as f.ex. in "Gutemberg"'s and "Zenith"'s Districts)...
--------------------------------------

    However, some internal Contradictions and/or political Errors made in a recent Past by one or two Local Politicians of the Center-Right, apparently left "in Limbo" Strasbourg City itself, (Host of PanEuropean CoE, EU Parliament's Plenary Sessions, ECHR, EU Citizens' Advocate (Ombudsperson), EUROCORPS, Shengen system's machinery, etc), as a kind of "Isolated Island" with most Ballots looking Favorable closer to the "Socialist" party, according to several Local commentators, even if this doesn't always resist to a careful Analysis, (See Infra), ...

    Indeed, whenever a counter-productive Division has given to the People the impression that at least 1 or 2 Local Politicians of the Right might make Controversial and Unpopular Concessions particularly to Foreign Lobbies,, (including even Turkish lobbies, and/or pushed for Islamic Mosques, Imam Schools funding, Communautarism, etc), then, the Rightists of FN succeed to arrive 1st or to take the 2nd place from the Center-Right, Republican forces, by attracting More People's Votes :

    Even at the Historical District where Gutemberg had reportedly invented the Printing Machine, and/or there where Today is located the Biggest Building for European-size Spectacles such as "Zenith", etc., in Strasbourg's Districts No 2 and 3, respectively, etc...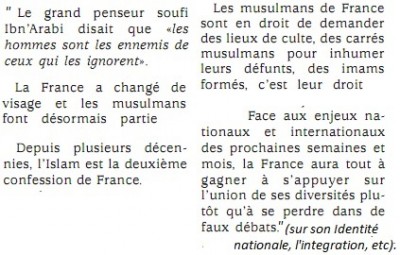 This is f.ex.obvious at Strasbourg's 3rd District, ("Zenith"s location), where FN clearly outnumbers now a Centrist (supported by UMP's Right) who has been at the forefront of a push for pro-Islamic Mosques, plus Imams' Training, etc, (to the point that even Nation-wide Websites against what it called "DéFrancisation", had taken her as No 1 Example of an alleged "Islamisation" throughout all France !). So that, when yet another big Mosque started to be built right in front of many Family Homes, crushing by its Huge Volume the small "Childrens' Home" of a popular District, contrary to the only Legal Public Consultation of the Inhabitants, which had scheduled an entirely Differend Location, (while the local Tiny Christian Churches were Isolated far away, obliged to be closed behind Metalic Fences in order to protect them from manifold recent Aggressions), then, the Rightists obviously exploited local Inhabitants' exasperation particilarly when some Media recently denounced on 2015 even that "the Turkish State is buying a Strasbourg's District" there, as they said, in order to establish an ambitious conglomerate of "Private University" etc. aiming to "Educate Islamic Imams" for many Mosques, already selected, trained and appointed by Ankara's Foreign Government, (See f.ex. relevant Frontpage Headline News)?...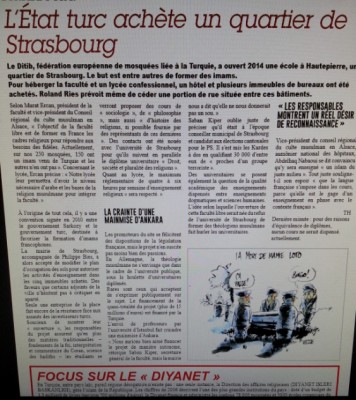 (Frontpage Headline news at Weekly Newspaper "Hebdi" No 63, of Jan. 2015, just after the "Charlie Hebdo" Massacre of journalists by Extremist Islamist Terrorists in Paris)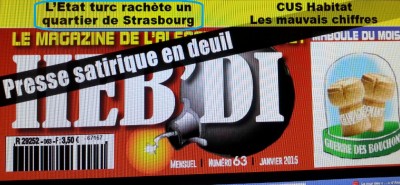 While, on Strasbourg's 2nd District, ("Gutemberg"s Historic area), a preference for a Turkish lobbyist instead of a French Christian of Lebanese origin in the Past of the 2008 (and even 2014) Municipal Elections, made by a controversial UMP (former Centrist) local Politician, added to her notorious Refusal to Oppose the Unpopular "Same Sex Marriage" and even the subordination of Children to Homosexuals' power on pretext of "Adoption", contrary to all other UMP Senators, provoked a Division with a Dissident Canédidate, which Weakened and Excluded UMP from the 2nd Round of this Election, where it could have participated, otherwise. (F.ex. the Dissident  took 5% of its Votes, which, if they remained added to UMP's currently remaining 19%, would have obtained 25% and bypassed the FN, as it had always done in the Past. On the contrary, this time, a Good Local UMP Candidate was undermined by that Division provoked earlier by a former local Leader Politcian, currently a Senator with a Controversial stance against UMP's main princples, as they had been embodied by Nicolas Sarkozy since his Succesful 2007 and 2009 Electoral Wins at the previous Presidential and European Votes : Comp. Supra).

-------------------
    Nevertheless, despite that, the Potential of all the Right totals almost 45 % in Strasbourg 3rd District, (FN: 23,2%, UDI/UMP: 20%, "Unserem Land": 5,2%), compared to a Less than 40 % only to the Socialists (35,5% + 4 % of Leftists), while many among the "Greens" who got almost 10% of the Votes might Refuse to back a local PS. which was marked by a Massive Destruction of almost all Big Trees in some areas, (f.ex. by eliminating all the beautiful Wood of Catherine Square's Hill - now demolished, despite a Popular Petition of the Inhabitants who tried to save it, vainly evoquing even CoE's "Landscape" Convention)...

    This is even more clear at the above mentioned Strasbourg's 2nd District (Comp. Supra), where all Political Forces of the Right, taken Together, total more than 46,5 %, (FN = 21,5%, UMP/UDI = 20%, "Unserem Land" Regionalists = 5,5%), compared with less than  35 % for the Left (Socialists = 30%, Leftists = 4,5%), leaving again to "Greens" (12%), and/or to Today's Abstentionists, a Key for Next Sunday's second round.

-------------------------------------
But, in fact, in Mulhouse, and Strasbourg's + surrounding Suburbs : many Swing-Districts, in Ballots favorable to the Right
-----------------------------------------

    The problems revealed there, appear Confirmed even "a Contrario", elsewhere in Strasbourg's Region Alsace : F.ex. at its Northern Half, around Mulhouse City, whose Mayor ; Jean Rottner, (UMP, reportedly close to Sarkozy), has recently become Popular after Refusing a project to establish there an Islamic Mosque which had been Opposed by a Petition signed by many Inhabitants, the governing "Socialist" party wasn't qualified for the 2nd Round of the 2015 Departemental Election in any District at all !

     Indeed, the 1st and 2nd places of the Vote around the nearby Mulhouse City were taken eveywhere by the Center-Right UMP-led or by FN Rightist Candidates in ALL local Districts !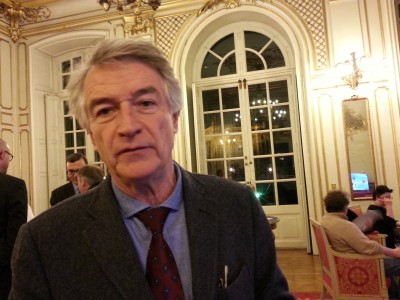 (National Results are Fine, as well as in our Region, but it remains to be seen what might happen in Strasbourg-City, where everything could be possible yet, told "EuroFora" the experienced Regional head of Sarkozy's Party UMP and 1st Vice-President of Alsace Region, André Reichert)

    Even in Strasbourg's 6th District, the Center-Right Candidate of UDI/UMP succeeds to arrive at the 1st place Today, (followed by a Socialist), in a Favorable Ballot for Next Sunday, (with 38,5% for UMP/UDI, 24% for FN and 5,5% for the Extreme Right = More than 68% at the Right side of the political spectrum, compared to Less than 25% for the Socialists, and 7,5% for the Leftists = Only 32,5% at the Left side).

    + Moreover, the faithful on UMP Principles Yves le Tallec arrives 1st at Strasbourg's 4rth District, (i.e. the "European" area, plus Wantzenau Forest, etc), with 36 % of the Vote, (totalling a Higher Potential than a ...57 % Majority, if added to FN's 15%, "Unserem Land" Regionalists' 10% and Far Right's 6%), compared with only 28% for the Socialists, (limited to just 33% even if added to the Leftists' less than 5%).

    Last, but not least, at the University area of Esplanade added to Orangerie garden (facing CoE) up to the Franco-German "Europa" Bridge over the Rhine river, (Strasbourg's District No 5), UMP/UDI's 31%, if added to FN's 14%, reaches More than 45%, while Socialists' 35% hasn't but 6% to add from the Leftists, limited to about 41% only, thus leaving a Key to "Greens"' 14%, and/or to Abstentionists to determine the Final Result next Sunday.

    A Big Leap Forward for the Local FN was however visible mainly around or in close proximity to Strasbourg City areas, such as, f.ex., at the "High-Tech". Southern Suburb of  Illkirsh - Graffenstanden, as well as at the Northern Schiltigheim Suburb (near "ECHR"), former Socialist strongholds, where the PS was, Today, surprisingly Excluded from the 2nd Round of the 2015 Departemental Election, reserved to the Center-Right and Rightist frontrunner Candidates.

    ++ Near Strasbourg, even the base of former long-time Center-Right President of Strasbourg's Region Alsace, Adrien Zeller, the Historic Saverne City, voted 1st for FN's Rightists, followed, in  2nd place, by UMP/UDI, etc.

     While some similar "Surprises" emerged even in the Middle of the surrounding Countryside, with FN's Rightists coming 1st f.ex. at Ingwiller village, and elsewhere.

-------------------------------------------
Strasbourg's "Heart" is "Green" ?
---------------------------------------------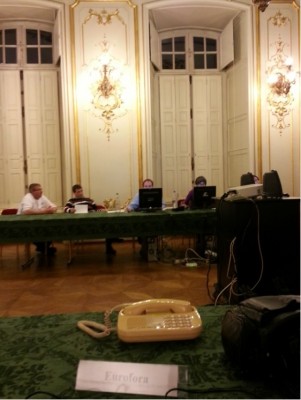 However, Strasbourg's core area, that of the Central "1st" District, apparently depends Today mainly on the "Greens" :

    The "Left v. Right" duel has practically resulted in an almost Equal "Pat" between 2 opposed Poles of about 30% each, Socialists v. Center-Right, backed by 7% of Leftists and 15% of FN's Rightists, respectively, (i.e. giving a Potential 37% v. 45%, in favour of the Right).

    But "Greens" apparently hold the Key, with nearly 20% of the Votes. The Question is, however, what Direction their voters might Choose : Will they stick to Socialists, as in the Past, or will they Distinguish themselves, as their National Party has recently done, by Withdrawing its participation Out of the current Government, and searching a New Way towards the forthcoming 2017, crucial Presidential Elections ?

    In  that case, will Strasbourg's "Greens" limit their Autonomy only towards a New Left, (as, f.ex., they did succesfuly in Grenoble's technocratic city, Winning the Mayorship from the Socialists at the latest Municipal Elections of 2014) ?  Or will they also experience a Coalition with the Center-Right, based mainly on BioEthics, Anti-Corruption and/or Pro-"Green" areas policies, (the latest playing an important role at Local Center-Right Top Politician Francois Loos' 2014 program for the City, at the same moment that some Socialists' Local Politicians had notoriously Cut down too many Big Trees in certain areas of the City abandoned to an unprecedented "Desert" of Concrete, despite Ciitizens' popular Petitions, etc) ? The recent efforts, (after a landmark Raprochment in Cyprus' Presidential Elections of February 2013 between the center-Righ and "Greens", mainly on a "Citizen-friendly" and "Politicians' Accountability" basis, still going-on), even by German ChristianDemocrat Chancellor Angie Merkel to broker a Coalition Deal with the "Green" Party on Autumn 2013, (finaly postponed for a possible Review on 2017), and the precedents of Hambourg City recently, as well as of the nearby Federated State of Hessen, where Bundesrat's President Volker Bouffier has notoriously succeeded to set up a ChristianDemocrats-"Greens" governing coalition since 2013-2014+, will they inspire them ? (In France, the famous "Green" MEP José Bové has recently expressed his agreement to certain Key areas of possible rapprochment, f.ex. on BioEthics, etc, initialy to "EuroFora" and afterwards to "Figaro" and other Media)... Here, as well as elsewhere, relevant developments are interesting to follow, in view also of the forthcoming, more crucial, Elections in the next few years...

-------------------------------------------------
Natural Couple, +"Political Marriage" between a Man and a Woman endorsed by Law in French Elections, just after a "Same Sex Marriage", LGBTI lobby row...
-----------------------------------------------------

    Last, but not least, a Symbolicaly Noteworthy Fact is that, for the 1st time in History, the 2015 French Departmental Elections were marked also by what looks, in practice, as a kind of indirect but real endorsement of the Natural Couple, between a Man and a Woman, by the Law, which even makes it a Legal Obligation for all Parties' Candidates to be presented in the unique form of a "Political Marriage", bringing together a Man and a Woman in equal terms, (nicknamed a "Binome" in French), to whom must be given each Citizen's Vote...

    Surprisingly, indeed, such a Legal Innovation appeared in France, (whose Voting areas, and even Voters' Post boxes, etc.,  were suddenly submerged by numerous Names and Photographs of Natural Couples, formed by a Man and a Woman), just 1 Year after the 2013 - 2014 row, (including several clashes with the Police, accused for abuse of Force against Mass Popular Demonstrations and criticized even by a CoE Assembly's Resolution on April 2013), notoriously provoked by a controversial and unpopular Bill for Same Sex Mariages, which allowed even to submit other People's Children to the power of Homosexual couples, (without any link at all to their Natural Father and Mother), under pretext of "Adoption", triggering several Reactions also at the International stage by various Countries, from all Continents of the World, refusing to let any of their Children risk to have to face such a situation, imposed on an unequal and everyday basis, even before having any chance to start living his/her life...             
(../..)

BRIEF NEWS
00:00 - 02.06.2021

00:00 - 18.10.2020

00:00 - 19.06.2020

00:00 - 18.05.2020

00:00 - 20.04.2020

00:00 - 02.02.2020

00:00 - 09.12.2019

00:00 - 27.11.2019

00:00 - 16.11.2019
Statistics
Visitors: 45476961
Archive
Login Form
Other Menu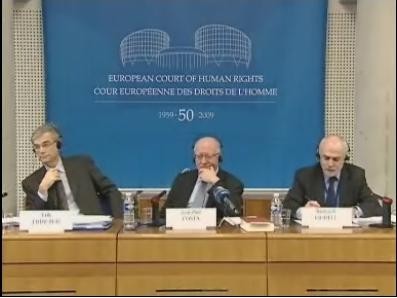 ECHR's President to "EuroFora" on Journalists Gongadze and Adali murders : Principles must apply to all States, without discrimination.

+ ECHR's Statistics on Freedom of Expression (See below).

 European Court of Human Rights' President, Jean-Paul Costa, questioned by "EuroFora" on Journalists' murders, as in Gongadze and Adali's cases etc., strongly stressed all CoE Member States' obligation to make efficient Investigations to find and punish those responsible, and underlined that ECHR's case-law's principles must apply to all without any discrimination.

His call was clearly supported by various Top MEPs who denounced a risk of "Double Standards" if some Journalists' murders are investigated, while others don't.

To avoid such risks, CoE's Parliamentary Assembly adopted a Resolution, on the occasion of Ukranian Journalist Gongadze's murder, "stressing", as a matter of general Principle, "the importance it attaches to the safety of Journalists and political activists, especially those linked to opposition groups, in ALL member states of the CoE". All "crimes against journalists and political activists must be investigated ... as a matter of priority, without political interference".

Costa was replying to "EuroFora"s question on the fact that, after CoE's Committee of Ministers, also CoE's Assembly had just adopted a Resolution on Gongadze murder case, based on an ECHR's judgement of 2005, asking a full Investigation from Ukraine, who has found and condemned  in 10 years of jail 2 executants, but not yet the instigators.

While nothing similar was yet done for dissident Turkish Cypriot Kutlu Adali's murder, with 5 bullets shot at his head out of his Family's home in the territories of Cyprus occupied by Ankara's army, despite another ECHR's judgement of the same year 2005, and despite Turkey's claim that nobody was found among those responsible for the murder, and that there was nothing more to do..

In order to be credible and efficient, CoE's mechanisms shouldn't find a way to at least ask for full investigations of all Journalists' murders anywhere they might be committed, without exceptions ?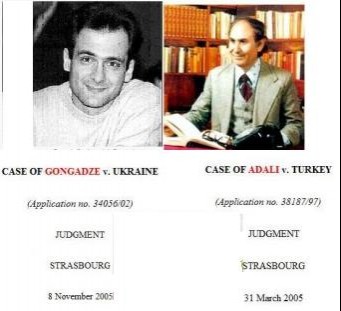 - "On the larger question that you raised, I'd like to say, since we are in a period of stock-taking on ECHR's 50 Years, that the Court's case-law developed certain concepts ....such as the Positive obligations of States, part of which are also the procedural obligations", started to reply ECHR's President.

 - "Whenever Journalists, Lawyers, Defenders of Human Rights, or even simple Citizens are murdered, the States are held responsible, not only if its their own security forces' agents who committed these murders, but also if they didn't make sufficiently substantial and efficient Investigations", he stressed.

- "I want to strongly underline that we (ECHR) have found in many cases numerous violations of Articles 2 and 3 against States, ....(about) murders or torture, ...because they didn't make enough Investigations in order to try to find and punish those responsible".

- "We (ECHR) do that vis-a-vis all 47 (CoE) Member States, without any discrimination".

"Naturally, the circumstances in each particular case may be differend, and we can't ommit to apply the rules of proof, or the rules of criminal procedure".

"But we try, by all means, to apply these principles of our case-law, to all States", he concluded.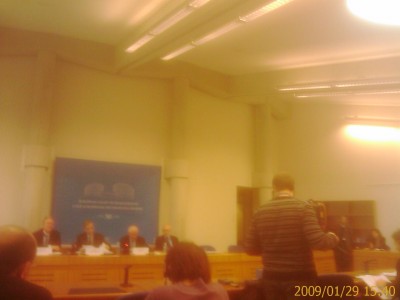 Costa's call was strongly supported by several Top CoE MEPs, from various Political areas

- "To investigate the murder of one Journalist, and not of another, looks like Double Standards", denounced the President of EuroLeft Group in CoE's Assembly, Dutch MEP Tiny Cox.  

- "What is the reason ? Politics or specificity of a case ? Of course, if Cyprus and Turkey are involved, it's always a Political case"..

- "Murders of Journalists should always be fully investigated, because killing Journalists is not only killing persons, but also killing Free Press".  "We (CoE's Assembly) should do our outmost to help People who are working on Free Press and they are under threat or murdered".

Because for Free Politics, Free Press is a pre-requisitive : Parliamentarians  cannot  function without a Free Press. Not investigating, is not protecting ourselves".

So we should investigate all Journalists' murders : We are talking about Gongadze, about the Cypriot man (Adali), about the Journalist murdered in Moscow one week ago, etc", Cox concluded

- "CoE can' look at these cases differently. CoE can't wear Blinckers  !".
- "If the one is investigated, so has to be also the other. Why there wasn't full investigation ? Why's that ?", wondered British  Socialist MEP, Alan Meale.

- "A good idea" would be to "make a Motion for Resolution", and "join all Journalists' murders. Adali and Gongadze etc", said to "EuroFora" EU Parliament Political affairs Committee's President, Goran Lindbland, ChristianDemocrat MEP from Sweden.


(See also earlier News at "EuroFora" on similar issues).
-------------------------------

ECHR's Statistics on Freedom of Expression :

    Almost Half of condemnations by ECHR for violations of Freedom of Expression in 2008, concern Turkey : 20 out of a total of 48 for all CoE's Member States.

    Russia, Poland, France and Moldova were condemned only 3 times. Romania, Greece, Portugal, 2 times, and the other CoE Member States only 1 time, or none.
--------------------
    During the last Decade : 1998 - 2008, Turkey was condemned for violating Freedom of Expression in ..169 cases, while Austria only in 24.

    France and Moldova in 14 and 13, respectively, closely followed by Russia and Poland with 11 and 10, respectively. The rest of CoE Member States had less than ten condemnations.    
    


Polls