Home

newsitems

Sarkozy à la ville de déesse Victoire (Nice): l'Europe a racines Chrétiennes, Frontières, Identité !
Sarkozy à la ville de déesse Victoire (Nice): l'Europe a racines Chrétiennes, Frontières, Identité !
Friday, 20 April 2012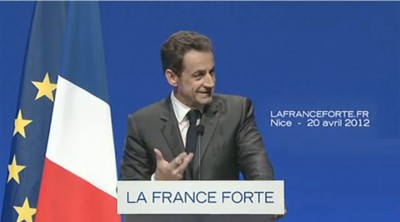 C'est symboliquement dans la ville qui porte le nom Historique de la Déesse de la Victoire : "Nikaia", de l' Ancien Grec "NIKH", aujourd'hui Nice, que le Président français Nicolas Sarkozy, longtemps No 1 des sondages pour le 1er tour des Elections Présidentielles de 2012, (où il pourrait faire jeu égal avec le candidat du Parti Socialiste, François Hollande, mais espérant apparament d'attirer environ 30% de réserves en votes possibles au deuxième tour, contre seulement moins de 20% pour son adversaire; malgré quelques sondages contraires), a choisi de conclure en focalisant sur les "racines chrétiennes" de l'Europe, ainsi qu' à ses "frontières", qui contribuent, à travers une Histoire millénaire, de lui forger son "Identité", comme il a résumé, avec la volonté de réparer les "erreurs" qui avaient notoirement éloigné la Majorité du Peuple de la contruction Européenne à l' époque de l'apparition soudaine des grandissantes Majorités d' Abstention aux Elections Européennes, surtout entre 1999 - 2004, et des 32 "Non" aux EuroRéferenda en France, Pays Bas et Irlande entre 2005-2007, notoirement dûs, pour la plupart, à la candidature controversée et impopulaide de la Turquie pour entrer dans l'UE, jusqu' à ce qu'elle fût clairement réfusée par la Majorité des Citoyens Européens (aux Elections Nationales en France : 2007, Allémagne : 9/2009, Pays Bas et Belgique : 2010, Autriche, etc., au même moment que divers mouvements politiques clairement opposés montaient aussi en Bulgarie, Hongrie, Suède et Finlande, et même au Royaume Uni, aux Elections au Parlément Européen, etc).
Extraits authéntiques :

" - Le reve Européen, c'est un rève Humaniste.
Nous l'avons fait pour la Paix et pour être plus forts.

Mais c'est vrai que ce rève Européen s' est perdu. Il s'est perdu dans la Technocratie. Il a pedu ses Valeurs. Et il a detourné nos compatriotes de cet Idéal.

Mais, je ne peux pas me résoudre que chaque fois qu'on intérroge le Peuple de la France, ou le Peuple de l'Europe, il répond "Non". Alors que c'est un rève de Paix, de Développement, de Culture.

Quelles Erreurs ont été commises pour en arriver la ? Et je voudrais prendre ma part à ses erreurs. Mais en dénoncant ces Erreurs, je vous donnérais aussi leur Solution :
--------------------------------------

 - (A) Une des premières Erreurs, me semble-t-il; a été lorsque l' Europe c'est regardé, avec inquiétude, et elle s'est interrogé, si elle avait des Racines Chrétiennes...

Et l' Europe a répondu : "Nous n'avons pas des racines chrétiennes !"

Et, en faisant cette réponse, l' Europe a donné le sentiment à tant des nos compatriotes, que l' Europe n'était pas un projet pour conforter la Civilisation Européenne, mais pour la nier et la détruire ; Ce fût une Erreur profonde !", Sarkozy denonca avec force, vivement applaudi par le Peuple réuni à Nice.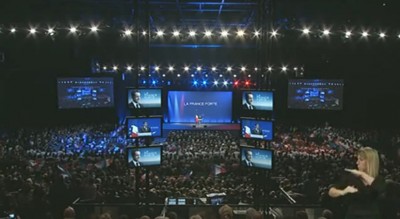 Things must be cryctal-clear : When I speak of Europe's Christian roots, it doesn't mean that I'd make propaganda for 1 Church, or that I'd forget that our Republic is Secular.

But, it's enough to look at this long coat of Cathedrals and Churches, in order to understant where France comes from. Who made France. How France was built", Sarkozy observed, triggering an Explosion of Popular applause.

 
- "However,  by saying that, I don't aim to deny  the fact that Europe had also other inputs. I didn't say that France had exclusively Christian roots. I simply said that France has Christian roots", he observed carefully.

=> "And I say that a Country which is unable to understand where it comes from, is unable to determine where it wants to go ! That was a Big Error !", Sarkozy denounced in conclusion, triggering probably the loudest Popular applause in his speech..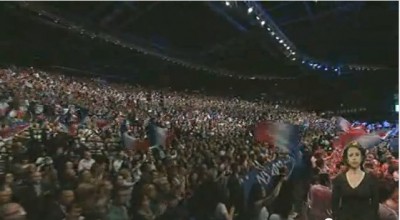 ----------------------------------------
+ (B) "The 2nd Error is the suppression from our Vocabulary of those Founding words which are "Borders", and the word "Nation".
 
Je sais que ca fait bizarre de vous parler de ca. Pourtant, je le sens tellement dans le fond de l' âme.  I really think that it was an Error.
La Frontière est présentée par tous ceux qui n'ont pas reflechi, comme une Barrière.

Moi je pense que la Frontière rassure. Que la Frontière apaise. Que la Frontière conforte. Et qu'un pays, une société qui est rassurée, confortée, a confiance, c'est une Société qui est une Société ouverte. Et qu'un pays qui est inquiet, c'est une sociétté fermée ...

=> La Frontière rassure, la frontière protège, la frontière permet à défendre une Identité, Car "c'est la frontière qui permet de vivre en Sécurité et en Paix avec ses voisins. Voilà la vérité !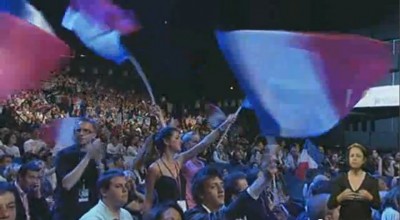 "Si nous avons décidé avec nos amis Européens de faire Schengen, c'est pour que les frontieres (externes de l'UE) soient mieux défendus, pas détruites.

>>> Et j'ai dit, (comp. discours à Villepinte, 3/2012) que si dans 1 an l' Europe n'a pas changé, et il y a encore un trou béant (a Gaping Hole) entre la Turquie et la Grèce, de 115 de Kms de frontières Européennes, où il n'y a pas 1 douanier, pas 1 contrôle, pas 1 barrière,

=> et, bien, la France reprendra le contrôle ciblé à ses frontières ! Pas pour la fermeture, mais pour l'Europe Forte que nous voulons", très largement applaudi par le Peuple.

Les vives applaudissements populaires, dans la région frontalière des Alpes Maritimes, près de l' Italie et de l'île de Lampedoussa, ont eclaté ce vendredi, c.a.d. un seul jour après le Débat de jeudi, à la séance plenière du Parlement Européen à Strasbourg, où, à l'occasio du débat sur le "Traffic des êtres Humains", plusieurs EuroDéputés ont dénoncé le fait étonnant qu' environ ... "90% des immigrés illégaux qui penetrent dans l'UE proviennent, en réalité, de ... la Turquie", via ses frontières avec la Grèce.

En effet, la politique récente de la Turquie ramasse des nombreux immigrés des ses pays voisins, de provenance de l' Asie et/ou de l' Afrique, en raison surtout de la Suppression des Visas d'entrée decidées par le Gouvernement d' Ankara, p.ex. vis a vis la LIbye, la Surie, l' Iraq, et même l' Iran, etc. : Un fait si scandaleux qu'il a failli provoquer même la .. Suspension des Negotiations entre l'UE et la Turquie, representant plus de 850.000 € en Subventions chaque année, payées par les Contribuables Européens (y compris les Pauvres, obligés de verser de la TVA sur tous leurs achats), c.a.d. l' équivalent de plus de 45 Milliards €  en prêts, chaque année, même pendant cette pérode de Crise Financière, faite d' Austerité, Economies, et coupes de crédits partout ailleurs....

Des EuroDéputés de la Roumanie, Malte, Autriche, Grèce, et d'autres pays-membres de l'UE, se sont retrouvés hier, en démandant que la Solidarité Européenne agisse, enfin, avec Efficacité, afin d' aider à protéger les Frontières Externes de l'UE, aussii bien en Méditerranée (cad. en Italie, Malte, France, Grece du sud, etc), que, surtout, au Sud-Est, autour de la Mer Aegée, face à la Turquie, (comme le Président Sarkozy avait initialement souligné dans son récent discours de Villepinte : Comp. "EuroFora"s NewsReports from the spot).  
- "On ne protège pas une Maison en blockant la porte de sa chambre à coucher, et/ou de sa cuisine et de sa salle de bain, mais en renforcant ses Portes Externes", a averti, de manière characteristique l'eudodéputé grec, Papanicolaou (ChrétienDémocrate/PPE).     
Aussi bien  au mois de mars  2012 lors de la Mini-Sesssion à Bruxelles, que maintenant à la Session Plenière Hebdomadaire d' avril 2012 à Strasbourg, Critiques et Denonciations fusent contre une politique manifestement scandaleuse de la Turquie, d' où arrivent, en moyenne, "plus de 400 immigrés irréguliers par jour" (!), derrière laquelle se cache, apparamment aussi, un caclul cynique du régime d'Ankara, cherchant d'exercer des pression sur l'UE pour qu'elle cède sur la démande, du côté Turc, d'ouvrir des breches au régime UE des Visas pour les Turcs, (comme une intervention plustôt alambiquée de l' eurodéputée "Verte", Mme Flautre, notoirement pro-Turque jusqu' à la caricature, revèle clairement)....
---------------------------------------------------------

+ (C)  Moreover, the idea of "NATION, was lost in the middle of a Mediatic brou-ha-ha, where, in general, those who speak are those who cry louder in order to say less", went on to denounce Sarkozy.

"Being attached to his/her Nation and Fatherland is not War-mongering, it's not Nationalism".
=> "It's simply being attached to an Identity", he stressed.

"When someone is anxious about his own Identity, how could he welcome his neighbours, how could he have the traditional Openess of France ?", he wondered.

- "Look at the Biggest Nations in the World : F.ex. China : did you see many Chinese deny their Identity ?", he questioned. "In the USA, 1 House out of 2 has an American Flag"; Sarkozy noted, advising to "look even to Brazil", etc...

=> "Yes, I'm fond of the French Nation, the French History and the French Culture !", Sarkozy exclaimed, applauded. "Imagine if we didn't have no more Culture, no more Writers, no more Singers...", he joked, (making People smile, in a reference to his Wife, Carla Bruni-Sarkozy).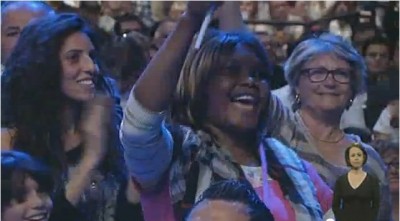 - "We can speak about Peguy at Concorde square (See "EuroFora"s NewsReport from the spot). - We have the Heritage of a Country with Jeanne d' Arc, Napoleon Bonaparte, De Gaulle, ..and we are Proud of that", Sarkozy went on to add, making Peuple applaud.

 - "On the contrary, if we gave the impression that we'd be afraid to safeguard our Borders, to defend our Nation, that was felt as a Cowardisse", he denounced.

 - Mais, "Je me suis engagé à cette Bataille avec une Soif à Gagner, avec une Volonté Inebranlable dans notre pays, car nous n' avons pas le choix : Il faut Gagner !", were his last words, applauded.

>>> "Nations are not against Europe. On the contrary, Europe is built on Nations, ... which decide to unite their Fate in a Common Ambition", he concluded.

(.../...)

***

BRIEF NEWS
00:00 - 22.01.2013

00:00 - 28.11.2012

00:00 - 19.10.2012

00:00 - 17.10.2012

00:00 - 21.09.2012

00:00 - 01.09.2012

00:00 - 03.08.2012

00:00 - 05.06.2012

00:00 - 03.05.2012
Statistics
Visitors: 4439612
Archive
Login Form
Other Menu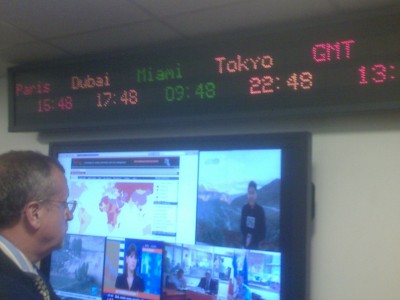 The High-Tech, brand new Crisis' management Center (CMC) inaugurated Wednesday by French Minister Bernard Kouchner, fits well EU's Humanitarian and Security-Defence aims, revealed a gathering of the largest Group of MEPs (EPP) organised in Paris these days, to prepare the debate on French EU Presidency's priorities (July - December 2008), that President Nicolas Sarkozy will present next week in EU Parliament in Strasbourg.

        Due to face a large spectrum of Crises : from Humanitarian (f.ex. Natural Catastrophes, evacuation of Civilians or rapatriation of expats, populations exposed to Hunger and/or risky Sanitary conditions, etc), to various consequencies of Terrorist threats, Armed conflicts, or of Peace-keeping operations, etc, and joining Geopolitics with Diplomacy, CMC is able to deal with urgencies in real time anywhere in the world, by concentrating qualified Experts and impressive High-Tech equipment (i.e. Giant Computer Screens working in parallel, Visio-conferences, Satellite connections, etc).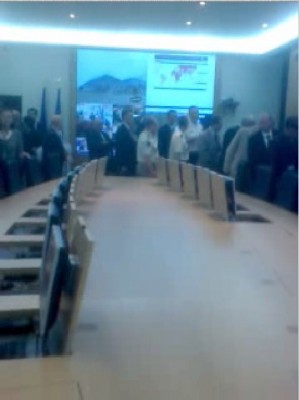 Kouchner stressed that "Humanitarian and Political considerations can co-exist in real practice, if each one respects its independence", and, speaking to EuroFora, underlined his intention to have special representatives in "Strategic" locations, creating a "Network", open particularly to European cooperation.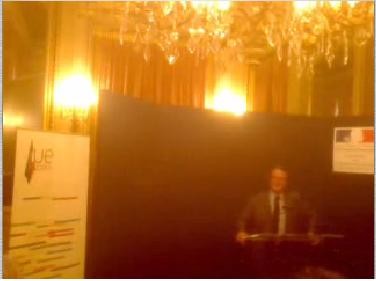 - "We must fill the gap in Europe's Civilian and Military capacities", declared earlier at Matignon, French Prime Minister Francois Fillon, while EU Commissioners met with their counterparts among French Ministers.

        This point was at the focus of European People Party's "'Study Days" in Paris, from 2 to 4 July 2008, entitled  : "For a Safer Europe", with a central Debate on EU's Security and Defence policies, where EU Parliament's President, German MEP Hans Gert Poettering, French Minister of Defence Herve Morin, and the Chairman of EU's Defence Committee, MEP Karl von Vogaw, spoke before meeting with Sarkozy, Wednesday afternoon.

    - "We need specifically European systems, including, f.ex. Satellite networks, etc", stressed the experienced Chairman Karl von Vogaw, speaking after the meeting with President Sarkozy to European Journalists from EuroNews, EuroPolitique and EuroFora.
    - And there where "European forces are already gathered, (f.ex. in Cyprus, Balkans, Lebanon, etc), if new operations started, I'd prefer to see them under European command in Future", he added, in reply to questions on how to overcome problems raised by a 3rd Countries as Turkey.

    Vogaw presented earlier, at EPP's plenary, a comprehensive Report on EU's Security and Defence policy, with a strong High-Tech component (including Satellites, UAV, protected Telecoms, Strategic Air and Sea Transports, Space assets, etc), sharp references to Political will and Historic necessities, while also stressing that EU must overcome the divide between Civilian and Military research and activities, making "a close cooperation between Civilian and Military means" a "specific" mark of Europe.

    The experienced Top MEP, after helping to build the "EuroZone", as a long-time Chairman of EU Parliament's Economic Committee, has recently started to chair a brand new "Security and Defence Committee", aiming to build European Defence, as the 2nd task of his life, as he told earlier to EuroFora.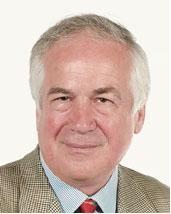 The Committee, chaired by Vogaw, will hear, next week in Strasbourg an Experts' view about on the French EU Chairmanship's priorities in ESDP on Wednesday, before President Sarkozy's plenary debate, exceptionally on Thursday.

Polls