Haupt

newsitems

Russian Plane to Syria via Turkey: Crash kills Artists+Press on Christmas for Aleppo Damaged Church
Russian Plane to Syria via Turkey: Crash kills Artists+Press on Christmas for Aleppo Damaged Church
Dienstag, 27 Dezember 2016
*Strasbourg/Angelo Marcopolo/- What really Happened, in the Middle of 2016's Christmas Night, when 92 Persons, including a World Famous Choir+Dance Group with a Dozen of Women, a Top Humanitarian Activist, 9 Journalists, and Russian Army's Head of Culture, were all Killed in an Unexplained yet Airplane Crash, on their road from Moscow towards Latakia, in embattled Syria, through Black Sea and Turkey, just after Aleppo's Liberation, where Christians prepared to celebrate anew in their Historic Saint Elias Cathedral, Destroyed by 4 Years of Islamist Extremist Armed Gangs' invasion/Occupation ?
While Investigations are still going on, due to reach an Initial Conclusion Later on January 2017, a Terrorist Attack and/or a Sabotage are Not Excluded, but Included among Various Possible Causes, as, f.ex. a Technical problem, Pilot's error, etc., Russian Officials confirmed. Even if the Experience and Capacity of the Pilots, as well as the Solidity of Tupolev Airplanes, used during about 40 Years without serious problems, added to Good Weather conditions at the Local, Refuelling Stop at Sochi's International Airport, a priori don't leave enough room for Other Hypothesis.

Probably even More Important : Many Converging Facts clearly show that, at least, One important Point is Crystal-Clear : That Tragic Tu-85572 overNight Flight, in Early Hours of Sunday, 25 December 2016, took place in an Exceptional Context of "Hot" Tensions, emerging from Many Important Stakes which Opposed several Socio-Political and GeoPolitical Forces at a Crucial Moment, surrounded by a kind of astonishingly dense "Electric Mist", as we shall see Infra.
 __________________________

This is Added also to the Fact that several Fragments from the Crash were Found so Widely Scattered inside the Black Sea, that they were Distant for more than 4,5 Kms until 6,5 Kms between them, drowned down in a Deep Seabed.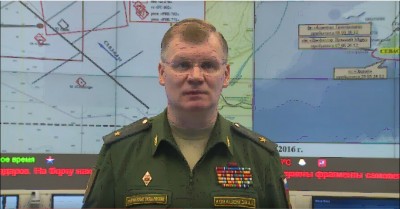 Moreover, an impressive Number of Ships, Submarines, Helicopters, Airplanes, Divers, Boats, and High-Tech. Investigation Tools, (including even Space Data), apparently didn't manage yet to Find almost intact but Only "the Rear" of the Plane, and Less than 30% of the Corpses, while the Rest of the AirCraft (i.e. its Front and Middle parts), as well as almost 70% of the Corpses, Seemed to be still Dispersed in Pieces. At least Some among the Less than a Dozen "Big" Parts of the Plane, was so Deformed that it looked Like a Teared up Piece of Paper ...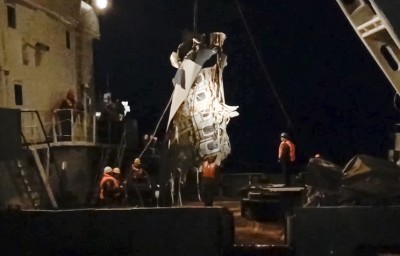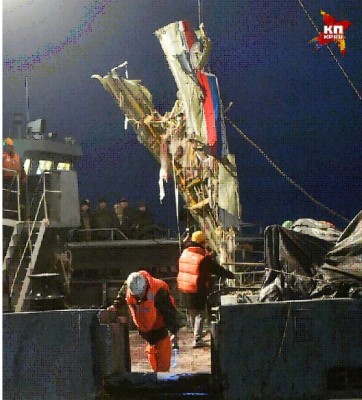 And that, even if some Sources reportedly Denied an Explosion or a Fire "on board", i.e. inside the Plane, while also Observing, however, that an eventual Terrorist Attack may Take also Various Different Forms...
---------------------------



Among Others, there was also Talk about an alleged "Bright Flash" being cought on Surveillance Cameras along Sochi Coastline Before the Crash, while also the (not necessarily interrelated) Hypothesis of something eventualy Hitting the Airplane's Engine remained among the the 4 most probable.
 https://www.youtube.com/watch?v=ioMm9J5mNR8

Some Experts initialy pointed, indeed, at the Extension of the Wreckage's Spread as a probable indication of a Terrorist Attack, but an Official reportedly Claimed that it would be due Only to "Strong Currents", even if, a priori, this doesn't seem so convincing, concerning Heavy Metal, located Underneath, at the SeaBed, and Distant as fas as 6,5 Kms from eachother.

AnOther Worring Fact, in this regard, is also that the Pilots did Not Send any Urgency Message for Help, neither Discussed, nor Denounced to the Controlers an eventual Technical or Other Problem before the Crash.

Moreover, AnOther, also Russian Army operated Flight from Moscow to Latakia (Syria), which transported simply Gifts to the Soldiers, arrived normaly. I.e. almost as if some might, perhaps, have seeked to Block Only the Famous Music and Dance Red Army Choir, a Top Humanitarian NGO Leader, and the Army's Culture and/or Police Directors to reach Syria, on 25 December 2016, (See also Infra).

Only 1 out of the 93 initialy Scheduled Passengers, finaly did Not Board the Plane, and was Saved : A Famous "Solo" Singer, (reportedly because of a Last Minute Health issue).

The twice reported Claim of some Russian Security service Sources, cited by semi-Official Agency "Tass" and Other Media, that, since the Airplane had been Unexpectedly Obliged, because of a Last Minute local Incident which had occured around "Mozdok", at Northern Ossetia, to Land for "ReFueling" at the nearby and Bigger, Sochi's International Airport, then, Nobody Knew in Advance that it would Arrive there, so that an eventual Terrorist Attack appeared Not Probable, in fact, it's like a Coin with 2 Sides :

Indeed, at First, the Location of that Incident : "Mozdok", is a City where a Series of various Deadly Terrorist Attacks, even against innocent Civilian People, have been committed by several Islamist Extremists, during the Last Decade or so, (as also "Wikipedia" points out).
Moreover, that Same "UnExpected" character of the Last-Minute Choice of Sochi's Airport for ReFueling, Deprived also the Russian Authorities from a Possibility to Prepare and Organize an adequate Security Environment beforehand, at that precise point and Time, therefore Raising more Risks. Indeed, those who might, eventualy, Provoked or Exploited that Incident at Mozdok, could Easily Guess that the Plane would, then, go to the Nearest Big Airport : that of Sochi's International Airport, so that some Accomplices might have been Prepared and Waiting there to Harm that Flight... On the Contrary, the Government's side would have particular Difficulties to Choose the Right Staff for that Last-Minute Refueling Stop at Sochi then, since it was UnExpected, it Occured during Night, and a Sunday, even at Christmas Day, (for several Friendly Armenian, Greek Orthodox, Ukranian, Catholic or Protestant a.o. Christians who might have been Working at Sochi). But, so Close to Northern Caucasus area, it would be Easier to Find, then, some Muslim Staff available, comming f.ex. from Nearby Cherkessia, Balkaria, Ossetia, Ingushetia, Chechnya, Dagestan, etc...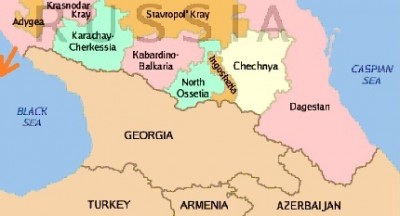 This could obviously be Dangerous Nowadays, particularly when ISIS and other Islamic Terrorist Gangs have just Launched, recently, Calls to Hit Russia inside its Territory.

A Deadly Islamist Terrorist had notoriously found Hired to Work among the Staff of ...Brussels' Airport, shortly Before the Latest Bombing Attack in Belgium, and anOther Jihadist used to Work for Years in Paris' Public Transports Company in France, (where Many Suspects, marked by a "S - Card", Warning that they are considered as Potential Threats, are, at the same time, Working in Various Public Sector Agents' jobs, (etc).

Just a Few Days ago, this December 2016, it's even a Turkish Policeman, (frequent Guardian of Turkish President Erdogan, and Successful Winner of a Recent Competition for the Job of Presidential Guard in Ankara), who has just Murdered the Russian Ambassador Karlov at Istanbul. And the "International Sochi Airport" has Links also with "Turkish Airlines", including "Istanbul" in Turkey as one of its Destinations, (while even there were about a Dozen of Passengers with apparently Muslim-origin Names inside (among 92 in Total, i.e. More than +10%). Previously, the cold-blood Murderer of 3 Disident Kurdish Women in Paris on 2013, a Turkish Agent, had been Working at Paris' "Roissy" Airport.
Meanwhile, a former FGB Senior Official reportedly Denounced against Security Gaps which would allow some to "Infiltrate" Airport Faciities either in the Chkalovsky, near Moscow, from where that Plane departed, or even at Sochi's International Airport (located at nearby Adler District), despite allegededly Better Security Measures.

All such various Facts appear of particular Potential importance at the present case, as several sources among the Investigators of the Deadly Incident have already pointed also at the "Maintainance" operations, while "Tass" Press Agency repeatedly reported that Official Legal "Criminal" Proceedings were Opened for Violation of "Fight Safety Rules" and/or "Preparation to it".
 
Especialy when some among the, currrently, Most cited Hypothesis, concern Bad Quality Fuel, or the Plane's "Flaps" :

Indeed, according to Preliminary Data and some Experts, an Uneven Clearing of Flaps (Important for Lift Off) might have Pushed the AirPlane to Turn aside, Hard to control in the few Seconds available to the Pilots ::

- A Draft Transcript from the Flight's Voice Recorder, Leaked to the Press, shows the Pilots complaining about the Flaps and going Down, while Eye-Witnesses, Radar and Video show the Airplane making a Sudden Turn to its Right Side, shortly after Lift Off, Lose UpLift, Nose up, and Fall to the Sea, just a Few ("1,5") Kms from the Coast.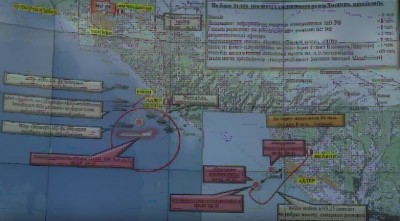 +Other Sources from the Investigation reportedly pointed at "the Engine" (which was Recuperated from the Wreckage), speculating either about an External Object Hitting it from Outside, or a Short-circuit Inside, resulting in Loss of Upward Thrust.

- A Repeatedly recurrent Mention, in this regard, is also about "Fuel" of Bad Quality being fed into the Airplane,  Resulting in a Weak Engine Thrust, which could have Hindered Lift and finaly brought the Plane Down.

---------------------------

An overall approximative Impression about the Investigation, is that it Started by Considering several Possible Causes, including a Terrorist Attack and/or Sabotage, but Afterwards was oriented rather towards a Technical Problem and Pilot's Error, which Narrowed Down the Query to 4 main Leads, Bringing Back the Terrorist Hypothesis, at an Equal foot among a Wider Spectrum of 7 Various Possible Causes, when Many Frangments, 2 Flight Recorders, a lot of Body Parts, and various, Video, Photo, and EyeWitnesses' Evidence was Found, while Journalists and other People raised Questions, Not Excluding Anything. 
----------------------------------------

    Particularly at this Exceptionaly Important Juncture, just after the Syrian Government, Helped by the Russian AirForce and other Allies, has just Succeeded to Liberate the 2nd Biggest City in the Country, Aleppo, from Many Years of Deadly, Destructive and Oppressive Invasion and Occupation by Islamic Terrorists notoriously affiliated to "Al Queda" and other Extremist Armed Gangs,
    a Trip to Syria by such a World Famous Russian Army Orchestra, scheduled to be accompagnied by Well Known Solist Singer Iosif Kobzon, (also an Elected MP, vice-President of Duma's Cultural Committee, and No 1 Target of Kiev Authorities' and EU's Sanctions' List, for Playing Music in Eastern Ukraine's pro-Autnomy Regions of Donetsk/Luhansk, and Crimea, Signing critical Petitions and making "Hot" Political Declarations, etc), Together with Top Humanitarian and Cultural Representatives, was certainly Not a Banal, Ordinary Affair...
   + Even Less at this Precise Moment, when, After Liberating Aleppo, the Syrian - Russian + Allies had just Started to Attack the Last Stronghold of Islamist Terrorists' direct Link to Turkey, at Idlib, (Closer to Turkey, from where various Armed Gangs notoriously used to get Money, Logistical Support and Weapons, and where Reside most of their Leaders).

    ++ And Nobody could legitimately Close his Eyes in front of a Lot of even More, Supplementary Exceptional Facts, which All Converged into Clearly showing that this Special Tupolev RA-85572 Flight, undeniably came in the Middle of an Impressive kind of "Electric Mist", made of Various Big Stakes, "Hot" Issues, and Geo-Political Contradictions Nowadays, Added to Important Warnings also from the Recent Past, in that particular Area of Strategic Geography and Politics, which canNot be Naively Ignored.

    F.ex. :



    + During a Long Period of about 25 Years, Flights From/To Sochi International Airport (located at Nearby "Adler" District), have been generaly Safe, with the Exclusion of only 3 Cases, (including this one), which are all related to Exceptionaly High Profile GeoPolitical Issues, and surrounded by very Controversial and Surprising Factual Circumstances.

In all these cases, 3 Russian Airplanes have crashed in Flights linking Sochi to a Direction which crosses Turkey :

- An Israel - Russia Flight (on 2001, shortly after 9/11  : reportedly shot by a Missile, which went astray - from Ukraine - Crimea).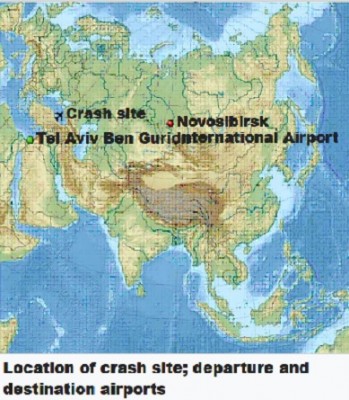 -----------------------------


- An Armenia - Russia Flight (on 2006 : Sudden Change of Local Weather conditions and/or Weather Instructions from AirControl).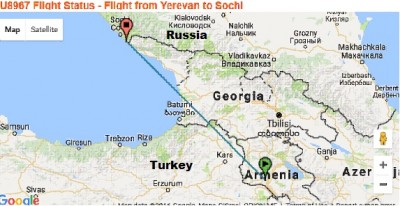 -------------------------------

- A Russia - Syria Flight (on 2016 : Undetermined yet Cause - among Highest ever Tension in Syrian Conflict : Aleppo Liberation + Murder of Russian Ambassador in Turkey, USA Dems accusation of Russia to meddle in US Presidential Election, etc).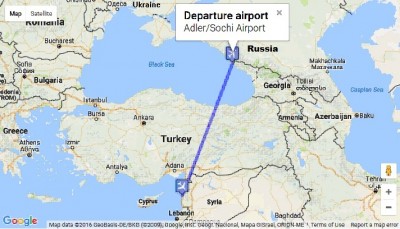 ------------------------------------


All those Three Countries were "Political Hotspots" in relation to Turkey's policies, at one moment or another. (Armenia, Israel, Syria).
In all these cases, the Real Cause of the Crash was Unclear and very much Disputed.

-----------------------------------

++  Just 10 Days Earlier, Russian Media reported about "Terrorist Threats at International Waters" in Black Sea near to the Ukranian Coasts, almost at the Same Time that they Denounced a Turkish Ship's provocative and Dangerous behavior vis a vis a Russian Oil/Gas Exploration Ship Convoy between Odessa and Crimea, (that Moscow considers as "ReUnified" since 2014 with its Historic, OverMillenary Russian Mainland, after a Popular Referendum in Reply to a "Coup" a Kiev).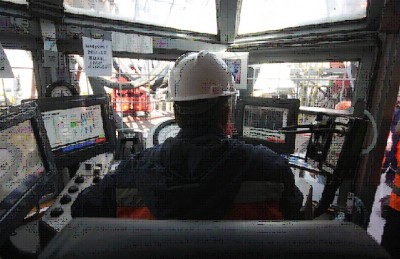 Moreover, 2 Days Before the Tupolev Dramatic Incident, President Putin had anounced an Imminent Gas Energy Connection between the Mainland of Russia and Crimea Peninsula, near Sochi's Coastline.

------------------------------

+++ This Week a Moscow Court is due to Officialy Anounce its Judgement concerning a Legal Definition of the February 2014 Violent and Deadly Conflict which Topped the Elected Government at Ukraine's Capital City Kiev as a "State Coup", or not, following an Application filed by Ukranian former MP Vladimir Oleinik.

 In that Court's Hearings participated also the former President of Ukraine, Viktor Yanukovitch, who had notoriously Negotiated and Signed a Peaceful Transition Agreement with all former Opposition Chiefs, under the auspices of then French, German and Polish Foreign Ministers,  Steinmeyer and Sikorsky, which provided for New Elections soon, But was immediately and Violenly Topped by sudden Maidan Square's Deadly Clashes. They were provoked by a Strange and Non-Elucidated yet "Snipers" Fire shot against, and Killing, Both Dissidents and Government Agents, (as it was also Denounced by a former Foreign Minister of Estonia, currently MEP at EU Parliament).

Later-on, a CoE's High-Level Legal Experts' Panel, headed by a former ECHR President and 2 Ukranian Senior Officials, appointed by the PanEuropean Organisation's Secretary General Thornbjorn Jagland (a former Prime Minister from Norway, and long-time Chairman of NOBEL Peace Prize Committee), concluded that the New Kiev's subsequent Regime's Investigations on those Crucial "Maidan Snipers" Deadly Shots, were Seriously Inadequate, in Blatant Violations of the Legal Standards established by Strasbourg's Organisation for Human Rights, Democracy and Rule of Law.

The Foreign Ministry of Russia criticaly Observed, nowadays, that Most Foreign Countries' Leadership send Official Messages to Moscow with Condoleances for the heavily Deadly Incident of the AirFlight to Syria, with "Only One Exception" :

That of the current Kiev's regime in Ukraine - where some Ruling a.o. Politicians even, reportedly, made Controversial Observations or Bad "Jokes" about that Tragedy, as Russian Officials have just Denounced.
This was reportedly followed by even Worse Attitudes in Odessa, where Thugs reportedly threw the Flowers and Candles offered by the local Population in Memory of that Deadly Crash Victims, to ...Garbage Bins, in apparent Complicity with some Policemen, Replacing them by Mockery and Insults, etc, in the same City where Brutal Gangs, Armed with Long Clubs, Stones, Metallic Chains and "Cocktail Molotov" Fire-Bombs, Fans of Maidan Violent Groups, had notoriously Attacked on May 2014 many Peaceful Dissidents Protesting against the subsequent Kiev's regime, Burning them Alive, (See, f.ex. : ....).

---------------------

++++  Previously, anOther Tupolev "Tu-154" Russian Airplane had also Crashed in the Black Sea, Killing 88 People at the Black Sea, Between Crimea Peninsula (350 Km. SE), Mainland Russia (190 Km SW), and closer to Turkey (140 Km N.), while similarly Travelling between Sochi and the Middle East (Israel), but reportedly Downed after being Hit by an Ukranian Army's "S-200 Missile" which had gone astray during a Military Exercice, back on October 2001, (Comp. Supra). Kiev's Government accepted to Pay and Indemnisation to Victims' Families, but some of them Refused and lodged a Complaint to an Ukranian Court, which Rejected it on 2007. However, a subequent Indemnisation Request by Russian "Siberian Airlines" ("S7") Company was, reportedly, still Pending at Kiev's Courts at least Until 2013, (according also to "Wikipedia").
 -------------------------------------------------

+++++  Crimea's controversial Dissidents among the Tatar - Turkic origin small Minority, (previously Deported Back to Asia by Stalin, but Returned to Europe during Yeltsin's reign after former USSR's implosion, under Persistent Turkey's and USA's Pressure), have had as Chief a former Ukranian MP who uses to live in Turkey, (whose Government is in Close Cooperation with Kiev's Post-Maidan regime on a so-called "Tatar Issue" inside Crimea peninsula, Against its 2014 "ReUnification" with its Historic OverMillenary Russian mainland).
Both these 2 Tragic, Israel and Syria - connected Russian "Tupolev" AirFlights, were due to Cross Turkey, near to the Black Sea City where was Born its President Tayip Erdogan, close to Caucasus area : Rize, (Historicaly "Rizunta" in Ancient Greek, from the River "Rizios" during the OverMillenary Christian  Empire of Byzantium 330-1.453), whose Father was a Black Sea Coast-Guard, before Migrating to Constantinople, currently Istanbul (as re-named by Ankara since the 1955 "Pogrom" against the Few remaining European-origin Inhabitants). Riza is located Near to the well-known, nowadays "Trabzon", (the Historic "Trapezounta", in Ancient Greece + Byzantine Christian Empire).

+++++  Meanwhile, Turkish President Erdogan has notoriously Vowed to Punish 2 Journalists, including the Editor-in-Chief of mainstream Opposition Newspaper "Cumhurriyet", Dundar, for Having Earlier Revealed that Lorries Loaded with Hidden Rocket-Launchers and Explosives were Secretly Transported, by Turkish State's Agents, accross the Border into Syria, in order to be Delivered to some Islamic Extremist Gangs. Dundar and one of his Reporters were notoriously Persecuted, and even Jailed, by the Turkish Authorities for having Unvieled such a Scandal by their Investigative Journalism, to the point that Cumhurriyet's EIC was Obliged to Flee to Germany, asking for Political Asylum, recently, where Ankara's Authorities Hindered his Wife to Follow him, by Arresting her at an Airport and Confiscating her Passport. Dundar, who had, in the meantime, been Invited by EU Parliament to Strasbourg for a Hearing by its Foreign Affairs and Human Rights' Committee, as well as a Press Conference, Speaking to "Eurofora", already Before that, during the Award of International NGO for Freedom of Speech "Reporters without Borders"' Annual 2015 Prize, had Stressed that the Situation in Turkey reached such a Level of Anti-Democratic Oppression that "the EU should Warn Ankara"s Government to Stop and Change that, by Taking some Concrete Measures, (See, f.ex. : .....).

They Accused us to "Violate State Secrets", Dundar told us, for Revealing (with the Publication of an Investigative Press Article, of a Video and Explicit Photographs of the Smuggled Rockets and Launchers, that Erdogan claimed, Later, that they would have been Destinated to some undetermined so-called "Turkmen" (sic !) inside the ISIL-Occupied area of Syria...  
--------------------

++++++ 1 Month Earlier, Kiev's current Government reportedly Anounced Military Air Drills for Missiles near and over at least part of Crimea peninsula, Beginning on December 2016, in a move which was Criticised by Moscow's Government Officials as "Provocative" and "Dangerous" for Russian AirFlights, (particularly because Ukrainian Officials allegedly did Not Contact their Russian counterparts for Coordination), including even possible Risks for Civilian Airplanes, as the 2001 precedent of an Israel - Russia Flight Hit by an Ukranian Missile, had indicated (Comp. Supra).

--------------------------------

+++++++  Nowadays, Just 48 Hours Before the Deadly Incident of AirFlight RA-85572, Out-Going US President Barack Hussein Obama had reportedly just Signed (on 23 December 2016) a Highly Controversial Decision which Allowed, for the 1st Time Officialy, to Fund and Give Dangerous "MANPAD" Rocket Lancing Weapons, also against Helicopters and/or AirPlanes, to various Islamic Extremist Armed Gangs attacking the Syrian Government, that Russia's Foreign Ministry repeatedly Denounced as an "Hostile" Move, mainly Because it provokes obvious Risks against Russian Aircrafts.

Given the spreading Networks of various Islamic Extremists' Gangs, (even from Southern Spain's "Andalusia" Region up to ..Pakistan and/or Afghanistan, etc., it canNot be absolutely Excluded a priori that such Dangerous MANPADs might, eventualy, have already Reached (and/or Reach in the immediat Future) the Northen Caucasus' Region inside Russia, and/or Georgia, etc., Both Neigbouring to Sochi's area... And, Today, as it's well known, (Comp. Supra), the 1st among 4 Hypothesis for the UnExplained yet Crash of that Typolev 154 Airplane, currently under Investigation, is, precisely, that Something might, perhaps, have Hit its Engine, (Comp. Supra), durig the Take Off.
--------------------------------------
=> Which real Destination(s) in Syria, Now ?
------------------------------------------

++++++++ It's also a NoteWorthy Fact that, among the Victims of this Strange Crash, was also the Director of Cultural affairs in the Russian Defence Ministry, Anton Gubankov.

Culture has recently been given an Important Role by Russia in the Fight against Islamist Extremism of ISIL and other Terrorists, as also the World-Famous Palmyra Ancient Monuments' precedent initialy proved, Earlier this Year, when Saint Petersburg's prestigious Hermitage Museum Experts, added to a Classic Music Concert, etc., were Spectacularly used to Mark a 1st Victory by the Syrian Government, Russia and their Allies, against an Initial, Deadly and Destructive ISIL's Invasion and Occupation of what is UNESCO's World Heritage, Historic Monuments, when the main Syrian specialist Archeologist was Murdered and several irrempleacable Artworks Destroyed by that Armed Gang.

The Significance of the move, as Part of an Overall Strategy interlinking Culture and Human Rights values to the Fight against Islamist Terrorism, was, almost in Parallel, clearly Confirmed and further Developed, as a matter of General Principle, also in relevant Statements made to "Eurofora" by the New Russian Permanent Representative to the PanEuropean, 47 Member States - strong CoE, Ambassador Soltanovsky, as early as already Last February in Strasbourg, (Comp: http://www.eurofora.net/newsflashes/news/newrussianambassadorand20thanniversaryofcoeenlargement.html), on the Occasion of an Official Event for the Celebration of the 20th Anniversary of Moscow's Accession as Full Member of the Organisation on Human Rights, Democracy and Rule of Law, (Comp., f.ex. : ....).

It's Even More Obvious for Nowadays Syria, that the Cultural Events that had been Scheduled for the Internationaly Famous and Historic' reputation holder, Russian Army's Music Choir and Danse Group "Alexandrov" (Dating from the 2nd World War Victory against the NAZI Military Invasion), as well as for the Top Humanitarian NGO Leader Dr. Lisa, (a prestigious Member of Russia's Council of Human Rights), had an Important Symbolic and Practical Meaning.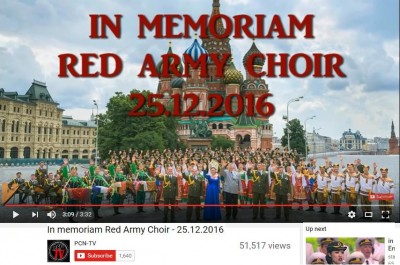 https://www.youtube.com/watch?v=C05R6fPpjLk

 
Particularly since this move comes Just After the Recent Liberation of Aleppo, the Country's Second Biggest City, from various Armed Gangs of Islamist Extremists and mainly Al-Queda's Local Affiliates, ISIl-related Groups, etc.,

Nevertheless, its full Precise Destinations don't seem yet absolutely Clear :

 - According to Official Statements, Published After the Tragedy, the 64 World-Famous Musicians, together with that Top Humanitarian NGO Head, were, mainly, due to Celebrate the New Year, among the Soldiers of the Russian Base near the Syrian Sea-Coast region of Latakia, on December 31, 2016 - January 1st, 2017.

But Famous Solist Iosif Kobzon, had Already visited Recently that Russian Airbase, Together with Red Army's Orchestra Director, Valery Khalilov, for an "Alexandrov" Musical Concert played there Earlier this Year (2016), so that it does Not seem Logical at all to just Repeat a "Deja Vu", in such an Exceptionaly Important, Historic Moment, as the Victory of Aleppo's Liberation from Islamist Terrorist and other Armed Gangs.

>>> Moreover, it's Obviously Strange, why all those Top Russian Musical, Cultural and Humanitarian Representatives had to Travel during the Night, including around 2 - 4 a.m. Local Time, i.e., withOut even Sleeping at all overNight, even during a Sunday, on December 25, (i.e. practicaly on Christmas Day also for Syria's Christian Minority : more than 10% of the National Population), if it was just in order to Work there Only a whole Week Later, around January 1st, 2017...
=> On the Contrary, it naturally appears much more Logical, if that overNight Trip would have been, Initialy Destinated Also in order to Perform, Urgently, inside the Recently Liberated Aleppo City's Eastern quarters, (Comp. Supra), Hastily Rushing to Reach that embattled Northern area from that Sunday's Afternoon, i.e. during Christmas Day also for Syria's Important Christian Minority, (notoriously Persecuted by ISIL's and other Islamist Terrorist Gangs, including, particularly, several Survivors from the Armenian Genocide committed by the Turks, while Massively Expulsing them towards the Syrian Desert), Precisely when a Unique Event of Exceptional Importance was Organized at its Historic Cathedral of Saint Elias, which had been seriously Destroyed since Many Years of Violent Conflict, and submitted under invading Islamist Extremists' Rule :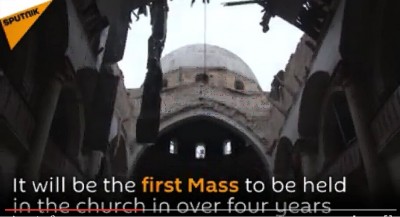 https://www.youtube.com/watch?v=yCJdncpYSZs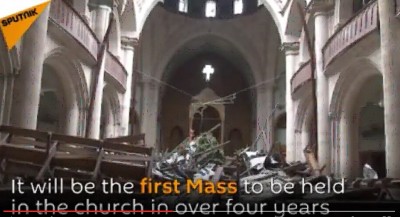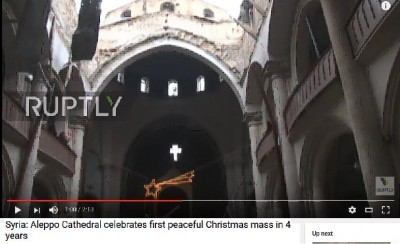 Indeed, as many Media Reported Afterwards from All over the World, the Syrian Refugees Returning to Eastern Aleppo City, had Prepared a Unique Event inside the almost Demolished, main Historic Christian Church of Aleppo, that of Saint Elias' Cathedral, Despite the Fact that its Roof had been Destroyed, all its Furniture turned into a Chaotic Pile of Broken Pieces of Wood, its Wall Paintings Erased, etc, after 4 Years of Violent Conflict, Occupation and Oppression that they Faced, before Returning Back Home just Now :
*** Symbolizing a Humanist and Spiritual ReVival, after such a Long Time of Deadly Destructions, they had notoriously set up a Surprisingly Beautiful "Nativity" scene, right in the Middle of the Ugly and Dreadful Debris of recent Destruction,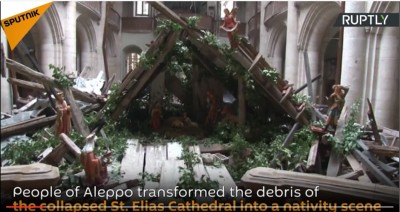 with a very Strong Meaning, particularly that precise Day of Christian Christmas commemorating the Birth of Jesus, Hidden at a Humble Farm, to Escape from Surrounding Deadly Threats by many Armed and particularly Inhuman Enemies,
in, mutatis-mutandis, Similar situations to those of Syrian People who had fleed "Al Queda" and/or  "ISIS" Terrorists-like Armed Islamist Extremists' Gangs, as those who had notoriously even BeHeaded a Small Child in Aleppo, (as a recent Video Revealed), added to a lot of various Atrocities cruelly and willingly Targetting innocent Civilian People.  
    The Particular Importance that the Symbol of Christmas has taken even Elsewhere in the World Recently, and even more this precise Year of 2016, has Now become Notorious, including from Europe (where several People are Obliged to Struggle in order to Save their OverMillenary Traditions from recent Attempts to Impose their Elimination by Force), up to the USA themselves, (where the New US President - Elect, Don Trump, has just become Famous for merely Promissing to suprisingly Enthousiastic, Simple American People, that, from Now on, - "We shall Say <<Merry Christmas>> Again !")...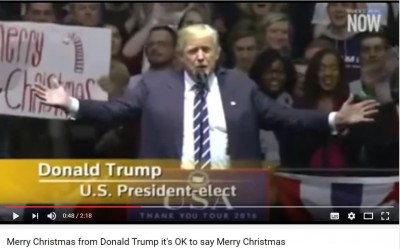 It's also a Big Paradox, on 2016, to see even ...Historicaly Boudhist or Atheist China to publicize in its Media the Celebration of Christmas, at various Locations accross this huge Country, including a Beijing, etc., while People were Hindered to Pray in their Historic Churches even near the region where Christianism was Born, as in these Ancient Syrian Cities, like Aleppo, that Islamist Extremist Armed Gangs and other Terrorists had Invaded and Occupied for more than 4 Years (2012-2016), provoking also Serious Destructions..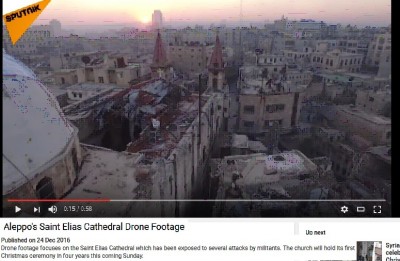 >>> The Nowadays Urgent Need to Protect EnDangered and Persecuted Christian and Other Minorities among the People of Syria and other Countries in the Middle East, was Recently Twice Marked, here in Strasbourg :

    +  Both by EU Parliament's and CoE's Human Rights Prizes awarded this Year to "Yazidi" Women who suffered Brutal Deprivation of Liberty, Attempts to Destroy their Human Dignity, and even Slavery in the Hands of ISIL's Terrorists, (Comp. relevant "Eurofora"'s NewsReports, from the CoE and EU Parliament, f.ex., at : ... + ...)
   ++ And by the Experienced President of the European People's/ChristianDemocrat Party, former Long-Time Chairman of the Biggest Group of MEPs in EU Parliament, Joseph Daul, who has Warned, while Speaking here with a Group of People including "Eurofora", that the Spiritual Head of Syrian Christians, who represent more than + 10% of the Total Population), a Catholic ArchiBishop, had clearly Told him that,

    - "If Bashar Assad might Fall, then, over 1,5 Million Christian People would be Obliged to Flee Risks of Mass Oppression and Slaughter in Syria, and Massively Leave in order to Seek Asylum in Europe and elsewhere in the World !"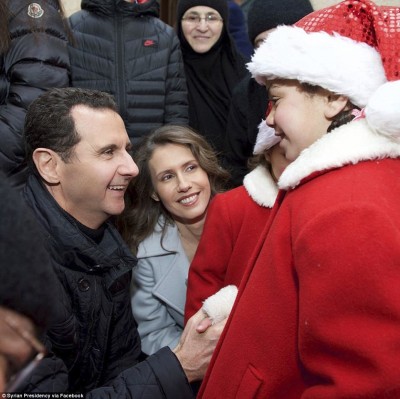 Conscious of such Facts, Syrian President Bashar Assad, symbolicaly visited, with his Wife, Asma, and saluted Orphan Children in a Convent at the Day of Christmas, this year 2016.
    -------------
    Meanwhile, as Humanitarian NGO Head Elizaveta Glinka, alias "Dr. Liza", Member of Russia's Human Rights Council, active in Charity Work at Ukraine and Syria, etc, particularly in the Medical Field, honored Earlier this Month by a Prize awarded by President Vladimir Putin, had reportedly Stressed, shortly Before being Killed in that Strange Plane Crash :

    - "We Never feel Sure that we will come back Alive... But, we are Sure that Kindness, Compassion and Charity are Stronger than any Weapon."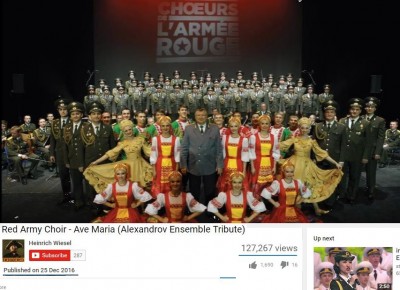 https://www.youtube.com/watch?v=JLJ97EIOJME


    => Did, then, all those Top Artists of the World Famous Russian "Alexandrov ensemble", - who notoriously Remind an Historic Victory in Europe against NAZI Military Invasion/Occupation, and had been Invited to Play even at the Vatican, by late Pope John-Paul II at an also Exceptional moment of Automn 2004, i.e. just before he Dies in the middle of an initialy Victorious Global Fight for Human BioEthics, including at UNO's New York Headquarters, before eventualy accepting EU Parliament's and PanEuropean CoE's pending Invitations to come and address them in Strasbourg, (as current Pope Francis did only a Decade Later, on 12/2014 : Comp. "Eurofora"s NewsReports from that Event, f.ex. at : ... + ... + ...),-
    Dare Risk to Sacrifice themselves for such a Noble Cause as, both to Support the Liberation of an entire People from Barbarous Islamist Terrorists in Syria, including the Revival of a Persecuted, but Old Religious Minority of Christian People in that Strategic (and endowed with a landmark Ancient Culture, linked to Europe even by the Phoenician Alphabet, from which evolved the Ancient Greek Civilisation) Middle Eastern Country, at this Highly Symbolic Human Feast of Holy Nativity, (in Addition to a New Year's eve) ?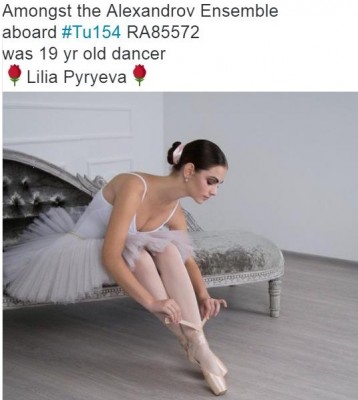 - Who, and Why, should be Afraid of that ?


----------------------------

+ The Death of 9 Russian Journalists deprives People from much Needed, full Media Access to InHuman Atrocities now Revealed in Liberated Aleppo ?

---------------------------------------

    + It's also a Fact, that the 9 Experienced Russian Journalists from more than 3 Big Medias, who reportedly Accompagnied them, and also Risked and Lost their Lives in that Dready Plane Crash, might, Otherwise, have, Most Probably, Reached Now the Recently Liberated Eastern Aleppo City, where Various Scandalous Findings were reportedly Made these precise Last Days : 
     Perhaps the Most Important, (at least from "Eurofora"'s point of view, Seen from Strasbourg's PanEuropean Human Rights' Capital), are Not Only the Nowadays reported Findings of Weapons from certain Western Countries, (including Out-Going, Controversial US President Barack Hussein Obama's USA, etc), via Turkey, etc, Not Even the alleged Discovery (Strongly Deounced particularly by the Syrian Government also inside UNO's Headquarters at New York) of several State "Agents" from Turkey, Saudi Arabia, USA, Qatar, etc., secretly Hidden inside Eastern Aleppo's Rebels' Stronghold, Invaded and Occupied during more than 4 Years by "Al Queda" affiliated and "ISIL-Friendly" Terrorists, Together with various Other Violent Islamist Extremist Armed Gangs, (2013-2016).

    But, rather the even More stunning Facts and Horrible Crimes, that Various Converging Reports, Both from Simple People (f.ex. Families of "Missing" and/or Killed Persons), and Syrian Government Officials, NGOs, etc, are reportedly Denouncing, nowadays, many Macabre Findings of Victims of Islamist Extremist Armed Gangs, (including Terrorists Al-Quaeda affiliated, and/or ISIL-Friendly, according even to mainstream, US and Washington DC Based Experts' official Reports published on 2015+), who were allegedly Tortured and Killed, in several cases leaving Only a few "Body Parts" of them, while Others' Body would have been ...Exported to Nearby Turkey, where their Organs had been Extracted, before being, eventualy, Returned to Aleppo and Given Back to their Family, as atrociously Empty Cadavers, Striped from all their Body Organs... F.ex. "rolled up in a bag", without "Nothing left to it", since "the body was Sewn up like a Sack", as the Wife of a Victim denounced.  

    In that case, her Husband "was Shot in the Head", as she reportedly said, Matching the Most Recent Findings, shortly After Aleppo's Liberation from Armed Extremist Islamist Gangs, including Al Queda-affiliated and ISIL-Friendly Terrorists, by the Syrian Government's Army and its Russia, Iranian and Lebanese Allies : Indeed, Moscow's Defence Ministry Strongly Denounced that the Discovery of "Mass Graves", with several People "Shot with 1 Bullet at the Head", after having been apparently "Tortured", but also Many Cadavers with "Missing Body Parts", i.e. striped of several Human Organs, also in Other Cases.

    Obviously, by Killing People with a Shot at the Head, almost All Human Body's Organs remain Available for eventual illegal Organs' Smuggling, which used to Traditionaly thrive around some Turkish Networks , even Before the Syria/Iraq Conflicts:

    - F.ex., in a Notorious case of Serbian People systematicaly Kidnapped and Killed in order to Steal their Organs and Sell them Abroad for Transplantation to Rich "Customers" in Foreign Countries, such an Atrocious Network was Found to be Established inside Kosovo, with Links to Albania and a Turkish "Doctor", after the Long-Time former Attorney General of Haye's International Tribunal on former-Yugoslavia, Carla di Ponte, from Switerland, (comp. also her Statements to "Eurofora"s co-Founder, inside the ECHR in Strasbourg, almost at that Same Time, partly Published then at "TCWeekly", etc), and Afterwards Extensively Investigated and Documented by CoE PanEuropean Parliamentary Assembly's Rapporteur, Italo-Swiss mainstream MEP Dick Marty, then President of PACE's Human Rights and Legal Affairs Committee in Strasbourg, (Comp., f.ex. Marty's relevant Statements to "Eurofora"s co-Founder on such Organs' Harvesting Risks for any "Missing" People in the World, also in Other Countries, if they are Abandoned to their sort, and those Responsible for their Enforced Disappearance scandalously Left UnPunished, Contrary to ECHR's well-Established Case-Law, which asks for All Truth to be Discovered and Unveiled about "Missing" Persons' real Fate, and for the Perpetrators and Instigators to be Found and Punished).
    
+ To these Cases from the former-Yugoslavia Conflict of the 1990ies-2000ies, at least a North American Foreign Policy survey had Claimed in the Past, that could be Added at least Several Cases among those Greek-Cypriot People gone "Missing" since the 1974 Turkish Military Invasion and Occupation of the Northern Part of Cyprus, allegedly during the Early 1980ies, as far as it Concerns those among them who have been Kindapped and Detained in various Jails at Mainland Turkey, withOut being ever Returned Back to Cyprus, but, on the Contrary, Held in Secret, in order to be Abused as "Guinea Pigs" in some Bio-Warfare Research Centers of Ankara's Military, being subjected to Atrocious "Tests", and/or, subsequently, partly or entirely also in Human Organs' Trafficking, etc.

    ++ But, Nowadays, it's Obviously the well Known, Numerous Murders of Defenceless, Kidnapped, mainly Civilian People, by "ISIL"'s Islamic Extremist Terrorists, also mainly Near Turkey's Borders to Syria or Iraq, but also in Libya, etc., (See, f.ex., the case of the Massive Be-Headings by ISIL's coward Thugs of 30 Kidnapped Poor Migrant Workers from Egypt, under the unique Pretext that they were... Christians of the Ancient Coptic Minority),

    which Add a Long Line of Similar Monstruous Methods of frequently Killing defenceless People by BeHeading them, with the Result for their Body Organs to be, almost All Available for much More such Monstruous Human Organs' Harvesting and Trafficking, most Probably through ISIL's usual Logistics' Networks notoriously passing through Turkey too !..

    I.e. possibly Starting to Reveal a Monstruous, and obviously Dangerous for all Humanity, Massive Network atrociously Kidnapping and/or Murdering more and more innocent Civilian People, Striping the Victims' Bodies from their Vital Organs, and Selling them to various Foreign Smugglers and Human Organs' Traffickers, mainly via Turkey, f.ex. for Transplantations, "Tests", and/or other Horrible "Frankenstein" quasi-Canibalistic Exploitation by Inhuman Criminals, cowardly Hidden behind a huge and Systematic "Cover-Up" of such an entire process, Secretly set-up during Recent Years, under the Hollow Pretext of a so-called "Islamic Terrorism", etc...

    If the Latest alleged Discoveries of relevant Mass Graves, and Other Similar Abuses inside the Recently Liberated Eastern Aleppo, can really Reveal such Systematic Ressemblances between the North-Western Syria's "Al-Queda" affiliate and/or "ISIL-Friendy" Terrorists and Other Islamic Extremists' Armed Gangs, with the North-Eastern Syria a.o. Barbarous Crimes notoriously and Openly committed by ISIL's Terrorists themselves, around Raqua and/or Mosul (in Occupied Iraq), etc, Always Near the Turkish Borders, in All these Cases, then, it's Obvious that this Strange Deadly Crash of the Tupolev  RA-85572 Flight between Moscow - Sochi - Latakia, may also have anOther, Additional Motivation :

    - Simply Hinder, those 9 Russian Journalists, from some among the Biggest Medias, to Arrive Safe in Syria, and Timely enough in order to be able to Reach Aleppo (closer to Latakia, than to Damas) On Time, both for that landmark, Historic Symbol of the Nativity scene and Christmas Mass at Aleppo's Saint Elias Destroyed Cathedral, on Late Sunday 25 December 2016, (Comp. Supra), and for the subsequent, Monday Morning Press Conference and various other on the Spot sources of Original Information, about the alleged "Mass Graves", full with Cadavers of Victims, many of whom had their Organs Stolen, and probably Smuggled somewhere via Turkey, (Comp. also Supra, respectively).

    Indeed, Facts show that it's Only on Friday, December 23, that the Syrian and Russian Authorities declared Aleppo entirely Free from any Armed Islamist Extremist, i.e., practicaly just 1 Day Before the RA-85572 AirFight kicks off from Moscow towards Sochi and Latakia, rushing OverNight, from the 24 to the 25th of December, 2016, to arrive on Time.

    Meanwhile, in an Astonishing Move, almost All the Mainstream Western a.o. Media had practicaly ... Abandoned Aleppo, and went Away, almost at the Same Time that Armed Islamist Extremist Gangs had been Obliged to  "Evacuate" the 2nd Biggest City of Syria ! So that Both the Highly Symbolic Christmas Celebration of the Nativity inside the Destroyed Cathedral of Saint Elias, on Late Sunday, 25 of December, as well as the Massive Return of Aleppo's former Inhabitants, and various Press Statements, Contacts, Conferences or Other on the Spot Original Events of Topical Interest, including, f.ex., the Public Demonstrations of a Big Arsenal of Seized Weapons, (included, reportedly, by some Western Countries, such as the USA and even certain EU States, but also Turkey, etc), among which are also Found some alleged "Chemical Weapons" according to certain sources ; the Food Stocks reportedly Piled up inside Islamist Extremist Gangs' HeadQuarters, including from International Humanitarian Organizations, (while Eastern Aleppo's Civilian Inhabitants notoriously Protested that they Starved from Lack of Foodstuffs) ; up to the most Scandalous Revelation of all : that of Monstruous "Mass Graves", reportedly Found with Many Human Bodies of "Tortured and Murdered" People, from whose Remains were "Missing" several "Body Parts", (Comp. Supra), etc.,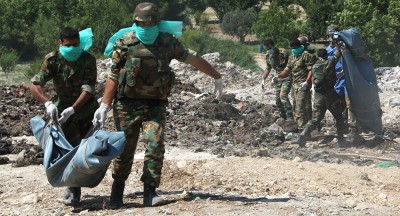 All those Exceptionaly Important and Unique Events, that the World-wide International Opinion Needed to be Able to Know and to Verify, on the Contrary, Faced and almost entire "Black-Out" from most Western Establishment's Medias, which became, Suddenly,
mostly "Absent" and withOut any Direct Link to the Liberated Aleppo City, - while they had been almost Every Day particularly Vociferous and in manifold ways "Present", all this previous Time, around the Occupied Aleppo, Held during 4 Years by largely Foreign Islamist Extremist Gangs and various other Terrorists, all the way...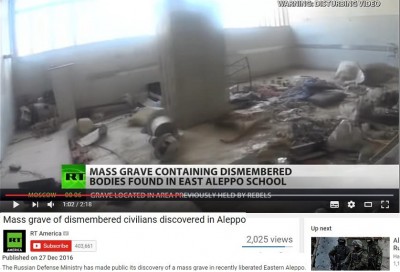 But it's during these Precise Days (25-27 December 2016) that has F.ex. been anounced, among others, a Macabre Finding of DisMembered Bodies of 21 Civilians, including 5 Children and 4 Women, unveiled in a Rebels-held Prison at a School (full also of Grenades, Explosive Rockets, etc). Most seem to have been Shot at Short Distance, i.e., probably, Somarily Executed, a Syrian Medical Official reportedly Denounced.
However, most Establishment's Western Medias, either don't say anything, or, (as, f.ex. USA-Headquartered Global Press Agency "AP", etc), in a Wire send from Outside not only Aleppo, but even out of Syria, Located at AnOther Country : Lebanon, Merely mentions Briefly the existence of a Press Release published by Moscow's Defence Ministry, reporting a Finding of "Mass Graves", etc., Among Various Other News on Syria, withOut, However, Not even Mentioning the Atrocious, key Fact that the Victims appeared Murdered in Cold Blood, and their Organs Taken Away, - i.e. making an Astonishing Omission of an naturaly Important Fact, at least as far as some first Evidence of what could possibly be a series of Crimes Against Humanity, is concerned...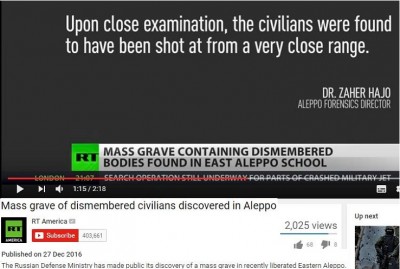 In general, that Key Point was not Censored, but Explicitly Mentioned,  mainly by several Alternative, On-Line Medias, (both of the "Left", but more of the "Right"), as well as the Atypical Latino-American Media "TeleSUR", which revendicates its Founding links with 1980 NOBEL Peace Prize and Vatican's "Pacem in Terris" Award Winner, Adolfo Pérez Esquivel, a World Famous Human Rights Activist from Argentina (who has energetically supported f.ex. the Struggle for "Missing Persons" and their Families" Rights, against suspected Cover Up of Horrible Crimes since the period of Military Dictatorship, (etc), as well as with Ignacio Ramonet, Journalist, Writer and former Long-Time Editor in Chief of the (prestigious in the Past) "Monde Diplomatique" Monthly Review in Paris, (etc).

In Other Words, it seems that Establishment's Media didn't want even to Hear about Facts which might, eventualy, Risk to Link with "Crimes against Humanity" commited in Syria, the OutGoing Barack Hussein Obama US Administration, Turkish President Erdogan, and/or some Saudi Arabia "Princes", Qatar, etc., as Providers of Funds, Weapons, even of Agents and of Political/Diplomatic cover-up, to such atrocious Inhuman Criminals among Violent Islamist Terrorists Armed Gangs, (including "Al-Queda" affiliates and/or "ISIS-Friendly" Deadly Thugs), as those who would have reportedly Murdered Civilian People in Cold-Blood, after Torturing most of them, and Stealing afterwards their Organs, (probably once again Exported through the Nearby Turkish Borders)... 

In this regard, Together with those 9 Journalists from Russia, Killed in that Flight RA-85572 Strange Crash, (Comp. Supra), it's also the Top Humanitaria NGO "Fair Aid" Head, Dr. Liza, who was inside that Moscow - Latakia Airplane, Initialy Due to Arrive in Syria on Sunday, 25 December 2016, Early Morning, would Obviously have been Able to Find much More to Say, by immediately Examining the Victims' remains on the Spot, during the Next 2 Days after her Scheduled Arrival, given her Experience in Conflict Zones, and her Technical Expertise as Medical Doctor, (if she hadn' been, Meanwhile, Brutaly Killed Herself in that UnExplained still Crash : Comp. Supra).

    At the Same Time, as even some Foreign NGO representatives and/or Independent Photographers denounce, (f.ex. Scandinavian "Transnational Foundation"'s Jan Oberg from Sweden, whose Photos and/or Original Texts were Shared by several Websites, etc), suddenly, Most, if not All Western and other "Humanitarian" Aid Organisations, (even those which were Present on the spot, or, at least, very Loudly Concerned about its Civilian Population, as long as it was Controlled by Islamist Extremist Armed Gangs), reportedly Abandoned or otherwise Vanished from Eastern Aleppo, leaving behind Only some Syrian or Russian, etc. Humanitarian Workers, as if there were no more Orphan Children Needing someone to Take Care of them, or Abandoned Elder People, neither Wounded, Impoverished, Isolated, or otherwise Seriously Affected Victims in Syria's embattled 2nd Biggest City, where Refugees appeared to Start Returning Back Home, searching among the Ruines...

    In such an overall Context, it becomes Obvious that such an Astonishing Lack of Foreign Journalists and Humanitarian NGOs, and the Brutal Mass Killing of 9 Collegues from mainstream Russian Medias, Together with Humanitarian Leader Dr. Liza, who Tragically Perished all at that Strange and still UnExplained, Deadly Airplane Crash, of the Tupolev RA-85572 Flight from Moscow towards Syria via Turkey, (Comp. Supra), serves Only the Shady Interests of anyone who might have something very Fishy to Hide !
 -------------------------------
Post Scriptum :

***

+ Last, but not least : In these Days of Christmas 2016, which has taken an Exceptional Significance in 2016 (Comp. also Supra), it's Interesting to Remind the Full text of the "Classic" Song "SomeDay in Christmas", that was Written for Human Rights and against the Vietnam War, by Ron Miller and Bryan Wells, (as now in Syria/Iraq and InHuman Islamist Terrorist Deadly Attacks against Innocent and Defenseless Civilian People, even in Europe and the USA, even on Christas, mutatis-mutandis), in parallel with a growing Oppression of Dissidents, (which resulted on 1968 also at another Famous "Chicago Song", by Niel Young, on Police BRUtality against Demonstrators at Chicago's Hilton during Dem. Party's Congress, etc), both fuelled by controversial policies of "Socialist" (Dem. Party) Lyndon Johnson, who notoriously profited from the 2 Murders of John and Robert Kennedy (1963 + 1968), in order to seize and maintain the White House Top Post longer than normal. This Text was Initialy used on 1966 by World Famous Stevie Wonder (who started to sing since the Age of 11 y.o.), and Recently brought Back to People's Memories in a new version by another Young "Wonder" Singer : Jackie Evancho, (who has started to Sing since 9 years old), in her Homonymous 2016-released Long Play Big Album,  at the Song's 50th Anniversary : 1966 - 2016.

It might be Simplistic and Naive, but it looks Honest and Fits quite well vis a vis the InHuman Tragedies of Nowadays, and could serve as Hommage to the 92 Victims (Artists, Journalists and Humanitarians) of the UnExplained yet Crash of  Flight RA-85572, Moscow - Latakia (Syria),

during this unforgetable 2016 Christmas' Night, when a "Something" did Not let at anyone of them the Time to eventualy reach Aleppo, before the First Christmas Mass after 5 Years of Occupation and Conflict, at Saint Elias' Destroyed Cathedral, "Re-BoRn" that Same Day (Comp. Supra) :


"LYRICS

"Someday At Christmas"

Someday at Christmas men won't be boys
Playing with Bombs like kids play with toys
One warm December our hearts will see
A World where men are Free

Someday at Christmas there'll be No Wars
When we have learned what Christmas is for
When we have found what life's really worth
There'll be peace on earth

Someday all our dreams will come to be
Someday in a world where men are free
Maybe not in Time for you and me
But someday at Christmas time

Someday at Christmas we'll see a land
With no hungry children, no empty hand
One happy morning people will Share
Our world where people Care

Someday at Christmas there'll be no tears
All men are equal and No men have Fears
One shining moment, one Prayer Away
From our World Today

Someday all our dreams will come to be
Someday in a world where men are free
Maybe not in time for you and me
But someday at Christmas time

Someday at Christmas man will not fail
Hate will be Gone, and Love will prevail
Someday a New World that we can Start
With Hope in every Heart

Someday all our Dreams will come to be
Someday in a world where men are free
Maybe not in Time for you and me
But someday at Christmas time
Someday at Christmas time" 


***


(UPDATE : Evancho (now aged 16) has been, in the leantime Invited to Perform at the Inauguration of New USA President, Don Trump, on 20 January 2017).


***

---------------------------------------
(Partly UpDated)
***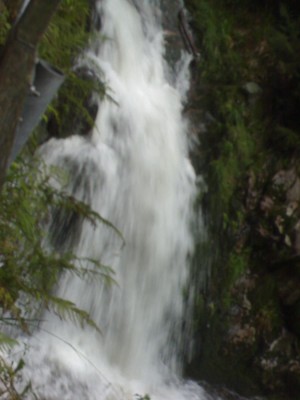 Benedict's "Source" to revitalize Europe : - "The World needs Hope", Pope says, calling to relaunch E.U. via Human Rights !
Paris - Lourdes - Strasbourg : 12 - 17 September 2008.

The vital need to re-launch Europe can be succesfully met by defending fundamental Human Rights of the People, said Pope Benedict XVI in his 1st speech in France, at his meeting with President Nicolas Sarkozy, who currently chairs the EU.

Sarkozy replied by welcoming Christian and other religions' contribution to indispensable Public Debates on crucial issues which affect Human Dignity, Europe, even Humankind, as BioGenetics.

- "When Europeans will see and personally experience that the inalienable Rights of the Human Person .., those of their free Education, their Family life, their Work, ..their Religious Rights, ..are respected and promoted, then, these Europeans will fully understand the greatness of the European construction and will be actively involved in it", Benedict XVI stressed.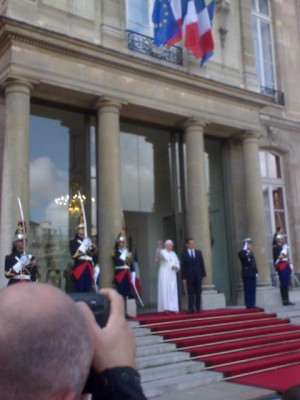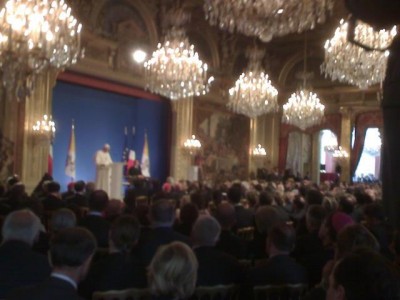 - "It's important that during France's EU Presidency, there is, indeed, a desire for the Church to contribute to protect Human Person's integrity, and I think that there is also a growing Conscience, beyond any polemics, to defend Human Rights, and, thus, contribute to ensure respect for Human Dignity", added to "EuroFora" the Pope's Spokesman, Vatican's Press Director Federico Lombardi.

- "Nobody really told us here that Lisbon Treaty was good for this or that reason to the People. They only told us that we "had" to ratify it, and tried to scare us, but failed", said 2 Irish pilgrims to "EuroFora", after 2 Majority Abstentions in 1999 and 2004 EU Elections and 3 "NO" to Referenda in France and the Netherlands in 2005, followed by the Irish "No" in 2008, during a Decade of EU Crisis since the controversial Turkey EU- bid (1999-2008).
More than .."224 cases of Murders, Torture, "Disappearancies" or Destructions" by "agents of Turkish Security forces", where all those responsible for so heavy Crimes still remain scandalously unpunished, despite regular condemnations of Ankara by Strasbourg''s European Court of Human Rights from 1996 to 2008, were examined the same week by CoE's Ministers, who decided to launch a fresh call "urging" the Turkish Authorities to end this dangerous "virtual Impunity" of criminals, without comparison to European countries.

- "Why not Ukraine, instead of Turkey ?", asked EuroFora a Journalist from "Kiev : the city where it's enough to cross the streets in order to realize that it's a European town", as Sarkozy recently said, before solemnly declaring this week, together with Ukranian President Jushenko and EU Commission's chair Baroso, EU's "recognition that Ukraine is a fully European Country, linked to Europe by culture and History".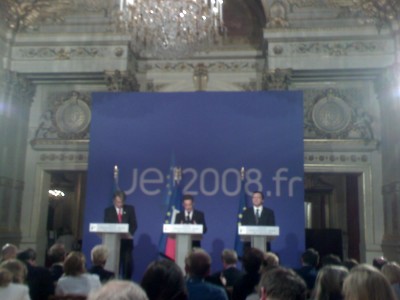 Europe's "Christian roots" and Values, with "openess and mutual respect" to other cultures and beliefs, were highlighted by Sarkozy in harmony with Benedict XVI.

The Human person should be protected "from his inception until his natural death", added the Pope, faithful to BioEthic principles defended by his predecessor and collaborator, John Paul II, of topical importance in France, Europe and the World today, as Sarkozy announced :

- "Fast and important progres in Genetic Science and procreation raise delicate BioEthical Questions to our Democracies", which "involve our view of Humans and Life, and can lead to Social Mutations. That's why they cannot remain only a business of experts", hestressed.

- "It's Politician's responsibility to set a proper framework for such Public Debates", as "France will do on BioEthics in 2009". "Religious and Philosophic traditions must take part, with their ideas and centuries' long experience : A positive Laicity is an open invitation to Dialogue", he said.

- "France engaged in Europe at another Debate on how to make Financial Capitalism more moral", and the "Social doctrine of the Church fits well what is at stake in modern Globalized Economy"

- "But, a "Real Dialogue is not for an elite of a Globalized world : It penetrates deep into the People : That's why Churches should actively participate : .. It's bringing New Oxygen to Public Debates", stressed Sarkozy.

- "Democracy must not be cut off Reason", which is "compatible with Faith", thanks to "the meeting between Christianism and Greek philosophy ", he added, referring to Pope's views. "It means to advance with logic arguments, search what's best and respect common principles of thinking :... It's an everyday need for Public Administration and the Political Debate", he added.
----------------------------
Pope Benedict's 1st visit to France looked like the start of a brillant, manifold demonstration that this was well-founded and could become true in the lives of the People : After its Theoretical foundations unfolded at a "speech to the world of Culture", inaugurating Bernadins' cultural centre, and its dogmatic instrument shaped at an address to the Clergy in the Historic Notre Dame' Cathedral, he started to resolutely reach out to the People :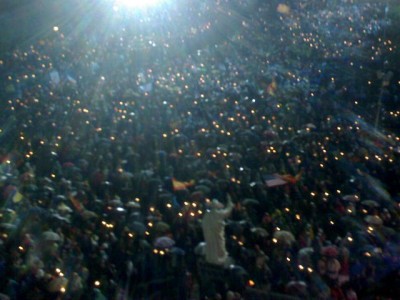 The move went upwards like Bach's music : Begining with a call to more than fifteen thousand enthousiastic Youngsters gathered at Notre Dame's parvis with overnight celebrations, it gained strength in an impressive open-air Mass at Paris'central Invalides'area facing Alexander III's bridge, attended by more than 150.000 people, French Prime Minister Fillon, many Ministers, Foreign Ambassadors, etc, and culminated in a series of pan-European Mega-meetings at Lourdes 150th anniversary, together with all French Bishops, EU Commission's vice-Chairman Barrot, and some 200.000 enthousiastic People from all over Europe and beyond : After a Sea of Lights astonishingly braved Saturday Night's rain, an open-air mass at riverside fields among Pyrenees' Mountains Sunday Morning, was followed on Monday by a Sea of "Compassion" to those facing Health or Life threats, surrounded by an endless gathering of People, whose gigantic dimensions obviously surprised the organisers..

Meanwhile, Benedict had the occasion to speak to the French Priests at Notre Dame of Paris, and with the Bishops at Lourdes, where they prepare a crucial November plenary meeting, due to take important decisions on imminent EU debates and choices about Europe's identity, BioEthics, etc.
-------
- "A new way of thinking about Laicity has become necessary", agreed the Pope with President Sarkozy at Elysee. While keeping the "distinction between Politics and Religion, to guarantee Citizens' Liberty", "religion is important for shaping Consciousness and contributing, together with others, to create a basic Ethical Consensus in society".

- "Searching Essential realities", (as "God" for christians), needs "Speech : "Logos" in greek, i.e. Reason", "able to shape a Community","with creative work transforming Human History". But "Dialogue" is instrumental for "Reason", because it's the way to "search" for Truth", in "Liberty", according to Greek Platonic Philosophy, with Socrates' dialectics. "Reason" implies "Spirit and Liberty", hence the polyphonic "Music" of "Dialogue", in a responsible, "well balanced" way, to avoid "destruction".

Starting with a "Dialogue between christians and intellectual or artistic movements" highlighted at Bernardins' Cultural Center. with former Presidents Chirac and Giscard d'Estain, UNESCO's chair Anastassopoulos, etc., as well as representatives of Muslim Communities, (including a separate Turkish), after contacts with Jews at Vatican's Embassy, the Pope turned towards the People :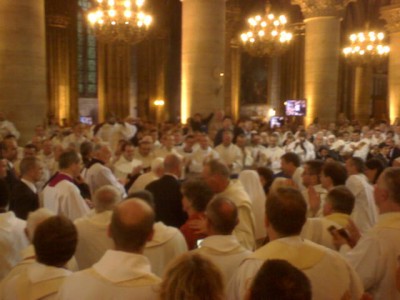 -------------------
To French Priests : "Church built on the rock" !
---------------------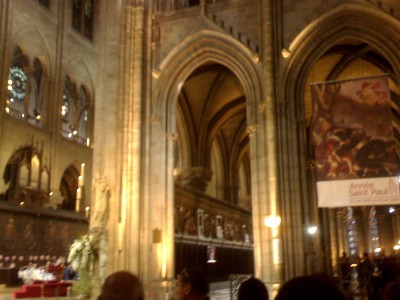 - Speaking to thousands of French Priests at Notre Dame's Cathedral, Benedict highlighted a solid "Church built on the Rock" of conscious and active persons, transmitting "a lively, energetic and sharp" "God's Speech, actively working on Human History".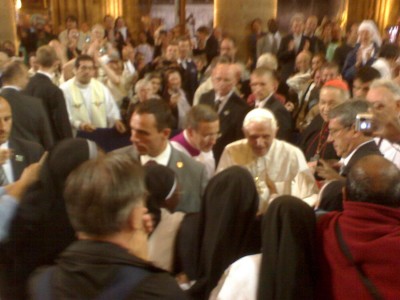 "Praying together" with "representatives of Christian Churches and ecclesiastic communities", (as Orthodoxes, Armenians, Protestants, etc), he called "to reinforce the Unity of the church", against "any form of Division", around Holy Spirit', "the Word","Christ's Justice", and "Love" to fellow- humans : Essentials which "resume all holy scripts", as he said.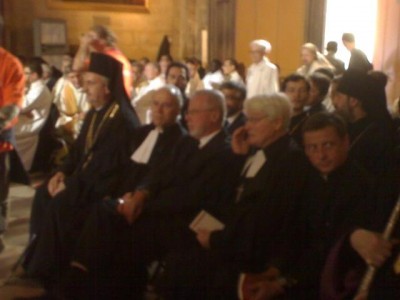 -----------------------
To Young People : "New Horizons"
------------------------
To some 15.000 enthousiastic Young People at Notre Dame's parvis, along Seine's river, Benedict spoke about "the Energy of the Holy Spirit" and "the Mystery of the Cross" : - "The Holy Spirit opens New Horizons to Human Intelligence .. and makes it conscious of the real greatness of Christ's sacrifice, dying and resurecting for World's life".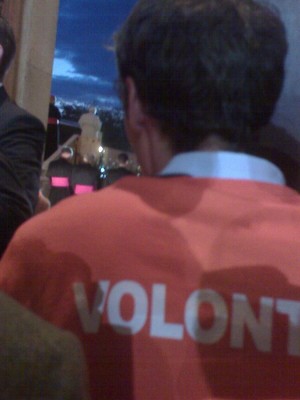 Some "may slander you as crazy, laugh at you, or even persecute you. But, "the Holy Cross is a symbol of God's love", and "givesmoral strength" : "Witness of People's pains, it's at the same time, a precious, unique expression of their Hopes", he told them at Paris' dawn.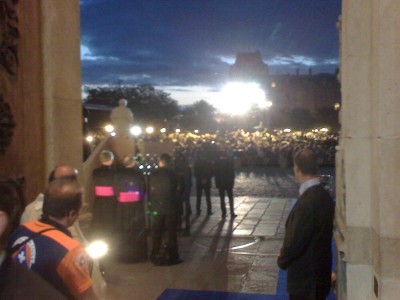 ----------------------------------
Invalides' plateau : "People chosen to become God's friends"
---------------------------------------
At the 1st open-air Mass in Paris' center area of Invalides, facing the Grand Palais, along the river Seine, during an impressive gathering of more than 150.000, French Prime Minister Fillon, Ministers Alliot-Marie, Bachelot, Dati, Jouyet, Assembly's President Accoyer, Senate's Chair Poncelet, former 1st Lady Bernadette Chirac, former Prime Minister Raffarin, many foreign Ambassadors, and other political personalities were present. (While earlier, from the Socialist opposition, Paris' Mayor Delanoye, artist Robert Hussein a.o. assisted at the Elysee meeting).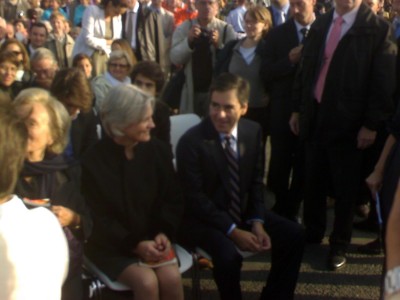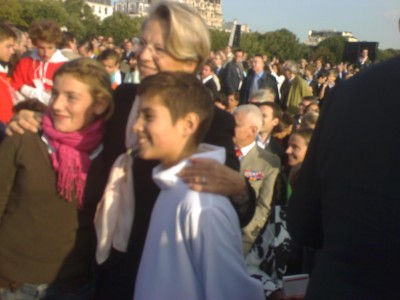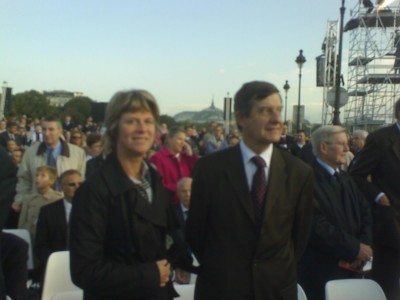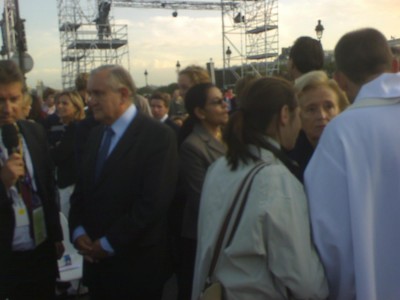 But the "Entry Song" focused on the "People chosen to become God's Friends". The September 11 mass was Dedicated to "Saint Chrysostomus, that great priest of Constantinople", with his "wonderful eloquence and great courage to face challenges", who "made out of despaired and godless people, a people of brothers", opening a possibility to "become all one complete entity", as Pope Benedict reminded.

- "Reason never enters in real contradiction with Faith", stressed Pope Benedict, who prepared his speeches for France during a short Summer rest at Brixen/Bressanone's Seminar, whose Library honors both "Faith and Science".. - "We must use not only our Reason, but also our Faith" : "Get away from Idolatry", "cupidity", "avidity for money, power or even knowledge deviating from essential aims", and other "falses appearances". and "build your Home on the Rock", "with the force that Holy Spirit gives to those who let it act in them", he said to the People of Paris.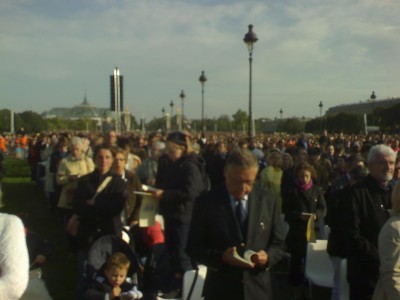 --------------------------------------------------
Benedict at Lourdes : - "Become Light (even) in the Dark !"
------------------------------------------------------------------
- "Our World needs Hope", stressed Pope Benedict, addressing an impressive TorchLight procession at Lourdes' sanctuaries, where a Sea of Lights held by Hundreds of Thousands of People gathered at Pyrenee's Mountains from all over Europe astonishingly kept their flames despite a heavy Rain at a windy Dark Night...

- "150 years earlier (1858 - 2008), ..here, in the cave, ... a simple young girl, Bernadette .. saw a Light". "The everyday life of her Family was, however, made of Misery, Sadness, Sickness, Misunderstandings, Rejection and Poverty... It was hard to live in Jail". Today, "we think to all Human Beings who suffer : The innocent Victims who face Violence, War, Terrorism, Hunger, Injustices, Catastrophes, Hate and Oppression, Violations of Human Dignity and of their fundamental Rights, of their Liberty to act and think. We also think to those who face Familial problems, sufferings from Unemployment, Sickness, Infirmity, Isolation, or their situation as Immigrants, without forgetting those who suffer and die for the name of Christ", he said.

- "But the Shadows of the Earth, did not hinder Sky's Light to shine : <<The Light shines in the Dark>>" ..."A Way full of Light opens in Human History even in its Darkest moments" : ..."As Night falls, Christ tels us : <<- Keep your Lamps alight !>>."Hold a Light while walking in the Night .. sums up our condition as Christians on their way : "We need light, and we are called to become Light !", Benedict stressed to People setting in motion Lights, Flags and Songs with enthousiasm.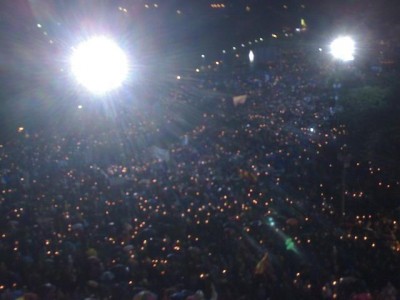 "<<- She looked at me as a Person, who speaks to another Person>>, the poor girl had noted."Light emerges from such a Dialogue", stressed the Pope : "A small Flame called Hope, Compassion and Tenderness dwells inside those who return after being moved by Lourdes' experience". "Christ .. entrusts us with the Mission to let the Light of Charity shine : To make of our Prayers an Act of Love to our brothers and to Fraternal Charity", he concluded.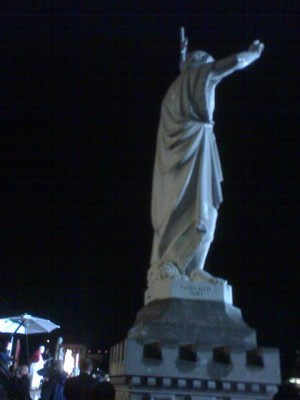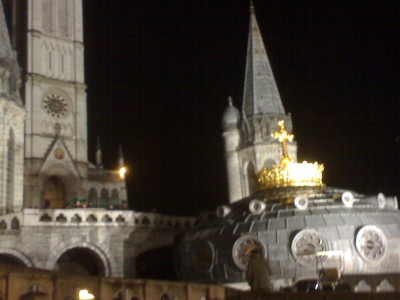 (../..)
Polls