Αρχική

newsitems

PanEuropa Germany Head Posselt +to EF: Europe's Freedom Idea, Basis of the World order ?
PanEuropa Germany Head Posselt +to EF: Europe's Freedom Idea, Basis of the World order ?
Κυριακή, 17 Οκτώβριος 2021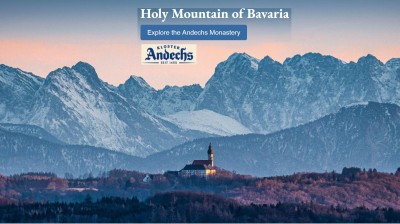 -*-
(NewsViews express the Ideas of their Writer, and not always of "Eurofora". But We Thank "PanEuropa Germany"'s President, CSU Euro-Politician, and Experienced former Long-Time top MEP at EU Parliament, Bernd Posselt, for sending us for Publication, via his Press Offfice, this Interesting and Topical Question as well as Suggestion, the same Day of the Conclusions for the EU "Conference on Europe's Future" Citizen Panel on Foreign Policy and Europe in the World, that we have just attended in EU Parliament in Strasbourg.
Follows, herewith, the full Original Text, in Deutsch).
-*-
56. Andechser Europatag: - Europe's Freedom Idea, as the basis of the World order

56. Andechser Europatag der Paneuropa-Union Germany

17. 10. 2021  Andechs.
With the theme of freedom, the 56. Christian Europe Day of "Paneuropa-Union Deutschland" in the Oberbayerischen Monastery Andechs.
Its president, the CSU European politician Bernd Posselt, quoted Paneuropa founder Richard Graf Coudenhove-Kalergi, who called for resistance to National Socialism immediately before the outbreak of the Second World War, and said: "Europe is not just a continent, but an idea, and this is "Freedom"."
The basis for this is the conception of Human Dignity, which is widely used by Christianity and Humanism. This is also the starting point for the EU Charter of Fundamental Rights.
Today, the World is faced with a Test of tears: On the one hand, the possibility for the human being to be Destroyed almost infinitely, and in the digitalised and globalised "world village", everyone is more Dependent than ever before, as the pandemic crisis has proven. On the other hand, the common cultural and ethical basis of the international order will always weaken. In Afghanistan, it has been shown in a dramatic manner that the colonial export of Western ...companies was doomed to failure.
However, this should not mean putting into question the universality of human rights, that the United Nations had, at least in theory, achieved after the Second World War. The way out of this dilemma can only be in a patient and knowledgeable Dialogue between the different world religions and cultures. In order for this to be successful, one must meet one another at eye level, listen to the other, know something about him and, as Pope Francis called for, also "go to the margins". He only creates who "Co-works, loves and suffers". If you think this is an illusion, you can "pack it right."

At the well-attended Meeting of theologians Prof. Veit Neumann with the subject of "Freedom and God", Johannes Modesto, who is responsible for the archdiocese of Munich and Freising for seligration proceedings, with Romano Guardini and the White Rose, the religious philosopher Beate Beckmann-Zöller, with the philosopher and European patroness Edith Stein, (who was murdered in Auschwitz), and the Prague political scientist Blanka Mouralova with the totalitarianism concept of Hannah Arendt.
In an "evening of freedom" at the Klostergasthof, Robert Wild sang for the guitar freedom songs, and Francis Posselt of the Pan-European Youth made himself in a confessed literary form as their "courier" to the voice of the Statue of Liberty. Celebrant of the festive service in honor of the Holy Hedwig in the pilgrimage church was the Polish Minorite Father Prof. Zdzislaw Josef Kijas from Rome. The topic of "Freedom and Courage-engines for a Living Europe" was discussed at the final podium of the professor from Rome, by the psychologist Consuelo Gräfin Ballestrem, the restaurant founder and chef Johannes Belling from France, the Czech diplomant Jan Šícha, the youngest district president Hessens, Johannes Volkmann, as well as the media lawyer Dirk H. Voß.
----------------------------------------------------------------------
56. Andechser Europatag: Europas Freiheitsidee als Grundlage der Weltordnung

56. Andechser Europatag der Paneuropa-Union Deutschland
Europas Freiheitsidee als Grundlage der Weltordnung

17. 10. 2021

Andechs. Mit dem Thema Freiheit befaßte sich der 56. Christliche Europatag der Paneuropa-Union Deutschland im oberbayerischen Kloster Andechs.
Ihr Präsident, der CSU-Europapolitiker Bernd Posselt, zitierte den Paneuropa-Gründer Richard Graf Coudenhove-Kalergi, der unmittelbar vor Ausbruch des Zweiten Weltkrieges zum Widerstand gegen den Nationalsozialismus aufgerufen und dabei gesagt habe: "Europa ist nicht nur ein Kontinent, sondern eine Idee, und diese ist die Freiheit."
Grundlage dessen sei die von Christentum und Humanismus weltweit verbreitete Konzeption von der Menschenwürde. Diese bilde auch den Ausgangspunkt der EU-Grundrechtecharta. Heute stehe die Welt vor einer Zerreißprobe: Einerseits sei die Möglichkeit des Menschen zum Zerstören fast unendlich geworden und im digitalisierten wie auch globalisierten "weltweiten Dorf" sei jeder von jedem abhängiger denn je, wie die Pandemiekrise bewiesen habe. Andererseits werde die gemeinsame kulturelle und ethische Basis der internationalen Ordnung immer schwächer.
In Afghanistan habe sich auf dramatische Weise gezeigt, daß der kolonialistische Export westeuropäischer Gesellschaftsvorstellungen zum Scheitern verurteilt sei. Dies dürfe aber nicht bedeuten, die Universalität der Menschenrechte, wie sie die Vereinten Nationen nach dem Zweiten Weltkrieg zumindest theoretisch verwirklicht hätten, in Frage zu stellen.
Der Ausweg aus diesem Dilemma könne nur in einem geduldigen und kenntnisreichen Dialog zwischen den verschiedenen Weltreligionen und –kulturen liegen. Damit dieser gelinge, müsse man einander auf Augenhöhe begegnen, dem anderen zuhören, etwas von ihm wissen und, wie dies Papst Franziskus gefordert habe, auch "an die Ränder gehen". Dies schaffe nur, wer "mitarbeitet, mitliebt und mitleidet". Wenn man dies für eine Illusion halte, könne man "gleich einpacken."

In Fachreferaten befaßten sich bei der gut besuchten Tagung der Theologe Prof. Veit Neumann mit dem Thema "Freiheit und Gott", Johannes Modesto, der bei der Erzdiözese München und Freising für Seligsprechungsverfahren zuständig ist, mit Romano Guardini und der Weißen Rose, die Religionsphilosophin Beate Beckmann-Zöller mit der in Auschwitz ermordeten Philosophin und Europapatronin Edith Stein und die Prager Politikwissenschaftlerin Blanka Mouralova mit dem Totalitarismusbegriff von Hannah Arendt. Bei einem "Abend der Freiheit" im Klostergasthof sang Robert Wild zur Gitarre Freiheitslieder, und Franziskus Posselt von der Paneuropa-Jugend machte sich in gekonnter literarischer Form als deren "Kurier" zum Sprachrohr der Freiheitsstatue. Zelebrant des Festgottesdienstes zu Ehren der Heiligen Hedwig in der Wallfahrtskirche war der polnische Minoritenpater Prof. Zdzislaw Josef Kijas aus Rom. Das Thema "Freiheit und Mut – Motoren für ein lebenswertes Europa" diskutierten beim abschließenden Podium der Professor aus Rom, die Psychologin Consuelo Gräfin Ballestrem, der Restaurantgründer und Küchenchef Johannes Belling aus Frankreich, der tschechische Diplomant Jan Šícha, der jüngste Kreistagspräsident Hessens, Johannes Volkmann, sowie der Medienanwalt Dirk H. Voß.
Paneuropa-Pressestelle, Dachauer Str. 17, D - 80335 München

-*-

BRIEF NEWS
00:00 - 02.06.2021

00:00 - 18.10.2020

00:00 - 19.06.2020

00:00 - 18.05.2020

00:00 - 20.04.2020

00:00 - 02.02.2020

00:00 - 09.12.2019

00:00 - 27.11.2019

00:00 - 16.11.2019
Statistics
Επισκέπτες: 52949999
Archive
Login Form
Other Menu
(Opinion)
Paris - Bruxelles - Strasbourg, 2 septembre 2008





Le spectaculaire succès du Président français, Nicolas Sarkozy, (en tête de l'UE jusqu'a décembre), à obtenir de suite un cessez le feu inattendu entre la Russie et la Georgie, immédiatement après sa visite aux Présidents Medvedev et Saakashvili, au pire moment de tensions et heurts violents meurtieurs, qui avaient tué plusieurs innocents et provoqué le deplacement forcé de réfugiés par milliers, lui donne incontestablement une stature vraiment européenne :

A ses liens personnels bien connus avec l'Hongrie, la Grece, l'Italie ou l'Espagne, en sus de son amitié avec la chancelière allemande Merkel, son souhait d'essayer d'attirer l'Angleterre au jeu européen, etc, s'y ajoute, maintenant, une réussite, fragile certes, mais importante, au combat pour la Paix dans la "grande" Europe du général De Gaulle, "jusqu'a l'Oural", qui inclut naturellement la Géorgie, l'Arménie et d'autres pays, et ne peut exister qu'avec rapports de confiance et partenartiat stratégique avec la Russie.

Apres avoir réussi à debloquer la situation au Liban, (pays avec liens culturels historiques en Europe), lors du Sommet pour la Méditerranée à Paris, juillet dernier, (comme atteste maintenant le prémier accord d'echange d'Ambassadeurs avec la Syrie), Sarkozy activa maintenant une présidence française de l'EU bien entreprenante, à l'autre bout de l'Europe, à Moscou, où, contrairement à Napoléon, il a été reçu avec soulagement par le nouveau président russe, ami de l'experimenté Vladimir Poutine.

Cet homme politique rélativement nouveau au plan politique européen, avec une vision souvent critique ou même critiquée, à tort ou a raison, mais ambitieuse et concrete a la fois, qui aime s'adresser aux "Européens", comme il dit, n'est-il pas bien placé pour stimuler le fameux débat sur l' "Identité de l' Europe", qu'il a proposé au Parlement Européen récemment à Strasbourg, moins d'un an avant les Elections européennes de 2009 ?

En 2007, il a réussi à faire monter spectaculairement la participation citoyenne aux élections présidentielles en France, obtenant des récords historiques :

N'est-ce pas, justement ce que l' Europe a bésoin, apres 2 abstentions majoritaires sans précedent aux Elections de 1999 et 2004, et 3 "Non" aux réferenda pour ses institutions en 2005 et 2008, pendant une décennie trouble 1999-2008, (marquée surtout par la demande controversée de la Turquie d'entrer dans l'UE eclipsant les avancées de la Monnaie unique et de la liberté de circulation à l'espace Shengen, avec consequences mal-ressenties par la majorité des citoyens, bien au-délà des clivages du passé), qui a failli stopper l'integration européenne ?

Et cela, au moment même ou une globalisation galopante met l'Europe devant un choix crucial entre saut qualitatif en avant, apte à valoriser une occasion historique exceptionelle à se développer résolument, après les vaines destructions, querelles et tensions des guerres "chaudes" ou "froides" qui lui ont couté son rang dans le Monde, ou réculer définitivement en décadence...

Alors, que certains de nos amis à la Commission en Bruxelles, lui laissent au moins un peu d'espace de mouvement, et qu'ils l'aident à tenter d'insufler de l' oxygène frais et vivifiant aux rapports entre les citoyens et une Europe qui a manifestement bésoin et mérite de retrouver d'urgence un nouveau dynamisme populaire, avec un souci de réalisme mais aussi une vision passionante pour son avenir !

Après tout, les Etats Unis d' Amérique ne se sont pas faits à coups de bureaucratie, nécessaire et utile, mais manifestement insuffisante : Sans l'impulsion d'hommes politiques originaux, d'intellectuels vraiment engagés, et, surtout, sans l'enorme énergie émanant de la conscience d'enjeux à la fois pratiques et grandioses, bien resentis par des millions de citoyens, stimulant leur adhésion active comme pioniers d'un nouveau avenir commun à construire, ils seraient encore une ex-colonie périphérique, affaiblie par stériles divisions, passif et impuissant spectateur des convulsions tragiques d'un Monde à la dérive...

Que les vrais "européens" ré-lisent au moins les fameux discours historiques sur l' Europe d'un Sarkozy bien inspiré à Strasbourg, aussi bien avant qu'après avoir gagné les élections françaises, le 21 février et le 2 juillet 2007, après son 1er sommet des Bruxelles, qui a adopté le nouveau Traité de l'UE en conclusion de la presidence allémande : Bonnes lectures pour cet été 2008, afin de préparer l' avenir qui s'ouvrira (ou fermera) à partir des élections européennes de 2009.
Peut-etre revelera-t-il plus, en ce sens, lors de ses 2 discours-debats prochains avec les eurodeputés, prévus lors des sessions plenières du Parlement Européen a Strasbourg en octobre et décembre 2008...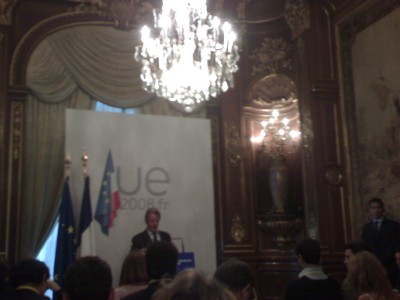 Foreign Minister Bernard Kouchner had already unveiled President Sarkozy's intentions, during a particularly "hot" Press Conference in Paris, where he faced some's insistance for "sanctions", with a call for "a common EU stance". In the meanwhile, he was consulting "all these days" most of his EU, Russia and Georgia counterparts, (as Sarkozy's Spokesman, P-J. Henin confirmed to "EuroFora"). This allowed him to obtained the desired result, as EU Chairman, at a short, exceptional EU Summit in Brussels, afterwards.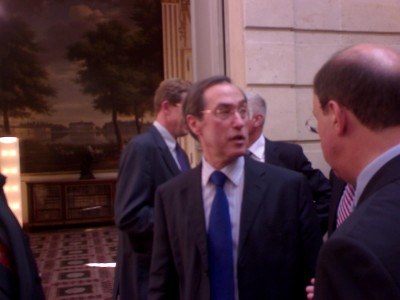 But, Sarkozy's No 1 official, Presidential palace's Secretary General Claude Gueant, active at Elysee during the 2008 Ambassadors' Conference, (together with his Top Diplomat, the experienced David Levitte), is well known for having an overall view : A link with 2009 EU Elections at the horizon ?
Polls