Haupt

newsitems

PanEuropa Germany Head Posselt +to EF: Europe's Freedom Idea, Basis of the World order ?
PanEuropa Germany Head Posselt +to EF: Europe's Freedom Idea, Basis of the World order ?
Sunday, 17 October 2021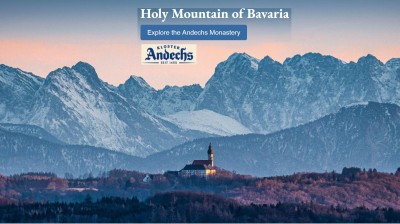 -*-
(NewsViews express the Ideas of their Writer, and not always of "Eurofora". But We Thank "PanEuropa Germany"'s President, CSU Euro-Politician, and Experienced former Long-Time top MEP at EU Parliament, Bernd Posselt, for sending us for Publication, via his Press Offfice, this Interesting and Topical Question as well as Suggestion, the same Day of the Conclusions for the EU "Conference on Europe's Future" Citizen Panel on Foreign Policy and Europe in the World, that we have just attended in EU Parliament in Strasbourg.
Follows, herewith, the full Original Text, in Deutsch).
-*-
56. Andechser Europatag: - Europe's Freedom Idea, as the basis of the World order

56. Andechser Europatag der Paneuropa-Union Germany

17. 10. 2021  Andechs.
With the theme of freedom, the 56. Christian Europe Day of "Paneuropa-Union Deutschland" in the Oberbayerischen Monastery Andechs.
Its president, the CSU European politician Bernd Posselt, quoted Paneuropa founder Richard Graf Coudenhove-Kalergi, who called for resistance to National Socialism immediately before the outbreak of the Second World War, and said: "Europe is not just a continent, but an idea, and this is "Freedom"."
The basis for this is the conception of Human Dignity, which is widely used by Christianity and Humanism. This is also the starting point for the EU Charter of Fundamental Rights.
Today, the World is faced with a Test of tears: On the one hand, the possibility for the human being to be Destroyed almost infinitely, and in the digitalised and globalised "world village", everyone is more Dependent than ever before, as the pandemic crisis has proven. On the other hand, the common cultural and ethical basis of the international order will always weaken. In Afghanistan, it has been shown in a dramatic manner that the colonial export of Western ...companies was doomed to failure.
However, this should not mean putting into question the universality of human rights, that the United Nations had, at least in theory, achieved after the Second World War. The way out of this dilemma can only be in a patient and knowledgeable Dialogue between the different world religions and cultures. In order for this to be successful, one must meet one another at eye level, listen to the other, know something about him and, as Pope Francis called for, also "go to the margins". He only creates who "Co-works, loves and suffers". If you think this is an illusion, you can "pack it right."

At the well-attended Meeting of theologians Prof. Veit Neumann with the subject of "Freedom and God", Johannes Modesto, who is responsible for the archdiocese of Munich and Freising for seligration proceedings, with Romano Guardini and the White Rose, the religious philosopher Beate Beckmann-Zöller, with the philosopher and European patroness Edith Stein, (who was murdered in Auschwitz), and the Prague political scientist Blanka Mouralova with the totalitarianism concept of Hannah Arendt.
In an "evening of freedom" at the Klostergasthof, Robert Wild sang for the guitar freedom songs, and Francis Posselt of the Pan-European Youth made himself in a confessed literary form as their "courier" to the voice of the Statue of Liberty. Celebrant of the festive service in honor of the Holy Hedwig in the pilgrimage church was the Polish Minorite Father Prof. Zdzislaw Josef Kijas from Rome. The topic of "Freedom and Courage-engines for a Living Europe" was discussed at the final podium of the professor from Rome, by the psychologist Consuelo Gräfin Ballestrem, the restaurant founder and chef Johannes Belling from France, the Czech diplomant Jan Šícha, the youngest district president Hessens, Johannes Volkmann, as well as the media lawyer Dirk H. Voß.
----------------------------------------------------------------------
56. Andechser Europatag: Europas Freiheitsidee als Grundlage der Weltordnung

56. Andechser Europatag der Paneuropa-Union Deutschland
Europas Freiheitsidee als Grundlage der Weltordnung

17. 10. 2021

Andechs. Mit dem Thema Freiheit befaßte sich der 56. Christliche Europatag der Paneuropa-Union Deutschland im oberbayerischen Kloster Andechs.
Ihr Präsident, der CSU-Europapolitiker Bernd Posselt, zitierte den Paneuropa-Gründer Richard Graf Coudenhove-Kalergi, der unmittelbar vor Ausbruch des Zweiten Weltkrieges zum Widerstand gegen den Nationalsozialismus aufgerufen und dabei gesagt habe: "Europa ist nicht nur ein Kontinent, sondern eine Idee, und diese ist die Freiheit."
Grundlage dessen sei die von Christentum und Humanismus weltweit verbreitete Konzeption von der Menschenwürde. Diese bilde auch den Ausgangspunkt der EU-Grundrechtecharta. Heute stehe die Welt vor einer Zerreißprobe: Einerseits sei die Möglichkeit des Menschen zum Zerstören fast unendlich geworden und im digitalisierten wie auch globalisierten "weltweiten Dorf" sei jeder von jedem abhängiger denn je, wie die Pandemiekrise bewiesen habe. Andererseits werde die gemeinsame kulturelle und ethische Basis der internationalen Ordnung immer schwächer.
In Afghanistan habe sich auf dramatische Weise gezeigt, daß der kolonialistische Export westeuropäischer Gesellschaftsvorstellungen zum Scheitern verurteilt sei. Dies dürfe aber nicht bedeuten, die Universalität der Menschenrechte, wie sie die Vereinten Nationen nach dem Zweiten Weltkrieg zumindest theoretisch verwirklicht hätten, in Frage zu stellen.
Der Ausweg aus diesem Dilemma könne nur in einem geduldigen und kenntnisreichen Dialog zwischen den verschiedenen Weltreligionen und –kulturen liegen. Damit dieser gelinge, müsse man einander auf Augenhöhe begegnen, dem anderen zuhören, etwas von ihm wissen und, wie dies Papst Franziskus gefordert habe, auch "an die Ränder gehen". Dies schaffe nur, wer "mitarbeitet, mitliebt und mitleidet". Wenn man dies für eine Illusion halte, könne man "gleich einpacken."

In Fachreferaten befaßten sich bei der gut besuchten Tagung der Theologe Prof. Veit Neumann mit dem Thema "Freiheit und Gott", Johannes Modesto, der bei der Erzdiözese München und Freising für Seligsprechungsverfahren zuständig ist, mit Romano Guardini und der Weißen Rose, die Religionsphilosophin Beate Beckmann-Zöller mit der in Auschwitz ermordeten Philosophin und Europapatronin Edith Stein und die Prager Politikwissenschaftlerin Blanka Mouralova mit dem Totalitarismusbegriff von Hannah Arendt. Bei einem "Abend der Freiheit" im Klostergasthof sang Robert Wild zur Gitarre Freiheitslieder, und Franziskus Posselt von der Paneuropa-Jugend machte sich in gekonnter literarischer Form als deren "Kurier" zum Sprachrohr der Freiheitsstatue. Zelebrant des Festgottesdienstes zu Ehren der Heiligen Hedwig in der Wallfahrtskirche war der polnische Minoritenpater Prof. Zdzislaw Josef Kijas aus Rom. Das Thema "Freiheit und Mut – Motoren für ein lebenswertes Europa" diskutierten beim abschließenden Podium der Professor aus Rom, die Psychologin Consuelo Gräfin Ballestrem, der Restaurantgründer und Küchenchef Johannes Belling aus Frankreich, der tschechische Diplomant Jan Šícha, der jüngste Kreistagspräsident Hessens, Johannes Volkmann, sowie der Medienanwalt Dirk H. Voß.
Paneuropa-Pressestelle, Dachauer Str. 17, D - 80335 München

-*-

BRIEF NEWS
00:00 - 02.06.2021

00:00 - 18.10.2020

00:00 - 19.06.2020

00:00 - 18.05.2020

00:00 - 20.04.2020

00:00 - 02.02.2020

00:00 - 09.12.2019

00:00 - 27.11.2019

00:00 - 16.11.2019
Statistics
Besucher: 54960135
Archive
Login Form
Other Menu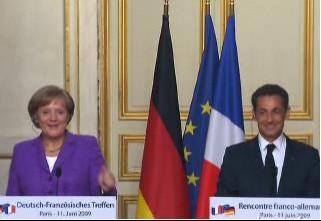 The official presentation of a "Program" respecting People's choices voted in the June 7, 2009 EU Elections, to be debated in EU Council and EU Parliament during its 1st Session on July in Strasbourg, is the No 1 Priority, according to Democratic principles, for the Franco-German axis, said the main winners at the ballot box, French President Nicolas Sarkozy and German Chancellor Angie Merkel.
They stressed  that the New EU Commission's President must have a "Program" in favor of an EU which "protects" its Citizens, regulates financial markets and aims at a "Political" Europe" : a wording they have used as incompatible with Turkey's controversial EU bid.
They also declared ready for a "political" endorsment of "Mr. Barroso's candidacy" in June's EU Council, considering that an official decision would have to be made after EU Parliament's debates and votes, possibly from next month (July), with the legally necessary final acceptance shortly after Lisbon Treaty's entry into force, hoped for September or October.

- "A Program, and Mr. Barroso" : This resumes, in substance, the anouncements made by Sarkozy and Merkel, on the question of current EU Commission's President, Barroso's declared wish to succeed to himself for a second mandate, to be extended during the following 5 years.

 In their 1st meeting after EU Elections, they observed that "the Franco-German axis counted in European Elections' campaign... But, we both keep a realistic view : We saw the number of those who abstained, and we must absolutely give them an answer. We also see the disilusionment of an important number of Europeans vis a vis Europe, and we are aware of the responsibilities we have".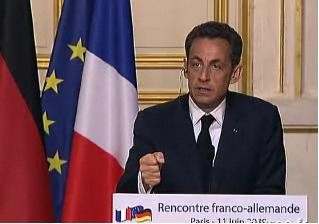 - The "Duty" of the new EU Commission's President, after June 7, 2009 EU Elections' result, "is to act for a Europe which protects the Europeans, to commit himself into working for a better Regulation of Financial transactions, ... and to have a Political will for Europe", underlined Sarkozy.

Therefore, "we have asked M. Barroso... to clarify, to officialy present the intentions he has", he anounced.

- "We want to speak also about the Programme", explained Merkel.

- "It's important that for the next EU Parliament's mandate (2009-2014) we take the right Decisions for Europe.  Obviously on Persons, but mainly Decisions on Issues", she stressed.

- "It's not simply a question of a Person, it's also a question of a Programme". We are "really asking Mr. Barroso to commit himself on a Program, and on Principles, on Values", Sarkozy added.

EU President-in-office, Czech Prime Minister Jan Fischer, accepted the Franco-German stance :

- "Barroso must present his Programme. The Czech Presidency agrees with that", Fischer reportedly said later, after meeting Sarkozy.

But Press reports from Brussels claimed that Barroso had preferred to be officially appointed by EU Council since June, (i.e. next week), "because this was implied by the current Treaty of Nice, according to him", and considered any delay until the possible ratification of the new, Lisbon Treaty on September/October, as "undemocratic".

- "At any case, independently of what Germany and France ask, it's also EU Parliament's wish". "We shall propose Mr Barroso's candidacy... But even in the framework of Nice Treaty, EU Parliament has to be associated in this Decision", the French President observed.

If this is correctly done, then "we support Mr. Barroso's candidature", and "if the (EU) Parliament agrees, we might ratify this decision since July", (i.e. next month), they both said.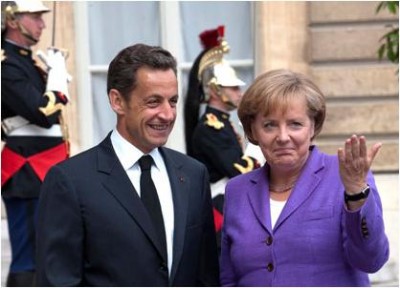 - "France and Germany support Baroso's candidacy, But we want to speak also on the Program. We believe that this Program should be established in close cooperation with EU Parliament, and that's why we have followed an appropriate way", said Merkel.  - If EU Parliament wants, this election can take place on July,  but this must be done in full agreement.
- "We shall support Mr. Barroso's candidacy, without doubt", said Sarkozy. "But we have asked from Mr. Barroso, as I told him yesterday, to put into detail.. his intentions, at the eve of his 2nd mandate, if the situation avails itself.

    France and Germany "don't want to take an Official Legal Decision by writting" during "the next (EU) Council" (on June 18-19), declared Sarkozy.  Because they prefer, at this stage, only "a Political decision" on June, "so that we (EU Council) can work together with EU Parliament", which starts to meet only Next Month, since July in Srasbourg, "leaving a Legal decision by writting for later".

    - "If the Conditions are fuillfiled in EU Parliament, we (EU Council) are ready to give the agreement and make it offficial", said Merkel

    - "But, now we are working in the base of Nice Treaty. If tommorow we want to work in the spirit of Lisbon Treaty, we have to find a proper way", she added.

    - "Of course it's Legally complicated, because we are going to make a Political proposal to the forthcoming Council, for an EU Commission's President, on the basis of Nice Treaty : So, we (EU Council) will not appoint the Commissioners. Only the President.  If EU Parliament agrees, it could endorse this position on July", explained Sarkozy.

    But, on Autumn, "if Ireland ratifies Lisbon Treaty, there will be, at any case, a 2nd Decision, to appoint the Commission's President, this time on the basis of Lisbon treaty, and then, we, the EU Member States, would have to appoint (also) the EU Commissioners", he added.

    As for the precise Timing :  - "Everything is suspended until the Irish vote... Now, we must all make everything possible to help Ireland to say "Yes"" to Lisbon Treaty... The Irish Referendum, ..will take place either on September or on October. It's a Question which depends on the Irish. And,  then, we shall have the Choice of the Candidates for the permanent Institutions of Europe".

    However, "if Ireland says No, we, French and Germans, have to assume our responsibilities, and we'll do so", he concluded.

    But British and Swedish governments were reportedly eager to have a final EU Council decision on Barroso since this month, on June's European Council. While the other EU Member Countries are divided, several of them preferring to wait until EU Parliament pronounces itself, on July, and/or until Lisbon Treaty might be ratified by Ireland at the beginning of the Autumn. Barroso's current mandate ends on November.

    There are also various, contradictory and/or unpredictable reactions inside EU Parliament vis a vis Barroso's wish to continue a 2nd mandate, because many MEPs are openly or secretly opposed, reluctant, or hesitating.

    In the biggest EU Countries, as France and Germany, EU Citizens voted on June 2009 EU Elections for a renovated, non-technocratic but Political Europe which cares for its Citizens, with an Identity, Values and Borders, declared incompatible with Turkey's controversial EU bid, by mainstream, pro-European Governing Parties. Similar choices were also supported in several other small or medium EU Countries.

    On the contrary, whenever, in other Countries, Governing and other mainstream Parties didn't make these choices or eluded them, EU Citizens massively voted for euro-Sceptics whenever they were the only ones to to promise anti-bureacratic change and oppose Turkey's demand to enter into the EU, (f.ex. in the UK, Netherlands, etc).

    It's seems to be an Open Question whether Sarkozy and Merkel's conditions will be really accepted by Barroso, who was appointed on 2004 in a different political context, (with Socialist Prime Ministers in Germany, France, etc), had rejected in the Past the idea of EU becoming "equal to the USA" as "ridiculous", and pushed for Turkey's contoversial EU bid, trying to "soften" or contain the changes desired by the People who voted for Merkel and Sarkozy with another policy vis a vis Turkey on 2005 in Germany and on 2007 in France, as they did all over Europe on 2009.

    In addition to many EPP Governments, it's 3 remaining Socialist Prime Ministers : Gordon Brown in the UK, Zapatero in Spain, and Socrates in Prortugal, who support Barroso, as well as Liberal Swedish Prime Minister Reinfeldt. But their Parties lost the June 2009 EU Elections.

    Questioned whether there was still "Time" for "other" possible "Candidates", Sarkozy and Merkel did not deny, nor made any comment on that, but simply said that "it's not for us to make publicity for any candidates. We anounced our choice ("A Program, and Mr. Barroso"). But we respect any other candidate".

    Among various other names cited are former Belgian Prime Minister Verhofstadt, former UNO's Human Rights Commissioner Mary Robinson of Ireland, Italian former EU Commission's vice-President Monti, etc. Meanwhile, Luxembourg's PM Juncker, (who had been unanimously accepted by EU Council for EU Commission's Presidency on 2004, but refused), announced his intention to resign from "EuroGroup"'s Chair. Thus, he might be available for another Top EU job.

    As "EuroFora"'s "opinion" said (See publication dated 9/6/09) : - "If the current candidates (i.e. Barroso, etc) to the Top EU jobs promise and guarantee to respect People's democratic choices, then, it's OK".

"Otherwise, Europe must find new candidates, really motivated and able to implement these democratic choices of the People."

    Because, "in Democracy, the forthcoming choices for EU's Top Jobs,...should be made according to EU Citizens' Votes in June 7, 2009 European Elections, and main EU Governments' strategic policies".
        

***

Polls