Home

newsitems

PanEuropa Germany Head Posselt +to EF: Europe's Freedom Idea, Basis of the World order ?
PanEuropa Germany Head Posselt +to EF: Europe's Freedom Idea, Basis of the World order ?
Sunday, 17 October 2021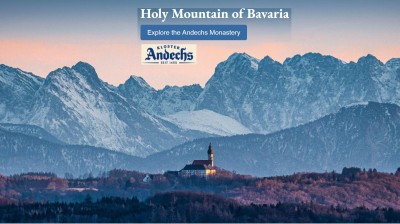 -*-
(NewsViews express the Ideas of their Writer, and not always of "Eurofora". But We Thank "PanEuropa Germany"'s President, CSU Euro-Politician, and Experienced former Long-Time top MEP at EU Parliament, Bernd Posselt, for sending us for Publication, via his Press Offfice, this Interesting and Topical Question as well as Suggestion, the same Day of the Conclusions for the EU "Conference on Europe's Future" Citizen Panel on Foreign Policy and Europe in the World, that we have just attended in EU Parliament in Strasbourg.
Follows, herewith, the full Original Text, in Deutsch).
-*-
56. Andechser Europatag: - Europe's Freedom Idea, as the basis of the World order

56. Andechser Europatag der Paneuropa-Union Germany

17. 10. 2021  Andechs.
With the theme of freedom, the 56. Christian Europe Day of "Paneuropa-Union Deutschland" in the Oberbayerischen Monastery Andechs.
Its president, the CSU European politician Bernd Posselt, quoted Paneuropa founder Richard Graf Coudenhove-Kalergi, who called for resistance to National Socialism immediately before the outbreak of the Second World War, and said: "Europe is not just a continent, but an idea, and this is "Freedom"."
The basis for this is the conception of Human Dignity, which is widely used by Christianity and Humanism. This is also the starting point for the EU Charter of Fundamental Rights.
Today, the World is faced with a Test of tears: On the one hand, the possibility for the human being to be Destroyed almost infinitely, and in the digitalised and globalised "world village", everyone is more Dependent than ever before, as the pandemic crisis has proven. On the other hand, the common cultural and ethical basis of the international order will always weaken. In Afghanistan, it has been shown in a dramatic manner that the colonial export of Western ...companies was doomed to failure.
However, this should not mean putting into question the universality of human rights, that the United Nations had, at least in theory, achieved after the Second World War. The way out of this dilemma can only be in a patient and knowledgeable Dialogue between the different world religions and cultures. In order for this to be successful, one must meet one another at eye level, listen to the other, know something about him and, as Pope Francis called for, also "go to the margins". He only creates who "Co-works, loves and suffers". If you think this is an illusion, you can "pack it right."

At the well-attended Meeting of theologians Prof. Veit Neumann with the subject of "Freedom and God", Johannes Modesto, who is responsible for the archdiocese of Munich and Freising for seligration proceedings, with Romano Guardini and the White Rose, the religious philosopher Beate Beckmann-Zöller, with the philosopher and European patroness Edith Stein, (who was murdered in Auschwitz), and the Prague political scientist Blanka Mouralova with the totalitarianism concept of Hannah Arendt.
In an "evening of freedom" at the Klostergasthof, Robert Wild sang for the guitar freedom songs, and Francis Posselt of the Pan-European Youth made himself in a confessed literary form as their "courier" to the voice of the Statue of Liberty. Celebrant of the festive service in honor of the Holy Hedwig in the pilgrimage church was the Polish Minorite Father Prof. Zdzislaw Josef Kijas from Rome. The topic of "Freedom and Courage-engines for a Living Europe" was discussed at the final podium of the professor from Rome, by the psychologist Consuelo Gräfin Ballestrem, the restaurant founder and chef Johannes Belling from France, the Czech diplomant Jan Šícha, the youngest district president Hessens, Johannes Volkmann, as well as the media lawyer Dirk H. Voß.
----------------------------------------------------------------------
56. Andechser Europatag: Europas Freiheitsidee als Grundlage der Weltordnung

56. Andechser Europatag der Paneuropa-Union Deutschland
Europas Freiheitsidee als Grundlage der Weltordnung

17. 10. 2021

Andechs. Mit dem Thema Freiheit befaßte sich der 56. Christliche Europatag der Paneuropa-Union Deutschland im oberbayerischen Kloster Andechs.
Ihr Präsident, der CSU-Europapolitiker Bernd Posselt, zitierte den Paneuropa-Gründer Richard Graf Coudenhove-Kalergi, der unmittelbar vor Ausbruch des Zweiten Weltkrieges zum Widerstand gegen den Nationalsozialismus aufgerufen und dabei gesagt habe: "Europa ist nicht nur ein Kontinent, sondern eine Idee, und diese ist die Freiheit."
Grundlage dessen sei die von Christentum und Humanismus weltweit verbreitete Konzeption von der Menschenwürde. Diese bilde auch den Ausgangspunkt der EU-Grundrechtecharta. Heute stehe die Welt vor einer Zerreißprobe: Einerseits sei die Möglichkeit des Menschen zum Zerstören fast unendlich geworden und im digitalisierten wie auch globalisierten "weltweiten Dorf" sei jeder von jedem abhängiger denn je, wie die Pandemiekrise bewiesen habe. Andererseits werde die gemeinsame kulturelle und ethische Basis der internationalen Ordnung immer schwächer.
In Afghanistan habe sich auf dramatische Weise gezeigt, daß der kolonialistische Export westeuropäischer Gesellschaftsvorstellungen zum Scheitern verurteilt sei. Dies dürfe aber nicht bedeuten, die Universalität der Menschenrechte, wie sie die Vereinten Nationen nach dem Zweiten Weltkrieg zumindest theoretisch verwirklicht hätten, in Frage zu stellen.
Der Ausweg aus diesem Dilemma könne nur in einem geduldigen und kenntnisreichen Dialog zwischen den verschiedenen Weltreligionen und –kulturen liegen. Damit dieser gelinge, müsse man einander auf Augenhöhe begegnen, dem anderen zuhören, etwas von ihm wissen und, wie dies Papst Franziskus gefordert habe, auch "an die Ränder gehen". Dies schaffe nur, wer "mitarbeitet, mitliebt und mitleidet". Wenn man dies für eine Illusion halte, könne man "gleich einpacken."

In Fachreferaten befaßten sich bei der gut besuchten Tagung der Theologe Prof. Veit Neumann mit dem Thema "Freiheit und Gott", Johannes Modesto, der bei der Erzdiözese München und Freising für Seligsprechungsverfahren zuständig ist, mit Romano Guardini und der Weißen Rose, die Religionsphilosophin Beate Beckmann-Zöller mit der in Auschwitz ermordeten Philosophin und Europapatronin Edith Stein und die Prager Politikwissenschaftlerin Blanka Mouralova mit dem Totalitarismusbegriff von Hannah Arendt. Bei einem "Abend der Freiheit" im Klostergasthof sang Robert Wild zur Gitarre Freiheitslieder, und Franziskus Posselt von der Paneuropa-Jugend machte sich in gekonnter literarischer Form als deren "Kurier" zum Sprachrohr der Freiheitsstatue. Zelebrant des Festgottesdienstes zu Ehren der Heiligen Hedwig in der Wallfahrtskirche war der polnische Minoritenpater Prof. Zdzislaw Josef Kijas aus Rom. Das Thema "Freiheit und Mut – Motoren für ein lebenswertes Europa" diskutierten beim abschließenden Podium der Professor aus Rom, die Psychologin Consuelo Gräfin Ballestrem, der Restaurantgründer und Küchenchef Johannes Belling aus Frankreich, der tschechische Diplomant Jan Šícha, der jüngste Kreistagspräsident Hessens, Johannes Volkmann, sowie der Medienanwalt Dirk H. Voß.
Paneuropa-Pressestelle, Dachauer Str. 17, D - 80335 München

-*-

BRIEF NEWS
00:00 - 02.06.2021

00:00 - 18.10.2020

00:00 - 19.06.2020

00:00 - 18.05.2020

00:00 - 20.04.2020

00:00 - 02.02.2020

00:00 - 09.12.2019

00:00 - 27.11.2019

00:00 - 16.11.2019
Statistics
Visitors: 54911899
Archive
Login Form
Other Menu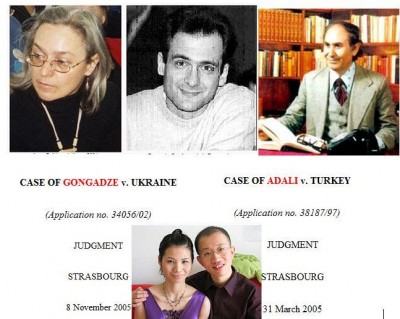 Hu Jia's prize brings SAKHAROV's wife to "EuroFora" on murders of Journalists Politkofskaya, Gongadze and Adali :
- Elena Bonner : "All Journalists' murders must be fully investigated", without Double Standards.                                                                                    

During a special Mega-Event to celebrate 20 Years of SAKHAROV Prize for "Freedom of Thought", attributed in 2008 by EU Parliament to jailed Chinese Cyber-Dissident Hu JIA, the move was reinforced by strongly criticizing the persisting impunity in three cases of Journalists' Murders, such as POLITKOVSKAYA in Russia, GONGADZE in Ukraine, and ADALI in Turkish-occupied part of Cyprus.

Any bureaucratic doubt about whether Cyber-dissidents like Hu JIA might have, or not, a right to be protected as all Journalists must be, particularly when they take risks to search, find and publish original and critical News on issues of general interest to the society, could not resist to the emotion provoked by the message of his Wife, Zeng JINYAN spectacularly transmitted at a big screen in EU Parliament's hemicycle :

- "The most important and most interesting thing he did was to ... say the Truth :.. to write about the phenomena he observed... He never stopped Publishing.. on websites, so that the Public could learn about the reality .. and understand it.  In my view, this has been his greatest contribution", stressed the young wife of the jailed man, eager to cite also the cases of other critical journalists who faced various kinds of "harassment".

 - "Welcoming all those who have suffered for defending Human Rights", EU Parliament's President, German MEP Hans Gert POETTERING, who had invited to Strasbourg all former Sakharov prize-winners from various Countries throughout the World, said that "China needs Europe, and Europe needs China : A great nation" with which "we want to have a good relationship", "association and ..friendship". "But we are never going to stop our fight for Human Rights, and No Government can expect this from us".

    - "It's impossible  to achieve goals of Peace, if Human Rights are left out. In fact, Peace and Human Rights are intrinsequaly linked", added POETTERING.

    It's in this spirit that MEPs adopted, on Thursday, a Resolution denouncing that "the criminal
investigation and trial following the murder of (a) Journalist ...raises serious concerns with regard to transparency and respect for the rule of law", when a "brutal killing has not yet been fully investigated and solved in a satisfactory way".

    The text refered to dissident Journalist "Anna POLITOVSKAYA", a critic of Tchechen conflict, killed some years ago in Moscow, where Russian Authorities have found, arrested and are currently judging two executants, while also searching to arrest also a 3rd one, allegedly escaped in Belgium. But they have not yet found the instigators.
     Similar texts were adopted recently also on dissident Ukranian Journalist Georgiy GONGADZE's murder, for which Ukranian Authorities have at least found, arrested and condemned 2 executants to 12 and 13 Years of jail, but not yet the instigators. For that purpose, they recently accepted an International Experts team to participate to the investigations.     
But, it's only for the Murder of dissident Turkish Cypriot Journalist ADALI, in the occupied territories of Cyprus, that Turkey has NOT yet found ANYONE responsible, and even claimed recently inside CoE that it would be "impossible" to do so !    
These astonishing differences exist despite the fact that ECHR condemned alike Ukraine and Turkey with 2 Judgements on the same year : 2005, for the murders of  Journalists GONGADZE and ADALI, strong critics of Corruption in Ukraine, and of Ankara's policies on mass-influx of Turkish Settlers in the Occupied Territories of Cyprus, respectively.    
Regarless of that, CoE's Committee of Ministers, who is entrusted with the duty to supervise execution of ECHR's judgements, has just asked Ukraine's Government to reply to further questions on Gongadze's murder before March 2009, while Turkey, curiously, got a longer postponement for answering questions on Adali's murder, until June...   
A comparison of these cases, raises serious questions about Double Standards :
------------------------
On TRANSPARENCY :
--------------------------
    On Gongadze's murder, CoE's body speaks even about the participation of
"an INTERNATIONAL group of Experts" in the Investigation, (f.ex. of "Tape Recordings"), accepted by Ukraine.
    On the contrary, on Adali's murder, CoE is obliged to repeatedly ask (for a 2nd
time) Turkey whether, at least, it informed the victims' Family, or not...
------------------------------
- On EFFICIENCY :
-----------------------
On Gongadze's murder, CoE formally "recalls that the Committee (of Ministers) ..URGED the Ukranian authorities.. to TAKE ALL NECESSARY INVESTIGATIVE STEPS TO ACHIEVE CONCRETE and VISIBLE RESULTS in the INVESTIGATION, aimed at the Identification of the INSTIGATORS and Organisers of the Murder", and "STRONGLY INVITED the Ukranian Authorities to provide information on the PROGRESS IN THE INVESTIGATION", before MARCH 2009.

But, on Adali's murder, on the contrary, CoE's body merely .. "took note" of the "arguments presented by" Cyprus, which denounce the absence of any proof of new "investigation" by Turkey. Following Turkey's own suggestion (!), it simply "noted" that there is "no limitation period" for "any new element" to "lead potentialy (sic !) to a Re-Opening of the Investigation". Without saying who might find any such "new" fact, since Turkey stoped searching... It also POSTPONED the issue until .. JUNE  !
-----------------------
 - On the PUNISHMENT OF THOSE RESPONSIBLE :
----------------------
 -  On Gongadze's murder case, Ukranian Authorities already arrested and condemned, at least 2 suspects, to 12 and 13 Years of jail. And on Politkovskaya's murder at least 2 suspects are judged, and a 3rd one "wanted".

On the contrary, on Adali's murder case, the Turkish authorities simply claim that "it had not been possible to obtain new .. information .. on the basis of which criminal charges could be brought against ANY person" !...

Moreover,  a LETTER sent by Turkey ...2 Years after CoE's 2006 call to re-investigate anew Adali's murder case, is totally EMPTY of Facts ! As Cypus' Delegation denounced earlier, Turkey's Letter ONLY CLAIMS that a "New Investigation" was made without any result, but does NOT even cite ANY FACT to prove it :

F.ex.,on the crucial issue of the "MOTIVATIONS" behind Adali's murder, noted by ECHR, Turkey MERELY CLAIMS that "all allegations  were investigated; without result", but OMITS ANY FACT TO PROVE IT !..(It doesn't even remind which were these "allegations").. .

+ On ECHR's astonishment that the Turkish Occupation regime didn't produce any "BALLISTIC REPORT" on the Shots which murdered Adali, Turkey again repeats, 12 years later, that, still, even until now, "it  was not possible to obtain the BalisticReport"...

- As for the astonishing absence of key-WITNESSES' Testimonies, denounced by ECHR, Turkey agains repeats various pretexts avoiding to reveal anything, (Fex. that a person "left" the Occupied Territories  "on 2002", or that another witness was heard, but without revealing nothing of what he said, etc).

Turkey obviously "FAILS TO MEET THE CRITICISM made BY THE COURT" for lack of any efficient Investigation in Adali's case, concluded Cyprus' Government.
---------------------------------------------
Replying to our Question which COMPARED these 3 outstanding cases of "JOURNALISTS MURDERS", Adali, Gongadze and Politkovskaya, in order to avoid "Double Standards" by asking from Ukraine and Russia more than what is asked EU candidate Turkey, many European personalities were critical /

They criticised Ankara's recent claim at the CoE to stop investigating, because it would be "impossible to find anyone" responsible for the 5 bullet shots which killed Kutlu ADALI in front of his Family Home, contrary to the other two Journalists' murders, where Ukraine and Russia at least arrested the executants, searching now for the instigators :
----------------------------------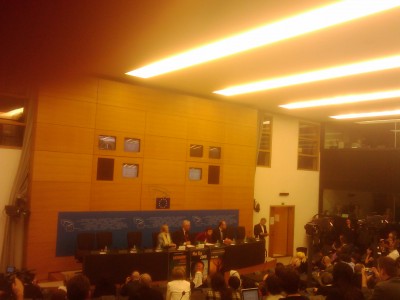 - "Where was that ? In Turkish Occupied Cyprus ? WITHOUT ANY DOUBT : Any murder of Journalist should be investigated in full ! All these Murders must be investigated !", replied the famous SAKHAROV's wife, Elena BONNER to our question on Adali's case, compared to Gongadze and Politofskaya.

    Elena Bonner spoke us EXCLUSIVELY shortly after being honored by the President
of EU Parliament on the occasion of 20 Years of her husband's SAKHAROV Prize.

    A strong personality, Sakharov's wife even had to struggle against an anonymous EU staffer who, astonishingly, tried to stop her speaking when h heard our question on "Turkey" (!) : - "Please, let me translate, she continues
speaking, don't stop us !", had to cry Sakharov's daughter, (a Journalist
herself), who was translating her mothers' reply, (obliged to speak louder to
make her voice heard despite the harassment).. (= + Audio Proof !)

    Earlier, Elena Bonner also fustigated "Double Standards" at another case, on
Western countries' attitude vis a vis Kosovo and the Kurds : -F.ex. "You have
recognized a few 400.000 Kosovars as an "independent" country, but you still
deny that to 30 millions of Kurds in Turkey !", she denounced.
-----------------------------
    - "This (ADALI's murder) is an issue which should be pursued by the Committee
for Human Rights. That's why we have one, and it's its duty to examine cases of
Journalists' murders as the one you referred to. You should bring the case in
front of that Committee", suggested in reply to our question on Adali, EU
Parliament's President, German MEP Hans Gert POETTERING.

    - "It's impossible  to achieve goals of PEACE, if HUMAN RIGHTS are left out :
in fact, Peace and Human Rights are intrinsequaly linked", added POETTERING.
--------------------------------------
    + "For us (European/International Federation of Journalists) it's clear :
Whenever a Journalist is Murdered, the Investigation should continue until
those Responsible are found !", replied earlier to another question on ADALI
EFJ/IFJ's Secretary General, Aidan WHITE.

    Speaking as a matter of General Principle, White asked us for "concrete data"
on the execution of ECHR's judgement on Adali case, in order to "look at it in
depth" and "make a formal statement", in comparison with the other Murdered
Journalist case, also pending at CoE's  Ministers for completing its execution,
on Ukranian Gongadze.
----------------------------------------------------
     From EU Rapporteur on Human Rights, vice-President of EU Parliament Liberties' Committee, MEP Giusto CATANIA, we were told that, since there is an ECHR judgement in both Adali and Gongadge's cases, "Turkey must naturally execute the judgement and make a full and efficient investigation, until those responsible for the Journalist's murder are found and punished".

    Even if "we (Catania's "EuroLeft" Group) support Turkey's EU perspectives, this does not mean that Ankara should not behave properly. On the contrary, it means that they have to meet tough conditions, particularly on Human Rights", was added on the occasion of Adali's murder case.

    Moreover, "since you raise the issue of Mr. Adali's muder as a part of a Series of Journalist's murders, including fex. Gongadze, Politkovskaya, ao., tthen we (EU) could also act together with CoE's Commissioner on Human Rights, Thomas HAMMARBERG, it was suggested.

    - "We (EU) must step up efforts against the problem of IMPUNITY : Real Peace cannot exist without Justice",  stressed also this week at EU Parliament in Strasbourg, French Minister on Human Rights, Mrs Rama YADE.
------------------------
                     

Polls