Accueil

newsitems

Pope Francis to EUParliament: Europeans need revival+ development of real Humanism. No Technocracy!
Pope Francis to EUParliament: Europeans need revival+ development of real Humanism. No Technocracy!
Tuesday, 25 November 2014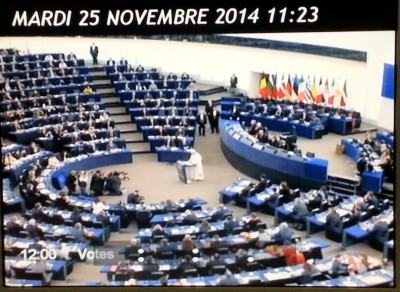 *Strasbourg/EU Parliament/Angelo Marcopolo/-  In order to "restore Hope in the Future", by definitvely overcoming a period of "Problems" and/or "MisTrust",  and "rediscover ..that Confidence needed to pursue the great ideal of a united and peaceful Europe, ...creative and resourceful, respectful of rights and conscious of its duties", Today, Europeans need to ReVive a real Humanism, (able to Respect Human Dignity, ensure Human Development and awareness of People's Identity : See Infra), no Technocracy, stressed, in substance, Pope Francis, in a landmark Speech at EU Parliament's Plenary session in Strasbourg, attended by all MEPs and many Hundreds of Journalists, etc., where he addressed his message toi "more than 500 Million Citizens", "to all the Citizens of Europe":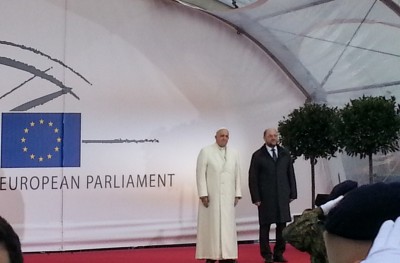 At the roots of the recent Crisis was mainly "the Great Mistake made "when Technology is allowed to Take Over", New Pope Francis pointed out, explicitly endorcing the Denunciation made by his predecessor, Pope Emeritus Benedict, already since 2009 at the Encyclic "Caritas in Veritate" ("Love in Truth"). Indeed, "the great ideas which once inspired Europe seem to have Lost their attraction, only to be replaced by the Bureaucratic Technicalities of its institutions". Moreover, "to our Dismay we see Technical and economic questions Dominating Political Debate, to the Detriment of genuine concern for Human beings. Men and women risk being reduced to mere Cogs in a Machine that treats them as items of consumption to be exploited. With the result that – as is so tragically apparent – whenever a Human Life no longer proves useful for that Machine, it is discarded with few qualms, as in the case of the sick, of the terminally ill, the Elderly who are abandoned and uncared for, and Children who are Killed in the Womb", (as he denounced, in a reference obviously to Massive Abortions and Genetic Manipulations of Human Embryos,, etc).

    + Moreover, "as a result of the (Global) Economic Crisis, whose effects continue to have Tragic Consequences for the Life in Society, ... as the EU has Expanded, there has been growing Mistrust on the part of Citizens towards Institutions considered to be Aloof, ...perceived as Insensitive to individual Peoples, if not downright Harmful", he added, apparently referring mainly to the 1999-2005 controversial and unpopular boost even to Turkey's EU bid, recently refurbished after 2012, which has notoriously led to 3 "No" to EuroReferenda in France, the Netherlands and Ireland, on the occasion of a Draft EU Constitution, to which was added, in the present, post-2012 period, after the latest French Presidential Elections, (which saw the departure of former President Nicolas Sarkozy, famous for his popular opposal to Turkey's controversial EU bid), with an Unprecedented push of various EuroSceptic Parties, mainly of the Far Right, in the latest EU Parliament's Elections of May 2014.

    - But, concerning "all those Fears which Europe – together with the entire World – is presently experiencing", "in fact, "one of the most common Diseases in Europe Today is the Loneliness typical of those who have No Connection with others. This is especially true of the Elderly, who are often Abandoned to their fate, and also in the Young who Lack clear points of Reference and Opportunities for the future. It is also seen in the many Poor who dwell in our cities, and in the disorientation of Immigrants who came here", and "this loneliness has become more Acute" after the Global Crisis. + "Together with this, we encounter certain rather Selfish lifestyles, marked by an Opulence which is no longer sustainable and frequently Indifferent to the World around us, and especially to the Poorest of the poor". "It is the inevitable consequence of a "Throw-Away culture" and an uncontrolled Consumerism", Pope Francis also criticized

    + More widely, at Europe's surroundings, he strongly denounced, ""as as "result of the great Vacuum of Ideals which we are currently witnessing in the West" (See Infra), "the many instances of Injustice and Persecution which daily afflict religious Minorities, and Christians in particular, in various parts of our World. Communities and Individuals Today find themselves Subjected to Barbaric acts of Violence: They are Evicted from their Homes and Native Lands, sold as Slaves, killed, beheaded, crucified or burned alive, under the Shameful and Complicit Silence of so many".                                                                                                                                                                                                                                                                                                       
---------------------------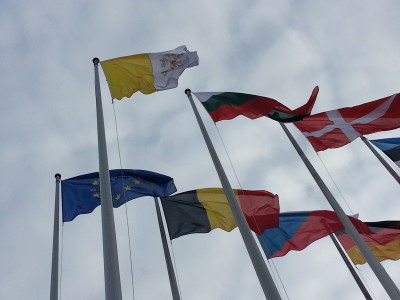 Thus, in order for "Hope in the Future (to) be Restored, so that, ...there can be a rediscovery of that Confidence needed to pursue the great Ideal of a United and Peaceful Europe, ...Creative and Resourceful, Respectful of Rights and Conscious of its Duties", Pope Francis launched Today a Call "to return to the firm conviction of the Founders of the European Union, who envisioned a future based on the capacity to work together in bridging divisions and in fostering peace and fellowship between all the peoples of this continent. At the Heart of this ambitious political project was confidence in Man, not so much as a citizen or an economic agent, but in man, in men and women as persons endowed with Transcendent Dignity". This was "a Pivotal concept in the process of rebuilding which followed the Second World War", which "has been marked by the concern to Protect Human Dignity, in contrast to the manifold instances of violence and discrimination which, even in Europe, took place in the course of the centuries", and particularly just after the Fall of NAZI and Fascist regime's atrocities.

-------------------------------
Europe's "Vital Connection"
--------------------------------------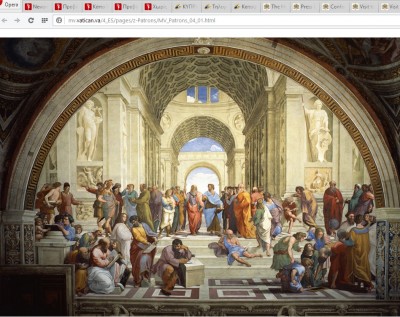 To make it clear, Pope Francis referred to "Renaissance" Painter Raphael from Italy, who has pictured Ancient Greek Philosophers Plato and Aristotle, at "the Centre" of his famous "School of Athens" Giant fresco, at the Vatican's ceiling :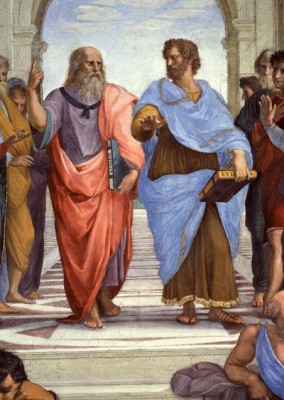 - "Plato's finger is pointed Upward, to the world of Ideas, to the Sky, to Heaven.... . Aristotle holds his hand out before him, ...towards the World, concrete reality. ....a very apt image of Europe and her History, made up of the constant Interplay Between Heaven and Earth, where the Sky suggests that openness to the Transcendent – to God – which has always Distinguished the Peoples of Europe, while the Earth represents Europe's Practical and concrete ability to confront Situations and problems", he observed.

=>  - "...A Europe which is No longer Open to the Transcendent dimension of life, is a Europe which risks slowly Losing its own Soul and that "Humanistic Spirit" , Pope Francis warned. Because, in fact, "the Future of Europe depends on ...the Vital Connection between these two elements", he stressed.

    - "Taking as a Starting point this Opening to the Transcendent", he "reaffirm(ed) the Centrality of the Human Person". "Otherwise", it's "at the mercy of the Whims and the Powers of the moment". "The Legacy that Christianity has offered in the Past to the social and cultural formation of the continent, but above all the contribution which it desires to offer Today, and in the Future, to Europe's Growth", "is clear from the Ideals which Shaped Europe from the beginning, such as Peace, subsidiarity and reciprocal solidarity, and a Humanism centred on Respect for the Dignity of the Human Person", which is of "Fundamental" importance.

    Because "a Europe which is capable of appreciating its Religious Roots, and of grasping their Fruitfulness and Potential, will be all the more Immune to the many forms of Extremism spreading in the World Today (Comp. Supra), not least as a result of the great Vacuum of ideals which we are currently witnessing in the West", since "it is precisely man's Forgetfulness of God, .... which gives Rise to Violence", Pope Francis stressed, (pointing at one of the last Public Statements of Pope Emeritus Benedict, made to Diplomats accredited to the Vatican in Rome, just 1 Month before he resigned, on January 2013).
----------------------------------

    =>  In fact, "affirming the Centrality of the Human Person means, above all, allowing all to Express freely their Individuality and their Creativity, both as Individuals and as Peoples", inside a "Europe as a Family of Peoples",  he explained, composing a Synthesis of 3 main aspects : (1) Freedom of Expression and pluralistic  Democracy, (2) Human Development and Ecology, as well as (3) Identity.

-------------------------------------------------------------------

    (1) "Unity (of Europe) does Not mean Uniformity of political, economic and cultural life, or ways of thinking". On the contrary, "Authentic Unity draws from the rich Diversities which make it up: in this sense it is like a Family, which is all the more United, when each of its members is Free to be fully himself or herself".

    - "At the same time, the Specific features of Each one represent an authentic richness to the degree that they are placed at the Service of All", Pope Francis observed. Therefore, "the proper configuration of the EU must always be respected, based as it is on the Principles of Solidarity and Subsidiarity, so that Mutual Assistance can prevail and Progress can be made on the basis of Mutual Trust"

    => "Within this Dynamic", it's "MEPs' ... Responsibility" to "keep Alive Democracy", whose "real Strength" is to be an "Expression of the Political Will of the People",  and this "is a Challenge in the present Historic moment", he urged.

    - Because, in particular, "Uniformity Strikes ....the Democratic system, Weakening the .... Interplay of ...Political Parties", with "the Risk of living in a world of ...Sophistry… , ...Confusing the Reality of Democracy with ...Nominalism", he warned.

     + Moreover, Today, "Keeping Democracy Alive in Europe requires avoiding ...many Globalizing tendencies to dilute reality" : Democracy "must Not be allowed to Collapse under the Pressure of MultiNational interests which are Not Universal, which Weaken them and turn them into Uniform systems of Economic Power at the service of Invisible Empires", Pope Francis Warned.
--------------------------------------

    (2) ++ But, "Give Europe Hope means More ... : it Also implies Nurturing the Gifts of each Man and Woman", i.e. "Investing in Individuals and in those settings in which their Talents are Shaped and Flourish", he went on to add, turning towards Human Development and Ecology :

    - "The 1st area" for Human Development "surely is that of Education".

* This "begins with the Family : the fundamental cell and most precious element of any society. ...United, fruitful and indissoluble", the Family "possesses the elements fundamental for fostering hope in the future. Without this solid basis, the future ends up being built on sand, with dire social consequences. Then too, "family "not only helps to give Direction and Hope to New generations, but also to many of our Elderly, who are often Forced to live Alone and are effectively Abandoned because there is No longer the Warmth of a Family Hearth able to accompany and support them".
** In addition, "the various Educational Institutes: Schools and Universities'" "Education canNot be Limited to providing Technical Expertise Alone. Rather, it should encourage ...the Human Person to Grow in his or her Totality", . Young people today are asking for a ...Complete education which can enable them to look to the Future with Hope, instead of disenchantment", Pope Francis advised.

*** Finaly, "there is so much Creative Potential in Europe in the various fields of Scientific Research, some of which have yet to be fully Explored", encouraged Pope Francis,  "f.ex. on Alternative Sources of Energy, the Development of which will assist in the protection of the Environment" too, he chose to single out, (See Infra).

    - "The 2nd area in which People's Talents flourish is Labour", where, notoriously, "the Time has come to Promote Policies which Create Employment", as it was agreed also in the latest EU Summit last October in Brussels, (Comp. relevant "EuroFora"s NewsReports from Brussels), Pope Francis reminded.

"But, above all, there is a Need to restore Dignity to Labour,  by ensuring Proper Working Conditions", he went on to add. I.e. "finding New Ways of Joining market Flexibility with the need for Stability and Security ...of Workers". "It also implies  .. a .. social context geared Not to the Exploitation of persons, but to ensuring, (precisely Through Labour), their Ability to create a Family and Educate their Children", because this is "Indispensable for their Human Development", he underlined.

    - Last, but not least, EU "Needs ..a United Response to the question of Migration" :
 - "We canNot allow the Mediterranean to become a vast Cemetery!", Pope Francis denounced, pointing at "the boats landing Daily on the Shores of Europe ...filled with men and women who Need ...Assistance". Until Now, "the Absence of Mutual Support within the EU runs the Risk of encouraging Particularistic solutions .., ...which Fail to take into account the Human Dignity of immigrants", f.ex. by "contributing to Slave Labour and continuing Social Tensions", he warned.

 => "Europe will be Able to confront the Problems associated with Immigration, ... Only if it is capable of adopting Fair, courageous", but also  and "Realistic Policies which can Assist the Countries of Origin in their own social and political Development, and in their efforts to Resolve internal Conflicts – the principal Cause of this phenomenon – rather than adopting policies motivated by Self-Interest, which increase and feed such Conflicts", because "We Need to take Action against the Causes, and Not only the Effects", he stressed.

+ Moreover, for this same purpose, ", in order "to ensure the Acceptance of Immigrants", Europe must become "Capable of clearly Asserting its own Cultural Identity (Comp. Infra), and enacting adequate legislation to protect the Rights of European Citizens", he added.

----------------------

    + Moreover, "Europe has always been in the Vanguard of efforts to promote Ecology", Pope Francis went on to add, urging to show "Responsibility to care for Creation, this precious Gift which God has entrusted to us". "Nature is ...to enjoy and use properly", but "we are Not its Masters. Stewards, but not masters. We need to Love and Respect Nature", "instead" of  "often ...Dominating, ...Manipulating", Pope Francis denounced.

* - "I ...want to Emphasize, in addressing you (EU Parliament) Today", that, "Respect for Nature, also calls for recognizing that Man himself is a Fundamental Part of it", he observed, (endorsing and developing further Pope Emeritus Benedict 2009-2011+ trend, as it had Started to emerge in the Encyclic "Caritas in Veritate" and in a landmark Speech at the Bundestag in Berlin, respectively).

=> Therefore, "along with an Environmental Ecology, there is also Need of that Human Ecology, which consists in Respect for the Person", stressed Pope Francis, who is has already started to work seriously on his forthcoming New Encyclic on Ecology, including Human, (f.ex., Healthy Environment, Protection of Human Embryos and/or Brain from Genetic and/or other Manipulations, Human Life from the conception up to Natural Death, instead of a dangerously spreading recently, controversial "Euthanasia" movement, Natural Family as only able to have its own Children by Natural Births, etc : Comp. earlier and new "EuroFora"s NewsReports, specific on that issue)
    
** - Concerning  "our Earth", it "Needs constant Concern and Attention", he added, apparently pointing especially (but not only) to the Climate Change issue.
On the Contrary, by being "often guided by the pride of .. Possessing, ... Exploiting", (etc), "we do not 'Preserve' the Earth, we do not Respect it, wedo not consider it as a freely-given Gift (by God) to look after", he criticized. +  "Respect for the Environment, however, means More than Not Destroying it" : "It Also means Using it for Good Purposes", Pope Francis went on to add.

=> "...above all" in "the Agricultural sector, which provides ...Nourishment to our Human Family", "it is Intolerable that Millions of People around the World are Dying of Hunger, while tons of Food are Discarded each day from our Tables", he denounced, in an indirect but certain Call for a Strong Common Agricultural Policy in Europe, attracting wide applause among most MEPs.

-----------------------------------------------------
    (3) "European Identity"

Pope Francis - who notoriously broke New ground by his wish to Speak to the European People as a whole, through EU Parliament and CoE, before starting a series of Pastoral Visist in each one amon many EU Member Countries -   concluded with a far-reaching Call "to Protect and Nurture Europe's Identity" :

- Because it's in this way "that its Citizens can experience renewed Confidence in the institutions of the (European) Union, and in its underlying project of Peace and Friendship", as he said.

+ And because "Europe Urgently Needs to recover its True Features in order to grow, as its founders intended, in peace and Harmony, since it is not yet free of conflicts", (as he warned, particularlly at this period of a dangerous Ukranian crisis).

++ But also because "Awareness of one's own Identity is ...Necessary for entering into a positive Dialogue with the States which have Asked to become Part of the Union in the Future", and even "for Relations with other Neighbouring countries".  I.e., "especially of those in the Balkans, for which Membership in the EU could be a response to the desire for Peace in a region, which has Suffered greatly from past Conflicts", and, moreover, "particularly with those (Countries) bordering the Mediterranean, many of which suffer from internal Conflicts, the pressure of religious Fundamentalism and the reality of Global Terrorism", respectively.

+++ As well as, because, "Europe will be able to confront Problems associated with Immigration, only IF it's capable of Clearly Asserting its own Cultural Identity", (Comp. Supra).

=> In consequence, Pope Francis "encouraged" MEPs "to work  to make Europe ReDiscover the Best of itself", appealing to their "personal and Collective Responsibility", corresponding to recent "increase" of their Institutional "power".

 - Refering to late Pope, Saint John Paul II's Historic 1988 address to the COE and EU Parliament, he already reminded, from the outset, the fact that "European Thought" is "characterized by an enriching Encounter whose <<distant Springs are many, coming from Greece and Rome, from Celtic, Germanic and Slavic sources, (i.e. an obviously PanEuropean Cultural/Historic view), and from Christianity which profoundly shaped them>>", making "realize gradually the Hope.. that Europe, endowed with Sovereign and Free Institutions, will one day reach the full dimensions that Geography, and even more, History have given it", as it had been said 25 Years ago, at the eve of Berlin Wall's Fall, (1989).

This was, obviously, far more strengthened by the above-mentioned Pope Francis' choice to speak about Renaissance's Italian Painter Raphael, and his "Athens' School" famous fresco at the Vatican, picturing Ancient Greek Philosophers Plato and Aristotle, (Comp. Supra).

As well as by the "Central" Importance given to the "Human Person" as "Fundamental" in the "Legacy that Christianity has offered in the Past to the Social and Cultural Formation of the Continent, but, above all, (in)the Contribution which it desires to offer Today, and in the Future, to Europe's Growth", as he announced earlier, (Comp. Supra). What fits quite well also "the Ideals which Shaped Europe from the Beginning (of its Post-World War era : Comp. Supra), such as Peace, Subsidiarity and reciprocal Solidarity, and a Humanism centered on Respect for the Dignity of Human Person".

+ "A 2-Thousand-Year-old History links Europe and Christianity", Pope Francis added now in Conclusion of his 2014 Address to EU Parliament. "It is a History not free of conflicts and errors, and sins, but one constantly driven by the Desire to Work for the Good of All. We see this in the beauty of our Cities, and even more in the beauty of the many Works of Charity, and constructive Human Cooperation throughout this Continent. This History, in large part, must still be written", because it's "our Present and our Future. It is Our Identity", concluded the son of Italian immigrants to the other side of the Earth, former Argentinian ArchiBishop Bergoglio, (close to the German name for "Mountain", as those of the nearby Schwarzwald, that he had visited a long time ago, when he was a simple Young Student at the Goethe Institute, as reminded him a 90 Years old German Lady, his Hostess of those times,  that he met anew Today in Strasbourg with Emotion, as new Pope arriving from Rome's Vatican, now Moral leader of almost 1,4 Billion Christians catholics throughout the whole World.

=> "Time has come to work Together in Building a Europe which revolves ...around the Sacredness of the Human Person, around inalienable Values, ..... which courageously embraces its Past, and confidently looks to its Future, in order fully to experience the hope of its Present". And "to abandon the idea of a Europe which is fearful and self-absorbed, in order to Revive and Encourage a Europe of leadership, ...Science, Art, ... Human Values and Faith as well. A Europe which contemplates the Heavens and pursues Lofty Ideals. ...Cares for, defends and protects ...every man and woman. A Europe which bestrides the Earth surely and securely, a precious point of reference for all Humanity!", Pope Francis concluded in fine, attracting a wide and prolonged applause by astonishingly various MEPs even at differend sides accross the political spectrum...

It's true that Part of the secret which obtained such a result might have been also the fact that he systematicaly avoided to explicitly advance further on concrete details and ultimate consequences of the general Principles that he evoked :

- I.e. "Human Ecology" was cited, but without explicitly mentioning now its concrete conclusions vis a vis, f.ex., Genetic Manipulations of Human Embryos and/or Massive Abortions, Natural Family and Natural Births, in relation to "Same Sex Mariages" and/or "Adoption" of Children by Homosexuals, which obviously threaten also to bring Atrocious Exploitation of "Surrogate Mothers", Massive Multiplication of Artificial Procreations of Human Beings, (f.ex. via In Vitro Fertilisations, Pre-Natal Tests, Sperm/Eggs/Embryos Banks, etc), to which was added recently even a growing Controversy on Euthanasia, not only of Elders but even of Children, etc.

Similarly, on EU Enlargement, Pope Francis' speeches, while reminding EU Citizens' strong Reactions (notoriously, mainly against Past attempts to impose Turkey's controversial and unpopular EU bid, etc), and apparently focusing for the Future EU Enlargement just to those Countries which are unquestionably Europeans by Geography, Culture and History, (including even mainly Muslim Albania, since "I'm not responsible for Europe's Geography", as he reportedly joked, pointing also to the "Co-Existence of Muslm and Christian Communities" in that Country, whose History has seen "Various Cultures", etc), as, f.ex., in the Western Balkans, he also gave a great Importance to Europe's "Identity", where, in addition to the "Greek and Roman, Celtic, Germanic and Slavic" Civilisations, it's mainly the "2 Thousand Years old Link between Europe and Christianity" that was stressed, (Comp. Supra), ommitting, on the Contrary, to say anything which might link to that even 95% Asiatic Turkey, where Christians have notoriously been almost entirely eradicated, living less than only one : 1 per cent (1%) of them vis a vis more than 99% of Muslims - something which hasn't yet happened at any other Middle East Country, almost all of whom still maintain various, more or less important Christian Minorities of very Ancient origin. But he never excluded Turkey explicitly from EU's eventual future Enlargement, on the other side.

It's true that the main purpose of the Holy Father's exceptional visit just to EU Parliament and CoE in Strasbourg was, most of all, to Help "Revive" among most People a European Ideal respectful of fundamental Values, and not so much to take now part in various "Hot" Controversies.

However, it's also true that Pope Francis did Raise Today, at least the main Principles about almost all the most important Topical Issues concerning nowadays Europe, and anybody who can read, both his 2014 Strasbourg speeches and other relevant texts, (several of which were even explicitly cited at the Vatican's written documents in relevant Footnotes), can more or less easily guess at least the main logical conclusions...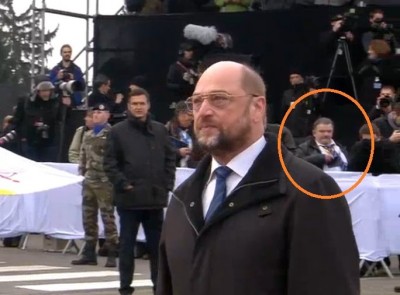 (../..)

BRIEF NEWS
00:00 - 02.06.2021

00:00 - 18.10.2020

00:00 - 19.06.2020

00:00 - 18.05.2020

00:00 - 20.04.2020

00:00 - 02.02.2020

00:00 - 09.12.2019

00:00 - 27.11.2019

00:00 - 16.11.2019
Statistics
Visiteurrs: 54924315
Archive
Login Form
Other Menu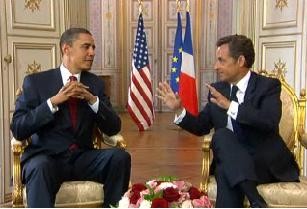 La Turquie, test-clé d'Independance de l'Europe face aux USA, les aménant de chercher en commun des nouvelles idées pour se mettre d'accord ?  
 Le débat, amical mais clair, entre les Présidents Américain et Français, Obama et Sarkozy,  la veille des elections européennes du 7 juin 2009, a montré que la question controversée sur la démande de la Turquie d'entrer dans l'Europe est actuellement le point central et le test le plus pertinent de l' indépendance de la France et de l'Europe par rapport aux Etats Unis.   
 Les electeurs européens, aussi bien en France qu'ailleurs en l'UE, auront une seule chance à trancher, ce dimanche 7 juin 2009, en choisisant leurs eurodéputés pour la période 2009 - 2014, car après ca risque d'être trop tard, vu que tous ceux qui suivent les affaires européennes dépuis des décennies savent qu'en réalité, le moment des décisions sur la Turquie viendra au plus tard en 2013, date rétenue dépuis longtemps pour une importante révision des "Perspectives Financières" de l'UE qui reflètent des choix Politiques fondamentaux.

    Le Président français, (récement encore représentant de l'UE, dans laquelle il joue un rôle important, ensemble avec la chancelière allemande Merkel, et autres leaders européens, ayant une influence notable auprès des Citoyens Européens, comme les derniers sondages montrent), réagissant à la repétition, par le nouveau Président Américain de la vieille position traditionelle de l'Washington poushant toujours vers la démande de la Turquie d'entrer dans l'Europe :

     - "Je ne peut pas laisser détruire l'Europe, (qui) est un élément de stabilisation du Monde", réponda Sarkozy. "J'ai dit au Président Obama que pour moi il était très important que l'Europe ait des Frontières", a-t-il souligné, confirmant la position Franco-Allemande commune, récemment rappellée ensemble avec la Chancellière Merkel.

    - "Il y a une différence (entre France/EU et les USA)...  sur les modalités. La position traditionnelle des Etats-Unis d'Amérique, c'est l'intégration" de la Turquie au sein de l'UE. "C'était la position du Président Bush, du Président Clinton, de tous les présidents américains".     
- "La mienne vous la connaissez : Ce n'est pas l'intégration dans l'Union Européenne. Mais j'ai proposé que nous réfléchissions, l'Europe, la Russie, la Turquie à la création d'un Espace Economique et de Sécurité en commun", a ajout Sarkozy rappelant son invitation de créer quelque chose de neuf et mieux adapté.

    Mais, "cela ne veut pas dire qu'il faut repousser la Turquie dans les ténèbres. La Turquie est un allié dans l'OTAN, (et) une Passerelle entre 2 Mondes, voilà quelle est la meilleure modalité. C'est cela dont nous avons parlé", revela-t-il. Si "nous avons une Différence sur les Modalités, nous n'avons pas une différence sur l'Objectif : Faire de la Turquie un élément de Pont entre l'Orient et l'Occident", Sarkozy assura Obama.

    - "Laissez-nous au moins une légère divergence sur un sujet, cela vous permettra de bien réfléchir pour les prochaines échéances", ajouta Sarkozy en réponse à un journaliste de l'opposition Socialiste qui avait soulevé la question de la Turquie, en la melant (comme un lobby turc notoirement essaie de faire pour exploiter la manipulation de quelques Arabes, la Civilisation Historique desquels fût pourtant detruite par l'ex-empire Ottoman-Turc) avec une question tout à fait différente : celle de la voile islamique (!), avec laquelle elle n'a rien à voir.

    - "Sur la Turquie, Monsieur, vous appartenez à un journal ...qui a appelé à voter, au moment de la présidentielle, pour mon adversaire.... Quel était votre argument à ce moment-là ? Vous disiez : « Attention, Nicolas Sarkozy va trop s'aligner sur les Etats-Unis d'Amérique », et je vois que deux ans après vous dites : « Ah, il y a un sujet sur lequel le Président Obama et le Président Sarkozy ne sont pas d'accord » Cela devrait vous rassurer, Monsieur" , réponda-t-il, en faisant sourire même le président américain, (et laissant entendre que trancher définitivemen la controverse sur la Turquie pourrait être au coeur de l' Elections Présidentielle  en France pour 2012 )
-------------------
    - "Ce que les Etats-Unis peuvent faire, c'est encourager ....TOUT PROCESSUS qui permettra à la Turquie d'être convaincue qu'elle a des amis, que ce soit la France, les Etats-Unis ou l'Europe", réponda Obama, apparamment n'excluant pas, a priori, le point de Sarkozy sur la création d'un espace commun d' économie et sécurité entre l' UE, la Turquie et la Russie (v. supra).

    "Les Etats-Unis ne sont pas membres de l'Union Européenne, nous ne pouvons pas dicter si un pays quelconque adhère ou n'adhère pas à l'UE"; Obama a admis, parlant de la "Turquie, (sur laquelle) le Président Sarkozy et moi nous sommes entretenus sur ce dossier avant".  "Maintenant le Président Sarkozy représente un Etat membre de l'Union Européenne et il a une position différente", opposée à démande turque d' entrée dans l'UE.    
 "La Turquie par contre est un allié de l'OTAN très important. ...La Turquie a fait connaître son intérêt à une intégration croissante avec l'Europe et nous (USA) encourageons cette attitude. J'ai souvent dit que l'adhésion de la Turquie à l'Union européenne serait importante".     
"Mais, (en tout cas) je crois qu'il est important de noter que le Président Sarkozy appuie fortement le travail que la Turquie fait au sein de l'OTAN et je crois qu'il s'intéresse à une intégration économique plus intense avec la Turquie". (Ce qui pourrait se faire, justement, avec un "parténariat privilegié" adéquat et/ou l'idée de créer un espace commun EU - Turquie - Russie  : V. supra).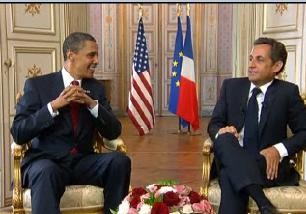 Est-ce que l'effort du Président de la France, soutenu par la chancelière Allemande et l'opinion publique de la plupart des Citoyens Européens la-dessus, de trouver un accord entre l' Europe et l' Amérique sur la Turquie, en proposant de sortir des chemins battus et créer du neuf, en etablissant "un Espace Commun d' Economie et Sécurité" (v. supra), suffira de calmer un lobby traditionaliste à quelques bureaucrates de Washington DC, datant dès l'époque de l' ex-"Guerre Froide", beaucoup plus ancien que le nouveau Président vénu de l' oxygen des "grands lacs" près de Quebec du Canada : Chicago, connu comme "la ville du vent" nouveau ?
-----------------------------------------------------------------------
Le Prémier Ministre Fillon appele à "faire vivre le Rève Européen"
------------------------------------------------------------------------  
 Seul l'avenir le dira. Mais, entre-temps, l' Europe ne peut plus attendre et perdre encore plus du temps et d'energie vitale sur la démande controversée de la Turquie, qui a notoirement menacé d'arrêter l'édification européenne dépuis 1999-2005 :

    Comme le Premier Ministre François Fillon a clairement dit, un peu plus tôt cette semaine, dans un discours éloquent sur les enjeux de l' Election Européenne de ce juin 2009 (V. résumé envoyé aux adhérents d'"EuroFora"),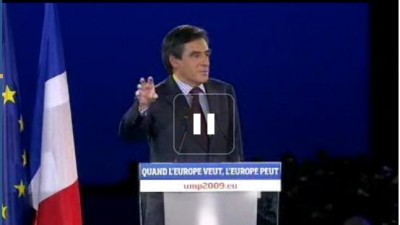 - "S' abstentir, c'est laisser à la Technocratie le pouvoir de dominer" la vie des Citoyens européens, qui devraient prendre l' Europe en branle le corps", et commencer d'agir par toutes les voies politiques démocratiques, prennant conscience que "l' Europe c'est Nous, (i.e. les Citoyens), et "Pas eux !" (i.e. les Technocrates), selon une image symbolique.

    - "Je me souviens de l' Europe obligée de faire Silence, (au Passé), quand "les Grands" décidaient de son sort", rappela Fillon.  "Je me souviens de l'Europe divisée, de l' Europe dominée" par d'autres, '"de l'Europe appauvrie""Je me souviens de Berlin occupé, muré, divisé comme un butin qu'on tire aux dès. Je me souviens du Silence de Varsovie. Je me souviens du Silence de Prague"..   
 - "Nous, les Européens, nous avons bien failli sortir de l' Histoire, et dévenir, pour du bon, les dès d'un jeu joué par d'autres".     
- "C'est pourquoi je ne peux pas concevoir une Europe qui ne serait pas Souveraine, une Europe qui ne serait pas Maitresse d'êlle-même", aujourd'hui et démain, martella-t-il. "Le Monde s'est habitué trop longtemps à une Europe faible, que l'on pouvait traiter avec condescendence".  
 - "Le moment est venu de rélever le défi : Le moment est vénu de montrer que, nous les Européens, avons décidé d'être débout, et d"être nous-mêmes".     
"Dépuis 2 ans (i.e. dès les Elections Présidentielles de 2007), avec Nicolas Sarkozy, nous avons oeuvrer pour relever notre Identité Nationale (de la France), dont nous sommes fiers. Et bien, l'' Identité Européenne mérite tout autant, elle qui prolonge les Génies de nos Nations".


    - "Je crois à la présence d'une Civilisation Européenne", déclara Fillon, largement applaudi par des milliers de personnes ayant entendu une série des Musiques entremelées characteristiques de differents pays européens, et des images lumineuses géantes avec des extraits symboliques de Goethe, de Victor Hugo, de Shakespeare, et d'autres auteurs italiens, espagnols etc celebres à travers l'histoire.

    - "L' Humanisme, la tolerance, la Liberté de la Conscience. La Solidarité. L' Etat de Droit. La confiance placée dans la Science, l' Innovation, le progrès. Toutes ces Valeurs, elles disent clairement où commence et où s'épanuit cette Europe" que nous voulons, observa-t-il.

    En harmonie avec les positions soutenues par le Président du Parlement Européen, eurodéputé allemand, Hans Gert Poettering, et la Chancelière allemande, Angie Merkel, sur la "Dignité Humaine" au coeur des "Valeurs de l' Europe" moderne. Ce qui fait qu'" avec un Elargissement sans fin", même vers la Turquie, c.a.d. "sans Frontières, l' Europe Politique, l' Europe des Valeurs et l' Identité européenne" ne peuvent pas exister, comme a dit aussi le Président francais, Nicolas Sarkozy, recemment à Berlin.

    Fait important : Cette observation de Fillon a été faite le jour-même que le Comité des Ministres du Conseil de l'Europe à Strasbourg concluait une semaine de réunion semestrielle sur les Droits de l'Homme, qui a examiné un grand nombre d'affaires des pires Violations (pex. Tuéries scandaleusement non elucidées, Persecutions et privations arbitraires de Liberté, personnes portées "Disparues", Tortures et "traitements inhumains et degradants", Usurpations illégales des Maisons et Patrimoines privées de Réfugiés, etc., pour lesquelles la Cour Européenne a condamné la Turquie dans plusieurs jugements, dont on attend toujours l' application)...

    - "C'est pourquoi un Elargissement sans fin de l' Europe ne peu pas être un objectif en soi. Parce qu'il ne peut que diluer l' élan européen, et detruire l' Idéntité Européenne"

    -" Voilà pourquoi nous disons, très sereinement, que nous ne sommes pas favorables à l' adhésion de la Turquie dans l'UE", conclua le Premier Ministre de la France; largement applaudi par des gens qui soulevaient le drapeau européen.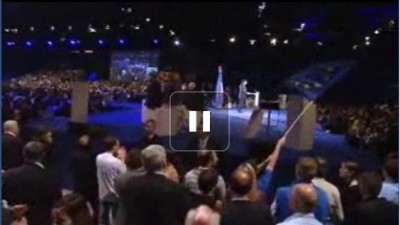 "Ce n'est pas un Slogan de meetings. Ce n'est pas la marque une "Hostilité" au régard de cette grande Nation (i.e. la Turquie), qui doit être étroitement associée à l' UE", pex. par un partenariat priviliegié, ou une autre formule adaptée.

    - "Mais il lui faut des Frontères à l' Europe, il lui faut des Frontières stables, qui lui permettent de renforcer son Unité et son Identité", a-t-il expliqué.

    - "Alors, c'est au nom de cette Europe charnelle, que je m'engage avec vous. Mais, cette Europe-là, ne peut avancer qu' à une seule Condition : celle de l' Europe Politique".

    "Nous avons longtemps douté qu'elle soit possible : Aux années 1970, Henri Kissinger (le notoire ex- Secretaire d'Etat Américain aux affaires etrangères, consideré, à tort ou à raison, comme chef d'orchestre du renversement du Président Allende en Chili, de l' invasion militaire de la Turquie à Chypre, etc), disait, avec une ironie blaissante : - "Ah, l' Europe ? : Quel numero de Télephone ?..." Pendant les 6 mois de la présidence française de l'UE, (7-12/2008), Henri Kissinger n'aurait aucune difficulté de rejoindre l' Europe !", observa-t-il en suscitant des nouveaux applaudissements nourris.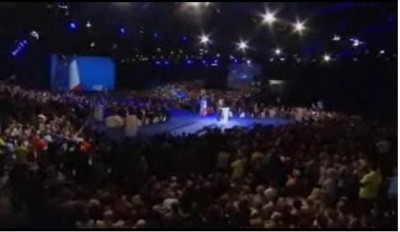 "J'au vu l' Europe Politique se dresser, et prendre ses responsabilités : L' Europe Politique c'est celle qui agit sans délai, et avant les Etats-Unis, pour stopper des faillites Bancaires qui s'enchaînent, qui nous auraint plongés dans une Depression pire que celles des années 1929. L' Europe Politique est celle qui, maintenant, doit mettre un fin à un Capitalisme Financier, qui a perdu sa boussole. L' Europe Politique est celle qui a réussi d'etablir le règles les plus ambitieuses au Monde dans la lutte contre le rechaufement Climatique. Samedi, nous celebrons l' anniversaire du debarquement de la Normandie, où nos amis Américains ont pris une part décisive à nôtre libération. Mais, en décembre 2009, à la Conference (Mondialle) de Copenhague, c'est nous les Européens, qui allons leur montrer le chemin vers cet avénir commun" pour la sauvegarde de l'Environement naturel. L' Europe Politique c'est celle qui, en août 2008, lorsque la Guerre faisait rase entre la Russie et la Géorgie, s'est interposée pour imposer la Paix. Et c'est elle qui doit, maintenant, se doter des moyens Militaires de se défendre par elle-même, pour elle-même", ajouta-t-il en évoquant clairement la création d'une Défense Européenn Autonome.
    "L' Europe Politique c'est celle qui doit bâtir des grands champions Industriels Européens, comme nous avons fait, auparavant, pour (l'avion) Airbus ou (la fusée) Ariadne. C'est celle qui doit exiger la Reciprocité dans les rlations Commerciale avec nos grands partenaires", sans Dumping Social ou Environmental, ni autre Concurrence Deloyale. "C'est celle qui doit se doter comme objectif d'être "le Continent de l'Esprit", réunissant les plus grandes Universités du Monde, en multipliant les Connexions, entre Scientifiques et étudiants."

    "Nous respecterons nos engagements, jusqu'au dernier", souligna le Premier Ministre de la France, peu après que les candidats-eurodéputés de la coalition Gouvernementale (UMP : Mouvement pour la Majorité Présidentielle) ont signé solennement, devant plusieurs milliers des Citoyens, une spectaculaire pancarte-géante avec "7 engagements" pour les Elections Européennes du 7 juin, auxquels figure aussi l'engagement de "s'opposer à l' adhésion de la Turquie dans l'UE".

     - "Parcque ce respet des engagements est une exigence si nous voulons rétablir la Confiance entre les Responsables Politiques et les Citoyens", conclua Fillon, la veille de ces Elections Européennes de juin 2009, après les Abstentions Majoritaires de 1999 et 2004, suivies de 3 "NON" à 3 Euro-Réferenda dépuis 2005, (dates auxquelles, quelques gouvernements du Passé, avaient donné le statut d'un "Candidat" et commencé des "Négotiationa d'adhésion" avec la Turquie, suivies d'un blocage sans précedent de l' édification européenne)..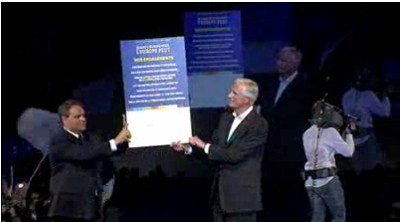 "Nore Europe n'est pas n' importe quelle Europe : L' UE Technocratique n'est pas la nôtre. ... L' UE sans Frontières n'est pas la notre. L' UE desincarnée n'est pas la notre". "Nous portons une idée de l'Europe" qui "n'est pas celle des Statistiques et des Bureaux(crates). L'Europe ce n'est pas qu'une Monnaie. Ce n'est pas qu'un Marché. économique".

- "L' Europe c'est d'abord une Culture. L'Europe c'est une Histoire", a-t-il dit, largement applaudi.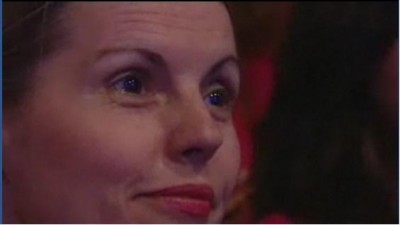 "L'Europe c'est une rencontre entre des Nations qui sont Millénaires et qui sont Brillantes. L'Europe c'est Paris. C''est Madrid. C'est Prague. C'est Londres. C'est Rome. C'est Varsovie. C'est Berlin. C'est Vienne. C'est Athènes : Quant on énonce ces Villes, alors on "sent" nos Héritages et nos Cultures entremelées qui circulent dans nos veines".

    - "Je suis Européen, parcque profondément Français, je sais ce que je dois aux influences de l' Atlantique et de la Méditerannée. J'aime ces Traditions qui offrent à chacun des nos Nations leur éclat. .. J'aime ses saveurs, ses paysages divers. Ils sont également miens, ou, plus précisement, je suis également fait d'eux. Je suis Européen, car, Français, j'aime l' Europe ouverte vers l' Amérique, vers l'Orient, vers l' Maghreb. J'aime les quais de Vénise, ceux d'Amsterdam. J'aime les quais de Thamise où sont vénues pendant des siècles s'amasser les richesses et les nouveautés du Monde. J'aime l' Europe curieuse. L'Europe qui rêve des lointains : L' Europe de Vasco de Gama, de Magelan. de Bougainville, de Charcot, de Monot... Cette Europe qui, aujourd'hui, s'élance vers l' Espace. Je suis Européen parce que Français, j'aime l' Europe qui prospère et qui invente. J'aime l' Europe des Trains à Grande Vitesse. J'aime l'Europe des Satellites et des Fusées. L'Europe de la Mode et des Atéliers d' Artistes. L'Europe des Grands Laboratoires, des Ingéniers. des Entrepreneurs, des Grands Architèctes, des Traditions Ouvrières. Comme rançais, j'aime l' Europe qui dit "NON" à la Tyrannie et qui se soulève à l'appel de la Liberté", a-t-il dit en

 
"Je me sens lié à ces femmes et ces hommes sans nom, qui ont levé la tête, et qui ont sécoué le joug sous lequel .. on les avait fait pliér", dit-il en évoquant pex.. la Révolution Française de 1789, le Siècle des Lumières, l'appel du Général de Gaulle contre l'Occupation NAZI, et les pires heures obscures qu'un  "Fascisme" ou "Communisme" devoyés, suivies de la Guerre Froide avaient plongé l'Europe au Passé.

"Ils sont des millions, ces Héros Anonymes de notre temps, que nous croisons sans le savoir dans nos rues et nos places. Et je ne peux pas concevoir l'Europe sans eux, et sans tous ceux qui poursuivent leur combat contre l'arbitraire et le fanatisme", ajouta Fillon. Faisant pex. rappeler un récent Film allémand, primé au Festival de Vénise, qui décrivait la vie d'un cadre à l'époque d'un régime oppressif, qui avait été chargé d'espioner la vie privée et familiale d'un couple soupçonné d'être dissidents politiques, mais, ému par leur honnêteté humaine et leur sacrifice pour sauver d'autres, a preferé risquer sa place et sa propre liberté pour les sauver, sans même qu'ils le sachent, condamné dépuis à faire un bas boulot d'anonyme perdu dans la foule..


"Quand je vois l'Europe moderne, je vois les résultats de l' Audace de ces hommes qui ont brisé les traditions de conflit et de violence. Je vois des nations soudées autour d'une monnaie unique et protectrice. Je vois 27 jeunesses appelées de grandir ensemble, sans défiance. Je vois 27 peoples unis, qui nous interdisent de jouer les blazés ou les indifférents".

Jettant "un régard lucide sur les errements de la construction européenne", Fillon a observé que "l' Europe n'a pas bésoin d'être idélisée pour être ce qu'elle est ; Cad. une aventure humaine, avec ses faiblesses et ses forces".

"Vous voulez que l' Europe agisse ? Fixez-lui des objectifs clairs. Vous voulez la Démocratie ? Agissez en Citoyens. Vous rédoutez la prétendue Bureaucratie des Bruxelles ? Alors renforcez, par votre Vote, les instances élues au Parlement Européen" qui sont chargés de la contrôler.

- "Si nous voulons faire vivre "le Rêve Européen", .. alors nous avons tous le dévoir de l' engagement", a-t-il conclu, appelant de "engager pour le drapeau tricolore et le drapeau étoilé, car ils symbolisent tous les deux la fierté de nôtre nation et la force de nôtre union".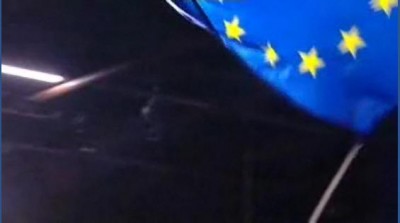 Polls