Αρχική

newsitems

Papandreou to "EuroFora" on Sarkozy - Merkel's statements about the issue of Greece's Economy
Papandreou to "EuroFora" on Sarkozy - Merkel's statements about the issue of Greece's Economy
Friday, 11 December 2009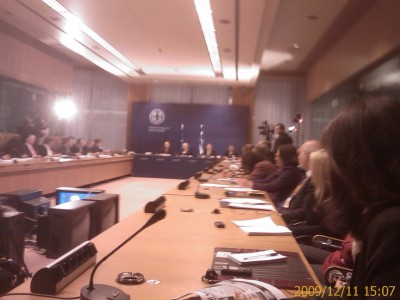 *Brussels/Angelo Marcopolo/- Prime Minister of Greece, Georges Papandreou, replying to "EuroFora"s questions on French President Sarkozy and German Chancellor Merkel's statements on the Economic problems of the country, stressed that he intends to struggle against deep-rooted issues, and welcomed their trust that Greece could succeed, with EU's help, to find its own ways to overcome problems steming from a long Past.
    "EuroFora"'s question to George Papandreou referred to the statements made by German Chancellor Merkel when we were in Bonn, (See "EuroFora" Newsreport :http://www.eurofora.net/newsflashes/news/merkelbonn.html), and now also by French President Sarkozy in our presence in Brussels, where they expressed their support to the first measures announced by the Prime Minister of Greece, and their trust in his promisses.   
 George Papandreou was asked by "EuroFora" to comment on the fact that important EU leaders of big EuroZone Countries, from another Political side than his, i.e. ChristianDemocrats du EPP, instead of Socialists, made such positive, in, principle, and supportive statements, , and whether he found that the crucial character of the issue pleaded in favor of a kind of national unity between all political tendencies in Greece who sincerely wished a better future for the country.

    On this occasion, "EuroFora" also asked him if he found useful, or even necessary, a kind of "concertation", at European level, together with Eurropean organisations and relevant Countries.
-------------------------
    Earlier, Sarkozy, replying to a question during his final Press Conference at the conclusion of Brussels' EU Summit, observed, initially, that "it's true that Greece is in front of é major difficulty". So, "it's necessary that the Greek AUthorities prepare an Ambitious Strategy".

    He found that "the Measures anounced by the Greek" PM, "are a step in the good direction", while "waiting to prepare soon, in close cooperation with the (EU) Commission, all measures needed for a sustainable restoration of the Budgetary Statistics'" , and that "the Prime Minister assured us of his Will and Intentions".
---------------------
     The  Prime Minister of Greece replied to 2 our of 3 "EuroFora"s questions, and even reacted affirmatively to an earlier critical observation by "EuroFora", but either ommitted or forgot to reply on another (3rd) of our points :

    - "Leaders of other (EuroZone) Countries respect the will and the efforts of every Government, and of every People, to set a framework able to settle such problems. "EuroGroup" itself issued (earlier) a statement that the anounced measures are a step in the right direction, but that, of course, more is needed" We are trying to find Greek answers in a European context.

    "A real problem would be if we didn't recognize the problems, and we would have diffiiculties to convince if we simply said that we shall continue almost as usual, if we didn't have our own, concrete proposals";

    - "Our Credibility is linked to the fact that we want to tackle more Deep-rooted, more Crucial issues, and seek more Sustainable Solutions, which can advance much further on, for the amelioration of the Economy of Greece, and take more Radical measures than to simply cut today a Salary of Retirement benefits to some People : This wouldn't really help to make the Greek Economy sustainable, and wouldn't respond to the Monetay problems". In fact, there are also other problems in the Country, which are more important than that, and it's these, Harder and more Difficult problems, which play an Important role for the Future, that we must tackle". Such issues are, for me, a more Radical and more Deeply penetrating way to act, than to simply cut a salary or a retirement benefit", Papandreou's reply to "EuroFora" stressed.

    Significantly, the Prime Minister of Greece referred also explicitly to the manifold negatve consequences which were provoked to the detriment of the Country's Economy by a recurrent phenomenon of "'Clientelism", favoritism and nepotism, "Corruption and Bureaucracy", which had also anti-democratic, anti-social and counter-productive repercussions for several Decades, that "EuroFora" had, precisely denounced in our relevant Publication issued just 1 Day before Georges Papandreou reacts, as above, to our questions in a well-attended  Press Conference late after the conclusion of EU's Summit in Brussels.         (See :    )

    Had he (or someone among his assistants) read "EuroFora"s criticism, precisely, of what  he called himself the plague of "Clientelism" which had undermined EU and EuroZone member, contemporary Greece's potential ?

    Regardless of that, Papandreou at least told ys that he "remembers" well the Interviews and Publications that "EuroFora"'s main founder used to make in the Past out of his previous Political Statements, as simple former Minister for European affairs, more than a ...Decade earlier in Strasbourg, particularly when Greece had chaired the CoE (+ 1998)..

***

BRIEF NEWS
00:00 - 18.10.2020

00:00 - 19.06.2020

00:00 - 18.05.2020

00:00 - 20.04.2020

00:00 - 02.02.2020

00:00 - 09.12.2019

00:00 - 27.11.2019

00:00 - 16.11.2019

00:00 - 28.10.2019
Statistics
Επισκέπτες: 40462525
Archive
Login Form
Other Menu
Πρόεδρος ΕΔΑΔ : Δεν προχώρησαν τ Ανθρώπινα Δικαιώματα στα Κατεχόμενα (στη Δεκαετία "υποψηφιότητας" Τουρκίας στην ΕΕ : 1999-2008)...
+ Ξεκάθαρες οι Αρχές της Νομολογίας ΕΔΑΔ για την Κύπρο, μας τόνισε ο Πρόεδρος ΕΔΑΔ, εκφράζοντας Ελπιδα για Ειρηνική Λύση στη βάση τους, όπως και το Ψήφισμα ΚΣΣΕ
Κυπριακό : "Προβλημα ΜΑΖΙΚΩΝ ΠΑΡΑΒΙΑΣΕΩΝ Ανθρωπίνων Δικαιωμάτων"
>>> Τουρκία : ΡΕΚΟΡ Παραβιάσεων Ανθρωπίνων Δικαιωμάτων την Δεκαετία αμφιλεγόμενης "Υποψηφιότητας" στην ΕΕ (1999 2008)
(+Απαντήσεις που μας έδωσε ο Πρόεδρος ΕΔΑΔ σε σχετικές ερωτήσεις μας).
-------------------------------------------------
* Στρασβούργο/ΑΚΜ/ 14 Οκτωβρίου 2008/
--------------------------------------------------
Λύπη. γιατί καθυστερεί εξαιρετικά η αποκατάσταση Ανθρωπίνων Δικαιωμάτων στην Κύπρο στα Κατεχόμενα, αλλά ελπίδα για Λύση στη βάση ξεκάθαρων Αρχών της Νομολογίας ΕΔΑΔ, όπως ζητά πρόσφατο Ψήφισμα ΚΣΣΕ, εξέφρασε ο Πρόεδρος Ευρωπαικού Δικαστηρίου Ανθρωπίνων Δικαιωμάτων, Ζαν Πωλ ΚΟΣΤΑ, σ απαντήσεις ερωτήσεών μας στο Στρασβούργο, όπου αποκαλύφθηκε κι ότι η Τουρκία κατέχει ΡΕΚΟΡ από καταδίκες για βαριές παραβιάσεις στη δεκαετία της αμφιλεγόμενης "Υποψηφιότητάς" της στην ΕΕ (1999-2008) :
Η Κύπρος, όπου συνεχίζεται η Τουρκική κατοχή, είναι η μοναδική περιοχή στην Ευρώπη όπου "είναι σαφές ότι τ Ανθρώπινα Δικαιώματα ΔΕΝ ΠΡΟΧΩΡΗΣΑΝ αρκετά" τα τελευταία 10 Χρόνια, έστω κι άν δεν υπάρχει πλέον εμπόλεμος κατάσταση, όπως τώρα μεταξύ Γεωργίας και Ρωσίας, αλλ "αντίθετα, πρόσφατες Ελπίδες για Ειρήνη κι επανΕνωση της νήσου", είπε ο κ, Κόστα, υπενθυμίζοντας και την πρόσφατη "επίσημη επίσκεψή" του.
Αλλά "η Νομολογία ΕΔΑΔ έχει θέσει ξεκάθαρες και καλά εμπεδωμένες αρχές" για την Κύπρο, "Πχ. είναι σαφές ότι, όπως είπαμε, η "ΤΔΒΚ" δεν είναι ανεγνωρισμένο κράτος σύμφωνα με το Διεθνές Δίκαιο. Αυτό το είπαμε επανειλημένα", τόνισε ο Πρόεδρος του ΕΔΑΔ.

"Ελπίζω να βρεί τελικά η Κύπρος σταθερή Ειρήνη και να μήν χωρίζεται πλέον απ την "Πράσινη Γραμμή" που είναι ένα είδος "Τοίχους του Βερολίνου" μ εθνικές διακρίσεις", πρόσθεσε,

"Δεν εναπόκειται σ εμάς (ΕΔΑΔ) να μπούμε σε λεπτομέρειες για Ομοσπονδία, κα", εφόσον "έχουμε θέσει τις βασικές Αρχές" γι Ανθρώπινα Δικαιώματα.

"Δεν μπορώ να πώ τί είπαμε με τον κ. Χριστόφια και τον κ, Ταλάτ" πρόσφατα στο Στρασβούργο, "αλλ απ τις συζητήσεις μας προέκυψε σαφώς ότι πρόκειται για χαρακτηριστικό πρόβλημα ΜΑΖΙΚΩΝ ΠΑΡΑΒΙΑΣΕΩΝ, που πρέπει να διευθετηθούν και σε γενικό, πολιτικό επίπεδο, μέσα σε μια Ειρηνική λύση".

Βέβαια, "η κατάσταση στην Κύπρο είναι περίπλοκη : Στις γνωστές προσφυγές ΕΚων κατα της Τουρκίας, τώρα προστέθηκαν και κάποιες προσφυγές ΤΚων εναντίον της Κύπρου", περιπλεκοντας το θέμα των περιουσιών, όπως είπε για την σπάνια υπόθεση Σοφι, όπου προβλέπεται Ακρόαση Γενάρη 2009.

Αλλά "δέν είναι τόσο εύκολο να σπρώξει κανείς το ΕΔΑΔ", μας τόνισε εν τω μεταξύ κι ο Διευθυντής της Γραμματείας του, Ερικ ΦΡΙΝΤΜΠΕΡΓΚ σ απάντηση ερώτησής μας για φόβους ότι θ ασκηθούν πιέσεις έξωθεν για να κάνει παραχωρήσεις στην Τουρκία,,

"Το ΕΔΑΔ δεν έχει αρκετά μέσα για να λύσει εκατοντάδες ή Χιλιάδες υποθέσεις", αλλ "όταν επαναλαμβάνονται οι προσφυγές ένεκα και μή-εφαρμογής των αποφάσεων ΕΔΑΔ", "αυτό θέτει θέμα ευθύνης του Κράτους για το οποίο πρόκειται", απάντησε ο Πρόεδρος του ΕΔΑΔ σ άλλη ερώτησή μας.

"Σε περίπτωση δε καθυστέρησης εφαρμογής, θα μπορούσαμε να καταδικάσουμε σ αποζημίωση υπερημερίας", συμφώνησε ο κ, Κόστα. Ενώ, σε περίπτωση που έχουν "παγώσει" κάμποσες υποθέσεις, αναμένοντας από ένα Κράτος να εφαρμόσει μια "πιλοτική" απόφαση ΕΔΑΔ που θέτει γενικές αρχές για όλες, (όπως εγινε και για ΕΚους πρόσφυγες με την υπόθεση Ξενίδη Αρέστη), τότε, το υπεύθυνο Κράτος "έχει υποχρέωση να παράγει αποτελέσματα πχ. σε 2 η 3 χρόνια. Ειδάλλως θα ξεπαγώσουμε κάμποσες υποθέσεις", προειδοποίησε την Τουρκία ο Εκπρόσωπος Τύπου ΕΔΑΔ, Ρόντερικ ΛΙΝΤΕΛ,

Εν τω μεταξύ, νέες Στατιστικές ΕΔΑΔ αποκάλυψαν ότι η Τουρκία έρχεται 1η από 47 χώρες ΣτΕ σε καταδίκες για βαριές παραβιάσεις Ανθρωπίνων Δικαιωμάτων στη Δεκαετία 1998-2008 : Οπως Ανθρωποκτονίες (171 καταδίκες, έναντι 82 για Ρωσία, 15 Βουλγαρία, 13 Αγγλία), Βασανιστήρια κι Απάνθρωπες-Ταπεινωτικές μεταχειρίσεις (192 καταδίκες, αντί 107 Ρωσία, 37 Βουλγαρία, 32 Μολδαβία, 11 Ελλάδα), Στέρηση Ελευθερίας (325 καταδίκες, έναντι 190 για Πολωνία, 176 Βουλγαρία, 127 Ρωσία), καταπίεση Ελευθερίας Λόγου (161 παραβιάσεις, έναντι 39 γι Αυστρία, 13 για Γαλλία και Μολδαβία), στέρηση Περιουσίας (444 καταδίκες, έναντι 286 Ρωσία, 270 Ιταλία), κα.

Αλλ "άν υπάρξει θέληση από Κράτη και Κοινωνία, τ Ανθρώπινα Δικαιώματα δεν θα παρακμάσουν στον 21ο αιώνα. Αντίθετα θα προοδεύσουν". Χρειάζεται "νέα ορμή" για "υπεράσπισή τους, με συνεχή επαγρύπνηση", κατέληξε ο κ, Κόστα σ άλλες δηλώσεις του νωριτερα στο Στρασβούργο.


Polls