Accueil

newsitems

CoE: OSCE Chair, German MFA Steinmeier on Minsk Peace process for Ukraine eve of EU Summit on Russia
CoE: OSCE Chair, German MFA Steinmeier on Minsk Peace process for Ukraine eve of EU Summit on Russia
jueves, 13 octubre 2016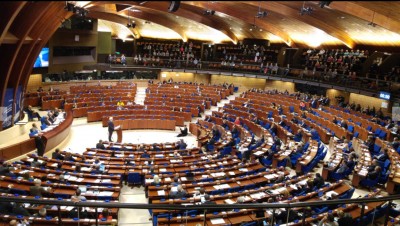 *Strasbourg/CoE/Angelo Marcopolo/-  CoE has an Important Role to play, particularly on East-West Dialogue","including Parliamentarian", stressed on  occasion of Russia, German Foreign Minister, Günter SteinMeier, speaking in the Exceptional Absence of any Russian MEP, since Mosciw was incited to Leave CoE's PanEuropean Assembly, by a controversial Minority's manoeuvers, which exploited the Pretext of the notoriously Provoked Tragic Division of Ukranian People, back on 2014, (See :...).

However, he Dismissed Both the Views of those who Find that Europe is Dangerously Leaning Back to a Cold War Era of the Past, and of those, who, on the Contrary, might be Nostalgic of a Dissuasion-based Stability that partly existed when the whole World was Shared Between 2 SuperPowers, at Washington or Moscow.

Today's real Situation is Not the Same, he Warned, evoking, inter alia, some "Emerging" New Factors, (without Clarifying Explicitly if he meant, f.ex. China, perhaps Iran, or even the Differend, Atypical Risks of ISIS' spreading Islamic Terrorism, etc), and, therefore, he Urged to Keep "Chanels of Dialogue" with Russia always Open, Waiting also for the moment when the "Conditions for the Return" of Russian MEPs in the PACE would be met, as he said.

--------------------------------------

+Speaking in his Double Identity, at the same time as OSCE Chairman in office for 2016,  Steinmeier, went concrete, Today, on the state of play for Minsk Agreement Implementation efforts.

He arrived shortly after French President Hollande's official visit, earlier this week in Strasbourg, during PanEuropean, 47 Member Countries strong, CoE's Parliamentary Assembly's plenary Autumn 2016 Session (10-14 October 2016), and just Before a possible, forthcoming, Trilateral or Quadrilateral, "Normandy 4" format (Germany, France, Russia, Ukraine) Summit in Berlin, eventualy for Thursday Next Week, (on 19/10/2016). I.e. Eve of a forthcoming EU Summit in Brussels, due to examine also relations with Russia, (20+21/10/2016).

----------------------------------------

In fact, currently, -"We (Germany+ OSCE's rotating 2016 Chairmanship) are doing all we can to Ensure that the Vonflict in Eastern Ukraine does Not Escalate. We are doing all we can with a view to Finding Solutions, and I hope we will be supported in that", Steinmeier advanced, in one among a Series of Replies to various relevant Questions by MEPs.

- "There is No Alternative" to "the Minsk Agreement" (brokered by a Quadrilateral Summit in Bielorussia, on February 2015, which had dressed a Series of Concrete Targets, a RoadMap towards Peace, and even an Initial TimeLine in order to achieve them, up to a Comprehensive Settlement of the Ukranian crisis), he Repeatedly stressed.

In this regard, the German Government, stands as also several "Other Countries in Europe", which have, already, "roundly Condemned the Annexation of Crimea, and Russian Involvement in Eastern Ukraine", (as he desrcribed what Russia and others call, on the Contrary, as an overseas Teleguided "Coup" at Kiev, which Violently Reversed an Elected Government, slamed a Peace Deal which had just been Signed with the Opposition, in the presence also of 3 EU Foreign Ministers from Germany, France and Poland, launching afterwards Deadly and Destructive Military Attacks against the Population of Pro-Autonomy, Russian-Ethnic Regions of Donetsk/Luhansk, so that Crimeas People, who both Historicaly and Ethnicaly were almost always Russian, urged, with a Popular Referendum, their ReUification, Back to Russia, mutatis-mutandis almost as the former Eastern Germany had done with the Fall of Berlin Wall, back after 1989, by ReUniting Together with the former Western Germany, as Moscow Top Officials have repeatedly Claimed, even here at the CoE in Strasbourg).

-"But ...Politics is Not just about Statements – you have to Act", and, then, "it is Better and more Responsible to attempt to Appease the situation of Conflict in Eastern Ukraine, and attempt to find a Solution",  "and that is what we are doing", he explained.

- In fact, "We Need to ensure that All the Parties involved are brought around the Table" of Negotiations for Peace, the German Minister stressed, in this regard. Even "in our (Germany's 2016) Chairmanship of the OSCE (the most Engaged in Peace-Keeping efforts at Ukraine, nowadays), and ..(even)...when .... dialogue has been broken off, we have always striven to Ensure that Dialogue is maintained, in spite of the difficulties".

"In the context of our efforts to secure a peaceful solution to the Ukrainian conflict, I hope that we will be able to create ....the conditions for the Russian delegation to Return and take part in the meetings and work of (CoE's) Parliamentary Assembly", even if it might be done only "in the medium term", he estimated.

Because, concerning  "the conflict in Ukraine, ...Russia has a major contribution to make, not only to pacify the situation, but in the medium term to ensure a solution to the conflict".

In particular, "we are working through the Normandy format with France, Russia and Ukraine with a view to finding a Political Solution for East Ukraine, as laid down in the Minsk Agreements", Steinmeier pointed out.

At least, "I am doing my utmost to ensure that, despite the difficulties, we continue to try to ensure that the Individual Components of the Minsk agreement can be delivered".
In this regard :

- "a negotiated Cease-fire, ...has been Violated frequently, so we have to Stabilise it", the German MFA observed.

F.ex., "a couple of weeks ago, we managed to conclude a Disengagement agreement, initially in three Areas along the border. If that is fully implemented, we hope that it will take us a Step closer to a full cease-fire'.

- "Work on the Political strand of the agreement is more Difficult. It involves 3 different proposals for Legislation: the Amnesty law, the local Elections law, and the state of Emergency law".

"We are doing our utmost to bring together the different positions, although, so far, we have Not succeeded. We have to Continue working on this",

But, we "have already spent a great deal of time and effort on it", and, therefore, "I hope that we are Now in a position to do the Groundwork, which will enable us to move towards Agreement on legislation", he Optimisticaly estimated.

- "Once the legislation is agreed, we must then ensure the necessary Security conditions to allow Elections to proceed", Steinmeier added.

. "Again, that will require a great deal of work to convince the different parties to support it. For the time being", conditions are not in place, so we have to ensure that they are in the Finustre", he concluded.

--------------------------------------------

Burt, Meanwhile, it's a "Fact that the Divide between the East and the West, in the case of Russia, has grown", Steinmeier acknowledeged.

- "Many people say that we are reverting to a Cold War, or that things are reminiscent of the Cold War period".

+ And, it might be true, that "Division of the World into 2 parts, with 2 capitals Dominating world events, can help to Pacify conflict".

- "But I do not think that that is correct" Nowadays, Steinmeier criticaly pointed out.
>>> - Because, "the World of Today is Not the Same as the world of the '60s and '70s", he stressed.

 - In fact, "the World has Changed" : - "We No longer live in a world in which countries are orientated in the direction of Either Moscow, or Washington".

>>> - "Instead, the Modern World has seen a number of Protagonists Emerging, which renders the situation far more Complex". And this goes, "certainly when we think of Syria", Steinmeier observed, probably referring to ISIS' Islamc Terrorism Dangerous Spread, from the Middle East to Africa, and around Europe, as well as, even overseas, recently in the US itself, etc.

----------

 - Therefore, "Against (such) a backdrop of Growing Tensions, the role of the (Strasbourg HeadQuartered) Council of Europe is more important than ever", he stressed, Pointing particularly at its potential "as a Long Standing Partner in Dialogue, between East and West".

- "I am profoundly convinced that, in Difficult Times, we should Not Cut off the channels of Communication. It is important that we keep all these channels Open, including Parliamentary", the German Foreign Minister underlined, but withOut revealing How this should be done, as things stand since 2014.

----------------------------------

However, Steinmeier, (who is in his 2nd Coalition Government in Berlin with ChristianDemocrat/EPP German Chancellor Angie Merkel, openly Agreed with French President Hollande's acceptance of a 4rth PanEuropean Summit of CoE's 47 Heads of State/Government in the forseable Future, (notoriously expected to turn around a concept of "Democratic Security" now, and which will be the First to come Since the 2005 landmark Summit in Warsaw, Poland, which had Focused on Human Rights, Democracy and Rule of Law, endorsing the ReUnification of Europe then: Comp. "Eurofora" co-Founder's NewsReports from Warsaw, then, ublished at "TCWeekly"+).

But, interestingly, he Advanced his proposed Date, from that "2019" Year (of French CoE rotating Chairmanship), to which had, surprisingly pointed Hollande, much more Near Today: on "2017", as Steinmeier said, apparently prefering a much more Imminent Move.
(../..)


***


("DraftNews")


***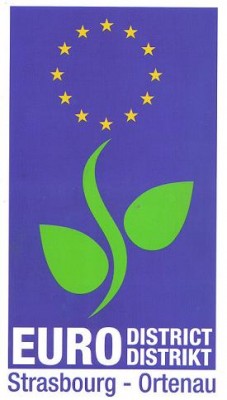 New Plan revealed during EU Parliament's session and while Strasbourg's Unified University was inaugurated, (biggest in France, aiming at EU links).
EuroDistrict Strasbourg-Ortenau's dynamics were boosted by a key Franco-German meeting during EU Parliament's session here, which anounced a swift towards ambitious European aims : To become a showcase for concrete achievements of European Cooperation that benefit Citizens' everyday life and Economy, while also developing a Culture able to serve and stimulate European Organizations' political activities.
With measures to be taken in 2009, Strasbourg-Ortenau's EuroDistrict should become EU's new "Metropolitan area" in the Decade 2010-2020, at the heart of Europe in the performant "OberRhein" region, a Franco-German Expert's Report anounced.
- "Defend European Institutions, and in particular EU Parliament" is a key point of the 2009 Report's threefold focus on "Infrastructures"' economy and quality, "Citizens' everyday life", and "Cultural and Political influence".
According to a Draft Statute, France and Germany agree that "an undeniable element of EuroDistrict's image" should be "Strasbourg's status, as Capital of a Democratic and Parliamentarian Europe".
    After parallel and joint meetings at EU Parliament, French and German Ministers for EU affairs, Bruno LE MAIRE and Gunter GLOSER, started working with representatives of Local and Regional Authorities from both sides at Strasbourg's Historic Town Hall, Place Broglie, for the 2009 Monitoring of EuroDistrict "Strasbourg-Ortenau, during which was published an important Experts' Strategic Study with proposals on how to develop it in the Decade 2010-2020.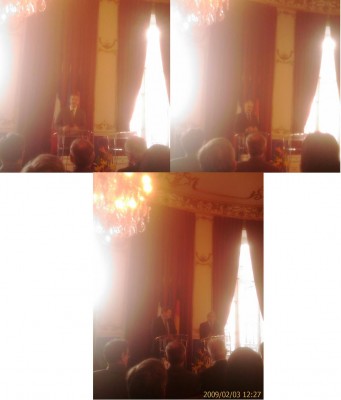 Introducing the 1st Experts' Report on "EuroDistrict" at a moment when it needs "New Ideas" as food for thought, Strasbourg's Mayor, Senator Roland RIES said that "a special Status" should allow "Citizens to share Infrastructures and a common European project", in agreement with his collegue, Mayor of Kehl and German spokesperson for EuroDisctrict, Dr. Gunther PETRY, who focused mainly on the useful role of "Local" authorities in "concrete" achievements.
    - Together with "facilitating Citizens' everyday life", "our countries have also a Political aim", which needs to find "New Forms of Cooperation", said German Minister for EU affairs, Gunter GLOSER. According to a "Subsidiarity principle", which starts from a smaller level, leaving to a bigger entity what it cannot achieve alone, EuroDistict should be the "1st level" in a "Concentric" schema, he added.
    - In fact, "it's a question of Europe's credibility : EuroDistrict must prove that Franco-German cooperation gives results", with "concrete achievements", said the new French Minister for EU affairs, Bruno LE MAIRE. Now, we "must advance further" : There is both "Local and National support" to make of Strasbourg-Ortenau's EuroDistrict "an example on what Europe must do in the Future if it wants to be credible in Citizens' eyes".
    - "Our Mission was to find the region's Potential of the region, "and search adequate Measures to use and develop it"; said German Expert Dr. Erwin VETTER. A main proposal is to "create a New Center for EU Competences", where everything should be concentrated : EuroDistrict, EuroCorps, EuroBest, etc : All in one area, while also linking Airports and other means of Transport, Culture, Education, Science and Research, etc. in order "to create 1 Metropolitan area" before 2020, he anounced.
    - With imagination and organisation "we tried to marry the French and German spirit", added French Expert Bernard COTTIN. He underlined "two points" :  - "In their Everyday Life, Citizens should feel that they are living in One Common Area", (fex. on Phones, Hospitals, Retirement, etc). But EuroDistrict should have also a "Cultural Dimension" : "Strasbourg, had been a little-bit left behind by both countries in the past, but must now find a New dynamic Momentum, at the Heart of Europe, strengthening its Cultural atous and becoming Multi-Cultural, in order to attain a European Dimension and develop the European Institutions", he concluded.
    Symbolically, both Mayors of Strasbourg and Kehl, Ries and Petry, gave to Ministers Gloser and Le Maire as a Gift two Books on Rhine River : Stylicised by both Logos chosen for "EuroDistrict" (as body of a flower), and for Strasbourg's new, Unified University, "UniStra", (as a long "S"), Rhine river came at the focus this week in Strasbourg, headquarters also of the oldest European Organisation : The Committee on Rhine's Navigation.. Meanwhile, Le Maire switched over from German (that he speaks fluently) to French, echoed, the other way round, by Gloser, who also understands French...
---------------------------------
The 2009 REPORT :
---------------------------------

Experts' proposals for EuroDistrict's Legal status is to start in 2009 with a "European Group for Transborder Cooperation", and "replace it, when possible, .. with an Original Form" of a new legal entity.                                                                                                                                                                                                                                                                                                                                                                                                                                                                                                                                                                                                                                                                                                                                                                                                           
Citizens' oriented measures include to facilitate "acces to Health", "Mobile Phones", "Transborder Workers"', "School exchanges", etc., and other measures interesting Citizens, as f.ex. the creation of "Common Hospitals or Rescue centers", etc. Already, an agreement on "Urgent Medical Care" will be signed on February 10.
As "Economic Capital" of one of EU's most performant areas, known as "Ober-Rhein Metropolitan Region" ("superior Rhine" area), Strasbourg-Ortenau's EuroDistrict "should also develop its role of European Cultural and Political Capital, Symbol of Franco-German entente and of a Democratic Europe", Experts' Report concludes.
This goes well beyond developping Bi-linguism, transbrorder Training and "systematic" rapprochment of both Cultures (in Cinema, Theater, Music, etc).
It adds a progressive transfert in EuroDistrict of "elements of the Franco-German Brigade", close to "EuroCorps" Headquarters, and culminates with the promotion of European institutions (see above).
The Report also proposes to launch an "initiative" for "EU Parliament's unique Headquarters", developing Strasbourg's attractiveness vis-a-vis MEPs and staff.
It also includes the development of "a Research and Higher Education pole", among French, German and Swiss partners, "linked with Strabourg's new; Unified University" and "Ortenau's HochSchulen"
It's not a coincidence that this same week was inaugurated Strasbourg's Unified University : - "UniStra" becomes the Biggest in France, (with more than 42.000 students, 5.200 staff, a brand new "European Doctoral College", some 100 Research centers, and a Capital of more than 400 million €  from the State), aiming to create closer links with nearby German and Swiss Universities, fex. Karlsruhe, Fribourg, Stutgard, Bale, etc, as French Minister for Scientific Research and Higher Education, Valerie PECRESSE advised.
(See other, related News, already sent to interested "EuroFora"s subscribers and donors, which will be also posted at the Website asap).
Last but not least :  Non-believers should meditate on the fact that all this was symbolically made in the same Strasbourg Historic Town Hall's room where even the establishement of Council of Europe was decided, 60 years back in 1949...
Polls