Haupt

newsitems

Mueller's Shady Links to 9/11 are Worse than initially thought...=> Phoenix Memo + Whistleblowing ?
Mueller's Shady Links to 9/11 are Worse than initially thought...=> Phoenix Memo + Whistleblowing ?
Wednesday, 11 September 2019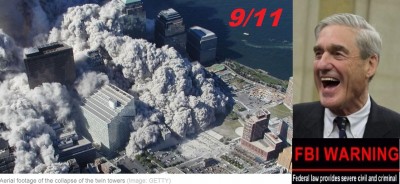 *Strasbourg/Angelo Marcopolo- Recently, World-Famous WhistleBlower Snowden spontaneously Laughed and aknowledged his ignorance but also interest on 1 among 2 Questions raised by "Eurofora", at a CoE's Public Hearing in Strasbourg, about Attorney Mueller's Investigations on US President Don Trump, having apparently Durated, Not just More than 2 Years, Nowadays, between 2017-2019, i.e. concerning an alleged "Russian Interference" in the 2006 US Presidential Election, But, perhaps, ... "almost 20 Years", i.e. Since the 9/11 Terrorist Massacre of about 3.000 Innocent Civilian People back on 2001, given the Fact that the FBI, that he was Directing then, had reportedly Tracked and Spied upon All those who had Dared Criticize Key points in the Official Version of 9/11, (as, mainly, that of WTC Towers' Total Vertical Implosion, Transformed into Clouds of White Powder of Particles, strikingly SImilar to "Controlled Demolitions"), including Trump, who was, then, among those Critics, (given also his Professional Experience in Big Buildings), as a 2001 Video proves, (See: http://www.eurofora.net/newsflashes/news/snowdenlaughonlongmuellerspyingtrump.html + http://www.eurofora.net/newsflashes/news/snowdenfriendshelpwhistleblowers.html, etc).
+ That 2019 Reminder of Trump's critical appraisal of a Key Issue in 9/11, was allegedly  re-Launched Even during the 2016 Electoral "Presidential Campaign trail", when Trump reportedly promised to an audience : -"You Will Find out Who Really Knocked down the World Trade Center, because they have Papers in there that are very Secret. ... But you Will Find out"...

=> Soon After those events, Suddenly, during the Rest of 2019, a Series of Publications Accusing Mueller to have practically Hindered Free and Full Investigations on What Really Happened on 9/11, Back on 2001, Started to Pop Up, Raising Serious Questions on his Heavy Responsibilities as FBI Director when the 9/11 Tragedy occured...
>>> But, more and more Facts Reveal that various Shady, Suspect, UnAcceptable, or even Scandalous Moves by Mueller around 9/11, are Much More and Worse than initially thought ! To the point that a Full, Transparent and Efficient Investigation on the Real Role that this too Controversial Former FBI Head played in fact vis a vis USA's most Horrible Massacre of some 3.000 Innocent Civilian People, which notoriously Marked World's History also by its Wider Consequences, has Now become a "Must"...
---------------------------------------------------------------------
Inter alia :
* A notorious "Deep State" member, Mueller, Curiously, was one of "the Few" (3) "CLINTON's USAs" (Attorneys) to Exceptionaly Not be Fired by Bush, while "All 93 Others were Massively Fired already Since January 2001 : Among the Few Not asked to immediately Resign are Robert Mueller, the US Attorney for the Northern District of CALIFORNIA, ... and Mary Jo White, the US Attorney for the Southern District of NEW YORK"; who remains in her post until 2002. ...Justice Department official Kyle Sampson will write in an internal email (on 2002): "[President] Clinton fired all Bush USAs in one fell swoop; ...described to me as 'have your offices cleared out by the end of the week !' We fired all Clinton USAs (except Mueller + Warner), but ...permitted Some to stay on." [CNN, 2/16/2001; US HOUSE OF REPRESENTATIVES, COMMITTEE ON THE JUDICIARY, 4/13/2007; ...BIOGRAPHY, 2013].
-----------------------------------
* Mueller has personally Profited from the Anti-Russian Hysteria, already on 2001, by UnExpectedly taking the place of former Long Time FBI Director Louis Freeh, when he was Suddenly pushed to Resign for undisclosed reasons, but reportedly "Criticized" for the case of an FBI Agent, Robert Hanssen, "accused of working with Moscow".
+ It's probably, also that Same Anti-Russian Hysteria, of US Deep State, which seems to have pushed Mueller to Scandalously Neglect (if not even Undermined) a Key Warning "Memorandum" by Phoenix FBI Agent Ken Williams, based on concrete Findings mainly about a "Chechnya"-related Islamist Radical, who had Vainly Foreseen the way that 9/11 Terrorists were Preparing to Attack and Kill about 3000 Innocent Civilian People in the USA, Later on, Making Recommendations on how to Prevent that, (See Infra).
----------------------------------------------
* And his Choice, by Controversial former Deputy Attorney General Rod Rosenstein on 2017, (Later Fired by President Trump), in order to be Appointed as Investigator for alleged Russian "Interference" in the 2016 US Presidential Election, looks as an Exchange of (personal) Services, since Rosenstein himself had been initially Recruited at the Attorney's Office, by Mueller, in the Past...
* During his Career, Mueller Worked mainly in San Francisco, California, from 1973 until 1982, and, Later-on, from 1998 up to 2001, as well as in Boston, from 1982 until 1989, and from 1993 to 1995, i.e. during the Greater Part of his Active Life. Both are known as Headquarters of Big "BIO-Pharma" Companies or Research Centers and relevant Lobbies of Interest, who Notoriously over-Funded Obama's 2008 and 2012 Electoral Campains, but were, Already at Odds with Conservative former US President GWBush, who Prohibited Federal Funding for Controversial and Dangerous Genetic Manipulations of Human Embryos, on mid-August 2001, i.e. less than a Month Before September 11..., (and Vetoed Twice, after his UnExpected 2004 ReElection, Opposite Bills send by the Congress). But Obama Re-Established that, with the First big Measure of his Presidency, on March 2009, and this was particularly Praised by California-based private Labos.
+ In Addition, Mueller has been Also Criticized for alleged Cover-up of the Real Origin of "Anthrax" Threat Letters notoriously send around 9/11 to Top Political US Personalities, which Appeared to come from some Islamist Extremists, But for which, an FBI Team reportedly Suspected 2 Top "Bio-Weapons" Technocrats, William Patrick and Ken Alibek, related to "Purified" Anthrax to an Extent Incompatible with the ersatz versions accessible to simple laymen. Mueller's intervention reportedly consisted into Suddenly Dismissing that initial FBI Investigation Team, and Replacing it by anOther, which allegedly "Burried" that matter, by Diverting Attention Elsewhere.
++ Moreover, when a person Named Mohammed Atta, (as the notorious Ring-Leader of the 9/11 Airplanes' Hijackers), appears inside the WTC at New York, on 10 September 2001, reportedly Suspected to have "Programmed the Towers' Location into a GPS system", as one Recently Bought by the 9/11 Ring-Leader, "Because ...the Hijackers were Too InExperienced to Handle the AirPlanes withOut Any Help", Mueller's FBI, and aparently himself personally, Finally Dismiss that Issue, Simply because that Person would be merely an Homonymous to the Real Terrorist RingLeader Atta, and particularly "a Distinguished ...GENE-Specialst (sic !) at Johns Hopkins University Hospital", (withOut even Considering the Fact that this, Instead of Excluding any risk of Complicity, on the Contrary, Might have given a possible Motivation to Facilitate those Mass Murders, due to Hit GWBush's America, just 1 Day Later ! (Comp. Supra)...
+++ Among the 3 Airplane Hijackers who came Earlier to the USA, settling in California's (Bio-Tech Headquarters) San Diego, after Los Angeles, and before entering the AirPlane which Crushed at the Pentagon on 9/11, in Addition to the "Pilot" of that Plane : Hani Hanjour, (See Infra), one : Khalid Almihdhar, appears particularly Important :
- Earlier, he reportedly "Travels to Various Countries in Asia", even in Europe, to Germany (Frankfurt); he is in Malaisia during an Important Collective Meeting of Radicalized Islamists; he Warns his Cousin, in Mecca, that "Osama bin Laden is planning 5 Attacks on the US";  and seems to "Coordinate the Arrival of Other "Muscle" Hijackers", including "their Travel ...from Abroad"; Returning from Saudi Arabia "Only AFter All the Other Hijackers had Arrived", (etc).
>>> However, Mueller will be Strongly Criticized for having, reportedly, Hindered (even Top US Congressmen : See Infra), to Know, and later, curiously, Covered up, all their California Contacts, (See also Infra). Even when Almihdhar flies Earlier to Germany (Frankfurt), - where Dangerous Organisations, including Al Qaeda, reportedly had "Safe Haven" until then, -  the German Police is Not Informed by the CIA about its Suspicions, so, it "Fails to Monitor" him, "and another Chance to (Timely) UnCover the 9/11 Plot is Missed".
A Recent 2019 "Lawsuit" by 9/11's Victims reportedly Claims that Mueller would have done that in order to Cover the Saudi Government. But all California Contacts were not Saudis, and, at any case, this, obviously does not explain even the above-mentoned case of the German Police in Frankfurt....
--------------
* Mueller's Strange Reluctance to unviel 9/11 Suspects' Contacts in California (Comp. Supra + Infra), was Not Limited just to Saudis, as most Medias claim, But seems to have Hindered Investigations also on Other, Various Leads, including, f.ex. a group of Qataris, who acted there suspiciously until 9/11, but, apparently, were Not really Investigated Before ...2010, i.e. about a Decade Later !
Indeed, according to a 2010 send "Secret American Goverment Document, obtained by ..."Wikileaks" ... and passed to (Mainstream UK Newspaper) "Daily Telegraph"', 3 Qatari "Suspected Terrorists" flew from London to New York, "Three Weeks Before the 9/11 Attacks", "conducted Surveillance on the Targets, provided "Support" to the Plotters (Hijackers), and had Tickets for the Flight to Washington" which later fell on the Pentagon. They allegedly spied "at the (New York's) WTC, the White House and ...where the Pentagon and CIA HQ's are located". Afterwards "they Flew to Los Angeles", where "FBI has Now Established" that their Hotel "was Paid by a "Convicted Terrorist", who also Paid for their Airline Tickets". "Hotel Staff ...saw Pilot Uniforms in their Room, along with computer print outs detailing Pilot Names, Flight numbers and times, and Packages addressed to Syria, Afghanistan, Jerusalem and Jordan". "On September 10 they were Booked on the American Airlines Flight from Los Angeles to Washington", a "Boeing 757 Aircraft, which was Hijacked the following day (9/11, as it returned from Washington) by 5 Terrorists, and Crashed into the Pentagon, Killing 184 People".
- "But They Failed to Board", and, "Instead, Flew Back to London ...before returning to Qatar".
=> They "were included on an FBI List of more than 300 people who were (simply) Wanted for Questioning in connection with the 9/11 Attacks, which was leaked in 2002". However, "at the time, the FBI stressed it was "Not a list of Suspects" (sic !), but Merely parties they thought might have Useful Information".
>>>  In consequence, "the Current location" of those "Qatari Suspects -named as Meshal Alhajri, Fahad Abdulla and Ali Alfehaid -  is UnKnown" nowadays.
+ "While in the US, they were Aided by Mohamed Ali Mohamed Al Mansoori", who "spent a Week Travelling with them to "different destinations in California". "The 9/11 Commission Report, (2004), states that at least 2 of the 9/11 Hijackers previously Visited (and) had a brief Stay in Los Angeles, about which we knew little", at that time.
>>> However, "Al Mansoori has Never been publicly Named in connection with the 9/11 Attacks". His "Visa was Revoked after the information about him came to (Public) light, But "his name was Not Watch-Listed in the Class System", suggesting he May have managed to Leave America"...
=> Nevertheless, Facts Obviously indicate that these Qatari+ Suspects, Either "were simply Assisting the Hijackers, or were a 5th Cell who pulled out at the final moment. Alternatively, they may have been Planning an Attack on the West Coast of America, ...which was abandoned or went wrong", according to the "Telegraph". The above-mentioned "Cable" concerning them, which was leaked to the Brittish Newspaper, came from "Tte US Embassy's ... Deputy Chief of Mission in Doha, it was Marked "Priority", and Sent to ...Hillary Clinton, (then) USA State Secretary, the Homeland Security's Department, (Mueller's) FBI and CIA".
>>> Mueller's Total Failure to efficiently Investigate that 5 Men, Qatari Lead, is a very Serious Lacuna, Because, "All" Other Known 9/11 "Terrorists Died in the Crashed Planes", so that Nobody deeply involved in 9/11 wasN't yet taken Alive, (with the Only "Exception" of "Moussaoui, Accused of being the 20th Hijacker", but, in fact, quite Away from the main Plot, who "was sentenced to life in prison"), as "Telehraph" reminds.
-----------------------------------------
* Just a Day, or so, after Mueller is Appointed as the New FBI Director (Comp. Supra), i.e. only a Week Before 9/11, a Strange Team of "Maintainance" Workers intervenes, reportedly, throughout all the WTC Towers' inside areas, for unclear reasons, while Most Occupants are Still Absent on Summer Holidays. Later on, After 9/11, and that Strange Vertical Implosion of WTC's Towers, (looking almost as a "Controlled Demolition"), some Investigators will find that the Water Throwing Systems, due to Prevent or Alleviate Fires, would have been more or less Damaged. Others, Suspect some Joints holding together WTC Towers Floors' Metallic Structures, (etc).
-------------------------------
* - In October of 2001, Mueller Shut down the Government's Investigation, after only 3 Weeks" from 9/11, "and then took part in (a) campaign to Block, obfuscate and generally Stop" some relevant information (f.ex. about certain Foreign Contacts, etc) "from being released," Denounced Sharon Premoli, 9/11 Survivor, who was pulled from the rubble of the WTC, 18 years ago, and now a Plaintiff in a 9/11 Lawsuit (eyeing Saudi Arabia) on 2019, according to "New York Post" Newspaper (8/9/2019).
+ By an Astonishing "Coincidence", it's almost at the Same Time that 9/11 Victims' Families and Friends, as well as NY Fire-Fighters actively involved on the spot, etc., had Just Received E-Mails Calling them to Search at WTC's Ground Zero's remains any pertinent Material Proof on What had Really Caused that Surprizing, Total and Vertical Implosion of WTC's Giant Towers, Suddenly Transformed into Clouds of White Powder, Similar to some Controlled Demolitions. (A Strange Phenomenon that even the New US President Don Trump had notoriously Observed Critically, then, as a Video reminds : Comp. Also Infra).
++ => Shortly After that, ...curiously, Police Threats and Oppression fall upon those WTC Ground Zero Researchers at NY, (while Even Many 9/11 Victims had gone "Missing", their Familes and Friends trying desperately to Find any Remains of their BeLoved ones), Explicitly Prohibiting them from Continuing to Search at WTC's Ground Zero, Threatening them with Jail, and Even Arresting some of them !
>>> In Consequence, an unprecedented and unexpected Fight Starts about the sort of WTC Remains and about Preserving, or Not, Any such Material Evidence of 9/11 Mass Murders, with Victims' Families and Friends, as well as Concerned Citizens, from one Side, and most Police/FBI Authorities apparently from the Other ("Bad") Side... Resulting Soon into Finding that almost All 9/11 WTC Evidence had been Secretly Taken Away and Thrown into a Dirty Landfill, at Killfields of neighbouring New Jersey, withOut Any Regard about the possible Evidence Value of WTC's Steel Structure pieces, Not Even about eventual Human Remains still Hidden in the Rubble...
(An Issue Discussed Both at the First US Congress' Public Audience on 9/11 and WTC, around the End of the Year 2001, as well as in a First Official Investigative Report, drafted by the Association of American Architects, Later at the Spring of 2002. It's precisely Because of many Crucial UnAswered Questions, remainig Still Open for Investigation, that US President GWBush asked NIST to make a Thorough Examination of that 9/11 WTC Issue, which Resulted in 2 Reports, published on September 2005, and, a Final Version on WTC Building 7, in November 2008, i.e., practically, just After Obama snatched the 2008 US Presidential Election !).
---------------------------------
* Mueller was later Accused to have Shut down a Congressional Investigation into 9/11 Hijackers and their California Contacts in Los Angeles and San Diego (Comp. Supra), by Bob Graham, who led the joint inquiry as Senate Intelligence Committee's Chairman. "The strongest Objections" to his staff Investigators visiting FBI offices there, came from the FBI Director himself, said Graham, in a 2017 Interview with Harper's Magazine. Among others, Mueller Refused demands to Question a paid FBI informant who had Rented a Room to the Hijackers, and even Moved him to a Safe house where they couldN't find him, Graham reportedly said. (A Lower standing FBI Agent, however, afterwards Claimed that, at least one among those Contacts, would have Refused by his own will)...
--------------------------------------------
* Later, Mueller was also Accused (f.ex. by "Miami Herald", etc), to have even Personaly Pushed the FBI to Lie, by Hiding the Links of 9/11 Islamist Terrorists with certain Residents at Florida, (i.e. Near the long-time Location of Terrorist Ring-Leader Atta). This concerned, in particular, a Saudi Family who Suddenly Disappeared in a Hurry from their Home in Florida, (leaving behind them even too many of their Belongings), just a few Days Before 9/11, for UnKnown Reasons. Initialy, the FBI reportedly Claimed that they had Investigated that Case, but Found Nothing related to 9/11. However, After a Long Struggle, (even Legal), Journalists succeeded to have Access to a previously Secret FBI Report, which Clearly revealed the Opposite : I.e. that FBI Investigations had Found "Many Connections" between those Suspects and several 9/11 Terrorists !
+ Moreover, a New Research by Investigative Journalists, Found Also that a strange "White Paper" had been Issued by the competent FBI Services for Mueller himself, personally, Concerning precisely that Matter, and Exactly ...the Same Day that they had, Initially, Lied to the Press (Comp. Supra)... This Fact showed that Mueller was Aware of those FBI False Statements, outright Lies, and had, probably, even provoked them himself...
---------------------------------------------------------------------
* Mueller's Claim that, Before 9/11, "the Hijackers did all they could to stay Below Our FBI's Radar", (i.e. undetectable or unnoticed), appears Contrary to Many Facts.
F.ex., among others, in the case of 9/11 Hijackers Waleed Al-Shehri and Ahmed Alghamdi, (who crashed with Airplanes at NY's WTC and in Pennsylvania, respectively), Neighbours reportedly Called the Security Authorities several times, Denouncing Disturbing Facts at a nearby rented House "on Orrin Street in Vienna, Virginia", allegedly "3 Blocks from a CIA Facility", as "AP" Press Agency, "Fox New"s, and other Mainstream Medias noted. "Arabic People... were Always coming and going", some of them never heard to speak Engish, while "a Van was Parked outside the home, at all hours of day and night", with "a Middle Eastern man apparently Monitoring a Scanner or Radio inside that Van". "All the Cars parked on the Street were New BMW, New MERCEDES", and "People always walking around ...with Cell Phones", while "Frequent Wild Parties, with Numerous Complaints to the Authorities, and even a Police Report about a Woman Shooting a Gun into the air", were added, withOut the "FBI Officials ...being able to find any ...information" on anything really suspect.
+Moreover, in the case of Hijackers Al-Mihdhar and Al-Hazmi, who "flew an American Airlines Jet into the Pentagon", an FBI paid Informant, who even Rented a House to them, at San Diego, California, Only Claimed that they were "Simple desert men or Bedouins. They ate and Slept on the floor. They Prayed regularly at the Islamic Center of San Diego and at a Mosque in La Mesa", Staying at "Home Most of the time, Reading the Koran, Listening to the Arabic Cassettes", etc.
- But, in Fact, as experienced "former Senator Graham, who co-Chaired the Congressional Inquiry into 9/11", reportedly said, "the Hijackers led a Less than Pious lifestyle Outside" : -"They Drank, ...They went to Night-Clubs, Strip-Clubs, and at one point, Al-Hazmi wanted to Marry one of the Strippers !", he described, (while Also Criticizing Mueller for allegedly having "Shut" Investigations on them : Comp. Supra)...
++ And while Mueller also Claimed that 9/11 Hijackers "gave No Hint, to those around them, what they were about", on the Contrary, even the notorious Ring-Leader of those Hijackers, Mohamed Atta, reportedly Meeting, Earlier on April-May 2001, with an US Department of Agriculture's Officer, Johnelle Bryant, already "left Numerous Clues" :
- F.ex., Atta started by "Refusing to Speak with one who us "But a Female"; "asks her for a Loan of $650.000 to Buy and Modify a Crop-Dusting Plane", mentionning that "he wants to <<build a Chemical Tank that would fit inside the aircraft, and take up every available square inch of the aircraft, except for where the pilot would be sitting", (an Initial Plan allegedly Confirmed Later by Security Authorities, who Interrogated also Prisoners, from whom it resulted that the Islamist Terrorists, "Failing to get that Loan, Switched Plans from using Crop-Dusters to HiJacking Airplanes"); "uses his Real Name"; "Says he has Just Arrived from Afghanistan"; "Asks her about Security at the WTC and Other US Landmarks"; "He Discusses Al-Qaeda, and its Need for American Membership" (sic !); "Tells her Bin-Laden <<would, someday, be known as the World's Greatest Leader>>; "Asks her : - "How would you like it if somebody Flew an Airplane Into your friends' Building ?"; and : - "What would prevent [me] from going behind [your] desk, and Cutting [your] Throat and making off with the millions of Dollars" in the Safe behind her"; as well as: - "How would America like it if another country Destroyed [Washington] and some of the Monuments in it, like the cities in [my] country had been destroyed ?", (etc)...
------------------------------------
* But it's Also for allegedly Diverting keen Investigators' Time and Energy from vital Counter-Islamist Terrorism new Urgencies, towards Other, Traditional Issues, such as, f.ex., Arson, etc, that Mueller was Criticized, even from inside the FBI :
- F.ex., Already as Early as Since "April 2000, FBI Agent Ken Williams Begins Investigating" on Suspicious AIrFlight Schools' "students" from the Middle East, (which Will make him World-Famous After 9/11 : See Infra).
- "But" his "Investigation ...is greatly Slowed", reportedly "Because of (FBI) Internal Politics and personal Disputes", which push him to "Return to this case in December 2000", (i.e. 6 Months Later).
+ Suddenly, "he, and All the other (FBI)Agents on the International Terrorism Squad, are (reportedly) Diverted, to work on a high-profile Arson case" !
=> So that another, critical FBI Agent, reportedly Questions : - "Why Take your Best Terrorism Investigator and Put him on an Arson case ?"
++ That "Arson Case is solved (Only as Late as) in June 2001"... So that, "Williams Returns to the issue of Islamic militant Flight school Students", and his relevant "Memo comes out much Later, than it otherwise might have", i.e. Only on "July 2001".
=> Therefore, Critical FBI Agents, appalled, "Write a Letter to FBI Director Mueller in ...2001, Complaining that "[Terrorism] has always been the Lowest Priority in the division; it Still is the Lowest priority in the division", whle "Other insiders, Later Concur that ...FBI Placed a Low priority on Terrorism cases Before 9/11". (See also Infra).
+++ Even when anOther FBI Agent, George Piro, Based on his Friend's Williams' Memo's Warnings, Succeeds to be the 1st to Identify the Name of one among the 9/11 Hijackers, almost Immediately, during the Hours which Followed the Deadly Airplane Crashes in that Morning of September 11, 2001, (Hani Hanjour, the Pilot Hijacker on the Airplane which hit the Pentagon), just after Receiving a Phone Call from Boston, as he was Visiting the "First Flight School" in his Arizona area, Simply chosen from a Phone Book,
=> he's stuned to receive, from his FBI "Squad Leader", that he Informed asap, an Astonishing Reply : - ""Get Out of here—I doN't have Time for Jokes Today !", as his Chief spontaneously Reacts, "Incredulous"...   
>>>Indeed, at least for Once, simple but zelous and efficient FBI Agents Piro and Williams, "as they Watched the Terrorist Attacks unfolding on Television", they had reportedly "Decided ...to start Responding to the Crisis on their own Initiative, Rather than sitting around  (vainly) Waiting for an Order" from FBI Director Mr. Mueller...
And, this Time, it Worked !
---------------------------------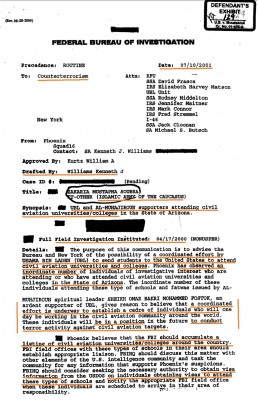 * Worst of all : Astonishingly, Mr. MUELLER MISSED (at least) one unique OCCASION TO timely and easily PREVENT 9/11 Islamist Terrorists' Mass Killings, which cowardly Targetted thousands of Innocent Civilian People !
>>> Indeed, in the State which reportedly has "the 2nd- Highest Concentration of Flight Schools in the (North American) Nation : Arizona, Phoenix-Based  zelous FBI Agent, Ken Wiliams, had Prepared since April 2000, and "Published" on 10 July 2001, (after Scandalously Imposed Delays : Comp. Supra), a key "Memorandum" for "FBI HeadQuarters", with Findings which "Urge a Nation-Wide Check on Air-Flight Schools with Middle-Eastern Students", asap.
>>> Because, as he Stressed from the outset, Recent Facts revealed that "a Coordinated Effort is underway to Establish a cadre of Individuals who Will ...be in a position ... to Conduct Terror Activity against Civil Aviation Targets" :
=> I.e. precisely what really Happened, just 2 Months Later, on 11 September 2001 !...  (See that Memo's abstract, reproduced and underlined by "Eurofora").
- For that purpose, the Memo Warned about "the Possibility" for "Obama Bin Laden ... to send Students ro the USA to attend Civil Aviation Universities and Colleges". As, f.ex., in  "Phoenix", where was "Observed an InOrdinate Number of individuals, of (FBI) Investigative Interest" (from Counter-Terrorism point of view), ...in the State of Arizona".
=> Phoenix Memo Urged the FBI to "accumulate a Listing of Civil Aviation Universities/Colleges around the Country", and to collect "Information ...on Individuals obtaining Visas to Attend these types of Schools".  
The Author of that Memo eyed Bin Laden's fans, as well as of his Disciple, Mohammed Fostok, Leader of "Al-Muhajiroun" ("The Emigrants"), a "Sunni Muslim Fondamentalist Organisation, Based in the UK", and "dedicated to the Overthrow of Western Society",  who had Signed a "Fatwa" since 1998 Calling fo "Jihad against the US and British Goverment, Armies, Interests, Airports" (sic). One of the most "HardCore Islamic Extremist(s)" of this kind, that he had Investigated in Phoenix, named "Soubra", inter alia, had also "Photographs of Usama Bin Laden, ...and Chechnyan Mujahadin tacked to his LivingRoom Wall", (etc).
----------------
Ken Williams "believed" that Arizona State had been particularly Chosen by "Bin Laden supporters" for its Flight Schools, because "Phoenix has had Significant UBL Associates/Operatives", already SInce "the 1980s", as, f.ex., "Wadih El-Hage, an UBL Lietenant, Recently Convicted for his Role in the 1998 Bombings of US Embassies in Africa", and "Essam Al-Ridi, a personal Pilot for Bin Laden, who traveled to Tucson during 1993, at the Directioj of Al-Hage (Comp. Supra), to procure a T-39 Jet AirCraft for UBL's personal use", (etc).
=> In Fact, William's Findings were so True and Important, that he could not even realize himself :
- F.ex., the very Day of 9/11, when all TV News show the Implosion of TCW's Towers, hit by Hijackers' AIrplanes, it's enough, with a Collegue, to take a Local PhoneBook, Search an AirFlight School there, in Arizona, and Call to Ask its Director if he has a Student who looks Suspect : Immediately, they are the 1st to get the Name and File of one of the 9/11 "Pilot" Hijackers, that Nobody Else knows yet, throughout all USA ! (Comp. Supra)...
>>> However, the Big Scandal, Obviously is that, Meanwhile, Despite a "Field Investigation", Already since 4/2000, UnAcceptably Delayed for More than a Year, (Comp. Supra), at least, Ken William's Memo's explicit Warning had been Send to FBI HezadQuarters, and even to a Dozen of Key Senior FBI Officers designated by Name, from the Beginning of July 2001, (i.e. + 2 whole Months Earlier), But, Nevertheless, until that Fatal Day of 11 September 2001, NOTHING hadn't been DONE by FBI's Leadership, NOT EVEN THE SLIGHTEST MEASURE had NOT BEEN TAKEN to PREVENT the Horrible MASS KILLINGS of about 3.000 Innocent Civilian PEOPLE until 9/11, (by Islamist Terrorists very Easy to Find asap, as we have already seen : Comp. Supra) !
On the CONTRARY, that Unique, HUMAN LIVES' SAVING, Key WARNING, had been TOTALY IGNORED, DROPED by FBI's Leadership, (recently taken over by MUELLER)...
- Several Commentators, Later-on, obviously Embarassed, clamsily Try to Diminish or Cover up FBI's Director Mueller's Heavy Responsibilities by Claiming, (withOut Any Proof !), or, rather, GUESSING, that, .."APPARENTLY" (sic !), this key Phoenix Memo would have "NOT" been "TRANSMITTED" Personaly to him.
>>> But, in a Closed-Door Session of the Senate Judiciary Committee, which "Lasted More than 2 Hours", back on May 2002, for "Scrutiny amid Questions over whether the Government Missed Clues that Might have Alerted Authorities to impending Attacks on New York and Washington", as "CNN" observed then, Despite the Participation of Both Kenn Williams and FBI Director Mueller himself, neverheless, there is Not any Clear Response, on what really happened, and Who is Responsible for such a Deadly "Flop"...
- "LawMakers Praised Wiliams..., But they said that the were UNSATISFIED with How (his) Memo FELL through the Cracks", CNN soberly Criticized then.
+ F.ex., "Senator Charles Grassley, R-Iowa, said that, to this day, MUELLER Still DOES NOT HAVE a full EXPLANATION about WHAT HAPPENED, once Williams passed the Memo Up the chain of Command".
- Curiously, "there areN't very many specific Answers, and I think it's fair to say a Lot of People High Up in the FBI STILL DON'T KNOW", Grassley said. "NO ONE seems to know the process."
>>> But, more Outspoken, "Senator Arlen Specter, R-Pennsylvania, said he .../ was UNSATISFIED WITH THE ANSWERS FROM MUELLER" !
- In particular, "there was NO EXPLANATION as to Why the Memà did Not go to Other Places. NOBODY KNOWS at this Stage, and that is something that HAS TO BE PURSUED !", Specter reportedly stressed.
--------------------------
+ In a more comprehensive Newspaper Article, Published Initally on "Fortune", also on 2002, but Also Later-on, by CNN, on 2011, the Journalist Richard Behar, (who claims to have, at least, Seen, Briefly William's, still Secret Memo), speaks More Freely :
>>> - "What I learned – and what "Fortune" aired yesterday on CNN – is CHILLING !", he Denounces.
- Indeed,  Phoenix' "Memo RAISES QUESTIONS about what Federal law enforcement Officers Knew, and WHAT THEY DID, OR DID NOT do, TO PROTECT THE U.S. FROM TERROR ATTACKS in the Months BEFORE September 11".
=> But, "After Reviewing the Memo, one CanNot help But CONCLUDE that F.B.I. DROPPED the ball – perhaps IGNORING THE ALERT altogether" !, the Journalist Accuses.
-----------------------------
+ Later on, just After Williams Retired, since 2017, an Exclusive Interview to the Media "28Pages.org" on 2018, makes the Journalist, Brian P. McGlinchey, Denounce the Fact that : - Phoenix Memo "was IGNORED !"
=> And this "stands among The MOST PROMINENT of many examples of ... Government's FAILURE  to ...Act, on Critical Information, that MAY HAVE THWARTED THE 9/11 ATTACKS", the Interviewer Concludes.
>>> As for Kenn Williams, himself, he Now appears More OutSpoken, at least on the Principles :
=>  - Noting that "9/11 constituted the WORST MASS MURDER in U.S. HISTORY, Williams says: - "IF there's people in Government that (Eventually) have been TOLD NOT TO FOLLOW through on LEGITIMATE INVESTIGATIVE LEADS on things, ...that becomes a CRIMINAL matter !", he reportedly Slamed...
-----------------------------
At any case, even the Hypothesis that Williams himself, Initially, perhaps, might have Not been Fully AWARE of the very RAPIDLY Imminent Threat, and the IMMEDIATE URGENCY to Act Fast in order to Prevent Deadly Islamist Extremists' Attacks the soonest, (as "Eurofora" observed in a Redacted Copy of his Phoenix Memo),
>>> DOES NOT ABSOLVE Mr. MUELLER FROM THE SUPREME RESPONSIBILITY as FBI Director,  since, as Head of that Powerful Federal Organisation, HE HAD BOTH THE DUTY AND THE POSSIBILITIES to obtain a much More Rapid, Deep and Thorough View of the Overall Situation, than a Simple Individual, Local FBI Agent, alone, Limited down in Arizona's Phoenix, and Not even always Free of His own Movements (Comp. Supra)...
-------------------------
+ Last, but Not Least :  IF he really did Commit such a Horrible Blunder, as to Ignore Phoenix Memo's Warning before 9/11, WHAT might have, Eventually, Motivated Mueller to do that ?
- Some Claim that it's all about "Covering up the Saudis !". Others may Add also "InCompetence". And it canNot be Excluded a priori that "Big Pharma" Interests of California-Headquartered "Bio-Tech" Lobbies, would Probably like to "Punish" US President GWBush for his August 2001 Prohibition of Federal Funding of Genetic Manipulations on Human Embryos. Or, All of these 3 Hypothesis, might, perhaps, go, more or less, Together, in one way or another, (Comp. Supra)...
But, whatever is the Truth vis a vis the Above-mentioned, various Hypothesis, at least 1 thing seems Clear :
- Knowing Mueller, most Probably, if not even Certainly, he would Not Like so much to Take Action against a so-called "Islamic Army of the CAUCASUS", "BASED in CHECHNYA", i.e., inside the RUSSIAN Federation, (as Kenn Williams Curiously chose to write at the very HEADING of his MEMO, probably since he had Investigated in Arizona some Islamist Terror Suspects of this kind too, Linked to Bin Laden's initial activities not far away from Atrocious BeHeadings by Chechnyan Islamist Terrorists, when he still was a Merchant based at Istanbul, Turkey : Comp. Supra).
Simply Because, by doing something of this kind, that FBI Director risked to Also ...Help Russia itself !  And, Mueller, notoriously, wouldn't be fond of that, at all...
It's Only Afterwards, that a "Synopsis" of the Memo, explains that, in Fact, it's about : - "Usama bin Laden and Al-Muhjiroun Supporters attending civil Aviation Universities/Colleges (etc)."
=> + So, it's probably, also that Same Anti-Russian Hysteria, of USA's "Deep State", notoriously omni-present around Mueller (Comp. Supra), which seems to have pushed that former FBI Director to Scandalously Neglect (if not even Undermine) a Key Warning "Memorandum" by Phoenix FBI Agent Ken Williams, based on concrete Findings mainly about a "Chechnya"-related Islamist Radical, who had Vainly Foreseen the way that 9/11 Terrorists were Preparing to Attack and Kill about 3000 Innocent Civilian People in the USA, Later on, Making Recommendations on how to Prevent that...
-------------------------------------------------
=> Conclusion : - Better be WHISTLE-BLOWER ?
-----------------------------------------------------
Finaly, all that also, in Practice, Boils down to just another Topical Question :
- In Fact, Would it be Better if Kenn Williams had Sent his "Hot" Memo to somebody as ... "Wikileaks" for Timely Worldwide Publications,
Instead of Risking to "Burry" it indefinitively at FBI's Headquarters, then placed Under Mueller's Controversial control ?
=> F.ex. IF a guy like Julian ASSANGE of "WIKILEAKS" had got Timely Access to that Phoenix Memo, and had Helped Medias to properly PUBLISH it, at least 1 Month, or Even 1 Week BEFORE 9/11, (since Efficient Action could go Fast, as we found, Supra),
>>> then, about 3.000 Innocent, Civilian People, Atrociously Killed on 9/11, would, almost certainly, have Survived, Escaping to Islamist Suicide Hijackers, (since FBI could Easily and Rapidly Find them and Stop them, as we've already seen Supra), at least 2 Wars may have been Prevented, as well as ISIS+ Deadly Islamist Terrorist Attacks against People in Syria, Iraq, and even throughout Europe and/or USA, (etc),
so that, Obviously,  ...the World would, Nowadays, be very Different !

=> Such elementary Logical Aguments, (Added also to several Other Key Facts), should, at least, be Sufficient in order to make Mr. Mueller Stop his Unsubstantiated recent (2019) Claims, that Assange should Not even be Protected as a Journalist, and/or Whistle-Blower,
as, inter alia, also the Nowadays inept "WaPo", meanwhile Sold to Mr. "Bozo" (according to US President Trump), Oppressively and Stupidly slanders, Cowardly, these very Days of September 2019, the now Jailed Victim of manifold Human Rights Violations since too Many Years, clearly Denounced even by UNO's Competent Humanitarian Bodies, united together, at nearby Geneva...
>>> On these occasions, "Eurofora" dedicates, the World-Famous "Pink-Floyd" Group's Top Guitarist and Singer, Roger Walter's latest, 9/2019 performance in London, UK, (where Assange is now imPrisoned), attended by a lot of People, Both to "Wikileaks"' Founder, and to the 3000 Innocent Victims of the 9/11 Barbary, as well as to their Families and Friends, All United under the well-fitting Heading of that Famous Song : - "WISH YOU WERE HERE !"
(*)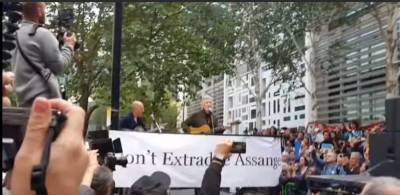 https://www.youtube.com/watch?v=IzGI-bqc2NA&app=desktop

-----------------------------------------------------
+ As for Mr. Mueller's and WAPO's above mentioned Claims against Jailed Assange finding an Elementary Protection, if not as a Journalist, at least as "WhistleBlower", a Good Reply has Already been recently Published by Berkeley University's Professor Wasserman at "New York Times", and anOther one, (a "PanEuropean" one), may be Soon given by CoE's Parliamentary Assembly's October 2019 Plenary Session in Strasbourg, where MEPs are due to Debate and vote on a Brand New Report about "Whistle-Blowers", drafted by the Vice-President of France's National Assembly, and Strasbourg's MEP, who, by a Timely Coincidence, is Also Named : ... Wasserman !

(Comp., f.ex., "Eurofora"s above-Mentioned 2 Questions/Replies with Edouard Snowden, at a CoE's Event organised by its Rapporteur Wasserman : ..., etc)

(../..)

-----------------------------------------
(*)
PINK FLOYD : "I WISH YOU WERE HERE"


So, so you think you can tell
Heaven from Hell
Blue sky from pain
Can you tell a green field
From a cold steel rail?
A smile from a veil?
Do you think you can tell?

Did they get you to trade
Your heroes for ghosts?
Hot ashes for trees?
Hot air for a cool breeze?
Cold comfort for change?
And did you exchange
A walk on part in the war
For a lead role in a cage?

How I wish, how I wish you were here

We're just two lost souls
Swimming in a fish bowl
Year after year
Running over the same old ground
What have we found
The same old fears

Wish you were here
--------------------------------
BRIEF NEWS
00:00 - 02.06.2021

00:00 - 18.10.2020

00:00 - 19.06.2020

00:00 - 18.05.2020

00:00 - 20.04.2020

00:00 - 02.02.2020

00:00 - 09.12.2019

00:00 - 27.11.2019

00:00 - 16.11.2019
Statistics
Besucher: 55513210
Archive
Login Form
Other Menu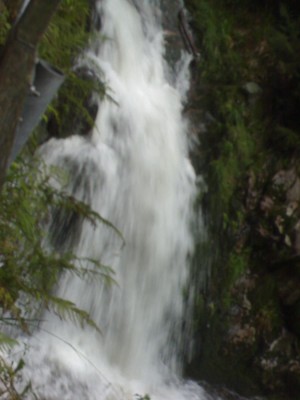 Benedict's "Source" to revitalize Europe : - "The World needs Hope", Pope says, calling to relaunch E.U. via Human Rights !
Paris - Lourdes - Strasbourg : 12 - 17 September 2008.

The vital need to re-launch Europe can be succesfully met by defending fundamental Human Rights of the People, said Pope Benedict XVI in his 1st speech in France, at his meeting with President Nicolas Sarkozy, who currently chairs the EU.

Sarkozy replied by welcoming Christian and other religions' contribution to indispensable Public Debates on crucial issues which affect Human Dignity, Europe, even Humankind, as BioGenetics.

- "When Europeans will see and personally experience that the inalienable Rights of the Human Person .., those of their free Education, their Family life, their Work, ..their Religious Rights, ..are respected and promoted, then, these Europeans will fully understand the greatness of the European construction and will be actively involved in it", Benedict XVI stressed.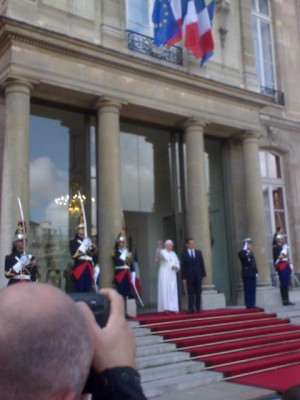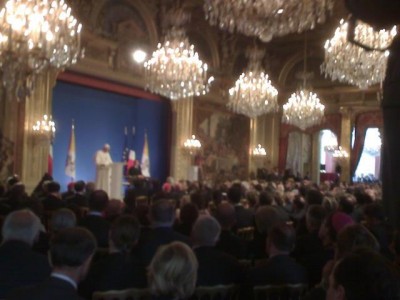 - "It's important that during France's EU Presidency, there is, indeed, a desire for the Church to contribute to protect Human Person's integrity, and I think that there is also a growing Conscience, beyond any polemics, to defend Human Rights, and, thus, contribute to ensure respect for Human Dignity", added to "EuroFora" the Pope's Spokesman, Vatican's Press Director Federico Lombardi.

- "Nobody really told us here that Lisbon Treaty was good for this or that reason to the People. They only told us that we "had" to ratify it, and tried to scare us, but failed", said 2 Irish pilgrims to "EuroFora", after 2 Majority Abstentions in 1999 and 2004 EU Elections and 3 "NO" to Referenda in France and the Netherlands in 2005, followed by the Irish "No" in 2008, during a Decade of EU Crisis since the controversial Turkey EU- bid (1999-2008).
More than .."224 cases of Murders, Torture, "Disappearancies" or Destructions" by "agents of Turkish Security forces", where all those responsible for so heavy Crimes still remain scandalously unpunished, despite regular condemnations of Ankara by Strasbourg''s European Court of Human Rights from 1996 to 2008, were examined the same week by CoE's Ministers, who decided to launch a fresh call "urging" the Turkish Authorities to end this dangerous "virtual Impunity" of criminals, without comparison to European countries.

- "Why not Ukraine, instead of Turkey ?", asked EuroFora a Journalist from "Kiev : the city where it's enough to cross the streets in order to realize that it's a European town", as Sarkozy recently said, before solemnly declaring this week, together with Ukranian President Jushenko and EU Commission's chair Baroso, EU's "recognition that Ukraine is a fully European Country, linked to Europe by culture and History".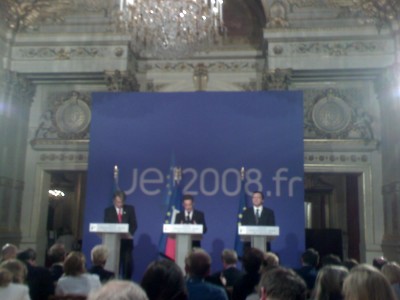 Europe's "Christian roots" and Values, with "openess and mutual respect" to other cultures and beliefs, were highlighted by Sarkozy in harmony with Benedict XVI.

The Human person should be protected "from his inception until his natural death", added the Pope, faithful to BioEthic principles defended by his predecessor and collaborator, John Paul II, of topical importance in France, Europe and the World today, as Sarkozy announced :

- "Fast and important progres in Genetic Science and procreation raise delicate BioEthical Questions to our Democracies", which "involve our view of Humans and Life, and can lead to Social Mutations. That's why they cannot remain only a business of experts", hestressed.

- "It's Politician's responsibility to set a proper framework for such Public Debates", as "France will do on BioEthics in 2009". "Religious and Philosophic traditions must take part, with their ideas and centuries' long experience : A positive Laicity is an open invitation to Dialogue", he said.

- "France engaged in Europe at another Debate on how to make Financial Capitalism more moral", and the "Social doctrine of the Church fits well what is at stake in modern Globalized Economy"

- "But, a "Real Dialogue is not for an elite of a Globalized world : It penetrates deep into the People : That's why Churches should actively participate : .. It's bringing New Oxygen to Public Debates", stressed Sarkozy.

- "Democracy must not be cut off Reason", which is "compatible with Faith", thanks to "the meeting between Christianism and Greek philosophy ", he added, referring to Pope's views. "It means to advance with logic arguments, search what's best and respect common principles of thinking :... It's an everyday need for Public Administration and the Political Debate", he added.
----------------------------
Pope Benedict's 1st visit to France looked like the start of a brillant, manifold demonstration that this was well-founded and could become true in the lives of the People : After its Theoretical foundations unfolded at a "speech to the world of Culture", inaugurating Bernadins' cultural centre, and its dogmatic instrument shaped at an address to the Clergy in the Historic Notre Dame' Cathedral, he started to resolutely reach out to the People :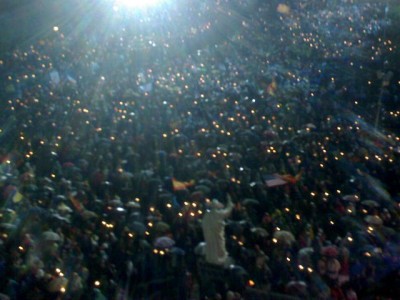 The move went upwards like Bach's music : Begining with a call to more than fifteen thousand enthousiastic Youngsters gathered at Notre Dame's parvis with overnight celebrations, it gained strength in an impressive open-air Mass at Paris'central Invalides'area facing Alexander III's bridge, attended by more than 150.000 people, French Prime Minister Fillon, many Ministers, Foreign Ambassadors, etc, and culminated in a series of pan-European Mega-meetings at Lourdes 150th anniversary, together with all French Bishops, EU Commission's vice-Chairman Barrot, and some 200.000 enthousiastic People from all over Europe and beyond : After a Sea of Lights astonishingly braved Saturday Night's rain, an open-air mass at riverside fields among Pyrenees' Mountains Sunday Morning, was followed on Monday by a Sea of "Compassion" to those facing Health or Life threats, surrounded by an endless gathering of People, whose gigantic dimensions obviously surprised the organisers..

Meanwhile, Benedict had the occasion to speak to the French Priests at Notre Dame of Paris, and with the Bishops at Lourdes, where they prepare a crucial November plenary meeting, due to take important decisions on imminent EU debates and choices about Europe's identity, BioEthics, etc.
-------
- "A new way of thinking about Laicity has become necessary", agreed the Pope with President Sarkozy at Elysee. While keeping the "distinction between Politics and Religion, to guarantee Citizens' Liberty", "religion is important for shaping Consciousness and contributing, together with others, to create a basic Ethical Consensus in society".

- "Searching Essential realities", (as "God" for christians), needs "Speech : "Logos" in greek, i.e. Reason", "able to shape a Community","with creative work transforming Human History". But "Dialogue" is instrumental for "Reason", because it's the way to "search" for Truth", in "Liberty", according to Greek Platonic Philosophy, with Socrates' dialectics. "Reason" implies "Spirit and Liberty", hence the polyphonic "Music" of "Dialogue", in a responsible, "well balanced" way, to avoid "destruction".

Starting with a "Dialogue between christians and intellectual or artistic movements" highlighted at Bernardins' Cultural Center. with former Presidents Chirac and Giscard d'Estain, UNESCO's chair Anastassopoulos, etc., as well as representatives of Muslim Communities, (including a separate Turkish), after contacts with Jews at Vatican's Embassy, the Pope turned towards the People :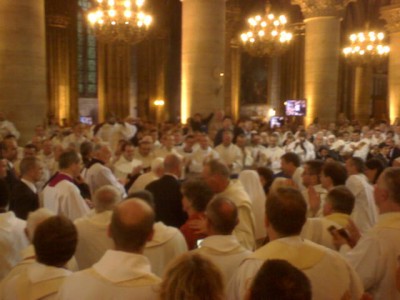 -------------------
To French Priests : "Church built on the rock" !
---------------------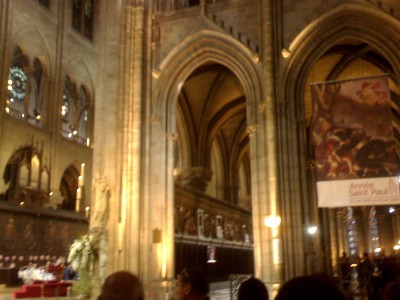 - Speaking to thousands of French Priests at Notre Dame's Cathedral, Benedict highlighted a solid "Church built on the Rock" of conscious and active persons, transmitting "a lively, energetic and sharp" "God's Speech, actively working on Human History".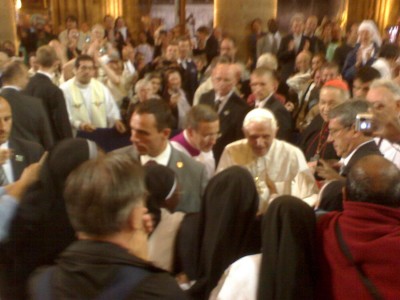 "Praying together" with "representatives of Christian Churches and ecclesiastic communities", (as Orthodoxes, Armenians, Protestants, etc), he called "to reinforce the Unity of the church", against "any form of Division", around Holy Spirit', "the Word","Christ's Justice", and "Love" to fellow- humans : Essentials which "resume all holy scripts", as he said.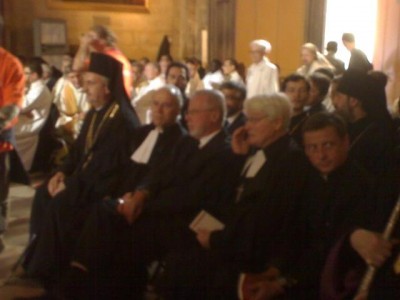 -----------------------
To Young People : "New Horizons"
------------------------
To some 15.000 enthousiastic Young People at Notre Dame's parvis, along Seine's river, Benedict spoke about "the Energy of the Holy Spirit" and "the Mystery of the Cross" : - "The Holy Spirit opens New Horizons to Human Intelligence .. and makes it conscious of the real greatness of Christ's sacrifice, dying and resurecting for World's life".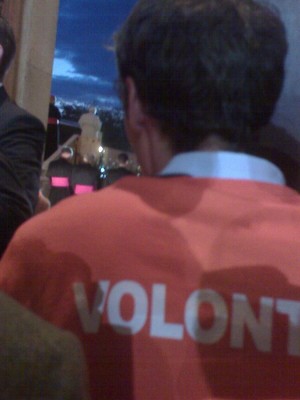 Some "may slander you as crazy, laugh at you, or even persecute you. But, "the Holy Cross is a symbol of God's love", and "givesmoral strength" : "Witness of People's pains, it's at the same time, a precious, unique expression of their Hopes", he told them at Paris' dawn.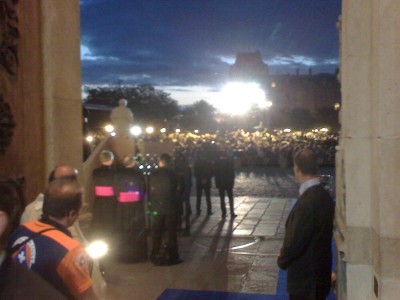 ----------------------------------
Invalides' plateau : "People chosen to become God's friends"
---------------------------------------
At the 1st open-air Mass in Paris' center area of Invalides, facing the Grand Palais, along the river Seine, during an impressive gathering of more than 150.000, French Prime Minister Fillon, Ministers Alliot-Marie, Bachelot, Dati, Jouyet, Assembly's President Accoyer, Senate's Chair Poncelet, former 1st Lady Bernadette Chirac, former Prime Minister Raffarin, many foreign Ambassadors, and other political personalities were present. (While earlier, from the Socialist opposition, Paris' Mayor Delanoye, artist Robert Hussein a.o. assisted at the Elysee meeting).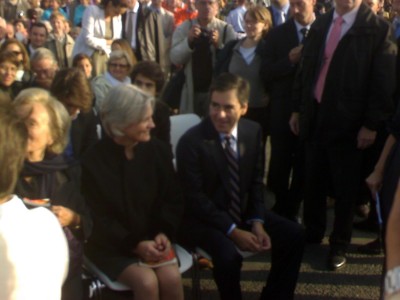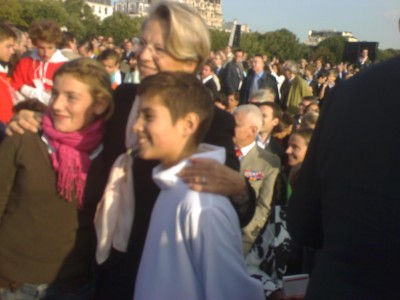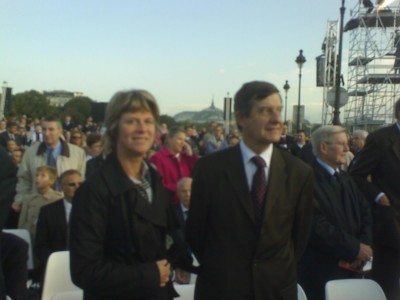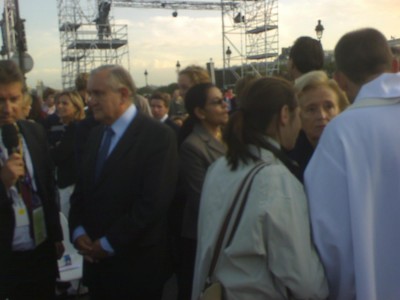 But the "Entry Song" focused on the "People chosen to become God's Friends". The September 11 mass was Dedicated to "Saint Chrysostomus, that great priest of Constantinople", with his "wonderful eloquence and great courage to face challenges", who "made out of despaired and godless people, a people of brothers", opening a possibility to "become all one complete entity", as Pope Benedict reminded.

- "Reason never enters in real contradiction with Faith", stressed Pope Benedict, who prepared his speeches for France during a short Summer rest at Brixen/Bressanone's Seminar, whose Library honors both "Faith and Science".. - "We must use not only our Reason, but also our Faith" : "Get away from Idolatry", "cupidity", "avidity for money, power or even knowledge deviating from essential aims", and other "falses appearances". and "build your Home on the Rock", "with the force that Holy Spirit gives to those who let it act in them", he said to the People of Paris.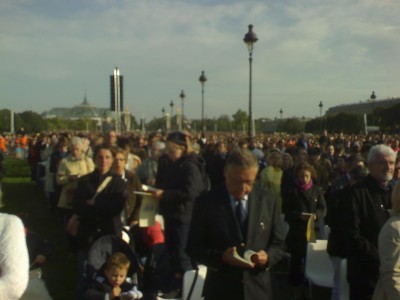 --------------------------------------------------
Benedict at Lourdes : - "Become Light (even) in the Dark !"
------------------------------------------------------------------
- "Our World needs Hope", stressed Pope Benedict, addressing an impressive TorchLight procession at Lourdes' sanctuaries, where a Sea of Lights held by Hundreds of Thousands of People gathered at Pyrenee's Mountains from all over Europe astonishingly kept their flames despite a heavy Rain at a windy Dark Night...

- "150 years earlier (1858 - 2008), ..here, in the cave, ... a simple young girl, Bernadette .. saw a Light". "The everyday life of her Family was, however, made of Misery, Sadness, Sickness, Misunderstandings, Rejection and Poverty... It was hard to live in Jail". Today, "we think to all Human Beings who suffer : The innocent Victims who face Violence, War, Terrorism, Hunger, Injustices, Catastrophes, Hate and Oppression, Violations of Human Dignity and of their fundamental Rights, of their Liberty to act and think. We also think to those who face Familial problems, sufferings from Unemployment, Sickness, Infirmity, Isolation, or their situation as Immigrants, without forgetting those who suffer and die for the name of Christ", he said.

- "But the Shadows of the Earth, did not hinder Sky's Light to shine : <<The Light shines in the Dark>>" ..."A Way full of Light opens in Human History even in its Darkest moments" : ..."As Night falls, Christ tels us : <<- Keep your Lamps alight !>>."Hold a Light while walking in the Night .. sums up our condition as Christians on their way : "We need light, and we are called to become Light !", Benedict stressed to People setting in motion Lights, Flags and Songs with enthousiasm.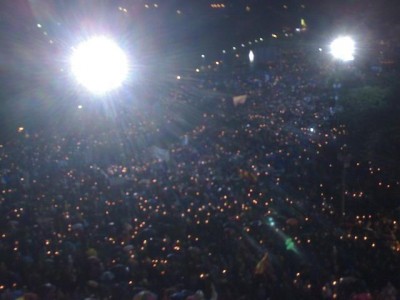 "<<- She looked at me as a Person, who speaks to another Person>>, the poor girl had noted."Light emerges from such a Dialogue", stressed the Pope : "A small Flame called Hope, Compassion and Tenderness dwells inside those who return after being moved by Lourdes' experience". "Christ .. entrusts us with the Mission to let the Light of Charity shine : To make of our Prayers an Act of Love to our brothers and to Fraternal Charity", he concluded.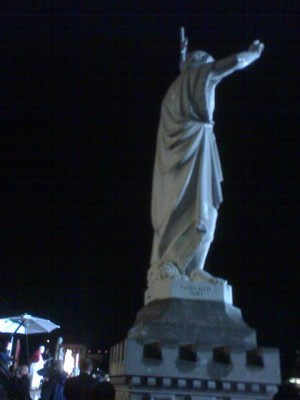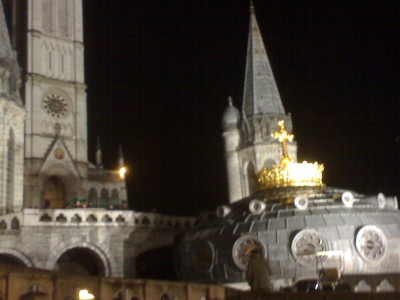 (../..)
Polls