Inicio

newsitems

Virus World Epicenter Capital: Strasbourg/France/EU=Record Deaths => MPs+Meds urge for HCQ Treatment
Virus World Epicenter Capital: Strasbourg/France/EU=Record Deaths => MPs+Meds urge for HCQ Treatment
03.04.20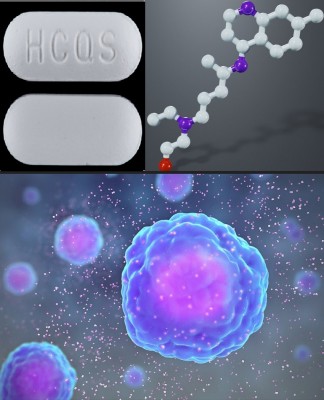 *Strasbourg/Angelo Marcopolo/(Partly UpDated)- In what has become the Capital of the World's EpiCenter of Deadly Virus COVID-19 : Strasbourg's "Great East" Region in France/EU, in the middle of a surprizing Record-High Number of Victims Nowadays, Groups of Medical Doctors and MPs (including EU Parliament's MEP, Senators, etc, as well as a former Health and Foreign Minister : See Infra), have suddenly Urged the Public Authorities to allow the Freedom to immediately Start using the Controversial but Promising Treatment of HydroxyChloroQuine (alias HCQ), under simple Private Medical Doctor's prescription, (currenntly still Prohibited in France, as also in many other Countries), in order to Urgently try to Save threatened Human Lives, withOut still Waiting for further Confirmations by various on-going more Tests, for this and:or other Drugs, in Europe, China, the USA, etc., (See Infra).  
---------------------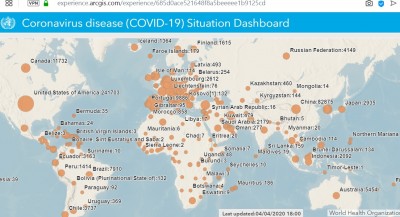 EU has notoriously become the World's "EpiCenter" on this Virus, according to the WHO, Both in the Number of Infected People, and, (much More) in that of Deaths, (even if the USA cases recently grow Fast), as WHO's and ECDC's overall Graphics show very Clearly, (See attached Screenshots).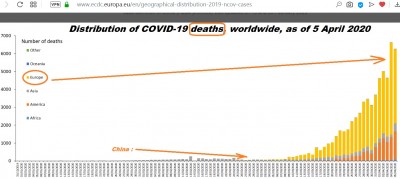 Inside the EU, just on 3 April, France (where Strasbourg's Region is the Biggest Hotspot) added 1.053 more Deaths in total, i.e. OutNumbering even Italy, which had Less : "only" around 764, (and almost Equaling USA, with 1.061 Deaths, But inside a Larger Population of 350 Millions)... For April 4, WHO registered a total of 2.003 more Deaths in France, while Spain (the 2nd runner in Europe) had just 932... (etc).
------------------------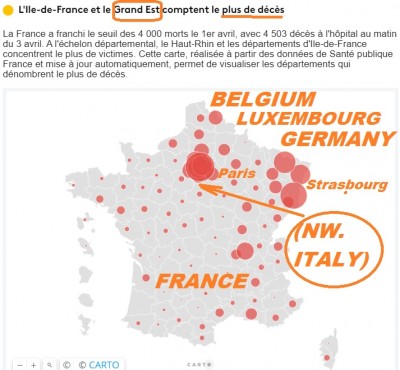 In France, the Most Affected is Strasbourg's area of Alsace and Region of the "Great East", (Host of PanEuropean CoE, EU Parliament's full Plenary Sessions, ECHR, EuroCorps Army HQ, Schengen's Secretariat, EU Ombudsperson, etc). "Eurofora" had Warned, as Early as since February 22, that the Neighbouring North-West Italy's initial Virus Hotspot was Threatening to hit "EU's Franco-German Core", (See: http://www.eurofora.net/newsflashes/news/deadlyvirusheadstoeucore.html, etc). and this became soon true, (since, Scandalously, Not any Measure of Containment wasN't ever taken vis a vis the Borders to NW Italy, Contrary to what China did vis a vis Wuhan : See http://www.eurofora.net/newsflashes/news/delaytoprotecteupeoplefromvirus.html, etc), Heavily Affecting Strasbourg's Region, in France, and Germany's Lânder of Bavaria and Baden-Wurtemerg, Nearby, which are Adjacent to NW Italy and Switzerland.
----------------------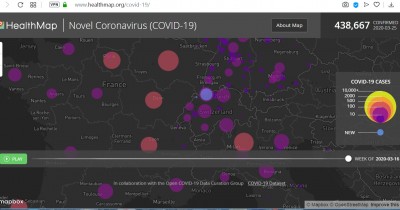 Already, inter alia, f.ex, Strasbourg's Region, on March 16, had More cases of Infections than ...Milan itself ! (See relevant Graphic, attached herewth). And, inside France, its Region of Great East notoriously became the Most Affected Region of the Country, (See Graphics), and was Recently Visited by President Macron, who inspected an new Army Hospital there, for that reason, just before the Latest EU Summit of March 26, which was focused on the Fight against the Virus, (See: http://www.eurofora.net/newsflashes/news/euchinausarussiag20onvirus.html, etc). Still, even Today, Strasbourg's Region has a total of Deaths Bigger from that of ...New York, USA's Biggest Hotspot : 1.402 compared to 1.280...
(Strasbourg's Region was submerged by Virus' Spread from Nearby NW Italy right from the Start : An Old but Explicit MAP published by "Le Monde" at an Earlier stage)
---------------------

The Situation has become so Hard, that Infected and Sick People canNot Find Care in Strasbourg area's Hospitals, no more, so that they are Evacuated Elsewhere, Transfered by ...Military Airplanes or Special Trains into Various Other French Regions, (mainly at the South and/or West), but also in Other EU Countries, as Germany, Luxembourg, Switzerland, Czech Republic, etc., i.e., far Away from their Families, (as pointed out, with "Emotion", also the President of that "Great East" Region, John Rottner, a Medical Urgentist himself, who had Returned back to his Job, on a Part-Time basis, in order to Help Sick People, but has just been Infected himself by the Virus)...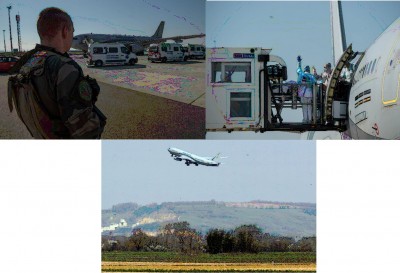 --------------------

Moreover, an apparently growing Scandal looms around vulnerable Old People, Many of them reportedly abandoned in Special Facilities, Out of Hospitals, lacking sufficient Staff, and Deprived of Intensive Care and/or Ventilators notoriously Necesary in order to Fight against that Virus, according to some Vague and/or Obscure yet Criteria to choose Who would Benefit from that Crucial Medical Equipments, or Not, and When, to the point that even Legal Complaints have just been lodged at the Supreme Administrative Court in oder to Oblige the Government to Clarify its Policy on this Tragic Issue. USA's "Washington Times" have just published an Article noting that in China Priority is given to those who Risk most of all to Loose their Life, But the Contrary seems to prevail, in real practice, Elsewhere..., making Revolted Citizens to Denounce ... "Hitler-like Methods" (sic !), as the Numbers of Dead grow too Fast in that Vulnerable Group, confined mainly in "EPHAD" Establishments. Nowadays, Strasbourg's Newspaper "DNA", even found that for Virus Diagnostic Tests to Old People kept in Special Facilities, Out of Hospitals, some Authorities prepared to use ..."Veterinary" staff (usually dealing with Dogs and Cats) !...
-------------------------
=> It's in such Circumstances, that some Collectives of Medical Doctors, mainly from Strasbourg's area Alsace (including an MP from President Macron's Liberal Party), followed by Many National MPs, Senators, and EU Parliament's MEP also from Strasbourg's Region, of the mainstream Center-Right Opposition Party of the "Republicans"/ChristianDemocrats-EPP, published these Days Urgent Calls to the Government to Allow to Infected People the Freedom to take from their Private Doctor Medical Prescriptions to use the Hydroxychloroquine (HCQ) or Chloroquine-based Treatments (with Azithromycin and Zinc), that Many notoriously consider as offfering Good Chances to efficiently Face the Virus, (including, f.ex., some Chinese Medical Researchers, French Professor Didier Raoult, USA's President Don Trump, etc).
Pointing mainly to the Fact that such a "Simple", already Available, and even "Cheap" Solution for a much Needed Medical Treatment, seems, indeed, to have a Real Potential to eventually Help Win the Fight against that Virus, (particularly by Strengthening the Human Immunity System, etc), they all oberve, also, that "there is No Time to Loose", f.ex. still Waiting for various Time-Wasting "Tests", while too Many People are being Killed Each Day from that Horrible Virus, (Comp. Numbers cited Supra).
Thus, a Group of Doctors (mainly from Strasbourg's area Alsace), urged to Allow, at least those Medical Workers, who have been themselves Infected by the Virus, to Try their Chances by using HCQ... Another, Similar Group of Medical Doctors, also from here, Denounced as "a Scandal" the current Prohibition to prescribe HCQ to infected Citizens against the Virus, and launched an Internet Petition for the Reconnaissance of such a Basic Right for the People to ask their Private Doctor to give tham that Medicine, (naturally taking all due Precautions for Human Health).
MP Patrick Hetzel, together with a Collective of Many other "Republican" MPs and Senators, (Comp. Supra), including Strasbourg's EU Parliament's MEP Anne Sanders, urged the Government to declare Strasbourg's area of Alsace as a "Sinistered" Area, notoriously hit by the Virus much More than all Others, (Comp. Supra), so that it could "Exceptionaly" authorize the Medical use of HCQ at least Here, in an attempt to Try to Save Human Lives, which obviously Need some Urgent Measures of Protection.
They were, Later, joined even by former Minister of Health, and f. Foreign Minister, Philippe Douste-Blazy, who just Published another Web Petition at "Change.org", urging, together with other Medical Doctors like him, the Freedom to Prescribe HCQ to People affected by the Virus, throughout all France, given the Urgency, during a very Deadly "War", which does Not leave any luxe to Loose more Time, still Waiting for Longer and/or UnCertain/Doubtful Tests : Already, there are important Indications that HCQ, if it's administered Early enough, could really Help to Face, quite efficiently, that Virus,  as well as several Scientific "Studies", and relevant "Measures" taken or prepared in Various Other Countries, accross the World, from Europe to China and USA, etc, which Advance in this Direction, they note.
By a Timely Coincidence, USA's "Washington Times" has just Published an Article on a Recent International Poll, which concluded that a net Majority of Medical Doctors, in Many Countries accross the World, considers HCQ as the Best Available Treatment against the Virus.
Many People's understandable Frustration, in this regard, seems to be due Not Only to the Crucial Risk of Losing a Fast-Growing Number of innocent Human Lives, but Also to the Fact that the Alternative Solution of finding an efficient  "Vaccine", currently seems to be practicaly Postponed for Too much Later, probably even for ... "After 1,5 Year", at Best, i.e. likely due to still Temporize until the "Next Season" (sic !) of 2020-2021, as an Eminent USA White House "Coronavirus" Expert Team Member, Dr. Fauci, told Reporters in a recent Press-point with US President Don Trump. Dr. Fauci has been Chairing an Important Medical Research Organisation in the USA specialized on Infectious Diseases, (after having been Appointed at the Federal Administration, initially by "Socialist" former US President Carter), and, himself, (coming from a Family of Pharmaceutical  Drug-store Owners), has reportedly dedicated his Professional Career, all the way Since 1984 up to 2020 (sic !) into still Seaching a Vaccine against the HIV, that has Not Yet been Discovered until Nowadays !...
On the Contrary, Meanwhile, US Health Secretary Alex Azar, (a Conservative Lawyer, previously hired by Famous late Supreme Court Judge Scalia, and Afterwards appointed by former US President GWBush, a Republican Conservative, followed nowadays also by President Don Trump), announced, on this same occasion, that USA had just "Secured 30 Millions tablets from Sandoz and 1 Million tablets from Bayer of HCQ and ChloroQuine, which are potential COVID-19 Treatments", as he pointed out...
But things went Nasty, when US White House Anti-CoronaVirus Team Coordinator, Dr. Deborah Brix, (a Long-Time cooperator of Dr. Fauci, and herself apointed, by former "Socialist" US President Barack Hussein Obama, back on 2014, as his Anti-HIV Ambasador accross the World), High-Lighted some Incredible "Models" of Experts' Previsions and Hypothesis about ... "1,1 to 2,2 Millions" possible Victims of the Virus, if adequate Containement Measures were Not taken at all, and, ...at least, 100.000 up to 220.000 Deaths (sic !), Only inside the USA, Even if such Containment Measures were applied... Given the Fact that in Europe that Virus is much More Deadly than Anywhere else in the World (Comp. Supra), one can easily Imagine what Huge Mass Massacre would correspond here to such an incredible "Experts" "Model" of Previsions !
---------------
=> In such a Context, it's obviously Inevitable that  many People's understandable Frustration turned towards the already Available, HCQ Medical Treatment against the Virus, (Comp. Supra), as a matter of Urgency, Despite ImPerfect, yet, Verifications, but given the existence of several Encouraging Facts, in order to Avoid further Deadly Delays.
HCQ's Opponents, reacted, inter alia, also by apparently Exagerating a long series of alleged Dangerous Counter-Indications, (particularly about the Heart, etc), that Professor Raoult dissipated by simply calling the People to "Avoid Self-Medication", but, on the Contrary, always Follow "Doctor's Orders" faithfully. While Douste-Blazy asked to Stop Exagerating by painting HSQ "as if it was Poisoned"...
More important : He Warned that the 1st Stage (in 15 Days time) of some current Tests on HCQ, as one among 6 possible Medical Treatments against the Virus, would probably show Bad Results, because the Organizers had Chosen, as Cobayes, some Infected Persons already with Serious Adverse Symptoms, while, on the Contrary, the Efficiency of HCQ required to be given "at an Early Stage", when the First Symptoms are still quite Begnine.             
Current French/EU Tests on HCQ may seem probably Compromised or even Doomed, for at least 3 reasons : (a) They are reportedly focused on seriously Advanced Patients, already at a Crucial Situation, while, on the Contrary, HCQ main Supporters Focus mainly on Prevention/Initial Stage Patients, (particularly in order to use Zinc for Anti-Corps development by Stimulating the Immune System). (b) Apparently, they include some Harsh Critics of Dr. Didier Raoult, the principal French Supporter of HCQ. In Addition, HCQ Supporters are often presented as having an alleged "Anti-System" profile (even if, in fact, this is Not always True), so that the Establishment (which Controls those Tests) Risks to have a Negative Reflex. (c) Reportedly, they use a "Double Blind" Method, where Nobody Knows who takes HCQ Treatment, and who takes simple Placebo, (Not even the Medics !), so that it appears, a priori, Difficult to knowingly establish 2 Equivalent Groups, with Similar Age, Health, Personality/Social status (etc) Characteristics. + Last, but not least, the 15 Days reportedly left in order to arrive to Conclusions, might Not be Enough, (even if some speak about "6 Weeks", something which seems Tragically too Long, when many Hundreds/Thousands of People Die each Day)...
For the Rest, it's absolutely Natural, and even Necessary, that such Tests (as EU's "Discovery" does) Extend also to Other possible Treatments, (as Remdesivir, etc), because Nothing should Stop the eventual Discovery of a New and fully Efficient, (as well as anodyne) Treatment of the Virus COV-3.
But some fierce Opponents to HCQ go Too Far in their Rejection, even Accusing HCQ's Fans for a so-called ..."Scientific Populism" (sic !), Calling "Citizens" participating in debates on Scientiic Choices to "Learn Methodology" of Science, and Reject their alleged "Biais" or "Beliefs", (etc), while others boasted that "Science is Not for the People, But for Scientists !", apparently Confusing between petty Technocrats and Real Intellectuals, as also Underestimating the potential of a fully-fledged, modernized Democracy, etc.
Last, but not least, it canNot be Excluded a priori, that some might, eventually, prefer a, comparatively, "Slow" Exit from that Virus' Crisis, while Others would aspire for a "Fast" one, eventualy for Opposed Political Aims, (not always easy to admit in Public)...
Something like that might Also explain the otherwise incomprehensible Deadly Scandal to Leave the initial Hotspot at NW Italy totaly Free to Hit, First of all, the Neighbouring French Strasbourg's Region, and, Later-on, Germany's Länder of Bavaria and Baden-Wurtemberg, Both Heavily Infected Later-on, withOut taking, meanwhile, Any "Containement" Measure at the Borders, Contrary to what China did Succesfully vis a vis the Wuhan Region, (See, inter alia, also, f.ex. : ..., etc).
Everybody knows, by the way, that USA is currently engaged in a "Hot" Electoral Fight for the Election of its Future President on November 2020, while the EU seems partly Divided on a Key point of Economic/Financial policy after BREXIT, and China's Government had just Opposed its own (and USA's) BioTech Establishment, by Punishing a Maverick Doctor who had Practiced Heritable Genetic Manipulations to Human Embryos  Transmissible to Future Generations from 3 Babies secretly born "Modified", Triggering Grave Risks against Humanity, (See: http://www.eurofora.net/newsflashes/news/chinacondemnsheritablegeneediting.html), etc.
Meanwhile, a Striking Number of various Key Politicians, mainly of the Right Side of the Political Spectrum has been hit by the Virus, until now : Christianemocrat/EPP German Chancelor Angie Merkel narrowly Escaped reently, but Conservative British Prime Minister Boris Johnson was Infected and obliged to enter into a Hospital, while 5 Republican Senators (including the famous Rand Paul) were also hit in the USA, making President Trump lose his Majority in the Senate precisely at the moment of Voting a 2 Trillions $ Package Bill against the Virus' Crisis, and, thus, Obliging him to Accept a series of Amendments serving the Left's Interests (of the Democratic Party) ; even Strasbourg Region "Great East"'s President, John Rottner, a mainstream Center-Right Opposition Leader, of the Republican/ChristianDemocrat-EPP Party, due to run in the forthcoming 2021 French Regional Elections, was also Infected by the Virus (Comp. Supra), shortly after revealing that he had Vainly attempted to Warn French President Macron, since the 1st Marh 2020, of the Deadly Threat arriving then from NW Italy (Comp. Supra) ; while a German Lander's Economy Minister, ChristianDemocrat/EPP reportedly committed Suicide, and France's Patrick Devedjian, a former many times Minister, and f. Head of the mainstrem Center-Right Party "UMP" (currently "the Republicans"), nowadays re-Elected MP and President of Department at Haut-des-Seine, unforgetable Minister of f. President Sarkozy for the Economic Stimulus against the Global Crisis of 2008-2010, and a strong Critic of Turkey's Controversial and UnPopular EU bid, suddenly Died at a Hospital by the Virus, at 75 years of age, (i.e. Similar to the 3 Candidates for USA's Presidency of 2020-2024 : Sanders, Biden and Trump); etc...
(../..)
("Draft-News")
-----------------------------
BRIEF NEWS
00:00 - 02.06.2021

00:00 - 18.10.2020

00:00 - 19.06.2020

00:00 - 18.05.2020

00:00 - 20.04.2020

00:00 - 02.02.2020

00:00 - 09.12.2019

00:00 - 27.11.2019

00:00 - 16.11.2019
Statistics
Visitantes: 43228252
Archive
Login Form
Other Menu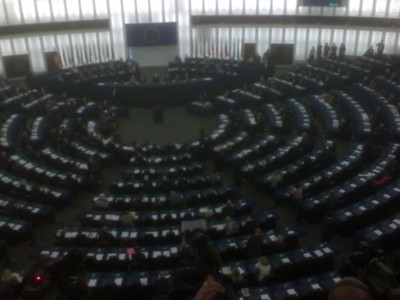 3 EU Parliament votes to boost EuroGroup !
---------------------------------
After EuroZone Paris Summit's succes, Sarkozy calls to "think anew how to re-construct Europe !
"EuroZone and EU Institutional debates pave the way to 2009 discussions on EU Future, including Enlargment, Turkey etc. ?


23 October 2008

After EU Parliament strongly suppported in 3 successive Votes this week in Strasbourg French EU Chairmanship's move to boost Euro-Group at EU's core, while ideas on EU Institutional problems are awaited on December, "it's an open Question now" if this may lead to a debate on EU's Future, or not, told us French President, Nicolas Sarkozy''s Spokesman, Pierre-Jerome Henin.

MEPs voted on Thursday fresh Funds to support EuroGroup, after adopting on Wednesday a Resolution asking a "further Evolution" to "the 1st ever meeting of Heads of State and of Government of the Euro-Zone, taking decisions in that capacity", while earlier this week a Report asked "a stronger Institutional setting" for "EuroGroup", extended from "competitiveness/industry" to "environment, employment and education", with "increased powers for Political decision-making", according to a text drafted by French MEP Francoise Beres and German MEP Werner Langen, "10 Years after the creation of Euro" (1999 - 2009).

- Brussels' subsequent "EU Council ..(simply)..ratified the measures decided by EuroGroup on October 12" in Paris, which "were necessary to contain the current Financial Crisis", Resolution observes, expressing also support to the new process succesfully initiated by Sarkozy and due to be completed by agreements with USA and other countries at a Global level.

From now on, it's between two differend but parallel moves : EU's delay, and EuroZone's acceleration, that Enlargement and particularly Turkey's controversial EU bid, will have to search its way :

Indeed, EU's 27 expect a "Roadmap on how to deal with the Irish problem" on Lisbon Treaty ratification after December, risking to pass even 2009 Elections and next Commission with the old Nice Treaty of 2000, out-dated and unfit even for 2004's Enlargement...

On the contrary, EU's core launches a real "Economic Governance for EuroZone at the highest level of Heads of State/Government" of the 15, which started in Paris on October 12 and was strongly supported this week in Strasbourg by Sarkozy and EU Parliament.
----------
- "It's a good idea, to launch such a debate ("on EU's Future") in EU Parliament in view of 2009 Euro-Election : Perhaps some MEPs will seize an opportunity", told us mainstream French MEP Alain Lamassoure, former EU Minister and EU Spokesman for France's governing party UMP.

- "All MEPs' debates on such EU Councils are also part of the larger debate on Europe's future : Now with EuroZone, and even more when, on December, Irish Prime Minister is due to table proposals in Strasbourg on how to deal with EU Treaty's ratification", replied earlier to our question EU Parliament's Press Director and Spokesman, Jaume Duch.
--------------------------------------
Sarkozy has formally anounced his intention to open EU Debates on Economy, Identity/Enlargement (i.e. mainly Turkey), etc. both linked to a popular Political view of Europe, since his Historic speeches on EU in Strasbourg, on February and July 2007, when he stressed that "Europe needs a New Renaissance". At the beginning of the French EU Presidency, on July 2008, replying to a MEP, he suggested that EU Parliament takes an active part in Debates on EU's Future.

- Now, in 2008, "Crisis are an opportunity to re-think how to re-construct Europe", Sarkozy stressed. At any case, the Historic 1st EuroZone Summit of Heads of State/Government, which started replying to the Financial crisis,"is a Turning Point : After that, Europe cannot be governed as before, but differently" : People "like a Europe with Strong Will".

- "We must make the System move !", "Europe needs Innovation" and free political debates. EU "Elections are in a few Months", Sarkozy warned.

He invited EU Parliament to fully play its role as "the Democratic Heart of the Europe we want : United, Independent and Voluntarist, because the World needs Europe's voice".

- "It's no more possible for Euro-Zone to continue without an Economic Government" at the Highest Level of Heads of State/Government, who provide "Democratic Legitimity" and can take important decisions, he announced, strongly supported by EU Parliament's Economic Committee which just voted to boost the "Institutional" aspects of "EuroGroup".

Plasticity offered by the current absence of a special Treaty on EuroZone's Institutions "made it easy to adapt the organization of the 1st Summit with imagination, to efficiently meet urgent needs", he observed, on the occasion of Brittish Prime Minister's exceptionnal presence at the greatest part of EuroGroup's Paris Summit.

- "In EuroZone we have the same Bank, the same Money, and, thus, a same duty for Unity" : "By bringing together EuroGroup's 15 members States we suceeded to find a solution and prepare a Giant Plan of 1.800 Billion euros", Sarkozy reminded of Paris' 1st Historic EuroZone's Summit.

Afterwards, Brussels' EU Council followed the move, and USA's Paulson II Plan was inspired from that. "Europe must promote the idea of Global Economy's Refoundation", he stressed.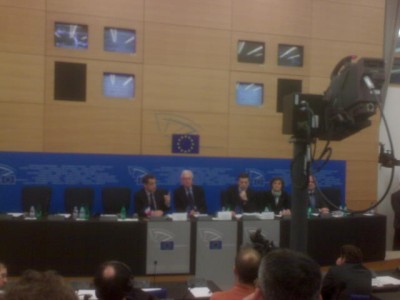 - "I was frankly astonished when I found, at the EU, a rigid system, where any New Idea was seen from the outset as a sacrilege, while, on the contrary, Europe needs Innovation !", he described.

F.ex. ,"'When we first spoke about the "Union for the Mediterranean", it was misunderstood as something extraordinary.. When later we had the Russia -Georgia crisis, it seemed against EU's custom to act "in the middle of August", instead of staying a passive spectator ! And when, in front of the Financial ciris, we gathered the 1st EuroZone Summit of the "15", some thought of it as a lese-majesté", he denounced.
----------------------
On Geo-Political Principles :
----------------------
- But, by moving resolutely, "EU obtained the ...withdrawal of Occupation Troops in 2 Months !", reminded Sarkozy, observing that Russia "fulfilled its commitments", in the Georgian crisis, where a "disroportionate reaction" from Moscow followed a "totally inappropriate action" from Tbilisi's troops. "It would be crazy to reply by military means : EU should not become accomplice of another Cold War, imposed by lack of cool heads".. as he said.

In future, "the creation of a common European Economic Area with EU and Russia, would also obtain a raprochment on our Human Rights and Democratic Values", added Sarkozy, in a statement which should logically be applied, a fortiori, to controversial EU "candidate" Turkey..

Particularly when, the same week that EU Parliament voted 2009 EU Funds for Turkey's controversial EU bid, ECHR took a series of judgements condemning Turkey for grave Violations of Human Rights, such as : Torture, death of a political prisoner in unclear circumstances followed by failure to conduct a proper Investigation, "enforced Disappearance" of a youngster aged 17, Killing of a sepherd with Tank Shells, persecuting Journalists for articles on "Missing" People, even a former President of Human Rights' Association, (etc)

- "We (EU) can defend our ideas on respect of Sovereignity and territorial Integrity, on Human Rights and other differences ... without confrontation", Sarkozy stressed, on the occasion of Russian/Georgian conflict, reminding that : "we were only 2 steps from catastroph", when a Peace agreement brokered in Moscow prevented, at the last minute, Russian troops' advance towards Tbilisi.

An EU Parliament Resolution adopted Wednesday in Strasbourg on the occasion of Russia - Georgia conflict, outlines a set of Principle which apply elsewhere too, (particularly when EU Rapporteur for Russia and Turkey is one and same person ; Dutch MEP Ria Oomen-Ruijtanen !)

Clearly rejecting any "military solution to the conflicts", MEPs "condemn ..all those who resorted to force and violence". They denounce a "disproportionate military action", "as well as (an) unilateral decision to recognise the independence" of brekaway regions, "calling.. to respect the sovereignty and territorial integrity" of the concerned country, "and the inviolability of its borders recognised by all EU Member States". They warn that "EU must review its policy towards" a 3rd Country, "should .(it)...not comply with its commitments", and "stress that the withdrawal of.... troops from the areas ....is an essential additional step".

EU Parliament "calls for the safe and quick return of refugees, (accepted by Russian President Medvedev) accompanied by the deployment of EU observers on the ground", and "regrets ...that ..EU Monitoring Mission (EUMM) is not allowed to enter the ...breakaway regions". Moreover, "It's important to ensure that persons and NGOs ..engaged in defending human and civil rights can operate". "Until ...all remaining issues (are) resolved..., and notably the continuing ...Military presence", "relations with the EU ..cannot be fully normalised", MEPS warned.

As nobody likes to be accused to practice "Double Standards", this should be regarded as "Principles" applicable to any Third Country at EU's Neighborhood.. No ?
-------------------
On Economy :
-----------------------
- "When Financial crisis shook US and EU's Banks, without result from the 1st (American) Paulsen plan, it was the common reply of the 1st EuroZone's Summit, involving some 1800 Billion euros, which started a positive move in the markets, soon strengthened by the follow-up of the US Paulson 2 Plan, noted Sarkozy.

- "Europe should not be only on the defensive, but, if necessary, know also how to take an offensive", he said, brushing away hesitationsto act on Economy: - "I'm for a refondation of Capitaliism, but against Speculators, who betray its values" : "Lack of Rules was profitable to speculators, Not to businessmen !" We must make sure to prevent any such crisis in future". "We, the rest of the World, cannot continue to bear the deficits of the 1st World power without saying anything !", the French President said, applauded by EU Parliament. All this needs "a New Global Governance", on which EU Parliament must debate. That's why "we proposed together with USA, several Summits from mid-November", to which G-8, enlarged to China, India a.o. countries, should participate. UNO's SG; Ban Ki Moon, the IMF, etc.

Financial crisis lowered shares' prices even for healthy companies, sometimes to 1/3 of their initial price, so that strangers might buy EU industries for only a portion of their real value, and Europeans may wake up one day with their main industries sold out to foreigners !

That's one of the reasons for which EU should debate about creating "Golden Shares" for States to jointly take Strategic participations to help European Industries until the end of the Crisis, particularly against distording competition, he suggested, pointing at USA's 35 billion $ plan for American Car Industry."We shall struggle for Europe to be able to build Airplanes, Ships, Trains, Cars, because we need a strong Industry", he concluded.

"F.ex. as we did back in 2004, when as Finance Minister, we bought Alsthom's shares for 800.000 euros, and, after restructuring, we sold them for 2 Millions : Help a company and make money is not so bad"...

As for the UK, "when Ireland announced that it would guarantee only Irish Banks, London City emptied from liquidities in 24 hours : It's the EU which helped to restore the situation, Not the UK alone !", reminded Sarkozy to nationalist British MEP Nigel Farage.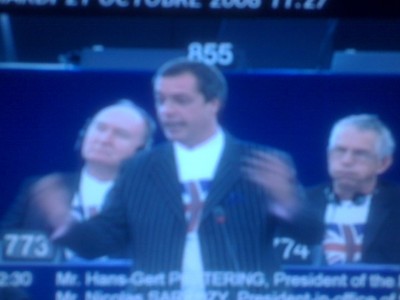 On the contrary, in a last-minute attempt for the EU to catch-up with its Institutional delay "before the European Elections" of June 2009, MEPs simply voted a call for a "set of proposals" to be made for the "Irish public opinion" at the end of the year...
- "As long as Lisbon Treaty is not ratified by all 27 EU Member States, there is an unanimous decision to stop Enlargement, reminded Wednesday in Strasbourg the French Minister for EU affairs, Jean-Pierre Jouyet..
Added to an indirect but clear warning that, without Lisbon Treaty, all 27 EU Member Countries may not have a Commissioner in the 2009 resuffle, MEPS in the Constitutional/Foreign affairs Committees applauded hoping that this might motivate their Irish friends..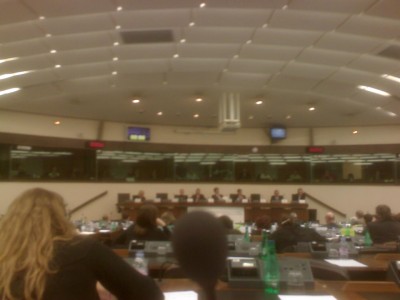 Polls