Αρχική

newsitems

EU-Germany: Greens' controversial Push for More Migrants (+via Turkey) to End EU role on Migration ?
EU-Germany: Greens' controversial Push for More Migrants (+via Turkey) to End EU role on Migration ?
Παρασκευή, 17 Νοέμβριος 2017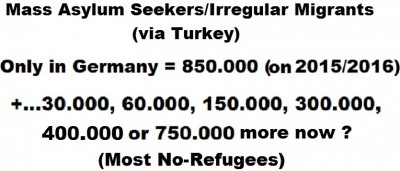 *Strasbourg/Angelo Marcopolo/- New Facts, which surfaced in Strasbourg, on the Sidelines of EU Parliament's full Plenary Session this week, and while "Hot" Political Negotiations unfolding in Germany on a New Government Coalition have reached a Crucial stage,

clearly indicate that, if they yielded to "Greens"' Controversial Demands for even More Irregular Migrants to Follow that UnPrecedented Big "Tsunami" of 1,5 Million Mass Asylum Seekers/Irregular Migrants which Suddenly Entered in Europe mainly via Turkish Smugglers on 2015-2016,

then, EU's current Competences on Migration Policy, Risk to come, sooner or later, to a full End, in the foreseeable Future.

----------------

Indeed, France's Biggest Opposition Party in the National Assembly, (which also holds a Majority in the Senate, and among Regions), that of the "Republicans", members of the ChristianDemocrat/EPP Group, the Biggest in Europe, Welcomed Yesterday in Strasbourg the obvious Frontrunner Candidate to their Presidency, (due to be Elected on December 2017), Laurent Wauquiez, who made certain Relevant Declarations :

- In particular, Revealing in Strasbourg one of the Main Reasons for which he finds Necessary to Put a Stop, as things stand Today, to any EU Competence on Foreign Migration policy, and bring it Back to its Member States, (Except for a Revised "Shenghen" system for EU Citizens), he Clearly Explained that this is due also to alleged "Different Situations in Germany and in France" :

- F.ex., concerning the Workforce's future, some in Germany push for even More Foreign Migration, while we, in France, can augment the Population by more Births inside the Country, he observed, in a well-Applauded Speech to the Militants of the Party, and after a Press-point with Journalists, including "Eurofora", (See also : ....).

Significantly, Wauquiez, (who Speaks German, as he Demonstrated here by Inviting a German Collegue at the Press-point to raise his Question "in Deutsch", Replying in the German Language), is an Experienced former Minister for European affairs, and, Afterwards, for Universities/Scientific Research, as well as f. Government Spokesman, (Comp. Various Replies that he has given, then, to "Eurofora"s Topical Questions, f.ex., at : ... + ..., etc).

+ Moreover, he said that just After having held a Meeting with EPP MEPs in EU Parliament, where he met also with the President of the ChristianDemocrat/EPP Party, Joseph Daul, in addition to a Fast-track Round Trip even to Neighbouring Germany's Regional Headquarters at Stuttgart, (as "Eurofora" learned by well informed "Republican" Party sources), Capital of the Federated State of Baden-Württenberg, where a Coalition between Chancellor Angie Merkel's ChristianDemocrat/CDU and the local "Greens" of Chairman Kretschmann has already started to Govern recently, (See, f.ex. : ...).

Meanwhile, preparations and Political Debates about Strategis to follow in the Forthcoming European Elections of May 2019 (of Crucial Importance for Europe's Present and Future), are Already Starting, Nowadays, Both inside EU Parliament, and in Key Member States, as, f.ex., in France, etc., (before the Next Presidential Elections, normally scheduled for 2022).

>>> And this came Precisely while Delicate Negotiations in Berlin, for a New Government's Coalition, were, reportedly, Threatened by certain Stumbling Blocks, particularly Because of a Controversial Demand of "Greens"' representatives, who Ask for Even More Irregular Migrants to Enter inside the EU, even if they are Not Refugees at all, Neither their Family, but Only if one or another among their Parents might have managed to Enter in Germany during since the 2015-2016 Giant "Tsunami" of More than +1,5 Millions of Mass Asylum Seekers/Irregular Migrants' Sudden, UnPrecedented Influx via Turkey, and/or Afterwards.

Already, BEFORE that +1,5 Millions "Tsunami" of 2015-2016, according to OECD Data, More than 400.000 People had entered inside the EU, just in 1 Year (2015), by Legal means, through such a "Window". Therefore, both the GeoPoliticaly Exposed Bavarian "CSU" Party, Traditionally Close Ally to Merkel's CDU, and/or Various Other German Politicians, Experts, and/or other interested/affected People, Naturally Warn that the relevant Numbers, AFTER that 2015-216 UnPrecedented Big "Tsunami" of Massive Migration through Turkey, risks to be even Much Bigger : Logically, CSU estimates reportedly are up to 750.000 more !...

- Astonishingly, However, those "Greens" and/or other relevant intermediaries, reportedly Claimed, during the above-mentioned Negotiations in Berlin, that the above-mentioned Number of Additional (Non-Refugee) Migrants (to Add to all other kinds of Migrants), would be just around 30.000 or 60.000 per Year, according to them... Something that pushed various Mainstream German Medias (including "Die Welt" and others) to Warn about several ... "FAKE NUMBERS" on Migrants currently circulating around those Crucial Berlin Negotiations for an eventual "Jamaica" Coalition for a New Government, with Big "Power" Games being played there by some...
+ And an Additional, Important Fact, at this Point, Nowadays, is that, Contrary to what Europe had Already Experienced in its Long History in the Past, Too Many among that UnPrecedented, Sudden "Tsunami" of 1,5 Millions of Mass Asylum Seekers/Irregular Migrants imported in Europe mainly by Turkish Smugglers on 2015-2016, (and, reportedly, systematically..."Selected", with Socio-Cultural, Religious and/or Education level counter-Criteria by the Turkish Authorities, according to an EU Experts' Report leaked in Brussels and Published by many Mainstream Medias in Germany and elsewhere on 2016), look very Different from all Other, previously Known Migrants :
F.ex. being too largely Non-Europeans, Nor Christians (a notoriously Oppressed Minority around several Middle-East Countries, which is, Curiously, Under-Represented among those so-called "Refugees", Despite even ISIL's and other Islamist Terrorists' Brutal Aggressions there, etc), Don't speak at all any European Language, many Do Not seem to really wish to "Integrate" the Host European Societies and Culture, most are Heavily "Islamized" (if not Radicalized), some Brutaly Aggressive, among whom is notoriously Hidden even an unknown Number of former Deadly Islamist Terrorists' members or fans, etc.
So that these "Integration Problems", exceptionaly Risk to become much more Difficult and Worse than what Europe had witnessed in the Past, (as even a ... Swedish, "Socialist", CoE's Expert, with Experience in Human Rights/Democracy, etc., has Acknowledged to "Eurofora" in Strasbourg).

And, Meanwhile, various relavant Popular Reactions from European Union Citizens are notoriously Growing, Both from recent Security Risks (after an Extending Number of Deadly Attacks by Islamist Terrorists cowardly Targetting innocent Civilian People, throughout all Europe, including Many Times inside Germany and France, etc), and Social Cohesion Problems, (particularly Felt by Poor People, obliged to live their Private and Family Everyday Lives in some Poor or Impoverised Neighborhoods, recently threatened to be transformed in Cultural a.o. "Gettos", since they are Affected much more by that kind of "New" Mass Migration through Turkey a.o., which, in Fact, makes Life more Difficult also for Other, Older Immigrants, from various Different Origins and Pathways to Europe, who were, Comparatively, Less Difficult to Integrate : F.ex. in Schools, Housing behavior, etc).

+ In Addition, the Number of MPs Democratically Elected by the European People recently, (particularly in Germany, but also in France and in Other EU Countries), have Already Reached (or Approach) a Net Majority very Critical against such an uncontrolled and persisting Massive Immigration of this kind, (which, by the way, has also Nothing to do with the Average Population even of Syria itself, which appears very Different from what some Turkish a.o. Smugglers curiously chose to import in Europe suddenly on 2015-2016+)...
_____________________

Moreover, when Opposition's New Party of the "Alternative (Rightists) has, reportedly, just presented a Proposal, in the Bundestag in Berlin, for a planned Return Back to Syria of about 500.000 Irregular Migrants who are Not real Refugees, Now that the War has been Declared almost Finished, (on Condition that it occurs in Safe Areas, and Free of Charge, with Amnesty for those who Deserted the Army, etc), as Mainstream Newspapers published in Germany, the overall Difference between Opposed Political Choices on the Overall Number of such Irregular Migrants apparently Jumped (500.000 + 400.000, etc) up to almost .. 1 Million (or more : Comp. Supra) during a year, in Germany alone : I.e. a quite Different Germany and Europe, according to People's choices !

Meanwhile, concerning the above-mentioned Claim about alleged Needs for the Workforce in the foreseeable Future, (Comp. Supra), the Numbers which had been Published by the JHA Minister De Mezières, just a few Years ago, had Revealed that, in Fact, the Intra-European Migrants were Becoming the Biggest Group of Foreign Workers in German, bypassing Both the Turks and any Other Group from 3rd Countries : Isn't that Enough, and (particularly) much Better (f.ex. from the Triple point of view of Security, Productive Capacities, and Socio-Cultural Integration ?

Or, perhaps, some might, eventually, push Massively for Jobs withOut Any Qualification, Reduced in a few repetitive, simplistic moves that Anybody could do, so that they would result in Too Low-Paying occupations, and/or in so Harsh Conditions, that even most Poor Europeans would Not Accept, so that there would be a Need for Desperate and Ignorant Masses of Non-European, Foreign Migrants to be practically Obliged to Accep that. But, If that might be, or become the case, then, the obvious Question Raised, is of Fundamental Importance :  - "What kind of Europe should be Built for the Future ?"
-------------------------
 
And, as Laurent Wauquiez repeatedly Warned, on the occasion of his Visit to Strasbourg, yesterday, (Both in an Interview to "Figaro" Newpaper in Paris, and in 2 Press-points here, as well as in a Long Speech to a Public Meeting of ChristianDeocrat/EPP Militants of his "Republican" Party : the same as that of former French Presidents Nicolas Sarkozy, Jacques Chirac and of the General de Gaulle, as he reminded, while Confirming to "Eurofora" that he is "for a Strong France, inside a Strong Europe") :

- In order "to Build Europe", we "canNot Ignore the Will of the People !"...


(../..)


-------------------------------------

Αρμοδιότερα "ΜΕΓΑΘΗΡΙΑ" ΚΟΜΙΣΙΟΝ ΕΕ. ΕΝΔΙΑΦΕΡΟΝΤΑΙ ΓΙΑ ΚΥΠΡΟ, ΕΚΤΟΣ Oli ΡΕΝ !...

>>> Κι ο Γάλλος ΖΑΚ ΜΠΑΡΩ, - ΑντιΠρόεδρος Επιτροπής ΕΕ, αρμόδιος για Θεσμούς. Ανθρώπινα Δικαιώματα, κα, (κι ενώ συνεχίζεται κι η Γαλλική Προεδρία ΕΕ)...

-  Δηλώσεις που μας έδωσε ο αντιΠρόεδρος Κομισιόν ΕΕ, ενώ συνάντησε στο Στρασβούργο και τον Πρόεδρο ΕυρωΔικαστηρίου Ανθρωπίνων Δικαιωμάτων, Ζαν-Πώλ ΚΟΣΤΑ
-------------------------------------------------------------
* Στρασβούργο/ΑΚΜ/ + 16 Οκτωβρίου 2008/-
---------------------------------------------------------------
    Θετική προδιάθεση για να παίξει ίσως ουσιαστικό ρόλο σε παρακολούθηση συνομιλιών για το Κυπριακό από Ευρωπαική Επιτροπή, μετά κι από αμφιλεγόμενη στάση για Τουρκία του Φινλανδού Επιτρόπου για Διεύρυνση κ. ΡΕΝ, που έχει αμφίβολη αρμοδιότητα εφόσον η Κύπρος είναι Κράτος-Μέλος ΕΕ από 2004,
    εξέφρασε ένα απ τα πιο σημαντικά ηγετικά στελέχη της, ο ΑντιΠρόεδρος της Κομισιόν, αρμόδιος σε "τομείς-κλειδιά", όπως Θεσμοί κι Ανθρώπινα Δικαιώματα, Ζακ Μπαρώ.

    Αυτό προκύπτει κι από αποκλειστικές δηλώσεις που μας έδωσε ο κ. Μπαρώ, ο οποίος έχει ιδιαίτερη επιρροή σήμερα ένεκα της Προεδρίας ΕΕ απ την χώρα του τη Γαλλία (μέχρι και τέλος Δεκεμβρίου 2008), ενώ συνάντησε στο Στρασβούργο και τον Πρόεδρο του Ευρωπαικού Δικαστηρίου Ανθρωπίνων Δικαιωμάτων, Ζαν-Πώλ ΚΟΣΤΑ :

     - "Θα θέσω το ερώτημα", μας ανακοίνωσε ο αντιΠρόεδρος της Ευρωπαικής Επιτροπής, σ απάντηση σχετικής ερώτησής μας για πιθανή ανάμιξη των υπηρεσιών που διευθύνει ο ίδιος.

     Εστω κι άν "δεν ξέρω ακόμα" τί θα γίνει, "θα το κοιτάξω" αυτό το θέμα, πρόσθεσε, εκφράζοντας ετοιμότητα κι ενδιαφέρον.

    - "Ναί, βέβαια", συμφώνησε δε με παρατήρησή μας ότι κάτι τέτοιο θα ήταν "λογικό", εφόσον η Κύπρος είναι πλέον Μέλος ΕΕ μετά το 2004, και στις επίσημες αρμοδιότητές του για Θεσμούς ΕΕ, Ελευθερίες κι Ασφάλειες του Πολίτη, περιλαμβάνονται πολλά απ τα πιο "καυτά" θέματα που τίθενται στις συνομιλίες για το Κυπριακό, όπως και "παρεκλίσεις" από Κοινοτικό Κεκτημένο, ελευθερία μετακίνησης, Εκλογές, κι άλλα Ανθρώπινα Δικαιώματα, κττ.

    Δεδομένου κι ότι θα ήταν ΑΡΜΟΔΙΟΤΕΡΟΣ καθ ύλην απ τον Κο. Ρέν, που περιορίζεται σε θέματα Διεύρυσνης ΕΕ, προκειμένου για την Κύπρο, Κράτος-Μέλος ΕΕ μέσα στην "καρδιά" Ευρωπαικής ολοκλήρωσης. όπως τόνισε και συμβολικά κι η πρόσφατη Ιστορική 1η Σύνοδο Κορυφής Αρχηγών Κρατών/Κυβερνήσεων των "15" ΕυρωΖώνης, που προσκάλεσε στο Παρίσι ο Γάλλος Πρόεδρος Νικολά ΣΑΡΚΟΖΗ, προεδρεύων ΕΕ, νωρίτερα αυτή την εβδομάδα, με συμμετοχή Προέδρου Κύπρου Δημήτρη ΧΡΙΣΤΟΦΙΑ, επιτυγχάνοντας σημαντικές αποφάσεις έναντι Οικονομικής Κρίσης, που δέχθηκαν κι οι υπόλοιπες χώρες ΕΕ στις Βρυξέλλες αργότερα. (Πρβλ. 4 σύντομα Νέα που εστάλησαν από Παρίσι, απ το Προεδρικό Μέγαρο Ηλυσίων, Κυριακή 12/10/08).
   
    + Εξάλλου, "με την πρόσφατη Χάρτα θεμελιωδών ελευθεριών της ΕΕ, κι εν όψει της επικείμενης επικύρωσης της Συνθήκης της Λισαβώνας, θα έχουμε και μια σαφέστερη Νομική βάση για θέματα Ανθρωπίνων Δικαιωμάτων", πρόσθεσε,

    Την ίδια στιγμή, απάντησε δις με ξεκάθαρο "Ναί" σ ερώτησή μας γι "ανάγκη παρακολούθησης των συνομιλιών για το Κυπριακό απ την Επιτροπή ΕΕ".

    Επι πλέον, ο κ. Μπαρώ συμφώνησε μ ερώτησή μας άν η ΕΕ επιδιώκει να διευκολύνει την εφαρμογή αποφάσεων ΕΔΑΔ :    
    - "Βέβαια  : Αυτό είναι και το νόημα που έχει η συνάντησή μου με τον Πρόεδρο του ΕΔΑΔ, Ζαν-Πωλ Κόστα στο Στρασβούργο : Να δούμε πως η ΕΕ θα μπορούσε να διευκολύνει την πρακτική εφαρμογή των αποφάσεων του ΕυρωΔικαστηρίου, αυτό είναι φανερό. Κάτι που θα μπορέσουμε να κάνουμε ακόμα καλύτερα με τη Συνθήκη της Λισαβώνας", είπε.

    >>> Αυτό έχει επίκαιρη σημασία για την Κύπρο εφόσον πρόσφατο Ψήφισμα ΚΣΣΕ στο Στρασβούργο τάχθηκε υπέρ "μιας Λύσης του Κυπριακού που να βασίζεται και πάνω στη Νομολογία ΕΔΑΔ", για πρόσφυγες, εγκλωβισμένους, Αγνοούμενους, κπα.

    Αξίζει να υπενθυμιστεί δε κι ότι το "Πάγωμα" 8 κεφαλαίων στις διαπραγματεύσεις Τουρκίας μ ΕΕ εν όσω αρνείται να εφαρμόσει ανηλειμένη υποχρέωσή της να παύσει το "Εμπάργκο" εναντίον Πλοίων κι Αεροπλάνων από Κύπρο, αποφασίστηκε απ την ΕΕ όταν ο κ. Μπαρώ ήταν αρμόδιος για θέματα Μεταφορών, (όπως μας είχε προ-ανακοινώσει τότε, κι είχαμε δημοσιεύσει).

Polls