Pagina principale

newsitems

Merkel Welcomes Historic Trump-Putin 1st Meeting she hosted at G20 Summit: Towards "New Detente" ?
Merkel Welcomes Historic Trump-Putin 1st Meeting she hosted at G20 Summit: Towards "New Detente" ?
Saturday, 08 July 2017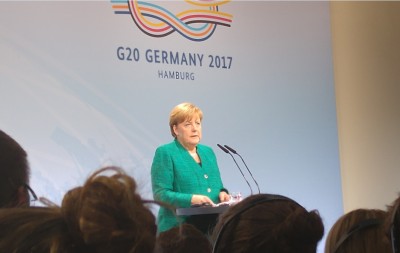 *Hamburg/G20 Summit/Angelo Marcopolo/- "Good, Honest and Sincere" USA - Russia Talks "can be Beneficial for All", said Experienced German Chancellor Angie Merkel, speaking to Journalists, including "Eurofora", at the Conclusion of 2017 "G20" Summit in Hamburg, where she Welcomed an Historic 1st Meeting between New US President Don Trump and Russian President Vladimir Putin, Yesterday, (Friday), 7/7/2017.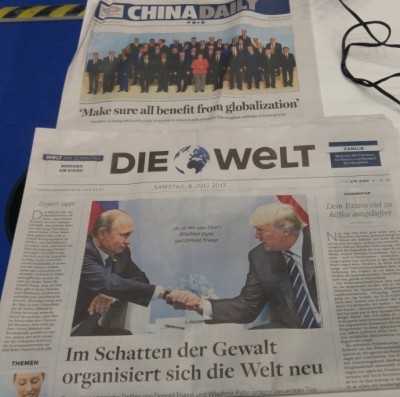 She Hosted that meeting as Chairwoman for 2017 of "G20"'s Evolving Global gathering of Heads of State/Government, initialy exclusively Economic, but nowadays also partly Political, which is due to celebrate its 10th Anniversary (2008-2018) Next Year in Argentina (Birthplace of Pope Francis), i.e. at Twice the Other Side of the Globe, on 2018.
___________________

    - Merkel said that she was "Glad that the 1st Meeting" between Trump and Putin, "took place here", in Hamburg, "on the sidelines of the G20 Summit", and that "the Conversation has Lasted ... for a very Long Time", (More than 2 Hours and 16 Minutes !).

+ In Addition, "I Saw that Now (i.e. on June 2017, After Obama), there is quite More Contact with each other", "Hoping that it would Lead into a Stable Relationships growing up", as she added

 - Because "there are Problems that can only be Solved by Russia and the USA", f.ex. "Syria", Nuclear "Disarmament", or "Norther Korea", etc., she indicated.

 - Certainly, also Other Actors will be Needed. F.ex. regarding North Korea : China, Japan and South Korea", and "we (EU) also are Willing to Help with this". (See Infra, for Ukraine, etc).

 - "But it can only be Beneficial for all, if there is a Good, Honest and Sincere Conversation channel between Russia and the USA", Merkel concluded.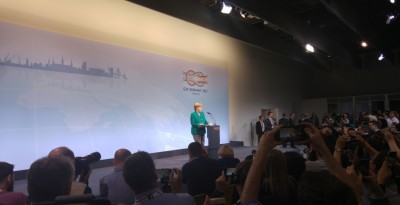 ------------------------------------------------------
"New Detente" ?
----------------------------------------------------------

Those who had Dreamed about a possible "New Detente" 2017, already as Early as since almost the Beginning of GOP's 2015-2016 Primaries (with, initially 14 Candidates !), as, f.ex., "Eurofora"'s co-Founder actually had done then elsewhere in the Web, were naturaly glad that an incredible lot of sly and/or even brutal attempts by some shady Lobbies to push Back to another "Cold War", if not even Worse, mutatis mutandis, and/or to Undermine all those who Hoped for a "New Detente", by attempting to abuse of any means, up to the last minute, finaly Failed now in Hamburg...

But, in Fact, the Unprecedented Paradox of Russian President Vladimir Putin's Unexpected Sympathy among North American Conservatives Nowadays, stems from Several Years Ago, and has a Wider Impact with Deeper Roots :

- It mainly Dates Back Since early 2013 at least, and is widely related also to Topical and "Hot", srongly Disputed BioEthical Issues,(as it resulted also from an Interesting Meeting that "Eurofora" had at EU Parliament in Strasbourg, then, with Experienced Russian Permanent Representative to the EU, former Deputy Foreign Minister, Vladimir Chizov, on related Issues) :

Twice elected then, former US President Barack Hussein Obama, - who was Astonishingly Funded by More Money in the History of USA's Elections, even of Multi-Millionaire Rockfeller, and Profited also from Controversial Eliminations in GOP's Primaries, of Popular, Real Conservative values' Candidates (such as Mike Huckabee on 2008 and Santorum on 2012), in favour of UnPopular and Opportunist, "Flip-Flop" Candidates (such as McCain on 2008 and Millionaire Romney on 2012), -  after immediately Cancelling, since March 2009, a former US President GWBush's Decision of 8/2001 to Outlaw Public Funds for Genetic Manipulations of Human Embryos, had just Started, since 2012, even a Domestic and Worldwide Campain seeking to Impose, by Forceps, the Controversial and UnPopular "Same Sex Marriage", including even to Submit Children to the Power given to Homosexual couples, under Pretext of so-called "Adoption", that a Shady Lobby of Technocrats can Exploit in order to Multiply Artificial Procreations of Human Beings (since Homosexuls are Unable to give Natural Births), with obvious Dangers agaist all Humankind.

Massive Popular Reactions were Mushrooming and Growing f.ex. in France, in the USA, (even in Africa !), etc., in form of Demonstrations, Petitions, etc, while in Many other Countries had Started unprecedented Attempts to Guarantee Natural Family and Births, as well as Childrens' Freedom, Safety and Dignity, f.ex. by Inserting various Protective Clauses in their National Constitutions (as also several USA's Federated States also tried to do), often provoking Harsh Oppressive Measures by the Police and/or the Judges controlled by the Contested State, (some of which have been even Denounced by CoE's Parliamentary Assembly in Strasbourg), etc.

Russia's Firm Stance in Defending Natural Family and Births, even Prohibiting the Exportation of Children destinated for Adoption in Countries where "Same Sex Marriage" had been imposed, (moves that various other Countries in the World, also Started to adopt), to which was soon Added also a marked Respect for Europe's Historic, over-Millenary "Christian roots", and a Crystal Clear Opposal and Strong Fight against a Fast-Growing, Deadly Islamist Terrorism, soon Started to Attract an Unprecedented Sympathy by several Top Leading Conservative Americans for President Vladimir Putin's relevant Strategy, (as, f.ex., publicist Pat Buchanan, Rev. Franklin Graham, the Illinois-based "World Congress of Families", which had even scheduled its International Annual 2014 Conference in Moscow, before being Hindered by Obama's "Sanctions", etc).

It's amidst such an Historicaly Unprecedented Context, where a kind of "Cultural Fight" was Starting to be Won by some Never Seen Before Social Forces and/or Alliances, that at least one among the initially 14 Candidates in GOP's 2015-2016 Primaries for the US Presidential Election of November 2016, Don Trump, clearly and openly adopted a simple, pragmatic Stance, according to which, thanks also to his Practical Experience as Businessman, he would be Willing and Able to Negotiate and make a Good "Deal" with the Russian President also on Various outstanding GeoPolitical and other pending Issues.

Comming from a son of a Family of Billionaires, Private Businessmen, and Politicaly Conservative, with the declared Ambition to "Make America Great Again", according to his Well known Electoral Campaign' Moto, this, naturaly, did Not raise any Negative Suspicion (f.ex. for eventualy being a ..."Communist" manipulated "by Moscow", etc) at all, by Anyone, at least at the Beginning. On the Contrary, Trump (despite having being, at the same Time, a New York Billionaire), succeeded to Attract, in this way, also Many Popular Conservative Values' driven, simple Working American People, particularly from USA's famous "Heartland", marking, thus, a much Wider Win than expected, i.e. Winning in much More States accross the Country, than Hillary did, with the Result to get More "Great Electors" in his favour.

Added also to Trump's promises to really Struggle to bring Industrial a.o. Jobs Back Home for many recently impoverished American People, to "Fix" Poor Suburbs' basic Infrastructures, to Control Mass Migration (unethicaly and hypocriticaly Exploited by some unscrupulous Smugglers' Networks and "Users"), as well as to a at least partly Justiify his Strong Criticism of Corrupted Officials and Biaised Medias of an UnPopular Establishment, all this attracted a lot of Supporteurs.

-----------------------------------------------------
G20 with Trump+Putin :
Focus on Struggle against Deadly Islamist Terrorism +
---------------------------------------------------------------------------------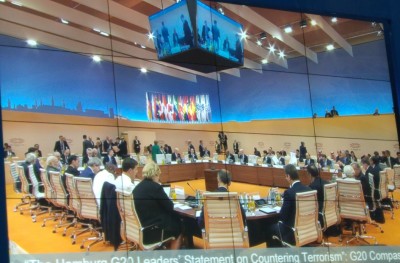 Counter Islamist Terrorism is, apparently, the Most Topical, and the most Important move that they Both Tried to Boost in this 2017 "G20" Summit, (given also the recent Deadly Attacks against innocent Civilian People both throughout all Europe, including Russia, and in the U.S., or elsewhere in the World) :

   - For the 1st Time in its almost a Decade of History (2008-2017), a "G-20" Summit clearly indicates that the No 1 Priority Today is to definitively eradicate that Deadly Islamist Terrorism which has aggressed many European, American, Asian or African Countries, accross the Globe:
  - Indeed, on 2017, G20's First and Longer Session, starting Friday Morning, July 7, was dedicated on that Issue, which resulted, inter alia, also in a Six (6) Page-long "Declaration" of its Heads of State/Governments "on the Fight against Terrorism", despite the Fact that G20 had been Initialy Created in order to Struggle against the Global Economic and Financial Crisis, back on 2008, and that its "Core Competences" still remain "the Global Trade and Economy", as Chancellor Merkel reminded afterwards in a subsequent "Introductory Statement".

+ That Long List of Counter-Terrorism Actions, is Not Limited only into Monitoring Funding and the Internet, as some claimed :

In fact, (and this seems of Fundamental Importance both for Trump and Putin : See Infra), it Extends to "a Comprehensive Approach", which Includes also combatting Radicalization and Recruitment, hampering terrorist Movements and countering terrorist Propaganda", (also, f.ex., with "Robust and Positive Narratives")

As well as "concrete Measures to address Threats from Returning foreign terrorist fighters and Home-grown Radicalised individuals", but also to Boost "Aviation Security", External "Borders' Management", etc.

"Countering Terrorism requires comprehensively addressing Underlying Conditions that terrorists exploit. It is therefore crucial to promote political and religious Tolerance, economic Development and social Cohesion and inclusiveness, to Resolve armed Conflicts", etc., they "stressed".

---------------------------------
Wider Scope
--------------------------------------

+ But, for Both the American and the Russian Presidents, it's clear that the Real Dimension of that Issue is much Larger and Deeper :

* Thus, f.ex., Putin, speaking Earlier at a BRICS' Meeting, Earlier, Friday Morning, stressed from the outset that "the Key Priority", on this G20 Summit, "is Terrorism".

- "Russia has, on several occasions, advanced the concept of a common UN-led counter-terrorism Front", he recalled.

=> Therefore, the Russian President "Urged" to work Together in order "to eliminate the Political, SocioEconomic and Ideological preconditions for the rise and expansion of Terrorism".

--------------------------
+ Trump's landmark "Civilisation Survival" Speech,
Eve of 2017's G20 :
--------------------------------------------------------------------------------------------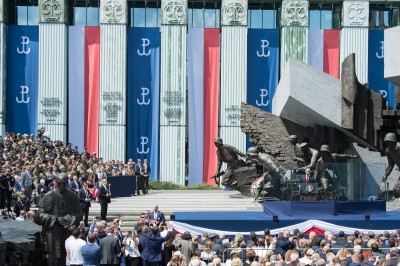 + For that purpose, New American President Don Trump's landmark Speech, at Neighbouring Poland, (for which the White House had Warned that it would be "a Major Speech") is a Wider but Key Masterpiece :

    - "Do we have the desire and the courage to preserve our Civilization in the face of those who would subvert and destroy it?", he asked from the outset.

    - "The Fundamental Question of Our Time" is, indeed, whether we really have "the Will to Survive", Trump stressed.

    - In fact, " defense ... ultimately rests not only on means, but also on the Will of the People to prevail" : "Do we have the confidence in our Values to defend them at any cost? Do we have enough respect for our citizens to protect our Borders?"

    - Because, "We can have the largest Economies and the most lethal Weapons anywhere on Earth, But if we do not have strong Families, and strong Values, then we will be weak and we will not survive". Nobody should forget "the Critical Importance of these things", he pointed out.
 
    - Indeed, "Our own Fight ...does not begin on the battlefield -- it Begins with our Minds, our Wills, and our Souls".

    - Since "Our Freedom, our Civilization, and our Survival depend on these Bonds of History, Culture, and Memory", the American Leader of German and British origin, Symbolicaly declared in Poland, often called "Heart of Europe", not far away from Russia.

    => - "I declare today, for the World to hear", that ... we "will Never, ever be Broken. Our Values will prevail. Our People will thrive. And our Civilization will triumph. So, Together, let us all Fight ...-- for Family, for Freedom, for Country, and for God", he strongly Urged, at the Eve of this so special "G20" 2017 Summit.

    - "Today ...we have to say there are dire Threats to our Security and to our Way of life. You see what's happening out there. They are threats. We will Confront them. We will Win. But they are threats", he Warned.

    - Indeed, "We are confronted by another Oppressive Ideology -- one that seeks to export Terrorism and Extremism all around the globe. America and Europe have Suffered one Terror Attack after another".

    => Therefore, among others, "During a historic gathering in Saudi Arabia, I called on the leaders of more than 50 Muslim Ntions to Jin together to drive Out this Menace which Threatens all of Humanity", as he Rightfuly noted.

     - For that purpose, "We must stand United, against these Shared Enemies, to Strip them of their Territory and their Funding, and their Networks, and any form of ideological support that they may have", he advised.

    - And "While we will always Welcome new citizens who share our Values and love our People, our Borders will always be Closed to Terrorism and Extremism of any kind", Trump explained, as a matter of general principle, on a notoriously Topical issue.

--------------------

    - Pointing, particularly, at the "Western Civilisation", Trump noted that "Americans, ...and the nations of Europe, value individual Freedom and Sovereignty. We must work Together to Confront forces, whether they come from Inside or Out, from the South or the East, that Threaten over time to Undermine these values, and to Erase the Bonds of Culture, Faith and Tradition that Make us Who we are", he urged.

- Because, "If left unchecked, these forces will Undermine our Courage, Sap our spirit, and Weaken our will to defend ourselves and our societies", he warned.

- "But ... these forces, too, are Doomed to fail, ...not only because our Alliance is Strong, our countries are Resilient". But "because we will Never Forget Who we are :"

- "We write Symphonies", (Trump noted, Eve of "G20 Summit"'s scheduled pause for Beethoven's Symphony No 9, alias "Ode to Joy", which serves as European Anthem, at Hamburg's brand new "Elb-Pilarmonie", from where ...Only Turkish President Erdogan was Absent, prefering to watch a Match of Foot in TV, as he explained Today !).

 - We pursue Innovation. We celebrate our ancient Heroes, embrace our timeless traditions and customs, and always seek to Explore and discover brand-New frontiers".

- "We strive for Excellence, and cherish inspiring works of Art that honor God. We treasure the rule of Law, and protect the right to Free Speech. We put Faith and Family, Not government and Bureaucracy, at the Center of our lives. And we Debate everything. We Challenge everything. We seek to Know everything".

>>> "Above all, we value the Dignity of every Human life, protect the Rights of every Person, and share the hope of every soul to live in Freedom. That is Who we are. Those are the priceless Ties that Bind us Together, as nations, as Allies, and as a Civilization", stressed Don Trump, (at the Eve of his venue to he "G20" Summit in Hamburg, whose Logo, precisely shows a Knot which becomes even More Firm and Tighter under Pressure)...

 - "It is the People, not the powerful, who have always formed the Foundation of Freedom and the cornerstone of our Defense".

  - "if we fail to Preserve ... what we Inherited from our ... ancestors ..., it will never, ever exist again", he Warned. "So we canNot Fail", he urged.

=> Thus, "We will Never Back down !", he vowed. Because, "as long as we know our History, we will know how to build our Future."

-------------------------------------------
On the Top MEETING and the ISSUES :
------------------------------------------------------------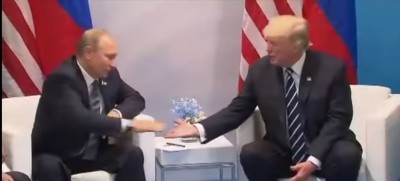 When the New American and the Russian Presidents met eachother, for the 1st Time face - to - face, Yesterday (Friday, 7/7/2017) Morning in Hamburg, on the sidelines of this 2017 "G20" Summit, Trump spearheaded from the outset, that : - "We look Forward to a lot of Positive things happening".

 -  Indeed, "I Hope that our meeting will lead to Positive Results", Putin reciprocated.
 
+ And as New USA's Secretary of State, Rex Tillerson, notoriously Concluded, Later on, at a Press Briefing, (Comp. Supra + Infra), "it was an Extraordinarily Important meeting", with "a very Clear, Positive Chemistry", here, between the two leaders" : They "Connected very Quickly", and "the meeting was very Constructive".  There was a big "Level of Engagement and Exchange".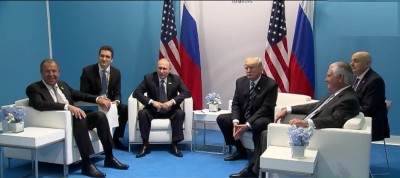 - "The Perspective of both of them was : "this is a really Important relationship. ... We simply have to Find a Way to go Forward". "Both Presidents" expressed a "Strong Desire" to do so, Tillerson estimated.

+ "In fact, we have build some prerequisitives for getting the Russo-American relations Out of the Crisis they are in. I very much Hope that we will be able to do so, Putin pointed out in his Press Conference Today (8/7/2017).

 -  "If we Build our relations in the Vein of our yesterday's meeting, (7/7/2017), there are good reasons to believe that we will be able to Revive, at least partially, the level of Interaction that we need", concluded Putin.

- Presidents Putin and Trump "are Driven by the national Interests of their countries, and pursue them primarily by seeking to achieve Mutually Beneficial Agreements, rather than trying to act out confrontational scenarios and invent problems out of the blue", described, already in a Yesterday's Press Briefing, Russian Foreign Minister Lavrov.

- "It was in this Concrete and Business-like Vein that ... Issues were discussed, he observed.
--------------------
But, on which main Issues might be Expected some concrete Results, after their 2 Hours + 16 Minutes, unexpectedly Long (instead of about 30 minutes, as Initialy thought), First Direct Dialogue ?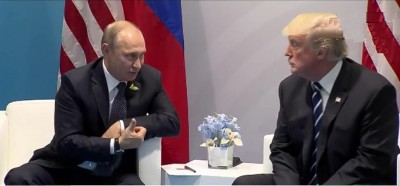 - Tillerson observed that "there was so Much to talk about -- All these Issues.  Just about Everything got touched on, to one degree or another" . "It was a Good Start", And ...neither one of them wanted to stop"...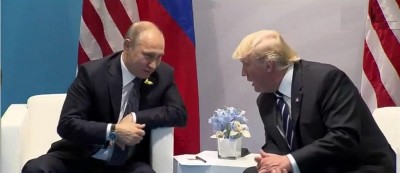 - "Syria, Ukraine, the Korean Peninsula, Cyber security and a number of other issues"  were Discussed, and "Agreements were reached on some quite Concrete things", said Lavrov.

-------------------------------------------------
Syria :
---------------------------------------------------

>>> iIt's notoriously on Syria, that this Historic, initial Meeting between the 2 more Powerful (but also quite atypical) Leaders of the World, yesterday morning here, is expected to Start having the Most Interesting concrete Results :
 - New USA Secretary of State, Rex Tillerson revealed that there was "a very Lengthy period on Syria", between Trump and Putin. "There was a substantial amount of time spent on Syria, just because we've had so much activity going on with it."

 - It included "a great amount of Detailed exchange on the Agreement we had Concluded today", about the Establishment of a De-escalation Zone at the Southern Borders of Syria, adjacent to Jordany.

 - "But, Also Where we Go", "trying to get much greater clarity around .... where do we share a Common view, and where do we have a Difference".  In fact,  "there's a lot More Commonality to that, than there are differences", Tillerson observed.  => "So we want to Build on the Commonality, and we spent a lot of time talking about Next Steps".

 - Because "Syria (is) Transitioning from the Defeat of ISIS, which we are progressing rapidly", towards the question :  - "what do we do to Stabilize Syria, once the war against ISIS is won". Both Russia and the US have the same "Interest ...in having Syria become a Stable place, a Unified place, but ultimately a place where we can facilitate a Political Discussion about their Future", Tillerson stressed.

 - "People are getting tired.  They're getting weary of the conflict"... and the South is ...our First show of Success.  We're Hoping we can Replicate that Elsewhere".

- Meanwhile, "This Agreement, ....was entered into between Jordan, the United States, and Russia.  And we ...have a very Clear picture of who will provide the Security forces. But we have a few more Details to Work out. .... I expect that will be Completed  (in) ... less than a Week".

________________________

+ As described his Russian counterpart, Foreign Minister Lavrov : "Today, Russian, US and Jordanian Experts finished work in Jordan's capital Amman and agreed on a Memorandum on De-escalation Zones in the South-west of Syria – in Daraa, Quneitra and Souweida. The Ceasefire in this zone will come in effect on July 9 (Sunday), at 12 pm Damascus time".

    - "Russia and the US" will "Ensure the Ceasefire regime by all the groups present there, and also ..provide Humanitarian access, and establish Contacts between the Opposition in that region and the Monitoring Centre being set up in the capital of Jordan. In the Beginning, Security around this de-escalation zone will be provided by Russian military Police in Coordination with Americans and Jordanians. ...the document US. to the Sovereignty and Territorial Integrity of Syria, and the UN SC Resolutions ... for ...a political Settlement. This is the agreement that Both Presidents Welcomed today."

-------------------------

+ President Putin himself went, Today (Saturday, 8/7/2017) as far as to speak even about a "Breakthrough" on Syria.

 - "The most important thing is to ensure Syria's territorial integrity : If we manage to make each of those De-escalation Zones become like Regions cooperating with eachother and with the Damascus' Government, then, we'd create the conditions for an overall Political Solution of the Syrian issue, Putin highlighted.

-------------------------------------------
Ukraine :
---------------------------------------------------

Merkel, Today, pointed explicitly at the concrete Examples of Syria, Nuclear Disarmament and North Korea.

But she was well placed to eventualy Add also Ukraine, (naturaly in a Wider Format, i.e. with EU's Franco-German core's active role, developing further "Normandy format" Talks with Russia and Ukraine, in a much needed effort to UnBlock the stalled "Minsk" Agreement's status quo : See Infra).

Speaking to Journalists in Hamburg, including "Eurofora", just After a Trilateral Meeting between France-Germany-Russia Leaders, Earlier this Morning, at the sidelines of this G20 Summit in Hamburg, (See "Eurofora"s previous anouncement at : ...), Merkel acknowledged that the Minsk Agreements, (even of they have, more or less, Succeeded, until now, to Stop Massive Killings, particularly of Civilian People, at the pro-Autonomy Donetsk/Luhansk Eastern Regions, in a Conflict which has already Costed about 10.000 Human Lives, and still Continues to have several Victims even now), are not being Implemented but only "very Slowly", some Key parts having even Stalled.

This is of Relevance even to "G-20" Summit as such, since OECD's Head, Angel Guria, has already Declared to "Eurofora" that the Ukranian Conflict has Costed, and still does, a lot, also on Economic Growth potential being Wasted for Years, mainly in Europe, but also Worldwide, (given also the "Sanctions" on Russia, etc), as he had told us at the CoE in Strasbourg (See : ...).

Meanwhile, experienced Russian Foreign Minister Sergei Lavrov, (Comp. f.ex. Lavrov's Reply to "Eurofora"s Question, on the sidelines of former Russian President Dmitry Medvedev - currently Prime Minister - at the "G-8" Summit of 2011 in Deauville : ...), at a Press Briefing, Yesterday Afternoon, in Hamburg's "G-20", (for which "Eurofora" had been Timely Warned : See ..., But Hindered to arrive on Time, because of the already Denounced, unprecedented, Local Practical Obstacles : See Ibid), said that Trump, as well as Tillerson, and even his French counterpart, Drian (Comp. several Drian Stetements to "Eurofora", f.ex. at ... + ...), did Not really Seek (at least not yet) any radicaly Different Plan, but mainly how to Revive, Accelerate and Complete the "Implementation" of Minsk Agreements.

Moreover, Trump's New US Arministration anounced here the Apointment of a "Special Envoy for Ukraine", who is due to visit also Russia asap.

Lavrov added that It was also agreed to "set up a Channel between Russian and US officials, so as to use US capabilities for promoting a Settlement, on the Basis of the Minsk Agreements and relying on the groundwork laid by the Contact Group and in the Normandy format".

New USA State Secretary Rex Tillerson, at another Press Briefing, Yesteday Afternoon, here, (where "Eurofora" was also Hindered to arrive on Time, because of the already Denounced, Unprecedented, Local Practical Obstacles : See ...), together with Treasure Secretary Mnushin, (Comp. Mnushin's Reply to an "Eurofora" Question at his Press Conference in "G-20"'s Financial Ministers' Summit in Baden-Baden, earlier on March 2017 : ...), confirmed that Trump had just Nominated "Ambassador Kurt Volker", as his "Special Representative for Ukraine", who has "Decades of Experience in the U.S. Diplomatic Corps", including at the NATO and "his permanent Political" tasks.

Tillerson also stressed that, in Wider terms, Presidents Trump and Putin spend 2 Hours 15 Minutes about "all these issues", including "Ukraine", on which "Both of the Leaders feel like there's a lot of things in the Past that both of us are Unhappy about.  We're Unhappy, they're Unhappy", and that's why "there was so much to talk about". But, "this (USA - Russia) is a really Important relationship", and "We simply have to Find a way to Go Forward", as he said, at the Eve of his own Departure for Ukraine, that he's due to Visit on Sunday, July 9.

+ Significantly, at the Same Time, it's also the New UNO's Secretary General, Antonio Guterres, who is currently in the process of Leaving Hamburg's "G-20" Summit also for Ukraine, said Today (Saturday, July 8), to "Eurofora", UNO's Experienced Press Director, and Top Spokesman, Stephane Durarric, by phone.

As for Rex Tillerson's observations about Both Trump and Putin being "UnHappy" of things which happened "in the Past" on "Issues" such as Ukraine, etc., (Comp. Supra), they Timely remind the Notorious statements of Former US Under-Secretary of State for Eur-Asia, Mrs Nuland, (apointed by Obama), about ... "Fuck the EU !" (sic), precisely on the Issue of Ukraine, and her Interferences on Who should become Prime Minister, or not, etc., as Early as, already, since February 2014, i.e. at the Moment that Strange and still UnIdentified, but Deadly "Snipers" curiously Shot and Killed ...Both Demonstrators and Policemen, Firing mainly from an Hotel behind their back at Maidan Square, in a way which Provoked massive Violent and Deadly Riots Attacking the Parliament, etc., and Toppling a Peaceful Political Agreement, which had been just been Signed by then Ukranian President Yanukovitch and All the Opposition, under the auspices of French, German and Polish Foreign Ministers, (for a National Unity Government, Amnesty and New Elections, etc).

Later on, a CoE's High-Level Committee of Experts in Strasbourg, chaired by British Sir Nicolas Bratza, former ECHR President, appointed by CoE's Secretary General Thornbjorn Jaglant, a former Prime Minister of Norway, concluded that the subsequent Kiev's Government, (which had Seized Power after those Violent Riots), grossly Failed in its Duty to make a Transparent and Efficient Investigation in order to Find and Punish those Strange Deadly "Snipers" and whoever were the Instingators of their Attacks, which had provoked Massive Brutal Clashes and the Violent Toppling of a Controversial, perhaps partly unpopular, but, nevertheless, regularly Elected Government, and the Beginning of a Wider, even More Deadly Conflict, Extended to pro-Autonomy Donetsk/Luhansk Regions, (soon Attacked by Kiev's Army with Tanks, Air-Bombings, etc, making a Growing Number of Civilian Victims), the Re-Unification of Crimea peninsula with Russia in retaliation, and imposing a Dangerous Division of Europe, reminiscent but, in fact, even More Risky than the "Cold War" Era of the Past.

I.e., really a lot of what can make any Honest politician very much ..."UnHappy", according to Tillerson's above-mentioned Wording, due to Stimulate a Strong Desire to make things much better (Comp. Supra)...

---------------------------------------
Cyber-Crime+
------------------------------------------------

+ AnOther Topical, but much Wider Issue, discussed Yesterday by USA and Russia Presidents, (which, once again, was Not explicitly mentioned by German Chancellor Merkel now, since it Obviously concerns also the EU, China, Australia, Latin America, Africa, as well as Other Global Stakeholders, and was Partially included in the "G20" Summit's Conclusions : Comp. Supra), is that which was Resumed as "Cyber-Security" :

 - USA's New Secretary of State, Rex Tillerson, said here Yesterday that "the 2 Leaders ...agreed to Explore creating a Framework, around which the two countries can work Together to better understand how to deal with ...Cyber-Threats"' Challenges, such as :
-  "Interferences with the Internal Affairs of Countries",
 - "Threats to Infrastructures",
-  and/or "Terrorism".  


A main Question is "how do we create a framework in which we have some capability to Judge What is happening in the Cyber-world, and Who to hold Accountable",  he pointed out.

Tillerson admitted, however, that "this is Obviously an Issue that's Broader than just U.S.-Russia", (Comp. Supra).

- However, already, "We (US-Russia) agreed to set up a Working-level Group, to begin to Explore this framework agreement around the Cyber issue and this issue of non-interference.  So those will be ongoing with Various staff Levels", Tillerson added.

That Joint "Working Group" on "Cyber-Security" is due to be Led, from the U.S.A. side, by Both "the State Demartment" (i.e. himself), and "the National Security Advisor's office" (i.e. by General McMaster), he specified, in reply to Press Questions.

+ Russian Foreign Minister Sergei Lavrov, observed that "Cyber-Security ...was, understandably, given Considerable Attention".

 - The main reason is that "the Presidents Agreed that this area is becoming ever More Dangerous", because "there are numerous Threats Emerging in Cyberspace, including :
- "Terrorism"
- "Other areas of Oganised Crime",
- "Threats to the normal functioning of Societies, as Child Pornography, Pedophilia, the so-called Suicide networks, ...interference in ...Elections, ...Hacking in all its forms", etc.

 => In consequence, "All these issues, Combined, ...were agreed as subjects of Russian-US InterAction", and "a Bilateral Working Group will be set up for that purpose", he confirmed.

-----------------------------------------------------

These were the Main, but Not the Only, particular and concrete Issues of General Interest, discussed by the US and Russian Presidents, during their 1st ever personal Meeting, (2 Hours and 16 Minutes' Long), on the sidelines of this 2017 "G20" Summit here, in Hamburg (Germany).

Despite the notorious Harshness of such Issues, (or, rather, Because of it), their Host, German Chancellor Angie Merkel, apparently wanting to Mark such Historic Events, chose to Invite all her Guests, that Same Day of 7/7/2017, to a concert with Beethoven's 9th Symphony, (known as dedicated to "Joy", but also used as Europe's Anthem), played for the 1st Time in the Brand New "Elb-Philarmonie" superb Modern Building inaugurated on this occasion near Hamburg's Huge SeaPort.

=> A Voluntarist, Symbolic Move, allowing to Dream about a much needed "New Detente" era, by resolutely looking up to the Skyline of the Ocean's Horizon ?...
(../..)


-------------------------------


***


("DraftNews", as already send, Earlier, to "Eurofora" Subscribers/Donors. A more accurate, full Final Version, might be published asap).


***

BRIEF NEWS
00:00 - 09.07.2018

00:00 - 31.05.2018

00:00 - 26.12.2017

00:00 - 26.05.2017

00:00 - 30.01.2017

00:00 - 14.10.2016

00:00 - 24.09.2016

00:00 - 27.07.2016

00:00 - 03.07.2016
Statistics
Ospiti: 28931583
Archive
Login Form
Other Menu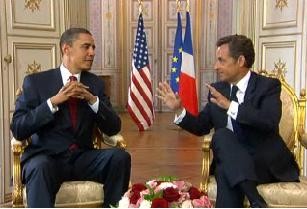 La Turquie, test-clé d'Independance de l'Europe face aux USA, les aménant de chercher en commun des nouvelles idées pour se mettre d'accord ?  
 Le débat, amical mais clair, entre les Présidents Américain et Français, Obama et Sarkozy,  la veille des elections européennes du 7 juin 2009, a montré que la question controversée sur la démande de la Turquie d'entrer dans l'Europe est actuellement le point central et le test le plus pertinent de l' indépendance de la France et de l'Europe par rapport aux Etats Unis.   
 Les electeurs européens, aussi bien en France qu'ailleurs en l'UE, auront une seule chance à trancher, ce dimanche 7 juin 2009, en choisisant leurs eurodéputés pour la période 2009 - 2014, car après ca risque d'être trop tard, vu que tous ceux qui suivent les affaires européennes dépuis des décennies savent qu'en réalité, le moment des décisions sur la Turquie viendra au plus tard en 2013, date rétenue dépuis longtemps pour une importante révision des "Perspectives Financières" de l'UE qui reflètent des choix Politiques fondamentaux.

    Le Président français, (récement encore représentant de l'UE, dans laquelle il joue un rôle important, ensemble avec la chancelière allemande Merkel, et autres leaders européens, ayant une influence notable auprès des Citoyens Européens, comme les derniers sondages montrent), réagissant à la repétition, par le nouveau Président Américain de la vieille position traditionelle de l'Washington poushant toujours vers la démande de la Turquie d'entrer dans l'Europe :

     - "Je ne peut pas laisser détruire l'Europe, (qui) est un élément de stabilisation du Monde", réponda Sarkozy. "J'ai dit au Président Obama que pour moi il était très important que l'Europe ait des Frontières", a-t-il souligné, confirmant la position Franco-Allemande commune, récemment rappellée ensemble avec la Chancellière Merkel.

    - "Il y a une différence (entre France/EU et les USA)...  sur les modalités. La position traditionnelle des Etats-Unis d'Amérique, c'est l'intégration" de la Turquie au sein de l'UE. "C'était la position du Président Bush, du Président Clinton, de tous les présidents américains".     
- "La mienne vous la connaissez : Ce n'est pas l'intégration dans l'Union Européenne. Mais j'ai proposé que nous réfléchissions, l'Europe, la Russie, la Turquie à la création d'un Espace Economique et de Sécurité en commun", a ajout Sarkozy rappelant son invitation de créer quelque chose de neuf et mieux adapté.

    Mais, "cela ne veut pas dire qu'il faut repousser la Turquie dans les ténèbres. La Turquie est un allié dans l'OTAN, (et) une Passerelle entre 2 Mondes, voilà quelle est la meilleure modalité. C'est cela dont nous avons parlé", revela-t-il. Si "nous avons une Différence sur les Modalités, nous n'avons pas une différence sur l'Objectif : Faire de la Turquie un élément de Pont entre l'Orient et l'Occident", Sarkozy assura Obama.

    - "Laissez-nous au moins une légère divergence sur un sujet, cela vous permettra de bien réfléchir pour les prochaines échéances", ajouta Sarkozy en réponse à un journaliste de l'opposition Socialiste qui avait soulevé la question de la Turquie, en la melant (comme un lobby turc notoirement essaie de faire pour exploiter la manipulation de quelques Arabes, la Civilisation Historique desquels fût pourtant detruite par l'ex-empire Ottoman-Turc) avec une question tout à fait différente : celle de la voile islamique (!), avec laquelle elle n'a rien à voir.

    - "Sur la Turquie, Monsieur, vous appartenez à un journal ...qui a appelé à voter, au moment de la présidentielle, pour mon adversaire.... Quel était votre argument à ce moment-là ? Vous disiez : « Attention, Nicolas Sarkozy va trop s'aligner sur les Etats-Unis d'Amérique », et je vois que deux ans après vous dites : « Ah, il y a un sujet sur lequel le Président Obama et le Président Sarkozy ne sont pas d'accord » Cela devrait vous rassurer, Monsieur" , réponda-t-il, en faisant sourire même le président américain, (et laissant entendre que trancher définitivemen la controverse sur la Turquie pourrait être au coeur de l' Elections Présidentielle  en France pour 2012 )
-------------------
    - "Ce que les Etats-Unis peuvent faire, c'est encourager ....TOUT PROCESSUS qui permettra à la Turquie d'être convaincue qu'elle a des amis, que ce soit la France, les Etats-Unis ou l'Europe", réponda Obama, apparamment n'excluant pas, a priori, le point de Sarkozy sur la création d'un espace commun d' économie et sécurité entre l' UE, la Turquie et la Russie (v. supra).

    "Les Etats-Unis ne sont pas membres de l'Union Européenne, nous ne pouvons pas dicter si un pays quelconque adhère ou n'adhère pas à l'UE"; Obama a admis, parlant de la "Turquie, (sur laquelle) le Président Sarkozy et moi nous sommes entretenus sur ce dossier avant".  "Maintenant le Président Sarkozy représente un Etat membre de l'Union Européenne et il a une position différente", opposée à démande turque d' entrée dans l'UE.    
 "La Turquie par contre est un allié de l'OTAN très important. ...La Turquie a fait connaître son intérêt à une intégration croissante avec l'Europe et nous (USA) encourageons cette attitude. J'ai souvent dit que l'adhésion de la Turquie à l'Union européenne serait importante".     
"Mais, (en tout cas) je crois qu'il est important de noter que le Président Sarkozy appuie fortement le travail que la Turquie fait au sein de l'OTAN et je crois qu'il s'intéresse à une intégration économique plus intense avec la Turquie". (Ce qui pourrait se faire, justement, avec un "parténariat privilegié" adéquat et/ou l'idée de créer un espace commun EU - Turquie - Russie  : V. supra).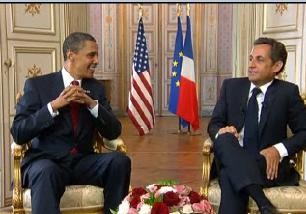 Est-ce que l'effort du Président de la France, soutenu par la chancelière Allemande et l'opinion publique de la plupart des Citoyens Européens la-dessus, de trouver un accord entre l' Europe et l' Amérique sur la Turquie, en proposant de sortir des chemins battus et créer du neuf, en etablissant "un Espace Commun d' Economie et Sécurité" (v. supra), suffira de calmer un lobby traditionaliste à quelques bureaucrates de Washington DC, datant dès l'époque de l' ex-"Guerre Froide", beaucoup plus ancien que le nouveau Président vénu de l' oxygen des "grands lacs" près de Quebec du Canada : Chicago, connu comme "la ville du vent" nouveau ?
-----------------------------------------------------------------------
Le Prémier Ministre Fillon appele à "faire vivre le Rève Européen"
------------------------------------------------------------------------  
 Seul l'avenir le dira. Mais, entre-temps, l' Europe ne peut plus attendre et perdre encore plus du temps et d'energie vitale sur la démande controversée de la Turquie, qui a notoirement menacé d'arrêter l'édification européenne dépuis 1999-2005 :

    Comme le Premier Ministre François Fillon a clairement dit, un peu plus tôt cette semaine, dans un discours éloquent sur les enjeux de l' Election Européenne de ce juin 2009 (V. résumé envoyé aux adhérents d'"EuroFora"),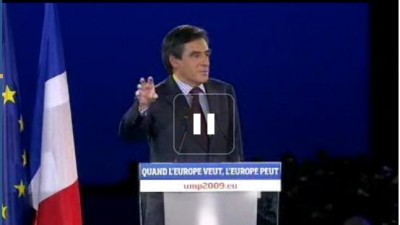 - "S' abstentir, c'est laisser à la Technocratie le pouvoir de dominer" la vie des Citoyens européens, qui devraient prendre l' Europe en branle le corps", et commencer d'agir par toutes les voies politiques démocratiques, prennant conscience que "l' Europe c'est Nous, (i.e. les Citoyens), et "Pas eux !" (i.e. les Technocrates), selon une image symbolique.

    - "Je me souviens de l' Europe obligée de faire Silence, (au Passé), quand "les Grands" décidaient de son sort", rappela Fillon.  "Je me souviens de l'Europe divisée, de l' Europe dominée" par d'autres, '"de l'Europe appauvrie""Je me souviens de Berlin occupé, muré, divisé comme un butin qu'on tire aux dès. Je me souviens du Silence de Varsovie. Je me souviens du Silence de Prague"..   
 - "Nous, les Européens, nous avons bien failli sortir de l' Histoire, et dévenir, pour du bon, les dès d'un jeu joué par d'autres".     
- "C'est pourquoi je ne peux pas concevoir une Europe qui ne serait pas Souveraine, une Europe qui ne serait pas Maitresse d'êlle-même", aujourd'hui et démain, martella-t-il. "Le Monde s'est habitué trop longtemps à une Europe faible, que l'on pouvait traiter avec condescendence".  
 - "Le moment est venu de rélever le défi : Le moment est vénu de montrer que, nous les Européens, avons décidé d'être débout, et d"être nous-mêmes".     
"Dépuis 2 ans (i.e. dès les Elections Présidentielles de 2007), avec Nicolas Sarkozy, nous avons oeuvrer pour relever notre Identité Nationale (de la France), dont nous sommes fiers. Et bien, l'' Identité Européenne mérite tout autant, elle qui prolonge les Génies de nos Nations".


    - "Je crois à la présence d'une Civilisation Européenne", déclara Fillon, largement applaudi par des milliers de personnes ayant entendu une série des Musiques entremelées characteristiques de differents pays européens, et des images lumineuses géantes avec des extraits symboliques de Goethe, de Victor Hugo, de Shakespeare, et d'autres auteurs italiens, espagnols etc celebres à travers l'histoire.

    - "L' Humanisme, la tolerance, la Liberté de la Conscience. La Solidarité. L' Etat de Droit. La confiance placée dans la Science, l' Innovation, le progrès. Toutes ces Valeurs, elles disent clairement où commence et où s'épanuit cette Europe" que nous voulons, observa-t-il.

    En harmonie avec les positions soutenues par le Président du Parlement Européen, eurodéputé allemand, Hans Gert Poettering, et la Chancelière allemande, Angie Merkel, sur la "Dignité Humaine" au coeur des "Valeurs de l' Europe" moderne. Ce qui fait qu'" avec un Elargissement sans fin", même vers la Turquie, c.a.d. "sans Frontières, l' Europe Politique, l' Europe des Valeurs et l' Identité européenne" ne peuvent pas exister, comme a dit aussi le Président francais, Nicolas Sarkozy, recemment à Berlin.

    Fait important : Cette observation de Fillon a été faite le jour-même que le Comité des Ministres du Conseil de l'Europe à Strasbourg concluait une semaine de réunion semestrielle sur les Droits de l'Homme, qui a examiné un grand nombre d'affaires des pires Violations (pex. Tuéries scandaleusement non elucidées, Persecutions et privations arbitraires de Liberté, personnes portées "Disparues", Tortures et "traitements inhumains et degradants", Usurpations illégales des Maisons et Patrimoines privées de Réfugiés, etc., pour lesquelles la Cour Européenne a condamné la Turquie dans plusieurs jugements, dont on attend toujours l' application)...

    - "C'est pourquoi un Elargissement sans fin de l' Europe ne peu pas être un objectif en soi. Parce qu'il ne peut que diluer l' élan européen, et detruire l' Idéntité Européenne"

    -" Voilà pourquoi nous disons, très sereinement, que nous ne sommes pas favorables à l' adhésion de la Turquie dans l'UE", conclua le Premier Ministre de la France; largement applaudi par des gens qui soulevaient le drapeau européen.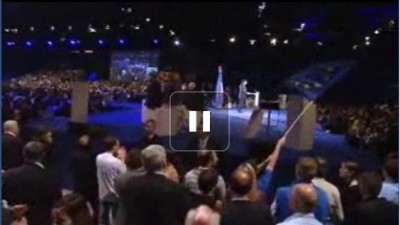 "Ce n'est pas un Slogan de meetings. Ce n'est pas la marque une "Hostilité" au régard de cette grande Nation (i.e. la Turquie), qui doit être étroitement associée à l' UE", pex. par un partenariat priviliegié, ou une autre formule adaptée.

    - "Mais il lui faut des Frontères à l' Europe, il lui faut des Frontières stables, qui lui permettent de renforcer son Unité et son Identité", a-t-il expliqué.

    - "Alors, c'est au nom de cette Europe charnelle, que je m'engage avec vous. Mais, cette Europe-là, ne peut avancer qu' à une seule Condition : celle de l' Europe Politique".

    "Nous avons longtemps douté qu'elle soit possible : Aux années 1970, Henri Kissinger (le notoire ex- Secretaire d'Etat Américain aux affaires etrangères, consideré, à tort ou à raison, comme chef d'orchestre du renversement du Président Allende en Chili, de l' invasion militaire de la Turquie à Chypre, etc), disait, avec une ironie blaissante : - "Ah, l' Europe ? : Quel numero de Télephone ?..." Pendant les 6 mois de la présidence française de l'UE, (7-12/2008), Henri Kissinger n'aurait aucune difficulté de rejoindre l' Europe !", observa-t-il en suscitant des nouveaux applaudissements nourris.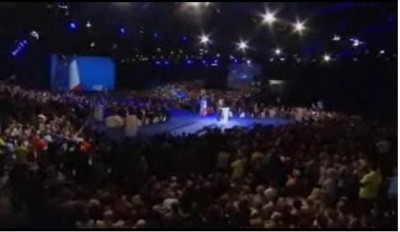 "J'au vu l' Europe Politique se dresser, et prendre ses responsabilités : L' Europe Politique c'est celle qui agit sans délai, et avant les Etats-Unis, pour stopper des faillites Bancaires qui s'enchaînent, qui nous auraint plongés dans une Depression pire que celles des années 1929. L' Europe Politique est celle qui, maintenant, doit mettre un fin à un Capitalisme Financier, qui a perdu sa boussole. L' Europe Politique est celle qui a réussi d'etablir le règles les plus ambitieuses au Monde dans la lutte contre le rechaufement Climatique. Samedi, nous celebrons l' anniversaire du debarquement de la Normandie, où nos amis Américains ont pris une part décisive à nôtre libération. Mais, en décembre 2009, à la Conference (Mondialle) de Copenhague, c'est nous les Européens, qui allons leur montrer le chemin vers cet avénir commun" pour la sauvegarde de l'Environement naturel. L' Europe Politique c'est celle qui, en août 2008, lorsque la Guerre faisait rase entre la Russie et la Géorgie, s'est interposée pour imposer la Paix. Et c'est elle qui doit, maintenant, se doter des moyens Militaires de se défendre par elle-même, pour elle-même", ajouta-t-il en évoquant clairement la création d'une Défense Européenn Autonome.
    "L' Europe Politique c'est celle qui doit bâtir des grands champions Industriels Européens, comme nous avons fait, auparavant, pour (l'avion) Airbus ou (la fusée) Ariadne. C'est celle qui doit exiger la Reciprocité dans les rlations Commerciale avec nos grands partenaires", sans Dumping Social ou Environmental, ni autre Concurrence Deloyale. "C'est celle qui doit se doter comme objectif d'être "le Continent de l'Esprit", réunissant les plus grandes Universités du Monde, en multipliant les Connexions, entre Scientifiques et étudiants."

    "Nous respecterons nos engagements, jusqu'au dernier", souligna le Premier Ministre de la France, peu après que les candidats-eurodéputés de la coalition Gouvernementale (UMP : Mouvement pour la Majorité Présidentielle) ont signé solennement, devant plusieurs milliers des Citoyens, une spectaculaire pancarte-géante avec "7 engagements" pour les Elections Européennes du 7 juin, auxquels figure aussi l'engagement de "s'opposer à l' adhésion de la Turquie dans l'UE".

     - "Parcque ce respet des engagements est une exigence si nous voulons rétablir la Confiance entre les Responsables Politiques et les Citoyens", conclua Fillon, la veille de ces Elections Européennes de juin 2009, après les Abstentions Majoritaires de 1999 et 2004, suivies de 3 "NON" à 3 Euro-Réferenda dépuis 2005, (dates auxquelles, quelques gouvernements du Passé, avaient donné le statut d'un "Candidat" et commencé des "Négotiationa d'adhésion" avec la Turquie, suivies d'un blocage sans précedent de l' édification européenne)..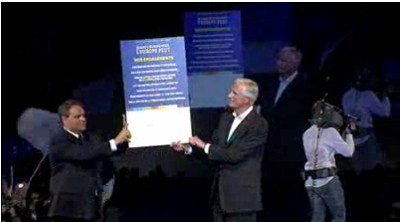 "Nore Europe n'est pas n' importe quelle Europe : L' UE Technocratique n'est pas la nôtre. ... L' UE sans Frontières n'est pas la notre. L' UE desincarnée n'est pas la notre". "Nous portons une idée de l'Europe" qui "n'est pas celle des Statistiques et des Bureaux(crates). L'Europe ce n'est pas qu'une Monnaie. Ce n'est pas qu'un Marché. économique".

- "L' Europe c'est d'abord une Culture. L'Europe c'est une Histoire", a-t-il dit, largement applaudi.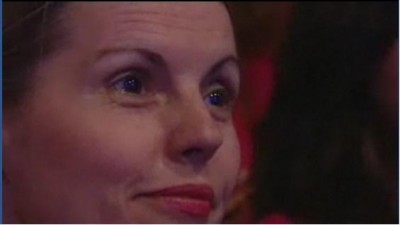 "L'Europe c'est une rencontre entre des Nations qui sont Millénaires et qui sont Brillantes. L'Europe c'est Paris. C''est Madrid. C'est Prague. C'est Londres. C'est Rome. C'est Varsovie. C'est Berlin. C'est Vienne. C'est Athènes : Quant on énonce ces Villes, alors on "sent" nos Héritages et nos Cultures entremelées qui circulent dans nos veines".

    - "Je suis Européen, parcque profondément Français, je sais ce que je dois aux influences de l' Atlantique et de la Méditerannée. J'aime ces Traditions qui offrent à chacun des nos Nations leur éclat. .. J'aime ses saveurs, ses paysages divers. Ils sont également miens, ou, plus précisement, je suis également fait d'eux. Je suis Européen, car, Français, j'aime l' Europe ouverte vers l' Amérique, vers l'Orient, vers l' Maghreb. J'aime les quais de Vénise, ceux d'Amsterdam. J'aime les quais de Thamise où sont vénues pendant des siècles s'amasser les richesses et les nouveautés du Monde. J'aime l' Europe curieuse. L'Europe qui rêve des lointains : L' Europe de Vasco de Gama, de Magelan. de Bougainville, de Charcot, de Monot... Cette Europe qui, aujourd'hui, s'élance vers l' Espace. Je suis Européen parce que Français, j'aime l' Europe qui prospère et qui invente. J'aime l' Europe des Trains à Grande Vitesse. J'aime l'Europe des Satellites et des Fusées. L'Europe de la Mode et des Atéliers d' Artistes. L'Europe des Grands Laboratoires, des Ingéniers. des Entrepreneurs, des Grands Architèctes, des Traditions Ouvrières. Comme rançais, j'aime l' Europe qui dit "NON" à la Tyrannie et qui se soulève à l'appel de la Liberté", a-t-il dit en

 
"Je me sens lié à ces femmes et ces hommes sans nom, qui ont levé la tête, et qui ont sécoué le joug sous lequel .. on les avait fait pliér", dit-il en évoquant pex.. la Révolution Française de 1789, le Siècle des Lumières, l'appel du Général de Gaulle contre l'Occupation NAZI, et les pires heures obscures qu'un  "Fascisme" ou "Communisme" devoyés, suivies de la Guerre Froide avaient plongé l'Europe au Passé.

"Ils sont des millions, ces Héros Anonymes de notre temps, que nous croisons sans le savoir dans nos rues et nos places. Et je ne peux pas concevoir l'Europe sans eux, et sans tous ceux qui poursuivent leur combat contre l'arbitraire et le fanatisme", ajouta Fillon. Faisant pex. rappeler un récent Film allémand, primé au Festival de Vénise, qui décrivait la vie d'un cadre à l'époque d'un régime oppressif, qui avait été chargé d'espioner la vie privée et familiale d'un couple soupçonné d'être dissidents politiques, mais, ému par leur honnêteté humaine et leur sacrifice pour sauver d'autres, a preferé risquer sa place et sa propre liberté pour les sauver, sans même qu'ils le sachent, condamné dépuis à faire un bas boulot d'anonyme perdu dans la foule..


"Quand je vois l'Europe moderne, je vois les résultats de l' Audace de ces hommes qui ont brisé les traditions de conflit et de violence. Je vois des nations soudées autour d'une monnaie unique et protectrice. Je vois 27 jeunesses appelées de grandir ensemble, sans défiance. Je vois 27 peoples unis, qui nous interdisent de jouer les blazés ou les indifférents".

Jettant "un régard lucide sur les errements de la construction européenne", Fillon a observé que "l' Europe n'a pas bésoin d'être idélisée pour être ce qu'elle est ; Cad. une aventure humaine, avec ses faiblesses et ses forces".

"Vous voulez que l' Europe agisse ? Fixez-lui des objectifs clairs. Vous voulez la Démocratie ? Agissez en Citoyens. Vous rédoutez la prétendue Bureaucratie des Bruxelles ? Alors renforcez, par votre Vote, les instances élues au Parlement Européen" qui sont chargés de la contrôler.

- "Si nous voulons faire vivre "le Rêve Européen", .. alors nous avons tous le dévoir de l' engagement", a-t-il conclu, appelant de "engager pour le drapeau tricolore et le drapeau étoilé, car ils symbolisent tous les deux la fierté de nôtre nation et la force de nôtre union".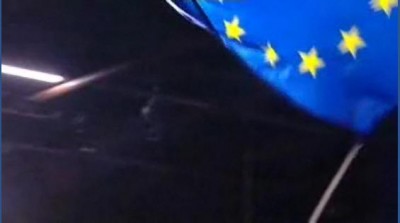 Polls