Haupt

newsitems

Merkel Welcomes Historic Trump-Putin 1st Meeting she hosted at G20 Summit: Towards "New Detente" ?
Merkel Welcomes Historic Trump-Putin 1st Meeting she hosted at G20 Summit: Towards "New Detente" ?
Samstag, 08 Juli 2017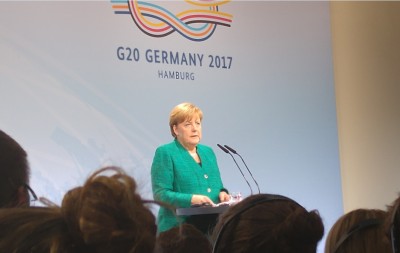 *Hamburg/G20 Summit/Angelo Marcopolo/- "Good, Honest and Sincere" USA - Russia Talks "can be Beneficial for All", said Experienced German Chancellor Angie Merkel, speaking to Journalists, including "Eurofora", at the Conclusion of 2017 "G20" Summit in Hamburg, where she Welcomed an Historic 1st Meeting between New US President Don Trump and Russian President Vladimir Putin, Yesterday, (Friday), 7/7/2017.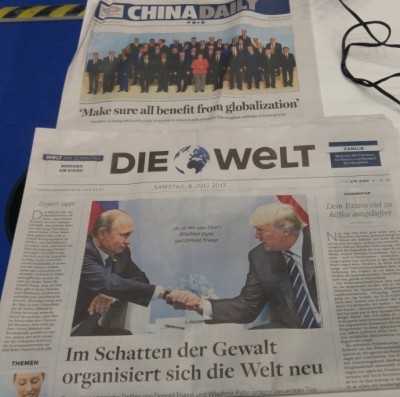 She Hosted that meeting as Chairwoman for 2017 of "G20"'s Evolving Global gathering of Heads of State/Government, initialy exclusively Economic, but nowadays also partly Political, which is due to celebrate its 10th Anniversary (2008-2018) Next Year in Argentina (Birthplace of Pope Francis), i.e. at Twice the Other Side of the Globe, on 2018.
___________________

    - Merkel said that she was "Glad that the 1st Meeting" between Trump and Putin, "took place here", in Hamburg, "on the sidelines of the G20 Summit", and that "the Conversation has Lasted ... for a very Long Time", (More than 2 Hours and 16 Minutes !).

+ In Addition, "I Saw that Now (i.e. on June 2017, After Obama), there is quite More Contact with each other", "Hoping that it would Lead into a Stable Relationships growing up", as she added

 - Because "there are Problems that can only be Solved by Russia and the USA", f.ex. "Syria", Nuclear "Disarmament", or "Norther Korea", etc., she indicated.

 - Certainly, also Other Actors will be Needed. F.ex. regarding North Korea : China, Japan and South Korea", and "we (EU) also are Willing to Help with this". (See Infra, for Ukraine, etc).

 - "But it can only be Beneficial for all, if there is a Good, Honest and Sincere Conversation channel between Russia and the USA", Merkel concluded.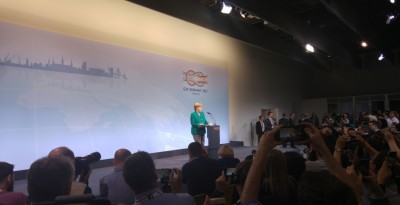 ------------------------------------------------------
"New Detente" ?
----------------------------------------------------------

Those who had Dreamed about a possible "New Detente" 2017, already as Early as since almost the Beginning of GOP's 2015-2016 Primaries (with, initially 14 Candidates !), as, f.ex., "Eurofora"'s co-Founder actually had done then elsewhere in the Web, were naturaly glad that an incredible lot of sly and/or even brutal attempts by some shady Lobbies to push Back to another "Cold War", if not even Worse, mutatis mutandis, and/or to Undermine all those who Hoped for a "New Detente", by attempting to abuse of any means, up to the last minute, finaly Failed now in Hamburg...

But, in Fact, the Unprecedented Paradox of Russian President Vladimir Putin's Unexpected Sympathy among North American Conservatives Nowadays, stems from Several Years Ago, and has a Wider Impact with Deeper Roots :

- It mainly Dates Back Since early 2013 at least, and is widely related also to Topical and "Hot", srongly Disputed BioEthical Issues,(as it resulted also from an Interesting Meeting that "Eurofora" had at EU Parliament in Strasbourg, then, with Experienced Russian Permanent Representative to the EU, former Deputy Foreign Minister, Vladimir Chizov, on related Issues) :

Twice elected then, former US President Barack Hussein Obama, - who was Astonishingly Funded by More Money in the History of USA's Elections, even of Multi-Millionaire Rockfeller, and Profited also from Controversial Eliminations in GOP's Primaries, of Popular, Real Conservative values' Candidates (such as Mike Huckabee on 2008 and Santorum on 2012), in favour of UnPopular and Opportunist, "Flip-Flop" Candidates (such as McCain on 2008 and Millionaire Romney on 2012), -  after immediately Cancelling, since March 2009, a former US President GWBush's Decision of 8/2001 to Outlaw Public Funds for Genetic Manipulations of Human Embryos, had just Started, since 2012, even a Domestic and Worldwide Campain seeking to Impose, by Forceps, the Controversial and UnPopular "Same Sex Marriage", including even to Submit Children to the Power given to Homosexual couples, under Pretext of so-called "Adoption", that a Shady Lobby of Technocrats can Exploit in order to Multiply Artificial Procreations of Human Beings (since Homosexuls are Unable to give Natural Births), with obvious Dangers agaist all Humankind.

Massive Popular Reactions were Mushrooming and Growing f.ex. in France, in the USA, (even in Africa !), etc., in form of Demonstrations, Petitions, etc, while in Many other Countries had Started unprecedented Attempts to Guarantee Natural Family and Births, as well as Childrens' Freedom, Safety and Dignity, f.ex. by Inserting various Protective Clauses in their National Constitutions (as also several USA's Federated States also tried to do), often provoking Harsh Oppressive Measures by the Police and/or the Judges controlled by the Contested State, (some of which have been even Denounced by CoE's Parliamentary Assembly in Strasbourg), etc.

Russia's Firm Stance in Defending Natural Family and Births, even Prohibiting the Exportation of Children destinated for Adoption in Countries where "Same Sex Marriage" had been imposed, (moves that various other Countries in the World, also Started to adopt), to which was soon Added also a marked Respect for Europe's Historic, over-Millenary "Christian roots", and a Crystal Clear Opposal and Strong Fight against a Fast-Growing, Deadly Islamist Terrorism, soon Started to Attract an Unprecedented Sympathy by several Top Leading Conservative Americans for President Vladimir Putin's relevant Strategy, (as, f.ex., publicist Pat Buchanan, Rev. Franklin Graham, the Illinois-based "World Congress of Families", which had even scheduled its International Annual 2014 Conference in Moscow, before being Hindered by Obama's "Sanctions", etc).

It's amidst such an Historicaly Unprecedented Context, where a kind of "Cultural Fight" was Starting to be Won by some Never Seen Before Social Forces and/or Alliances, that at least one among the initially 14 Candidates in GOP's 2015-2016 Primaries for the US Presidential Election of November 2016, Don Trump, clearly and openly adopted a simple, pragmatic Stance, according to which, thanks also to his Practical Experience as Businessman, he would be Willing and Able to Negotiate and make a Good "Deal" with the Russian President also on Various outstanding GeoPolitical and other pending Issues.

Comming from a son of a Family of Billionaires, Private Businessmen, and Politicaly Conservative, with the declared Ambition to "Make America Great Again", according to his Well known Electoral Campaign' Moto, this, naturaly, did Not raise any Negative Suspicion (f.ex. for eventualy being a ..."Communist" manipulated "by Moscow", etc) at all, by Anyone, at least at the Beginning. On the Contrary, Trump (despite having being, at the same Time, a New York Billionaire), succeeded to Attract, in this way, also Many Popular Conservative Values' driven, simple Working American People, particularly from USA's famous "Heartland", marking, thus, a much Wider Win than expected, i.e. Winning in much More States accross the Country, than Hillary did, with the Result to get More "Great Electors" in his favour.

Added also to Trump's promises to really Struggle to bring Industrial a.o. Jobs Back Home for many recently impoverished American People, to "Fix" Poor Suburbs' basic Infrastructures, to Control Mass Migration (unethicaly and hypocriticaly Exploited by some unscrupulous Smugglers' Networks and "Users"), as well as to a at least partly Justiify his Strong Criticism of Corrupted Officials and Biaised Medias of an UnPopular Establishment, all this attracted a lot of Supporteurs.

-----------------------------------------------------
G20 with Trump+Putin :
Focus on Struggle against Deadly Islamist Terrorism +
---------------------------------------------------------------------------------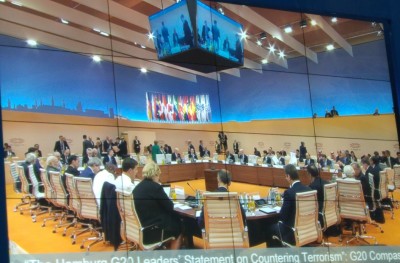 Counter Islamist Terrorism is, apparently, the Most Topical, and the most Important move that they Both Tried to Boost in this 2017 "G20" Summit, (given also the recent Deadly Attacks against innocent Civilian People both throughout all Europe, including Russia, and in the U.S., or elsewhere in the World) :

   - For the 1st Time in its almost a Decade of History (2008-2017), a "G-20" Summit clearly indicates that the No 1 Priority Today is to definitively eradicate that Deadly Islamist Terrorism which has aggressed many European, American, Asian or African Countries, accross the Globe:
  - Indeed, on 2017, G20's First and Longer Session, starting Friday Morning, July 7, was dedicated on that Issue, which resulted, inter alia, also in a Six (6) Page-long "Declaration" of its Heads of State/Governments "on the Fight against Terrorism", despite the Fact that G20 had been Initialy Created in order to Struggle against the Global Economic and Financial Crisis, back on 2008, and that its "Core Competences" still remain "the Global Trade and Economy", as Chancellor Merkel reminded afterwards in a subsequent "Introductory Statement".

+ That Long List of Counter-Terrorism Actions, is Not Limited only into Monitoring Funding and the Internet, as some claimed :

In fact, (and this seems of Fundamental Importance both for Trump and Putin : See Infra), it Extends to "a Comprehensive Approach", which Includes also combatting Radicalization and Recruitment, hampering terrorist Movements and countering terrorist Propaganda", (also, f.ex., with "Robust and Positive Narratives")

As well as "concrete Measures to address Threats from Returning foreign terrorist fighters and Home-grown Radicalised individuals", but also to Boost "Aviation Security", External "Borders' Management", etc.

"Countering Terrorism requires comprehensively addressing Underlying Conditions that terrorists exploit. It is therefore crucial to promote political and religious Tolerance, economic Development and social Cohesion and inclusiveness, to Resolve armed Conflicts", etc., they "stressed".

---------------------------------
Wider Scope
--------------------------------------

+ But, for Both the American and the Russian Presidents, it's clear that the Real Dimension of that Issue is much Larger and Deeper :

* Thus, f.ex., Putin, speaking Earlier at a BRICS' Meeting, Earlier, Friday Morning, stressed from the outset that "the Key Priority", on this G20 Summit, "is Terrorism".

- "Russia has, on several occasions, advanced the concept of a common UN-led counter-terrorism Front", he recalled.

=> Therefore, the Russian President "Urged" to work Together in order "to eliminate the Political, SocioEconomic and Ideological preconditions for the rise and expansion of Terrorism".

--------------------------
+ Trump's landmark "Civilisation Survival" Speech,
Eve of 2017's G20 :
--------------------------------------------------------------------------------------------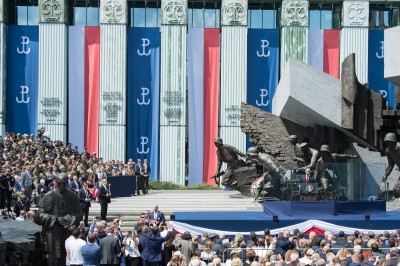 + For that purpose, New American President Don Trump's landmark Speech, at Neighbouring Poland, (for which the White House had Warned that it would be "a Major Speech") is a Wider but Key Masterpiece :

    - "Do we have the desire and the courage to preserve our Civilization in the face of those who would subvert and destroy it?", he asked from the outset.

    - "The Fundamental Question of Our Time" is, indeed, whether we really have "the Will to Survive", Trump stressed.

    - In fact, " defense ... ultimately rests not only on means, but also on the Will of the People to prevail" : "Do we have the confidence in our Values to defend them at any cost? Do we have enough respect for our citizens to protect our Borders?"

    - Because, "We can have the largest Economies and the most lethal Weapons anywhere on Earth, But if we do not have strong Families, and strong Values, then we will be weak and we will not survive". Nobody should forget "the Critical Importance of these things", he pointed out.
 
    - Indeed, "Our own Fight ...does not begin on the battlefield -- it Begins with our Minds, our Wills, and our Souls".

    - Since "Our Freedom, our Civilization, and our Survival depend on these Bonds of History, Culture, and Memory", the American Leader of German and British origin, Symbolicaly declared in Poland, often called "Heart of Europe", not far away from Russia.

    => - "I declare today, for the World to hear", that ... we "will Never, ever be Broken. Our Values will prevail. Our People will thrive. And our Civilization will triumph. So, Together, let us all Fight ...-- for Family, for Freedom, for Country, and for God", he strongly Urged, at the Eve of this so special "G20" 2017 Summit.

    - "Today ...we have to say there are dire Threats to our Security and to our Way of life. You see what's happening out there. They are threats. We will Confront them. We will Win. But they are threats", he Warned.

    - Indeed, "We are confronted by another Oppressive Ideology -- one that seeks to export Terrorism and Extremism all around the globe. America and Europe have Suffered one Terror Attack after another".

    => Therefore, among others, "During a historic gathering in Saudi Arabia, I called on the leaders of more than 50 Muslim Ntions to Jin together to drive Out this Menace which Threatens all of Humanity", as he Rightfuly noted.

     - For that purpose, "We must stand United, against these Shared Enemies, to Strip them of their Territory and their Funding, and their Networks, and any form of ideological support that they may have", he advised.

    - And "While we will always Welcome new citizens who share our Values and love our People, our Borders will always be Closed to Terrorism and Extremism of any kind", Trump explained, as a matter of general principle, on a notoriously Topical issue.

--------------------

    - Pointing, particularly, at the "Western Civilisation", Trump noted that "Americans, ...and the nations of Europe, value individual Freedom and Sovereignty. We must work Together to Confront forces, whether they come from Inside or Out, from the South or the East, that Threaten over time to Undermine these values, and to Erase the Bonds of Culture, Faith and Tradition that Make us Who we are", he urged.

- Because, "If left unchecked, these forces will Undermine our Courage, Sap our spirit, and Weaken our will to defend ourselves and our societies", he warned.

- "But ... these forces, too, are Doomed to fail, ...not only because our Alliance is Strong, our countries are Resilient". But "because we will Never Forget Who we are :"

- "We write Symphonies", (Trump noted, Eve of "G20 Summit"'s scheduled pause for Beethoven's Symphony No 9, alias "Ode to Joy", which serves as European Anthem, at Hamburg's brand new "Elb-Pilarmonie", from where ...Only Turkish President Erdogan was Absent, prefering to watch a Match of Foot in TV, as he explained Today !).

 - We pursue Innovation. We celebrate our ancient Heroes, embrace our timeless traditions and customs, and always seek to Explore and discover brand-New frontiers".

- "We strive for Excellence, and cherish inspiring works of Art that honor God. We treasure the rule of Law, and protect the right to Free Speech. We put Faith and Family, Not government and Bureaucracy, at the Center of our lives. And we Debate everything. We Challenge everything. We seek to Know everything".

>>> "Above all, we value the Dignity of every Human life, protect the Rights of every Person, and share the hope of every soul to live in Freedom. That is Who we are. Those are the priceless Ties that Bind us Together, as nations, as Allies, and as a Civilization", stressed Don Trump, (at the Eve of his venue to he "G20" Summit in Hamburg, whose Logo, precisely shows a Knot which becomes even More Firm and Tighter under Pressure)...

 - "It is the People, not the powerful, who have always formed the Foundation of Freedom and the cornerstone of our Defense".

  - "if we fail to Preserve ... what we Inherited from our ... ancestors ..., it will never, ever exist again", he Warned. "So we canNot Fail", he urged.

=> Thus, "We will Never Back down !", he vowed. Because, "as long as we know our History, we will know how to build our Future."

-------------------------------------------
On the Top MEETING and the ISSUES :
------------------------------------------------------------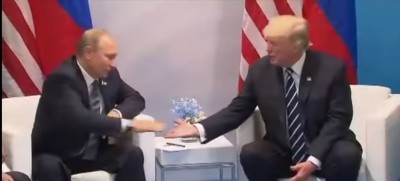 When the New American and the Russian Presidents met eachother, for the 1st Time face - to - face, Yesterday (Friday, 7/7/2017) Morning in Hamburg, on the sidelines of this 2017 "G20" Summit, Trump spearheaded from the outset, that : - "We look Forward to a lot of Positive things happening".

 -  Indeed, "I Hope that our meeting will lead to Positive Results", Putin reciprocated.
 
+ And as New USA's Secretary of State, Rex Tillerson, notoriously Concluded, Later on, at a Press Briefing, (Comp. Supra + Infra), "it was an Extraordinarily Important meeting", with "a very Clear, Positive Chemistry", here, between the two leaders" : They "Connected very Quickly", and "the meeting was very Constructive".  There was a big "Level of Engagement and Exchange".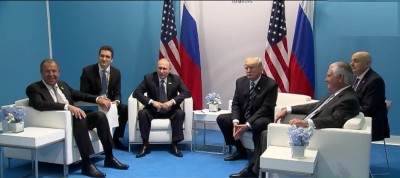 - "The Perspective of both of them was : "this is a really Important relationship. ... We simply have to Find a Way to go Forward". "Both Presidents" expressed a "Strong Desire" to do so, Tillerson estimated.

+ "In fact, we have build some prerequisitives for getting the Russo-American relations Out of the Crisis they are in. I very much Hope that we will be able to do so, Putin pointed out in his Press Conference Today (8/7/2017).

 -  "If we Build our relations in the Vein of our yesterday's meeting, (7/7/2017), there are good reasons to believe that we will be able to Revive, at least partially, the level of Interaction that we need", concluded Putin.

- Presidents Putin and Trump "are Driven by the national Interests of their countries, and pursue them primarily by seeking to achieve Mutually Beneficial Agreements, rather than trying to act out confrontational scenarios and invent problems out of the blue", described, already in a Yesterday's Press Briefing, Russian Foreign Minister Lavrov.

- "It was in this Concrete and Business-like Vein that ... Issues were discussed, he observed.
--------------------
But, on which main Issues might be Expected some concrete Results, after their 2 Hours + 16 Minutes, unexpectedly Long (instead of about 30 minutes, as Initialy thought), First Direct Dialogue ?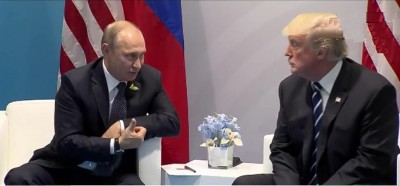 - Tillerson observed that "there was so Much to talk about -- All these Issues.  Just about Everything got touched on, to one degree or another" . "It was a Good Start", And ...neither one of them wanted to stop"...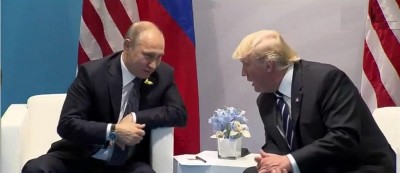 - "Syria, Ukraine, the Korean Peninsula, Cyber security and a number of other issues"  were Discussed, and "Agreements were reached on some quite Concrete things", said Lavrov.

-------------------------------------------------
Syria :
---------------------------------------------------

>>> iIt's notoriously on Syria, that this Historic, initial Meeting between the 2 more Powerful (but also quite atypical) Leaders of the World, yesterday morning here, is expected to Start having the Most Interesting concrete Results :
 - New USA Secretary of State, Rex Tillerson revealed that there was "a very Lengthy period on Syria", between Trump and Putin. "There was a substantial amount of time spent on Syria, just because we've had so much activity going on with it."

 - It included "a great amount of Detailed exchange on the Agreement we had Concluded today", about the Establishment of a De-escalation Zone at the Southern Borders of Syria, adjacent to Jordany.

 - "But, Also Where we Go", "trying to get much greater clarity around .... where do we share a Common view, and where do we have a Difference".  In fact,  "there's a lot More Commonality to that, than there are differences", Tillerson observed.  => "So we want to Build on the Commonality, and we spent a lot of time talking about Next Steps".

 - Because "Syria (is) Transitioning from the Defeat of ISIS, which we are progressing rapidly", towards the question :  - "what do we do to Stabilize Syria, once the war against ISIS is won". Both Russia and the US have the same "Interest ...in having Syria become a Stable place, a Unified place, but ultimately a place where we can facilitate a Political Discussion about their Future", Tillerson stressed.

 - "People are getting tired.  They're getting weary of the conflict"... and the South is ...our First show of Success.  We're Hoping we can Replicate that Elsewhere".

- Meanwhile, "This Agreement, ....was entered into between Jordan, the United States, and Russia.  And we ...have a very Clear picture of who will provide the Security forces. But we have a few more Details to Work out. .... I expect that will be Completed  (in) ... less than a Week".

________________________

+ As described his Russian counterpart, Foreign Minister Lavrov : "Today, Russian, US and Jordanian Experts finished work in Jordan's capital Amman and agreed on a Memorandum on De-escalation Zones in the South-west of Syria – in Daraa, Quneitra and Souweida. The Ceasefire in this zone will come in effect on July 9 (Sunday), at 12 pm Damascus time".

    - "Russia and the US" will "Ensure the Ceasefire regime by all the groups present there, and also ..provide Humanitarian access, and establish Contacts between the Opposition in that region and the Monitoring Centre being set up in the capital of Jordan. In the Beginning, Security around this de-escalation zone will be provided by Russian military Police in Coordination with Americans and Jordanians. ...the document US. to the Sovereignty and Territorial Integrity of Syria, and the UN SC Resolutions ... for ...a political Settlement. This is the agreement that Both Presidents Welcomed today."

-------------------------

+ President Putin himself went, Today (Saturday, 8/7/2017) as far as to speak even about a "Breakthrough" on Syria.

 - "The most important thing is to ensure Syria's territorial integrity : If we manage to make each of those De-escalation Zones become like Regions cooperating with eachother and with the Damascus' Government, then, we'd create the conditions for an overall Political Solution of the Syrian issue, Putin highlighted.

-------------------------------------------
Ukraine :
---------------------------------------------------

Merkel, Today, pointed explicitly at the concrete Examples of Syria, Nuclear Disarmament and North Korea.

But she was well placed to eventualy Add also Ukraine, (naturaly in a Wider Format, i.e. with EU's Franco-German core's active role, developing further "Normandy format" Talks with Russia and Ukraine, in a much needed effort to UnBlock the stalled "Minsk" Agreement's status quo : See Infra).

Speaking to Journalists in Hamburg, including "Eurofora", just After a Trilateral Meeting between France-Germany-Russia Leaders, Earlier this Morning, at the sidelines of this G20 Summit in Hamburg, (See "Eurofora"s previous anouncement at : ...), Merkel acknowledged that the Minsk Agreements, (even of they have, more or less, Succeeded, until now, to Stop Massive Killings, particularly of Civilian People, at the pro-Autonomy Donetsk/Luhansk Eastern Regions, in a Conflict which has already Costed about 10.000 Human Lives, and still Continues to have several Victims even now), are not being Implemented but only "very Slowly", some Key parts having even Stalled.

This is of Relevance even to "G-20" Summit as such, since OECD's Head, Angel Guria, has already Declared to "Eurofora" that the Ukranian Conflict has Costed, and still does, a lot, also on Economic Growth potential being Wasted for Years, mainly in Europe, but also Worldwide, (given also the "Sanctions" on Russia, etc), as he had told us at the CoE in Strasbourg (See : ...).

Meanwhile, experienced Russian Foreign Minister Sergei Lavrov, (Comp. f.ex. Lavrov's Reply to "Eurofora"s Question, on the sidelines of former Russian President Dmitry Medvedev - currently Prime Minister - at the "G-8" Summit of 2011 in Deauville : ...), at a Press Briefing, Yesterday Afternoon, in Hamburg's "G-20", (for which "Eurofora" had been Timely Warned : See ..., But Hindered to arrive on Time, because of the already Denounced, unprecedented, Local Practical Obstacles : See Ibid), said that Trump, as well as Tillerson, and even his French counterpart, Drian (Comp. several Drian Stetements to "Eurofora", f.ex. at ... + ...), did Not really Seek (at least not yet) any radicaly Different Plan, but mainly how to Revive, Accelerate and Complete the "Implementation" of Minsk Agreements.

Moreover, Trump's New US Arministration anounced here the Apointment of a "Special Envoy for Ukraine", who is due to visit also Russia asap.

Lavrov added that It was also agreed to "set up a Channel between Russian and US officials, so as to use US capabilities for promoting a Settlement, on the Basis of the Minsk Agreements and relying on the groundwork laid by the Contact Group and in the Normandy format".

New USA State Secretary Rex Tillerson, at another Press Briefing, Yesteday Afternoon, here, (where "Eurofora" was also Hindered to arrive on Time, because of the already Denounced, Unprecedented, Local Practical Obstacles : See ...), together with Treasure Secretary Mnushin, (Comp. Mnushin's Reply to an "Eurofora" Question at his Press Conference in "G-20"'s Financial Ministers' Summit in Baden-Baden, earlier on March 2017 : ...), confirmed that Trump had just Nominated "Ambassador Kurt Volker", as his "Special Representative for Ukraine", who has "Decades of Experience in the U.S. Diplomatic Corps", including at the NATO and "his permanent Political" tasks.

Tillerson also stressed that, in Wider terms, Presidents Trump and Putin spend 2 Hours 15 Minutes about "all these issues", including "Ukraine", on which "Both of the Leaders feel like there's a lot of things in the Past that both of us are Unhappy about.  We're Unhappy, they're Unhappy", and that's why "there was so much to talk about". But, "this (USA - Russia) is a really Important relationship", and "We simply have to Find a way to Go Forward", as he said, at the Eve of his own Departure for Ukraine, that he's due to Visit on Sunday, July 9.

+ Significantly, at the Same Time, it's also the New UNO's Secretary General, Antonio Guterres, who is currently in the process of Leaving Hamburg's "G-20" Summit also for Ukraine, said Today (Saturday, July 8), to "Eurofora", UNO's Experienced Press Director, and Top Spokesman, Stephane Durarric, by phone.

As for Rex Tillerson's observations about Both Trump and Putin being "UnHappy" of things which happened "in the Past" on "Issues" such as Ukraine, etc., (Comp. Supra), they Timely remind the Notorious statements of Former US Under-Secretary of State for Eur-Asia, Mrs Nuland, (apointed by Obama), about ... "Fuck the EU !" (sic), precisely on the Issue of Ukraine, and her Interferences on Who should become Prime Minister, or not, etc., as Early as, already, since February 2014, i.e. at the Moment that Strange and still UnIdentified, but Deadly "Snipers" curiously Shot and Killed ...Both Demonstrators and Policemen, Firing mainly from an Hotel behind their back at Maidan Square, in a way which Provoked massive Violent and Deadly Riots Attacking the Parliament, etc., and Toppling a Peaceful Political Agreement, which had been just been Signed by then Ukranian President Yanukovitch and All the Opposition, under the auspices of French, German and Polish Foreign Ministers, (for a National Unity Government, Amnesty and New Elections, etc).

Later on, a CoE's High-Level Committee of Experts in Strasbourg, chaired by British Sir Nicolas Bratza, former ECHR President, appointed by CoE's Secretary General Thornbjorn Jaglant, a former Prime Minister of Norway, concluded that the subsequent Kiev's Government, (which had Seized Power after those Violent Riots), grossly Failed in its Duty to make a Transparent and Efficient Investigation in order to Find and Punish those Strange Deadly "Snipers" and whoever were the Instingators of their Attacks, which had provoked Massive Brutal Clashes and the Violent Toppling of a Controversial, perhaps partly unpopular, but, nevertheless, regularly Elected Government, and the Beginning of a Wider, even More Deadly Conflict, Extended to pro-Autonomy Donetsk/Luhansk Regions, (soon Attacked by Kiev's Army with Tanks, Air-Bombings, etc, making a Growing Number of Civilian Victims), the Re-Unification of Crimea peninsula with Russia in retaliation, and imposing a Dangerous Division of Europe, reminiscent but, in fact, even More Risky than the "Cold War" Era of the Past.

I.e., really a lot of what can make any Honest politician very much ..."UnHappy", according to Tillerson's above-mentioned Wording, due to Stimulate a Strong Desire to make things much better (Comp. Supra)...

---------------------------------------
Cyber-Crime+
------------------------------------------------

+ AnOther Topical, but much Wider Issue, discussed Yesterday by USA and Russia Presidents, (which, once again, was Not explicitly mentioned by German Chancellor Merkel now, since it Obviously concerns also the EU, China, Australia, Latin America, Africa, as well as Other Global Stakeholders, and was Partially included in the "G20" Summit's Conclusions : Comp. Supra), is that which was Resumed as "Cyber-Security" :

 - USA's New Secretary of State, Rex Tillerson, said here Yesterday that "the 2 Leaders ...agreed to Explore creating a Framework, around which the two countries can work Together to better understand how to deal with ...Cyber-Threats"' Challenges, such as :
-  "Interferences with the Internal Affairs of Countries",
 - "Threats to Infrastructures",
-  and/or "Terrorism".  


A main Question is "how do we create a framework in which we have some capability to Judge What is happening in the Cyber-world, and Who to hold Accountable",  he pointed out.

Tillerson admitted, however, that "this is Obviously an Issue that's Broader than just U.S.-Russia", (Comp. Supra).

- However, already, "We (US-Russia) agreed to set up a Working-level Group, to begin to Explore this framework agreement around the Cyber issue and this issue of non-interference.  So those will be ongoing with Various staff Levels", Tillerson added.

That Joint "Working Group" on "Cyber-Security" is due to be Led, from the U.S.A. side, by Both "the State Demartment" (i.e. himself), and "the National Security Advisor's office" (i.e. by General McMaster), he specified, in reply to Press Questions.

+ Russian Foreign Minister Sergei Lavrov, observed that "Cyber-Security ...was, understandably, given Considerable Attention".

 - The main reason is that "the Presidents Agreed that this area is becoming ever More Dangerous", because "there are numerous Threats Emerging in Cyberspace, including :
- "Terrorism"
- "Other areas of Oganised Crime",
- "Threats to the normal functioning of Societies, as Child Pornography, Pedophilia, the so-called Suicide networks, ...interference in ...Elections, ...Hacking in all its forms", etc.

 => In consequence, "All these issues, Combined, ...were agreed as subjects of Russian-US InterAction", and "a Bilateral Working Group will be set up for that purpose", he confirmed.

-----------------------------------------------------

These were the Main, but Not the Only, particular and concrete Issues of General Interest, discussed by the US and Russian Presidents, during their 1st ever personal Meeting, (2 Hours and 16 Minutes' Long), on the sidelines of this 2017 "G20" Summit here, in Hamburg (Germany).

Despite the notorious Harshness of such Issues, (or, rather, Because of it), their Host, German Chancellor Angie Merkel, apparently wanting to Mark such Historic Events, chose to Invite all her Guests, that Same Day of 7/7/2017, to a concert with Beethoven's 9th Symphony, (known as dedicated to "Joy", but also used as Europe's Anthem), played for the 1st Time in the Brand New "Elb-Philarmonie" superb Modern Building inaugurated on this occasion near Hamburg's Huge SeaPort.

=> A Voluntarist, Symbolic Move, allowing to Dream about a much needed "New Detente" era, by resolutely looking up to the Skyline of the Ocean's Horizon ?...
(../..)


-------------------------------


***


("DraftNews", as already send, Earlier, to "Eurofora" Subscribers/Donors. A more accurate, full Final Version, might be published asap).


***

BRIEF NEWS
00:00 - 09.07.2018

00:00 - 31.05.2018

00:00 - 26.12.2017

00:00 - 26.05.2017

00:00 - 30.01.2017

00:00 - 14.10.2016

00:00 - 24.09.2016

00:00 - 27.07.2016

00:00 - 03.07.2016
Statistics
Besucher: 27888403
Archive
Login Form
Other Menu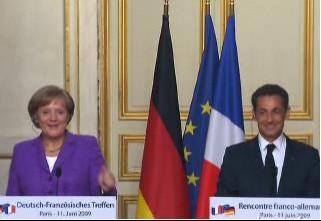 The official presentation of a "Program" respecting People's choices voted in the June 7, 2009 EU Elections, to be debated in EU Council and EU Parliament during its 1st Session on July in Strasbourg, is the No 1 Priority, according to Democratic principles, for the Franco-German axis, said the main winners at the ballot box, French President Nicolas Sarkozy and German Chancellor Angie Merkel.
They stressed  that the New EU Commission's President must have a "Program" in favor of an EU which "protects" its Citizens, regulates financial markets and aims at a "Political" Europe" : a wording they have used as incompatible with Turkey's controversial EU bid.
They also declared ready for a "political" endorsment of "Mr. Barroso's candidacy" in June's EU Council, considering that an official decision would have to be made after EU Parliament's debates and votes, possibly from next month (July), with the legally necessary final acceptance shortly after Lisbon Treaty's entry into force, hoped for September or October.

- "A Program, and Mr. Barroso" : This resumes, in substance, the anouncements made by Sarkozy and Merkel, on the question of current EU Commission's President, Barroso's declared wish to succeed to himself for a second mandate, to be extended during the following 5 years.

 In their 1st meeting after EU Elections, they observed that "the Franco-German axis counted in European Elections' campaign... But, we both keep a realistic view : We saw the number of those who abstained, and we must absolutely give them an answer. We also see the disilusionment of an important number of Europeans vis a vis Europe, and we are aware of the responsibilities we have".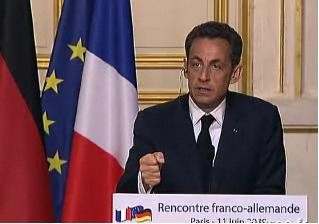 - The "Duty" of the new EU Commission's President, after June 7, 2009 EU Elections' result, "is to act for a Europe which protects the Europeans, to commit himself into working for a better Regulation of Financial transactions, ... and to have a Political will for Europe", underlined Sarkozy.

Therefore, "we have asked M. Barroso... to clarify, to officialy present the intentions he has", he anounced.

- "We want to speak also about the Programme", explained Merkel.

- "It's important that for the next EU Parliament's mandate (2009-2014) we take the right Decisions for Europe.  Obviously on Persons, but mainly Decisions on Issues", she stressed.

- "It's not simply a question of a Person, it's also a question of a Programme". We are "really asking Mr. Barroso to commit himself on a Program, and on Principles, on Values", Sarkozy added.

EU President-in-office, Czech Prime Minister Jan Fischer, accepted the Franco-German stance :

- "Barroso must present his Programme. The Czech Presidency agrees with that", Fischer reportedly said later, after meeting Sarkozy.

But Press reports from Brussels claimed that Barroso had preferred to be officially appointed by EU Council since June, (i.e. next week), "because this was implied by the current Treaty of Nice, according to him", and considered any delay until the possible ratification of the new, Lisbon Treaty on September/October, as "undemocratic".

- "At any case, independently of what Germany and France ask, it's also EU Parliament's wish". "We shall propose Mr Barroso's candidacy... But even in the framework of Nice Treaty, EU Parliament has to be associated in this Decision", the French President observed.

If this is correctly done, then "we support Mr. Barroso's candidature", and "if the (EU) Parliament agrees, we might ratify this decision since July", (i.e. next month), they both said.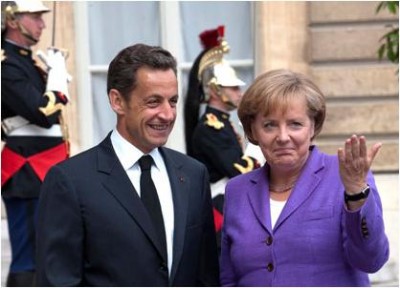 - "France and Germany support Baroso's candidacy, But we want to speak also on the Program. We believe that this Program should be established in close cooperation with EU Parliament, and that's why we have followed an appropriate way", said Merkel.  - If EU Parliament wants, this election can take place on July,  but this must be done in full agreement.
- "We shall support Mr. Barroso's candidacy, without doubt", said Sarkozy. "But we have asked from Mr. Barroso, as I told him yesterday, to put into detail.. his intentions, at the eve of his 2nd mandate, if the situation avails itself.

    France and Germany "don't want to take an Official Legal Decision by writting" during "the next (EU) Council" (on June 18-19), declared Sarkozy.  Because they prefer, at this stage, only "a Political decision" on June, "so that we (EU Council) can work together with EU Parliament", which starts to meet only Next Month, since July in Srasbourg, "leaving a Legal decision by writting for later".

    - "If the Conditions are fuillfiled in EU Parliament, we (EU Council) are ready to give the agreement and make it offficial", said Merkel

    - "But, now we are working in the base of Nice Treaty. If tommorow we want to work in the spirit of Lisbon Treaty, we have to find a proper way", she added.

    - "Of course it's Legally complicated, because we are going to make a Political proposal to the forthcoming Council, for an EU Commission's President, on the basis of Nice Treaty : So, we (EU Council) will not appoint the Commissioners. Only the President.  If EU Parliament agrees, it could endorse this position on July", explained Sarkozy.

    But, on Autumn, "if Ireland ratifies Lisbon Treaty, there will be, at any case, a 2nd Decision, to appoint the Commission's President, this time on the basis of Lisbon treaty, and then, we, the EU Member States, would have to appoint (also) the EU Commissioners", he added.

    As for the precise Timing :  - "Everything is suspended until the Irish vote... Now, we must all make everything possible to help Ireland to say "Yes"" to Lisbon Treaty... The Irish Referendum, ..will take place either on September or on October. It's a Question which depends on the Irish. And,  then, we shall have the Choice of the Candidates for the permanent Institutions of Europe".

    However, "if Ireland says No, we, French and Germans, have to assume our responsibilities, and we'll do so", he concluded.

    But British and Swedish governments were reportedly eager to have a final EU Council decision on Barroso since this month, on June's European Council. While the other EU Member Countries are divided, several of them preferring to wait until EU Parliament pronounces itself, on July, and/or until Lisbon Treaty might be ratified by Ireland at the beginning of the Autumn. Barroso's current mandate ends on November.

    There are also various, contradictory and/or unpredictable reactions inside EU Parliament vis a vis Barroso's wish to continue a 2nd mandate, because many MEPs are openly or secretly opposed, reluctant, or hesitating.

    In the biggest EU Countries, as France and Germany, EU Citizens voted on June 2009 EU Elections for a renovated, non-technocratic but Political Europe which cares for its Citizens, with an Identity, Values and Borders, declared incompatible with Turkey's controversial EU bid, by mainstream, pro-European Governing Parties. Similar choices were also supported in several other small or medium EU Countries.

    On the contrary, whenever, in other Countries, Governing and other mainstream Parties didn't make these choices or eluded them, EU Citizens massively voted for euro-Sceptics whenever they were the only ones to to promise anti-bureacratic change and oppose Turkey's demand to enter into the EU, (f.ex. in the UK, Netherlands, etc).

    It's seems to be an Open Question whether Sarkozy and Merkel's conditions will be really accepted by Barroso, who was appointed on 2004 in a different political context, (with Socialist Prime Ministers in Germany, France, etc), had rejected in the Past the idea of EU becoming "equal to the USA" as "ridiculous", and pushed for Turkey's contoversial EU bid, trying to "soften" or contain the changes desired by the People who voted for Merkel and Sarkozy with another policy vis a vis Turkey on 2005 in Germany and on 2007 in France, as they did all over Europe on 2009.

    In addition to many EPP Governments, it's 3 remaining Socialist Prime Ministers : Gordon Brown in the UK, Zapatero in Spain, and Socrates in Prortugal, who support Barroso, as well as Liberal Swedish Prime Minister Reinfeldt. But their Parties lost the June 2009 EU Elections.

    Questioned whether there was still "Time" for "other" possible "Candidates", Sarkozy and Merkel did not deny, nor made any comment on that, but simply said that "it's not for us to make publicity for any candidates. We anounced our choice ("A Program, and Mr. Barroso"). But we respect any other candidate".

    Among various other names cited are former Belgian Prime Minister Verhofstadt, former UNO's Human Rights Commissioner Mary Robinson of Ireland, Italian former EU Commission's vice-President Monti, etc. Meanwhile, Luxembourg's PM Juncker, (who had been unanimously accepted by EU Council for EU Commission's Presidency on 2004, but refused), announced his intention to resign from "EuroGroup"'s Chair. Thus, he might be available for another Top EU job.

    As "EuroFora"'s "opinion" said (See publication dated 9/6/09) : - "If the current candidates (i.e. Barroso, etc) to the Top EU jobs promise and guarantee to respect People's democratic choices, then, it's OK".

"Otherwise, Europe must find new candidates, really motivated and able to implement these democratic choices of the People."

    Because, "in Democracy, the forthcoming choices for EU's Top Jobs,...should be made according to EU Citizens' Votes in June 7, 2009 European Elections, and main EU Governments' strategic policies".
        

***

Polls