Αρχική

newsitems

Merkel Plays "Together MEGA" Magic Flute: EU ReVival via Human Rights/Cohesion/Ecology/Digital/World
Merkel Plays "Together MEGA" Magic Flute: EU ReVival via Human Rights/Cohesion/Ecology/Digital/World
Wednesday, 08 July 2020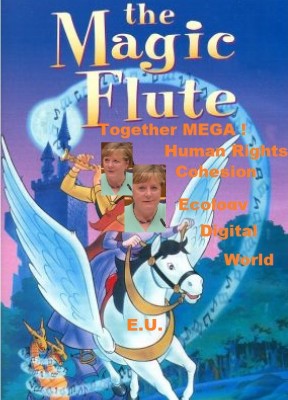 *Strasbourg/Angelo Marcopolo/- Both Profound and Future-Oriented, Urgent Action to ReVitalize Europe, with the Slogan: "Together, Make Europe Great Anew !"  (i.e.: MEGA !), Based on Human Rights and Cohesion, developed through Ecology, Digitalisation, and a Strong EU Foreign Policy in the World, play a Key role at the Incoming German EU Presidency in the 2nd Half of 2020, as it was presented by Experienced German Chancellor Angie Merkel, at EU Parliament in Brussels, Today.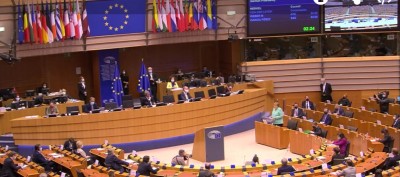 - "The Tasks Ahead of us are Enormous, and require Tremendous Efforts", she Warned from the outset.
- Indeed, "we Need to Change Europe, in a Sustainabe way, if we really want to Protect and preserve" it, Merkel volutaristicaly stressed. - "In this Historic Phase, ... this Task fills be with Respect, but Also with great Passion. Because I Believe in Europe. I am Convinced of Europe, Not only as a legacy of the Past, but as a Hope and Vision for the Future". Indeed, "Europe is Not just something that has been Handed over to us, something of a Destiny that is committed to us. But Europe is a Living Thing, that We can Shape and Change".
- For that purpose, we "Need ... Debate, ...Political Mediation", and "Cultural Translations into the different Countries", and "this Leads ... Consciously and with full Conviction ...at the Heart of European Democracy", she observed.
------------------------------------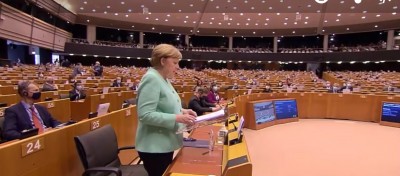 >>> Artfully, in fact, Angie Merkel, who confessed that she "Loves Music", (See Infra), Charmed most MEPs with a kind of "Magic Flute", by stressing, mainly that : -"If we really Want Europe", "then, Basic Human Rights and Cohesion are Needed", as well as "Answers to Climate Change and Digitization", with "Europe's Responsibility in the World", Because Europe should stand Internationally for an order of Law, Innovation and Sustainability. That is the Vision for Europe !", she Resumed, before Concluding with a Timely Reference to Beethoven's World Famous 9th Symphony's Final Movement, on United Human Brotherhood, (See Infra).
- Since it's "Only With Europe that we Can keep Our Convictions and Freedoms". And, "more than ever, that's What we Need : ...Fundamental Rights, at the same time" with "Mutual Support and Cohesion", so that "Europe will only remain Europe if, on this basis, it gives Innovative Answers to ...Climate change, and Digitization, and is committed to its Responsibility in the World" : "These are the (5) Big Tasks", Merkel put it in a nutshell, (See Infra).
-------------------------------------
VIRUS' PANDEMIC
-----------------------------------------
- "Today" we are Facing "the Greatest Test in EU's History", since "the Worldwide CoronaVirus" Pandemic "has also Hit People in Europe, Hard and Relentssly", with "More than 100.000 Dead" here, while "many Citizens could Not even Salute in the last hour their Beloved people, due to the Strict Quarantine rules" : Something which "must Not be Forgotten :  ...the Grief for the Dead, the Pain over the Farewell made Impossible, that will Accompany us for a Long Time", Angie Merkel Deplored, First of all.
- But, Even if she noted that this German 2020 "Presidency will Shape the Management of the Pandemic" in Europe, Nevertheless, Curiously, she did Not Expand here on the Crucial Medical Issues about Cures, Vaccines, Protective Gear, Diagnostics, Confinement/DeConfinement, etc., except from Pointing at the Fact that "Europe should draw Lessons from the CoronaVirus Crisis, f.ex., on how to Strengthen European Sovereignity in the Health sector" : ... a Debate that we should have Also in the contect of (the forthcoming) Conference on the Future of Europe", where "I Advocate ... Concrete Results", as she Highlighted at the Horizon.
However, that Same Day that she was Speaking at EU Parliament, + 605 more Human Lives were Lost in Europe, according to the WHO, and a Total of 5.575 People were Killed by the Virus accross the World...
+ It's true that EU Parliament had scheduled, Later this Same Day, also a Specific Debate on EU's New Health Program, with the competent EU Commissioner Stella Kyriakides, and German Minister for European affairs, Michael Roth, accompagnied by a long and comprehensive Draft Resolution, with many Amendments, due to be Voted Tomorrow.
However, it's not obvious that a ...30 Minutes Only Debate with MEPs could be really Sufficient, for such an Important and Topical Issue, particularly withOut the Number 1 President of the EU Council (Chancellor Merkel), and Even of the German Specialist Minister of Health, Jens Spahn, (who is Also from the Main Governing Party of ChristianDemocrats/EPP, while Roth is among its SocialDemocrat Partners)...
- Is it, Perhaps, Because, as Minister Roth stressed Afterwards, "this Crisis is Far from Over", since "we Still have to do with a very Volatille Situation", where, "even in Europe ... Nothing is Safe" with certainty, so that "We Must ... Be Vigilent", and "this" is "subject of Intensive Debate" on the "Measures we Need to take to Overcome the current Pandemic and to Prevent Future Health Risks" ? Meanwhile, the Recent DeConfinement "Openings... come ...with Considerable Risk", indeed, observed later Commissioner Kyriakides. In Fact, "No one Knows with certainty How the coming Weeks and Months Will Develop, and ...it is still Too Early to speak about life 'Post-COVID'", But we "Need to Reflect on what EU's Role in Health Policy Should be", she warned.
- So that, Most of MEPs' Debate focused on Strengthening EU's Capabilities in Health, for EU Parliament's Majority, with Rightists and others Claiming that, Already, EU Treaty would give Enough Possibilities to Act there... At any case, it's true that, as Kyriakides had observed since February 2020, "Legally, it's up to Member States" to take some Key Measures, f.ex. about Borders, AirFlights, Confinement, etc. But it's Also true that Even if WHO too is Deprived of any Power to Impose Confinement and/or Close Borders, nevertheless, on March 2020, it was Enough for WHO to simply Declare, in Press Statements, a "Pandemic", and, Soon After, "Europe" as "its EpiCenter", in order to Immediately see a lot of European Countries' Leaders and EU itself Suddenly Rush to TV+Web Medias in order to Announce, at last, some Rigorous Measures, (Unfortunately Too Late : See f.ex.... , etc)...
At least, Most or almost All MEPs appeared to Support the Idea of Threatening to, eventualy, use "Compulsory Licences", IF it became necessary to Face some Compagnies' too Greedy Price Policies, which Might, Perhaps, Hinder all People's Access to Efficient Medicine against the Virus. Nevertheless, in General, while a Lot was Heard about Future "Vaccines", Curiously, Little was said about Urgently Needed good Cure...
------------------------------------------------
=> So that Merkel, at any case, Focused More, this time, on EU Countries' "Economy", which "has been, and wil be,  Badly Shaken accross Europe", where "Millions of Workers have Lost their Jobs, in Addition to the Concerns about their Health, and that of their Families", resulting even in "Many Citizens" being "still Afraid of their Economic Existence", "Needing all our (EU's) Support Now", as she Warned,
Advancing through her "5 Points" Program on Human Rights and Cohesion, with Ecology, Digitalisation, and Europe's Role in the World, (See Infra).
-----------------------------------------------------
HUMAN RIGHTS + DEMOCRACY
--------------------------------------------------------
+ This came soon after, already, "In order to Break through the Chains of (that Deadly Virus') Infection, the most Basic fundamental Rights had to be Temporarily Restricted", she reminded.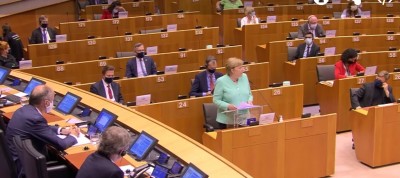 - "That was a very High Price, because ... Human and civil Rights are the Most Valuable asset that we have in Europe", for which "Generations" of European People "have Wrestled hard". "Each Country of Europe Remembers its own ...Upheavals, the various Struggles for Freedom and the rule of Law. ...Precisely, the achievement of such fundamental Rights is in Europe". F.ex., "for Me, who have lived for 35 Years of my life in a system with Lack of Freedom, the Restriction of these Rights in the Pandemic was ...infinitely Cumbersome", she Acknowledged.
=> - "They may Only be restricted with very important Reasons, and at very Short Notice. A Pandemic must Never be a Pretext for the purpose of Lifting Democratic principles", Merkel Warned, (Comp. also CoE Leaders' relevant Debate recently, organized by its 2020 Greek Presidency, which prepares a PanEuropean Resolution on this matter, for November 2020 : ..., etc).
 >>> "Europe has Survived" to many ""Crises", (f.ex., "Failed Constitution... 15 Years Ago [2005], or the Economic [2008+] and Financial [2010+] Crisis, ...the Refugee Movements 5 Years Ago" [2015/2016], etc.),  
- "Because ...everyone was Aware of what is  Essential : fundamental Rights and Cohesion. Human and civil rights, the inviolability of Human Dignity, Freedom to individual Personal, Political and Social Development, Protection from Discrimination and DisRespect, not least Equal rights - they form the Ethical-Political Foundation on which Europe rests !", stressed on 2020 Angie Merkel, (Faithfull in what she had called : - "Europe's Soul", in her previous Presidency, back on 2009 at EU Parliament in Strasbourg. See: .., etc).
- "These Rights Apply to Everyone". ... "This is the Promise of Europe, that we must Guarantee: that Citizens must be truly Free to live their Religious..., Cultural or Political Beliefs, ...their respective Ideas of Happiness or Good Life".
+ Moreover, "Democracy .. lives from the Public Critical Debate. A democracy in which Opposition Voices are Undesirable, a "democracy" in which Social, Cultural or Religious Diversity is Undesirable, is None", she added.
=> "The Pandemic has made it ./.. clear ... how Precious (Human) Rights are, how Fundamental the Freedoms they guarantee are. The European Commission, the European Court of Justice, and the European Parliament have Strong mechanisms in the E.U. in order to Protect these .. Rights".  So that, "Fundamental Rights, are the First thing that is Dear to my Heart in this Presidency of the (EU) Council", she concluded on this point. - "They are ...an Absolute Priority", she added later-on.
-----------------------------------------
COHESION
------------------------------------------
+ "This must be supported and Supplemented by the 2nd Principle, that makes Europe, : Our Cohesion", Angie Merkel advanced further.
>>> -"Because Europe will Only emerge Stronger from this Crisis, IF we are ready - for all Differences - to Find Common Solutions", she Stressed.  
- "Europe will become Stronger After the Crisis, than before, if we strengthen the Common Feeling" : "If we are willing to Look at the world with the Eyes of the Other, and to show Understanding for an Other Perspective". "Even the bitterest Crises have helped to better Understand the needs of Each Other", she reminded, (Comp. Supra). - In fact, "No one comes through this Crisis Alone. We All are Vulnerable", she Warned.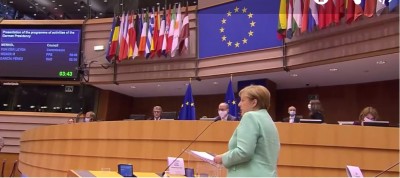 - Indeed, "European Solidarity is not just a Humane gesture, it is a sustainable Investment", the German Chancellor soberly explained. - "European Cohesion is not just something that is Politically Necessary, but something that will be Worthwhile" Economicaly too.
=> That's Why "the Leitmotif (Moto) of Our 2020 (Germany's EU) Presidency, also is : - "TOGETHER. MAKE EUROPE STRONG AGAIN !" (i.e.: "Together, MEGA !"), Angie Merkel revealed.
- Because "the Highest Priority of the German Presidency of the (EU 2020) Counil is that EUROPE is UNITED, and Strengthened from the Crisis". So, "together with the Federal Government, I will Dedicate myself to this Task with Full Passion", she vowed.
+ 'But we do Not want to Stabilise Europe only in the Short term, that would be too Little. We Also want a Europe that gives Hope. We want a Europe that is self-Confident and Courageous to the tasks of the present. We want a Europe that is fit for the Future, which asserts its place in the World Innovatively and sustainably. We want a Break-through for Europe !" Angie Merkel urged ambitiously.
=> -"This conviction is also followed by the Franco-German Initiative of mid-May. Together with the French President, Emmanuel Macron, I proposed a ... European revival Fund". Already, "EU Commission is taking into Account Many aspects of this Franco-German initiative, in its proposal on the Multiannual Financial Framework, and the ReConstruction (alias Recovery) programme". And, "on this Basis, Discussion is currently being held at the European Council, under the guidance of Charles Michel", she observed.
- The situation is Exceptional, and indeed Unique in the History of the EU. That's why Germany is also in favour of this Exceptional and One-off strong effort great Magnitude".
- "Now it will be Important for us to Agree on a European level" too. "Our common goal is to reach an Agreement, as Quickly as possible (ASAP), because the Depth of the Economic Slump incites us to Rush. >>> We caN't Lose Time !", Merkel Warned. So, "I very much Hope that we will be able to reach an Agreement later this Summer".
=> This should make possible "a New Beginning, with Full Commitment to the Economic Recovery", Angie Merkel ambitiously stressed.
- But "it will require a lot of Compromise from All sides" the Experienced German Chancellor underlined. On that point, she asked for MEPs' "Support, in this Difficult time", "as Mediators and Facilitators of Cohesion" : - "Help us to strenghen Europe's Cohesion !", she urged.
- Because there is also "a Need ... to Explain to the European People !". And "I Need You for That", she told MEPs. Indeed, EU "Parliament is "Needed in order to Protect this Common Feeling inside the EU", the "Mutual Understanding, necessary to reach Compromises". MEPs "represent about 450 Millions of Citizens in 27 States", and "are the Translators of the European Principles", "not only Communicating in 24 Languages", "but also living with this variety of Perspectives and Experiences", while "Explaining to the People of Europe, and, thus, Mediating between Brussels, Strasbourg, and ...Home Regions", Merkel observed.
=> -"Who, then, if not You (MEPs), could Explain to the People of Europe the attitude of Other Member States ?", she wondered.
--------------------
- Indeed, "there are very Different Ideas about What is ... to be achieved", the incoming EU President regretted, Later, in Reply to EU Parliament's Political Groups' Leaders. So that "we will all Have to Come Together, IF we are to achieve something", she Warned. "We Must ...create a Working Basis", "including on the Medium-Term Financial Framework", and the ReConstruction (alias: Recovery) Fund". "Because", there, "the Ideas are still Far Apart among the Member States today".
>>> But, "what is Not Acceptable, ...is ...the Claim to Absoluteness of certain opinions which declare the Rest of the World Absurd !" Because "this is Incompatible with Democracy and Tolerance, and", in that case, "we will Not" have "Any Solutions...", she "very Clearly" Denounced, (Applauded by MEPs).  
----------------------
 - In fact, "we are Not Just going to make a Franco-German proposal", Merkel "reassured" some recalcitrant MEPs, Afterwards, during the subsequent Debate. -"We Know that Europe is made up of 27 Member States". "Yet, if Germany and France are of very Different Opinions, usually, it's Not the Right Way Forward in Europe, either...", she observed. In fact, "we Must Work" on "a Franco-German Proposal", in order to Become, "Now, a European one", "and we Will Do So, in the Next Week", (leading to the forthcoming EU Summit in Brussels, on 17-18 July 2020).
+ At any case, "it's absolutely Legitimate", "that we seek for the Money to Arrive Where it's Due to go : I.e. on the Spot", and, "of course, we Will Monitor this Together (EU Parliament and German EU Council's Presidency), because we "attach Great Importance to it", she reassured MEPs, Replying Later to their observations.
- Meanwhile, "We (EU) Can now be Temporarily in Debt, and ... set up a Support Fund", if "we ...Organize the RePayment" well, Merkel went on to add. In this regard, "It's Better, yet, ...that the Credibility of the RePayment is underscored by the fact that We (EU) are Beginning to RePay withIN the Next 7 Years (regardless if it's Only in the Next Period, or not)" : "That's Important, because Permanent Indebtedness canNot be Europe's Reponse to Global Competition", she pointed out, as a matter of principle.
=> In Practice, "this means that ... We (EU) have to Rely on New Technologies" also, and "I was Pleased thet the Issue of Technology played a Role here", Merkel observed, (See Also Infra). - "I Hope that we will succeed to do so, in some extent, in the MultiAnnual Financial Framework (MFF)", even if "there is a Danger IF ...Structural Funds" were opposed to "Expenditure on Innovation", she Warned. (Even if, for "Eurofora", however, the Appropriate Ideal, here, would be Not to "Oppose", But, on the Contrary, to "Integrate" RESTRUCTURING THROUGH Intelligently Inclusive INNOVATION !). Anyway, "Germany will be in Favour of Strong Funding for Technology", she vowed, "Welcoming" f.ex. the "Adoption, by EU Commision, Today", of the European "Hydrogen Strategy".
+ And, pointing at the "European Projects of Strategic Interest", Angie Merkel also added, f.ex., the "Battery Cell Production", "which is Now well UnderWay", and the "Quantum Technologies", where "We (EU) will Certainly have to do something", as she said.
=> In fact, "We (EU) Need to Invest More on the Future", "and, Also try to Use the resources of the (projected: Comp. Supra) ReConstruction (alias: Recovery) Fund for this purpose", the German Chancellor urged.
- So that, "to those (MEPs) who ask whether we want to "renew" Europe: Naturally, we need to reNew Europe Every Day !", she Replied.  Because "the World is Changing, and IF we Stand, we will Fall back, so Better be Safe...", she joked.
------------------------------------------
+ More Widely, "Social dimension is as Crucial as the Economic one. A socially and economically Just Europe is crucial to Democratic Cohesion !", Merkel stressed in addition.
- "It's the Best recipe Against all those who want to Weaken our Democracies", and "we must Not be Naive, ...Europe's Opponents are just waiting to Exploit the (Virus') Crisis for their purposes", Warned the Experienced German Chancellor.  
=> Thus,  "We must Now Show ...where the added Value of Cooperation lies in the EU", and "that the return to Nationalism is no more, but Less control, that ...Together We Protect and Strengthen our Common Action, as Europe", she urged.
- F.ex., Germany's 2020 EU "Presidency will pay particular attention to Young people and Children", Because "they are Europe's Future and ...particularly Affected by the Crisis" So, inter alia, they will benefit from  "a European Youth Work Agenda", and "a strengthened Youth Guarantee, on the way to their Professional lives", she announced.
- Moreover, "it's Right and Important that the Regions ... particularly Affected by the Crisis and, above all, the People who live there, can Count on Our (EU) Solidarity. It's in Our very own Interest".
- "However, ...the effort ... must Not Unilaterally Burden the Economically Strong Member States above a threshhold", she pragmatically advised. In fact, "Each one of us must put himself  in the position of the Others, in order to "also consider what the individual Member States Can do, and what is Not feasible -economically, Socially and/or Politically", she Warned. Indeed, f.ex., German Opposition's "AFD" Top MEP Jorg Meuthen, sharply Criticized Merkel, later Today, by Claiming that "the Average German is Less Wealthy than the French, Spaniards and Italians" [sic !], or that "the Rate of Housing Ownership in Germany is Lower than in those Countries" [perhaps a consequence of Less Social Housing], and that "Germany has a ...Higher Retirement Age than all Mediterranean Countries" [regardless of Salaries], etc.
- Concluding, on this 2nd Point (EU Cohesion), Merkel said to "Believe that Everyone, in front of this Crisis, is Ready for Extraordinary Solidarity", and promised that "Germany is !".
-------------------
+ "One Last point", she added, Later-on, in her Replies to the Leaders of EU Parliament's Political Groups : - "We must make a very Clear Distinction between the €uro-Crisis, or the Financial Crisis, that we (EU) had experienced at some individual Member Countries" in the Past, "as a result of the Global Financial Crisis", and Today's Pandemic" :
- On the 1st point, "we are All in International Competition, every Member State, and can only live our Social Model IF we do Not become Vulnerable". But, "if we ...have excessively High levels of Debt, then we know how vulnerable we become" "That's why it was Right that there were Reforms in ..Member States, but in Return, ...there was also a great deal of Solidarity". F.ex. in "the structure of ESM", etc., she reminded.
>>> However, concerning the 2nd point, "Today's Crisis ...is Not the Fault of (any) Countries, (...) But a Virus that has come upon us, for which No One Can do anything, and which has Affected the countries in very Different ways", In that case, "then, we need completely Different instruments and ...Answers, and that's why I am promoting this ReConstruction (alias: Recovery) Fund !" ("AufBauFonds"), she explained.
---------------------------------
CLIMATE
----------------------------------
+ "Simultaneously, ...the First of 3 Other Major Challenges of our times", is "CLIMATE Change", the German Chancellor went on to add.
- "A Global Solution to Climate Change is Only possible IF Europe is at the Forefront of Climate protection", she stressed from the outset, pointing to "EU Commission President, Ursula von der Leyen's" relevant "Programme", "presented" to EU Parliament "about 1/2 a Year Ago (2019)", with "Urgent words", and "Stressing that Europe Must Act Now, if our Planet is to Remain Viable".
=> - "Therefore", Advancing "according to EU Commission's important Guideline with its Strategy for a Green Deal", "during our (Germany's 2020) EU Presidency, we want to boost the Transition to a Carbon-Neutral Economy and Society, to a Green Economy, with Strong and Innovative Businesses"  : I.e. "an Economy that Protects and Strengthens Europe's Natural Livelihoods and Competitiveness, for Future Generations", Merkel underlined.
- For that purpose, "it's Important to Legally Commit to Europe's Climate Neutrality by 2050", and, "therefore", "Reduce Emissions to 50-55% by 2030 (Compared to 1990"), as EU "Commission considered". A "Perspective" in which "we will also accompany the work on the European Climate Protection Act".
-----------------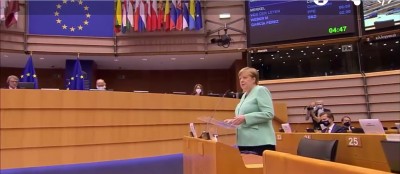 - In this regard, the German Chancellor was "Pleased to see", during the Subsequent Debate with MEPs, "that the issue of Agriculture was adressed". Indeed, "if we Want to be an Ecological Continent, we Also Need to have Organic Food Production, ...Near to us", she stressed, as a matter of principle.
=> Therefore, "we must also accept and Recognise Farmers in what they are doing", while,  "at the same time, insisting on Animal Welfare" and "the Sustainable use of Soil". "But, the Economic and Market Conditions for this, must also be realized, so that this ... can be Managed in a really Economic way", she warned.
-------------------------------
DIGITAL
---------------------------------
+  "The 4th Major Challenge, ...particularly Important ...during (Germany's EU) Presidency", in the 2nd Half of 2020, "is the DIGITAL Transformation", Angie Merkel added,
(re-Launching anew another of her Favorite Issues, since her landmark Electoral Victory of 2013 : See "Eurofora"s NewsReport from October 2013 EU Summit in Brussels, at: ... etc).
- "It requires - as well as Climate protection (Comp. Supra) - that we Change our way of life", but "in a Sustainable way", she pointed out.
- This Last Point, "Dissolves (Otherwise "Understandable") Fear among several People", since "Digitisation and ...Climate protection does Not mean ...that the Jobs of Millions of Europeans are at Risk", Merkel reassured. - "On the Contrary, it's... a necessary Change ..., which will offer More Protection and ...Sustainability, in the Long term", she promised.
>>> "Recently", during the (2020) Confinement, "Europe's Digital Dependence on 3rd Countries" (as USA, S.Korea/Taiwan/Japan, China, etc) "has, once Again, become Clear" to "Many of us" at "daily digital Communications - in Technology or in Services", the German Chancellor Denounced.
=> In consequence, "it's Important for Europe to be Digitally Sovereign ! Especially in key areas such as Artificial Intelligence, and Quantum Computing, but also in building a trustworthy and secure Digital Infrastructure", she urged.
>>> "What is Crucial, ...is the effective Protection of our Democracies against Cyber-Threats and DisInformation campaigns. Because a Democracy Needs a public in which Knowledge ...can be Shared, where Citizens can exchange". And, "Currently ... the Pandemic canNot be Combated with Lies, DisInformation", and "Hatred" ... "that Denies the Facts", she Accused, (applauded by several MEPs).
--------------------------
+ However, speaking Later on "Digital Taxation", in her Replies to EU Parliament Political Groups' Leaders, Merkel, while making it clear that she was "Not explicitly Opposed" to that, nevertheless, EU Politicians should be Careful to Avoid giving "False Signs, as if we (EU) would have ...General Tax Increases", which risked to make things "Difficult", "in a(n already) Difficult Economic Situation", as she Denunced.
- Precisely, on "the Digital Tax", "of course, it's always Better if a Tax can be Agreed Internationally, on a Global Basis", f.ex. by "Waiting for the work of the OECD", (as US and French Presidents Trump and Macron had reportedly Discussed at the Latest "G7" Summit in Biarritz, on August 2019), "Because anything Else could ...lead us into Difficult Trade Conflicts", Merkel Warned.
>>> "However, IF No Solution becomes visible there (at the OECD), then, We (EU) must ... find a Solution for Europe here", the German Chancellor admitted.  -"Because it canNot be" acceptable "that a ... Value Creation, which is now Increasing through  Digitalisation, ... comes through the (EU) area almost Tax-Free !", she Denounced. "And ...We (EU) ...already had good Successes, at International Financial Market Rules, in terms (f.ex.) ..of Tax Havens", Merkel reminded.
- But, ". Unfortunately, ...a Digital Tax Seems (NB) to be a little bit more Difficult", she regretted, at least for the time being...
--------------------------------
WORLD
----------------------------------
+  - "5thly", the German Chancellor spoke about "Europe's Responsibility in a Globalized World".
- "We are living at times of Global Upheaval, where Fields of Power are Shifting, and Europe is more On Its Own", despite NATO, she warned.
- However, Curiously, "looking at a Map", she felt Nowadays that, "in addition to the UK and Western Balkans, Europe is Surrounded, at its External Borders", Not Only "by ...Turkey, Syria, Lebanon, Jordan, Israel, Egypt, Libya, Tunisia, Algeria, and Morocco", But Also ..."by Russia, Belarus, and Ukraine (sic !), among Others (probably Georgia, Armenia, etc)", as she claimed.
Nevetheless, one doesn't need to live at the 1986 Entry of Russia in the PanEuropean CoE in Strasbourg at Gorbatchev's era, or at De Gaule's/Adenauer's era of the "Great Europe" from "Lisbon to Vladivostok", Neither at that of Sputnik and Gagarin's Space Pioneers during the 1960ies, nor at the 1945 "Liberation" era, at the Historic 1827 "Navarino" Victory of Europeans United against the Turkish Military Invasion/Occupation, or the 18th "Century of the Enlightenment"'s Philosophers, Writers, Architects and Artists, long after the 8th-9th Century's Christianisation, by Cyril and Method Byzantine Monks (who Created the "Cyrilic Alphabet"), of "the Road from the Greeks to the Swedish", (etc), in order to Find that Russia, Belarus, Ukraine, etc., figure well Inside all Europe's Natural Maps, Notoriously Linked to Europe by Geography, History, Religion, Civilisation, Science/Technology, Culture and Art, etc...
+ And Angie Merkel hershelf (who Speaks Russian) had well Continued the "Trilateral" Summits saga between Germany, France and Russia, inaugurated by her Mentor, the Historic Chancellor of Germany's and Europe's ReUnification, Helmut Kohl, at CoE's 1997 Summit in Strasbourg, (with Jacques Chirac and Yeltsin), Followed also by former Chancellor Gerhard Schroeder, up to October 2013, when She had Declared, at an EU Summit in Brussels, her Intention to Visit Russia and Explore the Prospects for the eventual Creation of a "PanEuropean Trade Area" from Lisbon to Vladivostok, (etc). + All through the ESA - Russia Planning and Deals on "Exo-MARS" Space Exploration Project for Planet Mars, prepared between 2005, 2009 and 2013, Before being Repeatedly "Postponed" Later-on....  Until, Suddenly, the Deadly Disruption of Mysterious "Snipers", astonishingly Shooting and Killing Both Rioters and Policemen at Kiev on February 2014, thus Provoking a Bloody Conflict which Droped a Peace Agreement just Signed by Ukranian President Yanukovitch and All the Opposition Leaders, under the Auspices of German, French and Polish Foreign Ministers, (shortly After US Under Secretary of State Miss Nuland's notorious ..."Fuck the EU !" comment on Ukraine developments), which, unfortunately, Divided anew Europe, (at least until Russia's full re-Integration at the CoE, Recently, on 2019, under French rotating Chairmanship, while USA President Don Trump has left Open the question of an Eventual Return of Russia also at a 2020 "G8" Summit, as Helmut Kohl had Always advised)...
----------------------------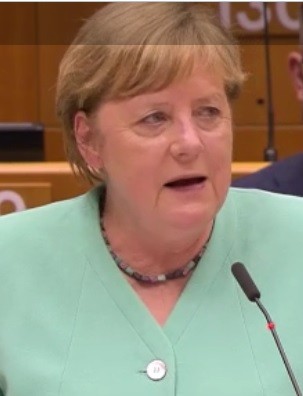 + At any case, Wisely, Merkel stressed at EU Parliament Today, that "We (EU) Can and Must Decide, for Ourselves, WHO Europe Wants to Be, in this Rapidly Changing World order".
>>> - "More than Ever, it DEPENDS on Whether we are Serious about Europe, Whether we Want a EUROPE whose FREEDOM and IDENTITY are Preserved, in times of Globalisation", she Warned.
=> - "In that case, there is a Need for a Strong European Foreign and Security Policy", the German Chancellor clearly reiterated.
---------------------------------
     + Moreover, speaking on 5 Concrete Issues, Merkel pointed at the UK, Western Balkans, Africa, Migration, and China :
- "The UK is and Remains an Important (EU) Partner", and there will be "a strong Focus on Shaping Our (EU's) Future Relationship, during the Next  Months" (i.e. July - December 2020), she observed. But, "So Far, Progress in Negotiations has been ...<<Cautious>>" Merkel criticized. So that, "We Agreed with the UK to Speed the up, in order to Conclude an Agreement in Autumn" 2020, due "to be Ratified by the End of this Year", (i.e. towards December 2020). "However, We (EU) should be Ready Also for an Eventual Lack of any Deal", she Warned, Carefully.
- Meanwhile, "We (EU) should do Everything possible to make Progress ...on an Important Step towards the (EU) Accession of Western Balkans' Countries", with, "at least Northern Macedonia, at the Accession Conference, and, IF appropriate, Albania".
+ As well as "for Our (EU's) Relations with our Neighbouring Continent : Africa", including "the African Union", that we intend to "Deepen at a Future EU - Africa Summit", as she Announced.
- Obviously, "this Includes a Part of Our (EU's) Migration Cooperation" policy, Merkel added, Stressing that EU has "a special Responsibility to Move Forward on an Issue as Central for Europe as Asylum and Migration Policy", because "there are so Many People on the Run, as Never Before !" "This Issue requires a great deal of Political Sensitivity, But We (EU) must Not Look Away, and, instead, work Together on this Humanitarian and Political matter", as she said, (Applauded by several MEPs).
- "Last, but not least, Our (EU's) Relations wth China, ... characterized by Close Trade Links, But also very Different Socio-Political Ideas, as well as in the Protection of Human Rights, and the rule of Law", as she said. Even if, "Unfortunately, an EU - China Summit canNot take place on September", (after a Recent Brussels-Beijing Video-Conference, with von der Leyen and Michel), nevertheless, this relation "Concerns us" (the German 2020 EU Presidency), and "We Want to continue Open Dialogue with China", Merkel stressed.
---------------------------------------
    + Moreover, "During the German Presidency of (EU) Council, (July - December 2020), We also want to continue reflecting on Whether We (EU Coucil) will Stick to UNANIMITY in matters of Foreign and Security Policy, OR Not", (i.e. Eventually Start MAJORITY Decision-Making on CFSP), she Announced.
    => "This Debate should Also be held in the (forthcoming) <<Conference on the Future of Europe>>, the German Chancellor added, while "Advocating to Focus" there "on a Few Issues", but "with Concrete Results".
    >>> At the same time, that Exceptional EU Conference, should Also "Bring Together" European "CITIZENS, from Various Member States, to ENGAGE IN DISCUSSIONS", Angie Merkel added,
    revealing that she had "Spoken  with EU Parliament's President, David SASSOLI", earlier "Today", (on a Point of Obvious Relevance to "Eurofora"'s Project, on which See President Sassoli's Reply to our Question, during a Recent EU Summit in Brussels, at: ...., etc)...
---------------------------------------------
A VERY SPECIAL ANNIVERSARY...
----------------------------------------------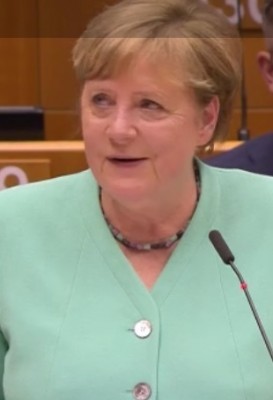 => Concluding, in fine, "on a Personal Thought", the very Sober and "matter of Fact" Angie Merkel, Exceptionaly Smiled a while, with a Brief but Clear Light at her Eyes, when she Revealed that she was "a Music Lover", and, therefore, had "a Great Pleasure" to point at "a very Special Anniversary", During this German 2020 EU Presidency :
    - Indeed, "on December 2020, the Composer of the European Anthem, (Hymne), Ludwig van Beethoven, would have become 250 Years Old", since his Birth, she pointed out...
    >>> 2,5 Centuries Later on, "I still meet his (World Famous) 9th Symphony, Again and Again", while, "at Each Hearing, I Discover something Else, in this Music, which Strikes and Impresses me, ...just Like Europe :" Indeed, "it can be ReDiscovered; over and over Again, and it Still Impresses me", "Particularly with the Desire that its Message : the Idea of Botherhood and Concord, would Inspire and Lead us in Europe !", Angie Merkel wished.
    => Naturally, "this is a most Appropriate Message (also) for Europe's Capacity to be Great, IF We (Europeans) Stand By Each Other, and stick Together, United !", she Concluded, Largely Applauded by Most MEPs...
(Pointing obviously at the "TOGETHER, MEGA !" of 2020 EU German Presidency's Moto : Comp. Supra).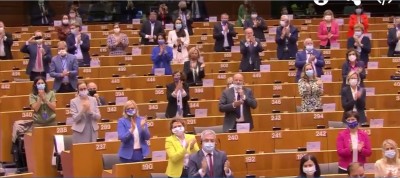 -----------------------------------
    Merkel, certainly referred to the Final, 4rth Movement, of Beethoven's World Famous 9th Symphony, where he used Schiller's Poem, at his "Ode to Joy", adding some Personal Words.
    Many and Various People, Movements, Institutions adopted this Superb Music accross the World's History, until, First the CoE (withOut the Words) on 1972, and Afterwards the EU on 1985, Officialy adopted it as the European Anthem. (Meanwhile, however, it had, reportedly, been used Even by China's "Cultural Revolution", Back in the 1960ies)...
    "Eurofora" offers to its Readers a Landmark Version of that Masteriece, played in the Original Deutsch Language, fully Translated in English,
    at London's prestigious "Royal Albert Hall", (Between Hyde Park and Historic Monuments, several Foreign Embassies, the Imperial College and Science Museum),
    >>> Shortly After the 9/11 Barbaric Mass Killings of Thousands of Innocent, Civilian People, back on 2001, by UnKnown, Then, Perpetrators and Methods,     
    as a Sign of European People's Solidarity and Resistance to massively Deadly Anti-Human Barbary.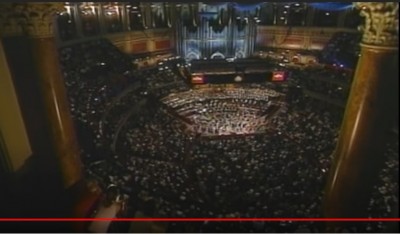 https://www.youtube.com/watch?v=bDsx7XA-W54
(../..)
("Draft-News")
---------------------------

BRIEF NEWS
00:00 - 02.06.2021

00:00 - 18.10.2020

00:00 - 19.06.2020

00:00 - 18.05.2020

00:00 - 20.04.2020

00:00 - 02.02.2020

00:00 - 09.12.2019

00:00 - 27.11.2019

00:00 - 16.11.2019
Statistics
Επισκέπτες: 55545139
Archive
Login Form
Other Menu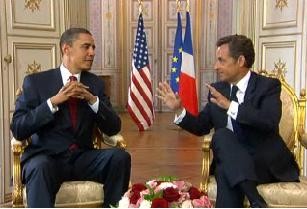 La Turquie, test-clé d'Independance de l'Europe face aux USA, les aménant de chercher en commun des nouvelles idées pour se mettre d'accord ?  
 Le débat, amical mais clair, entre les Présidents Américain et Français, Obama et Sarkozy,  la veille des elections européennes du 7 juin 2009, a montré que la question controversée sur la démande de la Turquie d'entrer dans l'Europe est actuellement le point central et le test le plus pertinent de l' indépendance de la France et de l'Europe par rapport aux Etats Unis.   
 Les electeurs européens, aussi bien en France qu'ailleurs en l'UE, auront une seule chance à trancher, ce dimanche 7 juin 2009, en choisisant leurs eurodéputés pour la période 2009 - 2014, car après ca risque d'être trop tard, vu que tous ceux qui suivent les affaires européennes dépuis des décennies savent qu'en réalité, le moment des décisions sur la Turquie viendra au plus tard en 2013, date rétenue dépuis longtemps pour une importante révision des "Perspectives Financières" de l'UE qui reflètent des choix Politiques fondamentaux.

    Le Président français, (récement encore représentant de l'UE, dans laquelle il joue un rôle important, ensemble avec la chancelière allemande Merkel, et autres leaders européens, ayant une influence notable auprès des Citoyens Européens, comme les derniers sondages montrent), réagissant à la repétition, par le nouveau Président Américain de la vieille position traditionelle de l'Washington poushant toujours vers la démande de la Turquie d'entrer dans l'Europe :

     - "Je ne peut pas laisser détruire l'Europe, (qui) est un élément de stabilisation du Monde", réponda Sarkozy. "J'ai dit au Président Obama que pour moi il était très important que l'Europe ait des Frontières", a-t-il souligné, confirmant la position Franco-Allemande commune, récemment rappellée ensemble avec la Chancellière Merkel.

    - "Il y a une différence (entre France/EU et les USA)...  sur les modalités. La position traditionnelle des Etats-Unis d'Amérique, c'est l'intégration" de la Turquie au sein de l'UE. "C'était la position du Président Bush, du Président Clinton, de tous les présidents américains".     
- "La mienne vous la connaissez : Ce n'est pas l'intégration dans l'Union Européenne. Mais j'ai proposé que nous réfléchissions, l'Europe, la Russie, la Turquie à la création d'un Espace Economique et de Sécurité en commun", a ajout Sarkozy rappelant son invitation de créer quelque chose de neuf et mieux adapté.

    Mais, "cela ne veut pas dire qu'il faut repousser la Turquie dans les ténèbres. La Turquie est un allié dans l'OTAN, (et) une Passerelle entre 2 Mondes, voilà quelle est la meilleure modalité. C'est cela dont nous avons parlé", revela-t-il. Si "nous avons une Différence sur les Modalités, nous n'avons pas une différence sur l'Objectif : Faire de la Turquie un élément de Pont entre l'Orient et l'Occident", Sarkozy assura Obama.

    - "Laissez-nous au moins une légère divergence sur un sujet, cela vous permettra de bien réfléchir pour les prochaines échéances", ajouta Sarkozy en réponse à un journaliste de l'opposition Socialiste qui avait soulevé la question de la Turquie, en la melant (comme un lobby turc notoirement essaie de faire pour exploiter la manipulation de quelques Arabes, la Civilisation Historique desquels fût pourtant detruite par l'ex-empire Ottoman-Turc) avec une question tout à fait différente : celle de la voile islamique (!), avec laquelle elle n'a rien à voir.

    - "Sur la Turquie, Monsieur, vous appartenez à un journal ...qui a appelé à voter, au moment de la présidentielle, pour mon adversaire.... Quel était votre argument à ce moment-là ? Vous disiez : « Attention, Nicolas Sarkozy va trop s'aligner sur les Etats-Unis d'Amérique », et je vois que deux ans après vous dites : « Ah, il y a un sujet sur lequel le Président Obama et le Président Sarkozy ne sont pas d'accord » Cela devrait vous rassurer, Monsieur" , réponda-t-il, en faisant sourire même le président américain, (et laissant entendre que trancher définitivemen la controverse sur la Turquie pourrait être au coeur de l' Elections Présidentielle  en France pour 2012 )
-------------------
    - "Ce que les Etats-Unis peuvent faire, c'est encourager ....TOUT PROCESSUS qui permettra à la Turquie d'être convaincue qu'elle a des amis, que ce soit la France, les Etats-Unis ou l'Europe", réponda Obama, apparamment n'excluant pas, a priori, le point de Sarkozy sur la création d'un espace commun d' économie et sécurité entre l' UE, la Turquie et la Russie (v. supra).

    "Les Etats-Unis ne sont pas membres de l'Union Européenne, nous ne pouvons pas dicter si un pays quelconque adhère ou n'adhère pas à l'UE"; Obama a admis, parlant de la "Turquie, (sur laquelle) le Président Sarkozy et moi nous sommes entretenus sur ce dossier avant".  "Maintenant le Président Sarkozy représente un Etat membre de l'Union Européenne et il a une position différente", opposée à démande turque d' entrée dans l'UE.    
 "La Turquie par contre est un allié de l'OTAN très important. ...La Turquie a fait connaître son intérêt à une intégration croissante avec l'Europe et nous (USA) encourageons cette attitude. J'ai souvent dit que l'adhésion de la Turquie à l'Union européenne serait importante".     
"Mais, (en tout cas) je crois qu'il est important de noter que le Président Sarkozy appuie fortement le travail que la Turquie fait au sein de l'OTAN et je crois qu'il s'intéresse à une intégration économique plus intense avec la Turquie". (Ce qui pourrait se faire, justement, avec un "parténariat privilegié" adéquat et/ou l'idée de créer un espace commun EU - Turquie - Russie  : V. supra).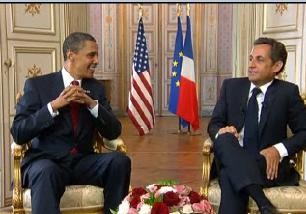 Est-ce que l'effort du Président de la France, soutenu par la chancelière Allemande et l'opinion publique de la plupart des Citoyens Européens la-dessus, de trouver un accord entre l' Europe et l' Amérique sur la Turquie, en proposant de sortir des chemins battus et créer du neuf, en etablissant "un Espace Commun d' Economie et Sécurité" (v. supra), suffira de calmer un lobby traditionaliste à quelques bureaucrates de Washington DC, datant dès l'époque de l' ex-"Guerre Froide", beaucoup plus ancien que le nouveau Président vénu de l' oxygen des "grands lacs" près de Quebec du Canada : Chicago, connu comme "la ville du vent" nouveau ?
-----------------------------------------------------------------------
Le Prémier Ministre Fillon appele à "faire vivre le Rève Européen"
------------------------------------------------------------------------  
 Seul l'avenir le dira. Mais, entre-temps, l' Europe ne peut plus attendre et perdre encore plus du temps et d'energie vitale sur la démande controversée de la Turquie, qui a notoirement menacé d'arrêter l'édification européenne dépuis 1999-2005 :

    Comme le Premier Ministre François Fillon a clairement dit, un peu plus tôt cette semaine, dans un discours éloquent sur les enjeux de l' Election Européenne de ce juin 2009 (V. résumé envoyé aux adhérents d'"EuroFora"),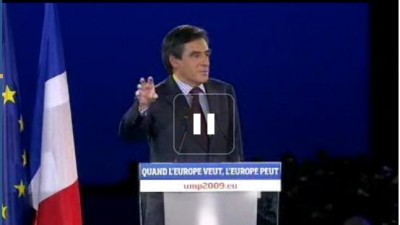 - "S' abstentir, c'est laisser à la Technocratie le pouvoir de dominer" la vie des Citoyens européens, qui devraient prendre l' Europe en branle le corps", et commencer d'agir par toutes les voies politiques démocratiques, prennant conscience que "l' Europe c'est Nous, (i.e. les Citoyens), et "Pas eux !" (i.e. les Technocrates), selon une image symbolique.

    - "Je me souviens de l' Europe obligée de faire Silence, (au Passé), quand "les Grands" décidaient de son sort", rappela Fillon.  "Je me souviens de l'Europe divisée, de l' Europe dominée" par d'autres, '"de l'Europe appauvrie""Je me souviens de Berlin occupé, muré, divisé comme un butin qu'on tire aux dès. Je me souviens du Silence de Varsovie. Je me souviens du Silence de Prague"..   
 - "Nous, les Européens, nous avons bien failli sortir de l' Histoire, et dévenir, pour du bon, les dès d'un jeu joué par d'autres".     
- "C'est pourquoi je ne peux pas concevoir une Europe qui ne serait pas Souveraine, une Europe qui ne serait pas Maitresse d'êlle-même", aujourd'hui et démain, martella-t-il. "Le Monde s'est habitué trop longtemps à une Europe faible, que l'on pouvait traiter avec condescendence".  
 - "Le moment est venu de rélever le défi : Le moment est vénu de montrer que, nous les Européens, avons décidé d'être débout, et d"être nous-mêmes".     
"Dépuis 2 ans (i.e. dès les Elections Présidentielles de 2007), avec Nicolas Sarkozy, nous avons oeuvrer pour relever notre Identité Nationale (de la France), dont nous sommes fiers. Et bien, l'' Identité Européenne mérite tout autant, elle qui prolonge les Génies de nos Nations".


    - "Je crois à la présence d'une Civilisation Européenne", déclara Fillon, largement applaudi par des milliers de personnes ayant entendu une série des Musiques entremelées characteristiques de differents pays européens, et des images lumineuses géantes avec des extraits symboliques de Goethe, de Victor Hugo, de Shakespeare, et d'autres auteurs italiens, espagnols etc celebres à travers l'histoire.

    - "L' Humanisme, la tolerance, la Liberté de la Conscience. La Solidarité. L' Etat de Droit. La confiance placée dans la Science, l' Innovation, le progrès. Toutes ces Valeurs, elles disent clairement où commence et où s'épanuit cette Europe" que nous voulons, observa-t-il.

    En harmonie avec les positions soutenues par le Président du Parlement Européen, eurodéputé allemand, Hans Gert Poettering, et la Chancelière allemande, Angie Merkel, sur la "Dignité Humaine" au coeur des "Valeurs de l' Europe" moderne. Ce qui fait qu'" avec un Elargissement sans fin", même vers la Turquie, c.a.d. "sans Frontières, l' Europe Politique, l' Europe des Valeurs et l' Identité européenne" ne peuvent pas exister, comme a dit aussi le Président francais, Nicolas Sarkozy, recemment à Berlin.

    Fait important : Cette observation de Fillon a été faite le jour-même que le Comité des Ministres du Conseil de l'Europe à Strasbourg concluait une semaine de réunion semestrielle sur les Droits de l'Homme, qui a examiné un grand nombre d'affaires des pires Violations (pex. Tuéries scandaleusement non elucidées, Persecutions et privations arbitraires de Liberté, personnes portées "Disparues", Tortures et "traitements inhumains et degradants", Usurpations illégales des Maisons et Patrimoines privées de Réfugiés, etc., pour lesquelles la Cour Européenne a condamné la Turquie dans plusieurs jugements, dont on attend toujours l' application)...

    - "C'est pourquoi un Elargissement sans fin de l' Europe ne peu pas être un objectif en soi. Parce qu'il ne peut que diluer l' élan européen, et detruire l' Idéntité Européenne"

    -" Voilà pourquoi nous disons, très sereinement, que nous ne sommes pas favorables à l' adhésion de la Turquie dans l'UE", conclua le Premier Ministre de la France; largement applaudi par des gens qui soulevaient le drapeau européen.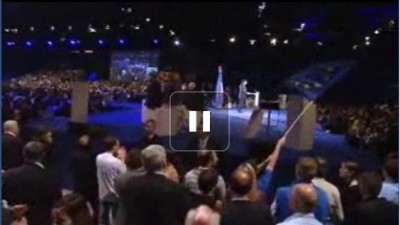 "Ce n'est pas un Slogan de meetings. Ce n'est pas la marque une "Hostilité" au régard de cette grande Nation (i.e. la Turquie), qui doit être étroitement associée à l' UE", pex. par un partenariat priviliegié, ou une autre formule adaptée.

    - "Mais il lui faut des Frontères à l' Europe, il lui faut des Frontières stables, qui lui permettent de renforcer son Unité et son Identité", a-t-il expliqué.

    - "Alors, c'est au nom de cette Europe charnelle, que je m'engage avec vous. Mais, cette Europe-là, ne peut avancer qu' à une seule Condition : celle de l' Europe Politique".

    "Nous avons longtemps douté qu'elle soit possible : Aux années 1970, Henri Kissinger (le notoire ex- Secretaire d'Etat Américain aux affaires etrangères, consideré, à tort ou à raison, comme chef d'orchestre du renversement du Président Allende en Chili, de l' invasion militaire de la Turquie à Chypre, etc), disait, avec une ironie blaissante : - "Ah, l' Europe ? : Quel numero de Télephone ?..." Pendant les 6 mois de la présidence française de l'UE, (7-12/2008), Henri Kissinger n'aurait aucune difficulté de rejoindre l' Europe !", observa-t-il en suscitant des nouveaux applaudissements nourris.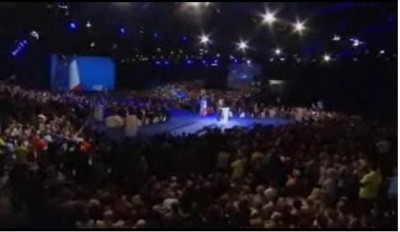 "J'au vu l' Europe Politique se dresser, et prendre ses responsabilités : L' Europe Politique c'est celle qui agit sans délai, et avant les Etats-Unis, pour stopper des faillites Bancaires qui s'enchaînent, qui nous auraint plongés dans une Depression pire que celles des années 1929. L' Europe Politique est celle qui, maintenant, doit mettre un fin à un Capitalisme Financier, qui a perdu sa boussole. L' Europe Politique est celle qui a réussi d'etablir le règles les plus ambitieuses au Monde dans la lutte contre le rechaufement Climatique. Samedi, nous celebrons l' anniversaire du debarquement de la Normandie, où nos amis Américains ont pris une part décisive à nôtre libération. Mais, en décembre 2009, à la Conference (Mondialle) de Copenhague, c'est nous les Européens, qui allons leur montrer le chemin vers cet avénir commun" pour la sauvegarde de l'Environement naturel. L' Europe Politique c'est celle qui, en août 2008, lorsque la Guerre faisait rase entre la Russie et la Géorgie, s'est interposée pour imposer la Paix. Et c'est elle qui doit, maintenant, se doter des moyens Militaires de se défendre par elle-même, pour elle-même", ajouta-t-il en évoquant clairement la création d'une Défense Européenn Autonome.
    "L' Europe Politique c'est celle qui doit bâtir des grands champions Industriels Européens, comme nous avons fait, auparavant, pour (l'avion) Airbus ou (la fusée) Ariadne. C'est celle qui doit exiger la Reciprocité dans les rlations Commerciale avec nos grands partenaires", sans Dumping Social ou Environmental, ni autre Concurrence Deloyale. "C'est celle qui doit se doter comme objectif d'être "le Continent de l'Esprit", réunissant les plus grandes Universités du Monde, en multipliant les Connexions, entre Scientifiques et étudiants."

    "Nous respecterons nos engagements, jusqu'au dernier", souligna le Premier Ministre de la France, peu après que les candidats-eurodéputés de la coalition Gouvernementale (UMP : Mouvement pour la Majorité Présidentielle) ont signé solennement, devant plusieurs milliers des Citoyens, une spectaculaire pancarte-géante avec "7 engagements" pour les Elections Européennes du 7 juin, auxquels figure aussi l'engagement de "s'opposer à l' adhésion de la Turquie dans l'UE".

     - "Parcque ce respet des engagements est une exigence si nous voulons rétablir la Confiance entre les Responsables Politiques et les Citoyens", conclua Fillon, la veille de ces Elections Européennes de juin 2009, après les Abstentions Majoritaires de 1999 et 2004, suivies de 3 "NON" à 3 Euro-Réferenda dépuis 2005, (dates auxquelles, quelques gouvernements du Passé, avaient donné le statut d'un "Candidat" et commencé des "Négotiationa d'adhésion" avec la Turquie, suivies d'un blocage sans précedent de l' édification européenne)..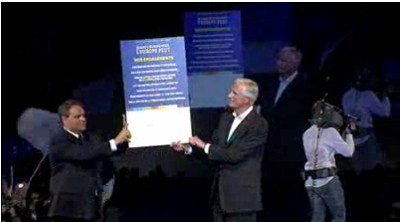 "Nore Europe n'est pas n' importe quelle Europe : L' UE Technocratique n'est pas la nôtre. ... L' UE sans Frontières n'est pas la notre. L' UE desincarnée n'est pas la notre". "Nous portons une idée de l'Europe" qui "n'est pas celle des Statistiques et des Bureaux(crates). L'Europe ce n'est pas qu'une Monnaie. Ce n'est pas qu'un Marché. économique".

- "L' Europe c'est d'abord une Culture. L'Europe c'est une Histoire", a-t-il dit, largement applaudi.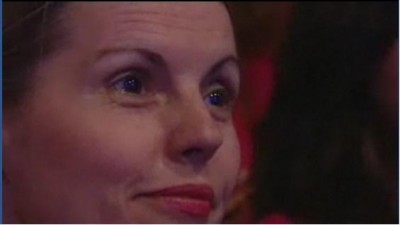 "L'Europe c'est une rencontre entre des Nations qui sont Millénaires et qui sont Brillantes. L'Europe c'est Paris. C''est Madrid. C'est Prague. C'est Londres. C'est Rome. C'est Varsovie. C'est Berlin. C'est Vienne. C'est Athènes : Quant on énonce ces Villes, alors on "sent" nos Héritages et nos Cultures entremelées qui circulent dans nos veines".

    - "Je suis Européen, parcque profondément Français, je sais ce que je dois aux influences de l' Atlantique et de la Méditerannée. J'aime ces Traditions qui offrent à chacun des nos Nations leur éclat. .. J'aime ses saveurs, ses paysages divers. Ils sont également miens, ou, plus précisement, je suis également fait d'eux. Je suis Européen, car, Français, j'aime l' Europe ouverte vers l' Amérique, vers l'Orient, vers l' Maghreb. J'aime les quais de Vénise, ceux d'Amsterdam. J'aime les quais de Thamise où sont vénues pendant des siècles s'amasser les richesses et les nouveautés du Monde. J'aime l' Europe curieuse. L'Europe qui rêve des lointains : L' Europe de Vasco de Gama, de Magelan. de Bougainville, de Charcot, de Monot... Cette Europe qui, aujourd'hui, s'élance vers l' Espace. Je suis Européen parce que Français, j'aime l' Europe qui prospère et qui invente. J'aime l' Europe des Trains à Grande Vitesse. J'aime l'Europe des Satellites et des Fusées. L'Europe de la Mode et des Atéliers d' Artistes. L'Europe des Grands Laboratoires, des Ingéniers. des Entrepreneurs, des Grands Architèctes, des Traditions Ouvrières. Comme rançais, j'aime l' Europe qui dit "NON" à la Tyrannie et qui se soulève à l'appel de la Liberté", a-t-il dit en

 
"Je me sens lié à ces femmes et ces hommes sans nom, qui ont levé la tête, et qui ont sécoué le joug sous lequel .. on les avait fait pliér", dit-il en évoquant pex.. la Révolution Française de 1789, le Siècle des Lumières, l'appel du Général de Gaulle contre l'Occupation NAZI, et les pires heures obscures qu'un  "Fascisme" ou "Communisme" devoyés, suivies de la Guerre Froide avaient plongé l'Europe au Passé.

"Ils sont des millions, ces Héros Anonymes de notre temps, que nous croisons sans le savoir dans nos rues et nos places. Et je ne peux pas concevoir l'Europe sans eux, et sans tous ceux qui poursuivent leur combat contre l'arbitraire et le fanatisme", ajouta Fillon. Faisant pex. rappeler un récent Film allémand, primé au Festival de Vénise, qui décrivait la vie d'un cadre à l'époque d'un régime oppressif, qui avait été chargé d'espioner la vie privée et familiale d'un couple soupçonné d'être dissidents politiques, mais, ému par leur honnêteté humaine et leur sacrifice pour sauver d'autres, a preferé risquer sa place et sa propre liberté pour les sauver, sans même qu'ils le sachent, condamné dépuis à faire un bas boulot d'anonyme perdu dans la foule..


"Quand je vois l'Europe moderne, je vois les résultats de l' Audace de ces hommes qui ont brisé les traditions de conflit et de violence. Je vois des nations soudées autour d'une monnaie unique et protectrice. Je vois 27 jeunesses appelées de grandir ensemble, sans défiance. Je vois 27 peoples unis, qui nous interdisent de jouer les blazés ou les indifférents".

Jettant "un régard lucide sur les errements de la construction européenne", Fillon a observé que "l' Europe n'a pas bésoin d'être idélisée pour être ce qu'elle est ; Cad. une aventure humaine, avec ses faiblesses et ses forces".

"Vous voulez que l' Europe agisse ? Fixez-lui des objectifs clairs. Vous voulez la Démocratie ? Agissez en Citoyens. Vous rédoutez la prétendue Bureaucratie des Bruxelles ? Alors renforcez, par votre Vote, les instances élues au Parlement Européen" qui sont chargés de la contrôler.

- "Si nous voulons faire vivre "le Rêve Européen", .. alors nous avons tous le dévoir de l' engagement", a-t-il conclu, appelant de "engager pour le drapeau tricolore et le drapeau étoilé, car ils symbolisent tous les deux la fierté de nôtre nation et la force de nôtre union".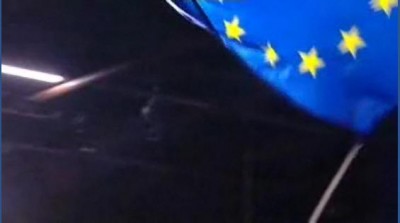 Polls