Haupt

newsitems

UnDemocratic Media Discriminate+Treat UnEqually Trump-Biden Threaten Rigged Vote_But 1st has Stamina
UnDemocratic Media Discriminate+Treat UnEqually Trump-Biden Threaten Rigged Vote_But 1st has Stamina
Friday, 16 October 2020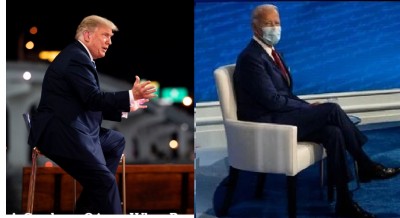 *Strasbourg/Angelo Marcopolo/- After the Controversial Biden's Refusal of a Normal Direct Debate with Trump, (as Initialy Scheduled for October 15), the 2 Separated but Synchronous Debates set up by MSMedias "ABC" and "NBC", (See: http://www.eurofora.net/newsflashes/news/trumpimmunedeathslowering.html, etc), Blatantly Revealed a Scandalous Discrimination and InEquality of Treatment, between Trump and Biden by Establishment's Medias, which Obviously Threaten to push into Rigged Elections on November 3, (in Conditions that in Europe, with COE + OSCE Standards, would Not have a Chance to be Accepted as "Fair" !), Even if, Despite that, Facts Also showed that  Don Trump has Energetic Stamina, (as Also, inter alia, "USAToday" Acknowledged)...
Among Many and Various such Stunning Facts, f.ex. :

- (1) - Biden was Given ...Half an Hour More in "Free" TV Time, with just 60 Minutes for Trump, compared to 90 for Biden, (i.e. + 50% More !).

- (2) - Biden was offered a Big, Fat ArmChair for 2 to Confortably lay down, while, on the Contrary, to Trump they Only let a Tiny Stool, a Stepladden, to sit Half in - Half Out (Compare respective Photos)...
That's Not a proper way to Treat any 73 Years Old Man, Even still Convalescent from a Deadly Virus ! (And the Fact that Biden is Older : soon 78, is Not Enough to explain such a blatant InEquality).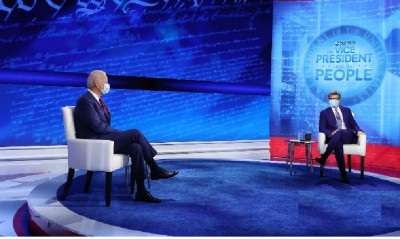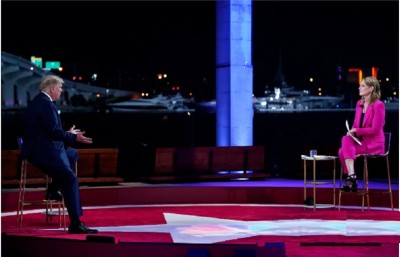 - (3) - Trump was Always Interrupted, at a Fast Pace, almost Every Minute, by a "Moderator" with an AbNaturaly Strident and Lowder Voice, (Obviously "Enhanced" by a MegaPhone, in order to Cover the President's Voice !). While Biden, on the Contrary, was, almost Always, let Free to give Any Long Reply he Wished, Mostly withOut Any Interuption, by anOther "Moderator", (Comparatively so ..."Soft" and "Cool", that this Often Risked to become Too Calm and even ...Sleepy" !).

- (4) - Trump was Many Times Personaly Attacked with Negative, sometimes almost Slandering, and/or Scandal-Mongering "Questions", while Also largely Hindered to Present and Discuss Main Socio-Political Options of his Program for the forseable Future, concerning American People's Lives and Society at large, (either by Ommitting Such Matters, or, Often, by Interruptions : Comp. Supra). So, Nothing about the Historic Record-High Employment obtained by Trump at the End of 2019, just Before the Virus' Pandemic hits, Neither for the alleged "Rapid Revival" Potential of US Economy Nowadays, (as Also the Latest Job-Creating Figures, plus StockMarkets' reactions Indicate, (etc), Nor about Black and Hispanic People's Jobs, University studies' Funding, etc, or the Popular Human Space Flight, High-Tech New NASA Plans (etc) : All such Issues just Skipped !
On the Contrary, Biden was Largely let Free to Develop Any Issue he Liked from his Electoral Program, Often, Even Incited to do so, by relevant "Questions". (F.ex., inter alia, Also for "TransGender" Individuals, Even at the Army - BIS ! For Imposing Vaccines by making them Obligatory. For Skipping Tax Cuts, Inciting Middle-Class cushy job holders to Ask for "Raises" while Poor People, SMEs and part of Industry notoriously Struggle to cope with the Crisis provoked by the Pandemic, etc).
Thus, f.ex., while Trump was largely "Squeezed" on his alleged Private Family Property, Taxes, and Various Other "Scandal-Mongering" Queries, added to so-called "White Supremacy" ideology, that he flatly Condemned, Denouncing, at the same time, Leftist "AntiFa"s Brutal Destructions, "Looting and Burning Our Cities", etc., on the Contrary, Surprizingly,  Biden wasN't Asked any Question at all on the Latest "New York Post"'s Documented Revelatiions about probable Corruption links between the Former vice-President and an Ukranian Oil/Gas Business' Top Contacts in the US, (including on a Thorny Affair of Blackmailing Kiev's Government to Fire an Attorney Investigating on that Compagny's wrongdoings), just After it had Notoriously Hired Biden's Son... (A Topical Scandal, since Biden had, apparently, Lied about his Links with that Compagny, as "NYPost's" Findings Reveal, to the point that "Twitter", "FaceBook", "Google", etc. - some former Senior Agents of which are Now Working at Biden's Electoral Team - Notoriously did Anything they could in order to Hide and/or make InAccessible that "NYPost" Article to WWW Readers !)...
- (5) - "Last", but ot Least, the Absence of Any elementary "Fact-Checking" possibility, in those Debates, was Felt several times Now, and, particularly, when Biden took the Heavy Responsability to Attempt to Exploit the (UnKnown Origin's) Deadly Virus as a Pretext to Attack Trump for Electoralistic Purposes :
- Indeed, Biden Mis-Presented (by Abusing of a few Numbers, Isolated from their Context) the Tragic  Amount of People Killed by that Virus in the USA, as IF it would be the Worst in the World (sic !), and Even Claimed that Trump was ..."Doing Nothing" (sic !) against it..., (as he Grossly Slandered the embattled US President).
- But, in Fact, the Real Situation is completely Different, and from Many Points of view :
    a) First of all, the Only one who Profits from that Strange, New Deadly Virus, Obviously is ...Biden himself, since that Pandemic has Notoriously Undermined the Biggest Achievement of Trump's Policies, concerning American People's lives, which was the Historic, Record High, Employment rate, patiently Achieved towards the End of 2019 - Beginning of 2020, (including of Many Poor, Black or Hispanic, People), that this Global Crisis, Suddenly, smashed into pieces...
    b) Moreover, US President Don Trump was among the First to Rapidlly React against the Virus' Spread and Protect his Country from Massive Imports of Infections by Closing InComing Traffic from China, and afterwards Europe, much Earlier than Most Other Countries in the World, Despite Opposition from Dems, like Mrs Pelosi (Congress) and even Biden himself, who were Claiming that this would be UnNecessary and/or even "Racist" (sic !) : In Fact, Trump should have Done so Even Earlier, as it was revealed afterwards... In Addition, he Drastically Mobilized Public and Private USA's Forces, in order to Find,  (at the Beginning, even by Searching all over the World : quite Efficiently, to judge by the Frustration of some Other Big Countries, seing suddenly Stocks "Disappear", even in China, for US People...), Produce, and/or Distribute appropriately all over the Country, Diagnostic Test Kits, Personnal Protective Equipments (i.e. Gloves, Masks, Gowns, etc), Ventilators, etc., of Vital, Life-Saving Importance for People facing Deadly Virus' Infections. (He found almost Nothing prepared, Neither Ready, even Less Available, after almost a Decade of Obama-Biden, More Eager to Impose "Same Sex Marriage" among Homosexuals and Genetic Manipulations on Human Embryons, Instead of SafeGuarding Human Lives and Public Health Security...). In order to Produce, for the 1st Time in USA's History, All those New Products, in the Required Quantities, and Fast Enough, given the Deadly Virus' Crisis, President Trump had to rapidly ReConvert several Traditional Big Industries, (as "Ford", etc),Often in Agreement with their Private Compagnies, But Even when their Proprietors Might, Eventually, Refuse to play he game : So, he Invented a kind of Novel Method to Use Nowadays an Old, Traditional Legal Mecanism, made for National Security Issues, which Worked Fine, (Starting with the "General Motors" Case). Thus, Lacking Ventilators (Complex enough Technological products) were Produced in the USA at so Fast Pace, that the Country even Started to Export such Tools Abroad, to Other Countries in Need, (f.ex. to the UK, etc). At the Peak of the Pandemic, he even Ordered the Army to Help Build Hospitals asap, and affected Huge Military PackBoats as Floating Hospitals to decongestion the Main Hospitals on Land for COVID-19 Patients. In Parallel, Trump instaured (until recently) Daily Press Conferences on the Virus from the White House, in his Presence, Replying to Journalists' Topical Questions, and with the Participation of Various relevant Key Officials, Army Officers, Scientists, Researchers, Industrialists, innovative Service Providers, etc., in a very Rare, for a Head of State/Government, if not Unique such Example in the World ! He also spearheaded the Biggest Ever "Stimulus" Program in USA's History, with several Trillions $, Including Funds for Hospitals and PPE, Research for Therapies and Vaccines, and Focusing on Economic Recovery, from mainstream Industry until SMEs, adding even a Basic Monthly Revenue (Cheque) for Poor and Middle-Class People, of around 1.200 $ per Person, (about 3.400 $ per Typical Family), during several Months of the Virus' Crisis LockDown. After Repeating something Similar Twice, he also Urged, Recently, Even from his Hospital's Room this October 2020, for a New, 3rd such Stimulus Program to be Agreed at the Congress and adopted asap. In Addition to an Initial Big Push for Various, more and more Simplified and Accelerated Diagnostic Tests, as well as to Personnal Protective Equipment and Ventilators, more Hospital Beds, etc., (Comp. Supra), almost Every Medical Research, Trials, and/or Production, Distribution and Development of Drugs and/or Vaccines against that Deadly Virus, has been Supported, in one way or another, by US Federal Funds. On the Medical Front, Trump has Notoriously been, since long, a priori Favourable to the Simple, Cheap, Available and Already Tested, Popular "HCQ"+ Drugs Pack (with Zinc + AZ), which has Gathered Positive Experiences among Key Doctors/Reseachers in France, USA, Russia, etc., and seems to stand behind Recent, Slow but Steady Trends towards Lowering the Number of Deaths in Brazil, etc, (See : ...), that he has Personaly taken, under Medical Supervision, Already Earlier, for Prophylaxis, without any problem, and has, Generally, Backed well Motivated Demands to Eventually Accelerate also the Official Authorisation of Any Other Promising Drug, while he Recently took the Risk to Even take Personaly 2 More, even Controversial and Not Yet thoroughly tested Drugs (Regeneron + Remdesivir) when he was, Suddenly, Infected, by an UnKnown yet Source, (Most Probably during the 1st Debate with Biden, on September 29, as "Eurofora" had guessed [See : ...] and himself obviously insinuated at Today's "NBC" emmission), Despite of eventual Risks f.ex. in possible Side-Effects, etc, which, however, seem, at least until now, to Work quite well in his case, since he notoriously became Immune and active, Vowing, once confimed by more Tests, to Help Accelerate, Distribute Fast, and make Free of charge for the People, (a Key Point, on which, Biden, on the Contrary, has Avoided, until now, to say anything)...
    c) Most Important Fact : Biden's presentation of USA to, allegedly, have More Deaths in the World (Comp. Supra) is Contradicted by several converging Recent Data, which Clearly show that the Real Situation is very Different : 
 - F.ex., Compared to their Population, USA comes just at the 9th Position (for Deaths in 1 Million Inhabitants), Behind Countries such as, f.ex., Belgium, Spain, Mexico, etc., (with the following Numbers : Peru = 1.049, Belgium = 904, Bolivia = 740,  Brazil = 727, Ecuador = 720, Spain = 718, Chile = 717, Mexico = 675, USA = 662, i.e. Near to the UK = 649).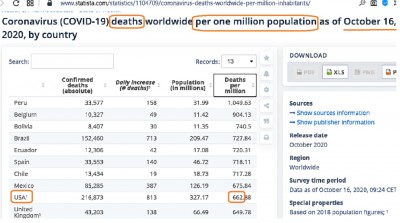 + While, USA's "Death Rate" (i.e. Deaths among those Infected) comes Only Down at the ...50.th Rank in the World (sic !), Behind 49 Other Countries, such as, f.ex., Italy, the UK, Sweden, Iran, Belgium, China, Canada, France, Ireland, Spain, the Netherlands, Ireland, Australia, Vietnam, Switzerland, and even Germany (etc), with just 2,74 %, (Compared to ...29,3% for Yemen, 10,21% for Mexico, 9,53% for Italy, 6,44% for the UK, 5,38% for Belgium, 5,21% for China, and 5,02% for Canada, etc ) !...
[Source : "Statista", Based on "John Hopkins" University Raw Data].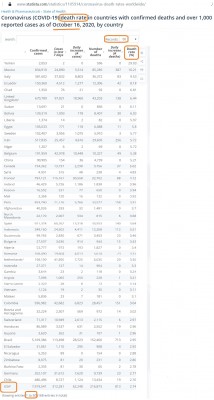 ----------

    ++ Even More Crucial Fact : During Recent Months in USA, (at least From July up to October 2020), clearly Emerged a TREND, Slow but Steady, Towards REDUCING the Numbers of Deaths, (as "Eurofora" had Already Published recently : http://www.eurofora.net/newsflashes/news/trumpimmunedeathslowering.html), showing a Regular Fall of Deaths from More than 7.000+ per Week on July, Down to around 6.000+ on August, circa 5.000+ on September, followed by about 4.000+ per Week on this First Half of October, (See Infra).
Indeed, while the Number of Deaths caused by the Virus, was Clearly much More than 7.000 + per Week towards the End of July 2020, (f.ex., 7.950 from July 28 up to August 3), on the Contrary, the Next Month, During August, they Diminish down to around 6.000 + per Week, (f.ex. : 6.093, for Aug. 4 to 10, 5.604 for Aug. 11-17, 6.898 for Aug. 18-24, and 6.446 for Aug. 26-31. + Continuing Further that Slow but Steady Diminution, Virus-related Deaths also Fall Down to around 5.000 + per Week during September, (f.ex., 5.852 on Sept. 1-7, 5.071 on Sept. 8-14, 5.482 on Sept. 15-21, 5.235 on Sept. 22-28). ++ Finaly, Deaths also Descend down to around 4.000 + per Week, even during October, (with 4.735 on Sept. 29 to Oct. 5, 4.740 on Oct. 6-12, and 3.269 on Oct. 13-17, with Only 2 Days left for This Week).
[Source : "World Health Organisation" dynamic Graphic, with "Eurofora" detailed and grouped Comparisons between its Raw Data].

-----------------------------------

=> In Consequence, Trump Refuted on "NBC" TV (Documents at hand) Similar False Claims as those made by Biden, Today, at his Parallel "ABC" TV Event, (Even if the US President did Not yet have a Chance to Fully Use All the relevant Data mentioned Above by "Eurofora", which Advance much Further. See also for More at : http://www.eurofora.net/newsflashes/news/trumpimmunedeathslowering.html).
But, Biden, since Nobody Contradicted him, in the "ABC" TV Emission, while its "Moderator" Never Interrupted him, no more, (Comp. Supra), Inevitably, Sliped even Deeper in his Confortable, Big, Fat ArmChair, with an even more Bored, "Sleepy" look...
(../..)

("Draft_News")
-------------------------------------
BRIEF NEWS
00:00 - 02.06.2021

00:00 - 18.10.2020

00:00 - 19.06.2020

00:00 - 18.05.2020

00:00 - 20.04.2020

00:00 - 02.02.2020

00:00 - 09.12.2019

00:00 - 27.11.2019

00:00 - 16.11.2019
Statistics
Besucher: 54897979
Archive
Login Form
Other Menu


  Ten Years of ECHR : 1998 - 2008 show need of Revival in 2009-2010 coinciding with 2009 EU Election   
A threefold, coordinated move by new Top French Political actors in the 2009 EU Parliament Elections, expressed in Strasbourg a will to boost Europe's Political dimension close to Citizens' concerns, going from protection of Economy to defence of Human Rights.    
The move met an exceptional ECHR's call for a "revival" of Human Rights' protection mechanism', in a Mega-Conference, early 2010.   
Obviously focusing on June 2009 Elections to EU Parliament, it involved from the outset the recently nominated "dual" Head of French Governing Party (UMP)  Michel BARNIER and Rachida DATI :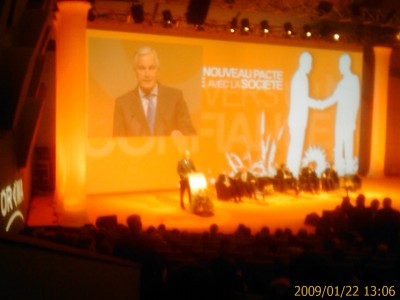 - "As President Sarkozy has clearly said, we (France) are in favor of a Strong, Sovereign and Independent, Political Europe, which protects its Citizens, and not for a large Super-Market, nor for a Europe under influence",
    "This goes for everything, including Energy", added to "EuroFora" the experienced former EU Commissioner, Minister of Foreign affairs, currently of Agriculture and Sarkozy's new pick as Leader of the Governing party UMP to EU 2009 Election, Michel BARNIER                                              .                             
  - Human Rights are important because they are at the Heart of the Political Europe that we aspire for : I.e. a Europe able to act and protect its Citizens, stressed also the New French Minister for European affairs, Bruno LE MAIRE, while meeting Strasbourg's Journalists at his first visit to the CoE.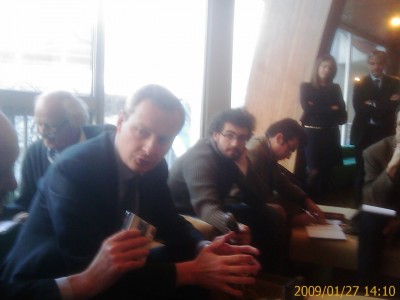 This is one of the main interests for CoE, which is also a natural place for cooperation between EU countries and Russia or Turkey, which was recently helpful at the Middle East crisis, he added.
The move gained momentum with French Minister of Justice, Rachida Dati's main observations at ECHR's 5Oth Anniversary :   
- "While we are seeking Europe's Borders and Identity, you (ECHR) remind us also of its Values", Human Rights, Dati noted.   
Citizens seek more and more often ECHR's help, and the tempo accelerates, Europa awaits a symbol, while national legal orders are not freezed   
And she expressed "support" to ECHR President Jean-Paul Costa's call to satisfy the vital need to revigorate the PanEuropean Court by deciding big changes at a High-Level Conference open to a large audience, a kind of "Etats Generaux" of Human Rights, at the beginning of 2010.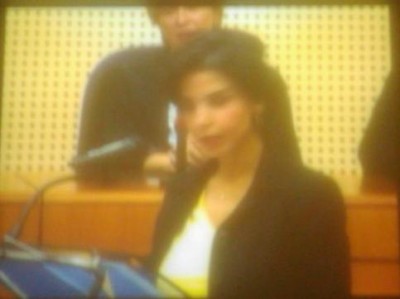 It's not so much the recently growing number of applications for Russia or Ukraine etc, which seems to be Costa's main concern : In fact, the cases declared "admissible" are much fewer...    
But rather the persistent violations of Human Rights, sometimes very grave (ie. murders, torture, abritrary deprivation of liberty, oppression of freedom of speech, destructions of homes/properties, etc), despite numerous, repeated condemnations by ECHR. So that CoE's Ministers, due to "supervise execution" of ECHR's judgements, are overloaded.   
F.ex. most Media noted that Turkey still remains, even in 2008, the 1st among 47 CoE member States in the number of condemnations by ECHR :  257, compared to 233 for Russia, with a population more than the double..    
The problem is that it's not the 1st time at all : During all the last Decade 1998-2008, Turkey was condemned by ECHR much more than any other State, and for particularly grave violations :   
- 1.652 condemnations, compared to 605 for Russia, 548 for Poland, 494 for France, 476 for Ukraine, etc.   
Italy's second place with 1.394 condemnations is a misleading false appearance : In fact, most of them (999) concern mere "procedural delays" in national courts. Same for France.   
On the contrary, Turkey was condemned 180 times for Killings, 192 times for Torture or Inhuman/Degrading treatments, 340 times for arbitrary deprivation of Liberty, 528 times for "Unfair trial", and 169 times for oppression of Freedom of speech, (etc). And the latest, 2008 numbers, indicate no change in this trend, (See supra).   
The current Spanish CoE Presidency (November 2008 - May 2009) has made of the implementation of ECHR's judgements its 1st Priority.   
ECHR's President, Jean-Paul Costa, stressed in its 2009 Annual Press Conference, CoE Member States' obligation to implement the judgements, according to Article 46 of the European Convention on Human Rights.   
Moreover, if CoE's Committee of Ministers delays to ensure implementation, then, the repetition of violations in similar cases provokes a multiplication of complaints tabled to the Court, which overload the mecanism for the protection of Human Rights, denounced Costa.          
A series of Debates on "the situation of Human Rights in Europe", focusing on the "need to fight against Impunity" of perpetrators of grave crimes, is  currently prepared by CoE's Parliamentary Assembly for the session of June 2009.  
The final Timing comes shortly AFTER the EU Elections, but the main Reports should have been adopted before.
Meanwhile, French President Sarkozy and German Chancelor Merkel's recent call "for a Political Europe" in 2009 EU Elections (See earlier "correspondence from Paris, Elysee Palace), seems more and more endorsed also by other EU Countries' Top MEPs :
Thus, f.ex., EU Parliament's 1st vice-President, Greek MEP Mrs Rodi KRATSA, speaking to "EuroFora", agreed that 2009 EU Election would be a "naturally good" opportunity to debate what really interests EU Citizens : "The Future of a Political Europe, able to face the Economic Crisis, with a Culture and identity which attracts the People"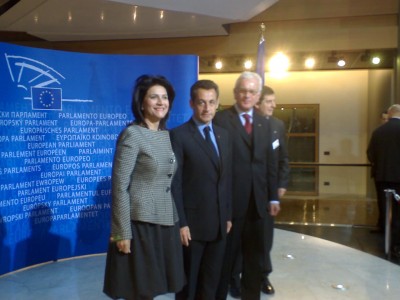 (Photo taken earlier during Sarkozy's 1st visit at EU Parliament, in 2007 : Sarkozy and Merkel's Ideas for a Political Europe inspire also other EU politicians accross the continent)..
.
Polls