Αρχική

newsitems

Macron starts Long March of Citizen Consultation on Vosges Mountain after EUParliament with obstacle
Macron starts Long March of Citizen Consultation on Vosges Mountain after EUParliament with obstacle
Monday, 16 April 2018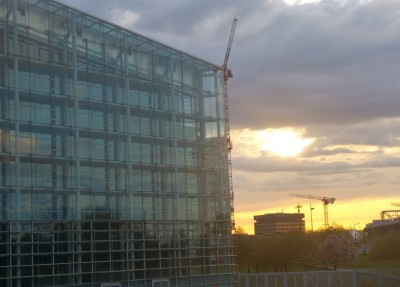 *Strasbourg/CoE/Angelo Marcopolo/News-Viewpoint/- Embattled New French President Emmanuel Macron's deep awareness of the Fact that Europe needs, nowadays, to be reVitalized by certain profound and innovative Changes, largely depends, in practice, also by the more or less important Impact that the EU "Citizens' Consultations" (during a 6 Months-Long Series, which Starts Tomorrow, after his EU Parliament's Speech here) may have, or not, particularly throughout all or most of EU Member Countries.

Symbolically  - but also for Practical, Socio-Political Reasons : i.e. for OutReach to the Real People, as his 3 Days-Long Program, through Industries, Tradesmen, Peasants and too often "Forgotten" Rural Populations (a ... Don Trump's/Boby Sander's concept ?) obviously reveals - the Young Top EU Political Leader chose, almost at the Last Minute, the UnExpected, but Spectacular Format of a kind of ... "Long March" on the nearby Vosges' Mountains, (significantly Kick-Starting by a "Social Gaullism" Historic Stronghold, Tomorrow Afternoon at Epinal), for a Political Fight which will be Hard to Win, but Not Impossible.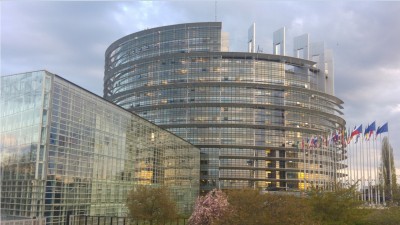 For this purpose, Macron Surprized, by chosing to Exceptionally Skip a "routine" Press Conference in EU Parliament, and even to Skip the usual "Flat", too confortable, down-town Ground of Strasbourg-"Euro-Metropole" City, in order to Dare Climb up to the Hights of Vosges' Mountains, starting from Epinal's Fortification Walls, still Haunted, according to a Legend, by ...Napoleon's Ghost, amidst "Real People" on the spot, (but also BirthPlace of Emile Durkheim, Founder of modern Sociology), instead of Limiting himself only to a Bunch of "Intermediaries", too used to "haunt", instead, the Local Quarells around some exclusive Invitations after Invitations, to just another Reception after a Reception, as usual...
However, it's also true, that the French President could not, no more, neglect at all, the Symbolic Franco-German ReConciliation and Peaceful Cooperation's landmark City of Strasbourg, Host of many and various EU and/or PanEuropean Organisations, (EU Parliament's full weekly plenary sessions, 47-Member Countries strong CoE, the ECHR, EU's Ombudsman, Shenghen system, Euro-Corps Army HQ, "ARTE" EU-RadioTV, and, recently, even of the "1st European University" : See ..., etc).
Therefore, an Important group of various Meetings with the European Community of Strasbourg was also Organized, on the occasion of the Official Signature of a New "3 Years-Long" overall Agreement between Strasbourg's Municipality, District, and "Great-East" Region (which has Recently Extended up to Bring closely Together 5 Core European Countries :France, Germany, Switzerland, Luxembourg and Belgium, through their Common Borders, from Strasbourg right to Brussels, through Luxembourg City !), at the Emblematic Location of "Europe's Area" ("Lieu d'Europe"), Facing ECHR, CoE and EU Parliament, while also remaining surrounded by a Luxurious "Green" space, at what had been, once, the Family Home and private Office of the 1st CEO, Director of the City's Modern Newspaper : "The Latest News of Alsace" (DNA).

But, Curiously, it all looks that this was practically organized in a quite Thorny way, particularly from the "Timing" and Transports' point of view, which reportedly Risks to Exclude, in fact, several interested People (even committed and active Pro-Europeans), and an important part of Strasbourg's Journalists from Covering Both the French President's meetings with the City's European Community, at that "Lieu d'Europe" (Comp. Supra), and the Launch of the 1st EU "Citizens' Consultation" at nearby Epinal (Comp. Supra), apparently because of some Tricky and apparently AbNatural Problems of mere Logistics, (which, normaly, should not exist, and were never seen before by "Eurofora" during more than 24 Years of European/PanEuropean/International Press Experience throughout our Continent and even in the USA : +9/1993-2018) !

Indeed, it seems, that, unless to be on board of the Presidential Airplane (where there are only a few seats, mainly for various Officials, etc), People (including even Accredited European Journalists, etc) would be Obliged to "Choose" between having to Leave for Epinal with a Special Bus scheduled Too Early in order to Cover the "Lieu d'Europe" Macron's meetings with the European Community of Strasbourg, and, therefore, Miss it entirely, OR to participate into those Meetings here, and ...practicaly Lose Any real Chance to Arrive at Epinal, for the Launch of the 1st EU "Citizens' Consultation" on Time, (given the Distance, and the Time needed for Ordinary, Public and/or Private Road and/or Rail Transports, compared to the Precise Timing Fixed for those 2, now Competig - instead of Harmoniously Cooperating- Related Events)...

Naturally, "Eurofora" has already been inside a French Presidential Airplane, (together with other Accredited collegue Journalists), but it was, then, in order to Travel some very Long and TransBorder Distances, as, f.ex., between Paris and Berlin, as well as the Other Way round, (with a Natural, Inevitable strong Wish to ...Jump by Parashute while Flying over Strasbourg City, located almost in the Middle of that road !), and NOT just such a Short, Local Distance only Between 2 Villages or Cities practically Located almost inside the Same Geographic Area, and/or in adjacent, Neighbouring Districts, as, f.ex. is the (Comparatively Tiny), much Shorter Distance between Strasbourg and Epinal, (i.e. Alsace and Lorraine), Both touching upon Vosges Mountains' borderline !

Who (and Why) provoked, suddenly, without even any previous Warning, out of the blue, such Exceptional, absolutely UnNecessary, and Strange but Real Logistical Obstacles, (which practicaly Oblige People to ..."Chose" between their Left and Right Hands) ?...
And Why Risk to seriously Diminish the overall (and mainly Mediatic + European) Impact that French President Macron's (as well as EU Citizens Consultation's) Ideas and proposals for ReVitalizing Europe could and should have, as well as an adequate Information of EU Citizens, throughout all our Continent ?  
                                        
                          (../..)


---------------------------------------------------------


BRIEF NEWS
00:00 - 02.06.2021

00:00 - 18.10.2020

00:00 - 19.06.2020

00:00 - 18.05.2020

00:00 - 20.04.2020

00:00 - 02.02.2020

00:00 - 09.12.2019

00:00 - 27.11.2019

00:00 - 16.11.2019
Statistics
Επισκέπτες: 55536482
Archive
Login Form
Other Menu
ΕΔΑΔ-Τουρκία : ΡΕΚΟΡ στυγνών Παραβιάσεων Ανθρωπίνων Δικαιωμάτων τη Δεκαετία "Υποψηφιότητας" σ ΕΕ (1999 2008) !

---------------------------------------------------------
* Στρασβούργο/ΑΚΜ/ 13-14 Οκτωβρίου 2008/
-------------------------------------------------------------------  
 Δέκα χρόνια μετά την αμφιλεγόμενη απόδοση στην Τουρκία καθεστώτος "υποψήφιου" για ένταξη στην ΕΕ, η Αγκυρα κατέχει ΡΕΚΟΡ από καταδίκες για στυγνές παραβιάσεις Ανθρωπίνων Δικαιωμάτων, όπως αποκάλυψαν νέες Στατιστικές του Ευρωπαικού Δικαστηρίου ΑΔ στο Στρασβούργο :

    Συγκεκριμένα η Τουρκία έρχεται 1η από 47 χώρες ΣτΕ σε καταδίκες για βαριές παραβιάσεις στη Δεκαετία 1998-2008 : Οπως Ανθρωποκτονίες (171 καταδίκες, έναντι 82 για Ρωσία, 15 Βουλγαρία, 13 Αγγλία), Βασανιστήρια κι Απάνθρωπες-Ταπεινωτικές μεταχειρίσεις (192 καταδίκες, αντί 107 Ρωσία, 37 Βουλγαρία, 32 Μολδαβία, 11 Ελλάδα), Στέρηση Ελευθερίας (325 καταδίκες, έναντι 190 για Πολωνία, 176 Βουλγαρία, 127 Ρωσία), καταπίεση Ελευθερίας Λόγου (161 παραβιάσεις, έναντι 39 γι Αυστρία, 13 για Γαλλία και Μολδαβία), στέρηση Περιουσίας (444 καταδίκες, έναντι 286 Ρωσία, 270 Ιταλία), κα.

    Εξάλλου, μετά από μικρή μείωση το 2005, οι νέες προσφυγές εναντίον των Τουρκικών Αρχών στο ΕΔΑΔ για επιπλέον παραβιάσεις ξανάρχισαν ν αυξάνονται σταθερά τα πρόσφατα έτη 2007 και 2008.

    Η δε Κύπρος, όπου συνεχίζεται η Τουρκική κατοχή, είναι η μοναδική περιοχή στην Ευρώπη όπου "είναι σαφές ότι τ Ανθρώπινα Δικαιώματα ΔΕΝ ΠΡΟΧΩΡΗΣΑΝ αρκετά" τα τελευταία 10 Χρόνια, έστω κι άν δεν υπάρχει πλέον εμπόλεμος κατάσταση, όπως τώρα  μεταξύ Γεωργίας και Ρωσίας, αλλ "αντίθετα, πρόσφατες Ελπίδες για Ειρήνη κι επανΕνωση της νήσου", είπε ο Πρόεδρος του ΕΔΑΔ, κ, Ζάν-Πώλ Κόστα, εκφράζοντας την "λύπη" του.

    Πρόκειται για "τυπική περίπτωση μαζικών παραβιάσεων", πρόσθεσε σ απάντηση ερώτησής μας για την Κύπρο (βλ. πληρέστερη είδηση σχετικά).
    
    Αλλ "άν υπάρξει θέληση από Κράτη και Κοινωνία, τ Ανθρώπινα Δικαιώματα δεν θα παρακμάσουν στον 21ο αιώνα. Αντίθετα θα προοδεύσουν". Χρειάζεται "νέα ορμή" για "υπεράσπισή τους, με συνεχή επαγρύπνηση", κατέληξε ο κ, Κόστα σ άλλες, γενικότερες δηλώσεις του νωριτερα στο Στρασβούργο.


Polls