Home

newsitems

A Real Bomb : London a.o. recent Islamist Terror Attacks reveal more Social Links + Security Gaps !
A Real Bomb : London a.o. recent Islamist Terror Attacks reveal more Social Links + Security Gaps !
Thursday, 21 September 2017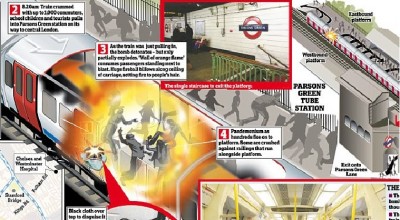 *Strasbourg/- An Explosive Mixture, made out of recent Mass Migration from the Middle East, known but tolerated Radicalisation, fanatic Hate, galoping Islamisation, personal Conflicts, and more or less Exploitation of Social Allowances, Asylum Seeker Status, Social Housing, scandalous Cover-up on Fake "Unaccompagnied Children", Lobbies' Pressure to Hide the Truth, etc., as well as, further Revelations on that UnPrecedented "Tsunami" of Mass Asylum Seekers/Irregular Migrants of 2015/2016 through Turkey etc., Links among similar Suspects and Plans to collectively Infiltrate even further Europe's central Heart, but also the Worrying Finding that European People, in fact, have, until now, narrowlly Escaped to much Worse, Deadly Islamist Terrorist Attack's consequences, still Looming ahead, as things stand, are a Frightening Conclusion emerging from New Facts revealed at the latest London ISIL-inspired Attack in the Subway Metro...

Among many other relevant Facts :
 
     - The Subway Bomber, Ahmed Hassan, a Muslim from Iraq, had arrived "Irregularly" in Europe "on 2015", (according to Mainstream British Newspaper "Telegraph.co.uk").

I.e. the Same as, f.ex., at least 2 among the Deadly ISIL's armed Terrorists who killed Many People in Paris' "Bataclan" etc. Massive Attacks, already on November 2015. And the Afghan Knifeman who Attacked and Killed or Wounded several Innocent Civilian People inside a German Train near Wurzburg on Summer 2016. Or that Monster who Raped and Killed the Young Student Maria Landenburger at Freiburg on 2016 (where he's currently judged), after having also Raped even a Young Afghan Girl aged only 12, and Brutaly Attacked a Greek Girl at Corfu Island, and thrown her overboard, down from an 8 meter high wall, Wounding her seriously, just before advancing even further inside Europe without being stopped, (but, on the contrary, provided with various Social Advantages). Etc.+...

    - Among his 30 Wounded Victims is also a very Seriously Wounded Woman, with "Life Changing Injuries", who will have to spend more than 6 Months in various Surgery operations, etc., at the Hospital.

But, the Tragedy woud have been much More Destructive and Deadly, if that make-shift Bomb had not "Failed" to Explode completely, Contrary to what had been Planned, (f.ex. with a lot of sharp Metallic "Schrapnels" put inside, etc).

I.e., mutatis-mutandis, almost Similar to what had just happened, Shortly Before, at Barcelona (Spain), when a part of Numerous Gas Cylinders full of Explosives prepared for Later use, accidentaly exploded while still inside the Islamist Terrorists' House, Killing one (their alleged Chief : an Imam) and Alerting about the others, who, in consequence, did Not have had a chnce to use a Great Number of Gas Cylinders prepared for a Huge, Mass Bombing, which did'N't happen, (See, f.ex. : ...).

=> It's Frightening only to Think what would have happened if such Monsters did Not commit Blunders !

European People, obviously, canNot count, in Future, on the repetition of such Terrorists' technical errors, Neither base their Safety on them...
    
    - The Technical construction of the Latest London Subway Bomb was, reportedly, "Similar" to that of the 2017 Manchester mass Bombing, which Killed 23 and Wounded 220 Victims, (all Civiiian People, including Many Children or young girls).

+ ISIL's Deadly Islamist Terrorist Gang (which notoriously uses to systematically Target innocent Civilian People) already Revendicated this London Subway Attack, by its usual Web Channels. The Bomber is reportedly inspired by a "warped Political View" and "a Hatred" similar to that of Islamist Terrorists' community.

++ In Addition, this London Subway Bomber was, reportedly, Always Speaking, Meeting, Visited by, and Living closely Together with at least 2 Other Individuals, just before the Attack. Until Now, at least Six (6) Suspects among his Contacts have been Arrested, and 2 of them are Still Detained, while the Investigation is, reportedly, Evolving Fast. At least one among that Bomber's Contacts was known to have Long and very Frequent links with various Mosques, while Relatives of the Bomber had reportedly Complained because he had been entrusted to a Christian English Foster Familly, instead of a Muslim one. Together with one among his Frequent Contacts, this London Subway Bomber reportedly Planned to Travel to the European Continent, and Establish himself into the Netherlands. (Etc+).

=> Once again, even here, Facts show that the Time of comfortable Fantasies as such of the so-called "Lone Wolf", has definitively gone ! In fact, Islamist Terrorists are mostly Linked, in one way or another, with Networks of various supporters, accomplices, instigators, etc.

The Most Obvious concrete Examples of such Social Realities were, f.ex., already the November 2015 Paris' mass Deadly Attacks, at "Bataclan" and Elsewhere, (which Killed 130 People, and Injured 413), but, particularly the Recent, August 2017 Barcelona Attacks in Spain, (which Killed 14 and Injured about 130 People) :

Indeed, in this last case (Barcelona+), at least 12 Terrorism Suspects were Killed or Arrested, including (for the First Time) a radical Imam who was Leading them, and Collective Links to a Mosque, located at a City near France (Ripoll), were found. Many of them were Ready to Travel Collectively to Belgium, where that Imam/Terrorist Gang Chief seeked to Re-Establish himself at another Mosque in the Flamish Region. He had also Close Personal Links with anOther Mosque Leader, at Barcelona itself, who had been, in the Past, Arrested and Condemned for Islamist Extremism related to Terrorism, (but Finally liberated, after making Appeal, for Procedural issues), Together with Many Others, as Part of anOther and much Wider, Previous Terrorism Prevention operation by the Spanish Police, some Years Before.

At this Occasion, even reciprocal Political a.o. personal Interests' links were reportedly noticed, (f.ex. through Lawyers' and/or Lobbies' support, Political Clientelism, etc) at least with 2 Local/Regional Politicians : a Leading Member of the City Council, an Autonomist Catalan MP from the Same Party, etc. In Addition, a Converging/Facilitating Wider Socio-Political Context of Exceptionaly Fast Islamization, and a Record-High Massive Muslim Immigration in Recent Years at Catalonia, where Autonomist Leftist nPoliticians support Muslim Migrants' Demands for Voting Rights etc., in exchange of Socio-Electoral Support of Muslim Lobbies, were reportedly found,  (See, f.ex. : ...).

This Last Point, inevitably Reminds, mutatis-mutandis, the Different, (but interesting and almost Contemporary) Big Scandal of several Gangs of mainly Pakistani a.o. Muslim Non-European Migrants who notoriously were recently found, Judged and Condemned for Horrible Massive Rapes, Sexual Exploitation, Ill-Treatments, Blackmail, Threats, etc. of Thousands of Children in the UK during more than a Decade, with a blatant Complicity of many Local "Socialist" (Labour Party) Politicians, Civil Servants, etc., who were quasi-Systematically Covering up such Horrible Crimes, Dating particularly since the Tony Blair's controversial era, etc.

    - In the Present, London Subway Bomber case, the main Culprit, who had reportedly come "Irregularly" in the UK from the Middle East (via the UnPrecedented "Tsunami" of Mass Asylum Seekers/Irregular Migrants through Turkey), was Given "Refugee" Status, with relevant Financial, Legal and Social Benefits, was provided a Home with a Good Foster Family (previously awarded a Medal by the Queen for their services), and was even Recognized as ..."Child" (of "18 Years", i.e. at the Borderline, and Despite Looking as an Adult, 20 or more Years Old), with the result to Benefit also from another Series of various Social, Legal, a.o. Advantages, (including More Money, a School, a Family Home, and a Right to be treated in Courts with Special Rules made for "Children", etc). His Name was Hidden for Many Days after that Terrorist Attack, and the People have Not yet Seen the Face of that Bomber not even more than a Week after his Horrible Crime...
    
I.e. a Similar Case to those, f.ex., in Germany, where another Muslim Asylum Seeker from Asia suddenly launched a Brutal, Bloody Attack against a Family and Bypassers, with a Knife and an Axe, inside a Train, Wounding 6 or 7 innocent Civilian People, near Wurzburg on 2016, after getting Instructions from an ISIL Islamist Terrorist Liaison, and leaving a Written Message and Video threatening even More such Terror Aggressions against innocent Civlian People.

He had been, previously treated as a "Child" (sic !), receiving more Money, School and a Foster Family Home, etc, because he had Claimed to be "17" years old, even if he looked as an Adult, provoking Doubts.

This Month it's also at a ... "Childrens"' Court that is Judged another Horrible Criminal who also arrived in Germany with the 2015 "Tsunami" of Mass Asylum Seekers/Irregular Migrants through Turkey, after Raping an Aghan Young Girl aged only 12, Brutaly Throwing down to Rocks from an 8 Meters High another Girl in Greece, (who was Seriously Wounded), before Attacking, Raping and even Murdering Young Student Maria Landenburger at nearby Freiburg, also on 2016 : In Fact, Specialists believe that he's an Adult Man, "at least 22" Years old...

The Biggest Budget for Migrants in Germany is Spend these Years precisely for an Exceptionaly Huge Number of so-called "Non Accompagnied Children", (Never Seen Before so Many), who are a Great Part of those Mass Asylum Seekers/Irregular Migrants that arrived through Turkey on 2015-2016. Already, the experienced Strasbourg's "Lower Rhine" Department former President, and currently Senator, Guy-Dominique Kennel, had Strongly Denounced the manifold Problems (including of Security) provoked by an UnPrecedented Big Number of such "Non Accompagnied Children" massively arriving through Turkey, almost all ...withOut aby ID Papers, and systematicaly Claiming that they would all be "Children", even if they Look very much as Adults, in order to Claim manifold Social Advantages reserved to Real Children.

-------------------------------------------------------------------------------
     But the Most Important is, apparently, that Prevention of Islamist Terrorist Attacks in Europe seems to Face Serious Problems :

    - F.ex., the latest London Subway Bomber was, reportedly, known to have been "Radicalized", from an Islamist point of view, and had been Contacted Recently, by the British Services for that. US President Don Trump even wrote, in a Tweet, that the Perpetrators "Were in the Sights of Scotland Yard".

The Bomber had even Quarelled, some Days earlier, with his Foster Mother, to the point that she had, reportedly, anounced her initial Wish to "Stop taking Care of him", even if she was Famous for having Served more than 250 Kids, already before, including Refugees, "without ever turning anyone out". Neighbours described the Culprit as having an "Awful" Behavior", (Contrary to other, Real Refugee Children, who looked "Quiet and Polite"). Shortly after that Bombing, the Police even Found some more Explosives Hidden behind a sofa inside his Room...

However, the British Police had Not Taken Any Preventive Measure, as far as he was concerned, not even the slightest...

Such Situations Remind, f.ex., even Worse Security Gaps in Europe recently, which Proved to be Fatal :

F.ex., in Germany, Both the Mass Killer with a Heavy Truck at Berlin's "Christmas" Market, on December 2016, who Murdered 12 Civilian People and Wounded 60, and the Recent Knifeman of Hamburg, who, on July 2017, killed one man and wounded another 6, with a 20 cm.-Long Knife, had in common that they should have normaly been Expulsed, since a long time ago !

 But, neverheless, for various Bureaucratic and/or other reasons, Pretexts or Blunders, they were still Staying inside Europe, untouched and free to move around...

Hamburg's Knifeman was even ... "Exemplary" : He reportedly used to come himself regularly at the Police Stations in order to Ask if his papers were, at last, ready in order to be Expulsed Back Home ! He had even done so, Earlier that Same Fatal Day of the Knife-Attack, just a few Hours Before...

As for the Berlin Killer, it seems that the Local Police really didn't want to get him at all : It took More than Three (3) Hours to simply Start Searching for him inside the City, and more than Five (5) Hours in order to Start Searching around Germany ! So that, Finaly, the Killer naturaly Escaped from the German Police, but was Stopped and Shot by ... Italian Police, at Milano,  2 Days Later !

As for a another Deadly Street Car + Knife Attack also in Germany, just a Month Later (February 2017, in Heidelberg), the Local Police didn't even publish his Name, so that practically Nobody learned what really happened to that "Enquiry"....

________________________________________

+ The Most Scandalous such affair is that of a Portorico Man, (reportedly a Muslim convert since long) working in Alaska, who had already Warned himself the FBI, during former US President Barack Hussein Obama, a "Socialist" (Dem. Party), that "some" occulte forces seemed to ....Push him to Kill People for ISIL's aims, with his private Gun, (that he delivered to FBI, at his own initiative, on 2016).

But Obama's FBI did practically Nothing : They just advised him to consult a ...Local Mental Health Doctor, (who also did nothing), and even ...Returned his Gun !

=> Just some Weeks Later, on January 6, 2017 (always Obama's term) he was Shooting at People in Florida's Airport, where he Killed 5 and Wounded anOther 6 innocent Civilians ...

-----------------------------------------

At a Top Political level, the most Obvious Blunder was that of the Out-Going then, now Former French President Hollande, who, back on July 14th, 2016, during the Festivities for the National Day, (and just after a Traditional Reception at Elysée Palace in Paris, where he might have, eventually, taken 1 or 2 Glasses of Good Wine), the "Socialist" Leader felt that things were going so well, that he Dared take the Initiative to announce the full End of the Urgency Security Regime which was applied throughout the whole Country, since ISIL's Deadly Attacks of January and November 2015, (at "Charlie Hebdo" and "Bataclan", etc., respectively)...

=> But, just a Few Hours Later, suddenly, 20 tonnes Heavy Lorry, driven by a recently Radicalized Muslim Migrant from Tunisia, cowardly Aggressed the People who were traditionally walking with their Families, including Elders, Women and Children, across a Seaside Walkway, Brutally Killing 87 and Wounding 458 others overnight...

That Horrible Massacre at Nice City (7/2016) was the First Time in History that a "Socialist" President like Hollande, immediately Surprized by spontaneously Starting to use, in his Official Public Declaration, the full Wording of "Islamist Terrorism" !...

------------------------------

But, in fact, Already, right from the Start, something looked quite Fishy :

- F.ex., even at the November 2015 ISIL Terrorists' Deadly Attacks in Paris, particularly at "Bataclan", etc., in Addition to a notorious Controversy about the Criticism on the Local Security service, made in Public by the Leader of American Rock Music Group "EODM", who was playing then there, when that Attack took place, there were also certain Victims' Families who were notoriously Angered and Revolted by what, them too, Felt to be a Scandalous Abandon of their Children to such Brutal Invasions by Deadly Islamist Terrorists...

+ Perhaps, even More Important, (even if it Needs and Deserves a Serious and Thorough Investigation, in order to Find the whole Truth), already, Right from the very Start : I.e. Even since the January 7, 2015, ISIS Deadly Terrorists' Attack against Critical Journalists at the "CHARLIE HEBDO" Weekly Satiric Magazine, in Paris, (where 12 People were Killed, and 11 Wounded, followed, later-on, also by another 4 Jewish People killed elsewhere in Paris),

>>> several Witnesses or Survivants, and particularly the Wife of Famous veteran Cartoonist "Wolinski", who was Murdered, strongly Denounced, inter alia, also the Surprizing Fact that the Regular Security Measures which had been Established since Years, because of Threats in the Past, were, Curiously, Downgraded, and some even outrightly Suppressed, just a Few Days Before that Deadly Islamist Terrorism Attack !

It's also a Fact that, this "1st" Big ISIS' Deadly Attack at the Heart of Europe, had Targetted "Charlie Hebdo" the Day that it Published, at its Front-Page, a Vibrant Satiric Warning against rampant Islamization of France and Europe, through the Book of Michel Houellebecq "Submission", (which was Published that Same Day of January 7, 2015, but had been already "Hacked" by Web "Pirates" who had Leaked its main Idea since December 2014, revealed f.ex. by "Guardian" and Other disagreeing Mainstream Medias Worldwide : See, f.ex. https://www.theguardian.com/books/2014/dec/16/michel-houllebecq-france-submission-soumission-muslim-islam-president etc), in the Wider Context of a Criticism of what the Dissident Journalists who were going to be Murdered had named "La Gauche - Caviar", (i.e. "those Leftists of the Establishment"), targetting former "Socialist" President Hollande's regime.

As for the infamous, alleged "Moameth's cartoons", almost Nothing of this kind wasn't really visible there.

(See the Original "Charlie Hebdo" Front-page, and the relevant Articles, published that Tragic Day of of January 7, 2015).
(../..)

-----------------------------------------------
BRIEF NEWS
00:00 - 26.12.2017

00:00 - 26.05.2017

00:00 - 30.01.2017

00:00 - 14.10.2016

00:00 - 24.09.2016

00:00 - 27.07.2016

00:00 - 03.07.2016

00:00 - 01.06.2016

00:00 - 12.02.2016
Statistics
Посетителей: 27158020
Archive
Login Form
Other Menu
Sarkozy and Merkel want deals with Obama on European Security at Strasbourg's NATO 2009 Summit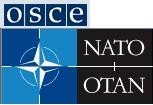 ------------------
In parallel but concording moves, EU Chair, French President Nicolas Sarkozy and German Chancellor Angie Merkel both invited this week US-President elect, Barack Obama, to discuss important deals breaking new ground on European Security during the NATO's 60 Years Anniversary Summit of Heads of State in Strasbourg, where Obama is expected to make his 1st visit to Europe as a President on April 2009.

Merkel focused mainly on smoother NATO - EU Defence and Security policy cooperation, while Sarkozy spoke about PanEuropean Security, associating both Russia and the USA, proposing to freeze missile and shields' deployement until an agreement is reached.

But both tackled some hard nuts to crack : Turkey's VETO against the participation of EU Member Cyprus to EU-NATO cooperation, and Russia's anouncement on deployment of missiles up to Kaliningrad, at EU's belly, in reply to USA's wish to set up missile shields in EU States such as Poland or Czech Republic, etc.

---------------------
- "Certainly...one of the points that we'll dicuss with the New US President", Barak OBAMA, "who will come f'or the 1st time in Europe as president, at the NATO Summit", co-hosted by France and Germany in Strasbourg, ""concerns, above all, the European Security and Defence Policy" (ESDP), and "the relations between NATO and its partners", with whom it should "work together", anounced earlier this week Merkel.

We must find "a reasonable and adequate concept to articulate NATO and European Security and Defense policy", because of a "series of practical issues, sometimes difficult to understand", but that "we must discuss".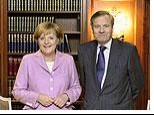 - "An example" of that is "the issue of Cyprus and Turkey", said Merkel, where Ankara raises problems "from Kosovo up to Afghanistan", as also CoE's chair, Swedish Foreign Minister Carl Bildt recently observed in Strasbourg replying to EuroFora's questions.

- "We must do something to smoothen this problem for good, and not only on a case-by-case basis, laboriously negotiated each time". Here, we must find "a reasonable and adequate concept to articulate NATO and European Security and Defense policy", Merkel stressed.

- "With good will from all sides, it could and should be posible. Germany wants also to help on that". Otherwise, "the coming generations will not understand why it took Decades to do so". But, if we "don't even achieve that for Decades, this would be an Historic Failure !", the German Chancellor warned

- "I think that our American partners are increasingly realizing that", Merkel said, pleading for "a stronger European Security and Defence policy, with which, I believe, the Atlantic Security Partnership can also strengthen and solidify".

Meanwhile, USA is also due to take in 2009 a special status inside EU-led EUROCORPS, the European Army HeadQuarters, based in Strasbourg.

Merkel said that after meeting in Berlin with NATO's Secretary General, Jaap de Hoop Scheffer, earlier this week, precisely in order to "prepare NATO's Summit", scheduled for the beginning of April 2009 in Strasbourg.

Scheffe, knows well Strasbourg, since he chaired the CoE, as Holland's Foreign Minister, when he brokered a controversial deal precisely on Turkey and Cyprus about the implementation of ECHR judgements on Greek Cypriot displaced persons' houses and properties in 2003. He returned later at least once, for a WEO meeting at the CoE, where he precisely had highlighted such EU - NATO issues.

EU Commission's 2008 Report on Turkey has just observed that, on European Defense - Security policy, "Turkey continues to object to EU-NATO Cooperation which would involve all EU Member States". "This created Problems for EU-NATO co-operation in the context of Civilian ESDP missions, in particular in Kosovo and Afghanistan".
----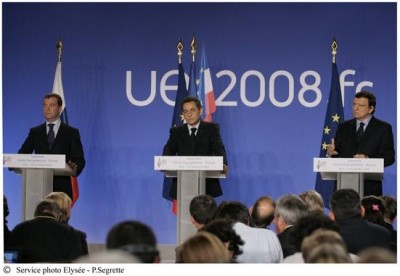 French EU Chair, President Sarkozy and Merkel are visiting Washington on Friday and Saturday for a Global G-20 Summit with current US President George Bush, on the sidelines of which are expected preparatory contacts with US President-elect Obama's entourage, even if himself might stay in Chicago until he takes over on January 21.

Before going to Washington, Sarkozy concluded today an UE - Russia Summit with Dmitry Medvedev, where they "spoke in length on PanEuropean Security" :

- As EU President, I proposed that we meet on mid-2009 in a framework such as OSCE's in order to set the foundations of a Future Pan-European Security, which would associate Russia and USA, and that, meanwhile, nobody speaks about deploying missiles or shields, which complicate the situation".

- NATO's Summit in Strasbourg-Kehl, on April 2009 is a perfect occasion to discuss with our American friends and to prepare a possible OSCE Summit for these issues f.ex. for June or July", Sarkozy concluded.

- We must all abstain from Unilateral measures" dangerous for Europe's security. "Russia only reacted to decisions taken by some other countries. But if they are ready to cooperate, we are ready to discuss. EU could be an intermediary", added Russian President Dmitry Medvedev, before going himself too at the Washington G-20 Economic Summit.


Polls