Pagina principale

newsitems

A Real Bomb : London a.o. recent Islamist Terror Attacks reveal more Social Links + Security Gaps !
A Real Bomb : London a.o. recent Islamist Terror Attacks reveal more Social Links + Security Gaps !
giovedì, 21 settembre 2017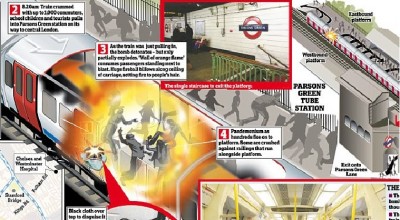 *Strasbourg/- An Explosive Mixture, made out of recent Mass Migration from the Middle East, known but tolerated Radicalisation, fanatic Hate, galoping Islamisation, personal Conflicts, and more or less Exploitation of Social Allowances, Asylum Seeker Status, Social Housing, scandalous Cover-up on Fake "Unaccompagnied Children", Lobbies' Pressure to Hide the Truth, etc., as well as, further Revelations on that UnPrecedented "Tsunami" of Mass Asylum Seekers/Irregular Migrants of 2015/2016 through Turkey etc., Links among similar Suspects and Plans to collectively Infiltrate even further Europe's central Heart, but also the Worrying Finding that European People, in fact, have, until now, narrowlly Escaped to much Worse, Deadly Islamist Terrorist Attack's consequences, still Looming ahead, as things stand, are a Frightening Conclusion emerging from New Facts revealed at the latest London ISIL-inspired Attack in the Subway Metro...

Among many other relevant Facts :
 
     - The Subway Bomber, Ahmed Hassan, a Muslim from Iraq, had arrived "Irregularly" in Europe "on 2015", (according to Mainstream British Newspaper "Telegraph.co.uk").

I.e. the Same as, f.ex., at least 2 among the Deadly ISIL's armed Terrorists who killed Many People in Paris' "Bataclan" etc. Massive Attacks, already on November 2015. And the Afghan Knifeman who Attacked and Killed or Wounded several Innocent Civilian People inside a German Train near Wurzburg on Summer 2016. Or that Monster who Raped and Killed the Young Student Maria Landenburger at Freiburg on 2016 (where he's currently judged), after having also Raped even a Young Afghan Girl aged only 12, and Brutaly Attacked a Greek Girl at Corfu Island, and thrown her overboard, down from an 8 meter high wall, Wounding her seriously, just before advancing even further inside Europe without being stopped, (but, on the contrary, provided with various Social Advantages). Etc.+...

    - Among his 30 Wounded Victims is also a very Seriously Wounded Woman, with "Life Changing Injuries", who will have to spend more than 6 Months in various Surgery operations, etc., at the Hospital.

But, the Tragedy woud have been much More Destructive and Deadly, if that make-shift Bomb had not "Failed" to Explode completely, Contrary to what had been Planned, (f.ex. with a lot of sharp Metallic "Schrapnels" put inside, etc).

I.e., mutatis-mutandis, almost Similar to what had just happened, Shortly Before, at Barcelona (Spain), when a part of Numerous Gas Cylinders full of Explosives prepared for Later use, accidentaly exploded while still inside the Islamist Terrorists' House, Killing one (their alleged Chief : an Imam) and Alerting about the others, who, in consequence, did Not have had a chnce to use a Great Number of Gas Cylinders prepared for a Huge, Mass Bombing, which did'N't happen, (See, f.ex. : ...).

=> It's Frightening only to Think what would have happened if such Monsters did Not commit Blunders !

European People, obviously, canNot count, in Future, on the repetition of such Terrorists' technical errors, Neither base their Safety on them...
    
    - The Technical construction of the Latest London Subway Bomb was, reportedly, "Similar" to that of the 2017 Manchester mass Bombing, which Killed 23 and Wounded 220 Victims, (all Civiiian People, including Many Children or young girls).

+ ISIL's Deadly Islamist Terrorist Gang (which notoriously uses to systematically Target innocent Civilian People) already Revendicated this London Subway Attack, by its usual Web Channels. The Bomber is reportedly inspired by a "warped Political View" and "a Hatred" similar to that of Islamist Terrorists' community.

++ In Addition, this London Subway Bomber was, reportedly, Always Speaking, Meeting, Visited by, and Living closely Together with at least 2 Other Individuals, just before the Attack. Until Now, at least Six (6) Suspects among his Contacts have been Arrested, and 2 of them are Still Detained, while the Investigation is, reportedly, Evolving Fast. At least one among that Bomber's Contacts was known to have Long and very Frequent links with various Mosques, while Relatives of the Bomber had reportedly Complained because he had been entrusted to a Christian English Foster Familly, instead of a Muslim one. Together with one among his Frequent Contacts, this London Subway Bomber reportedly Planned to Travel to the European Continent, and Establish himself into the Netherlands. (Etc+).

=> Once again, even here, Facts show that the Time of comfortable Fantasies as such of the so-called "Lone Wolf", has definitively gone ! In fact, Islamist Terrorists are mostly Linked, in one way or another, with Networks of various supporters, accomplices, instigators, etc.

The Most Obvious concrete Examples of such Social Realities were, f.ex., already the November 2015 Paris' mass Deadly Attacks, at "Bataclan" and Elsewhere, (which Killed 130 People, and Injured 413), but, particularly the Recent, August 2017 Barcelona Attacks in Spain, (which Killed 14 and Injured about 130 People) :

Indeed, in this last case (Barcelona+), at least 12 Terrorism Suspects were Killed or Arrested, including (for the First Time) a radical Imam who was Leading them, and Collective Links to a Mosque, located at a City near France (Ripoll), were found. Many of them were Ready to Travel Collectively to Belgium, where that Imam/Terrorist Gang Chief seeked to Re-Establish himself at another Mosque in the Flamish Region. He had also Close Personal Links with anOther Mosque Leader, at Barcelona itself, who had been, in the Past, Arrested and Condemned for Islamist Extremism related to Terrorism, (but Finally liberated, after making Appeal, for Procedural issues), Together with Many Others, as Part of anOther and much Wider, Previous Terrorism Prevention operation by the Spanish Police, some Years Before.

At this Occasion, even reciprocal Political a.o. personal Interests' links were reportedly noticed, (f.ex. through Lawyers' and/or Lobbies' support, Political Clientelism, etc) at least with 2 Local/Regional Politicians : a Leading Member of the City Council, an Autonomist Catalan MP from the Same Party, etc. In Addition, a Converging/Facilitating Wider Socio-Political Context of Exceptionaly Fast Islamization, and a Record-High Massive Muslim Immigration in Recent Years at Catalonia, where Autonomist Leftist nPoliticians support Muslim Migrants' Demands for Voting Rights etc., in exchange of Socio-Electoral Support of Muslim Lobbies, were reportedly found,  (See, f.ex. : ...).

This Last Point, inevitably Reminds, mutatis-mutandis, the Different, (but interesting and almost Contemporary) Big Scandal of several Gangs of mainly Pakistani a.o. Muslim Non-European Migrants who notoriously were recently found, Judged and Condemned for Horrible Massive Rapes, Sexual Exploitation, Ill-Treatments, Blackmail, Threats, etc. of Thousands of Children in the UK during more than a Decade, with a blatant Complicity of many Local "Socialist" (Labour Party) Politicians, Civil Servants, etc., who were quasi-Systematically Covering up such Horrible Crimes, Dating particularly since the Tony Blair's controversial era, etc.

    - In the Present, London Subway Bomber case, the main Culprit, who had reportedly come "Irregularly" in the UK from the Middle East (via the UnPrecedented "Tsunami" of Mass Asylum Seekers/Irregular Migrants through Turkey), was Given "Refugee" Status, with relevant Financial, Legal and Social Benefits, was provided a Home with a Good Foster Family (previously awarded a Medal by the Queen for their services), and was even Recognized as ..."Child" (of "18 Years", i.e. at the Borderline, and Despite Looking as an Adult, 20 or more Years Old), with the result to Benefit also from another Series of various Social, Legal, a.o. Advantages, (including More Money, a School, a Family Home, and a Right to be treated in Courts with Special Rules made for "Children", etc). His Name was Hidden for Many Days after that Terrorist Attack, and the People have Not yet Seen the Face of that Bomber not even more than a Week after his Horrible Crime...
    
I.e. a Similar Case to those, f.ex., in Germany, where another Muslim Asylum Seeker from Asia suddenly launched a Brutal, Bloody Attack against a Family and Bypassers, with a Knife and an Axe, inside a Train, Wounding 6 or 7 innocent Civilian People, near Wurzburg on 2016, after getting Instructions from an ISIL Islamist Terrorist Liaison, and leaving a Written Message and Video threatening even More such Terror Aggressions against innocent Civlian People.

He had been, previously treated as a "Child" (sic !), receiving more Money, School and a Foster Family Home, etc, because he had Claimed to be "17" years old, even if he looked as an Adult, provoking Doubts.

This Month it's also at a ... "Childrens"' Court that is Judged another Horrible Criminal who also arrived in Germany with the 2015 "Tsunami" of Mass Asylum Seekers/Irregular Migrants through Turkey, after Raping an Aghan Young Girl aged only 12, Brutaly Throwing down to Rocks from an 8 Meters High another Girl in Greece, (who was Seriously Wounded), before Attacking, Raping and even Murdering Young Student Maria Landenburger at nearby Freiburg, also on 2016 : In Fact, Specialists believe that he's an Adult Man, "at least 22" Years old...

The Biggest Budget for Migrants in Germany is Spend these Years precisely for an Exceptionaly Huge Number of so-called "Non Accompagnied Children", (Never Seen Before so Many), who are a Great Part of those Mass Asylum Seekers/Irregular Migrants that arrived through Turkey on 2015-2016. Already, the experienced Strasbourg's "Lower Rhine" Department former President, and currently Senator, Guy-Dominique Kennel, had Strongly Denounced the manifold Problems (including of Security) provoked by an UnPrecedented Big Number of such "Non Accompagnied Children" massively arriving through Turkey, almost all ...withOut aby ID Papers, and systematicaly Claiming that they would all be "Children", even if they Look very much as Adults, in order to Claim manifold Social Advantages reserved to Real Children.

-------------------------------------------------------------------------------
     But the Most Important is, apparently, that Prevention of Islamist Terrorist Attacks in Europe seems to Face Serious Problems :

    - F.ex., the latest London Subway Bomber was, reportedly, known to have been "Radicalized", from an Islamist point of view, and had been Contacted Recently, by the British Services for that. US President Don Trump even wrote, in a Tweet, that the Perpetrators "Were in the Sights of Scotland Yard".

The Bomber had even Quarelled, some Days earlier, with his Foster Mother, to the point that she had, reportedly, anounced her initial Wish to "Stop taking Care of him", even if she was Famous for having Served more than 250 Kids, already before, including Refugees, "without ever turning anyone out". Neighbours described the Culprit as having an "Awful" Behavior", (Contrary to other, Real Refugee Children, who looked "Quiet and Polite"). Shortly after that Bombing, the Police even Found some more Explosives Hidden behind a sofa inside his Room...

However, the British Police had Not Taken Any Preventive Measure, as far as he was concerned, not even the slightest...

Such Situations Remind, f.ex., even Worse Security Gaps in Europe recently, which Proved to be Fatal :

F.ex., in Germany, Both the Mass Killer with a Heavy Truck at Berlin's "Christmas" Market, on December 2016, who Murdered 12 Civilian People and Wounded 60, and the Recent Knifeman of Hamburg, who, on July 2017, killed one man and wounded another 6, with a 20 cm.-Long Knife, had in common that they should have normaly been Expulsed, since a long time ago !

 But, neverheless, for various Bureaucratic and/or other reasons, Pretexts or Blunders, they were still Staying inside Europe, untouched and free to move around...

Hamburg's Knifeman was even ... "Exemplary" : He reportedly used to come himself regularly at the Police Stations in order to Ask if his papers were, at last, ready in order to be Expulsed Back Home ! He had even done so, Earlier that Same Fatal Day of the Knife-Attack, just a few Hours Before...

As for the Berlin Killer, it seems that the Local Police really didn't want to get him at all : It took More than Three (3) Hours to simply Start Searching for him inside the City, and more than Five (5) Hours in order to Start Searching around Germany ! So that, Finaly, the Killer naturaly Escaped from the German Police, but was Stopped and Shot by ... Italian Police, at Milano,  2 Days Later !

As for a another Deadly Street Car + Knife Attack also in Germany, just a Month Later (February 2017, in Heidelberg), the Local Police didn't even publish his Name, so that practically Nobody learned what really happened to that "Enquiry"....

________________________________________

+ The Most Scandalous such affair is that of a Portorico Man, (reportedly a Muslim convert since long) working in Alaska, who had already Warned himself the FBI, during former US President Barack Hussein Obama, a "Socialist" (Dem. Party), that "some" occulte forces seemed to ....Push him to Kill People for ISIL's aims, with his private Gun, (that he delivered to FBI, at his own initiative, on 2016).

But Obama's FBI did practically Nothing : They just advised him to consult a ...Local Mental Health Doctor, (who also did nothing), and even ...Returned his Gun !

=> Just some Weeks Later, on January 6, 2017 (always Obama's term) he was Shooting at People in Florida's Airport, where he Killed 5 and Wounded anOther 6 innocent Civilians ...

-----------------------------------------

At a Top Political level, the most Obvious Blunder was that of the Out-Going then, now Former French President Hollande, who, back on July 14th, 2016, during the Festivities for the National Day, (and just after a Traditional Reception at Elysée Palace in Paris, where he might have, eventually, taken 1 or 2 Glasses of Good Wine), the "Socialist" Leader felt that things were going so well, that he Dared take the Initiative to announce the full End of the Urgency Security Regime which was applied throughout the whole Country, since ISIL's Deadly Attacks of January and November 2015, (at "Charlie Hebdo" and "Bataclan", etc., respectively)...

=> But, just a Few Hours Later, suddenly, 20 tonnes Heavy Lorry, driven by a recently Radicalized Muslim Migrant from Tunisia, cowardly Aggressed the People who were traditionally walking with their Families, including Elders, Women and Children, across a Seaside Walkway, Brutally Killing 87 and Wounding 458 others overnight...

That Horrible Massacre at Nice City (7/2016) was the First Time in History that a "Socialist" President like Hollande, immediately Surprized by spontaneously Starting to use, in his Official Public Declaration, the full Wording of "Islamist Terrorism" !...

------------------------------

But, in fact, Already, right from the Start, something looked quite Fishy :

- F.ex., even at the November 2015 ISIL Terrorists' Deadly Attacks in Paris, particularly at "Bataclan", etc., in Addition to a notorious Controversy about the Criticism on the Local Security service, made in Public by the Leader of American Rock Music Group "EODM", who was playing then there, when that Attack took place, there were also certain Victims' Families who were notoriously Angered and Revolted by what, them too, Felt to be a Scandalous Abandon of their Children to such Brutal Invasions by Deadly Islamist Terrorists...

+ Perhaps, even More Important, (even if it Needs and Deserves a Serious and Thorough Investigation, in order to Find the whole Truth), already, Right from the very Start : I.e. Even since the January 7, 2015, ISIS Deadly Terrorists' Attack against Critical Journalists at the "CHARLIE HEBDO" Weekly Satiric Magazine, in Paris, (where 12 People were Killed, and 11 Wounded, followed, later-on, also by another 4 Jewish People killed elsewhere in Paris),

>>> several Witnesses or Survivants, and particularly the Wife of Famous veteran Cartoonist "Wolinski", who was Murdered, strongly Denounced, inter alia, also the Surprizing Fact that the Regular Security Measures which had been Established since Years, because of Threats in the Past, were, Curiously, Downgraded, and some even outrightly Suppressed, just a Few Days Before that Deadly Islamist Terrorism Attack !

It's also a Fact that, this "1st" Big ISIS' Deadly Attack at the Heart of Europe, had Targetted "Charlie Hebdo" the Day that it Published, at its Front-Page, a Vibrant Satiric Warning against rampant Islamization of France and Europe, through the Book of Michel Houellebecq "Submission", (which was Published that Same Day of January 7, 2015, but had been already "Hacked" by Web "Pirates" who had Leaked its main Idea since December 2014, revealed f.ex. by "Guardian" and Other disagreeing Mainstream Medias Worldwide : See, f.ex. https://www.theguardian.com/books/2014/dec/16/michel-houllebecq-france-submission-soumission-muslim-islam-president etc), in the Wider Context of a Criticism of what the Dissident Journalists who were going to be Murdered had named "La Gauche - Caviar", (i.e. "those Leftists of the Establishment"), targetting former "Socialist" President Hollande's regime.

As for the infamous, alleged "Moameth's cartoons", almost Nothing of this kind wasn't really visible there.

(See the Original "Charlie Hebdo" Front-page, and the relevant Articles, published that Tragic Day of of January 7, 2015).
(../..)

-----------------------------------------------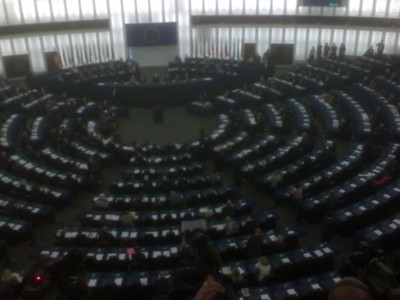 3 EU Parliament votes to boost EuroGroup !
---------------------------------
After EuroZone Paris Summit's succes, Sarkozy calls to "think anew how to re-construct Europe !
"EuroZone and EU Institutional debates pave the way to 2009 discussions on EU Future, including Enlargment, Turkey etc. ?


23 October 2008

After EU Parliament strongly suppported in 3 successive Votes this week in Strasbourg French EU Chairmanship's move to boost Euro-Group at EU's core, while ideas on EU Institutional problems are awaited on December, "it's an open Question now" if this may lead to a debate on EU's Future, or not, told us French President, Nicolas Sarkozy''s Spokesman, Pierre-Jerome Henin.

MEPs voted on Thursday fresh Funds to support EuroGroup, after adopting on Wednesday a Resolution asking a "further Evolution" to "the 1st ever meeting of Heads of State and of Government of the Euro-Zone, taking decisions in that capacity", while earlier this week a Report asked "a stronger Institutional setting" for "EuroGroup", extended from "competitiveness/industry" to "environment, employment and education", with "increased powers for Political decision-making", according to a text drafted by French MEP Francoise Beres and German MEP Werner Langen, "10 Years after the creation of Euro" (1999 - 2009).

- Brussels' subsequent "EU Council ..(simply)..ratified the measures decided by EuroGroup on October 12" in Paris, which "were necessary to contain the current Financial Crisis", Resolution observes, expressing also support to the new process succesfully initiated by Sarkozy and due to be completed by agreements with USA and other countries at a Global level.

From now on, it's between two differend but parallel moves : EU's delay, and EuroZone's acceleration, that Enlargement and particularly Turkey's controversial EU bid, will have to search its way :

Indeed, EU's 27 expect a "Roadmap on how to deal with the Irish problem" on Lisbon Treaty ratification after December, risking to pass even 2009 Elections and next Commission with the old Nice Treaty of 2000, out-dated and unfit even for 2004's Enlargement...

On the contrary, EU's core launches a real "Economic Governance for EuroZone at the highest level of Heads of State/Government" of the 15, which started in Paris on October 12 and was strongly supported this week in Strasbourg by Sarkozy and EU Parliament.
----------
- "It's a good idea, to launch such a debate ("on EU's Future") in EU Parliament in view of 2009 Euro-Election : Perhaps some MEPs will seize an opportunity", told us mainstream French MEP Alain Lamassoure, former EU Minister and EU Spokesman for France's governing party UMP.

- "All MEPs' debates on such EU Councils are also part of the larger debate on Europe's future : Now with EuroZone, and even more when, on December, Irish Prime Minister is due to table proposals in Strasbourg on how to deal with EU Treaty's ratification", replied earlier to our question EU Parliament's Press Director and Spokesman, Jaume Duch.
--------------------------------------
Sarkozy has formally anounced his intention to open EU Debates on Economy, Identity/Enlargement (i.e. mainly Turkey), etc. both linked to a popular Political view of Europe, since his Historic speeches on EU in Strasbourg, on February and July 2007, when he stressed that "Europe needs a New Renaissance". At the beginning of the French EU Presidency, on July 2008, replying to a MEP, he suggested that EU Parliament takes an active part in Debates on EU's Future.

- Now, in 2008, "Crisis are an opportunity to re-think how to re-construct Europe", Sarkozy stressed. At any case, the Historic 1st EuroZone Summit of Heads of State/Government, which started replying to the Financial crisis,"is a Turning Point : After that, Europe cannot be governed as before, but differently" : People "like a Europe with Strong Will".

- "We must make the System move !", "Europe needs Innovation" and free political debates. EU "Elections are in a few Months", Sarkozy warned.

He invited EU Parliament to fully play its role as "the Democratic Heart of the Europe we want : United, Independent and Voluntarist, because the World needs Europe's voice".

- "It's no more possible for Euro-Zone to continue without an Economic Government" at the Highest Level of Heads of State/Government, who provide "Democratic Legitimity" and can take important decisions, he announced, strongly supported by EU Parliament's Economic Committee which just voted to boost the "Institutional" aspects of "EuroGroup".

Plasticity offered by the current absence of a special Treaty on EuroZone's Institutions "made it easy to adapt the organization of the 1st Summit with imagination, to efficiently meet urgent needs", he observed, on the occasion of Brittish Prime Minister's exceptionnal presence at the greatest part of EuroGroup's Paris Summit.

- "In EuroZone we have the same Bank, the same Money, and, thus, a same duty for Unity" : "By bringing together EuroGroup's 15 members States we suceeded to find a solution and prepare a Giant Plan of 1.800 Billion euros", Sarkozy reminded of Paris' 1st Historic EuroZone's Summit.

Afterwards, Brussels' EU Council followed the move, and USA's Paulson II Plan was inspired from that. "Europe must promote the idea of Global Economy's Refoundation", he stressed.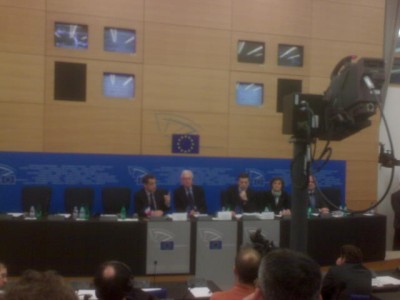 - "I was frankly astonished when I found, at the EU, a rigid system, where any New Idea was seen from the outset as a sacrilege, while, on the contrary, Europe needs Innovation !", he described.

F.ex. ,"'When we first spoke about the "Union for the Mediterranean", it was misunderstood as something extraordinary.. When later we had the Russia -Georgia crisis, it seemed against EU's custom to act "in the middle of August", instead of staying a passive spectator ! And when, in front of the Financial ciris, we gathered the 1st EuroZone Summit of the "15", some thought of it as a lese-majesté", he denounced.
----------------------
On Geo-Political Principles :
----------------------
- But, by moving resolutely, "EU obtained the ...withdrawal of Occupation Troops in 2 Months !", reminded Sarkozy, observing that Russia "fulfilled its commitments", in the Georgian crisis, where a "disroportionate reaction" from Moscow followed a "totally inappropriate action" from Tbilisi's troops. "It would be crazy to reply by military means : EU should not become accomplice of another Cold War, imposed by lack of cool heads".. as he said.

In future, "the creation of a common European Economic Area with EU and Russia, would also obtain a raprochment on our Human Rights and Democratic Values", added Sarkozy, in a statement which should logically be applied, a fortiori, to controversial EU "candidate" Turkey..

Particularly when, the same week that EU Parliament voted 2009 EU Funds for Turkey's controversial EU bid, ECHR took a series of judgements condemning Turkey for grave Violations of Human Rights, such as : Torture, death of a political prisoner in unclear circumstances followed by failure to conduct a proper Investigation, "enforced Disappearance" of a youngster aged 17, Killing of a sepherd with Tank Shells, persecuting Journalists for articles on "Missing" People, even a former President of Human Rights' Association, (etc)

- "We (EU) can defend our ideas on respect of Sovereignity and territorial Integrity, on Human Rights and other differences ... without confrontation", Sarkozy stressed, on the occasion of Russian/Georgian conflict, reminding that : "we were only 2 steps from catastroph", when a Peace agreement brokered in Moscow prevented, at the last minute, Russian troops' advance towards Tbilisi.

An EU Parliament Resolution adopted Wednesday in Strasbourg on the occasion of Russia - Georgia conflict, outlines a set of Principle which apply elsewhere too, (particularly when EU Rapporteur for Russia and Turkey is one and same person ; Dutch MEP Ria Oomen-Ruijtanen !)

Clearly rejecting any "military solution to the conflicts", MEPs "condemn ..all those who resorted to force and violence". They denounce a "disproportionate military action", "as well as (an) unilateral decision to recognise the independence" of brekaway regions, "calling.. to respect the sovereignty and territorial integrity" of the concerned country, "and the inviolability of its borders recognised by all EU Member States". They warn that "EU must review its policy towards" a 3rd Country, "should .(it)...not comply with its commitments", and "stress that the withdrawal of.... troops from the areas ....is an essential additional step".

EU Parliament "calls for the safe and quick return of refugees, (accepted by Russian President Medvedev) accompanied by the deployment of EU observers on the ground", and "regrets ...that ..EU Monitoring Mission (EUMM) is not allowed to enter the ...breakaway regions". Moreover, "It's important to ensure that persons and NGOs ..engaged in defending human and civil rights can operate". "Until ...all remaining issues (are) resolved..., and notably the continuing ...Military presence", "relations with the EU ..cannot be fully normalised", MEPS warned.

As nobody likes to be accused to practice "Double Standards", this should be regarded as "Principles" applicable to any Third Country at EU's Neighborhood.. No ?
-------------------
On Economy :
-----------------------
- "When Financial crisis shook US and EU's Banks, without result from the 1st (American) Paulsen plan, it was the common reply of the 1st EuroZone's Summit, involving some 1800 Billion euros, which started a positive move in the markets, soon strengthened by the follow-up of the US Paulson 2 Plan, noted Sarkozy.

- "Europe should not be only on the defensive, but, if necessary, know also how to take an offensive", he said, brushing away hesitationsto act on Economy: - "I'm for a refondation of Capitaliism, but against Speculators, who betray its values" : "Lack of Rules was profitable to speculators, Not to businessmen !" We must make sure to prevent any such crisis in future". "We, the rest of the World, cannot continue to bear the deficits of the 1st World power without saying anything !", the French President said, applauded by EU Parliament. All this needs "a New Global Governance", on which EU Parliament must debate. That's why "we proposed together with USA, several Summits from mid-November", to which G-8, enlarged to China, India a.o. countries, should participate. UNO's SG; Ban Ki Moon, the IMF, etc.

Financial crisis lowered shares' prices even for healthy companies, sometimes to 1/3 of their initial price, so that strangers might buy EU industries for only a portion of their real value, and Europeans may wake up one day with their main industries sold out to foreigners !

That's one of the reasons for which EU should debate about creating "Golden Shares" for States to jointly take Strategic participations to help European Industries until the end of the Crisis, particularly against distording competition, he suggested, pointing at USA's 35 billion $ plan for American Car Industry."We shall struggle for Europe to be able to build Airplanes, Ships, Trains, Cars, because we need a strong Industry", he concluded.

"F.ex. as we did back in 2004, when as Finance Minister, we bought Alsthom's shares for 800.000 euros, and, after restructuring, we sold them for 2 Millions : Help a company and make money is not so bad"...

As for the UK, "when Ireland announced that it would guarantee only Irish Banks, London City emptied from liquidities in 24 hours : It's the EU which helped to restore the situation, Not the UK alone !", reminded Sarkozy to nationalist British MEP Nigel Farage.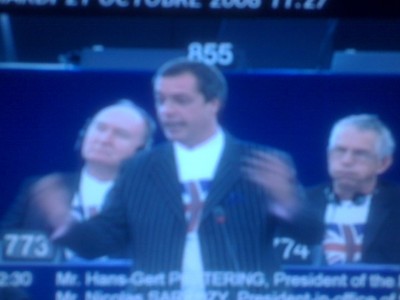 On the contrary, in a last-minute attempt for the EU to catch-up with its Institutional delay "before the European Elections" of June 2009, MEPs simply voted a call for a "set of proposals" to be made for the "Irish public opinion" at the end of the year...
- "As long as Lisbon Treaty is not ratified by all 27 EU Member States, there is an unanimous decision to stop Enlargement, reminded Wednesday in Strasbourg the French Minister for EU affairs, Jean-Pierre Jouyet..
Added to an indirect but clear warning that, without Lisbon Treaty, all 27 EU Member Countries may not have a Commissioner in the 2009 resuffle, MEPS in the Constitutional/Foreign affairs Committees applauded hoping that this might motivate their Irish friends..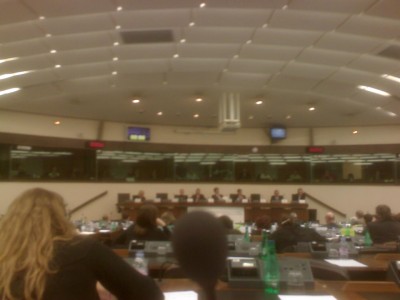 Polls