Home

newsitems

Murdered Journalists Hrant Dink + Adali at ECHR: Turkey's acts since 2005-2007 questioned in 2010
Murdered Journalists Hrant Dink + Adali at ECHR: Turkey's acts since 2005-2007 questioned in 2010
Wednesday, 05 May 2010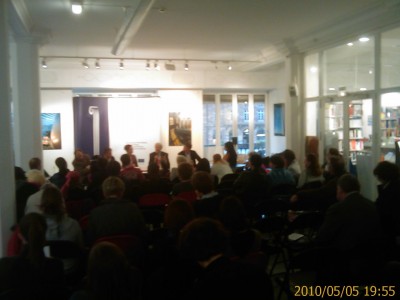 Controversial EU Candidate Turkey's failure to make Efficient Investigations on Murders of 2 Journalists : dissident Turkish Cypriot Kutlu Adali and Armenian critic Hrant Dink, particularly since 2005 and 2007 up to 2010, was questioned in Strasbourg at a CoE-organized debate on the Anniversary of Press Freedom Day (May 5).

    The event brought together ECHR's Senior Legal Expert, Vincent Berger, International NGO watchdog on Press Freedom "Reporters without Borders"' Director for Europe and Central Asia, Elsa Vidal, PanEuropean Commissioner for Human Right's Office Director and several experienced Journalists, such as European TV ARTE's Reportage Director Marco Nassivera, the Organizer of CoE's Annual Journalists' Conference, Jerome Bouvier, Strasbourg Newspaper DNA's Director Dominique Jung, etc.
------------
    The Family of the murdered Armenian Journalist Hrant Dink is currently in the process of pursuing an application against the Turkish Government at the European Court of Human Rights in Strasbourg, a key ECHR Official confirmed earlier to Strasbourg's Journalists including "EuroFora".  

    - "But what is really Worrying in Turkey, which is used to have Violent problems, is that most violations of Freedom of Speech, Journalists' Rights are the result of ambivalent (Turkish) Judges and of High-level Politicians, and this raises a very particular Problem", denounced from the outset the New Director for Europe and Central Asia of the International NGO Watchdog "Reporters without Borders", Elsa Vidal.

    - "A particularly interesting Paradox is that the Author of a Book published in Turkey on the Murder of the Armenian Journalist Hrant Dink on Januray 2007, which denounces what everybody suspects, i.e.  that the (Turkish) Police let the murder be committed, if it didn't even pave the way for (planify)  at the Highest level  the murder of the Journalisy, is currently threatened to be condemned into ...a longer Prison sentence than the presumed Murderers !", she criticized.

     - Moreover, "for those following the (Court's) Proceedings on the presumed killer at Istanbul, it's easy to realize that the (Turkish) Judges are in collusion and show their sympathy with the Murderer !", Vidal denounced.

    Indeed, Press Reports revealed, these same Days, that the Family and the Friends of the murdered Journalist and their Lawyers formally asked from the Turkish Authorities to urgently change the Judges and the Attorney, and replace them with really serious, objective and committed persons.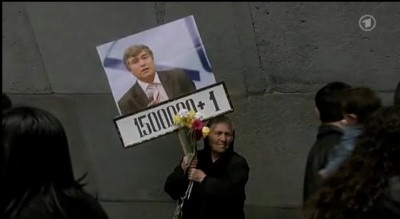 Meanwhile, the aftermarth of Hrant Dink's January 2007 Murder, (which took place in Turkey after the 2005 killing of Catholic Priest Sandoro and the 2006 atrocious Torture and Murder of 3 Christian Protestant workers at a Bible editor), is extensively discussed in a New 2010 German Documentary Film with fresh research on original Letters and Testimonies from German, Swiss, Danish, Austrian, a.o. eye witnesses of the 1910-1915 Massacre organized by the former Ottoman - "Young Turk" regime, which is due to be soon translated and published also by the European TV Chanel ARTE.
---------------    
But International Watchdog on Press Freedom "Reporters without Borders"' Director for Europe, Elsa Vidal, also anounced her intention to examine the case Turkey's total failure to efficiently investigate the cold blood Murder of a Dissident Journalist in the Occupied Territories of Cyprus, still held by Ankara's Army, despite its condemnation by an ECHR's Judgement since 2005.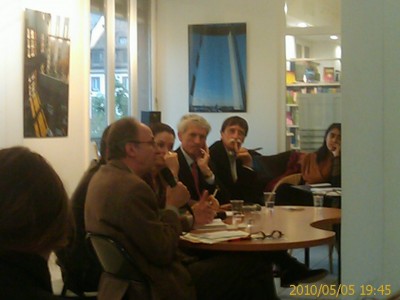 Vidal was replying to an "EuroFora"'s Question on Journalists' Murder cases, among which, as we observed, "some are very well known, while others, not" :

    - F. ex. , on the one hand, we have the famous Gongadze case, where ECHR had condemned in 2005 Ukraine because of the lack of an Efficient Investigation. But afterwards Ukraine proceeded to arrest and condemn to heavy Jail sentences 2 of them, who were suspects of having committed themselves the  killing, And later another, 3rd one, who is suspected to have organized those who killed, was also arrested. Even if the instigators have not yet been found, Ukraine, however, accepted even the interference of Foreign Experts in the on-going Investigation, and CoE's Committee of Ministers' Monitoring on the implementation of ECHR's Judgement, is continuing in Strasbourg", "Eurofora" observed.

    - " But, at the same time, few People speak of another case, concerning Turkey, which was also condemned by ECHR the same year of 2005, equally for lack of efficient Investigation in the case of the Murder of another Journalist shot with 5 Bullets at the Head out of his Family Home, in the territories of Cyprus Occupied by the Turkish Army : a dissident Turkish Cypriot, Kutly Adali. Here, on the contrary, the Turkish Government has not found, nor punished yet, not even one among the Murderers, nor those who planified the Murder, and persists, both before and after ECHR's Judgement, to claim that there it would be impossible for Ankara to ever find anyone among those responsible for the Murder. Suprisingly, however, CoE's Committee of Ministers, instead of pressing Turkey to make an Efficient Investigation and to threaten it with Sanctions, as it did many times vis a vis Ukraine, on the contrary, is ready to ..."close" the examination of this case for ever (reportedly on June), inevitably giving a Strange impression of Double Standards, "EuroFora" denounced.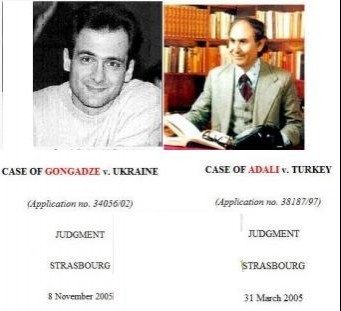 - "is it because in the case of Adali's murder, (unlike to Gongadze's murder case),  there is no Foreign State or Group pushing the CoE to ask Effective Investigations, but only the Wife and the Daughter of the Victim, who are still obliged to live under the illegal Turkish Occupation regime ?, "EuroFora" wondered.  The avove mentioned Difference of treatment, by CoE's Committee of Ministers, between these 2 cases of ECHR Judgements which had condemned 2 States (Ukraine and Turkey) for an initial lack of Efficient Investigations on the Murders of 2 Journalists, Gongadge and Adali respectively, risks today to practically annul ECHR's Judgement in the Adali murder case, "EuroFora" concluded.

    - "Reporters without Borders"' New Director for Europe and Central Asia, Elsa Vidal, was questioned by the organizer of CoE's Annual Journalists' Conference, Jerome Bouvier from France, if she had been previously alerted on Adali's murder case, or not.

    Vidal replied that, indeed, as "EuroFora" had observed, RWB had not been yet duly informed about what was really going on about Adali's murder case, and anounced that she was going to ask their new Correspondent of the International Press Freedom Watchdog in Cyprus to find out particularlmy the relations between the Murder and the Victim's work as a Journalist.

    As Vidal later said to "EuroFora", "Reporters without Borders" new Correspondent in Cyprus is a Turkish Cypriot living in the Occupied Territories of the island, as Adali and his Family did.

    Adali was a well known critic against Ankara's policies of massive imports of Turkish Settlers in the Occupied Territories of Cyprus, which threatened to modify the Demographic Structure of the area, by making of the local Turkish Cypriots a Minority vis a vis Turkey's own Citizens, risking to provoke a serious "Political Obstacle" to a Peaceful Solution of the issue of Cyprus and its ReUnification, as CoE's Parliamentary Assembly and CoE's Committee of Ministers have repeatedly denounced in Reports, Resolutions and Decisions adopted in Strasbourg since the 1999ies.

    Shortly before his Murder Adali had reportedly published also an article denouncing  suspicions for the implication of a Turkish Military Commader in the Plundering and the Destruction of Religious Christian Monuments in the Occupied Territories of Cyprus, from which their ancestral Greek Cypriot Majority Community has been evited and illegaly hindered to return since the 1974 Turkey's Military Invasion and Occupation, in reaction to a short-lived Coup by a few Greek Cypriot Nationalists aspiring to join the former Junta then in power in Athens, which was then overthrown and its leaders condemned to heavy Prison sentences. ECHR has repeatedly condemned Ankara for various Human Rights' violations related to its continuing Military Occupation of the northern part of Cyprus.

    According to the International Penal Court's Statute, attempts by an Occupying power to massively "replace" the original lawful Inhabitants of the occupied area by massive imports of its own Population, is denounced as a "War Crime".

    But the most dangerous effect of what Adali's Newspaper publications used to criticize, i.e. the illegal attribution of so-called Cyprus' "Citizenship" to the Turkish Settlers imported from Anatolia by the illegal Occupation regime, might be soon felt by the UNO and the EU at the Table of the InterCommunal Negotiations for the Solution of Cyprus' issue between Cyprus' President Christofias and the new 2010 Turkish Cypriot leader Eroglou, who is reportedly known for being more in favor of a "2 States"' stance, which obviously risks to permanently divide the island, than for a real reUnification of EU-Member Cyprus.

    Meanwhile, speaking earlier to "EuroFora" on the occasion of Turkey's total failure to make an efficient investigation of Adali's murder, CoE's PanEuropean Commissioner for Human Rights, Thomas Hammarberg, pointed, as a matter of general principle, at his Püblication for the Annual Press Freedom Day, which clearly stresses that "Authorities should Efficiently and Effectively Investigate any ...incidents" of ""Acts of Violence, Harassment and Intimidation against Journalists", "and prosecute and sentence perpetrators".

    - "Authorities should also take the necessary Preventive Measures against acts of Violence against Journalists", added Hammarberg's publication this week, in an observation closer to Armenian Journalist Hrant Dink's case (Comp. above). " It should be recalled that violence, harassment and threats can have a chilling effect on media reporting and may result in self-censorship", Hammarberg also warns, pointing to the fact that such cases of non-elucidated murders of Journalists, as Adali, Hrant Dink, etc, can have much larger effects.
***


Fillon invites EU to invent "New Horizons" behind Oil crisis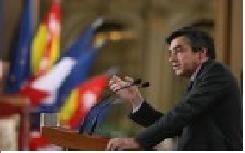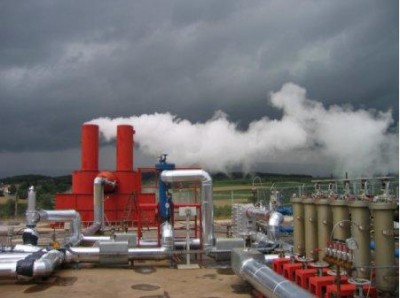 Soultz-under-Forests, June 13, 2008

A pioneer Franco-German research project on GeoThermy, near Strasbourg, served as "Symbol" of EU's will to become Independent on Energy by developing innovative Technologies, while imported Oil prices threaten to provoke a World-wide crisis.

It's essential to demonstrate Europe's will to "invent New Horizons", by creating Environment-friendly, Independent and Renewable Energy sources, while price rises continue for Oil, a polluting old ressource with insufficient stocks, stressed French Prime Minister Francois Fillon, anouncing that this will be a focus during the forthcoming French EU Presidency (July - December 2008).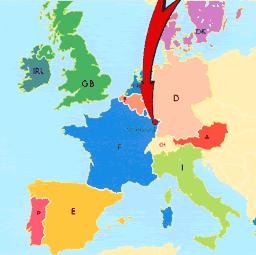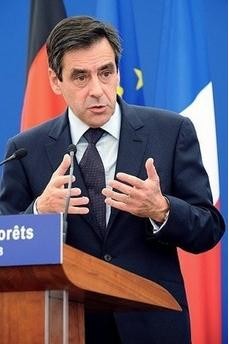 Fillon symbolically injected a 1st KWh produced by GeoThermy into Strasbourg's Electricity grid, during a special gathering of German and French officials at Soultz-under-Forests ("Soultz-sous-Forêts"), using a geothermal innovation which is "the most advanced in the World" :

The innovation uses Strasbourg's underground water richness to capture Heat, by injecting liquid among Rocks 5 km deep, where temperature is 200 c. Thus, it can be activated at any moment and location, even without natural warm water springs : A big advantage compared to old biothermal tools.
Engineers, Scientists and the Industry will have 2 Years to invent practical ways for this innovation to become productive and cost-efficient in real Economy, said Fillon.
115 Millions of Euros invested, 15 Research Labos, 430 Scientific Publications including 34 Doctoral PhD, and a systematic cooperation between French and German Governments and Public Agencies on Research, succeeded to prove that the new method works.
Already able to serve Electricity to a village with 1.500 inhabitants, the pioneer project intends to reach a capacity to serve 20.000 inhabitants before 2015, as part of a larger Plan to make all Renewable Energy Resources (together with Wind, Solar, etc) able to cover more than 23% of all Electricity needs before 2020.

- In fact, "behind the challenge" faced with the current Oil crisis, there "is a New Horizon that we can shape all together", by "creating New Tools for the Future", Fillon launched towards EU Member States.

Meanwhile, we should intensify Energy Savings, simplify Transports, and help the Poorest cope with growing Oil prices, until EU joins a World-wide lead into inventing reliable and sufficient Renewable Energy Sources, he added.

Many, technologic and other Challenges exist, but they can be overcome : F. ex. the new GeoThermic method tested at Shoultz since 1987, had provoked an Earthquake at a nearby site, close to Bale, by injecting big volumes of pressurized Water in underground broken Rocks near a Seismic Faultline in 2003. But the move was rectified later-on, by diminishing the amount and pressure of the water injected in underground rocks, so that no Earthquake is provoked.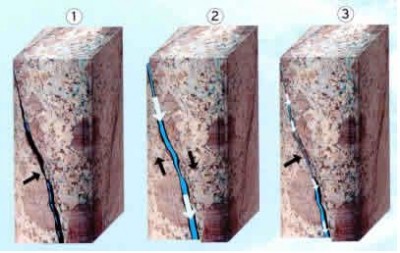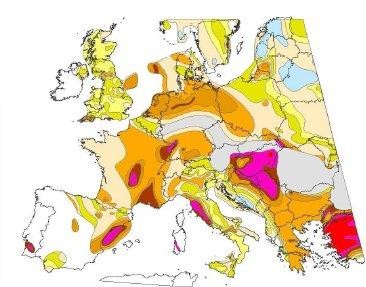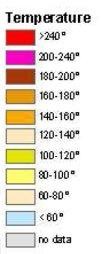 More than 1 Billion Euros are invested by France on Scientific and Technologic Research about Sustainable Development until 2012, aiming to take a 10 years advance, there where innovation can become source of Growth, Competitivity and Jobs, which, according to some evaluations could reach more than 220.000 before 2020, Fillon observed.

During the forthcoming French EU Presidency, together with our German friends, we shall do all necessary efforts for Europe's World-wide lead against Global Warming, thanks to Energy tools able to ensure its Independence, Growth, and Citizens' well-being, he concluded.

-------------


The "Enhanced Geothermal System" (EGS) stems from pioneer research initiated by teams from France, Germany and Italy, joined also by Swiss, the U.K., and Sweden, even U.S. and Japan, since the 90ies.

In 1996, a European Economic Interest Group (GEIE) was founded, in order to exploit Electricity-produsing Heat from deep underground Rocks, including France's EDF and Germany's PfalzWerke.

In 2002, a Pilot scientific project started to be tested in Soultz-under-Forests, 50 kms north of Strasbourg.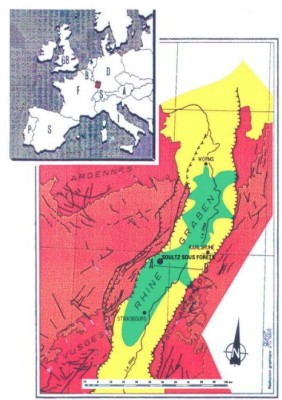 Polls