Home

newsitems

1st Global Space Community's debate on Obama's NASA 2011 Budget Cuts+Changes at ISU's 2010 Symposium
1st Global Space Community's debate on Obama's NASA 2011 Budget Cuts+Changes at ISU's 2010 Symposium
mercoledì, 17 febbraio 2010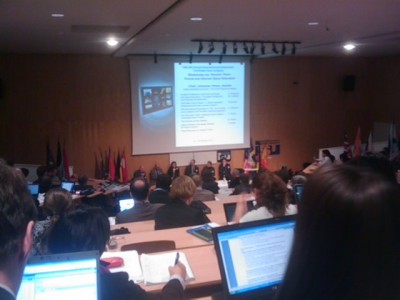 The initial ISU's 2010 Symposium's aim -how to make People and politicians aware of the immense potential that a wide spectrum of Space-related activities have for manifold useful Scientific breakthroughs and the development of High Tech. innovations affecting everyday life, Economy, Society and Mankind's Future- was overshadowed by a more immediate concern of the World-wide Space Community :

 - How to advance forward now, after the drastic, unprecedented NASA 2011 Budget Cuts and Policy Changes  decided by new US President Obama earlier this month, in parallel with Augmentation of Funds to certain areas linked to some International Cooperation  prospects ?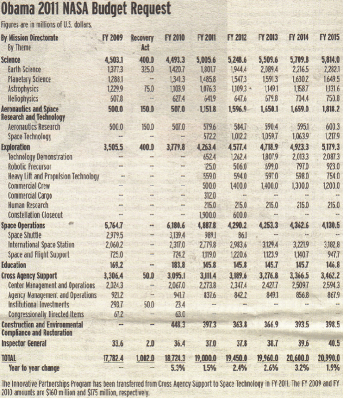 A 1st occasion for the Worldwide Space Community to start discussing huge Policy shifts after the latest Developments, was, indeed, given at the always interesting International Space University's  Annual Strasbourg's gathering of Space Experts and Scientists, Policy-makers, Industry Executives, Government Officials, Communication and Press Directors, etc., which succeeded to attract an exceptionally wide, numerous and diverse public, including many Young MA, MBA or PHD Students (several of them already professional executif officers) from all over the World, focusing this time on Outreach activities under the original title : "The Public Face of Space".

Press Reports and various Experts' Questions and Replies were inevitably "deviated" from their formal, particular courses and attracted by the "gravitational force" of interrogations naturally focusing on what USA's new President policy shifts really mean for the rest of the World, (i.e. UE, Russia, China, Japan, India, and various other Small and Medium Space Actors of a recently growing number, as fex. Austria's plan to launch in 2011 its 1st Satellite towards the Stars symbolize), and what could and should be done from now on.
------------
 - The 1st Man in the Moon (i.e. US Apollo mission, after Russian Gagarin's 1st Man to Fly in Space), and  Shuttle "Discovery"'s dramatic crash, were reportedly voted among the most important Events which marked People's Memory during 50 Years of Space History, as it was revealed at ISU's 2010 Symposium.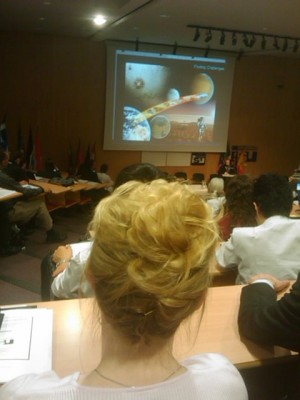 Both, obviously, point at Human Space Flight, as the most Popular vector of Space policies Worldwide, and a strong Political Driving force. From the recent example of Korean Astronaut Yi, to China's growing ambitions, and EU's aspirations, many recent facts seem to indicate that.
But, paradoxically, Obama's 2011 NASA Budget resticts Space Exploration, scraps old and new Space Vehicles' programs by NASA, reduces or keeps stable Stars and Planets' Science and Education, even some Environment projects...
On the contrary, Obama's 2011 NASA Budget Strategy seems to focus mainly on Earth Science and Monitoring, (including on Security and Climate), on extending ISS' orbital life, and on related massive "Technology" projects.
What impact could have this New Strategy Worldwide ? Will it stimulate Europe and other New and old Space actors' wish to give a boost to Human Space Flight and related Science/Technology, or might it dissuade that ? Has International Cooperation become today much more necessary than Obama's offers for more Technology "Tests" on the ISS indicates, (f.ex. in order to share also at least part of the costs for the necessary innovations needed to efficiently prepare new Human Space Flights and exploration) ?
----------------
 Solving the Space Vehicle enigma :  - New Propulsion  ?
------------------------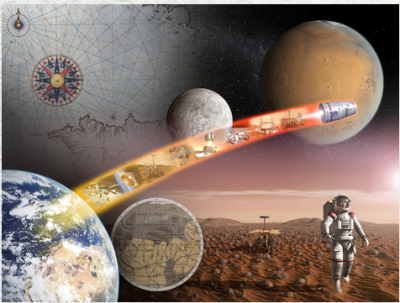 Among the first topical issues touched by various participants' Questions was inevitably Obama's drastic decision to cut NASA's efforts to prepare itself a new re-usable Space Vehicle, successor to the Shuttle (which will be ended in 1 year or so), scraping the "Orion" Crew Exploration project and the ARES 1 and 5 Rockets, (in the apparent expectation that something else might emerge from the Private, Commercial sector soon enough).

    This is a very important issue Worldwide, because, as Alphonso Diaz, f. NASA Goddard Center Director, had already stressed to "EuroFora" , at an earlier ISU gathering in Strasbourg, "the main issue of this Decade will be Space Transport, and how to invent a new Space Vehicle", after the Shuttle, Soyuz, Ariadne, etc.

    Experienced Professor Michael Rycroft, (Cambridge), Secretary General of the European GeoPhysical Society, NASA Ames Research Center associate, speaking now to "EuroFora", stressed that what is lacking today on Space re-usable Vehicles is "New Propulsion" scientific breakthroughs and innovative technologies, in order to "invent new ways, going beyond the current Chemical" combustion methods.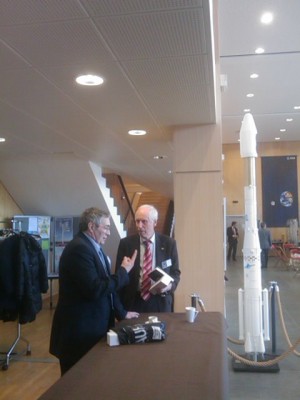 Moscow Space Research Institute's Director, Academician Lev Zelenyi, said to "EuroFora" that Russian research on the matter has now advanced further than the recent "Kliper" project, (that ESA had examined for a possible cooperation since 2005/2006, after NASA's reluctance to share with Europe the preparation of the future Space Vehicle), particularly "on Nuclear propulsion", etc. "But", at least for the time being, this new technology  "seems more adapted to Robotic missions than to Human Space Flight", i.e. leaving the main question open.

     - "Let's give Obama some more time, and wait to see what happens, before judging", advised in reply to questions on 2011 Budget cuts, Alan Ladwig, NASA's Public Outreach Administrator associate. Asked later by "EuroFora" to explain what did he really expect  to  happen, NASA's Official told us that initiatives or projects from Private Industry may probably emerge, sooner or later.

     - "NASA's role is to help address Technical challenges, and, then, to take it out, so that it becomes a Commercial or Industrial product", observed, meanwhile, NASA Marshall Flight Center's Director of Engineering, Daniel Dumpacher, in reply to similar questions by other participants.

    F.ex. recent Press Reports spotted anew the case of  MIT Expert, former Astronaut Franklin Chang-Diaz, founder of Ad Astra Rocket company, who reportedly develops "a New Propulsion System", that, as he claims, "could go to Mars in only Half the Time" currently needed, sparing Astronauts from long exposure to Cosmic Rays and non-Gravity's effects to muscles and bones. Chang-Diaz's idea is based on a Magnetic Plasma impulsion motor named "Vasmir", coupled to a Nuclear Reactor (to provide Electric Energy), for a "VX-200" Space Vehicle, whose "light" version might also simplify sub-orbital transport to and from the ISS.

    Obama's forecasts reportedly aim at a 2012 increase in NASA's Budget for "Commercial Crew" from 500 millions $ up to 1,4 Billion $. Already $ 20 Million were recently allocated fex. to Sierra Nevada's Corp. Sparks, for a lifting-body Vehicle called "Dream Chaser".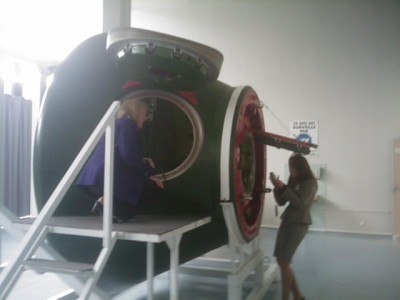 It's in this context that ISU proudly exhibited this week in Strasbourg a succesful early precursor to Space Vehicles, recently renamed "Excalibur - Almaz" : A former Russian Reuse Return Vehicle (RRV) which reportedly flew to Low Earth Orbit 2 times, since 1977 and 1978, and was further tested for Sea Landing from 1980-1982, that a new Company, currently headquartered at the Isle of Man, plans to renovate and launch anew.

    The European Space Agency ESA's perspectives in this area were considerably strengthened by the recent entry into force of EU's Lisbon Treaty which explicitly provides, for the 1st time, an EU competence on "Space" activities. And, meanwhile, after the 2008-2009 succesful launches of "Columbo" Space Research Laboratory, and of the "ATV" (Automatic Transport Vehicle"). ESA was already in the process of preparing a renovated, "Advanced Re-Entry Vehicle" (ARD), able to carry to and from the ISS a much bigger cargo (fex. "Hundreds of Kgs of cargo and .. Experiments"), while still eyeing "a Crew Transportation System", after "preliminary Testing .. of several Automated Flights", fex. via "the ISS", as a "possible future development", according to its official data, (which don't seem yet to have been really updtated according to recent developments)..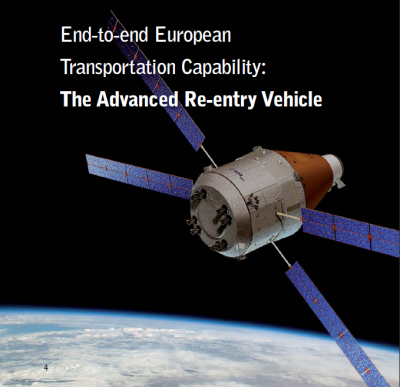 EU Commission's vice-President, in charge of Transports previously, and now of Industry, Antonio Tajani from Italy, replied positively to "EuroFora"'s question, recently in Strasbourg, if he thought that "Europe would ensure an Autonomous Access to Space  during the forthcoming years" : - "In my view, Yes.. I think that we (EU) are pretty able to make it. Europe must have its own Space Policy, according to Lisbon Treaty... I think that Europe will be a Protagonist... if we'll (EU) have the Political Will.. ("This).. is a pretty great Challenge, that Europe must win. I am committed to succeed on that", Tajani replied to "EuroFora"'s question, citting also as other concrete examples GALILEO, GMES, etc. (See earlier "EuroFora'"s Publication : http://www.eurofora.net/newsflashes/news/tajaniindustrygalileo.html ).

    - Today, "EU needs an ambitious Space" policy also "as a Symbol of EU's Identity", (i.e. in order to develop a strong Political Europe), in addition to all the other concrete advantages in enhancing its Economy, Science, Technology, Competitivity, Education, Environment, etc, stressed at ISU's 2010 Symposium ESA's Head of Communication and Knowledge department, Fernando Doblas.

    An obvious motive behind the recent joint anouncement by French President Sarkozy and German Chancellor Merkel of a common will to resolutely develop EU's Access to Space as one of the most important points of the Franco-German 2020 Agenda for a Political Europe, (See relevant "EuroFora"'s NewsReports from Paris)...
----------------------------
Human SpaceFlight : The strongest in People's collective Memory ?
--------------------------------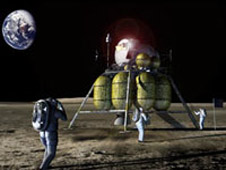 A related NASA 2011 Budget cut, decided at the same time by new US President Obama, concerns the Space "Exploration" programs, where Moon a.o. "Constellation" project is closed, (spending 1,9 billion for its "closeout" next year), while the total Funds allocated to all other particular domains (fex. "Heavy Lift and Propulsion Technology", "Robotic precursor", "Technologic demonstration", "Human Research", etc.) drop down with nearly - 1,5 Billion $ less (from 3,8 Billion $ in 2010, to only 2,3 Billion $ in 2011, plus the "Constellation closeout" cost, estimated 1,9 Billion $).

     In parallel, the Funds for "Science" on Stars/Galaxies etc. ("AstroPhysics"), and on the Sun ("HelioPhysics") diminish or stagnate, and this almost goes also for the "Planets" who stay on their previous, slow growth course  - with the only exception of "Earth" Science (i.e. mainly "Monitoring" for climate and Security), which is alone to grow significantly ..

    These are obvious consequences of a recent Critical Review of previously decided Human Space Flight programs by Experts ordered by new US President Obama.

    But, meanwhile, the interest of International and particularly European Academic community for Human Space Flight, seems, on the contrary, growing :
    F. ex.  ISU itself just started  in Strasbourg a new M.Sc. Program specialized in "Human Space Flight" from 2010-2011.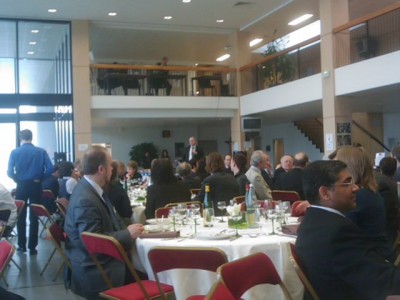 And the choice anounced this week by ISU's President Michael Simpson (USA) for Next year (2011) ISU's Summer Session (a 2,5 Months-long itinerating gathering with many events), after China in 2007,  Spain in 2008, and California (USA) in 2009, was now in favor of Austria's Graz, already famous from the 2005 "Humans in Space" Symposium organized by the International Astronaut Academy, (the latest being on 2009 in Moscow, Russia).

    In Graz is also concentrated Austria's Space Research and Technology, while 2011 coincides with the Anniversary of Graz University and with the launch of Austria's 1st Satellite, destinated to "look at the Stars" (i.e. for Astrophysical Science), said to "EuroFora" Michaela Gitch, Education and Research promotion Officer from the Aeronautics and Space Agency FFG.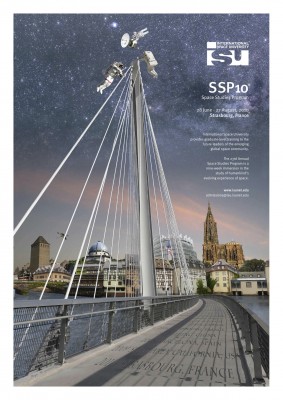 Meanwhile, this Summer's (2010) ISU's Space Studies, which, after many years of a Worldwide itineration, (fex. Adelaide - Australia, Vancouver - Canada, Beijing - China, Barcelone - Spain, California - USA, etc), will be organized in Strasbourg (France) from  June 26 to August 28, directed by Professor Angie Bukley (USA), will include a High profile, exceptional Public Event focusing on a large gathering of Astronauts from Europe and all over the World, as ISU's Dean, Prof. Peeters anounced to "EuroFora".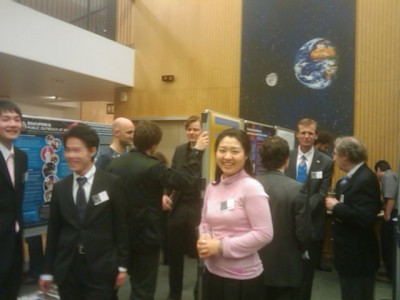 Already, famous Young Woman Astronaut Soyeon Yi, from Korea, (the country of UNO's new Secretary General Ban Ki Moon), currently a Senior Research Officer at the Korean Space Research Center (KARI), who participated at ISU's Symposium, confirmed to "EuroFora" that she will be glad to be present this Summer in Strasbourg.

    This exceptional ISU event coincides with the National Day of France (14 of July),  who has chosen one of the most famous among its Astronauts,  Claudie Haigneré, well-known in Strasbourg as former Minister for EU affairs, after serving as Minister for Research, in order to become new Director of the prestigious Paris' "Cité des Sciences" and "Palais de la Decouverte", destinated to make Science popular.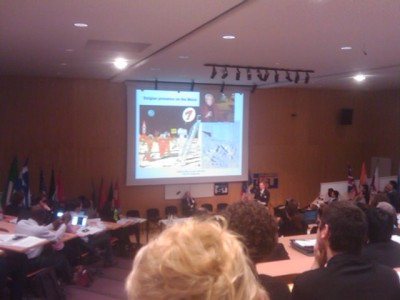 Meanwhile, the forthcoming EU Chair (July-December 2010) : Belgium,  "is the No 1 Country for the number of Astronauts (5) compared to its Population", and this makes "Space", (which is also "a very good vector for Science") "very Popular in Belgium", observed the experienced ISU's Dean Dr. Walter Peeters.

    So, it's naturally speaking about the "Educational potential of Lunar programs",  that the experienced James D. Burke, of the Planetary Society, a long-time friend of famous Science Fiction writer and visionary Arthur Clarke, continued to focus on his well-known dream of Man's inhabited new missions "to the Moon", (both as a vector towards other Planets : Mars, etc., and as a useful natural resource for Earth's population's needs), at ISU's 2010 Symposium.

    Burke's demonstration was exceptionaly reinforced this time also by Young Experts from Israel (Yonatan Winetraub, of Israeli NanoSatellite Association, with his "CubeSat", etc.) , and even the 1st Astronaut from Korea, Soyeon Yi (See supra) :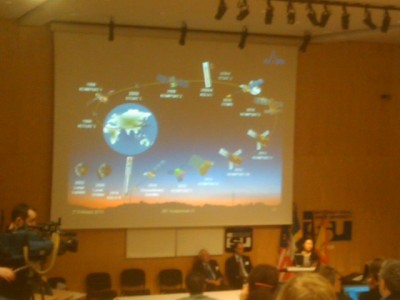 The famous Young Korean Woman Astronaut presented at ISU a specific Space program related to the "preparation for Future Lunar missions", with the participation of not only China, Japan, ESA, NASA, Russia, etc., but also of UNO's Agencies.
                                                                                                                                                                                                                                     Videos about Space Rockets  and Human Space Flight can even impress socially "difficult" Pupils (f.ex. from seasonal Agricultural hard-working families, mainly English-learning immigrants) and motivate them in advancing at their general School curriculum,  as it was artfully described at ISU's Symposium by a motivated couple of Young Teachers working at Texas (USA), close to the Mexican border..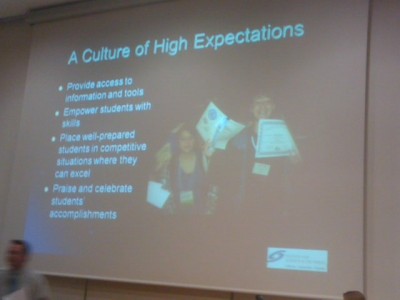 While Northrop Grumman's  Senior Officer Tom Vice, using crystal-clear video evidence, convinced the audience about the vivid impression Space can make on Teachers, but also Journalists, etc.  when they are invited to personaly experience Micro-Gravity or Zero-Gravity phenomena by floating themselves at a weightless ambiance in sub-orbital "Discovery Flight"...

    "EuroFora" asked Burke and other lecturers, who had spoken about "Moon", "Rockets", "Astronauts", etc., while Global Financial Crisis incites Governments to try to make Economies, reducing and/or concentrating Funds, (as. fex. that of new US President Obama on NASA's 2011 Budget : See facts supra), if he thought that such "hard" periods could also be "the Right Time" for more International Cooperation.

    Burke's answer to "EuroFora" was mainly to agree that, in general, "one of the ways" to "Spread Costs" of Space programs (as fex. those concerned by Human Space Flight, etc.) is to share them in International Cooperation, as well as "partly in the Future", i.e. over longer periods of Time, and that might eventually affect several Countries.

    Moscow's Space Research Institute's Director, professor and Academician Lev Zelenyi, replying to "EuroFora"s question, also stressed the "experience" already existing for "Cooperation" at the Russian Academy of Sciences' prestigious body specialized in Space, and cited, as a currently on-going example, also a Space "Weather" effects monitoring Satellite, initially prepared for Balkan Countries, but with which have already started to cooperate various interested Countries, not only Bulgaria but also Ukraine, Poland, etc., while similar intentions were expressed even by Latin American Countries, such as Argentina, Brazil, etc.

    However, as most Government's concerns today are generally focused on how to "generate Jobs", they should also take into account the fact that "if" certain Space-related  programs are implemented, (as those proposed by USA's Burke and his friend Experts from Israel, Korea, etc. in relation to "Lunar" projects, from Education to Economy, Technology, etc), they are able to create many new and qualified Jobs, Burke pointed out.

    But, even the experienced Burke surprisingly had an exceptional lapsus when he spoke about Obama's 2011 NASA Budget : - Regardless of the rest, at least in the specific domain on which we are speaking now : Education, the new NASA Budget is increasing", he thought... The reality, is, unfortunately, at the opposite : The 2011 NASA Budget marks a drop of almost -40 Millions $ ..less on Education than the previous year's Budget, (i.e. down to only 145 million $ for 2011, instead of 183 back on 2010)..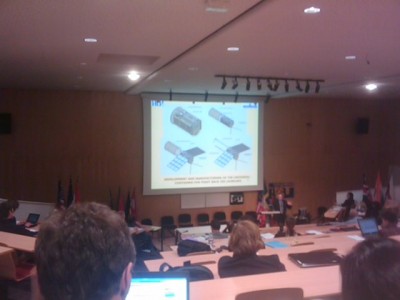 Such facts, obviously give an even greater interest in Proposals similar to that, made at ISU 2010 Symposium's Poster session in Strasbourg by Professor Zelenyi, to "begin preparations for Space Exploration by manned missions" by founding an "International Space Educational" Centre (ISEC) or network, dedicated to  "Costly Projects (which) can be organized only on the assumption of International Cooperation", as "new manned expeditions to the Moon and the 1st manned missions to Mars".

    The proposed ISEC's "prestige" should attract "the Best Scientists, Engineers and Experts", but be "relatively non-expensive", "supported" also  by non-commercial organizations, working "in close Cooperation with Professionals .. involved in preparation of Manned Flights to the Moon and Mars", suggested the Director of Russia's Space Research Center.
 
    Because, "on-going developments of Space Science demonstrate that new manned expeditions to the Moon and the first manned mission to Mars are not far off"", and "it's evident that the majority of future Participants of such Space Expeditsions have already been born", and should be "better prepared to a great Challenge that Mankind will meet in the 21st Century", as Zelenyi observed. F.ex., "current vital issues, such as the development of reliable and low-cost Life-support equipments, New means of .. soft-Landing systems, the Design of Inter-Planetary SpaceShips and their Launch Vehicles, elaboration of Control devices in Distant Space", etc., can become the topics of ISEC students' research or graduation works and Doctoral thesis".

    But, perhaps, the most important is the fact that for People's Memory, Human Space Flight is the most spectacular Dream, and a powerful Symbol, as fex. the No 1 popularity of Man's conquest of the Moon, etc. still prove, 50 years later (See supra)..  
    If USA and Russia already had a chance to use such Symbols in a well known Past, stimulating an "American Dream" and/or a "Russian Star", etc, on the contrary, the EU, today, obviously still has to accomplish similar achievements, and this is particularly clear for all those who really want to develop "a Political Europe", which still needs to forge and share its "European Dream"..
Similar observations could be made, mutatis-mutandis, for China, but also India, Japan, Australia, South Africa, Latin America, and several other Countries or areas.
--------------------
"Nobel Peace Prize for the International Space Station" ?..
------------------------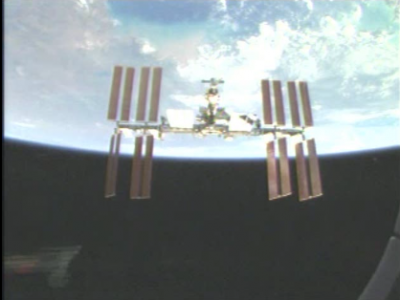 It's may be here, (i.e. on sharing Costs of Space programs by spreading them to a World-wide Cooperation) that new US President Barack Obama's recent decision to complete and keep in shape longer than initially scheduled the International Space Station might,= (at least partially  and in another domain) add an interesting parameter.

    Already welcomed, reportedly, by ESA's Director-General, Jean-Jacques Dordain, and by Russia's RosKosmos Space Agency, the 2011 Budget augmentation for ISS, anounced by NASA's new head Administrator Bolden, is about + 450 Million $ more for ISS,  added to nearly +300 Million $ more for "Flight Support", compared to 2010.

    This might be a good move for International Cooperation in some domains, particularly if EU's wish to give NASA's ISS a more real "International" character, among others, by enlarging it f.ex. also to India, China, S. Korea, etc., is met by the US Authorities.

    Because the number of Global Space Players is, indeed, growing, as shows f.ex.  EU's 2010 decision to allocate GALILEO Satellite Navigation System's contracts for delivery in 2013, while Russia's GLONASS "is due to become Global on June" 2010, as ISU's Professor Tolyarenko confirmed  to "EuroFora", and USA already started to prepare a new, more performant generation of "GPS 3", (etc).

    ISS-related prospects made NASA's Public Outreach deputy Administrator, Alan Ladwig, suggest, at ISU's 2010 Symposium in Strasbourg, (Headquarters of the CoE, whose new Secretary General, Thornbjorn Jagland from Norway, is also the current President of the Nobel Peace Prize Committee, which recently honored new US President Obama : See fex. Jagland's statements to "EuroFora" shortly after that decision), smiling, that, in fact, people should seriously examine a possibility to eventually give a new "Nobel Peace Prize" to the International Space Station itself...

    But, the obvious big Question is : - "What for ?"  I.e. what could be the main real  mission for the Massive "come and go" around the ISS unexpectedly scheduled for the next  few Years by Obama's 2011 NASA Budget ?

    "Earth Science" is the only Scientific area wich gets some trangible augmenation in NASA's 2011 Budget (+ 380 Million $ more, compared to 2010). And "Space Technology" seems to augment for + 400M $ more than it had before, (while "Aeronautics Research", on the contrary, remains practically stagnant).
    Added also to other converging indications, all this appears to boil down towards a more "Earth-focused" Strategy, with more Earth Observation, Biology, Materials, "Greener" AeroSpace activities, Environment and Climate change, etc.   
Considering the large importance that EU's current "GMES" program ("Global Monitoring for Environment and Security" : headquarted in Italy, Rome, at ESRIN) takes, (fex. See EU Commissioner Tajani's replies to "EuroFora"'s questions, in earlier 2010 Publication), this seems to facilitate eventual coopeation in Earth Observation and/or Environment/Climate issues, added to extended Experiments on Biology, Health, new Materials, etc.    
Thus, fex., Space Consultant Axel Bergman, who works closely with the Pharmaceutical Industry in France but cooperates also with the European Austronaut Centre at nearby Cologne (Germany), told "EuroFora" and other ISU 2010 Symposium participants that, even if he hasn't got yet concrete Numbers, he really has "a god-feeling that BioMedical Tests' importance is gonna grow at the ISS", (also transported by EU's ATV to Columbus' Labo on payment by American, European or other Countries' companies).  
 While, at another area, ESA could reportedly be ready to decide continuing a common EU - USA Ocean altimetry Satellite with "Jason 3", which might be launched on 2014, to keep contributing Data for GMES.

    However, Environment, despite appearances at first sight, might not really be the main issue in the forthcoming years, other Facts indicate :

    F.ex. NASA's 2011 Budget for "Environmental compliance and restoration" drops down with - 50 Million $ less, (from 448 to 397). And the new US Administration reportedly cancelled this month a "Weather Satellite program" initially scheduled with the participation of Nothrop Grumman ("NPOESS" for "Polar operational Environmental Satellite system").

    So, the apparent Logic behind hard economies on  Space "Exploration" (affecting also related "Science" and "Education" : See Facts supra), contrary to a greater Orbital focus Earthwards, coupled with "Technology", (See also supra), could be a Strategy shift towards Massive "Tests" on Biology, Climate, Materials, etc., as well as Security issues.

This might obviously go on at least as long as ISS's life is artificially extended more than initially scheduled.

But, what's next at the Horizon ?
***
(NDLR : The text naturally remplaces initial Data earlier send to "EuroFora"'s Subscribers/Donors. Please check for changes).
***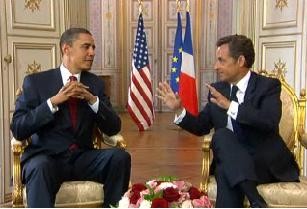 La Turquie, test-clé d'Independance de l'Europe face aux USA, les aménant de chercher en commun des nouvelles idées pour se mettre d'accord ?  
 Le débat, amical mais clair, entre les Présidents Américain et Français, Obama et Sarkozy,  la veille des elections européennes du 7 juin 2009, a montré que la question controversée sur la démande de la Turquie d'entrer dans l'Europe est actuellement le point central et le test le plus pertinent de l' indépendance de la France et de l'Europe par rapport aux Etats Unis.   
 Les electeurs européens, aussi bien en France qu'ailleurs en l'UE, auront une seule chance à trancher, ce dimanche 7 juin 2009, en choisisant leurs eurodéputés pour la période 2009 - 2014, car après ca risque d'être trop tard, vu que tous ceux qui suivent les affaires européennes dépuis des décennies savent qu'en réalité, le moment des décisions sur la Turquie viendra au plus tard en 2013, date rétenue dépuis longtemps pour une importante révision des "Perspectives Financières" de l'UE qui reflètent des choix Politiques fondamentaux.

    Le Président français, (récement encore représentant de l'UE, dans laquelle il joue un rôle important, ensemble avec la chancelière allemande Merkel, et autres leaders européens, ayant une influence notable auprès des Citoyens Européens, comme les derniers sondages montrent), réagissant à la repétition, par le nouveau Président Américain de la vieille position traditionelle de l'Washington poushant toujours vers la démande de la Turquie d'entrer dans l'Europe :

     - "Je ne peut pas laisser détruire l'Europe, (qui) est un élément de stabilisation du Monde", réponda Sarkozy. "J'ai dit au Président Obama que pour moi il était très important que l'Europe ait des Frontières", a-t-il souligné, confirmant la position Franco-Allemande commune, récemment rappellée ensemble avec la Chancellière Merkel.

    - "Il y a une différence (entre France/EU et les USA)...  sur les modalités. La position traditionnelle des Etats-Unis d'Amérique, c'est l'intégration" de la Turquie au sein de l'UE. "C'était la position du Président Bush, du Président Clinton, de tous les présidents américains".     
- "La mienne vous la connaissez : Ce n'est pas l'intégration dans l'Union Européenne. Mais j'ai proposé que nous réfléchissions, l'Europe, la Russie, la Turquie à la création d'un Espace Economique et de Sécurité en commun", a ajout Sarkozy rappelant son invitation de créer quelque chose de neuf et mieux adapté.

    Mais, "cela ne veut pas dire qu'il faut repousser la Turquie dans les ténèbres. La Turquie est un allié dans l'OTAN, (et) une Passerelle entre 2 Mondes, voilà quelle est la meilleure modalité. C'est cela dont nous avons parlé", revela-t-il. Si "nous avons une Différence sur les Modalités, nous n'avons pas une différence sur l'Objectif : Faire de la Turquie un élément de Pont entre l'Orient et l'Occident", Sarkozy assura Obama.

    - "Laissez-nous au moins une légère divergence sur un sujet, cela vous permettra de bien réfléchir pour les prochaines échéances", ajouta Sarkozy en réponse à un journaliste de l'opposition Socialiste qui avait soulevé la question de la Turquie, en la melant (comme un lobby turc notoirement essaie de faire pour exploiter la manipulation de quelques Arabes, la Civilisation Historique desquels fût pourtant detruite par l'ex-empire Ottoman-Turc) avec une question tout à fait différente : celle de la voile islamique (!), avec laquelle elle n'a rien à voir.

    - "Sur la Turquie, Monsieur, vous appartenez à un journal ...qui a appelé à voter, au moment de la présidentielle, pour mon adversaire.... Quel était votre argument à ce moment-là ? Vous disiez : « Attention, Nicolas Sarkozy va trop s'aligner sur les Etats-Unis d'Amérique », et je vois que deux ans après vous dites : « Ah, il y a un sujet sur lequel le Président Obama et le Président Sarkozy ne sont pas d'accord » Cela devrait vous rassurer, Monsieur" , réponda-t-il, en faisant sourire même le président américain, (et laissant entendre que trancher définitivemen la controverse sur la Turquie pourrait être au coeur de l' Elections Présidentielle  en France pour 2012 )
-------------------
    - "Ce que les Etats-Unis peuvent faire, c'est encourager ....TOUT PROCESSUS qui permettra à la Turquie d'être convaincue qu'elle a des amis, que ce soit la France, les Etats-Unis ou l'Europe", réponda Obama, apparamment n'excluant pas, a priori, le point de Sarkozy sur la création d'un espace commun d' économie et sécurité entre l' UE, la Turquie et la Russie (v. supra).

    "Les Etats-Unis ne sont pas membres de l'Union Européenne, nous ne pouvons pas dicter si un pays quelconque adhère ou n'adhère pas à l'UE"; Obama a admis, parlant de la "Turquie, (sur laquelle) le Président Sarkozy et moi nous sommes entretenus sur ce dossier avant".  "Maintenant le Président Sarkozy représente un Etat membre de l'Union Européenne et il a une position différente", opposée à démande turque d' entrée dans l'UE.    
 "La Turquie par contre est un allié de l'OTAN très important. ...La Turquie a fait connaître son intérêt à une intégration croissante avec l'Europe et nous (USA) encourageons cette attitude. J'ai souvent dit que l'adhésion de la Turquie à l'Union européenne serait importante".     
"Mais, (en tout cas) je crois qu'il est important de noter que le Président Sarkozy appuie fortement le travail que la Turquie fait au sein de l'OTAN et je crois qu'il s'intéresse à une intégration économique plus intense avec la Turquie". (Ce qui pourrait se faire, justement, avec un "parténariat privilegié" adéquat et/ou l'idée de créer un espace commun EU - Turquie - Russie  : V. supra).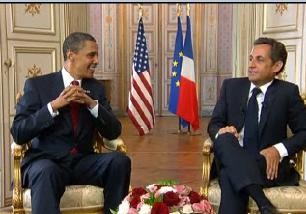 Est-ce que l'effort du Président de la France, soutenu par la chancelière Allemande et l'opinion publique de la plupart des Citoyens Européens la-dessus, de trouver un accord entre l' Europe et l' Amérique sur la Turquie, en proposant de sortir des chemins battus et créer du neuf, en etablissant "un Espace Commun d' Economie et Sécurité" (v. supra), suffira de calmer un lobby traditionaliste à quelques bureaucrates de Washington DC, datant dès l'époque de l' ex-"Guerre Froide", beaucoup plus ancien que le nouveau Président vénu de l' oxygen des "grands lacs" près de Quebec du Canada : Chicago, connu comme "la ville du vent" nouveau ?
-----------------------------------------------------------------------
Le Prémier Ministre Fillon appele à "faire vivre le Rève Européen"
------------------------------------------------------------------------  
 Seul l'avenir le dira. Mais, entre-temps, l' Europe ne peut plus attendre et perdre encore plus du temps et d'energie vitale sur la démande controversée de la Turquie, qui a notoirement menacé d'arrêter l'édification européenne dépuis 1999-2005 :

    Comme le Premier Ministre François Fillon a clairement dit, un peu plus tôt cette semaine, dans un discours éloquent sur les enjeux de l' Election Européenne de ce juin 2009 (V. résumé envoyé aux adhérents d'"EuroFora"),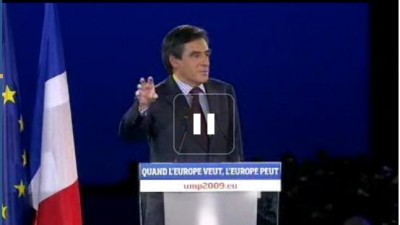 - "S' abstentir, c'est laisser à la Technocratie le pouvoir de dominer" la vie des Citoyens européens, qui devraient prendre l' Europe en branle le corps", et commencer d'agir par toutes les voies politiques démocratiques, prennant conscience que "l' Europe c'est Nous, (i.e. les Citoyens), et "Pas eux !" (i.e. les Technocrates), selon une image symbolique.

    - "Je me souviens de l' Europe obligée de faire Silence, (au Passé), quand "les Grands" décidaient de son sort", rappela Fillon.  "Je me souviens de l'Europe divisée, de l' Europe dominée" par d'autres, '"de l'Europe appauvrie""Je me souviens de Berlin occupé, muré, divisé comme un butin qu'on tire aux dès. Je me souviens du Silence de Varsovie. Je me souviens du Silence de Prague"..   
 - "Nous, les Européens, nous avons bien failli sortir de l' Histoire, et dévenir, pour du bon, les dès d'un jeu joué par d'autres".     
- "C'est pourquoi je ne peux pas concevoir une Europe qui ne serait pas Souveraine, une Europe qui ne serait pas Maitresse d'êlle-même", aujourd'hui et démain, martella-t-il. "Le Monde s'est habitué trop longtemps à une Europe faible, que l'on pouvait traiter avec condescendence".  
 - "Le moment est venu de rélever le défi : Le moment est vénu de montrer que, nous les Européens, avons décidé d'être débout, et d"être nous-mêmes".     
"Dépuis 2 ans (i.e. dès les Elections Présidentielles de 2007), avec Nicolas Sarkozy, nous avons oeuvrer pour relever notre Identité Nationale (de la France), dont nous sommes fiers. Et bien, l'' Identité Européenne mérite tout autant, elle qui prolonge les Génies de nos Nations".


    - "Je crois à la présence d'une Civilisation Européenne", déclara Fillon, largement applaudi par des milliers de personnes ayant entendu une série des Musiques entremelées characteristiques de differents pays européens, et des images lumineuses géantes avec des extraits symboliques de Goethe, de Victor Hugo, de Shakespeare, et d'autres auteurs italiens, espagnols etc celebres à travers l'histoire.

    - "L' Humanisme, la tolerance, la Liberté de la Conscience. La Solidarité. L' Etat de Droit. La confiance placée dans la Science, l' Innovation, le progrès. Toutes ces Valeurs, elles disent clairement où commence et où s'épanuit cette Europe" que nous voulons, observa-t-il.

    En harmonie avec les positions soutenues par le Président du Parlement Européen, eurodéputé allemand, Hans Gert Poettering, et la Chancelière allemande, Angie Merkel, sur la "Dignité Humaine" au coeur des "Valeurs de l' Europe" moderne. Ce qui fait qu'" avec un Elargissement sans fin", même vers la Turquie, c.a.d. "sans Frontières, l' Europe Politique, l' Europe des Valeurs et l' Identité européenne" ne peuvent pas exister, comme a dit aussi le Président francais, Nicolas Sarkozy, recemment à Berlin.

    Fait important : Cette observation de Fillon a été faite le jour-même que le Comité des Ministres du Conseil de l'Europe à Strasbourg concluait une semaine de réunion semestrielle sur les Droits de l'Homme, qui a examiné un grand nombre d'affaires des pires Violations (pex. Tuéries scandaleusement non elucidées, Persecutions et privations arbitraires de Liberté, personnes portées "Disparues", Tortures et "traitements inhumains et degradants", Usurpations illégales des Maisons et Patrimoines privées de Réfugiés, etc., pour lesquelles la Cour Européenne a condamné la Turquie dans plusieurs jugements, dont on attend toujours l' application)...

    - "C'est pourquoi un Elargissement sans fin de l' Europe ne peu pas être un objectif en soi. Parce qu'il ne peut que diluer l' élan européen, et detruire l' Idéntité Européenne"

    -" Voilà pourquoi nous disons, très sereinement, que nous ne sommes pas favorables à l' adhésion de la Turquie dans l'UE", conclua le Premier Ministre de la France; largement applaudi par des gens qui soulevaient le drapeau européen.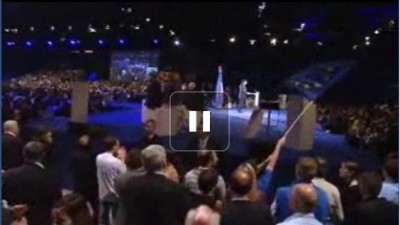 "Ce n'est pas un Slogan de meetings. Ce n'est pas la marque une "Hostilité" au régard de cette grande Nation (i.e. la Turquie), qui doit être étroitement associée à l' UE", pex. par un partenariat priviliegié, ou une autre formule adaptée.

    - "Mais il lui faut des Frontères à l' Europe, il lui faut des Frontières stables, qui lui permettent de renforcer son Unité et son Identité", a-t-il expliqué.

    - "Alors, c'est au nom de cette Europe charnelle, que je m'engage avec vous. Mais, cette Europe-là, ne peut avancer qu' à une seule Condition : celle de l' Europe Politique".

    "Nous avons longtemps douté qu'elle soit possible : Aux années 1970, Henri Kissinger (le notoire ex- Secretaire d'Etat Américain aux affaires etrangères, consideré, à tort ou à raison, comme chef d'orchestre du renversement du Président Allende en Chili, de l' invasion militaire de la Turquie à Chypre, etc), disait, avec une ironie blaissante : - "Ah, l' Europe ? : Quel numero de Télephone ?..." Pendant les 6 mois de la présidence française de l'UE, (7-12/2008), Henri Kissinger n'aurait aucune difficulté de rejoindre l' Europe !", observa-t-il en suscitant des nouveaux applaudissements nourris.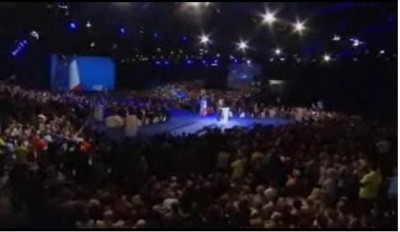 "J'au vu l' Europe Politique se dresser, et prendre ses responsabilités : L' Europe Politique c'est celle qui agit sans délai, et avant les Etats-Unis, pour stopper des faillites Bancaires qui s'enchaînent, qui nous auraint plongés dans une Depression pire que celles des années 1929. L' Europe Politique est celle qui, maintenant, doit mettre un fin à un Capitalisme Financier, qui a perdu sa boussole. L' Europe Politique est celle qui a réussi d'etablir le règles les plus ambitieuses au Monde dans la lutte contre le rechaufement Climatique. Samedi, nous celebrons l' anniversaire du debarquement de la Normandie, où nos amis Américains ont pris une part décisive à nôtre libération. Mais, en décembre 2009, à la Conference (Mondialle) de Copenhague, c'est nous les Européens, qui allons leur montrer le chemin vers cet avénir commun" pour la sauvegarde de l'Environement naturel. L' Europe Politique c'est celle qui, en août 2008, lorsque la Guerre faisait rase entre la Russie et la Géorgie, s'est interposée pour imposer la Paix. Et c'est elle qui doit, maintenant, se doter des moyens Militaires de se défendre par elle-même, pour elle-même", ajouta-t-il en évoquant clairement la création d'une Défense Européenn Autonome.
    "L' Europe Politique c'est celle qui doit bâtir des grands champions Industriels Européens, comme nous avons fait, auparavant, pour (l'avion) Airbus ou (la fusée) Ariadne. C'est celle qui doit exiger la Reciprocité dans les rlations Commerciale avec nos grands partenaires", sans Dumping Social ou Environmental, ni autre Concurrence Deloyale. "C'est celle qui doit se doter comme objectif d'être "le Continent de l'Esprit", réunissant les plus grandes Universités du Monde, en multipliant les Connexions, entre Scientifiques et étudiants."

    "Nous respecterons nos engagements, jusqu'au dernier", souligna le Premier Ministre de la France, peu après que les candidats-eurodéputés de la coalition Gouvernementale (UMP : Mouvement pour la Majorité Présidentielle) ont signé solennement, devant plusieurs milliers des Citoyens, une spectaculaire pancarte-géante avec "7 engagements" pour les Elections Européennes du 7 juin, auxquels figure aussi l'engagement de "s'opposer à l' adhésion de la Turquie dans l'UE".

     - "Parcque ce respet des engagements est une exigence si nous voulons rétablir la Confiance entre les Responsables Politiques et les Citoyens", conclua Fillon, la veille de ces Elections Européennes de juin 2009, après les Abstentions Majoritaires de 1999 et 2004, suivies de 3 "NON" à 3 Euro-Réferenda dépuis 2005, (dates auxquelles, quelques gouvernements du Passé, avaient donné le statut d'un "Candidat" et commencé des "Négotiationa d'adhésion" avec la Turquie, suivies d'un blocage sans précedent de l' édification européenne)..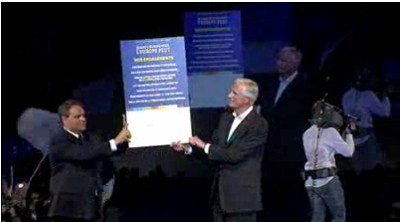 "Nore Europe n'est pas n' importe quelle Europe : L' UE Technocratique n'est pas la nôtre. ... L' UE sans Frontières n'est pas la notre. L' UE desincarnée n'est pas la notre". "Nous portons une idée de l'Europe" qui "n'est pas celle des Statistiques et des Bureaux(crates). L'Europe ce n'est pas qu'une Monnaie. Ce n'est pas qu'un Marché. économique".

- "L' Europe c'est d'abord une Culture. L'Europe c'est une Histoire", a-t-il dit, largement applaudi.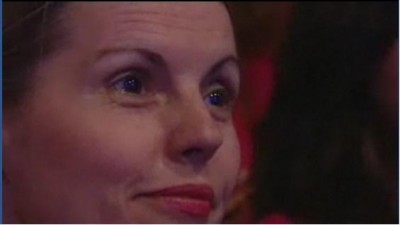 "L'Europe c'est une rencontre entre des Nations qui sont Millénaires et qui sont Brillantes. L'Europe c'est Paris. C''est Madrid. C'est Prague. C'est Londres. C'est Rome. C'est Varsovie. C'est Berlin. C'est Vienne. C'est Athènes : Quant on énonce ces Villes, alors on "sent" nos Héritages et nos Cultures entremelées qui circulent dans nos veines".

    - "Je suis Européen, parcque profondément Français, je sais ce que je dois aux influences de l' Atlantique et de la Méditerannée. J'aime ces Traditions qui offrent à chacun des nos Nations leur éclat. .. J'aime ses saveurs, ses paysages divers. Ils sont également miens, ou, plus précisement, je suis également fait d'eux. Je suis Européen, car, Français, j'aime l' Europe ouverte vers l' Amérique, vers l'Orient, vers l' Maghreb. J'aime les quais de Vénise, ceux d'Amsterdam. J'aime les quais de Thamise où sont vénues pendant des siècles s'amasser les richesses et les nouveautés du Monde. J'aime l' Europe curieuse. L'Europe qui rêve des lointains : L' Europe de Vasco de Gama, de Magelan. de Bougainville, de Charcot, de Monot... Cette Europe qui, aujourd'hui, s'élance vers l' Espace. Je suis Européen parce que Français, j'aime l' Europe qui prospère et qui invente. J'aime l' Europe des Trains à Grande Vitesse. J'aime l'Europe des Satellites et des Fusées. L'Europe de la Mode et des Atéliers d' Artistes. L'Europe des Grands Laboratoires, des Ingéniers. des Entrepreneurs, des Grands Architèctes, des Traditions Ouvrières. Comme rançais, j'aime l' Europe qui dit "NON" à la Tyrannie et qui se soulève à l'appel de la Liberté", a-t-il dit en

 
"Je me sens lié à ces femmes et ces hommes sans nom, qui ont levé la tête, et qui ont sécoué le joug sous lequel .. on les avait fait pliér", dit-il en évoquant pex.. la Révolution Française de 1789, le Siècle des Lumières, l'appel du Général de Gaulle contre l'Occupation NAZI, et les pires heures obscures qu'un  "Fascisme" ou "Communisme" devoyés, suivies de la Guerre Froide avaient plongé l'Europe au Passé.

"Ils sont des millions, ces Héros Anonymes de notre temps, que nous croisons sans le savoir dans nos rues et nos places. Et je ne peux pas concevoir l'Europe sans eux, et sans tous ceux qui poursuivent leur combat contre l'arbitraire et le fanatisme", ajouta Fillon. Faisant pex. rappeler un récent Film allémand, primé au Festival de Vénise, qui décrivait la vie d'un cadre à l'époque d'un régime oppressif, qui avait été chargé d'espioner la vie privée et familiale d'un couple soupçonné d'être dissidents politiques, mais, ému par leur honnêteté humaine et leur sacrifice pour sauver d'autres, a preferé risquer sa place et sa propre liberté pour les sauver, sans même qu'ils le sachent, condamné dépuis à faire un bas boulot d'anonyme perdu dans la foule..


"Quand je vois l'Europe moderne, je vois les résultats de l' Audace de ces hommes qui ont brisé les traditions de conflit et de violence. Je vois des nations soudées autour d'une monnaie unique et protectrice. Je vois 27 jeunesses appelées de grandir ensemble, sans défiance. Je vois 27 peoples unis, qui nous interdisent de jouer les blazés ou les indifférents".

Jettant "un régard lucide sur les errements de la construction européenne", Fillon a observé que "l' Europe n'a pas bésoin d'être idélisée pour être ce qu'elle est ; Cad. une aventure humaine, avec ses faiblesses et ses forces".

"Vous voulez que l' Europe agisse ? Fixez-lui des objectifs clairs. Vous voulez la Démocratie ? Agissez en Citoyens. Vous rédoutez la prétendue Bureaucratie des Bruxelles ? Alors renforcez, par votre Vote, les instances élues au Parlement Européen" qui sont chargés de la contrôler.

- "Si nous voulons faire vivre "le Rêve Européen", .. alors nous avons tous le dévoir de l' engagement", a-t-il conclu, appelant de "engager pour le drapeau tricolore et le drapeau étoilé, car ils symbolisent tous les deux la fierté de nôtre nation et la force de nôtre union".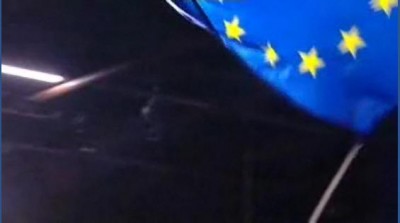 Polls