Home

newsitems

ECHR President Costa +CoE Chair Swiss Justice Minister to EuroFora: Interlaken + Human Rights Future
ECHR President Costa +CoE Chair Swiss Justice Minister to EuroFora: Interlaken + Human Rights Future
Friday, 19 February 2010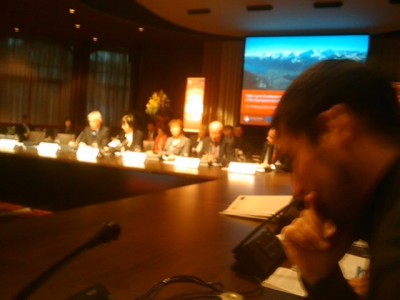 * Interlaken/- "Hopes" to "receive soon Positive Replies from (CoE's Member) States", mainly on some "serious "Problems Incompatible with Human Rights", which overload ECHR with many "Well founded" but "Repetitive Applications", were expressed by ECHR's President, professor Jean-Paul Costa, replying to "EuroFora"'s questions at the Press Conference which concluded Interlaken's PanEuropean Ministerial Summit on "ECHR's Future".
Costa told us that he based his hope mainly on the ''Political Level" of the Interlaken event, echoed by the CoE's 2010 Chairwoman-in-office on Justice affairs, Swiss Justice Minister Eveline Widmar-Schlumpf, who also denounced, in reply to "EuroFora", those "Major Structural Problems" with "extensive Human Rights Violations", which provoke, "for years and years", many pending cases, when a State persists in its failure to execute ECHR's judgements (See infra).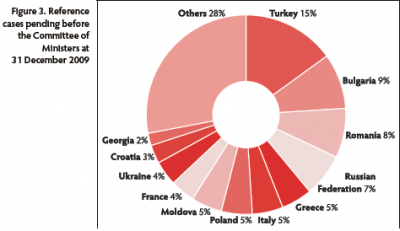 In consequence, CoE's Committee of Ministers, in charge of supervising ECHR Judgements' execution, accumulated an overload of Non-implemented cases of "Systemic Problems", called "Reference cases", which threaten to undermine the efficiency and credibility  of the PanEuropean mecanism for Human Rights' protection, much more than the growing influx of new cases, whose necessary management shouldn't restrict ECHR's cornerstone : Victims' Right for Individual Application to Strasbourg's Court, as many INGO's warned (See infra).

 No 1 comes largely Turkey, with 15% of such "Reference Cases" Pending for Execution of ECHR's Judgements, according to ECHR's official data for the entire 1959-2010 period. At a distance of some 50% less, follow Bulgaria and Romania (9 and 8%, respectively). Russia comes afterwards with 7%, followed by Poland, Italy, Greece and Moldova with 5%. Ukraine and France are at 4%, Croatia at 3%, and Georgia at 2%, (etc. : See Graphic).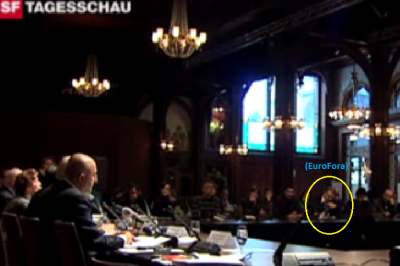 Comparing Citizens' Access to ECHR with States' lack of ECHR Judgements' execution, "EurroFora" questioned the risk of excessive practical obstacles to Citizens' Access  by an unclear yet "Filtering mecanism", as NGO's denounced (See earlier "EuroFora"s publication), and the absence of any efficient "Tool" vis a vis the differend problem of "Repetitive" applications provoked by a State's refusal to apply ECHR's Judgements :
 - At Interlaken, in  "..the intervention of INGOs, there was a call (by INGOs' President Haydt) to pay attention to a "Filtering Mecanism", and how it could be eventually organized". Because, "in the (Interlaken) Declaration, there is a reference to a "Filtering Mecanism", but without concrete details. Are you sure that there will be enough Safeguards to guarantee that European Citizens, in real practice, not only on declarations of principles, won't lose the Accessibility and the Right of individual application to ECHR, which is a fundamental principle (of the PanEuropean system for the protection of Human Rights), as the (Interlaken Declaration) clearly undelines ?", asked "EuroFora".

- Meanwhile, "another problem, which was largely evoked, is that of the so-called "Repetitive cases", which are more than 50%" of admissible applications. "It's a New Problem in the History of ECHR, as, recently, there are many (such cases) that are outstanding.  But, do you have the feeling that you have (enough) Tools to tackle this Problem, or, on the contrary, do you feel that these tools lack, and that something should be done after (the) Interlaken (Conference), because Interlaken raised this question ?", "EuroFora" added.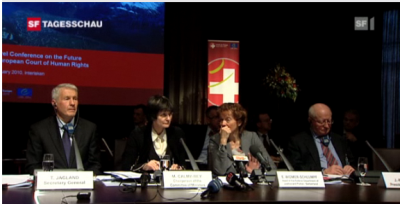 ------------------------------------------------------
ECHR's President Costa to "EuroFora" : - "On Filtering, there are many possible constructions"
----------------------------------------------------------
- "I can reply to both of your 2 Questions", reacted ECHR's President, professor Jean-Paul Costa, on "EuroFora"s query

- "As far as Filtering is concerned, there are many possible constructions, as several Ministers' interventions of many Countries showed here : Some, which can be set up from now, without necessarily changing the system, and others, which are more ambitious, and, therefore, at much more longer term".

- "In the framework of the Road Map ("Action Plan"), it's up to the (CoE's) Committee of Ministers, and other InteerGovernemental bodies, to examine such possibilities", he acknowledged.
                                                                                             
- "F.ex. the procedure of one, Unique Judge, set up by Protocol 14, which, as (CoE Chairwoman, Swiss Foreign Minister Calmy-Rey) said, was ratified here (at Interlakebn) by the Russian Minister of Justice (Konovalov) just before the Conference starts, will enter into force, for all (CoE''s 47 Member) States on the 1st of June".

- "The one (1) Judge system already is a kind of "Filtering", since the unique Judge will have the task to reject applications obviously ill-founded", Costa explained.

"Inside the Court, we have thought about that since long, naturally, so that we shall set up a System for unique Judges, assisted by Rapporteurs, i.e. (ECHR's) Registry's Members, and may be a Rotation system in order to avoid for the same Judges to be always affected in less interesting tasks, but that's internal details, easy to solve'

- "On the long term, Filtering could be more ambitious : F.ex.. we could imagine that an Additional Judicial Corps, composed, f.ex. by Young Judges, or National Jurists or Judges, could be put at the disposal of ECHR, in order to free ECHR from the most Simple affairs, allowing it to focus on the most important cases", he suggested.


    In addition, Protocol 14, also establishes a "New Condition" for the Admissibility of complaints, asking for the applicants to "suffer a significant Damage" from the alleged violation : 
    - "It all depends on how ECHR will interpret, in its forthcoming case-law, this new clause", (to which many Human Rights INGOs were opposed in the Past), as the Head of Sweden's Delegation to the Interlaken Conference, Foreign Ministry's General Director on Legal affairs, Ambassador Carl Ehrenkrona observed to "EuroFora".  - "So, we (CoE's Committee of Ministers) should better wait to see how ECHR will react" on that point, the Swedish representative advised.
--------------------------
ECHR's President Costa to "EuroFora" on "Repetitive Applications" :
- "The Crucial point" is Timely Remedies by States
----------------------------------------------------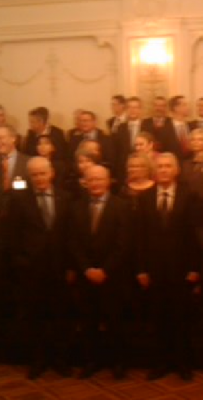 - "As far as it concerns the "Repetitive" Applications, You are right to say that this phenomenon is rather Recent, since some Years, already about 10 Years", particularly there where, "the more ECHR's case-law is established, the more risks appear for applications to become "repetitive", went on to reply ECHR's President Costa to "EuroFora"'s 2nd Question.

- The "Capital -Crucial- point" is that, "if (some) States don't take Measures able to remedy, soon enough, to a Problem, identified (by ECHR) as Incompatible with the European Convention (of Human Rights), then, there is a growing Risk to have many Applicants, maybe Hundreds, sometimes even Thousands, who lodge Similar Applications, which are Well - Founded, but that the ECHR could avoid to be oblged to examine", one by one, anew, he denounced.

- "Here, one of the means to remedy to that, are, naturally, the "Pilot - Judgements", where, as you know, since several Years, we (ECHR) started  fex. by cases concerning Poland, (in fact, in parallel with Cyprus', i.e. ECHR's oldest Human Rights' Violations cases), but this is a real Problem for all (CoE's Member) Countries" :

- "Pilot Judgements consist into identifying a problem, and to ask to the (CoE's) Committee of Ministers and to the respondent State to take (General) Measures so that all other identical ("clone") applications are "Freezed", and, finally settled at National level, under (CoE's) Committee of Ministers' supervision, to avoid giving to the ECHR a Repetitive job".

- "The Mecanism of Pilot Judgements, will, certainly, be developed further, during the forthcoming years, and the (Interlaken) Declaration clearly refers to that"'; Costa anounced.

- "'There are, naturally, also less numerous "Repetitive" Cases, which don't give necessarily birth to "Pilot Judgements", but, at any case, the Appeal made by the (Interlaken) Declaration to the "Subsidiarity" is very clear :
    
     - '"It's up to (CoE's Member) States to settle, at a National level, these Problems, without waiting from the ECHR to render Repetitive Judgements".

    - "And, here, I have good Hope, that, really, mainly because of the Political level of Interlaken's Conference, and to the Political Commitment it gave, we shall soon be able to receive Positive Replies from the (CoE's Member) States", ECHR's President concluded.
-----------------
    Strong confirmation of Principles also by the Chairwoman of CoE's Committee of Ministers in Justice and Home affairs, Swiss Minister of Justice, Eveline Widmer-Schlumpf, in reply to "EuroFora"'s 2nd question :

 - "Your Question concerns Major Structural Problems, where many applications are well-founded, because of Extensive Violations" of Human Rights, she denounced from the outset.

- But the question is to align the administration, law and practice in the Country concerned, according to the European Convention of Human Rights.  Because,  if the Problem continues to exist, in consequence, "for Years and Years", more and more Applicants find a "difficult situation"..

Therefore, it's better to find a Solution Domestically", by bringing the issue "back to the Country" concerned, she concluded.
---------------------------------------------
EU Commission's vice-President Reding :
- "Use all Tools to ensure Compliance" : "Zero Tolerance for Violations !"
---------------------------------------------------
    * Meanwhile, EU Commission's vice-President, Viviane Reding, in charge of Justice and Citizenship, referring to Interlaken Declaration's call "for an effective Implementation of the (European) Convention (on Human Rights) at National level, and for the full Execution of ECHR's Judgements", stressed EU's willingness to "contribute to address such calls through a Rigorous Policy" ;

- "My ...Priorities" will be "to ensure that ... Propose(d) Legislation, .. must fully respect the Charter of Fundamental Rights", "that the Final Texts ..are in line with the Charter", and that it "applies .. also to Member States when they implement EU Law"; she promised.

 - For that purpose, "I will use all the Tools available under the (EU) Treaty to ensure Compliance with the Charter of National Legislation... I will apply a "Zero Tolerance policy" on Violations of the Charter. I will certainly not shy away from starting Infringement Proceedings, whenever necessary", Reding warned.

Because, "the Key Objective is to render as Effective as possible the Rights enshrined under the Charter, for the benefit of all People living in the EU", since "this is Indispensable to reach a High Level of Integration in the area of Justice, Freedom and Securiytu, as well as for the Credibility of EU's External Policy on Human Rights", she observed.

- "The (EU) Charter entrenches all the Rights found in the (CoE's Pan)European Convention of Human Rights", and "the Meaning and Scope of these Rights are the same as those laid down by the ECHR"

- "The (EU) Charter, however, goes further and alkso enshrines Other Rights.., including Economic and Social rights, . the so-called "3rd Generation" fundamental rights, such as Data Protection, guarantees on BioEthics, on Good and Transparent Administration", etc., she added.

- After the entry into force of EU's Lisbon Treaty, which provides for the "Accession of the EU to the (CoE's PanEuropean) Convention on Human Rights", this "will complete the System of Fundamental Rights' protection", "ensuring that the Case-Law of both Courts - in Strasbourg (CoE) and in Luxembourg (EU) - evolves in step", in order "to develop a Coherent system of Fundamental Rights' protection throughout the Continent". EU's "Accession will ..show that the EU itself, with its 27 Member States, will put its weight behind the Strasbourg system of fundamental Rights' protection : EU's judiciary will become part of the Strasbourg Court's system, and strengthen its Efficiency. This will make Strasbourg even more than it is today the European Capital of Fundamental Rights' protection", Reding promissed.
------------------
    * Similar determination apparently also from CoE's General Director on Human Rights and Legal affairs, the experienced Philippe Boillat from Switzerland, who, speaking earlier to "EuroFora", also stressed that "the implementation of ECHR's Judgements, must be dealt with. Both ECHR's President and CoE's Secretary General  stressed that point. It's absolutely Necessary (fort the CoE) to be Equiped with Means which will allow to Execute the Judgements and to Accelerate this Execution",

    - "Because, as it is well known (that) the Key-stone of the System (of Human Rights' Protetion) is the Implementation : ... a Non-executed Judgement, whatever its interest might be, it will become Non-Existent", he warned.

     - For that purpose, "CoE's Legal Experts (CDDH) made some Proposals, and the Protocol 14, which will enter into force from June this year, is useful, in this regard : .. If a State persists in its refusal to implement an ECHR's judgement, then, we (CoE) shall have also this New opportuniy, for a Collective Complaint to ECHR against the recalcitrant State. But, of course, this will remain as un Ultimum Remedium for us, since the simple Threat to use such a strong measure should be sufficient" to produce results, Boillat concluded, rather optimistically..
-------------------
    - F.ex., "Turkey is a .. "good Client" of ECHR", and it's a "Fact that there are many Well-founded Applications against Turkey" (for Human Rights' Violations), confirmed ECHR's President Costa, in reply to a question raised by a Turkish journalist later.

    - Turkey "comes today 2nd in Applications' Number, (i.e. immediately after Russia, CoE's biggest Country, with a Population of 150 Million People, pro rata to which, Moscow comes in fact only 5th), having More than the Average of Applications per Inhabitant".

    - "Indeed, there are many and various cases concerning Turkey. Several among them are even old cases, because of Delays provoked at the Court". Some of them "concern, f.ex. the so-called "sitation at South-Eastern Turkey", (i.e. the Kurdish issue), "where the Politico-Social situation went somewhat better, but we (ECHR) have not even judged yet cases concerning a period of the Past", so that "a part of such cases have now an Historic interest", he regretted, (considering also the scandalous Impunity of Perpetrators of grave violations, that such peristing delays allow)..

    - In addition, "for the rest, Turkey obviously (still) is a country in Transition. It has had a Military Coup not long ago, (during the 1980ies : a Mlitary Regime having forged even the current Turkish Constitution, that CoE's Venice Commission's Jurists vainly asked Ankara to modify in 2009). And (Turkey) still is a Country where Democratisation's progress is realized Less fast than elsewhere", observed ECHR's President critically.

    It's, indeed, a fact that, unlike many former "Central-Eastern" European Countries, which succeeded, in less than 15 Years (1990-2004), to establish Western-like Democraties and basic mecanisms for Human Rights' respect, most becoming even EU Members, meanwhile, on the contrary, Turkey, despite having got a CoE Membership since the "Cold War" period of 1950ies, is still criticized by EU Parliament's last 4 years' Resolutions (2007-2010) to drag its feet and even mark several "Backward" steps on Human and Minority Rights (i.e. on Freedom of Expression, Torture, Kurdish issue, etc), Democracy (i.e. Political Parties, etc), and Rule of Law (i.e. Constitution, etc)..
-----------------------
INTERLAKEN DECLARATION
--------------------------------------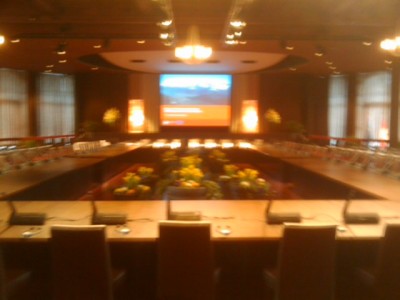 Meanwhile, the official "Declaration" of the PanEuropean Ministeral conferernce at Interlaken, deals extensively, at several points, with both 2 Questions raised at the Press Conference by "EuroFora", (without avoiding, however, some unanswered yet question marks) :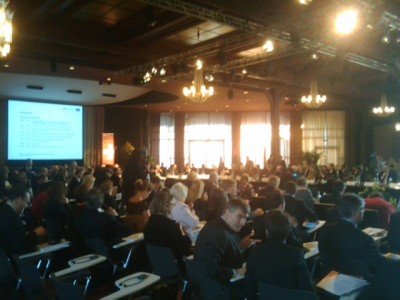 *  Naturally, the "Interlaken Declaration",  adopted by all the 47 CoE Member Countries at a Political level  "stresses that full, effective and rapid Execution of the final Judgments of the Court is indispensable".
For this purpose, it underlines from the outset that "Measures are Indispensable and Urgently required in order to .... ensure the full and rapid Execution of Judgments of the Court and the effectiveness of its supervision by the Committee of Ministers".

In particular, it "calls for enhancing the efficiency of the system to Supervise the execution of the Court's judgments", (i.e. CoE's Committee of Ministers' machinery).

Concerning the "Implementation of the Convention at the National level", the Interlaken "Conference recalls that it is first and foremost the Responsibility of the States, ..and consequently calls upon the States Parties to commit themselves to:... "fully executing the Court's Judgments, ensuring that the necessary Measures are taken to prevent further Similar Violations".

That's why Member Countries must "..implement ..the Recommendations adopted by the Committee of Ministers to help States ..to fulfil their Obligations", while CoE "need(s) to enhance and improve ..other existing mechanisms.., including recourse by the Secretary General to Article 52 of the Convention", which provides for "Inquiries" allowing "CoE's SG" to "request" "any High Contracting Party (to) furnish an Explanation of the manner in which it ..ensures the Implementation" of Human Rights.

Specifically on "Repetitive applications", the Interlaken Declaration clearly "calls upon States ..to: ... "cooperate with the (CoE's) Committee of Ministers, ...in order to adopt and implement General Measures capable of remedying effectively the Structural Problems at the origin of repetitive cases".

As well as to "include all relevant parts of the CoE (i.e. Commissioner of Human Rights, Parliamentary Assembly, Congres of Local/Regional Authorities, Committee to prevent Torture, Constitutional Law Experts of "Venice Commission", etc) in order to present possible Options to a State ..required to remedy a Structural Problem revealed by a Judgment".

But it also " stresses the need for the Court to develop Clear and Predictable Standards for the "Pilot Judgment" procedure (See supra : Costa's reply to "EuroFora"), as regards Selection of applications, the Procedure to be followed and the Treatment of adjourned cases".

After several Critical observations, (mainly on the Time during which well-founded applications are "freezed", waiting for a final outcome to the "Pilot" case), Interlaken Declaration, asks ECHR "to Evaluate the Effects of applying such and similar procedures", vis a vis respondent State's obligation to implement ECHR's judgements.


 Other "Practical" ways might be to "faciliate ...the adoption of friendly Settlements (if Victims accept) and Unilateral Declarations". But only "where Appropriate, within the Guarantees provided for by the Court and, as necessary, with the Support of the Court", in order to avoid possible abuses.


But it also "calls upon the (CoE's) Committee of Ministers to: consider whether Repetitive cases could be handled by Judges responsible for Filtering" Applications, (See supra and infra), a tool which raises several questions, (See, fex. ....)                                                                                                                  

    Particularly on "Supervision of Execution of (ECHR's) Judgments",  the Interlaken Declaration "stresses the Urgent Need for the (CoE's) Committee of Ministers to... "Review its working Methods and its Rules to ensure that they are ...more Effective" , and, (more importantly) to "Develop the Means which will render its Supervision of the Execution of the Court's Judgments more Effective and Transparent".

    "In this regard, it invites the (CoE's) Committee of Ministers to strengthen this supervision by giving increased Priority and Visibility, not only to cases requiring Urgent Individual Measures, but also to cases disclosing Major Structural Problems",
(i.e. precisely those evoked by "EuroFora"'s question : See supra).

    Meanwhile, it "invites the Court to ..continue to identify in its Judgments any Structural Problem capable of generating a significant Number of Repetitive applications".
------------
    * On the "Right of individual petition", the Interlaken "Conference reaffirms the fundamental importance of the right of individual petition as a Cornerstone of the Convention system, which guarantees that alleged violations that have not been effectively dealt with by national authorities can be brought before the Court" in Strasbourg.

    But it also "invites the Committee of Ministers to consider measures", "and to examine in particular under what conditions new procedural rules or practices could be envisaged", "with regard to the high number of Inadmissible applications", (90%).

    In this regard, the Interlaken Declaration "recommends, ..Filtering mechanisms", including for "the Court to put in place, in the Short term, a mechanism within the existing bench, (i.e. without need to change the Treaty), likely to ensure effective filtering", and for CoE's "Committee of Ministers to examine the setting up of a Filtering mechanism within the Court going beyond the Single Judge procedure (already provided by Protocol 14, which will enter into force on June : See supra).

    Naturally, this should be done "without deterring well-founded applications", and only in order to "enable the Court to concentrate on its essential role of guarantor of human rights and to adjudicate well-founded cases with the necessary speed, in particular those alleging serious violations of human rights", the Interlaken Declaration adds, as a kind of safeguard, which, nevertheless, remains obviously vague :  F.ex. who and how could seriously ascertain that an application is "well founded", or not, without even examining its merits ? Until now, the PanEuropean Convention only asks, for an application to be Admissible, that it shouldn't be obviously ill-founded : I.e. considers sufficient a Lower level of Proof at a Preliminary stage...

    Concerns about eventual Restrictions might also be raised on some other points where, stressing a "Shared Responsibility between the States .. and the Court", the Declaration "invites ECHR to : ... apply .. Rigorously (sic) the Criteria concerning Admissibility and Jurisdiction"; to "give Full Effect to the New Admissibility Criterion provided for in Protocol No. 14" and to consider other possibilities of applying the principle de "Minimis non curat praetor"; to "take fully into account its (ECHR's) Subsidiary role in the interpretation and application of the (PanEuropean) Convention", and to "avoid reconsidering questions of Fact ...that have been considered and decided by National Authorities".

    Hopefully, the Interlaken Declaration, "stresses", however  "the importance of maintaining the Independence of the Judges, and of preserving the Impartiality ..of the Court", "calling upon States ..and the CoE to ...grant to the ECHR ..the necessary level of Administrative Autonomy".

    But this doesn't go as far as to speak of a "Budgetary" Autonomy, which, in fact, is the only point on which ECHR still depends from decisions taken by CoE's Committee of Ministers and Secretariat, concerning Financial Ressources' allocation, as its President, Costa, recently observed at his Annual Press Conference, end of January 2010 in Strasbourg..
-----------------------
Interlaken Declaration's "RoadMap" for Human Rights' reforms in the 2010-2020 Decade
-------------------------------
     Meanwhile, Based on the adopted "Interlaken Declaration", the 47 Member Countries practically expect from the Swiss Chair of the CoE to deliver a concrete "Action Plan" to implement on ECHR's Short-term reforms before the Annual PanEuropean Ministerial Summit of May.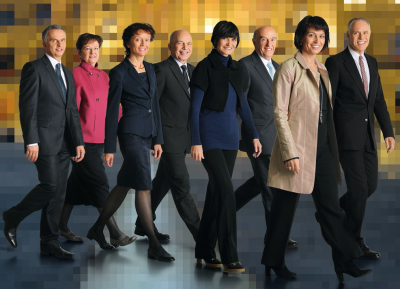 (2010 Swiss Government, CoE Chair, to deliver Action Plan before May)

    But ECHR's President Costa apparently left open "EuroFora"s question on whether a follow-up Political level PanEuropean Conference might be necessary in order to settle the main issues earmarked at Interlaken, particularly on some States' failure to execute ECHR's judgements, provoking many "repetitive" applicaions against persisting violations, (See supra).

     Turkey, who is due to take over the rotating CoE Ministers' Chair on November 2010, asked to organize itself another Conference on ECHR's Reform in Turkey, as PACE's Chair Mevlut Cavusoglou observed, (adding to "EuroFora" that he personally  hoped to be in his hometown, Antalya).

    However, many other CoE Member Countries, including France, as Justice State Secretary Jean-Marie Bockel stressed at Interlaken, find better to give, first, enough Time to ECHR to test the New Tools provided by the entry into force of Protocol 14 from June 2010, (after its ratification by Russia at Interlaken : See relevant "EuroFora"s publication), before deciding when and where should be organized the next Political level Conference on ECHR's reform process, that it also deems necessary, but according to a progressive and well defined "Road-Map", as French Diplomatic sources told "EuroFora".

    Indeed, Interlaken "marks the Start of a Process" for ECHR's reform, to which it "gave New Political Impetus" by more than 30 Justice or other Ministers, stressed CoE's Chairwoman-in-office, Swiss Foreign Minister Micheline Calmy-Rey, who revealed that the 1st crucial Date is "May 2010", when CoE's Foreign Ministers are due to formally endorse the "Interlaken Declaration" and its "Action Plan" which should be completed meanwhile in Streasbourg.

    After that, 2010 Interlaken's Declaration gives "Political Guidance for a Process towards Long-term effectiveness" of ECHR, which earmarks 3 main Rendez-Vous during the present Decade, up to 2020 :

a)  the period between "June 2011" and "before the end of 2011" (i.e. during the Ukranian Chairmanship of the CoE, while the UK will be chairing the Human Rights' meetings, according to the usual practice), in order to conclude the "Implementation" of Protocol 14 and of Interlaken's "Action Plan", both by States and by CoE's bodies.

b) the Time Deadline of "June 2012" (i.e. during Albania's CoE's Chair, while Andorra will be chairing the Human Rights' meetings), in order for CoE's Committee of Ministers to prepare "Proposals for (further) Measures requiring Amendment of the (PanEuropean) Convention" on Human Rights.

c) the period between "2012 to 2015", in order for CoE's Committee of Ministers to "evaluate .. to what extend" the "situation of the Court" might have been "improved", so that, "before the end of 2015", (i.e. between Bulgaria's and Croatia's Chairmanships, just before Cyprus'), it "should decide .. on whethere there is a need for further action".

d) Finally, "before the end of 2019", (i.e. practically during the French Presidency of the CoE), its "Committee of Ministers should decide ...whether more Profound Changes are necessary", or not. If the answer is "Yes", they could be realized during the following "3 G" CoE's Chairmanships by Georgia, Germany (2020) and Greece, followed by Hungary and Iceland.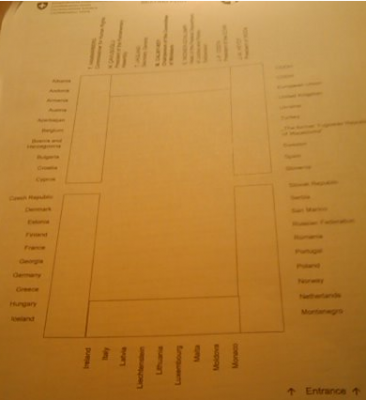 ***

BRIEF NEWS
00:00 - 22.01.2019

00:00 - 08.12.2018

00:00 - 09.07.2018

00:00 - 31.05.2018

00:00 - 26.12.2017

00:00 - 26.05.2017

00:00 - 30.01.2017

00:00 - 14.10.2016

00:00 - 24.09.2016
Statistics
Visitors: 30122796
Archive
Login Form
Other Menu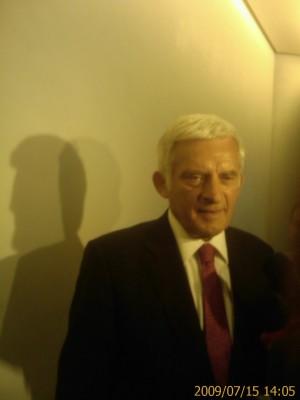 Speaking exclusively to "EuroFora", the New EU Parliament's President, former Polish Prime Minister, ChristianDemocrat/EPP MEP Jerzy Busek, welcomed proposals by EuroFora about innovative ways for EU Citizens to attend EU debates before important final decisions which affect people's lives.

- "We (EU Parliament) must be transparent", Buzek stressed from the outset.  "We must have clear answers also for delicate questions. If we don't touch a problem, you must know why, and when shall we decide in the nearest future".. "Because "we (EU) must think about Europeans, first of all : They don't understand well what is going on in the EU. So, it's our duty to inform them, to make discussions here more interesting".

"EuroFora" congratulated President Buzek for the anouncement he made, from the 1st day of his election in Strasbourg (on Tuesday, 14 July 2009), on his intention to make  transparent debates, exchanges of views, etc. before the final adoption of decisions in EU Parliament's Plenary, when issues are evolving inside Committees, (See earlier publication).

And we reminded, in this regard, that "EuroFora" has been advocating a project for EU Citizens' active involvement in pluralist EU debates before important EU decisions, since more than a Decade : 1997-2007+

- "Thank you. We (EU Parliament), indeed, have exciting debates", Buzek replied. But, in practice, "without a possibility for our Citizens to see them, not even by the Press, the Radio or TV, etc., because it is in Committees", he regreted.
- "But, they (i.e. Media, Citizens, etc) might interact with you, with MEPs, etc, May be we can imagine something", "EuroFora" proposed.
- "Yes, (but) it needs, a quite new idea", Buzed observed.
- "Why not through some innovations ?", "EuroFora" suggested.

- "Innovation ? That's it. Fantastic  New Information Technologies !", Buzek realized.
- "Precisely, "EuroFora" has such a project, since more than a Decade (1997-2009), to use new technologies for public debates before major EU decisions are taken", we reminded.
- "If you have such proposals, please come to us, come to us. We must" do something, agreed the new EU Parliamen's President.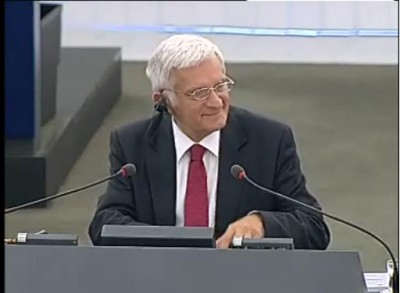 This fits with Buzek's main stance, expressed at EU Parliament's plenary earlier this week in Strasbourg, that the European Union must succeed to overcome a "Crisis of Trust" vis a vis EU Citizens. (See previous EuroFora publication).

    For that purpose, obviously information and debates are valuable, but purely instrumental, procedural means which can help focus on, and highlight a substantial content, attractive to EU Citizens, which needs to be determined by other, political, and not mediatic factors.  

    Buzek spoke about the urgent need to overcome the Global Economic Crisis,  the struggle for Human and Civic Rights, Democracy, etc., the Eastern Partnership, links with Russia, strategic partnership with USA and emerging countries, etc.

    But he also used (while speaking both to "EuroFora" and other Media) the expression : "The Europeans", for EU Citizens. This points right towards what several important EU leaders (including French President Sarkozy, German Chancellor Merkel, etc) have started to highlight particularly during the recent years : That there is a vital need, and an historic opportunity, for the development of a European Conscience, to stimulate e renaissance of a European Identity able to attract Popular support, for the EU to become a strong player in a Multopolar World : In other words, the revitalisation of a project for a "Political Europe".

    By a coincidence, this was indirectly but surely reminded, earlier in Strasbourg, by another ... Busek (this time with a "s") :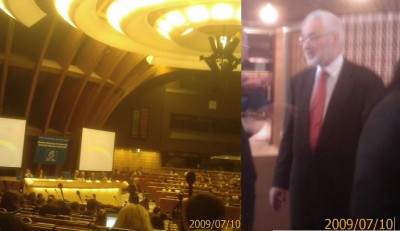 Speaking to more than 650 participants from CoE's member countries, at the conclusion of the 2009 Summer University of its Political Schools, Erhard Busek, (with an "s"), former vice-Chancellor of Austria and EU Coordinator for South-Eastern Europe, pointed at the current need to revitalize Europe's "Identity", forged by Greek philosophy and Roman Law, Christian values and Enlightment's ideas, etc. through the ages.     
- "We have almost the same name with Jerzy Buzek (EU Parliament's new President, who is a former Polish Prime Minister), because both our Families come ...from  the same village, located at the Heart of Europe, which was often shared between Poland, Germany and the Czech Republic. But my family emmigrated a long time ago to Austria, while Jerzy Buzek's family remained in Poland", explained f. vice-Chancellor Erhard Busek to "EuroFora".   
 An astonishingly concrete and simple example of European Integration from the grassroots : Starting by EU Citizens, i.e. those "Europeans", that EU Parliament's new President, Jerzy Buzek (this time with a "z"), wants to bring alongside MEP's decision-making proces, (according to "EuroFora"'s main idea : Comp. supra)...
***

Polls