Home

newsitems

Hollande:"Islamic Terrorism Threatens France".MEP: Truck Massacre at Nice had Precedents -incl. May!
Hollande:"Islamic Terrorism Threatens France".MEP: Truck Massacre at Nice had Precedents -incl. May!
vendredi, 15 juillet 2016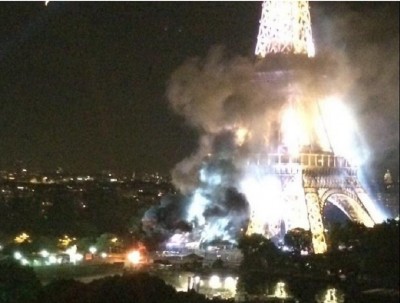 *Strasbourg/Angelo Marcopolo/(UpDated)/- Contrary to claims of being a "New" Modus Operanti for Killing People, in fact, the Cowardish Truck Massacre of 84 Civilians (Women+Children included) at Nice, had Precedents, as f.ex. a MEP revealed in EU Parliament's Plenary in Strasbourg, pointing at a strikingly Similar Deadly Terrorist Attack at Graz, in Austria, etc., while France anounced an "Intensification" of AirStrikes against ISIL Terrorists, atrocious BeHeaders even of Innocent Civilian People, and Russian President Vladimir Putin called Paris for Joined Actions (See Infra).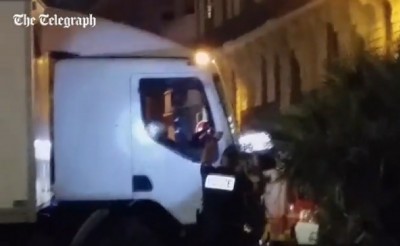 So that French President Hollande's Denonciation, (speaking Shortly after the Massacre at Nice, Overnight), of the Fact that "All of France is Threatened by Islamic Terrorism !", appears fully Justified by Facts, (See Infra), but also Long Overdue ..., (while various strange, but officialy unrelated Fires also hit Nice'e Neighbouring City Marseille and even Paris' Eiffel Tower's area, almost at the Same Time, at the aftermath of the National Day of July 14 : See PHOTO above).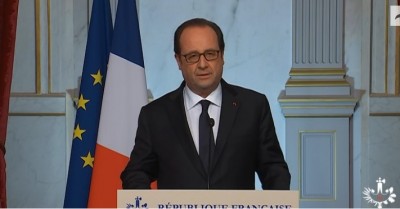 ---

 Indeed, a Similar Method to Kill People, as that used by that Mass Murderer at Nice, i.e. to Hit one or more Persons with a Car used as Weapon, was already Threatened, by ISIS' Islamic Terrorists, to be also abused even against the Now Incoming New British Prime Minister, Theresa May, who was Officialy Anounced as such, just at the Eve of that Terrorist Attack at Nice (See Infra) !...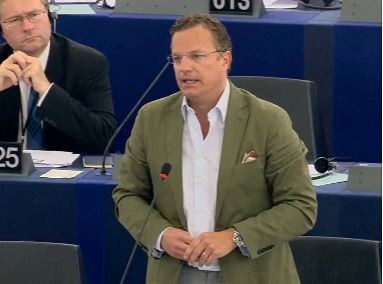 A Stern Warning, about Nice's "modus operanti", had already been made as Early as since July 2015, (See "Eurofora"s NewsReport at : http://www.eurofora.net/newsflashes/news/euparliamentonisildeadlyterror.html ), by Austrian Georg Mayer (from the Frontrunner FPO Party), who Denounced also the Fact that, curiously, despite its Brutal Mass Murder aspects of a Big Car Attack against Defenseless Civilian People at the Pedestrian area in this landmark European City of Historic Culture, by a recently Radicalized Muslim Bosnian Immigrant that the Country had accepted to Host, provide with a Job, and even give him Full Citizenship, had been rather Covered-up by Establishment's Media.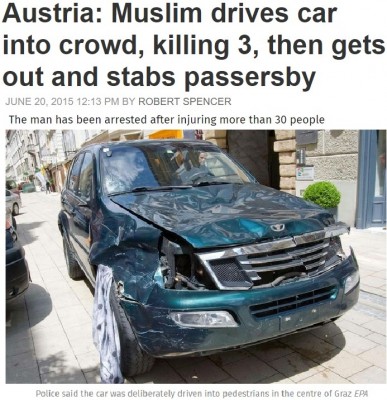 -"I'm from the Austrian City of Graz, where a Massacre took place making 3 Dead and 40 Wounded People, without having yet been Officialy Clarified whether, even this, had been Motivated by Radical Islam", Mayer Criticized. He was speaking of a June 20, 2015 Mass Killing in the Central Square of that Big City at Europe's Heart, where a Bosnian-origin Muslim aged 26, (granted Austrian Citizenship,  Hired at a Driver's job, and Married, with 2 Children), suddenly, after a Quarrel with his Wife reportedly because he wanted to Oblige her to put an Islamic Scurf over her Head, to the point that Austrian Authorities had to Protect her, at her demand), he rushed with an Expensive, Big Car, normaly used for Sports, against various Innocent Civilian People at the Pedestrian Zone, Killing a Cyclist, Stumbing with a Knife behind their back a Couple of Elders, Crashing  with his Car (at around 100km p/h. !) 2 other Walkers, (including a Child aged only 4 Years, who Died), and making about 36 Wounded, (a Dozen of them in a Serious situation, and one in Critical, Life-Threatening), before letting the Police quietly arrest him, as if it was a matter of routine...

    - "When these interlinked Murders approach so Close to us, we are particularly Shocked, because we ... perceive Profound Changes :"  - Even if, Establishment's "Media and Politicians tell us, most of the times, that they (Extremist Islamic Terrorists) would be All ...Individual Perpetrators ("Lone Wolfs"), nevertheless, in fact, "we (EU) have to do with ....an Army of Individual Perpetrators !", Mayer Criticized.  - "For Years we .... Warned ..that Radical Islam was Already at the Center of our (EU) Society", he pointed out. => So that, "the Next Battleground is Europe !", as (mainstream German Newspaper) <<Die Welt>> already titled on its Frontpage Article Headlines.  - In consequence, "this (recent) Problem of Terrorism, that was Imported (inside the EU) due to the Failures of EU Governments, is one of the Largest that we ...will have to Face during the Coming Years", he had Warned.
      It cannot be excluded a priori, that this Graz Precedent might have, eventualy, "Inspired" the Mass Murderer of Nice, particularly since he head, reportedly, being Preparing such a move, already since Many Months, and possibly since 2015, (See Facts Infra).
-----------

+ This had been Preceded also by anOther Similar Deadly Incident at Dijon (France), back on December 2014, when another such man Attacked with his Car and Threw Down 13 People, rolling against bystanders on the pavement for more than 30 Minutes before he was apprehended, while Crying "Allah Akbar !" and "for Paklestine Cildren !", only to find, afterwards, that the Prosecutor, who had initialy opened an Enquiry for Terrorism, finaly Skiped that, because the Aggressor reportedly had some ...Psychological Problems !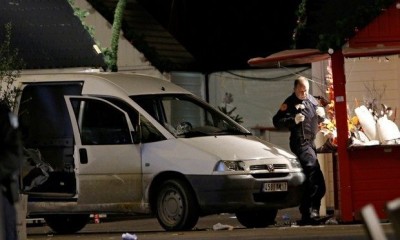 ++ And the Next Day, also in France, in the City of Nantes, another Driver reportedly Therw his Van against a Christmas Market's Crowds up to a Wine Stand, where he Killed a Civilian and Wounded Many, also Shouting : - "Allahu Akbar !", attempting to Stab to Death, etc., but the Police, once again, claimed that it would have been an "Isolated" case of just a mentaly "unstable" individual, witthout an obvious relation to Islamic Terrorism...
 *** But already Previously, 2 Similar, Deadly Terror Attacks by Cars, on October and December 2014, stroke in Jerusalem, at Israel, where Media denounced "Changing Tactics" of Islamic Terrorism : At First, a Driver reportedly ploughed his Car into commuters, Killing a Woman and a Baby. This was Followed, Next Month, by another Driver who Threw his Big Van against a Tram and Bus Stations full of People, before Hitting also Other Cars on the Road, and finaly getting out to Hit Bystanders with a Metal Bar, Killing a Druze Minority Policeman and Wounding 14 Civilian People, (reportedly Revendicated by Hamas), until he was Shot.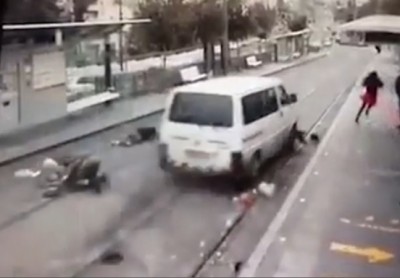 ("Eurofora" Screenshot from Video at "Telepgraph.co.uk" on Van Attack Killing/Wounding People at Tram/Bus Stations+ after ISIS 9/2014 Call, in Israel, Jerusalem, 11/2014)
------

++++ Indeed, it's as Early as since September 2014 that a Spokesman of ISIL's Deadly Extreme Islamic Terrorists and atrocious BeHeaders even of Innocent, Defenseless civilian People, had notoriously Launched an Appeal to "Kill .. DisBelieving American(s) or European(s) - especially ... French - ... including Citizens of Countries ...into Coalition against Islamic State, ... in Any Manner or Way", f.e. by "Run(ning) him over with your Car", (etc).

Nicknamed "Sheikh" Abu Mohammed Al-Adnani, (originaly Taha Falaha), he Moreover, added : "DoN't Ask anyone for advice (or) judgment"; Just "Kill the Infidels", not only "the Military", but also "Civilians", (i.e. without making any distinction between Armed Soldiers and Unarmed, Peaceful Civilian People, even Elders, Women, Children).
 ---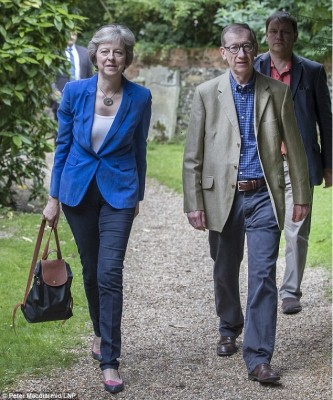 (New UK PM Theresa May, walking to the Church on Sunday, with her Husband)
+++++ Moreover, by an Astonishing Coincidence, it's also the Now Incoming New British Prime Minister, just anounced earlier This Same Week, Theresa May, an Experienced former Minister, recently of JHA, who has reportedly been Threatened, as Early as, already since March 2015, (i.e. Close to the above-mentioned Deadly Big Car Attack at Graz in Austria : Comp. Supra),  to be"an Evil Witch", that "should be Hunted down and Run Over with a Car (sic !), to Shut her up from Speaking words Against Islam", as ISIS reportedly Called to do !

-----------------------------

But, as usual, even Now, enstranged Family Members, (in this case, even permanently living in Africa !), as well as some Imams imported and established in France, repeated the ersatz Claim that the Murderer would be more or less "Crazy", and have No Relation at all to the Islamic Religion. However, this last, obviously Crucial point, was reportedly Found to be False, according to several Other Witnesses, who knew personaly the Truck Mass Killer, and attested of his Islamic interests.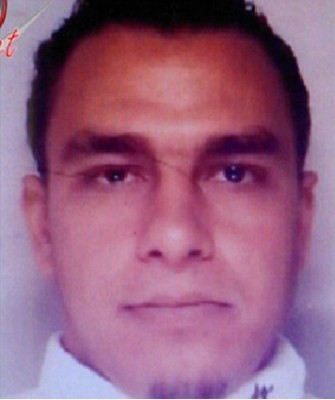 Moreover, other Witnesses revealed that, already among his own Family and/or Other Personal contacts, several were Islamic Extremists or Linked to them, (See  Infra). And his own Father is actively involved with an Islamic Party in Tunisia, according to rumours circulating at the Web.

In Wider terms, recently, an Investigative French Journalist, making Enquiries among Extremist Islamists, (including a Local Chieftain from Turkey, who stressed his Wish for "much More Blood" to be shed in France), expressed his Astonishment for the reportedly "too Easy" way for Jihadists to Escape from Police. Even that ISIL-related Turkish Jihadist Recruiter had Boasted for his Success to get out of Prison in only a Few Months, after giving the Impresssion to have a "Good Behaviour" (sic !), as mainstream Australian Media ABC revealed...

------------------------

Nevertheless, the Tunisian immigrant's Islamic Radicalisation, as well as a more "classical" profile of Ordinary Petty Thug, would have reportedly been developed only during Recent Years, (i.e. Long After he had obtained a 10 Years permit to stay and work in France, between 2009 and 2019), i.e. perhaps after he Separated from his Wife and Children, (between 2014 - 2016), according also to French JHA Minister Cazeneuve.

"Recently", he had Started to Send Money, even 300 or 400 € each time, to his Family at Tunisia, one of his Brothers reportedly said. This corroborates also anOther Source in France, a Woman Neighbour at Nice, who reported that he used to "Lend" her Money, "without asking to be reimbursed". Moreover, at least one mainstream Media (RTL.be) reports that Lahouaiej-Bouhlel's Brother would have Revealed that, suddenly, he send them, Secretely, by Recent Special Means, a much Bigger Amount of Money : about "100.000 €", (even if this Last Point has Not yet been Confirmed).

But, already, "3 Relatives" of the Killer have been "Islamic Extremists, who were Jailed in Tunisia", according to British Media "Daily Mail", whose Journalist, reporting from the spot, cites "Police Sources".

"2 of them" were "Training with Weapons in the Mountains", as Early as since "2008", reveals the UK Newspaper, which also Publishes a Photo of Nice's Mass Murderer's Brother holding a long Rifle, with his Kid, (as ISIS has already done in its Horrible Propaganda, f.ex. by showing Kids Killing with a Knife a Defenseless Prisoner, etc).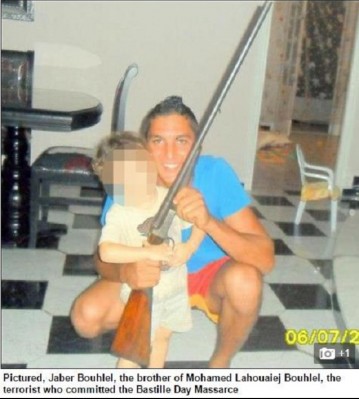 (UK Newspaper "Daily Mail")

 
Afterwards, "One ... definitively Flew to Europe", and "we are Checking if he was at Nice", while anOther "went to Syria", (i.e. at ISIL's main areas), and only a "Third", "usualy lives Here" (in Tunisia), even if he was "Not Traced".

They are "Brothers and Cousins of Bouhlel's Wife", according to Tunisian Sources, (i.e. of that Woman that, Curiously, was the Only Initialy Arrested Suspect, who was, Shortly Afterwards, ...Released by the French Police)...

+ Even more important : A local Lawyer at Nice, who had initially Claimed that he Knew Well the Murderer, having served as His Defense Lawer when he had been Condemned for some comparatively Petty Crimes in the Recent Past (1 - 3/2016), in order to Boast, in several INTWs to Radio-TV Big Media, (immediately Retransmitted also by a lot of various Other Media almost Everywhere), that Lahouaiej-Bouhlel would "Not Look at all as an Islamic Extremist", but "just like an ordinary petty thug", (i.e. Denying the ISIL's link), has just been found to be a Gross Liar :
- in fact, he had NEVER been the Killer's Lawyer in the Past (in fact, he had been served by anOther, absolutely Differend Lawyer) ! This Failed Attempt to Hide the Mass Murderer's links to Islamic Terrorism, even by such Gross Lies, provoked a Scandal.

------------------------------------------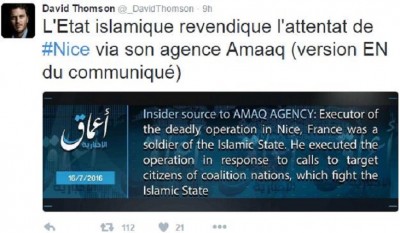 (ISIS Islamic Terrorists Revendicated that Mass Deadly Attack against Innocent Civilian People at Nice)
---

+ Far from being merely a Mentaly Unstable, "Lone Wolf", reacting Emotionaly, as some had initialy claimed, on the Contrary, the Murderer had carefully Plotted and Prepared his Move, in Cold Blood, Many "Months" Before (may be even a Year), and had relevant Contacts and various Accomplices, as an on-going Investigation found (Partly UpDated) :

I.e. at least from the Beginning of the Month, since on 4rth July he had already Chosen and Reserved "the Biggest" Lorry offered by a Nearby Business, for Mid-July. Afterwards, investigators (mainly with CCTV Cameras, Eyewitnesses, etc) found that he had also Tested the Road ("Promenade des Anglais") of the Future Massacre, with that Same Truck, during the 2 Previous Days, coming and going all along that, without any problem, neither arising any suspicion, (despite a general Prohibition of Big Lorries DownTown, and the Proximity of the Mass Event of the 14th July National French Day). Even at this latest, Fatal Date, he had arrived Hours before that Road was Blocked, with that easily spotted Huge White Lorry, reportedly Claiming to the Police that he would be "Selling Ice-Creams" !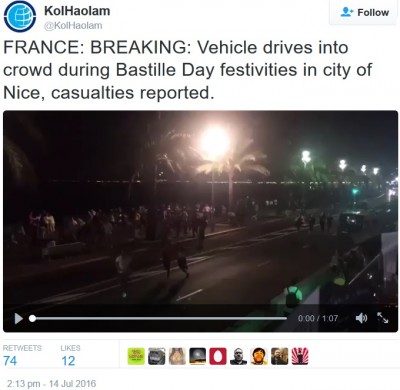 But Policemen, curiously, did Not check at all that Huge Truck and its Contents, despite an "Emergency" Anti-Terror status in France, and even recent years' revelations about various illegal Traffick and Smuggling taking place via such Lorries, (including of Drugs, Arms, irregular Migrants, etc).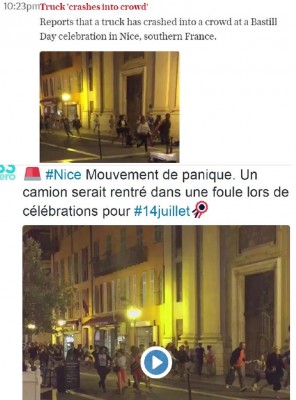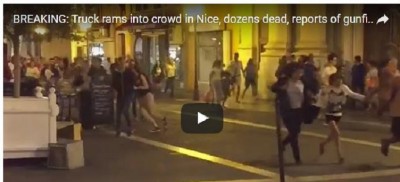 In addition, Bouhlal had also taken a "Shelfie" Photo of Himself, Smiling among the Peacefuly strolling French People, his Future Victims, and Send it to a Brother in Tunisia, (who Refused to let it be seen by the Press), just a few Hours before the Massacre Starts. Most Important, he had even send 2 Messages to certain probable Accomplices (at least one of them reportedly arrested and detained later-on), saying (by a Code) that he had foound and brought in "the Equipment", at "5 before C" (a Mysterious yet reference, possibly to an Event or Location), as well as Asking for Fire-Arms.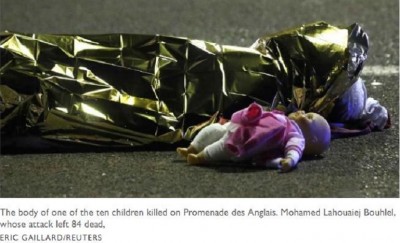 >>> As the Investigation advances further, a Paris' Prosecutor reportedly revealed that the Murderer had severeal "Accomplices", had been "Radicalized" as an Islamic Extremist, and was PreMedittating and Preparing the Mass Killing probably as Early as "since 2015", (i.e. a Year Before !)..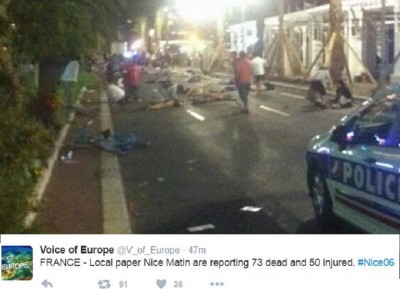 Inter alia, he had seeked a Drug used by "Kamikaze" Suicide Terrorists on 2015, and had Discussed with Accomplices that precise Mass Killing by a Heavy Truck modus operandi elready maney Months Earlier, had been provide with a Gun by Muslim Albanians, Photographed Together with some Pals and the Fatal Truck several Days before the Massacre, (etc).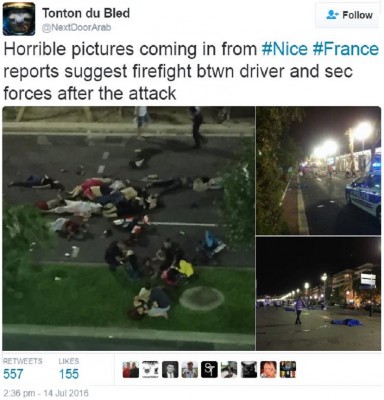 Last, but not least, National and Local Policemen, Soldiers, etc., reportedly present on the spot, did Not manage to Stop a ...2 Km Long Deadly Attack by that Heavy Truck against Defenseless Civilian People all along an overcrowded Main Road, specialy reserved for the French National Day Event, but Only After a Simple, Unarmed and Anonymous Citizen took the Initiative to Jump onto Bouhlal's Car and Open its Door, obliging the Murdered to Stop, in order to Seize his FireArm, Point it at him and Shoot, pushing him Outwards, so that a Policeman found the Time to Shoot Back and Neutralize the Murderer, (Long After it Crushed at least 84 Innocent Civilian People Killed meanwhile)...

-----------------------------------
"FIGARO" : - "Win the War !"   
V. PUTIN : Join Russian + French forces against Islamic Terrorism
----------------------------------------------------------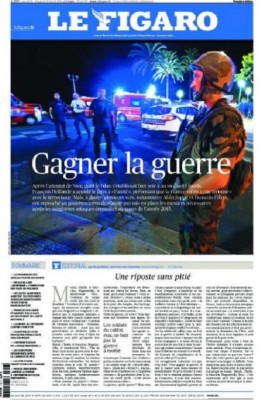 (The Day After:"Figaro'"s FrontPage = "WIN THE WAR !" + "Strike Back mercilessly !")
----


=> However, mainstream, Center-Right French Newspaper "FIGARO" published overnight a Front-Page Headline Calling to "Win the War !".

It was followed by an "Editorial" Article, written by the Editor in Chief himself, Titled - "A Merciless Riposte (Counter-Attack)", or "Strike Back WithOut Mercy", a Sub-Heading pointing to the Fact that Islamic "Caliphat's Soldiers do Not make War with Half-Measures", and Concluding that "it's Now that Action Must be Taken, in order to Stop that Awful Series" of Deadly Terrorist Attacks against Civilian People.

Almost All Political Leaders of the Biggest Opposition Parties, both Marine Le Pen's "FN" Rightists, and Nicolas Sarkozy's Center-Right "Republicans", (including Former Prime Ministers Alain Juppé and Francois Fillon, etc), converged in Criticizeing the Fact that the current Government (still led by the "Socialists") had Not Yet Taken all the Necessary and Possible Measures during the Latest 18 Months of Unprecedented Mass Terrorist Attacks in France, (Jan. 2015 - July 2016). MLP even went as far as to also Ask from several Members of the PSoc. Government to "Resign".

As for the Experienced, former President of France, and current Leader of the Main Opposition Party, Sarkozy himself, he was First to Visit Nice just after that Bloodbath, Stressing, particularly, that the Horrible Spectacle of Killed People's Cadavers at the Streets "Must Stop". Later-on Sarkozy also found that, Today, we are Facing "a Total War" by ISIS' Terrorists, Warning that, in fact, -"It will be Them, or Us !", as he characteristicaly said, while also reiterating an Extended List of concrete Measures, which should be taken asap.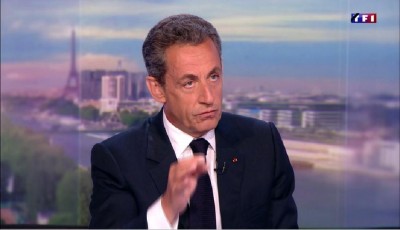 (Sarkozy : It's "a Total War" => "It will be Them, or Us !")
Indeed, things look Serious, as the Latest Mass Killing of Innocent Civilians at Nice was later Followed also by an ISIS' Propaganda Video where 2 Islamic Terrorist BeHead defenseless Prisoners while Insulting all the French as "Criminal People" (sic !) and Threatening to bring such Cowardish Atrocious BeHeadings even of Civillian People throughout all France...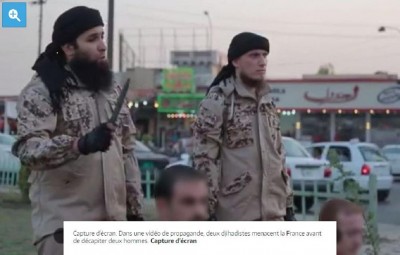 ------------------------------------------------

+ Meanwhile, among a Long List of European and International Leaders' various Statements, shortly After the Massacre, Russian President Vladimir Putin took the Exceptional Initiative to Publish 2 successive Anouncements in a few Hours Time, (the 2nd even Directly Transmitted in Full by Publishing a Video), on the Massacre of Nice, addressing himself Both to French President Hollande and, even more solemnly, "to the French Nation" :  

 - Condemning that "Outrageous Terrorist Attack in France", "the Criminal Act in Nice", which "was Committed with extreme Atrocity and Cynicism", as he said,

    President Putin reminded the Fact that also "Russia knows Terrorism and the Threat it creates for Us All", since "Our People have had to deal with Similar Tragedies Many Times", (f.ex., after the notorious Chechnya War, also at Dagestan's "Beslan SchoolChildren" Mass Hostage-Taking, Back on 2004, as well as in Moscow's Opera, etc), while even Nice's "Deaths and Injuries", "Included" also "Russian Citizens", he observed.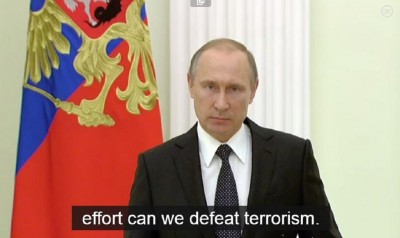 => In Addition, what is most Important Today, is that, in Fact, "We Can Defeat Terrorism", "Only through a United Effort", the Russian President (who has notoriously a lot of Armed Forces already Engaged in a Serious Fight against Islamic Terrorism, including ISIL, at Syria and elsewhere, and has Recently Liberated from ISIS' Deadly and Destructive Terrorists, f.ex. also the Historic, UNESCO World Heritage Site of Palmyra) Concluded in this Exceptional Address for France, Confirming Russia's Interest in the Closest possible Cooperation with France and its Other International Partners in all Counter-Terrorist Efforts, as his Spokesman, Pescov, underlined.

    Since Russia's active involvement in Syria, more and more Territories, Earlier Invaded and Occupied by ISIL's Terrorists, have Recently Started to be Liberated, and this has Positively influenced even some parts of Land at Iraq, revealing an Historic U-Turn towards the Decline of those Extremist Islamists, atrocious BeHeaders even of Civilian People, who are Now Losing Ground in several Areas, as the Latest Maps clearly indicate, (See relevant MAP, herewith).

    But, until now, Outgoing US President Barack Hussein Obama has resisted Moscow's Offers to Act Jointly in order to Liberate Raqqa, ISIL's alleged "Capital", and that Lack of real Unity and Decisiviness in the Anti-ISIL Terror side, has obviously Hamperered an Otherwise obviously Existing Potential for a much Greater Efficiency on the spot. Something which Might, naturaly, Change with the Forthcoming US Presidential Elections, but also if the European, and particularly French, as well as British, Italian, but mainly Franco-German, and, above all, Collective EU Factor, could Begin to Really Move, in a Well Coordinated and Decisive way, with a Full Political Will to Finaly Settle this Problem, Protect all Europeans and Eradicate for ever such Atrocious InHuman Monstruosities puttin an End to ISIL's Mass Killings even of Innocent Civilian People, (against whom they seem to have desperately augmented their attempts to do Harm, particularly since they have Started to prove Unable to Stand a Real, Face to Face, Military Confrontation on the Battlefield, between Warriors, - and Not just Massacrating, as Coward Thugs, some Defenseless Civilian People, even Elders, Women and Children...

    Could Nice's latest, and particularly Horrible, such Cowardish ISIL Terror, become, from now-on, the Beginning of a Real Game-Changer, inciting to Open a New Horizon for putting, at last, an End to such Monstruously InHuman Atrocities for ever ?

-----------------------------------------------------

    Let's Hope. However, in the meantime, it's what could be named as "the Internal Front", which looks to be at the Forefront : Many initial Reactions and Calls to Act obviously Focus, more than ever, mainly on the Measures that Need to be taken in order to Prevent and/or Fight Radicalisation, Avoid that Terrorists Slip among Police's Fingers, before - if not after- a Crime is committed, etc.

    In this regard, to put it in a nutshell, at least one thing is Cryctal-clear : Strong and Efficient Measures to Prevent and/or Fight Extreme Islamist Radicalisation's ideology from Poisoning even more the Society, is, Naturally, now a Must. But, on the Contrary, Other Measures, eventually Restructive of the Human Rights and Democratic Freedoms of All EU Citizens, even when there isn't any relation to the "Threat of Islamic Terrorism" denounced by French President Hollande, (Comp. Supra), can be very Dangerous. Both for European a.o. Democracy per se, and for People's Trust.

    At the Same Time, in parallel, various converging Recent Facts point also towards a Growing Popular Feeling (Now repercuted further even by Top mainstream Politicians) that EU Citizens have Not been sufficiently Protected vis a vis Islamic Terrorism's Threat, that probably some Blunders and/or a MisPlaced "Tolerance" or an Excessive "Politicaly Correct" stance, ("Plot Theorists" even evoke some eventual "Complicities", at least Partly, etc), MisCalculations, etc., May have Hindered to Prevent such Horible Massacres.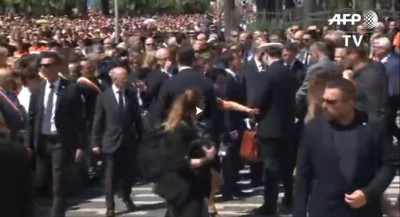 (Angry Popular Reactions during PM visit at Nice after the Mass Killing of Defenseless Civilians by Islamic Terrorism)

http://www.ultimedia.com/deliver/generic/iframe/mdtk/01321922/src/u5qsmq/zone/6/showtitle/1/

    Initialy Marginal at the "Charlie Hebdo" Killings, back on January 2015, (even is Wolinski Wife's critical stance, etc., should be taken into account, among others), this Appeared Stronger around the "Bataclan" etc. Mass Killings of November 13, 2015, also in Paris, (where some Victims' Families started to React quite Strongly), and seems to Emerge even More Widely, now, at the aftermath of Nice's Tragic Events, concerning Both Victims' Families and the People at large, (as even an Unprecedented double "Boo" and "Resign !" Calls v. Prime Minister Valls during a Ceremony at Nice, already showed).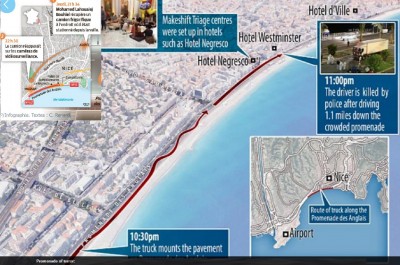 (Killer Truck rolled a Long Way accross Nice's Avenues, including the "Blocked" "Englishmen Walkway", practicaly UnHindered ! )


    Among others, some still Pending Questions obviously Need some Good and Solid Answers, concerning f.ex. the Mystery of How it was possible for so Heavy and Huge Truck, not to be Remarked, Stoped and Examined by the Police, while the Killer was coming and going during 3 Crucial Days through Nice's Centre and even at its Most Important Avenue at the Seaside, (Both, in principle, Prohibited for so Big Trucks), up to the "Secure" Area notoriously Reserved for the 14th July Fireworks ; why an Initial, June 2016 Plan to Surround the Events' Area and Check Every Person entering inside (as it was done f.ex. aso at Strasbourg's Christmas Market, back on 12/2015), was Later-on Abandoned, on July 2016, for a Simple Police "Blockade" at Only 2 Points, which was too Easily Bypassed by the Killer's Truck ; and how such already Ideologicaly Radicalized, former Petty Thugs, can Stroll around, almost Everywhere, (even with such Heavy Instruments, a Loaded Arm and 5 other reproductions of Kalasnikov Rifles, etc) Totaly UnHindered (even inside "Security" Areas) ; as well as, Why, Contrary to 2 Simple, Unarmed Citizens, who Heroically Attempted to Stop the Mass Murderer by their Bare Hands, just by Jumping and Grasping that Killer Truck's Door, while Risking their own Lives, (a Motorcyclist, who was Tragically Crashed by the Terrorists's Truck, and a Simple Walker, who was Shot by the Killer's Arm, but managed to Escape, Helping, however, the Police to Target, Shot and Stop the Mass Killing at that Crucial Moment), while, on the Contrary, all those Numerous National and Local Policemen, Soldiers, Secret Services, etc., hadN't yet Managed to Take Any Such Decisive Action, before 84 Civilian People were Atrociously Killed, during a 2 Km.-Long, Direct Trajectory accross that mainstream "English Walkway" ; Is it true, as a Nice PoliceWoman denounced, or Not, that National Police wasn't even visible in CCTV at the Entry of the "Blocked" Avenue ? How come that a Big Vehicle Attack on such a Large Avenue, exceptionaly reserved for Pedestrians that Day during the July 14 Event, had not been Foreseen and Prevented, despite a Long Series of Recent Car Attacks by ISIS' Terrorists, as "Eurofora" proved above ? (Etc).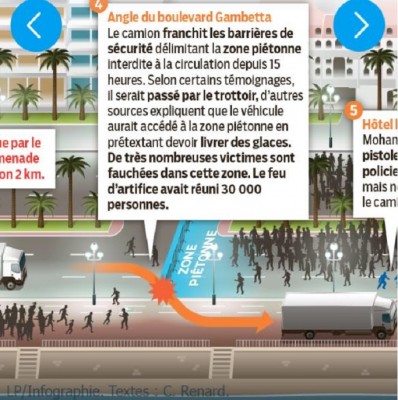 This List could also Include Many Popular Reactions against some Controversial semi-Official Statements reportedly Claiming that, even in the foreseable Future, Nothing could Prevent such Odious Mass Killings of Civilian People, that several commentators found at least Exagerated, if not Scandalous.

    In Nice's concrete case, the Mere Fact that the Truck Killer had reportedly claimed to the Police "he was ..."Selling Ice-Creams" (sic !), is Simply Not Enough !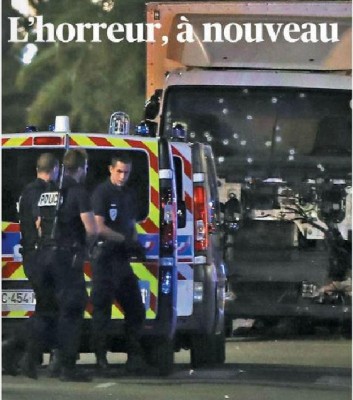 ---

    An Original Testimony, in this regard : Just One (1) Hour Before Nice's Events, "Eurofora"s co-Founder was Crossing, Together with others, a Strasbourg City's main Avenue, when, Suddenly, we were Obliged to Stop, get Out of any Public Transport Means, Private Cars, Motorcycles, running Bicycles, etc, being Blocked and Stuck by a Big Over-Concentration of a Huge Mass of People, Gathered around the City Hall's Tower, and Waiting for the Same "14th July" Fireworks, as in Nice. It was incrfedibly Difficult, if not quite Impossible, to Find a Way and to Pass Through all that Never-Ending Mass of People (Youngsters, Elders, Couples, Families, Women, Children, etc), which was Becoming more  and more Dense, as More People were Arriving Each Minute, (and the Organizers' scarce Indications on How to Get Out, were Grossly Insufficient, if not InCompetent, or even MisLeading). We had to Walk Slowly, making Long, Time and Energy Consuming Zig-Zag Manoevers, Pushing and/or Imploring People who were Sitting on the Floor to let as Go Away, accross Squares, Streets, Bridges, Peninsulas, Construction Sites, UnExpected immovable Barriers, etc., in order to Manage, much Later on, to Reach, Exhausted, at last, a Free to Move area.
But, in the MeanTime, we were absolutely Aware of the obvious Danger (that we've had clearly Felt, then) for All those UnProtected and Blocked People (irresponsibly Massed like Sheep in a Groundfloor Area, too Easily Attacked from almost Any Side) to Fall Victims of an eventual Terrorist Attack, at any moment... Once Out, we Run to get Away from that Risky, OverLoaded, "Stucked" and UnProtected Area.

    However, even Before Arriving Home, that Horrible Massive Massacre of Innocent and Defenseless Civilian People, at an apparently Similar Situation in Nice, had Just Started !

   =>  Judging from what we had just Experienced, sincerely Astonished, in Strasbourg, (HQ of EU Parliament's Full Plenaries, PanEuropean CoE, ECHR, etc), it's Highly Possible that, indeed, (as Many have already Said), it Could and Should have been Prevented, and Innocent Victims' Human Lives Saved...

(../..)
(NDLR : Partly UpDated)



***
("DraftNews", as already send to "Eurofora" Subscrivers/Donors, earlier. A more accurate, full Final Version, might be published asap).



***
BRIEF NEWS
00:00 - 26.12.2017

00:00 - 26.05.2017

00:00 - 30.01.2017

00:00 - 14.10.2016

00:00 - 24.09.2016

00:00 - 27.07.2016

00:00 - 03.07.2016

00:00 - 01.06.2016

00:00 - 12.02.2016
Statistics
Посетителей: 26333958
Archive
Login Form
Other Menu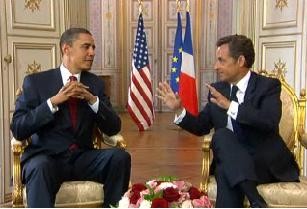 La Turquie, test-clé d'Independance de l'Europe face aux USA, les aménant de chercher en commun des nouvelles idées pour se mettre d'accord ?  
 Le débat, amical mais clair, entre les Présidents Américain et Français, Obama et Sarkozy,  la veille des elections européennes du 7 juin 2009, a montré que la question controversée sur la démande de la Turquie d'entrer dans l'Europe est actuellement le point central et le test le plus pertinent de l' indépendance de la France et de l'Europe par rapport aux Etats Unis.   
 Les electeurs européens, aussi bien en France qu'ailleurs en l'UE, auront une seule chance à trancher, ce dimanche 7 juin 2009, en choisisant leurs eurodéputés pour la période 2009 - 2014, car après ca risque d'être trop tard, vu que tous ceux qui suivent les affaires européennes dépuis des décennies savent qu'en réalité, le moment des décisions sur la Turquie viendra au plus tard en 2013, date rétenue dépuis longtemps pour une importante révision des "Perspectives Financières" de l'UE qui reflètent des choix Politiques fondamentaux.

    Le Président français, (récement encore représentant de l'UE, dans laquelle il joue un rôle important, ensemble avec la chancelière allemande Merkel, et autres leaders européens, ayant une influence notable auprès des Citoyens Européens, comme les derniers sondages montrent), réagissant à la repétition, par le nouveau Président Américain de la vieille position traditionelle de l'Washington poushant toujours vers la démande de la Turquie d'entrer dans l'Europe :

     - "Je ne peut pas laisser détruire l'Europe, (qui) est un élément de stabilisation du Monde", réponda Sarkozy. "J'ai dit au Président Obama que pour moi il était très important que l'Europe ait des Frontières", a-t-il souligné, confirmant la position Franco-Allemande commune, récemment rappellée ensemble avec la Chancellière Merkel.

    - "Il y a une différence (entre France/EU et les USA)...  sur les modalités. La position traditionnelle des Etats-Unis d'Amérique, c'est l'intégration" de la Turquie au sein de l'UE. "C'était la position du Président Bush, du Président Clinton, de tous les présidents américains".     
- "La mienne vous la connaissez : Ce n'est pas l'intégration dans l'Union Européenne. Mais j'ai proposé que nous réfléchissions, l'Europe, la Russie, la Turquie à la création d'un Espace Economique et de Sécurité en commun", a ajout Sarkozy rappelant son invitation de créer quelque chose de neuf et mieux adapté.

    Mais, "cela ne veut pas dire qu'il faut repousser la Turquie dans les ténèbres. La Turquie est un allié dans l'OTAN, (et) une Passerelle entre 2 Mondes, voilà quelle est la meilleure modalité. C'est cela dont nous avons parlé", revela-t-il. Si "nous avons une Différence sur les Modalités, nous n'avons pas une différence sur l'Objectif : Faire de la Turquie un élément de Pont entre l'Orient et l'Occident", Sarkozy assura Obama.

    - "Laissez-nous au moins une légère divergence sur un sujet, cela vous permettra de bien réfléchir pour les prochaines échéances", ajouta Sarkozy en réponse à un journaliste de l'opposition Socialiste qui avait soulevé la question de la Turquie, en la melant (comme un lobby turc notoirement essaie de faire pour exploiter la manipulation de quelques Arabes, la Civilisation Historique desquels fût pourtant detruite par l'ex-empire Ottoman-Turc) avec une question tout à fait différente : celle de la voile islamique (!), avec laquelle elle n'a rien à voir.

    - "Sur la Turquie, Monsieur, vous appartenez à un journal ...qui a appelé à voter, au moment de la présidentielle, pour mon adversaire.... Quel était votre argument à ce moment-là ? Vous disiez : « Attention, Nicolas Sarkozy va trop s'aligner sur les Etats-Unis d'Amérique », et je vois que deux ans après vous dites : « Ah, il y a un sujet sur lequel le Président Obama et le Président Sarkozy ne sont pas d'accord » Cela devrait vous rassurer, Monsieur" , réponda-t-il, en faisant sourire même le président américain, (et laissant entendre que trancher définitivemen la controverse sur la Turquie pourrait être au coeur de l' Elections Présidentielle  en France pour 2012 )
-------------------
    - "Ce que les Etats-Unis peuvent faire, c'est encourager ....TOUT PROCESSUS qui permettra à la Turquie d'être convaincue qu'elle a des amis, que ce soit la France, les Etats-Unis ou l'Europe", réponda Obama, apparamment n'excluant pas, a priori, le point de Sarkozy sur la création d'un espace commun d' économie et sécurité entre l' UE, la Turquie et la Russie (v. supra).

    "Les Etats-Unis ne sont pas membres de l'Union Européenne, nous ne pouvons pas dicter si un pays quelconque adhère ou n'adhère pas à l'UE"; Obama a admis, parlant de la "Turquie, (sur laquelle) le Président Sarkozy et moi nous sommes entretenus sur ce dossier avant".  "Maintenant le Président Sarkozy représente un Etat membre de l'Union Européenne et il a une position différente", opposée à démande turque d' entrée dans l'UE.    
 "La Turquie par contre est un allié de l'OTAN très important. ...La Turquie a fait connaître son intérêt à une intégration croissante avec l'Europe et nous (USA) encourageons cette attitude. J'ai souvent dit que l'adhésion de la Turquie à l'Union européenne serait importante".     
"Mais, (en tout cas) je crois qu'il est important de noter que le Président Sarkozy appuie fortement le travail que la Turquie fait au sein de l'OTAN et je crois qu'il s'intéresse à une intégration économique plus intense avec la Turquie". (Ce qui pourrait se faire, justement, avec un "parténariat privilegié" adéquat et/ou l'idée de créer un espace commun EU - Turquie - Russie  : V. supra).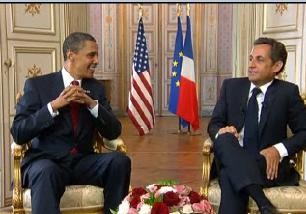 Est-ce que l'effort du Président de la France, soutenu par la chancelière Allemande et l'opinion publique de la plupart des Citoyens Européens la-dessus, de trouver un accord entre l' Europe et l' Amérique sur la Turquie, en proposant de sortir des chemins battus et créer du neuf, en etablissant "un Espace Commun d' Economie et Sécurité" (v. supra), suffira de calmer un lobby traditionaliste à quelques bureaucrates de Washington DC, datant dès l'époque de l' ex-"Guerre Froide", beaucoup plus ancien que le nouveau Président vénu de l' oxygen des "grands lacs" près de Quebec du Canada : Chicago, connu comme "la ville du vent" nouveau ?
-----------------------------------------------------------------------
Le Prémier Ministre Fillon appele à "faire vivre le Rève Européen"
------------------------------------------------------------------------  
 Seul l'avenir le dira. Mais, entre-temps, l' Europe ne peut plus attendre et perdre encore plus du temps et d'energie vitale sur la démande controversée de la Turquie, qui a notoirement menacé d'arrêter l'édification européenne dépuis 1999-2005 :

    Comme le Premier Ministre François Fillon a clairement dit, un peu plus tôt cette semaine, dans un discours éloquent sur les enjeux de l' Election Européenne de ce juin 2009 (V. résumé envoyé aux adhérents d'"EuroFora"),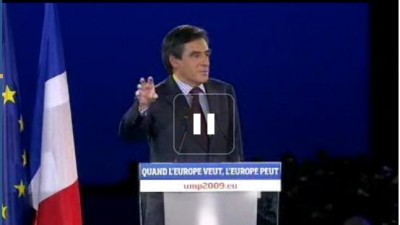 - "S' abstentir, c'est laisser à la Technocratie le pouvoir de dominer" la vie des Citoyens européens, qui devraient prendre l' Europe en branle le corps", et commencer d'agir par toutes les voies politiques démocratiques, prennant conscience que "l' Europe c'est Nous, (i.e. les Citoyens), et "Pas eux !" (i.e. les Technocrates), selon une image symbolique.

    - "Je me souviens de l' Europe obligée de faire Silence, (au Passé), quand "les Grands" décidaient de son sort", rappela Fillon.  "Je me souviens de l'Europe divisée, de l' Europe dominée" par d'autres, '"de l'Europe appauvrie""Je me souviens de Berlin occupé, muré, divisé comme un butin qu'on tire aux dès. Je me souviens du Silence de Varsovie. Je me souviens du Silence de Prague"..   
 - "Nous, les Européens, nous avons bien failli sortir de l' Histoire, et dévenir, pour du bon, les dès d'un jeu joué par d'autres".     
- "C'est pourquoi je ne peux pas concevoir une Europe qui ne serait pas Souveraine, une Europe qui ne serait pas Maitresse d'êlle-même", aujourd'hui et démain, martella-t-il. "Le Monde s'est habitué trop longtemps à une Europe faible, que l'on pouvait traiter avec condescendence".  
 - "Le moment est venu de rélever le défi : Le moment est vénu de montrer que, nous les Européens, avons décidé d'être débout, et d"être nous-mêmes".     
"Dépuis 2 ans (i.e. dès les Elections Présidentielles de 2007), avec Nicolas Sarkozy, nous avons oeuvrer pour relever notre Identité Nationale (de la France), dont nous sommes fiers. Et bien, l'' Identité Européenne mérite tout autant, elle qui prolonge les Génies de nos Nations".


    - "Je crois à la présence d'une Civilisation Européenne", déclara Fillon, largement applaudi par des milliers de personnes ayant entendu une série des Musiques entremelées characteristiques de differents pays européens, et des images lumineuses géantes avec des extraits symboliques de Goethe, de Victor Hugo, de Shakespeare, et d'autres auteurs italiens, espagnols etc celebres à travers l'histoire.

    - "L' Humanisme, la tolerance, la Liberté de la Conscience. La Solidarité. L' Etat de Droit. La confiance placée dans la Science, l' Innovation, le progrès. Toutes ces Valeurs, elles disent clairement où commence et où s'épanuit cette Europe" que nous voulons, observa-t-il.

    En harmonie avec les positions soutenues par le Président du Parlement Européen, eurodéputé allemand, Hans Gert Poettering, et la Chancelière allemande, Angie Merkel, sur la "Dignité Humaine" au coeur des "Valeurs de l' Europe" moderne. Ce qui fait qu'" avec un Elargissement sans fin", même vers la Turquie, c.a.d. "sans Frontières, l' Europe Politique, l' Europe des Valeurs et l' Identité européenne" ne peuvent pas exister, comme a dit aussi le Président francais, Nicolas Sarkozy, recemment à Berlin.

    Fait important : Cette observation de Fillon a été faite le jour-même que le Comité des Ministres du Conseil de l'Europe à Strasbourg concluait une semaine de réunion semestrielle sur les Droits de l'Homme, qui a examiné un grand nombre d'affaires des pires Violations (pex. Tuéries scandaleusement non elucidées, Persecutions et privations arbitraires de Liberté, personnes portées "Disparues", Tortures et "traitements inhumains et degradants", Usurpations illégales des Maisons et Patrimoines privées de Réfugiés, etc., pour lesquelles la Cour Européenne a condamné la Turquie dans plusieurs jugements, dont on attend toujours l' application)...

    - "C'est pourquoi un Elargissement sans fin de l' Europe ne peu pas être un objectif en soi. Parce qu'il ne peut que diluer l' élan européen, et detruire l' Idéntité Européenne"

    -" Voilà pourquoi nous disons, très sereinement, que nous ne sommes pas favorables à l' adhésion de la Turquie dans l'UE", conclua le Premier Ministre de la France; largement applaudi par des gens qui soulevaient le drapeau européen.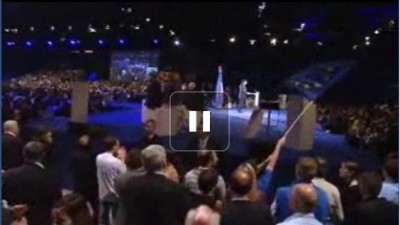 "Ce n'est pas un Slogan de meetings. Ce n'est pas la marque une "Hostilité" au régard de cette grande Nation (i.e. la Turquie), qui doit être étroitement associée à l' UE", pex. par un partenariat priviliegié, ou une autre formule adaptée.

    - "Mais il lui faut des Frontères à l' Europe, il lui faut des Frontières stables, qui lui permettent de renforcer son Unité et son Identité", a-t-il expliqué.

    - "Alors, c'est au nom de cette Europe charnelle, que je m'engage avec vous. Mais, cette Europe-là, ne peut avancer qu' à une seule Condition : celle de l' Europe Politique".

    "Nous avons longtemps douté qu'elle soit possible : Aux années 1970, Henri Kissinger (le notoire ex- Secretaire d'Etat Américain aux affaires etrangères, consideré, à tort ou à raison, comme chef d'orchestre du renversement du Président Allende en Chili, de l' invasion militaire de la Turquie à Chypre, etc), disait, avec une ironie blaissante : - "Ah, l' Europe ? : Quel numero de Télephone ?..." Pendant les 6 mois de la présidence française de l'UE, (7-12/2008), Henri Kissinger n'aurait aucune difficulté de rejoindre l' Europe !", observa-t-il en suscitant des nouveaux applaudissements nourris.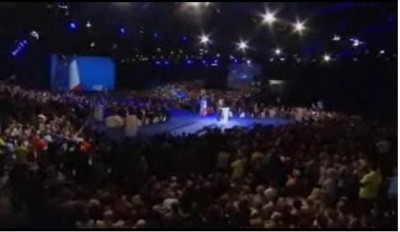 "J'au vu l' Europe Politique se dresser, et prendre ses responsabilités : L' Europe Politique c'est celle qui agit sans délai, et avant les Etats-Unis, pour stopper des faillites Bancaires qui s'enchaînent, qui nous auraint plongés dans une Depression pire que celles des années 1929. L' Europe Politique est celle qui, maintenant, doit mettre un fin à un Capitalisme Financier, qui a perdu sa boussole. L' Europe Politique est celle qui a réussi d'etablir le règles les plus ambitieuses au Monde dans la lutte contre le rechaufement Climatique. Samedi, nous celebrons l' anniversaire du debarquement de la Normandie, où nos amis Américains ont pris une part décisive à nôtre libération. Mais, en décembre 2009, à la Conference (Mondialle) de Copenhague, c'est nous les Européens, qui allons leur montrer le chemin vers cet avénir commun" pour la sauvegarde de l'Environement naturel. L' Europe Politique c'est celle qui, en août 2008, lorsque la Guerre faisait rase entre la Russie et la Géorgie, s'est interposée pour imposer la Paix. Et c'est elle qui doit, maintenant, se doter des moyens Militaires de se défendre par elle-même, pour elle-même", ajouta-t-il en évoquant clairement la création d'une Défense Européenn Autonome.
    "L' Europe Politique c'est celle qui doit bâtir des grands champions Industriels Européens, comme nous avons fait, auparavant, pour (l'avion) Airbus ou (la fusée) Ariadne. C'est celle qui doit exiger la Reciprocité dans les rlations Commerciale avec nos grands partenaires", sans Dumping Social ou Environmental, ni autre Concurrence Deloyale. "C'est celle qui doit se doter comme objectif d'être "le Continent de l'Esprit", réunissant les plus grandes Universités du Monde, en multipliant les Connexions, entre Scientifiques et étudiants."

    "Nous respecterons nos engagements, jusqu'au dernier", souligna le Premier Ministre de la France, peu après que les candidats-eurodéputés de la coalition Gouvernementale (UMP : Mouvement pour la Majorité Présidentielle) ont signé solennement, devant plusieurs milliers des Citoyens, une spectaculaire pancarte-géante avec "7 engagements" pour les Elections Européennes du 7 juin, auxquels figure aussi l'engagement de "s'opposer à l' adhésion de la Turquie dans l'UE".

     - "Parcque ce respet des engagements est une exigence si nous voulons rétablir la Confiance entre les Responsables Politiques et les Citoyens", conclua Fillon, la veille de ces Elections Européennes de juin 2009, après les Abstentions Majoritaires de 1999 et 2004, suivies de 3 "NON" à 3 Euro-Réferenda dépuis 2005, (dates auxquelles, quelques gouvernements du Passé, avaient donné le statut d'un "Candidat" et commencé des "Négotiationa d'adhésion" avec la Turquie, suivies d'un blocage sans précedent de l' édification européenne)..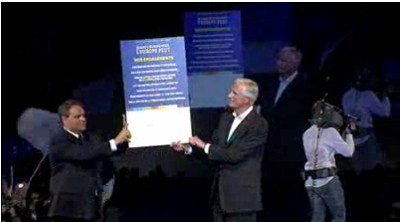 "Nore Europe n'est pas n' importe quelle Europe : L' UE Technocratique n'est pas la nôtre. ... L' UE sans Frontières n'est pas la notre. L' UE desincarnée n'est pas la notre". "Nous portons une idée de l'Europe" qui "n'est pas celle des Statistiques et des Bureaux(crates). L'Europe ce n'est pas qu'une Monnaie. Ce n'est pas qu'un Marché. économique".

- "L' Europe c'est d'abord une Culture. L'Europe c'est une Histoire", a-t-il dit, largement applaudi.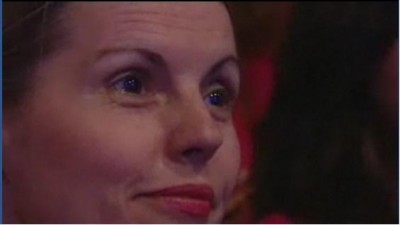 "L'Europe c'est une rencontre entre des Nations qui sont Millénaires et qui sont Brillantes. L'Europe c'est Paris. C''est Madrid. C'est Prague. C'est Londres. C'est Rome. C'est Varsovie. C'est Berlin. C'est Vienne. C'est Athènes : Quant on énonce ces Villes, alors on "sent" nos Héritages et nos Cultures entremelées qui circulent dans nos veines".

    - "Je suis Européen, parcque profondément Français, je sais ce que je dois aux influences de l' Atlantique et de la Méditerannée. J'aime ces Traditions qui offrent à chacun des nos Nations leur éclat. .. J'aime ses saveurs, ses paysages divers. Ils sont également miens, ou, plus précisement, je suis également fait d'eux. Je suis Européen, car, Français, j'aime l' Europe ouverte vers l' Amérique, vers l'Orient, vers l' Maghreb. J'aime les quais de Vénise, ceux d'Amsterdam. J'aime les quais de Thamise où sont vénues pendant des siècles s'amasser les richesses et les nouveautés du Monde. J'aime l' Europe curieuse. L'Europe qui rêve des lointains : L' Europe de Vasco de Gama, de Magelan. de Bougainville, de Charcot, de Monot... Cette Europe qui, aujourd'hui, s'élance vers l' Espace. Je suis Européen parce que Français, j'aime l' Europe qui prospère et qui invente. J'aime l' Europe des Trains à Grande Vitesse. J'aime l'Europe des Satellites et des Fusées. L'Europe de la Mode et des Atéliers d' Artistes. L'Europe des Grands Laboratoires, des Ingéniers. des Entrepreneurs, des Grands Architèctes, des Traditions Ouvrières. Comme rançais, j'aime l' Europe qui dit "NON" à la Tyrannie et qui se soulève à l'appel de la Liberté", a-t-il dit en

 
"Je me sens lié à ces femmes et ces hommes sans nom, qui ont levé la tête, et qui ont sécoué le joug sous lequel .. on les avait fait pliér", dit-il en évoquant pex.. la Révolution Française de 1789, le Siècle des Lumières, l'appel du Général de Gaulle contre l'Occupation NAZI, et les pires heures obscures qu'un  "Fascisme" ou "Communisme" devoyés, suivies de la Guerre Froide avaient plongé l'Europe au Passé.

"Ils sont des millions, ces Héros Anonymes de notre temps, que nous croisons sans le savoir dans nos rues et nos places. Et je ne peux pas concevoir l'Europe sans eux, et sans tous ceux qui poursuivent leur combat contre l'arbitraire et le fanatisme", ajouta Fillon. Faisant pex. rappeler un récent Film allémand, primé au Festival de Vénise, qui décrivait la vie d'un cadre à l'époque d'un régime oppressif, qui avait été chargé d'espioner la vie privée et familiale d'un couple soupçonné d'être dissidents politiques, mais, ému par leur honnêteté humaine et leur sacrifice pour sauver d'autres, a preferé risquer sa place et sa propre liberté pour les sauver, sans même qu'ils le sachent, condamné dépuis à faire un bas boulot d'anonyme perdu dans la foule..


"Quand je vois l'Europe moderne, je vois les résultats de l' Audace de ces hommes qui ont brisé les traditions de conflit et de violence. Je vois des nations soudées autour d'une monnaie unique et protectrice. Je vois 27 jeunesses appelées de grandir ensemble, sans défiance. Je vois 27 peoples unis, qui nous interdisent de jouer les blazés ou les indifférents".

Jettant "un régard lucide sur les errements de la construction européenne", Fillon a observé que "l' Europe n'a pas bésoin d'être idélisée pour être ce qu'elle est ; Cad. une aventure humaine, avec ses faiblesses et ses forces".

"Vous voulez que l' Europe agisse ? Fixez-lui des objectifs clairs. Vous voulez la Démocratie ? Agissez en Citoyens. Vous rédoutez la prétendue Bureaucratie des Bruxelles ? Alors renforcez, par votre Vote, les instances élues au Parlement Européen" qui sont chargés de la contrôler.

- "Si nous voulons faire vivre "le Rêve Européen", .. alors nous avons tous le dévoir de l' engagement", a-t-il conclu, appelant de "engager pour le drapeau tricolore et le drapeau étoilé, car ils symbolisent tous les deux la fierté de nôtre nation et la force de nôtre union".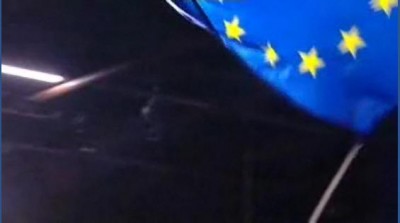 Polls