Home

newsitems

Hollande:"Islamic Terrorism Threatens France".MEP: Truck Massacre at Nice had Precedents -incl. May!
Hollande:"Islamic Terrorism Threatens France".MEP: Truck Massacre at Nice had Precedents -incl. May!
Friday, July 15, 2016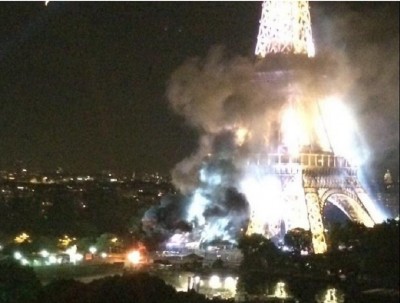 *Strasbourg/Angelo Marcopolo/(UpDated)/- Contrary to claims of being a "New" Modus Operanti for Killing People, in fact, the Cowardish Truck Massacre of 84 Civilians (Women+Children included) at Nice, had Precedents, as f.ex. a MEP revealed in EU Parliament's Plenary in Strasbourg, pointing at a strikingly Similar Deadly Terrorist Attack at Graz, in Austria, etc., while France anounced an "Intensification" of AirStrikes against ISIL Terrorists, atrocious BeHeaders even of Innocent Civilian People, and Russian President Vladimir Putin called Paris for Joined Actions (See Infra).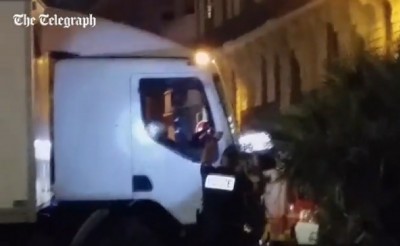 So that French President Hollande's Denonciation, (speaking Shortly after the Massacre at Nice, Overnight), of the Fact that "All of France is Threatened by Islamic Terrorism !", appears fully Justified by Facts, (See Infra), but also Long Overdue ..., (while various strange, but officialy unrelated Fires also hit Nice'e Neighbouring City Marseille and even Paris' Eiffel Tower's area, almost at the Same Time, at the aftermath of the National Day of July 14 : See PHOTO above).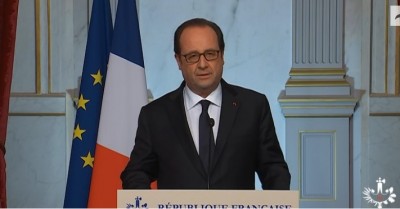 ---

 Indeed, a Similar Method to Kill People, as that used by that Mass Murderer at Nice, i.e. to Hit one or more Persons with a Car used as Weapon, was already Threatened, by ISIS' Islamic Terrorists, to be also abused even against the Now Incoming New British Prime Minister, Theresa May, who was Officialy Anounced as such, just at the Eve of that Terrorist Attack at Nice (See Infra) !...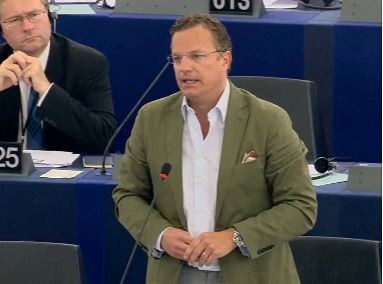 A Stern Warning, about Nice's "modus operanti", had already been made as Early as since July 2015, (See "Eurofora"s NewsReport at : http://www.eurofora.net/newsflashes/news/euparliamentonisildeadlyterror.html ), by Austrian Georg Mayer (from the Frontrunner FPO Party), who Denounced also the Fact that, curiously, despite its Brutal Mass Murder aspects of a Big Car Attack against Defenseless Civilian People at the Pedestrian area in this landmark European City of Historic Culture, by a recently Radicalized Muslim Bosnian Immigrant that the Country had accepted to Host, provide with a Job, and even give him Full Citizenship, had been rather Covered-up by Establishment's Media.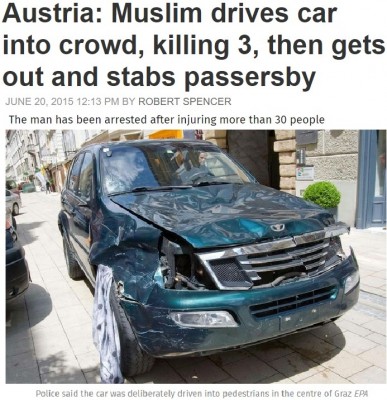 -"I'm from the Austrian City of Graz, where a Massacre took place making 3 Dead and 40 Wounded People, without having yet been Officialy Clarified whether, even this, had been Motivated by Radical Islam", Mayer Criticized. He was speaking of a June 20, 2015 Mass Killing in the Central Square of that Big City at Europe's Heart, where a Bosnian-origin Muslim aged 26, (granted Austrian Citizenship,  Hired at a Driver's job, and Married, with 2 Children), suddenly, after a Quarrel with his Wife reportedly because he wanted to Oblige her to put an Islamic Scurf over her Head, to the point that Austrian Authorities had to Protect her, at her demand), he rushed with an Expensive, Big Car, normaly used for Sports, against various Innocent Civilian People at the Pedestrian Zone, Killing a Cyclist, Stumbing with a Knife behind their back a Couple of Elders, Crashing  with his Car (at around 100km p/h. !) 2 other Walkers, (including a Child aged only 4 Years, who Died), and making about 36 Wounded, (a Dozen of them in a Serious situation, and one in Critical, Life-Threatening), before letting the Police quietly arrest him, as if it was a matter of routine...

    - "When these interlinked Murders approach so Close to us, we are particularly Shocked, because we ... perceive Profound Changes :"  - Even if, Establishment's "Media and Politicians tell us, most of the times, that they (Extremist Islamic Terrorists) would be All ...Individual Perpetrators ("Lone Wolfs"), nevertheless, in fact, "we (EU) have to do with ....an Army of Individual Perpetrators !", Mayer Criticized.  - "For Years we .... Warned ..that Radical Islam was Already at the Center of our (EU) Society", he pointed out. => So that, "the Next Battleground is Europe !", as (mainstream German Newspaper) <<Die Welt>> already titled on its Frontpage Article Headlines.  - In consequence, "this (recent) Problem of Terrorism, that was Imported (inside the EU) due to the Failures of EU Governments, is one of the Largest that we ...will have to Face during the Coming Years", he had Warned.
      It cannot be excluded a priori, that this Graz Precedent might have, eventualy, "Inspired" the Mass Murderer of Nice, particularly since he head, reportedly, being Preparing such a move, already since Many Months, and possibly since 2015, (See Facts Infra).
-----------

+ This had been Preceded also by anOther Similar Deadly Incident at Dijon (France), back on December 2014, when another such man Attacked with his Car and Threw Down 13 People, rolling against bystanders on the pavement for more than 30 Minutes before he was apprehended, while Crying "Allah Akbar !" and "for Paklestine Cildren !", only to find, afterwards, that the Prosecutor, who had initialy opened an Enquiry for Terrorism, finaly Skiped that, because the Aggressor reportedly had some ...Psychological Problems !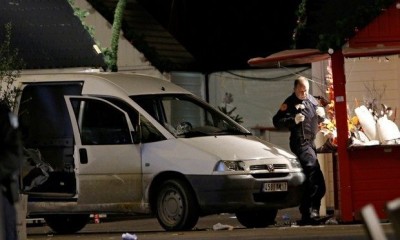 ++ And the Next Day, also in France, in the City of Nantes, another Driver reportedly Therw his Van against a Christmas Market's Crowds up to a Wine Stand, where he Killed a Civilian and Wounded Many, also Shouting : - "Allahu Akbar !", attempting to Stab to Death, etc., but the Police, once again, claimed that it would have been an "Isolated" case of just a mentaly "unstable" individual, witthout an obvious relation to Islamic Terrorism...
 *** But already Previously, 2 Similar, Deadly Terror Attacks by Cars, on October and December 2014, stroke in Jerusalem, at Israel, where Media denounced "Changing Tactics" of Islamic Terrorism : At First, a Driver reportedly ploughed his Car into commuters, Killing a Woman and a Baby. This was Followed, Next Month, by another Driver who Threw his Big Van against a Tram and Bus Stations full of People, before Hitting also Other Cars on the Road, and finaly getting out to Hit Bystanders with a Metal Bar, Killing a Druze Minority Policeman and Wounding 14 Civilian People, (reportedly Revendicated by Hamas), until he was Shot.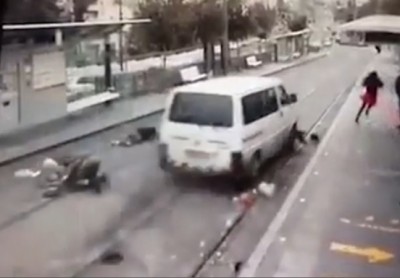 ("Eurofora" Screenshot from Video at "Telepgraph.co.uk" on Van Attack Killing/Wounding People at Tram/Bus Stations+ after ISIS 9/2014 Call, in Israel, Jerusalem, 11/2014)
------

++++ Indeed, it's as Early as since September 2014 that a Spokesman of ISIL's Deadly Extreme Islamic Terrorists and atrocious BeHeaders even of Innocent, Defenseless civilian People, had notoriously Launched an Appeal to "Kill .. DisBelieving American(s) or European(s) - especially ... French - ... including Citizens of Countries ...into Coalition against Islamic State, ... in Any Manner or Way", f.e. by "Run(ning) him over with your Car", (etc).

Nicknamed "Sheikh" Abu Mohammed Al-Adnani, (originaly Taha Falaha), he Moreover, added : "DoN't Ask anyone for advice (or) judgment"; Just "Kill the Infidels", not only "the Military", but also "Civilians", (i.e. without making any distinction between Armed Soldiers and Unarmed, Peaceful Civilian People, even Elders, Women, Children).
 ---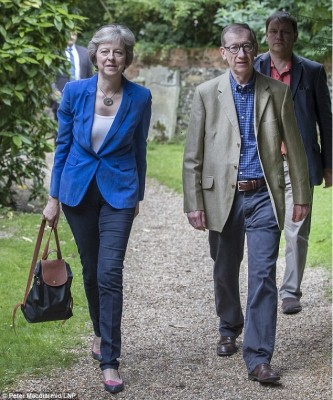 (New UK PM Theresa May, walking to the Church on Sunday, with her Husband)
+++++ Moreover, by an Astonishing Coincidence, it's also the Now Incoming New British Prime Minister, just anounced earlier This Same Week, Theresa May, an Experienced former Minister, recently of JHA, who has reportedly been Threatened, as Early as, already since March 2015, (i.e. Close to the above-mentioned Deadly Big Car Attack at Graz in Austria : Comp. Supra),  to be"an Evil Witch", that "should be Hunted down and Run Over with a Car (sic !), to Shut her up from Speaking words Against Islam", as ISIS reportedly Called to do !

-----------------------------

But, as usual, even Now, enstranged Family Members, (in this case, even permanently living in Africa !), as well as some Imams imported and established in France, repeated the ersatz Claim that the Murderer would be more or less "Crazy", and have No Relation at all to the Islamic Religion. However, this last, obviously Crucial point, was reportedly Found to be False, according to several Other Witnesses, who knew personaly the Truck Mass Killer, and attested of his Islamic interests.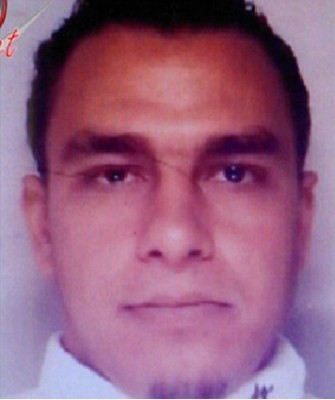 Moreover, other Witnesses revealed that, already among his own Family and/or Other Personal contacts, several were Islamic Extremists or Linked to them, (See  Infra). And his own Father is actively involved with an Islamic Party in Tunisia, according to rumours circulating at the Web.

In Wider terms, recently, an Investigative French Journalist, making Enquiries among Extremist Islamists, (including a Local Chieftain from Turkey, who stressed his Wish for "much More Blood" to be shed in France), expressed his Astonishment for the reportedly "too Easy" way for Jihadists to Escape from Police. Even that ISIL-related Turkish Jihadist Recruiter had Boasted for his Success to get out of Prison in only a Few Months, after giving the Impresssion to have a "Good Behaviour" (sic !), as mainstream Australian Media ABC revealed...

------------------------

Nevertheless, the Tunisian immigrant's Islamic Radicalisation, as well as a more "classical" profile of Ordinary Petty Thug, would have reportedly been developed only during Recent Years, (i.e. Long After he had obtained a 10 Years permit to stay and work in France, between 2009 and 2019), i.e. perhaps after he Separated from his Wife and Children, (between 2014 - 2016), according also to French JHA Minister Cazeneuve.

"Recently", he had Started to Send Money, even 300 or 400 € each time, to his Family at Tunisia, one of his Brothers reportedly said. This corroborates also anOther Source in France, a Woman Neighbour at Nice, who reported that he used to "Lend" her Money, "without asking to be reimbursed". Moreover, at least one mainstream Media (RTL.be) reports that Lahouaiej-Bouhlel's Brother would have Revealed that, suddenly, he send them, Secretely, by Recent Special Means, a much Bigger Amount of Money : about "100.000 €", (even if this Last Point has Not yet been Confirmed).

But, already, "3 Relatives" of the Killer have been "Islamic Extremists, who were Jailed in Tunisia", according to British Media "Daily Mail", whose Journalist, reporting from the spot, cites "Police Sources".

"2 of them" were "Training with Weapons in the Mountains", as Early as since "2008", reveals the UK Newspaper, which also Publishes a Photo of Nice's Mass Murderer's Brother holding a long Rifle, with his Kid, (as ISIS has already done in its Horrible Propaganda, f.ex. by showing Kids Killing with a Knife a Defenseless Prisoner, etc).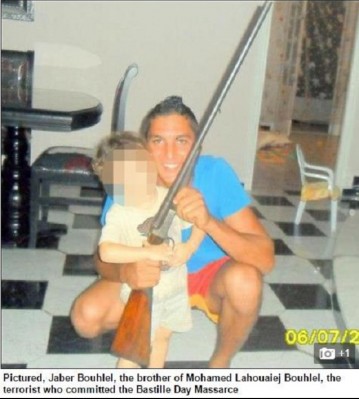 (UK Newspaper "Daily Mail")

 
Afterwards, "One ... definitively Flew to Europe", and "we are Checking if he was at Nice", while anOther "went to Syria", (i.e. at ISIL's main areas), and only a "Third", "usualy lives Here" (in Tunisia), even if he was "Not Traced".

They are "Brothers and Cousins of Bouhlel's Wife", according to Tunisian Sources, (i.e. of that Woman that, Curiously, was the Only Initialy Arrested Suspect, who was, Shortly Afterwards, ...Released by the French Police)...

+ Even more important : A local Lawyer at Nice, who had initially Claimed that he Knew Well the Murderer, having served as His Defense Lawer when he had been Condemned for some comparatively Petty Crimes in the Recent Past (1 - 3/2016), in order to Boast, in several INTWs to Radio-TV Big Media, (immediately Retransmitted also by a lot of various Other Media almost Everywhere), that Lahouaiej-Bouhlel would "Not Look at all as an Islamic Extremist", but "just like an ordinary petty thug", (i.e. Denying the ISIL's link), has just been found to be a Gross Liar :
- in fact, he had NEVER been the Killer's Lawyer in the Past (in fact, he had been served by anOther, absolutely Differend Lawyer) ! This Failed Attempt to Hide the Mass Murderer's links to Islamic Terrorism, even by such Gross Lies, provoked a Scandal.

------------------------------------------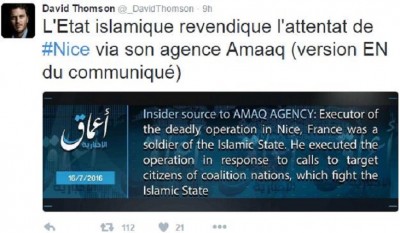 (ISIS Islamic Terrorists Revendicated that Mass Deadly Attack against Innocent Civilian People at Nice)
---

+ Far from being merely a Mentaly Unstable, "Lone Wolf", reacting Emotionaly, as some had initialy claimed, on the Contrary, the Murderer had carefully Plotted and Prepared his Move, in Cold Blood, Many "Months" Before (may be even a Year), and had relevant Contacts and various Accomplices, as an on-going Investigation found (Partly UpDated) :

I.e. at least from the Beginning of the Month, since on 4rth July he had already Chosen and Reserved "the Biggest" Lorry offered by a Nearby Business, for Mid-July. Afterwards, investigators (mainly with CCTV Cameras, Eyewitnesses, etc) found that he had also Tested the Road ("Promenade des Anglais") of the Future Massacre, with that Same Truck, during the 2 Previous Days, coming and going all along that, without any problem, neither arising any suspicion, (despite a general Prohibition of Big Lorries DownTown, and the Proximity of the Mass Event of the 14th July National French Day). Even at this latest, Fatal Date, he had arrived Hours before that Road was Blocked, with that easily spotted Huge White Lorry, reportedly Claiming to the Police that he would be "Selling Ice-Creams" !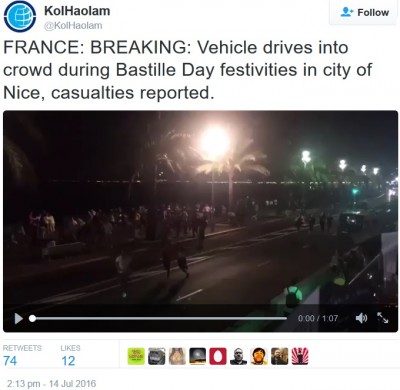 But Policemen, curiously, did Not check at all that Huge Truck and its Contents, despite an "Emergency" Anti-Terror status in France, and even recent years' revelations about various illegal Traffick and Smuggling taking place via such Lorries, (including of Drugs, Arms, irregular Migrants, etc).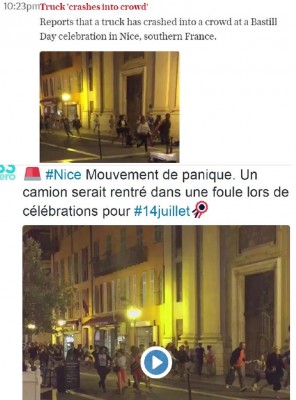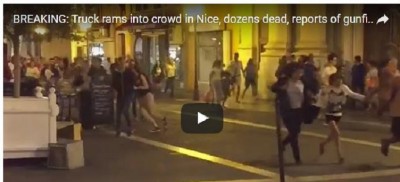 In addition, Bouhlal had also taken a "Shelfie" Photo of Himself, Smiling among the Peacefuly strolling French People, his Future Victims, and Send it to a Brother in Tunisia, (who Refused to let it be seen by the Press), just a few Hours before the Massacre Starts. Most Important, he had even send 2 Messages to certain probable Accomplices (at least one of them reportedly arrested and detained later-on), saying (by a Code) that he had foound and brought in "the Equipment", at "5 before C" (a Mysterious yet reference, possibly to an Event or Location), as well as Asking for Fire-Arms.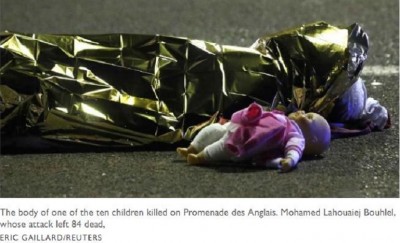 >>> As the Investigation advances further, a Paris' Prosecutor reportedly revealed that the Murderer had severeal "Accomplices", had been "Radicalized" as an Islamic Extremist, and was PreMedittating and Preparing the Mass Killing probably as Early as "since 2015", (i.e. a Year Before !)..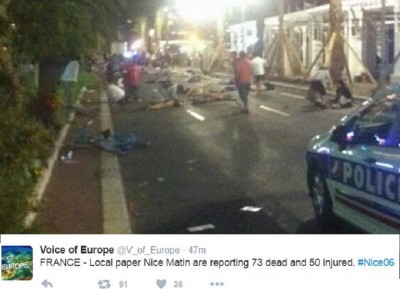 Inter alia, he had seeked a Drug used by "Kamikaze" Suicide Terrorists on 2015, and had Discussed with Accomplices that precise Mass Killing by a Heavy Truck modus operandi elready maney Months Earlier, had been provide with a Gun by Muslim Albanians, Photographed Together with some Pals and the Fatal Truck several Days before the Massacre, (etc).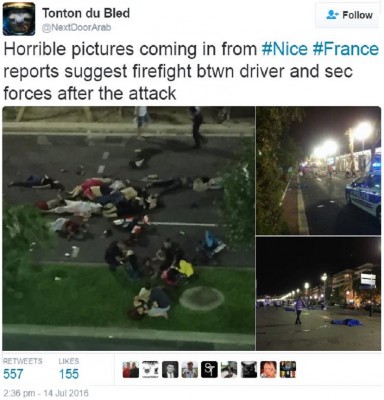 Last, but not least, National and Local Policemen, Soldiers, etc., reportedly present on the spot, did Not manage to Stop a ...2 Km Long Deadly Attack by that Heavy Truck against Defenseless Civilian People all along an overcrowded Main Road, specialy reserved for the French National Day Event, but Only After a Simple, Unarmed and Anonymous Citizen took the Initiative to Jump onto Bouhlal's Car and Open its Door, obliging the Murdered to Stop, in order to Seize his FireArm, Point it at him and Shoot, pushing him Outwards, so that a Policeman found the Time to Shoot Back and Neutralize the Murderer, (Long After it Crushed at least 84 Innocent Civilian People Killed meanwhile)...

-----------------------------------
"FIGARO" : - "Win the War !"   
V. PUTIN : Join Russian + French forces against Islamic Terrorism
----------------------------------------------------------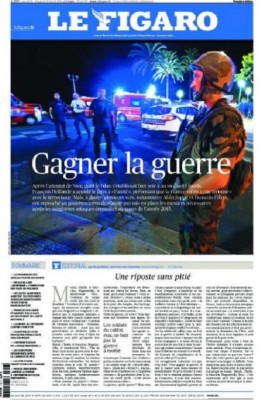 (The Day After:"Figaro'"s FrontPage = "WIN THE WAR !" + "Strike Back mercilessly !")
----


=> However, mainstream, Center-Right French Newspaper "FIGARO" published overnight a Front-Page Headline Calling to "Win the War !".

It was followed by an "Editorial" Article, written by the Editor in Chief himself, Titled - "A Merciless Riposte (Counter-Attack)", or "Strike Back WithOut Mercy", a Sub-Heading pointing to the Fact that Islamic "Caliphat's Soldiers do Not make War with Half-Measures", and Concluding that "it's Now that Action Must be Taken, in order to Stop that Awful Series" of Deadly Terrorist Attacks against Civilian People.

Almost All Political Leaders of the Biggest Opposition Parties, both Marine Le Pen's "FN" Rightists, and Nicolas Sarkozy's Center-Right "Republicans", (including Former Prime Ministers Alain Juppé and Francois Fillon, etc), converged in Criticizeing the Fact that the current Government (still led by the "Socialists") had Not Yet Taken all the Necessary and Possible Measures during the Latest 18 Months of Unprecedented Mass Terrorist Attacks in France, (Jan. 2015 - July 2016). MLP even went as far as to also Ask from several Members of the PSoc. Government to "Resign".

As for the Experienced, former President of France, and current Leader of the Main Opposition Party, Sarkozy himself, he was First to Visit Nice just after that Bloodbath, Stressing, particularly, that the Horrible Spectacle of Killed People's Cadavers at the Streets "Must Stop". Later-on Sarkozy also found that, Today, we are Facing "a Total War" by ISIS' Terrorists, Warning that, in fact, -"It will be Them, or Us !", as he characteristicaly said, while also reiterating an Extended List of concrete Measures, which should be taken asap.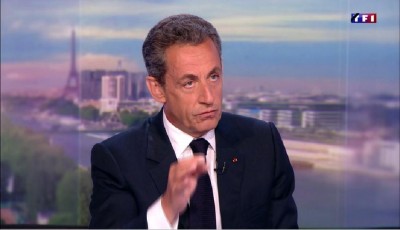 (Sarkozy : It's "a Total War" => "It will be Them, or Us !")
Indeed, things look Serious, as the Latest Mass Killing of Innocent Civilians at Nice was later Followed also by an ISIS' Propaganda Video where 2 Islamic Terrorist BeHead defenseless Prisoners while Insulting all the French as "Criminal People" (sic !) and Threatening to bring such Cowardish Atrocious BeHeadings even of Civillian People throughout all France...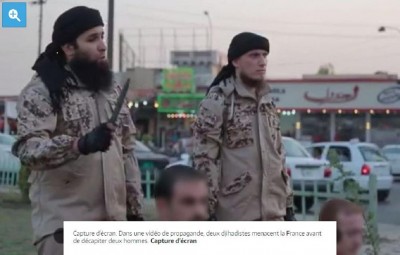 ------------------------------------------------

+ Meanwhile, among a Long List of European and International Leaders' various Statements, shortly After the Massacre, Russian President Vladimir Putin took the Exceptional Initiative to Publish 2 successive Anouncements in a few Hours Time, (the 2nd even Directly Transmitted in Full by Publishing a Video), on the Massacre of Nice, addressing himself Both to French President Hollande and, even more solemnly, "to the French Nation" :  

 - Condemning that "Outrageous Terrorist Attack in France", "the Criminal Act in Nice", which "was Committed with extreme Atrocity and Cynicism", as he said,

    President Putin reminded the Fact that also "Russia knows Terrorism and the Threat it creates for Us All", since "Our People have had to deal with Similar Tragedies Many Times", (f.ex., after the notorious Chechnya War, also at Dagestan's "Beslan SchoolChildren" Mass Hostage-Taking, Back on 2004, as well as in Moscow's Opera, etc), while even Nice's "Deaths and Injuries", "Included" also "Russian Citizens", he observed.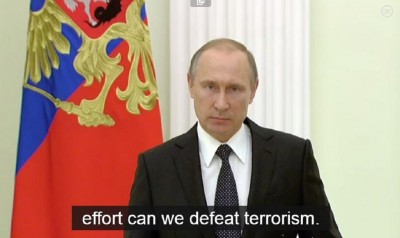 => In Addition, what is most Important Today, is that, in Fact, "We Can Defeat Terrorism", "Only through a United Effort", the Russian President (who has notoriously a lot of Armed Forces already Engaged in a Serious Fight against Islamic Terrorism, including ISIL, at Syria and elsewhere, and has Recently Liberated from ISIS' Deadly and Destructive Terrorists, f.ex. also the Historic, UNESCO World Heritage Site of Palmyra) Concluded in this Exceptional Address for France, Confirming Russia's Interest in the Closest possible Cooperation with France and its Other International Partners in all Counter-Terrorist Efforts, as his Spokesman, Pescov, underlined.

    Since Russia's active involvement in Syria, more and more Territories, Earlier Invaded and Occupied by ISIL's Terrorists, have Recently Started to be Liberated, and this has Positively influenced even some parts of Land at Iraq, revealing an Historic U-Turn towards the Decline of those Extremist Islamists, atrocious BeHeaders even of Civilian People, who are Now Losing Ground in several Areas, as the Latest Maps clearly indicate, (See relevant MAP, herewith).

    But, until now, Outgoing US President Barack Hussein Obama has resisted Moscow's Offers to Act Jointly in order to Liberate Raqqa, ISIL's alleged "Capital", and that Lack of real Unity and Decisiviness in the Anti-ISIL Terror side, has obviously Hamperered an Otherwise obviously Existing Potential for a much Greater Efficiency on the spot. Something which Might, naturaly, Change with the Forthcoming US Presidential Elections, but also if the European, and particularly French, as well as British, Italian, but mainly Franco-German, and, above all, Collective EU Factor, could Begin to Really Move, in a Well Coordinated and Decisive way, with a Full Political Will to Finaly Settle this Problem, Protect all Europeans and Eradicate for ever such Atrocious InHuman Monstruosities puttin an End to ISIL's Mass Killings even of Innocent Civilian People, (against whom they seem to have desperately augmented their attempts to do Harm, particularly since they have Started to prove Unable to Stand a Real, Face to Face, Military Confrontation on the Battlefield, between Warriors, - and Not just Massacrating, as Coward Thugs, some Defenseless Civilian People, even Elders, Women and Children...

    Could Nice's latest, and particularly Horrible, such Cowardish ISIL Terror, become, from now-on, the Beginning of a Real Game-Changer, inciting to Open a New Horizon for putting, at last, an End to such Monstruously InHuman Atrocities for ever ?

-----------------------------------------------------

    Let's Hope. However, in the meantime, it's what could be named as "the Internal Front", which looks to be at the Forefront : Many initial Reactions and Calls to Act obviously Focus, more than ever, mainly on the Measures that Need to be taken in order to Prevent and/or Fight Radicalisation, Avoid that Terrorists Slip among Police's Fingers, before - if not after- a Crime is committed, etc.

    In this regard, to put it in a nutshell, at least one thing is Cryctal-clear : Strong and Efficient Measures to Prevent and/or Fight Extreme Islamist Radicalisation's ideology from Poisoning even more the Society, is, Naturally, now a Must. But, on the Contrary, Other Measures, eventually Restructive of the Human Rights and Democratic Freedoms of All EU Citizens, even when there isn't any relation to the "Threat of Islamic Terrorism" denounced by French President Hollande, (Comp. Supra), can be very Dangerous. Both for European a.o. Democracy per se, and for People's Trust.

    At the Same Time, in parallel, various converging Recent Facts point also towards a Growing Popular Feeling (Now repercuted further even by Top mainstream Politicians) that EU Citizens have Not been sufficiently Protected vis a vis Islamic Terrorism's Threat, that probably some Blunders and/or a MisPlaced "Tolerance" or an Excessive "Politicaly Correct" stance, ("Plot Theorists" even evoke some eventual "Complicities", at least Partly, etc), MisCalculations, etc., May have Hindered to Prevent such Horible Massacres.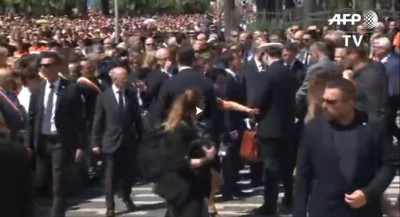 (Angry Popular Reactions during PM visit at Nice after the Mass Killing of Defenseless Civilians by Islamic Terrorism)

http://www.ultimedia.com/deliver/generic/iframe/mdtk/01321922/src/u5qsmq/zone/6/showtitle/1/

    Initialy Marginal at the "Charlie Hebdo" Killings, back on January 2015, (even is Wolinski Wife's critical stance, etc., should be taken into account, among others), this Appeared Stronger around the "Bataclan" etc. Mass Killings of November 13, 2015, also in Paris, (where some Victims' Families started to React quite Strongly), and seems to Emerge even More Widely, now, at the aftermath of Nice's Tragic Events, concerning Both Victims' Families and the People at large, (as even an Unprecedented double "Boo" and "Resign !" Calls v. Prime Minister Valls during a Ceremony at Nice, already showed).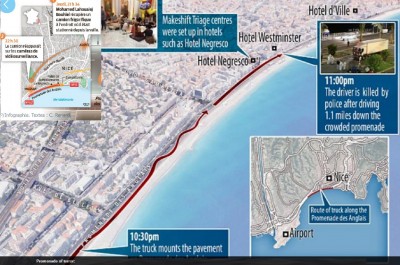 (Killer Truck rolled a Long Way accross Nice's Avenues, including the "Blocked" "Englishmen Walkway", practicaly UnHindered ! )


    Among others, some still Pending Questions obviously Need some Good and Solid Answers, concerning f.ex. the Mystery of How it was possible for so Heavy and Huge Truck, not to be Remarked, Stoped and Examined by the Police, while the Killer was coming and going during 3 Crucial Days through Nice's Centre and even at its Most Important Avenue at the Seaside, (Both, in principle, Prohibited for so Big Trucks), up to the "Secure" Area notoriously Reserved for the 14th July Fireworks ; why an Initial, June 2016 Plan to Surround the Events' Area and Check Every Person entering inside (as it was done f.ex. aso at Strasbourg's Christmas Market, back on 12/2015), was Later-on Abandoned, on July 2016, for a Simple Police "Blockade" at Only 2 Points, which was too Easily Bypassed by the Killer's Truck ; and how such already Ideologicaly Radicalized, former Petty Thugs, can Stroll around, almost Everywhere, (even with such Heavy Instruments, a Loaded Arm and 5 other reproductions of Kalasnikov Rifles, etc) Totaly UnHindered (even inside "Security" Areas) ; as well as, Why, Contrary to 2 Simple, Unarmed Citizens, who Heroically Attempted to Stop the Mass Murderer by their Bare Hands, just by Jumping and Grasping that Killer Truck's Door, while Risking their own Lives, (a Motorcyclist, who was Tragically Crashed by the Terrorists's Truck, and a Simple Walker, who was Shot by the Killer's Arm, but managed to Escape, Helping, however, the Police to Target, Shot and Stop the Mass Killing at that Crucial Moment), while, on the Contrary, all those Numerous National and Local Policemen, Soldiers, Secret Services, etc., hadN't yet Managed to Take Any Such Decisive Action, before 84 Civilian People were Atrociously Killed, during a 2 Km.-Long, Direct Trajectory accross that mainstream "English Walkway" ; Is it true, as a Nice PoliceWoman denounced, or Not, that National Police wasn't even visible in CCTV at the Entry of the "Blocked" Avenue ? How come that a Big Vehicle Attack on such a Large Avenue, exceptionaly reserved for Pedestrians that Day during the July 14 Event, had not been Foreseen and Prevented, despite a Long Series of Recent Car Attacks by ISIS' Terrorists, as "Eurofora" proved above ? (Etc).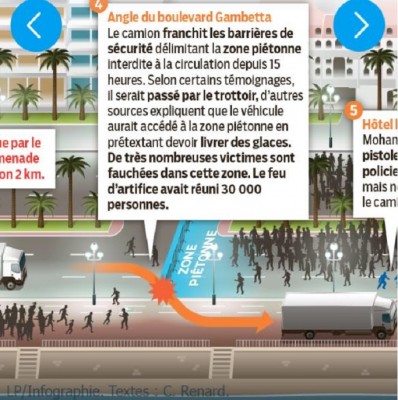 This List could also Include Many Popular Reactions against some Controversial semi-Official Statements reportedly Claiming that, even in the foreseable Future, Nothing could Prevent such Odious Mass Killings of Civilian People, that several commentators found at least Exagerated, if not Scandalous.

    In Nice's concrete case, the Mere Fact that the Truck Killer had reportedly claimed to the Police "he was ..."Selling Ice-Creams" (sic !), is Simply Not Enough !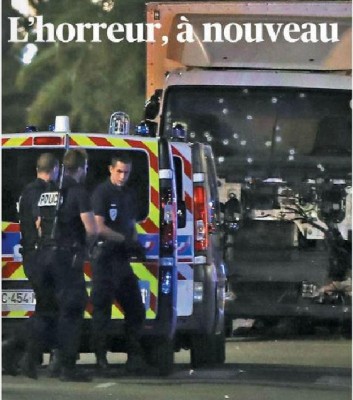 ---

    An Original Testimony, in this regard : Just One (1) Hour Before Nice's Events, "Eurofora"s co-Founder was Crossing, Together with others, a Strasbourg City's main Avenue, when, Suddenly, we were Obliged to Stop, get Out of any Public Transport Means, Private Cars, Motorcycles, running Bicycles, etc, being Blocked and Stuck by a Big Over-Concentration of a Huge Mass of People, Gathered around the City Hall's Tower, and Waiting for the Same "14th July" Fireworks, as in Nice. It was incrfedibly Difficult, if not quite Impossible, to Find a Way and to Pass Through all that Never-Ending Mass of People (Youngsters, Elders, Couples, Families, Women, Children, etc), which was Becoming more  and more Dense, as More People were Arriving Each Minute, (and the Organizers' scarce Indications on How to Get Out, were Grossly Insufficient, if not InCompetent, or even MisLeading). We had to Walk Slowly, making Long, Time and Energy Consuming Zig-Zag Manoevers, Pushing and/or Imploring People who were Sitting on the Floor to let as Go Away, accross Squares, Streets, Bridges, Peninsulas, Construction Sites, UnExpected immovable Barriers, etc., in order to Manage, much Later on, to Reach, Exhausted, at last, a Free to Move area.
But, in the MeanTime, we were absolutely Aware of the obvious Danger (that we've had clearly Felt, then) for All those UnProtected and Blocked People (irresponsibly Massed like Sheep in a Groundfloor Area, too Easily Attacked from almost Any Side) to Fall Victims of an eventual Terrorist Attack, at any moment... Once Out, we Run to get Away from that Risky, OverLoaded, "Stucked" and UnProtected Area.

    However, even Before Arriving Home, that Horrible Massive Massacre of Innocent and Defenseless Civilian People, at an apparently Similar Situation in Nice, had Just Started !

   =>  Judging from what we had just Experienced, sincerely Astonished, in Strasbourg, (HQ of EU Parliament's Full Plenaries, PanEuropean CoE, ECHR, etc), it's Highly Possible that, indeed, (as Many have already Said), it Could and Should have been Prevented, and Innocent Victims' Human Lives Saved...

(../..)
(NDLR : Partly UpDated)



***
("DraftNews", as already send to "Eurofora" Subscrivers/Donors, earlier. A more accurate, full Final Version, might be published asap).



***
BRIEF NEWS
00:00 - 26.12.2017

00:00 - 26.05.2017

00:00 - 30.01.2017

00:00 - 14.10.2016

00:00 - 24.09.2016

00:00 - 27.07.2016

00:00 - 03.07.2016

00:00 - 01.06.2016

00:00 - 12.02.2016
Statistics
Lankytojai: 26333954
Archive
Login Form
Other Menu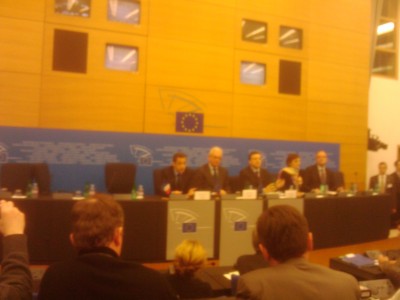 Recent developments proved that Europe can suceed to overcome challenges by aiming at great objectives, and this is needed also in 2009, said EU chairman, French President Nicolas Sarkozy.

    - "It's in the name of Great Ideas, Projects, Ambition and Ideals, that EU can overcome" challenges, stressed Sarkozy at EU Parliament in Strasbourg, in conclusion of a dense 7 months EU Chairmanship. "It's even easier for Europe to have Great projects, able to overcome national egoism, instead of limiting itself only to small projects" (unable to do alike), he observed.     
- "Europe must remain Ambitious and understand that the World needs her to take Decisions". "The World needs a Strong Europe", which "thinks on its own, has convictions, its own responses, its imagination" : "A Europe which does not limit itself into following" others, (as it did in the Past, when it followed USA, f.ex. on Bosnia). On the contrary, "Europe should undertake its own responsibilities", he said, after a series of succes in stopping the War between Russia and Georgia, and organizing the 1st EuroZone's Summit in Paris, which incited the Washington DC G-20 Summit to extend similar decisions World-wide.  

    - "When you sweep it all under the carpet, prepare yourself for hard tomorrows", he warned. "What hinders decisions is the lack of Courage and Will, the fading away of Ideals", he stressed before EU Parliament's 2008 debate on Human Rights and Sakharov prize on Freedom of thought attributed by MEPs to Chinese cyber-dissident Hu Jia, followed by an EU - Turkey meeting on Friday.

    - "I don't abandon my convictions" and "I will take initiatives" on EU level also in 2009, Sarkozy announced later. "France will not stop having convictions and taking initiatives" on Europe. + "It's an Error to wish to pass over the Heads of those who are elected in their Countries" : "It's an integrism I always fought against"', he warned.
---------------------
French EU Presidency faced 4 unexpected Crisis :

- An institutional crisis, with the Irish "No" to EU Lisbon Treaty, just before it started. A geopolitical crisis, wth the threat of War between Russia and Georgia risking to throw Europe back to Cold-war divisions, on August. A World-wide Financial and Economic crisis, arriving at a bad moment before crucial 2009 EU elections. And even a Strasbourg's mini-crisis, with EU Parliament's roof curiously falling down, from unknown reasons, in a brand new building on August, provoking an unprecedented transfert of the 2 September Plenary Sessions...

But it wasn't enough to stop Sarkozy ! On the contrary, it stimulated him...
---------------------------------------

- "The better way to deal with the recent problems of EU institutions (as the "3 NO" by France, the Netherlands and Ireland) is to take them as a "Test" in order to find solutions closer to Citizens' concerns", said later in Strasbourg Sarkozy's new choice as Ministe for EU affairs, Bruno Le Maire.

- On the Institutional front, Sarkozy gave Time to the Irish to think about it, and stroke on December a deal including a New Referendum after the June 2009 EU Elections, in exchange of a promise to keep the rule of "one EU Commissioner for each EU Member Country", and some opt-outs on Defence and Fiscal EU policies, Abortion, etc. If the Irish get a "Yes" Majority, then the institutional package could be completed in 2010 or 2011 on the occasion of Croatia's probable EU accession.

He was accused in Strasbourg to upgrade EU Council and downgrade EU Commision, but he replied that "strong Political initiatives by EU Council reinforce also the more technical role of EU Commission, under the political-technical leadership of its President", all 3 "working together with EU Parliament".


- But, meanwhile, Sarkozy energetically spearheaded an Historic 1st Summit of EuroZone's 15 Heads of State and Government at EU's core, exceptionally enlarged to a partial participation of British Prime Minister Gordon Brown, on October 12 in Paris' Elysee palace, which started to tackle succesfully the growing world Financial crisis.

    It also paved the way for its endorsement by a subsequent Brussels' 27 EU Member States' gathering, before it all come to Washington's G-20 Summit. And "Europe was united, it asked for the 1st G-20 Summit, and it will also organise the next G-20 Summit on April in London", he observed.   
 But a Conference with EU, Russia, African and other Developing Countries, hosted in Strasbourg shortly after Washington G-20 Summit by the French EU Presidency, took a Resolution asking to enlarge participation to Global Economic Governance. Many found, indeed, illogic and unacceptable that f.ex. states as Turkey were given a seat at G-20 level, while all African Countries, and even the African Union itself, representing the greatest Continent on Earth, were excluded...

    Meanwhile, even USA''s "Paulson No 3" Plan, was, in fact, inspired by Europe's No 1 Plan", Sarkozy observed, largelly applauded by MEPs.

    And "Europe showed Solidarity" by mobilizing some 22 Billion credit for Hungary, 1,7 billion for Ukraine, as we do nowadays for Baltic States, etc., he added.

    The move on Economy was extended on December by an EU stimulus' plan totalling some 200 billion Euros, including 5 Billions released by EU Commission for big Projects, as well as various parallel National plans for Economic revival, (fex. 26 billions in France alone). They might appear limited, compared to USA President-elect Obama's reported plan to boost the American economy with 800 billion $, but at least succeded to overcome Europe's divisions for the first time on Economic governance, opening new horizons.

- The French President stressed even harder the unique role of an active EU Council's chairmanship, when he moved swiftly and efficiently, at the beginning of August, to succesfully stop War between Russia and Georgia, at the last minute, which threatened to bring Europe back to Cold War division.

"We (EU) also wanted to avoid a situation like in Bosnia, in the Past, when EU was absent, so that our American friends took their responsibilitues, and EU only followed", despite the fact that the conflict took place in Europe. Now, it was the EU who took its responsibilities".

A roadmap towards a new PanEuropean Security policy, before which all unilateral moves to place new Missiles (from USA or Russia) would be freezed, was proposed by Sarkozy after a meeting with Russian president Medvedev, at the eve of Washington DC's G-20 Summit.

Ukraine's "European" character was stressed at a Sarkozy - Jushenko Summit, September in Paris, while EU adopted on December an "Eastern policy", in which, "I'm convinced that our (EU's) future is to find with our Neighbours the conditions for Economic Development. Peace and Security, by explaining them that.. they must respect (Human Rights') Values, and adopt behaviors different from the Past", explained Sarkozy in Strasbourg.

Meanwhile, the "Union for the Mediterranean" was created, since July's Summit if 45 Heads of State and Government in Paris, as "an organisation for a permanent Dialogue, that we need", mainly in order to tackle the Israeli-Palestinian conflict, by bringing together, for the 1st time, Israelis and Arabs, where "Europe must be present, in order to avoid a frontal clash".

- "If Europe doesn't take its part for Peace in the Middle-East, nobody else will do that in our place", Sarkozy stressed.
-----------------------
    Meanwhile, other EU Agreements were brokered during the French EU Presidency on Immigration, (fex. common Asylum rules, etc), and Climat- Energy :

    - On Climat-Energy, the 2007 German EU Presidency had fixed a triple 20% aim for 2020 (20% renewable Energies, 20% reduction of CO2 emmission, 20% energy efficience/economies), and the 2008 French EU Presidecny realized that, making the necessary compromises in order to modernize EU's industry, but without throwing some former Central-Eastern European Countries into abrupt Economic break down risking "social explosion".

    - Defence-Security EU policy was mainly postponed for April 2009, since both German chancellor Merkel and French president Sarkozy want to strike a deal with the new American president Obama in Strasbourg's NATO Summit.

    However, with all these 4 unexpected Crisis diverting attention to other urgencies, People wil wonder now, what happened to the famous deal proposed by freshly-elected French President Sarkozy on Turkey's controversial EU bid, back on August 2007, to continue EU - Turkey negotiations, but on the double condition that core chapters, intrinsequally linked with EU Membership, will be excluded, and that a collective Reflexion and Debate on Europe's future would start before the end of 2008.

    It was meant to reply to the crucial question : What kind of Europe do we want in 10 or 20 Years from now : A large Market, or a Political Europe, with a popular identity ? In Sarkozy's thinking, presented in his 2 landmark speeches on Europe in Strasbourg, shortly before and after the 2007 Elections, (on February and July 2007), Turkey's controversial EU bid would be incompatible with the second choice.

    It's true that EU Commision's Chairman, Jose Barroso, (who had notoriously declared, as former Portuguese Prime Minister, that he found "nonsense" the idea that Europe might become equal to the US), had repeatedly tried to avoid that Sarkozy's criticism on Turkey might start winning a larger audience in Europe, preferring a discrete "wismens' committee" work. And that most of the personalities later chosen in order to participate in a Committee on Europe's Future, are too much linked with Socialist parties and/or American policies, to be really critical of USA's notorious wish to impose Turkey to the EU, as Sarkozy had noted himself since March 2007..

     - "It's on EU Council's presidency to take political initiatives. EU Commission has other competences", stressed Sarkozy. The "European Ideal" is to "build Europe with the States, not against them". "Ask Europeans to chose between their countries and Europe won't work. You don't choose between your two parents : We must add them together".

    "France and Germany have an Historic Duty to work together, precisely because of what happened to the Past. We have to work hand by hand. We cannot be separated.It goes beyond me and Mrs Merkel today, Mr Schroeder and Mr. Chirac yesterday. It's not a choice, it's a duty to Europe and to the World".  "We need Germany, as Germany needs Europe". Compromise is inevitable, here as everywhere, and each one made some steps towards eachother's positions.

    But "it's true that Mrs Merkel didn't chose her Socialist partners, while I chose mine", Sarkozy said, in an indirect hint that the Socialist Minister of Finance in Germany might be a cause of minor past disagreements in Economy, which were overcome in recent negotiations.

    "We (France and Germany) have particular duties in Europe", but "in a Europe of 27 Member States, it's not enough for France and Germany to agree between them.

    "I always thought that Great Britain has a special role to play in Europe. ... Now, everybody "saw what it cost payed the UK for having been too exclusively open towards the US (and) Financial services. Europe needs the UK, but also the UK needs Europe" :- "We were able to face the hardest moment of the Financial crisis because the UK clearly chose Europe", stressed Sarkozy, reminding Gordon Brown's exceptional participation to the Historic 1st Heads of State/Government Summit of EuroZone, October 12 in Paris (See EuroFora's Reportage from Elysee Palace then).

     - "Some look at Europe with old glasses aged 30 years ago. While we must look at her in relation to what it will be in 30 years" in the Future, Sarkozy concluded.


Polls