Home

newsitems

Presidency candidate Hollande (S) to EuroFora: "Turkey doesn't meet EU Criteria ..for the moment..
Presidency candidate Hollande (S) to EuroFora: "Turkey doesn't meet EU Criteria ..for the moment..
Friday, 16 March 2012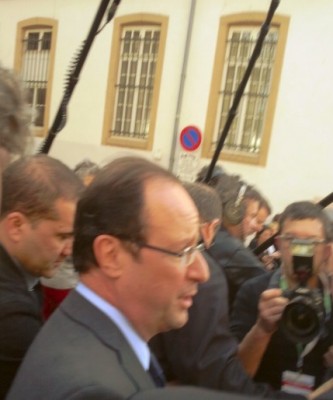 *"Strasbourg Days 2012"/ACM/- Even if it's obvious that Turkey doesn't yet meet the Conditions for eventual EU Accession, on the contrary, it's not excluded that Ankara might enter inside the EU at any point in the Future, nor that some Technocrats won't, suddenly, claim that Human Rights, Democracy and Rule of Law criteria would have been met by the Turkish Authorities, even if this would be in blatant contradiction with the Facts, as back on 1999-2004, if we judge by the Replies that "Socialist" Candidate Hollande gave to "EuroFora"s Questions today ;

- "EuroFora" initially started by asking Hollande "what is really (his) position on EU's Enlargement".

- "To which Country ?", Hollande asked.

- "Obviously for the most controversial question : That of Turkey, considering, in particular the problems it raises for the EU, also on Human Rights, Democracy, and other issues", we pointed out.

 - "I think that, for Turkey, the Conditions (to EU Enlargement) are not fullfilled", Hollande replied.

+ "And in the foreseable Future ?", asked, in an obviously necessary complementary question, "Eurofora" in addition.

- Today, "there is a Process, which must be respected", started to reply Hollande, pointing to the controversial and unpopular Turkey - EU Negotiations, that some persist still to call "Accession" Talks, (despite the Democratic mandate given by a Majority of EU Citizens to French and German, but also Austrian, Dutch, Belgian, Bulgarian and other Governments and/or Election Winner Parties, as well as to the biggest EU Parliament's 2009 Elections' EPP Group of MEPs, to Stop Ankara's EU claims), while others have started to name "Open Ended" Talks, (i.e. able to lead also to an eventual "Strategic Partnership", not to Full Accession), according also to Official EU Council's Decisions since 2006. This same "process" also serves, in practice, as a Legal and Political pretext in order to start Funding the Turkish Government, since 2001 with a growing, Big amount of Money, now near to 1 Billion € each Year in Grants, (i.e. the equivalent to some 400 Billions € in Loans), from EU Taxpayers'Money (including the Poor who pay VAT), equal to... EU's most important Space program for High-Tech Innovative Infrastructures on "Global Monitoring for Environment and Security", alias GMES, which is notoriously threatened recently, because of lack of available EU Funds, ... (See relevant, recent "EuroFora"s NewsReports).

+ "But the conditions (for Turkey's EU Accession) are not fulfilled..." yet, he reiterated carefully.

- "... for the Moment", as the 2012 "Socialist" Party's candidate for the forthcoming French Presidential Elections, chosing carefully his words, concluded, by adding a Crucial point which obviously Changes everything...

=> I.e., to put it in a nutshell, for Hollande, only the present (i.e. up to the late April - early May 2012 Vote) situation is certain, (because of Turkey's blatant reluctance to fulfill EU Conditions, particularly on Democracy - Human Rights), while, on the contary, ... anything may happen afterwards !

Including, last but not least, for French and other EU Citizens to have to face, sooner or later, at some "Other Moment" during the 2012-2017 period, eventually, a "Socialist" Government in Paris  and/or elsewhere inside the EU, suddenly claiming, anew, that the notoriously undemocratic, oppressive and aggressive Turkish Government would have "fulfilled far enough" the EU Conditions, even if, in fact, it would not have done so at all, except from a few cover-up, "Publicity" attempts to Mislead the Public Opinion with False Appearances or even Grossly Erroneous Claims by some astonishingly stuborn proponents of Ankara's controversial  EU bid, probably most driven by some shady, in fact Anti-European Networks notoriously searching a way to undermine Europe through Turkey's unpopular attempts to enter into the EU, which would obviously Exclude any European Identity, Destroy Social Cohesion, Dangerously Expose Europe to Iraqi, Syrian and Irani Borders, empty EU's Budget, grossly violate Modern Europe's Values on Human Rights and Democracy, practically throwing EU Citizen's Rights to the WasteBasket, inundate the EU with Mass Immigration from Asia notoriously unwilling to integrate so that EU Countries would be infiltrated by "Ghettos" monitored from Abroad by "remote control",  while also giving a Right to Vote in immediately forthcoming Local/Regional Elections in France (2013-2014) to Non-European Immigrants, so that a recent Massive Turkish Immigration, rejected by Switzerland and/or Germany/Austria, penetrates even more in N/E France, (according to Turkish Prime Minister Erdogan's 2010 call in Paris), to take the formal "Papers" needed in order to start Manipulating several French Votes by its, Externaly Monitored, non-integrated Ghetto-Lobbying (comp. supra)....
Already, EU's 1999 and CoE's 2004 decisions, to, respectively, accept Turkey's controversial and unpopular EU "Candidacy", as well as to claim that Turkish Authorities would have fullfilled almost all Human Rights, Democracy and Rule of Law commitments vis a vis the CoE, so that the famous "Copenhagen Criteria" would have been, reportedly, already met, allowing Ankara to start lucrative EU Accession Negotiations (costing more than 850.000 € each Year) from 2005, notoriously astonished and revolted many People, resulting to the three "No" to EuroReferenda since 2005 in France and the Netherlands, followed by Ireland, etc., after the sudden emergence of rapidly growing, unprecedented Majority Abstentions in EU Parliament's Elections, precisely, from 1999-2004. 
                                                                                                                                                                                                                                                                                                                                                                                                                                                                                                                                                                                                                                                                                                                                                                                                                                                                                                                                                                                                                                                                                                                                             
    => Such a Dangerous Ambiguity about the Future, particularly on a so Crucial issue as that of Turkey's controversial and unpopular EU bid, (Comp. "EuroFora"s 2nd, complementary Question to Hollande and his Reply : Supra),

    cannot but aggravate precisely what the "Socialist" candidate himself had denounced, earlier today himself, as "a Feeling of Deprivation and a Disillusion,...in European Politics", "when a Sovereign People feels that it has no more of the capacity to decide itself on its own Fate", and when appears "a growing distance between Promisses and Acts, and a growing Gap between the Expression of Political Will, and the Heavy Obstacles which might oppose progress" ...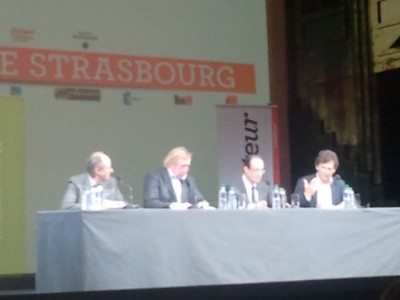 Because it's simply scandalous to Threaten People even on 2012 with Turkey's controversial and unpopular EU entry demand, while crystal-clear Majorities have already Voted to exclude any such risk, repeatedly, since the 2005 "NO" to EuroReferenda in France and the Netherlands, particularly on 2007 French Elections, on 2009 in German and EU Parliament's Elections, etc. as well as in various other EU Countries between 2009-2011 !

    + Moreover, it's Incompatible with any wish to "help emerge a European Dream", as Hollande said that he wanted to do "though a French Dream", if anyone brought EU Citizens, on the contrary, face to face with the "Nightmare" of a notoriously undemocratic, Oppressive Turkish Government, with Thousands of even Elected MPs, Mayors or Journalists currently Jailed in Prisons, Press Liberties and Freedom of Expression  arbitrarily oppressed, Turkish Army occupying the Northern part of Cyprus, threatening Greece in the Aegean Sea, launching Deadly Attacks inside Iraq, blocking Armenian survivors of the 1st Genocide in Modern History, a scandalous Impunity of Torturers or Murderers, (often Turkish State's Agents), Hundreds of Thousands of Refugees still Hindered to return to their Family Homes and Ancestral Land from which they were Brutally expelled, still Disposessed of their usurpated Homes and private Properties contrary to ECHR's case-Law, Families of "Missing" Persons still ignoring what really happened to their beloved ones and who is Responsible for their Enforced Disappearance, with Archives and other vital information being kept Secret by the Turkish Authorities and Killers totally unpunished in blatant Violation of ECHR's judgements : A Dangerous Precedent full of obvious Risks also for the Future of Humankind, (etc)...  Particularly if such scandalously unpunished and dangerous Criminals and other Corrupted and Abusive Turkish State Agents, started even to ..circulate among EU Citizens' children, inside the EU, spending EU Taxpayers' Money, by consuming EU Funds equivalent to those from which is currently deprived even he biggest, High-Tech Space Program of the EU : the famous "Global Monitoring for Environment and Security" (GMES : See relevant "EuroFora"s recent NewsReports),..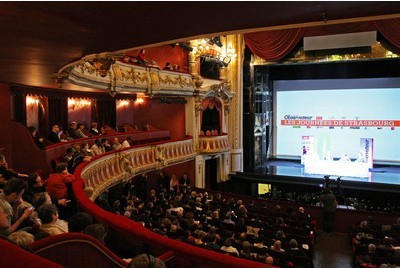 Hollande, who had just finished, before speaking to "EuroFora", a Dialogue with a German Socialist Philosopher from nearby Karlsruhe, in Strasbourg's Opera, in the framework of a 3 Days-long Annual Political Debates event organized by "Socialist" Magazine "Nouvel Observateur" and the Association "Europa Nostra" (where his participation was anounced only at the last minute), except from ostensibly drinking a ..."Turkish coffee" earlier in a Suburb, (an apparently "innocent", pittoresque act), hasn't yet done anything, at least at our knowledge (which is,  however, rather limited as far as his Past activities are concerned), which might, eventually, lead to Doubt about his personal Objectivity and/or Honesty concerning key Facts on Turkey. But, given also the Fact that he's notoriously surrounded by other "Socialist" Politicians who unquestionably  have serious Responsibilities already for attributing to Turkey's controversial and unpopular EU bid the lucrative Status of "EU Accession Candidate" back on December 1999, (such as former PM. Jospin, former MInister for EU affaits Moscovici, and others), as well as the recent trend of most "Socialist" Parties to systematically accept and even push Turkey's controversial and unpopular EU Bid (at least since 1999-2000+), added to the Total Absence of Any Guarantee that, this time, any eventually Crucial Decision on EU-Turkey relations would be really taken on the basis of Objective Criteria, contrary to the Negative, obviously Arbitrary and/or Irrational Decisions taken on December 1999 and 2004 falsely claiming that Ankara would have fulfilled its Human Rights/Democracy and Rule of Law obligations (sic!), it's naturally very Difficult, if not totaly Impossible to Blindly Trust Now his Hypothetic "Bona Fides" alone, particularly in an issue with so High Stakes, even in Global GeoPolitics, as Turkey's EU relations....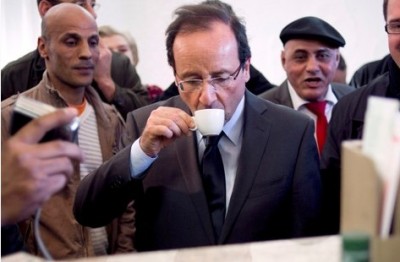 ------------------------    
Hollande's approach on Turkey's controversial and unpopular EU bid, as it was resumed today in his replies to "EuroFora"s question, (Comp. Supra) differs from that of President Sarkozy mainly on the following crucial points :

    1) - Hollande accepts that Turkey could become, one day, a full EU Member. On the contrary, Sarkozy believes that Turkey is not a European Country, and (as Merkel and others) rejects Ankara's EU bid as dangerous against the desired development, in the Future, of a Strong, Political Europe with an Historic and Cultural Identity able to attract a large Popular support.                                                                                                                                                                                                         
    2) - But, "for the moment" Hollande says that "Turkey does not fullfil the Conditions" for EU Accession, without, however, giving any idea about when this might be done :  F.ex. in the following few years up to 2014 or after 20 Years ? Obviously, this Fact inevitably provokes the Suspicion to be only a pre-Electoral truc, since he could  Change his mind at any moment afterwards...

On the contrary, Sarkozy (as well as Merkel and others) have a crystal-clear stance on this point, considering that Turkey, similar to other Neighbouring Countries, from Morocco (which had been already refused EU candidate status in the Past) through Ankara up to Russia, should better get a kind of "Privileged Partnership" solution, allowing "closer relations" with the EU, but not full entry inside the EU.

This Democratically supported Franco-German stance, which has, in the meantime, won a clear Majority of EU Citizens, as not only France 2007 and Germany's 9/2009 Elections proved, but also People's Votes in EU Parliament's 7/2009 Elections, as well as in several other EU Countries since then, where it has started Spreading all around the EU : F.ex. in Austria, (even inside the UK in the 9/2009 Vote !), the Netherlands, Belgium, Bulgaria, Hungary, Finland, etc. Despite Turkish Government's provocative attempts (and even threats, if not Blackmails !) to change this into a Cultural Conflict, claiming even to bring (real or artificial)"Terrorism" and other more or less Violent Clashes in Europe, nevertheless, the growing opposition to Turkey's controversial and unpopular EU bid appears as the only common point in recent political developments throughout all Europe between 2005-2012...  
        3) Meanwhile, Hollande openly supports a process of EU - Turkey's "Accession" Negotiations, (as most "Socialist" parties in the EU), which gives to Ankara's Government some 1 Billion € each Year in full Grants, i.e. the equivalent of about 40 Billions € in Loans each Year !!!!), costing in EU Taxpayers' money (including the Poorest, who are obliged  to pay VAT) as equally Expensive to EU's ... most important, High-Tech Space program GMES ("Monitoring for Environment and Security" : See recent "EuroFora"s NewsReports on MEP's protests and EU Parliament's Resolution denouncing the Lack of Money for the European Space Industry, while similar sums are currently wasted in Turkey's controversial and unpopular EU bid,  even in the present time of Global  Financial Crisis), scandalously, given the Democratically expressed opposal by a Majority of EU Citizens and several EU Governments (comp.  Supra), and falsely claiming (Comp. Hollande's 2nd Reply to "EuroFora"s Question) that EU would be legally obliged to continue doing so, even if Turkey still Refuses to respect its own Commitments that it officially undertook, precisely, since 2004, as a Condition for such EU - Turkey Negotiations to start ! (i.e. to Stop Discriminating against EU Member Cyprus' related Ships and Airplanes, etc., the failure to do so, normally, being enough in order to Suspend the Negotiation process, particularly considered in addition to many other Turkey's persisting Failures to respect also several more of its Obligations, f.ex. on Human Rights/Democracy, etc).

    On the contrary, Sarkozy, after initially promissing  to put a clear and unequivocal, full  Stop to EU - Turkey's controversial and unpopular EU bid, was notoriously obliged (by EU Commission President Barroso and some former "Socialist" Governments' opposal back on August 2007, at the same moment that even his personal life was notoriously hit), to propose a Compromise (together with Prime Minister Fillon) consisting in 2 Conditions in order not to Block EU - Turkey's Negotiations : (a) Refusal to open 4 or 5 Negotiation Chapters which are considered as part of a Full EU Membership, (f.ex. participation to EU Institutions, Cohesion funds, EU Citizenship, Free Movement/Shengen, €uroArea, etc), and : (b) A call to start a serious, EU-wide Debate on Europe's Future, (which would include also the issues of EU's Political dimension,  Identity, Borders, etc).

Since then, as it is well known, the EU Commission was obliged to respect the 1st Condition, (which, of course, remains Valid, in practice, as long as ... Sarkozy will remain France's President, risking to "vanish" as hot air if things turned otherwise...
But it scandalously undermined the 2nd Condition, after a Bureaucratic manoeuver in Brussels' corridors scandalously "burried" the issue, by Excluding EU Citizens' Public Debates, and downgrading it only in a controversial small "Committee" Report on 2010, prepared by an appointed Secretariat directed by a certain "Dr. Türk", a Slovenian Expert in ... Computer issues, completely unknown to EU Citizens, and then hired only by ...Turkey's Instabul University for a part-time Job, as well as chaired by former "Socialist" Spanish P.M. Gonzalez, a notorious suppporter of Turkey's controversial and unpopular EU bid,  known for having formed a "Duo" with Turkish Prime Minister Erdogan in a MultiCultural project, etc, (See : http://www.eurofora.net/newsflashes/news/colmarbrussels.html ),  so that the matter wasn't pursued at all until now.
                                                                                                                                                                                                                                                                                                                                                                                                                                                               
However, EU's Political 2012 Landscape is much Better and adequate now, than what it was back on August 2007, for the realization of that Sarkozy's idea, (a compromise deal with EU Commission's President Barroso : Comp. supra). Because, meanwhile,  Democratic Elections in many EU Countries allowed to the People, at least partly also inspired by France's 2007 example with Sarkozy, to Vote into power several Political Leaders and/or considerably strengethen New Political Parties, whose views on Turkey's controversial and unpopular EU bid are closer,  if not quasi - Identical to the French President's : F.ex. in Germany, Austria, Holland, Belgium, Hungary, Bulgaria,  Sweden, Finland, Greece, Ireland, etc., and even in the UK an unknown Party surprised by winning more MEPs than the Liberals and even than the then Governing Labor Party immediately after it entered the Vote with No 1 issue the "No to Turkey's entry in the EU", while also EU Parliament's 2009 Elections were largely won by Sarkozy's allies of the ChristianDemocrat/EPP Party both in France and Germany but also elsewhere throughout Europe.

Moreover, several experienced or new EuroPoliticians have already told "EuroFora" that they also feel that Time has come for such a Debate to start in Europe, by a potentialy interesting coincidence, at the same moment that Sarkozy anounced his intention to start using a "Referendum" method of reaching out to the People whenever "intermediaries" might eventually refuse to move on key issues, and the same year that "EU Citizens' Initiative" is expected to start working probably from April 2012, as informed EU sources told "EuroFora"...
---------------------------------------------
    => Could the "crossroads" issue of Turkey's controversial and unpopular EU bid, (in fact, a meeting point of many crucial problems in Human Rights/Democracy/Rule of Law, EU Budget and Cohesion, European Culture, History and Identity, Europe's Borders and GeoPolitical games between EU and USA, etc.), became as crucial for 2012 French Elections as back on 2007, considering also wjat the experienced former Prime Minister, Michel Rocard, (PSoc.), said immediately after the Hollande's dialogue in Strasbourg's Opera to "EuroFora" ?

     - Questioned in general about "European issues", Rocard replied that "EU matters,  recently appear rather risky and complicated, so that I think that the don't have a big importance right now".

    + " But I am convinced that it (Europe) can emerge anew, this time, during the confrontation... " at the 2012 French Presidential Election's campaign, Rocard speculated....
------------------------------------------
    However, in this case, it doesn't seem that the far more Crucial issue of Turkey's controversial and unpopular EU bid, which affects so many EU matters, (f.ex. Human Rights/Democracy, Europe's Borders, History and/or Identity, Social Cohesion, High-Tech. Development or Low level "services" and over-Exploitation, the well-known Dillema : "a weak Market, or a Strong Political Europe with Popular support ?", EU's message to the World, etc), might be overshadowed by the also important, but not  equaly crucial issue of Hollande's controversial wish to review the €uroArea Governance Treaty, (which, naturally sparked  a growing "Hot" debate recently) :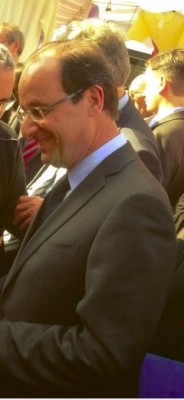 -  "Do you need a Large ReNegociation for the Changes that you want on €uroArea (Governance) Treaty, about Economic issues ?", "EuroFora" asked later  Hollande.

- "Yes !", firmly stressed Hollande, without any hesitation, in reply to "EuroFora"s question if he meant "Big" Changes, or small.

- "In order to add also (something on) Growth", he went on to add, but wihout specifying at this moment. 
                                                                                                                                  Speaking shortly later in Strasbourg, in a Public Debate with former Greek Prime Minister Giorgos Papandreou, "Green" Group's vice-President, MEP Daniel Kohn-Bendit, initially tried to Minimize the scope of the Changes wished by Hollande in €uroArea Governance's Treaty :

    - He (Hollande) just wants to add 2 "simple" References : 1) on the aim of Growth, and 2) on CEB's role for that purpose, softly - softly said Mr. Kohn - Bendit with an unusually  ..."relaxing" tone..., as if it was nothing important, just a tiny, innocent butterfly flying in the woods...

    But, considering the fact that the Official EU Text already Signed by 25 Heads of State/Government, already has some References on "Growth", (comp. "EuroFora"s recent, relevant NewsReport), while Sarkozy, (in what looks as a kind of silent but efficient Deal with Merkel and Monti, etc.,  since End November - beginning of December 2011), has already managed to succesffully launch the European Central Bank's interventions in €uroArea's Financial Markets twice until now, (in both cases, with very Positive Results : December 2011 and Februar 2012),
and taking also into account even the notorious fact that .. Mr. Kohn-Bendit doesn't really use to speak so .. "Softly" (Comp. Supra),
=> we'd bet that, probably, Hollande's pals will soon anxiously try to Cover-up this starting 2012 Turkey, really "Hot" issue, with anything might excite and divert attention away from it, including, precisely, the €uro-Treaty Change Controversy, (as well as ANYTHING ELSE)....
------------------------------------------------

    
 (../..)
***

(NDLR : "DraftNews", as it was already sent  to "EuroFora"s Subscribers/Donors earlier. A more accurate and full, Final Version is due asap).
                                                                                                                                                                                                                                                                                  
***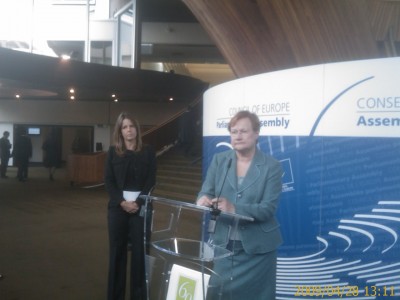 People in Europe and the World expect from CoE to make a succes of its "Monitoring" for Human Rights and Democracy, despite difficulties, said Finland's President Tarja Halonen to "EuroFora" at a crucial moment for the mecanism built 15 years ago by the paneuropean organization which celebrates its 60th Anniversary in 2009.
Halonen, known as "Mother" of CoE's "Monitoring" mecanism, a long-time MEP and former Foreign Minister before becoming Finland's President, holds a long experience in the mattter, after also serving twice as CoE and EU Chairwoman in the past. That's why she is well placed to judge how CoE's "monitoring" should deal today with some crucial issues of importance both to CoE and to the EU.
The move came just a Month before a crucial, last visit to Turkey, scheduled for June, by the President of CoE''s "Monitoring" Committee, Ukranian MEP Serge Holovaty, to finalize his Report on Ankara, the CoE Member State with the longest Monitoring procedure. From its results depends its overall credibility.
This is a Test-case, because, in fact, it's in order to avoid Sanctions threatened against Turkey by a CoE's Assembly's April 1995 Resolution for grave Human Rights violations, Democracy gaps, the continuing Military Occupation in Cyprus, the unresolved Kurdish problem, Aegean differend with Greece, etc., that MEPs decided to create, for the 1st time on April 1996, a "Monitoring" proces, allegedly destinated to check, without excluding Countries who did not fulfill all CoE's standards.
In the Past, the obliged withdrawal of Greece's Military regime and of its "Civil" cover-up out of the CoE had helped bring back Democracy in 1974. But, on the contrary, since April 1996, the idea was to "monitor" Human Rights' respect while keeping most concerned Countries inside the CoE. After Turkey's oldest example, this was extended also to several former "Eastern" European Countries, even if CoE's Assembly has imposed to some of them (fex. Ukraine, Russia, etc., after Belarus, Serbia, etc) various "Sanctions", that Ankara always avoided. Curiously more succesful even than .. USA itself, (a CoE "Observer" since 1995), which has been at least threatened with sanctions some years ago..
EU-effects of CoE's Monitoring process became obvious between 2001-2008, since the "closure" of this procedure, when CoE felt that a Country had met most of its Human Rights, Democracy and Rule of Law obligations, (i.e. the "Copenhagen Criteria" for the EU), helped trigger Negotiations with the EU for "Accession" or other closer relations : This occured already before the 2004 and 2007 EU Enlargements to former "Eastern" European Countries, as well as for the commencement of "accession" negotiations with Croatia, and of "open-ended" negotiations with Turkey in 2005.
    But a stricking new development are Holovaty's recent findings that on core Human Rights issues as Torture and Freedom of Expression, Turkey, even "5 Years after" CoE closed its "Monitoring", back in 2004, inciting EU to start accession Negotiations in 2005, still presents grave problems.
    His findings are of crucial importance after a 2008 CoE Resolution called, "if need be", to "seriously consider the possibility of Re-Opening the Monitoring procedure for Turkey" : A move which might affect Ankara's controversial EU bid, since EU Accession Negotiations are based on the Hypothesis that the Candidate fullfils the "Copenhagen Criteria" (See above)..
-------------------------
    Holovaty expressed his will to check  "Matters still Outstanding" and  those that he "didn't have an opportunity to discuss" at an earlier visit this year, "in order to discuss the more complex issues in greater depth", at his forthcoming New Visit to Ankara, before the December 2009 EU Summit.  This is all based on the 2004 CoE Resolution which stresses that, CoE "will continue.. post-monitoring Dialogue with the Turkish authorities,...in addition to a 12-points list,..and on any Other Matter that might arise in connection with Turkey's Obligations as a CoE member state".
    CoE's Resolution also asks  from Turkey "to secure the proper Implementation of Judgements, particularly in the Cyprus v. Turkey InterState case", of 2001, which concerns also the plight of many Hundreds of MISSING People. It adds Turkey's obligations to "execute" ECHR's Judgements in the Loizidou case,..and in particular adopt General Measures to avoid repetition or continuation of Violations found by the Court" to the detriment of Refugees.
    Nevertheless, Holovaty said to "EuroFora" that "MISSING" persons,"might be included" and cannot be excluded, but he has yet to examine the situation "to find out  which issues will be raised" to the Turkish Government.
    Therefore, "EuroFora" asked Halonen, as the Historic "Mother" of CoE's Monitoring mecanism, if she thought that, "whenever there are grave Human Rights Violations, as fex. "MISSING" persons, attested even by ECHR's judgements, they should be always checked by a Monitoring process. Or could they be forgotten ?"    
     - "We (CoE) must be, at the same time, Fair, Realistic, but not in the mind that "now we have Forgotten", etc., replied to "EuroFora"'s question Halonen, speaking as a matter of general principle.
    - "When we think of those People that are suffering from the lack of Democracy, of Human Rights, and of the Rule of Law", "we should find a base on how to deal with the (Monitoring) system more rapidly"', she stressed.
    - "Sometimes it's very difficult to combine Transparency and Effectivenes together, particularly in this specific case", she went on to say. But, "I have not found a (CoE Member) Country who could be insensitive in this sens", Halonen answered concerning grave Human Rights violations attested by the ECHR.
    - "I have no ready-made answer. I have the expectations that you, in the CoE, will, step by step, find the different types of the monitoring systems."
    Also "because this is a part of the UN's Post-Conflict system, (fex. when it comes to Cyprus' MISSING persons), and it's a more Global system". So that, "If we make a succes in Europe, the others will follow", throughout the World.  "But they expect that we (Europe) are this opportunity, this Opportunity to make a Succes", Halonen concluded.
    In addition, she advised to extend CoE's Monitoring to all its 47 Member States, "because, as long as we hear that, all these monitoring systems are "OK for the neighbor, but not for me", "it's very difficult" to understand. Something which could make easier to Compare...
    Finnish MEP Jaako Laakso, former CoE Rapporteur on the Occupied Territories of Cyprus and one of the 5 Signatories of the Historic CoE's call to create the "MONITORING" mecanism since 1996, was more specific :  - "We (CoE Assembly) have to find a way for the issue of Cyprus' MISSING People to be better followed", he stressed, anouncing his intention to "speak to Mr. Holovaty" about that. "There might be also other ways", added Laakso.
    - The 2008 "Year had been a very Bad one for Turkey with regard to Human Rights in general, and Freedom of Expression in particular", denounced, meanwhile, Holovaty's preliminary Post-Monitoringh Draft Report by Holovaty, published by the CoE on April 2009.
    "Amnesty International believes that freedom of expression is not guaranteed given the various articles of the Criminal Code that restrict it. .. "For example, 1,300 Websites are said to have been closed down by the (Turkish) authorities in 2008" ! While "the new Turkish Criminal Code was used to bring a total of 1,072 proceedings between June 2005 and April 2008, and led to the conviction of 192 people", for expressing views. "Representatives of the Özgür Gündem newspaper, which specialises in Kurdish affairs, ..complained about Numerous Attacks on their Freedom of Expression ...as was everyone who advocated a settlement to the question by means other than the intervention of the army" "According to their figures, 19 Newspapers had been suspended 43 times between 4 August 2006 and 4 November 2008" !...
    Moreover, on 2008,  CoE's "Ministers adopted its 4rth Resolution on the execution of the judgments of the ECHR, ...and outstanding issues regarding 175 Judgements and decisions relating to Turkey delivered between 1996 and 2008...  concerning Deaths resulting from the excessive use of force by members of the Security forces, the failure to protect the right to life, the DIisappearance and/or death of individuals, Ill-Treatment and the Destruction of property". CoE's " Ministers urged the Turkish authorities ...to ensure that members of Security forces of all ranks can be prosecuted without administrative
authorisation" for "serious crimes". Holovaty reminded.
"Nonetheless", Holovaty heard anew of "Several cases of Violence committed last year (2008) by the (Turkish) security forces". Amnesty International speaks of Many Cases of ill-treatment and Torture in the prisons and by the police". "Including, fex."'the death of Engin Ceber, a young man of 29 who died on October 2008 as a result of the TORTURE allegedly inflicted on him by police officers, prison staff and members of the gendarmerie. He was part of a group of people arrested on September 2008 during a demonstration and Press Conference in Istanbul'. Proceedings against suspects are "on-going" in this case.
- " I therefore noted an Obvious Contradiction between the Government's stated "zero tolerance" policy.... of Torture and other forms of ill-treatment, and the different testimonies given", denounced CoE's Rapporteur.  Turkish "authorities must make considerable efforts to guarantee that proper investigations are carried out into allegations of abuses by members of the security forces and that perpetrators are effectively punished" "In this respect, I have requested detailed Statistics on the number of Investigations, acquittals and convictions in cases involving allegations of abuse in order to show the positive impact of the measures taken to date", Holovaty said, repeating a permanently unsatisfied CoE's demand to Turkey since a Decade...
    - "The Political Crisis that shook the country in the spring of 2008 highlighted the Weaknesses of the (Turkish) Constitution", which comes from the Military regime of 1982, "and the Urgent Need of Reforms", stressed from the outset CoE's Rapporteur in 2009. In particular, "the ...Democratic functioning of state institutions, including the independence of the judicial system, are crucial", he observes.
    But, "the Electoral  system and the ways in which it is circumvented do not appear to give those elected complete Legitimacy, and tend to pervert the course of direct universal suffrage", denounces Holovaty, observing that, even 5 Years later, Turkey did not yet change the 10% nationwide Threshold for a party to take any seat, which is "far higher" than the "3%" maximum in Europe and already condemned as contrary to European Standards by the CoE.
    + Moreover, EU Parliament's 2009 Report on Turkey, drafted by Dutch MEP Ria Oomen-Ruijten and adopted in Strasbourg on March, expresses "Concern over the Failure of the (Turkish) Judiciary to prosecute cases of Torture and Ill-treatment, the Number of which is Growing". EU also "is concerned about continuing Hostility and Violence against Minorities" in Turkey. It also "calls on the Turkish Government to launch, as a matter of Priority, a Political Initiatve favouring a lasting Settlement of the Kurdish issue, (while "condemning violence.. and terrorist groups"). EU "regrets that No progress has been made on establishing full, systematic Civilian suprevisory functions over the (Turkish) Military".
    The final results of Holovaty's 2nd and last visit to Turkley will be known later this year, and, at any case, before EU's December 2009 Summit.
Polls