Home

newsitems

Hamburg Bloody Islamist Terrorist Attack Targetting Civilian People highlights Wider Security Gaps
Hamburg Bloody Islamist Terrorist Attack Targetting Civilian People highlights Wider Security Gaps
31. 07. 2017.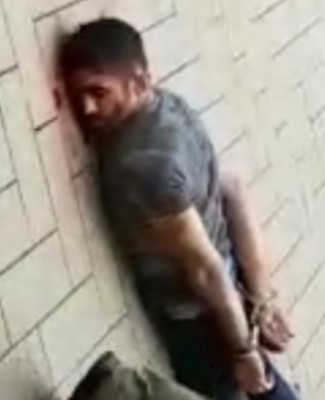 *Strasbourg/Angelo Marcopolo/- After even Today's explicit Confirmation, by Confession of the Culprit himself, that the Knife Attack which Targetted and Killed 1 and Wounded 6 Civilian Victims (including in Life-Threatening situation, including 2 Young Girls and an Old Man, etc) by a self-styled so-called "Asylum Seeker" from the Middle East, earlier  this Month in Hamburg, crying "Allah-Akbar" and aggressing People at Random, according to several Eye-Witnesses, was, indeed, committed with Islamist Terrorist Aims, many Convergent Key Facts clearly show that, Recently, a Big, Wide and Dangerous Gap in States' Duty to Protect EU Citizens' Lives, emerged and is still Spreading, even at the Heart of Europe, more and more Terrorized by the Repetition of such UnPrecedended but avoidable Tragedies.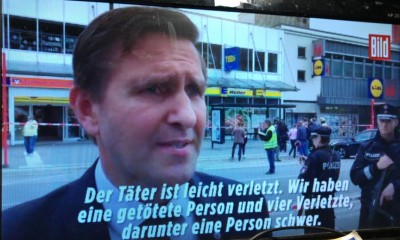 The Main point is that the Hamburg Killer was already Known for having been Dangerously Radicalized recently towards Islamist Extremism (including by Visiting a Controversial Mosque in Hamburg), but, even if he did Not have Any Personal Link in Germany, (he didn't even Speak at all the Language of the Country, where he had just arrived after being Refused in Norway), and Despite the Fact that his Demand for Asylum had been Rejected, without lodging any Appeal, so that, normaly, he should either Leave that EU Country, or be Expulsed, Nevertheless, he was Scandalously let Free to Stay, Move, violently Attack and cowardly Kill and Wound innocent Civilian People in Markets and at the Street, without the competent Public Authorities doing practically anything to prevent that, (as various EU Citizens or Politicians already Denounced).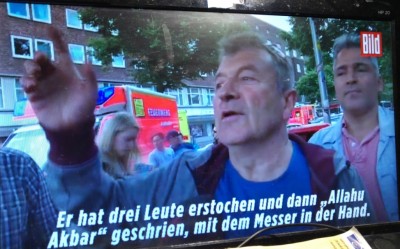 A Similar situation was, mutatis-mutandis, found also in the case of anOther recent Mass Murderer in Berlin's Christmas Market, who Cowardly Targetted and Killed at least 12 innocent Civilian People (including a Deaf Young Girl, etc),  with a Heavy Truck, that he had Stolen from a Polish Driver, Murdering him earlier that same Day (See: http://www.eurofora.net/newsflashes/news/berlinmassacreandrussianambassadormurderinturkey.html) : He was also known to have been Recently Radicalized towards Islamic Extremism, including by Visiting frequently a Turkish Mosque part of the Notorious and Controversial Turkish Network of DITIB, in fact controlled by the Foreign, Ankara's Government, which also Choses, Trains, Pays, and Appoints itself its "Imams" abroad, recently found even to systematicaly ...Spy various Citizens in Germany, provoking a wide-spread Scandal. Moreover his Asylum Demand had Not been Accepted too, but he was, nevertheless, Free, in practice, to still Stay in that important EU Country, (even despite reported accusations of serious Drug Traffick involvement, according to recent Police Reports)...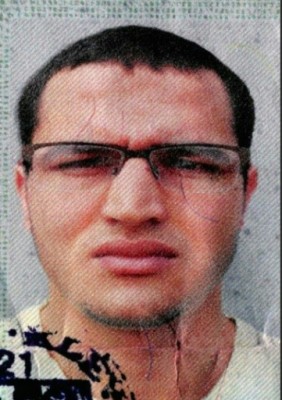 Such scandalous, Brutal Deadly Incidents were Topicaly Reminded, Earlier this Week also in France, where the New President, Emmanouel Macron, made a landmark Speech (against Divisions that seek to provoke ISIS' Terrorists in fact Ennemies of Humanity), at the 1st Anniversary (26 July 2017) of the cold-blood Murder of old Christian Piest, father Hamel, cowardly Attacked inside the Church, during the Holy Mass, and Killed with his throat cut by knife, by 2 Thugs, who Wounded also other Civilians among the Faithful, one very seriously on 2016 (See: http://www.eurofora.net/newsflashes/news/churchattackforeseen.html) :  At least one of those Brutal Coward Islamist Terrorists had been Known, him too, as Radicalized towards Islamist Extremism, and had even Visited Syria in the recent Past, while Informations about an Imminent Attack against a Christian Church in France had recently reached the Security Services . But, despite all that, again the future Killers had been left Free to stil Stay in France, and even Move around at their Town, including towards that Church...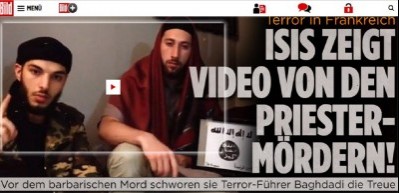 Similar Fatal Security "Gaps" also in the case of a Turkish former "Jihadist" at ISIL-Occupied Syria, living around Strasbourg, not only Before, but even After his recent Return, and visiting a Turkish Mosque (with 2 Minarets, also Member of that notorious and Controversial DITIB Network : Comp. Supra) at a recently Islamized Suburb of the City (Meinau), who became one among the Cold-Blood Murderers targetting and Killing Many Dozens of Innocent Civilian People at the Mass Attacks by Islamist Terrorists on November 2015 in Paris, at "Bataclan" and other locations: He had been practically let Free to Stay and Move in France, (at least enough in order to Kill: See http://www.eurofora.net/brief/brief/strasbourgturkishmosquenetworkforparisdeadlyterrorist.html).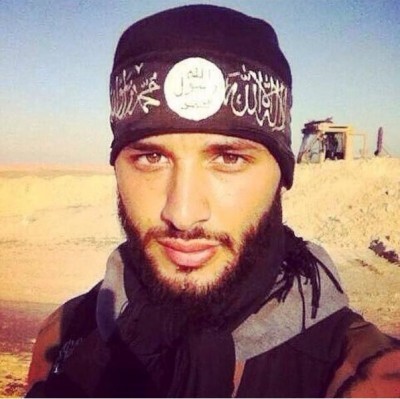 But it was the Recent 4 Knives, Cars, and Bomb Killings in the UK, (Three Times in London and One in Manchester)  which really Started to (indirectly but surely) Reveal what was really Going On, throughout almost all the EU, or, at least, in Most of it :

Indeed, after the case of a Somali Youngster (arrived via Norway, as the Hamburg Killer: Comp. Supra), who Brutally Attacked with a Knife 6 Civilian People, killing an aged American Woman and Wounding the rest, some very Seriously, Near the Brittish Museum, around Russel Square in London, on 2016 without the Local UK Police saying anything yet about his recent intense Islamization, that various Eye Witnesses as well as simple Web Searches (including by "Eurofora") revealed with many concrete Facts, (See, f.ex., among others, also: http://www.eurofora.net/newsflashes/news/lnopolicemanatlondonknifemassterrorattack.html),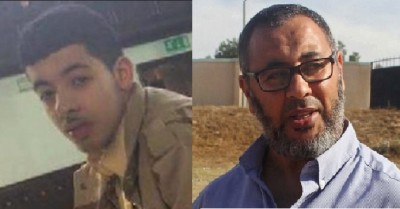 came the Mass Bombing Attack against mainly Young Girls at a Music Concert in Manchester,  on May 2017, where a Libyan, Salman Ramadan Abedi, given Asylum and even Citizenship in the UK, visiting a Mosque in a converted Church given by the Socialist Municipality,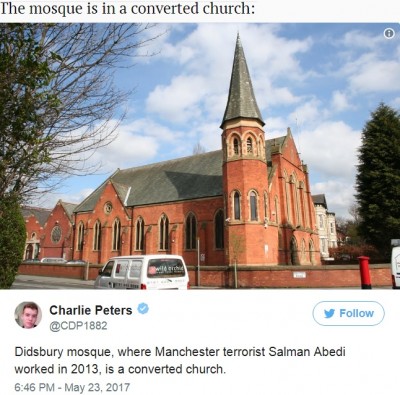 (whose Family had Returned to Libya, while he was Travelling back and forth, including in Turkey) cowardly Targetted and Killed 23 innocent Civilian People, including Children (as, f.ex. 8 years old girl Saffie Rose Roussos, from Cyprus):, and Wounded 250.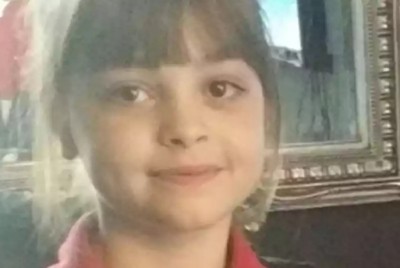 Meanwhile, 2 more Deadly Islamist Terrorist Attacks took place in London :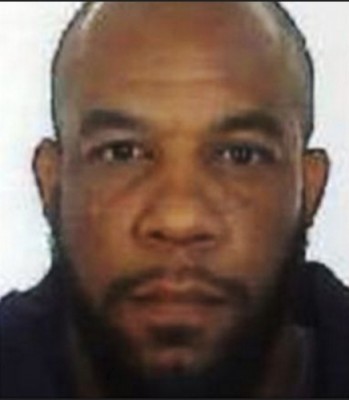 On March 2017 Attack, by Car and Knife, at Westminster, a notoriously Extremist Islamist (Khalid Massoud, among various Names he used), revendicated by ISIS, cowardly Aggressed and Wounded 51 (Fifty one) unarmed People, Killing 5, in a Violent Aggression Acknowledged as "Islamist Terrorism" by the British Authorities, (Comp., f.ex. : http://www.eurofora.net/newsflashes/news/churchsavesfromislamicterror.html , etc).
This was closely Followed by the June 2017 Attacks at London Bridge, by 3 other Islamist Extremists (un of Pakistani and two of Morocco origin), who abused of a Van and Knives in order to Kill 8 and Wound 48 innocent, unarmed People.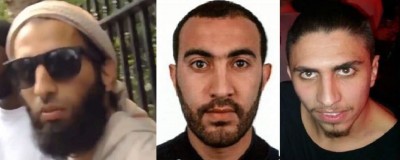 Their Chief, a Paki Extremist who had scandalously been Hired by London City Subway Public Transports, and Vainly Denounced Many Times to London Police for Dangerous Islamist Extremism (and even alleged links to Violent Terrorists), had already been Filmed and Published in British TV, Last Year (2016), while Leading a Group of integrist Muslims wearing Old Arab clothes to Pray in a London Public Park with an ISIL-like Flag, at a (premonitory) program named : - "The Jihadist next door" !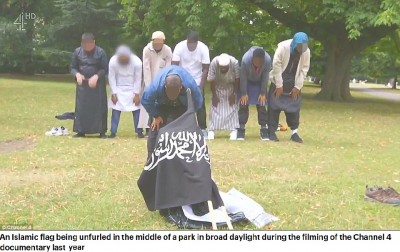 Brittish Prime Minister, (an Experienced former JHA Minister), Theresa May reportedly denounced "Tarrorism" inspired by an "Islamist Extremist" Ideology, which is a "Perversion of Islam".

>>> But the most Worrying point, (Comp. Supra), were subsequent Information, published in British and American Medias, that the real Reason for which such Brutal Criminals, most already known to be sharply Islamized Violent Extremists, had Not been Timely Prevented from Killing and Wounding so many innocent Civilian People, would rather be the Fact that the Total Number of such Dangerous Islamist Extremists in the UK had recently (particularly during the Latest 15- 20 Years : around 1997-2017) Grown up to such Huge Proportions, that it, allegedly, was practicaly Impossible to really Monitor all of them, continuously and in real time, by the competent Police/Security staff !...

 + If such an (obviously Unacceptable and Scandalous) Pretext, appeared First in the UK, only indirectly and reportedly (Comp. Supra), Nowadays, after the Latest Islamist Extremism-related Deadly Terrorist Attack in Hamburg (Germany : Comp. Supra), things became Harsher:

=> Now, it's, indeed, even Directly and Explicitly, that the Mayor of Hamburg, Grote, (a Socialist) openly Claimed that the Number of the (already Known) Dangerous Islamist Extremists residing in that City, (apparently "More than 800"), had recently become so Big, that the available Competent Authorities'  agents would be "Insufficient" in order to Saveguard and Guarantee Citizens' Safety by simply Monitoring all those key Suspects !

--------------------------------------------------------------

++ Even More Astonishing, since the Beginning of 2017, is the case of a Portorican origin Muslim Convert,  immigrant in the USA, who travelled from Alaska to Florida, in order to Kill, there, 5 innocent Civilian People and Wound another 6, by Firing on them with his Gun, inside the Fort Lauderdale Airport, during Obama's term of office, (early January 2017).


Several Independent Investigators found soon concrete Web a.o. evidence that the Culprit had, indeed, been intensively Islamized, already a Long Time ago, even if he had grown a Beard, resided Near a Mosque, and revealed a Violent Behavior recently, while, during his 1st Hearing in Court, soon after his Crime, he reportedly Acknowledged Islamist Motivations : The Deadly Shooter confessed that he was "Inspired by ISIS", acted "on Behalf" of ISIS, and had also Chatted on the Web with "Jihadists" Plotting Attacks, FBI Agents told the Court.

>>> But, most Important, he had already Addressed himself to FBI Services, Earlier in Alaska, Explicitly Warning them that he had been Watching ISIS' Propaganda Videos, Chatted in the Web with Islamist Extremists, including about Terrorist acts, and Felt Pushed to Commit Deadly Terrorist Crimes asap., including with his Gun, that he had Given to the Authorities !

=> Nevertheless, astonishingly, Obama's US Authorities, after ordering only a Local "Mental" Test, had soon Droped that case, Let him Go Free and withOut any Surveillance, and even ...Returned Back his Gun (that he used to Kill, a few Weeks Later)..
.
-------------------------------------------------------------------------------------------------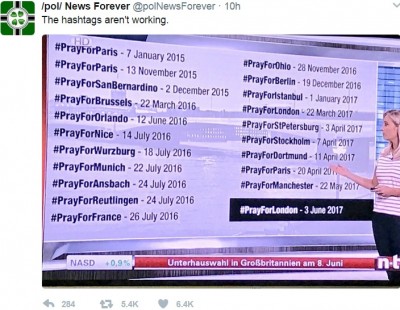 *** All these, Various but Converging Cases, (to which could be Added also several More such Affairs, practically Designing all Europe's Map, plus USA, etc.: http://www.eurofora.net/newsflashes/news/terrorismremindsrealeurope.html),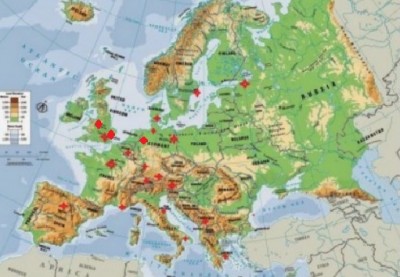 clearly Reveal a Blatant and Dangerous Security "Gap", Responsible for a Dangerous Failure to Protect Citizens' Lives even from Repeated and Growing Deadly Terrorist Attacks by Islamist Extremists, most of which, apparently, could and should have been Prevented.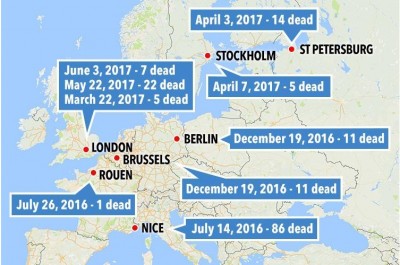 => At least 4 key Questions are Raised, by all these Facts (and much More, revealing such Surprising Cases) :


(A) Who, and Why, lets so many Individuals be "Radicalized" in "Islamism" Heading towards Terrorism, and Widely Spread an "Extremist" and Dangerously Violent "Ideology", which has  already been Proven, Many Times, Deadly ?


(B) By Whom, and Why, are they, practically let Free to Kill ? (Some among the above mentioned concret Examples, are Scandalous, in this regard: Comp. Supra. + See also Infra).
(C) If even Rejected Asylum Seekers, withOut any Relation to a European Country, and Knowingly Islamized up to a Dangerous Extremism, are, in fact, left Free to Stay and Circulate inside Europe, among Defenseless Civilian European Citizens, as possible Targets of Deadly Attacks at any moment, (and something, mutatis-mutandis  Similar occured in Obama's era USA, with that Islamist Terrorist Killer who had Vainly Warned the FBI himself Beforehand: Comp. Supra), then, isn't the Danger obviously Too Big,  - and the Responsibility of those who provoke or let such Scandals multiply, Too Heavy !
(D) How Many More innocent Civilian Victims would have been Killed, if Citizens (f.ex. some Tunisians, in Hamburg's case) had Not Reacted themselves and Fought Back, (as well as Followed the Killer, Showing to the Police where he was going to hide/escape) ?
Indeed, even if such Dangerous potential Aggressors, Manipulated by a so-called "Islamist Extremism", might already exist inside the EU, the USA, Russia, etc., (as several UK Medias reported, and even Hamburg's Mayor claimed nowadays: Comp. Supra), then, Why all those Controversial and/or Suspect Mosques are still let Free to "Mushroom" almost everywhere  and Multiply, even inside Europe and the USA, during the Last 15-20 Years ? And Why all those Top European Politicians who had Recently proposed a Series of Concrete Security Measures to take against Dangerous Islamist Extremists, were all Droped, even withOut any serious Public Debate ?
-----------------------------------
HIGGINS' 2016 INTW.
-------------------------------------

+ As long as all these Topical and Key, Concrete Questions (Based on the above-Mentioned Facts, and much More), still remain UnAnswered, inevitably, the Stern Warnings and worrying Denonciations made by certain Critical People such as, f.ex., USA's White House new National Security Council's Director for Strategic Planning (under New US President Don Trump), Rich Higgins, (a former Defense Official and Lincoln Fellow, Clairmont Institute), f.ex. in an Interview already Published as Early as since July 2016 :

- In a Long Video Press Interview (which can be found here : http://dailycaller.com/2016/07/02/former-dod-official-warns-america-is-on-the-wrong-track-to-fighting-war-on-terror-video/   + http://players.brightcove.net/5107476400001/B1xUkhW8i_default/index.html?videoId=5229222259001), Higgins makes  the following Main Points :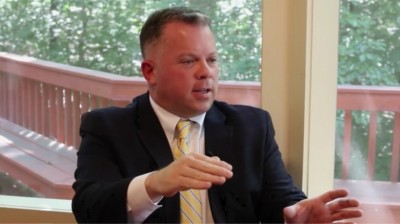 - In particular, the former DoD and recently White House Official  Warns about a very probable Complicity between some "Deep State" Bureaucrats and/or so-called "Globalists", with some apparently "Leftist" and mainly "Islamist" Extremists.

- He also Denounces an overall "Warfare" policy, which includes Both "Violent" and "Ideological" tools, coherently "Weaponized" against Countries Targetted and Attacked by Islamist Terrorism recently.

- A most Important part of such a Strategy acting as an "Ennemy", is to Attack Free Speech and Press Freedom, in order to Muzzle key Critical Voices, as well as to Deprive even Citizens from really Independent Viewpoints (including by Imposing some Excessive versions of so-called "Islamophobia" Pretext, recently), and/or any other Independent Means to Resist or React and Fight Back against Aggressors and/or their Instigators, so that all this would Weaken and ultimately Risk to Destroy the Democratic Critical Thinking of the "Civilisation" developed since the Enlightnment (18th AC) Century, (that Higgings names "Western", as US President Don Trump also did, at least partly, in his landmark Speech, at the Beginning of July 2017, in Poland, at the eve of Hamburg's "G-20" Summit).

Even if some might like to Dismiss such very Critical Hypothesis, as that of Higgin's stern Warning, they couldNot do so, (at least Not in a Convincing way), withOut having, previously, at least Found and Given some Crystal-Clear and plausible Answers to the Above-Mentioned 4 main Questions, raised by all those Recent Cases of Deadly islamist Terrorist Attacks in Europe, and even in the USA, which, apparently, Could and should have been Prevented (Comp. Supra).-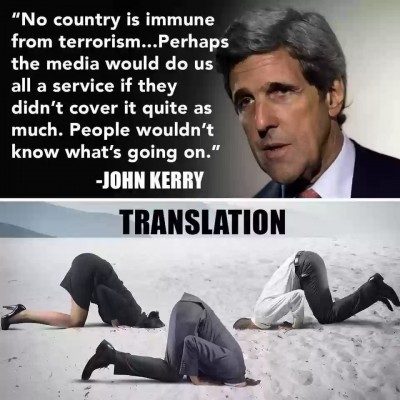 (../..)
BRIEF NEWS
00:00 - 09.07.2018

00:00 - 31.05.2018

00:00 - 26.12.2017

00:00 - 26.05.2017

00:00 - 30.01.2017

00:00 - 14.10.2016

00:00 - 24.09.2016

00:00 - 27.07.2016

00:00 - 03.07.2016
Statistics
Posetioci: 28937410
Archive
Login Form
Other Menu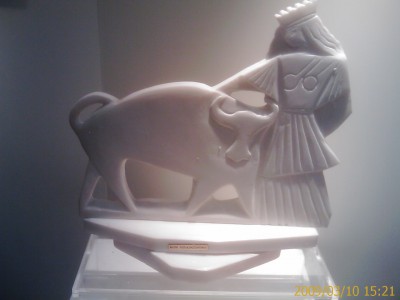 Renew Europe's Historic Legend with Parthenon's pure white marble at the eve of crucial 2009 EU Elections, was the ambition of an interesting Art Exhibition, with more topical Symbols than expected, organized by EU Parliament's 1st vice-President Rodi Kratsa-Tsagaropoulou and MEP Marie Panayotopoulos- Cassiotou, Chair of the Inter-group on Family policy, during March A session in Strasbourg.     
According to the Ancient Legend, God Zeus, charmed by young Girl Europe, was trasformed into a strong Bull with Wings, and when she tamed him with Human affection, they flew over the Sea to live together in a New Land with large, fertile landscapes.  

- "There, they saw the Continent with a "Large Front" ("Eureia -opse" in Greek => Eur-opse => Europe)", reminded the Sculptor, Mary Papaconstantinou, of the European Women Association, honored by awards in Paris, Athens and Strasbourg.

    Thus, Europe's Legend combines Symbols of Energy and Strength, with caring Human personality, to bring towards New, large Horizons :

    - "Modern Art for this Ancient Greek Legend here in Strasbourg reminds that Europe, placing Human dignity at its heart, always finds the strength to overcome any Crisis towards New achievements. And EU Parliament offers Citizens a chance to artfully interact", said MEP Panayotopoulos-Cassiotou.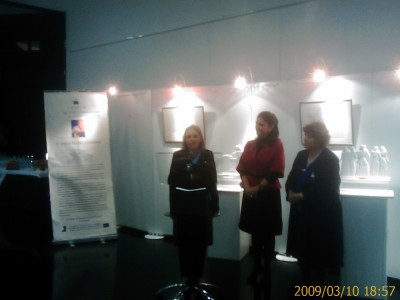 Structured like some Rembrand's pictural sequences, Europe's sculptural exhibition forms a series of many statutes, sized and flat as a PC screen, representing many scenes inspired from the original Legend, "according to Moschos' text, a Writer of the 2nd century B.C.", said Sculptor Mary to "EuroFora".  
    Made by sparkling pure white Marble full of Symbols, they incite to think but also to act, as in front of a Book with half of its pages full of written text, but another half, free to write on white paper..
    While several EU politicians think that one of the most important characteristics of the 2009 EU Elections is that from their outcome may depend Europe's Identity and Future, Culture Minister of Greece, Antonis Samaras (a former MEP) send the message that, precisely, such modern Art linked to Historic legends may help "EU Citizens search the origins of Europe's Identity".
     - "The Legend says that they founded a New City, Thebes, and that reminds us that Europe is always a project of Invention and Creation", added EU Parliament's vice-President, Rodi Kratsa - Tsagaropoulou.
    Sculptor Mary Papaconstantinou said that she "tried for years to find the same White Marble from Penteli Mountain that was used by Praxitelis and all those who created Parthenon", symbol of Democracy and one of the 7 wonders of the World.
    - "By shaping this millenary Greek Marble to revive Europe's Ancien Legend with Modern Art, it reminds that Europe is a Hope for a better Future after Crisis, combining Energy for Development, with care for the Human person", said the sculptor's compatriot from Chios island, famous from French artist Delacroix's historic painting, MEP Panayotopoulos - Cassiotou.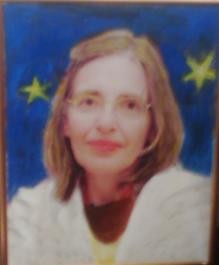 She now lives with her Family close to Rhine river, at EU's heart, near Bonn, where had started to work for the first time on European issues the new EU Parliament's Secretary General, Klaus Welle :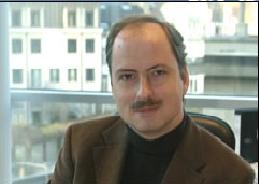 By a symbolic coincidence, Europe's legend built anew with Parthenon's marble, marked for ever the beginning of young and energetic Welle's duties as new head of EU Parliament's administration, since he saluted the retiring, out-going S.G., the experienced Harold Rohmer, shortly afterwards, at another gathering on the same floor of Louise Weiss' superb building in Strasbourg...
    Organisers of both events said that it was a pure coincidence. People are free to believe them, or hope otherwise...
**********************   
They disagree in almost everything, except from one thing :

- EU Parliament's Art unites even opposed politicians in a common belief for Europe : Cyprus' example...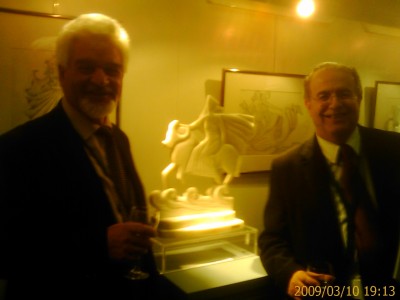 Rarely united together, but posing for "EuroFora" with the statute of Europe and Zeus flying over the Sea, ChristianDemocrat/EPP's MEP Yannis Kasulides, a frontrunner Presidential candidate in 2008, former Foreign Minister and Government Spokesman, and EuroLeft's MEP Kyriakos Triantafylides, Chairman of EU - Palestinian Council delegation, from the governing party AKEL (new Left) of the elected President, disagree on almost everything, except from their common claim that Europe of the Ancient Legend, when she flew with God Zeus from Ancient Phynecia to the West, must have crossed the island of Cyprus !

Hard to prove the contrary, 3.000 years later...
Polls