Αρχική

newsitems

Green Candidate Strasbourg Mayor Barsheghian Endorses EF Project on Citizen/MEP Debate before EU Act
Green Candidate Strasbourg Mayor Barsheghian Endorses EF Project on Citizen/MEP Debate before EU Act
Wednesday, 11 March 2020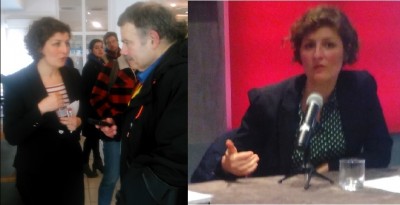 *Strasbourg/Angelo Marcopolo/- The currently Most Popular (according to Polls) Candidate for Strasboug's New Mayor, Armenian-origin "Green", Jeanne Barsheghian, speaking to "Eurofora" Both on 4 and 9 March 2020, Expressed, in a Crystal-clear way, her "Total Agreement" with "Eurofora"s Project for EU Citizens' Dialogue with MEPs Before Important Final EU Decisions Affecting People's Lives and/or Society at large are taken at Full Plenary Sessions here, Each Month, in order to Strengthen Modern European Democracy.
+ In this regard, She Also Added an Interesting Point concerning Relevant Cooperation also Between several European Cities Networked with Strasbourg, (and, probably, Brussels, too)
---------------------------------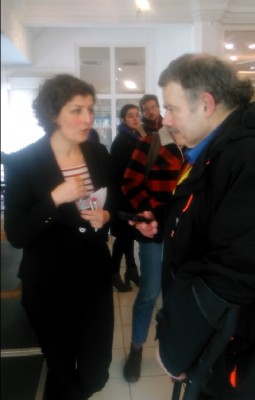 - "Eurofora"s 1st Question, (at a Brief exclusive Interview given After a Collective Debate among All Candidates, at the Prestigious "International Library Kleber", on March 4) evoked "European affairs", and, after observing the Fact of various "Green" Alliances in several EU Countries, including Austria, Germany, etc., also Together with ChristianDemocrats/EPP, (even at Strasbourg's Neighbour "Baden-Wurttenberg" Länder, etc), pointed at some MEPs' alleged Preferences for EU Parliament's work in Brussels and/or Strasbourg, stressing that "it's Not Only about Transports" etc, "But Also about Press Impact".
- So that "certain Projects (as "Eurofora"s, since 2006/2007+) aim to Create (MEPs') Public Debates with Citizens Before the Plenary Sessions", "i.e. Before Important Final Decisions are taken", "usually in Strasbourg, since here (Traditionaly) Concludes almost everything" in EU Parliament's decision-making process, "After having been Prepared in Brussels, to which due Attention should also be paid". For that purpose, f.ex., the Previous Friday, "Saturday or Sunday could be used", We Suggested.
- "In Strasbourg ?", she proposed the Candidate New Mayor of the City.
- "Naturally, but Not Only, since with Today's New Communication Technologies, it could be Even for those EU Citizens who might be staying up to Scandinavia !", "Eurofora" added, More Widely.
- "Certainly", Barsheghian reacted Positively.
- "I Absolutely Agree with that !", she clearly Welcomed in Reply.
+ By the way, " I've just said at a Debate about EU Parliament", "that we should Engage More the Citizens also of Strasbourg on European Issues". "F.ex., when (EU's) Free Trade Treaties are Discussed, some have the Impression that it's something which exists Far Away, While, in Fact, it's going to have a Direct Impact in People's Everyday Lives !", she observed.
_- So "I Wish that such EU Debates could involve (EU) Citizens, in our City". That's why, "I took the Commitment for, at least 1 Debate per Month, inside the City Counil's Room, on EU Parliament", Barsheghian proposed.
- "But, that Should be done Before the Plenary" session's Final Decisions, "Eurofora" Clearly suggested.
- "Thank you for that", she Kindly Concluded this conversation, Smiling.
--------------------------------------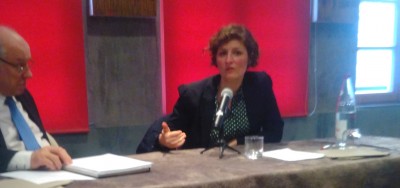 + A Good Chance to Develop that Discussion Further with "Eurofora", was offered, just a Few Days Later, On March 9, when Barseghian spoke at "Cathedral's Circle", hosted at Hôtel "Cathedral", facing Strasbourg's Most Famous and Greatest Monument :
- Initialy, she stressed, there, that she "Believe(s) in the Values of Experimentation" and "Illustration", reiterating her Wish for "a Great Debate, with EU Experts (MEPs ?) and Open to Everybody", in order "to Explain, have a Pedagogic effect" on European Issues, "Each Month".
-------
=> This Incited a Question on "certain Pre-Existing Projects", as that of "Eurofora", proposing to Organise Debates, the Week Before (Final) Decisions are taken in Strasbourg (Full Week Plenary Sessions), Not Only for Information (of the Society), But Also with an Active Participation of Citizens, who would Express their Opinions about (imminent) Decisions which Affect their Lives (and/or Society at large)".
- For that purpose, "Internet and other New (Communication) Technologies, could be used, as well as "in situ", involving Hotels, (Associations), etc., while that would Also be of great Interest to many Medias (not only 1 or 2 alone) and MEPs, Attracting several Journalists"
+ Particularly if "such Debates would take place In View of ForthComing Decisions, With the Participation of (EU) Citizens in the Decision-Making Process, and a Duty (or Commitment, for EU Politicians), to Reply to the People Affected by those (EU) Decisions, in a way respecting, at least, Basic (Legal/Human Rights') Principles, as that of Proportionality, etc", "Eurofora" suggested.
-----------------
>>> - "I Entirely Agree With You on that Point !", Barseghian Positively Replied to the above-mentioned "Eurofora"s Question.
- Indeed, "Everything like that, which Would Strengthen (EU) Citizens' Appropriation" of Main Topical EU Issues, "Anything which Would Facilitate their Participation to Those Debates, would Also ReinForce the European Democracy, and, De Facto, European Parliament's Role, Because, in Fact, We are Speaking about that" : I.e. "the European Democracy's Importance", she Rightfully observed.
- In this regard, "there are a Lot of (Pertinent) Debates, f.ex., as that of Free Trade (International) Agreements, the Debate about the Common Agricultural Policy, with Huge Implications (also) on Our Food, Urban and/or Regional Planning, our Peasants, etc., which are Fundamental Issues Affecting Our EveryDay Lives", Barseghian concretely illustrated, inter alia.
=> In Consequence, "as far as I am concerned, I  Fully Agree with What You ("Eurofora") Propose, that is to say, Previous (EU) Citizens' Debates, which would Allow for Everybody to Participate".
+ "And", Moreover, "I Wish for Strasbourg's City, Together With all Other (European) Cities with which it Works in Network, to Facilitate, and Even Organize those Debates, which would Allow to Feed the European Democratic Debate" in Wider terms, she interestingly Suggested, in Addition.
=> - "In Conclusion, myself, I Entirely Agree with that !", Barseghian clearly Reiterated.
- Indeed, as she had already Stressed Earlier, as a matter of General Principle, "I Believe in Democratic Debate" and "Citizens' Participation".
(../..)
("Draft News")
(NDLR : "Eurofora"s 2 Questions were Raised
by Angelo Marcopolo on March 4, and by Eugenie Marcopolo on March 9).
----------------------------------
BRIEF NEWS
00:00 - 02.06.2021

00:00 - 18.10.2020

00:00 - 19.06.2020

00:00 - 18.05.2020

00:00 - 20.04.2020

00:00 - 02.02.2020

00:00 - 09.12.2019

00:00 - 27.11.2019

00:00 - 16.11.2019
Statistics
Επισκέπτες: 54965584
Archive
Login Form
Other Menu
Αρμοδιότερα "ΜΕΓΑΘΗΡΙΑ" ΚΟΜΙΣΙΟΝ ΕΕ. ΕΝΔΙΑΦΕΡΟΝΤΑΙ ΓΙΑ ΚΥΠΡΟ, ΕΚΤΟΣ Oli ΡΕΝ !...

>>> Κι ο Γάλλος ΖΑΚ ΜΠΑΡΩ, - ΑντιΠρόεδρος Επιτροπής ΕΕ, αρμόδιος για Θεσμούς. Ανθρώπινα Δικαιώματα, κα, (κι ενώ συνεχίζεται κι η Γαλλική Προεδρία ΕΕ)...

-  Δηλώσεις που μας έδωσε ο αντιΠρόεδρος Κομισιόν ΕΕ, ενώ συνάντησε στο Στρασβούργο και τον Πρόεδρο ΕυρωΔικαστηρίου Ανθρωπίνων Δικαιωμάτων, Ζαν-Πώλ ΚΟΣΤΑ
-------------------------------------------------------------
* Στρασβούργο/ΑΚΜ/ + 16 Οκτωβρίου 2008/-
---------------------------------------------------------------
    Θετική προδιάθεση για να παίξει ίσως ουσιαστικό ρόλο σε παρακολούθηση συνομιλιών για το Κυπριακό από Ευρωπαική Επιτροπή, μετά κι από αμφιλεγόμενη στάση για Τουρκία του Φινλανδού Επιτρόπου για Διεύρυνση κ. ΡΕΝ, που έχει αμφίβολη αρμοδιότητα εφόσον η Κύπρος είναι Κράτος-Μέλος ΕΕ από 2004,
    εξέφρασε ένα απ τα πιο σημαντικά ηγετικά στελέχη της, ο ΑντιΠρόεδρος της Κομισιόν, αρμόδιος σε "τομείς-κλειδιά", όπως Θεσμοί κι Ανθρώπινα Δικαιώματα, Ζακ Μπαρώ.

    Αυτό προκύπτει κι από αποκλειστικές δηλώσεις που μας έδωσε ο κ. Μπαρώ, ο οποίος έχει ιδιαίτερη επιρροή σήμερα ένεκα της Προεδρίας ΕΕ απ την χώρα του τη Γαλλία (μέχρι και τέλος Δεκεμβρίου 2008), ενώ συνάντησε στο Στρασβούργο και τον Πρόεδρο του Ευρωπαικού Δικαστηρίου Ανθρωπίνων Δικαιωμάτων, Ζαν-Πώλ ΚΟΣΤΑ :

     - "Θα θέσω το ερώτημα", μας ανακοίνωσε ο αντιΠρόεδρος της Ευρωπαικής Επιτροπής, σ απάντηση σχετικής ερώτησής μας για πιθανή ανάμιξη των υπηρεσιών που διευθύνει ο ίδιος.

     Εστω κι άν "δεν ξέρω ακόμα" τί θα γίνει, "θα το κοιτάξω" αυτό το θέμα, πρόσθεσε, εκφράζοντας ετοιμότητα κι ενδιαφέρον.

    - "Ναί, βέβαια", συμφώνησε δε με παρατήρησή μας ότι κάτι τέτοιο θα ήταν "λογικό", εφόσον η Κύπρος είναι πλέον Μέλος ΕΕ μετά το 2004, και στις επίσημες αρμοδιότητές του για Θεσμούς ΕΕ, Ελευθερίες κι Ασφάλειες του Πολίτη, περιλαμβάνονται πολλά απ τα πιο "καυτά" θέματα που τίθενται στις συνομιλίες για το Κυπριακό, όπως και "παρεκλίσεις" από Κοινοτικό Κεκτημένο, ελευθερία μετακίνησης, Εκλογές, κι άλλα Ανθρώπινα Δικαιώματα, κττ.

    Δεδομένου κι ότι θα ήταν ΑΡΜΟΔΙΟΤΕΡΟΣ καθ ύλην απ τον Κο. Ρέν, που περιορίζεται σε θέματα Διεύρυσνης ΕΕ, προκειμένου για την Κύπρο, Κράτος-Μέλος ΕΕ μέσα στην "καρδιά" Ευρωπαικής ολοκλήρωσης. όπως τόνισε και συμβολικά κι η πρόσφατη Ιστορική 1η Σύνοδο Κορυφής Αρχηγών Κρατών/Κυβερνήσεων των "15" ΕυρωΖώνης, που προσκάλεσε στο Παρίσι ο Γάλλος Πρόεδρος Νικολά ΣΑΡΚΟΖΗ, προεδρεύων ΕΕ, νωρίτερα αυτή την εβδομάδα, με συμμετοχή Προέδρου Κύπρου Δημήτρη ΧΡΙΣΤΟΦΙΑ, επιτυγχάνοντας σημαντικές αποφάσεις έναντι Οικονομικής Κρίσης, που δέχθηκαν κι οι υπόλοιπες χώρες ΕΕ στις Βρυξέλλες αργότερα. (Πρβλ. 4 σύντομα Νέα που εστάλησαν από Παρίσι, απ το Προεδρικό Μέγαρο Ηλυσίων, Κυριακή 12/10/08).
   
    + Εξάλλου, "με την πρόσφατη Χάρτα θεμελιωδών ελευθεριών της ΕΕ, κι εν όψει της επικείμενης επικύρωσης της Συνθήκης της Λισαβώνας, θα έχουμε και μια σαφέστερη Νομική βάση για θέματα Ανθρωπίνων Δικαιωμάτων", πρόσθεσε,

    Την ίδια στιγμή, απάντησε δις με ξεκάθαρο "Ναί" σ ερώτησή μας γι "ανάγκη παρακολούθησης των συνομιλιών για το Κυπριακό απ την Επιτροπή ΕΕ".

    Επι πλέον, ο κ. Μπαρώ συμφώνησε μ ερώτησή μας άν η ΕΕ επιδιώκει να διευκολύνει την εφαρμογή αποφάσεων ΕΔΑΔ :    
    - "Βέβαια  : Αυτό είναι και το νόημα που έχει η συνάντησή μου με τον Πρόεδρο του ΕΔΑΔ, Ζαν-Πωλ Κόστα στο Στρασβούργο : Να δούμε πως η ΕΕ θα μπορούσε να διευκολύνει την πρακτική εφαρμογή των αποφάσεων του ΕυρωΔικαστηρίου, αυτό είναι φανερό. Κάτι που θα μπορέσουμε να κάνουμε ακόμα καλύτερα με τη Συνθήκη της Λισαβώνας", είπε.

    >>> Αυτό έχει επίκαιρη σημασία για την Κύπρο εφόσον πρόσφατο Ψήφισμα ΚΣΣΕ στο Στρασβούργο τάχθηκε υπέρ "μιας Λύσης του Κυπριακού που να βασίζεται και πάνω στη Νομολογία ΕΔΑΔ", για πρόσφυγες, εγκλωβισμένους, Αγνοούμενους, κπα.

    Αξίζει να υπενθυμιστεί δε κι ότι το "Πάγωμα" 8 κεφαλαίων στις διαπραγματεύσεις Τουρκίας μ ΕΕ εν όσω αρνείται να εφαρμόσει ανηλειμένη υποχρέωσή της να παύσει το "Εμπάργκο" εναντίον Πλοίων κι Αεροπλάνων από Κύπρο, αποφασίστηκε απ την ΕΕ όταν ο κ. Μπαρώ ήταν αρμόδιος για θέματα Μεταφορών, (όπως μας είχε προ-ανακοινώσει τότε, κι είχαμε δημοσιεύσει).

Polls