Accueil

newsitems

F. Greek Ambassador to Libya on 2012, Murdered on 2016 in murky Brazil case, incl. Political Issues?
F. Greek Ambassador to Libya on 2012, Murdered on 2016 in murky Brazil case, incl. Political Issues?
Friday, 30 December 2016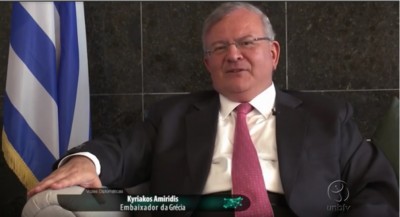 * The former Ambassador of Greece to Libya during the notorious "Benghazi scandal" of 2012 of the non-elucidated yet Deadly Attack by Islamic Extremists against US Ambassador Stevens and 3 other US Agents, which shook the latest US Presidential Elections, Kyriakos Amiridis, was found Brutaly Targetted and Murdered in Brazil, as the Out-going Obama Administration is preparing to leave on January 2017  the White House after 8 Years which oversaw the Emergence of ISIS' Terrorists in Syria, Iraq and elsewhere, who have started to Attack even Europe, Africa, wider Asia, and the USA itself.

Greece is the Only European Country which is Geographicaly Located at a very Close Distance from Libya, and particularly the Nearest to the Eastern Libyan SeaCoast of Benghazi.

Even if the Athens' Goverment of 2011, (Headed by USA-Born Giorgos Papandreou then, a long-time President of the International Socialist movement), did Not participate in the Alliance of Countries which took Action over the Libyan Conflict which topped Colonel Khadafi, (mainly USA, France, the UK, Belgium, etc), nevertheless Greece played a discrete but important role, f.ex. Starting by intermediating between Libya and Western Countries, as well as, Later-on with some Islamist Groups there, into solving various "Humanitarian" affairs during that Conflict, including by providing Help incuding Ship transferts, (See Infra), etc.

When the 2012 Banghazi Scandal broke out, about the Killing of his Collegue, US Ambassador Stevens, by an Al-Queda-like Group of Islamic Extremists, just after meeting with a Turkish Senior Diplomat there, Many Speculations were made in the Medias, about eventual links to illegal Weapons-Smuggling to various Armed Gangs inside Syria, mainly via Ship-Transports accross the Mediterranean Sea, (therefore, probably also some Greek Maritime areas), and through Turkey, etc. A specific Question on this Issue had been raised by Senator Rand Paul to former USA State Secretary, and 2016 US Presidential Candidate of the Democratic Party, (Socialists), Hillary Clinton, mentioning precisely "Turkey", that she had surprisingly Skiped, claiming that she had "No Information" about that, (as also did, later-on, those State Department Officials to whom she had referred Paul for a more concrete Reply, which Never came).

Significantly, the Greek Ambassador had arrived to Libya Shortly After the Killings of US Ambassador Stevens and other 3 USA Agents by Islamist Terrorists in Benghazi, among persistent Rumours about illegal Weapons' Smuggling by Ship Transports towards various Armed Gangs in Syria, including MANPADS against Aircraft. This last, Crucial point, was reportedly Confirmed, just 1 Month Later, even by the Head of Russian President Vladimir Putin's Office, Sergei Ivanov, openly Expressing in Vienna (Austria), Moscow's "Concerns about the Risk for the Syrian Dissidents to dispose even Mobile Anti-AirCraft Systems, which came from Libya".

- "It's not yet Known in whose Hands may fall such Weapons, and which Civilian Airplane they might Down", Ivanov had Warned then.

Earlier, Amiridis, exceptionaly served also as former Head of Cabinet in the Ministry responsible for Public Order in Greece, Back on 2011, when it was oversaw f.ex. Harsh Oppression of Massive Popular Demonstrations against the Socialist-run Government of American-born former Prime Minister Giorgos Papandreou, (whose Mother was also a USA Citizen), because of his Failure to fullfil his Pre-Electoral Promisses of the 2009 Election, (when he had Contested the Fact that the Country needed urgently a strong Austerity Policy, falsely Claiming that it had "a Lot of Money"), shortly Afterwards throwing it in one of the Harder Austerity policies of History, when it was Revealed that it had a Huge Debt, provoked and accumulated during the Last 30 Years (1980-2010), mainly Governed by his own Socialist Party "PASOK").

Amiridis had also More various closer Relations to the USA, and particularly the out-going Obama Administration, while, f.ex., one of his Family members was Recently Appointed as Chancellor of UIC at the University of Chicago, the current US President's initial Base : Indeed, on 2015, Dr. Michael Amiridis, previously at South Carolina University, but also of Greek origin,  actively contributed into bringing there a brand new "Obama Library", strongly supported by the City's Mayor, Rahm Emmanuel, former Top Official at the White House.

The Murdered Greek Ambassador (as also the US Ambassador Stevens) had also developed relations with various Islamic circles, active in Socio-Political affairs too, already since his mission to Libya, where he Helped to Saveguard in a Ship Tripoli's Top Politicians etc., and to Evacuate all Greek expats living and working there on 2014, as well as, subsequently, on 2015 in Athens, where he had Helped organize an International Conference on Inter-Religious and Inter-Cultural Dialogue, etc.

Appointed afterwards as Ambassador to Brazil, just on May 2016, Kyriakos Amiridis curiously Seeked an Unusualy Long Christmas/New Year's leave, Extending from December 21, 2016, up to January 9, 2017, (i.e. about 20 Days), choosing as Residence a shady District of Rio ("Nova Iguacu"), which is reportedly  Notorious for its Exceptionaly High Crime rate, and for being Full of various Dangerous Armed Gangs, abusing of not only Drug-Traffick, but also of Kidnapings and Blackmails, paid Murders, etc, to which are often Mixed some Corrupted Policemen, usualy Linked with various Politicians to which the procure Voters, (as, f.ex., British Newspaper "Express.co.uk" and International, British-Canadian, Press Agency "Reuters" observed, on this occasion).

The Greek Ambassador was reportedly found, a few Days later, on this December 2016, brutaly Killed inside a Calcinated Rent Car there, at a very Rare Violent Deadly Incident in the International Diplomatic chronicles, as also Russia's 1st ever Ambassador, Permanent Repersentative to the CoE, in Strasbourg, Evgeni Prochorov, back on May 1998, brutaly killed inside his Burned Car, also in his way to his Family Home.

That Tragic Incident had occured in the Middle of Exceptionaly Big Tensions about a Plan to Ship and Istall Russian Air-Defense Missiles "S-300" in Cyprus on 1998, which had Upseted US and particularly Turkish officials, as far as it concerns Ankara's Air-Fighters illegaly Violating Nicosia's Aispace, f.ex. over the Occupied Territories of Cypurs, at the Northern part of the Island, controlled by the Turkish Invasion-Occupaton Army since 1974, despite several UN SC Resolutions vainly Asking its Withdrawal. "Eurofora"s co-Founder had Met and Spoken with the Victim, just a Few Hours before it occured, earlier that Day inside the CoE, Together with the then CoE's Secretary General,  Daniel Tarschys, a Liberal from Sweden, (as well as, the Next Day, with the Chief of the French Fire-Fighters who were the 1st to Find the Victim). As another Witness told us, After that Brutal Death, the No 1 Turkish Official inside the CoE, then in charge of the Protocol, discreetely Claimed to a Bulgarian Freelance, Part time Journalist, that this Exceptional Violent Incident (which occured in a Calm Countryside Road, that we used with our Family in order to Train in Bicycle our 10 Years Old Child) would have been provoked simply by the Victim's alleged tendency to "Drink too much" that Evening (sic !), as she subsequently Published in the Only Local Newspaper of Strasbourg, "DNA". I.e. practicaly attempting to Downplaying the incident in a kind of Mere, Banal "Accident".   
                                                                                                                            Brazilian Authorities found Now that Armiridis was, in Fact, Murdered by a Corrupted Brazilian Policeman, (Comp. Supra), Before putting his Body inside that Car and setting it on Fire.

But Local Police also Claimed that a Cause for that Murder would have been just a Morbide Conspiracy with the Victim's Wife, a Brazilian herself, aged almost 20 Years Younger, with whom Armiridis got engaged since his 1st Arrival in Brazil, back on 2000, initialy as Consul General at Rio.

Indeed, the Greek Ambassador had, Previously, been appointed in Brazil, as Early as since 2000, as Consul, by the then Socialist Government of former Prime Minister Costas Simitis, (when his USA-born Successor, Giorgos Papandreou, from an US Citizen Mother, was Minister on Foreign affairs), before being transfered to the Netherlands on 2003. By a strange "Coincidence", almost at the Same Time, there were also Other "PASOK"-related Greek Politicians who left Europe in order to Live in Brazil, such as, f.ex., the former Long-Time Socialist MEP, Georges Catiforis, who worked previously during Many Years at EU Parliament in Brussels and Strasbourg, (etc), also as former Head of the Greek National Delegation of MEPs, (whith whom "Eurofora"'s CoFounder had cooperated in the Past, in Parallel with another, ChristianDemocrat/EPP Top MEP"). Similar Moves were made and by a Politicaly related to PASOK University Professor living in Strasbourg, a French Lady married to a Greek University Professor, John Anastopoulos, who had told us his intention to try to become MEP in the 1999 EU Election, before he Unexpectedly Died, while his Wife became Afterwards President of a France-Brezil Association, visiting often that Big Latino-American Country, (etc).  

Earlier, Armiridis had worked in Brussels, since 1993, at the Greek Permanent Representation to the EU, from which he had returned back to Athens, in the European Affairs' Direction of the Foreign Ministry, from 1997, i.e., once again, just after former Prime Minister Simitis had won the 9/1996 Election.

Simitis, (whose Brother served as Professor of Economy in Germany, etc), has Notoriously pushed Greece to enter €urozone Earlier than Normal, i.e. already Before it completes the Necessary Reforms, (something which should happen a few Years Later-on), so that he could snatch the Following, April 2000 Election, and stay Prime Minister for 4 more Years (until 2004). For that purpose, he had to Hide the Fast Growing Debt accumulated in Greece since the 1980ies, when the first Socialisst Governments of PASOK had notoriously Hired Too Many Cushy Job holders, Political Lackeys and Cronies, in a lot of mainly Counter-Productive Civil Servants' posts, Starting to Waste an Excessive amount of Money which went Crescendo, since then, but went practicaly Unseen in EU's Luxembourg-based "EUROSTAT" Official Economic and Financial Statistics, (until it Suddenly Emerged, much Later, on 2009, provoking a Crisis).

In order to Obtain that, Simitis' Government had, in exchange, to Accept (for the 1st Time in History), Turkey's Controversial and Unpopular EU bid, i.e. to Give Ankara a Status of "Candidate" to EU Accession, since the December 1999 EU Summit in Helsinki (Finland : then Chaired by a Socialist Government with Foreign Minister Mrs Halonen : Comp. several Statements she gave on various issues to "Eurofora"s co-Founder, also as Finnish President, many Years  Later-on), Despite a lot of Serious Mass Violations of Human Rights, that ECHR had just Started, then, to openly Denounce, repeatedly Condemning Ankara's Government, added to the Bloody "Kurdish" Issue, official Threats of War against Greece in the Aegean Sea, Negation of the Armenian Genocide, Continuation of the illegal Military Occupation of the Northern Territories of Cyprus by the Turkish Army, (etc).

All that notoriously provoked in Europe a Double, Socio-Political and Economic-Financial Crisis, Blocking EU's Constitutional Reform, (after 3 "No" to a Draft EU Constitution, at Euro-Referenda in France, the Netherlands and Ireland, between 2005-2007, Bypassed only by Sarkozy's "No" to Turkey's EU bid, which allowed to Pass a Simplified Version of that Former Constitutional Reform Plan, with "Lisbon Treaty", which Entered into Force from 2010, i.e. 5 Years Later than initialy expected), and Fuelling the €uroZone's Debt "Krach" threats, (mainly via Greece's particularly Underlined Financial situation, after many "PASOK" Governents between 1981 - 2000, Started to be Tackled by the EU after Sarkozy-Merkel's 2010-2011 initial Measures, i.e. "Aid/Reform Programs" for each affected Country, and "€uroArea"'s Treaty, etc., but have Still to be Completed until Nowadays, Hopefuly after the forthcoming 2017 Elections in France and Germany, etc).

Former Long-Time USA President Bill Clinton's 1991 - 2000 Administration, notoriously was behind Both those 2 Problems, since it persistently Pushed Turkey's controversial and UnPopular EU bid, as well as Simitis' PASOK Goevrnments Precocious Entry of Greece inside €uroZone, even Before it completes the Necessary Reforms, (while it was also USA's "Goldman Sachs" Global Financial and Rating Company, which had Helped PASOK's Government of Simitis to Hide its Growing Debt, due mainly to an Excessive Clientelism of the Past, which hasn't yet been really Tackled). And it's also during the Clinton's US Administration that Started, initialy, a USA and Turkey - Backed "Islamization" Move, closely related to a Parallel Islamist Extremism and even Deadly Terrorism, already since the Beginning of the Decade of the 1990ies, (f.ex. in Maghreb Countries as Algeria, etc, in Afghanistan, Russia's Chechnya, etc), before it "Explodes", particularly with ISIS' atrocious Murderers and BeHeaders, Targetting even Innocent Civilian People, during Obama's 2009-2016 Administration, seconded by Hillary Clinton's controversial Foreign Policies mainly in Syria/Iraq and elsewhere in the World, until the Recent, 2015-2016 Mass Deadly Islamic Terrorist Attacks even inside Europe, the USA, etc.

It's in such a Context, and in Relation to such Developments, including, particularly, the 2012 Benghazi Attack, (when Amiridis was apointed Ambassador in Libya), that the Hillary Clinton's Hidden/Destroyed "E-mail"'s Scandal, which rocked US Politics from 2015 up to the 2016 Presidential Election, included also an eventual Attempt to unduly "Banalize" the Murder of a DNC Staffer, Director on Voter Expansion, Seth Conrad Rich, who was Killed by several GunShots last July 2016, around Washington DC, while "Wikileaks" Head, Julian Assange, shortly afterwards, did Not Deny, but, on the Contrary, Strongly Implied, in a Press Interview, that the Victim might have been a "Whistle-Blower" helping to Leak the Democratic Party HQ's and other E-Mails which had Started to Reveal a Series of Scandals, related to Hillary Clinton's Failed bid for the 2016 US Presidential Election, etc.

Even if Obama Administration's Police claimed that the most probable Reason for that Murder would have been just "Robbery", nevertheless, Conrad Rich had Not been Robbed of Anything. And, Later-on, "Wikileaks" reportedly Offered even a Reward of several Tens of Thousands of Dollars for Information able to lead to the arrest of the Killers. Facts which obviously Support the Impression of several Observers that there might have been an Attempt by some to Cover-up a Political Motivation behind Claims Exclusively pointing at Ordinary Criminality only.

And Nowadays Claim, by Local Authorities of Rio in Brazil, that Ambassador Amiridis would have been Murdered because of a Banal Issue related to his Brazilian Wife's unfaithfullness, by her "Lover" : a Corrupted Policeman, obviously does Not Excude at all the Possibility for the Murderer to have, eventualy, Acted as Many Other such Corrupted Policemen notoriously Use to do Often in that thorny District : I.e. to have, perhaps, Murdered the Greek Ambassador after being Paid for that, directly or Indirectly, f.ex. by a Politician (Comp. Supra), so that he naturaly Exploited, for that purpose, any Security Failure, including the amove-mentioned behavior of the Victim's Brazilian Wife, among others : Obviously, one among those 2 Scenarios, (Both Frequent in that Suburb) does Not Exclude the Other...

Meanwhile, just a Few Days Earlier from Now, this December 2016, (by a Coincidence, almost when Ambassador Amiridis was Declared "Missing"), a Federal US Court notoriously Concluded, after a Long Procedure, that a Complaint, lodged by American NGOs, including "Judicial Watch", had been Erroneously Rejected previously by a Lower Court, while it Denounced the Fact that the current USA's State Secretary, Kerry, hadn't asked from the Attorney General to seek from Hillary Clinton much More among her Emais during her Mission as former Head of the State Department, (i.e. including during the 2012 Islamist Terrorist Deadly Attacks agains US Ambassador Stevens and others on September 11, 2012, but had only left it up to Herself and to the FBI. So that, at the Beginning of Next Year, 2017, the incoming, New US Federal Administration, under President-Elect Don Trump, would have to Decide whether, how and up too which point, it should, eventually, Launch a brand New Invesigation,  Starting by Officialy Asking for much More emails froom Hillary Clinton.

=> Situated now, among such Manifold but Converging "Hot" Issues, any Serious Investigation on Ambassador Amiridis' brutal Murder, already an Exceptional Incident in itself), should Not Abstain from adequately Examining Any Legitimate Hypothesis or Questions still remaining without crystal-clear and Convincing Answers.

(../..)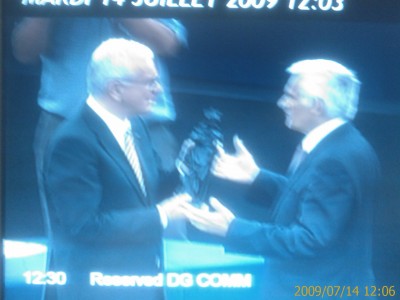 Scientific innovation joined to Faith for Human Rights, Eastern Partnership and fight against the Crisis, but above all, the need to overcome the "Crisis of Trust" from EU Citizens, are the main priorities for new EU Parliament's President, Polish Jerzy Buzek, that a 555-votes-strong majority of MEPs on July 14,  Strasbourg made a living symbol of the fact that, 20 years after the fall of Berlin Wall (1989 - 2009) there is no more an Eastern or Western Europe, but only one Europe, as the head of the largest group of MEPs, ChristianDemocrats/EPP, Joseph Daul, stressed after the event.
    Speaking later to a group of Strasbourg's Journalists, including "EuroFora", the new EU Parliament's President clarified his stance on concrete topical issues, as f.ex. that of Turkey's controversial EU bid, which was one of the main issues of the June 2009 Electoral campain, clearly won by his party of ChristianDemocrats/EPP :  - "At present, Turkey does not fullfil none of EU conditions", he stressed, (See infra).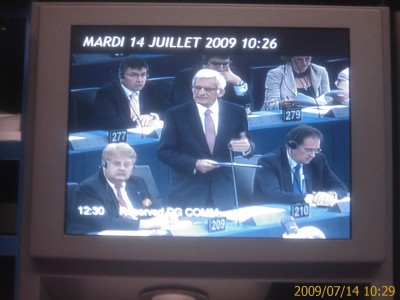 Buzek is well known in Strasbourg and to "EuroFora" as EU Rapporteur for the Framework Program of Scientific Research and Development of Technologies. A Natural Science Professor from the Historic and Religious landmark Polish City of Częstochowa, active in the famous Solidarnosk grass-roots social movement, he served 4 years as Prime Minister (1997-2001), before being elected as MEP in 2004 and 2009, after he brillantly won the latest EU Election at the head of his party (EPP) almost doubling the number of its MEPs from 15 to 28 !

    - "Innovation" and "Energy safety", as well as fight against the "Cimat change", but also "Eastern Partnership", the "Mediterranean", "Strategic partnerships" with Russia, the USA, etc, and the search for "solutions to the Economic Crisis" that EU Citizens "expect" from us, will be his "priorities", announced from the outset the new EU Parliament's President, reminding also that the quest for "Human and Civic Rights" played an important role in his experience with the Solidarnosc grass-roots social movement in Poland's History

    But, the most important of all, is the urgent need to overcome the "Crisis of Trust" between EU Institutions and the People he stressed : - EU "Citizens often don't understand us", denounced Buzek, launcing a call to "do anything for EU Citizens to understand our work" in EU Parliament : "We (MEPs) need to make EU Citizens involved" in "what we are doing every week, in Strasbourg and Brussels", he proposed. Pointing f.ex. to the hot "Debates" with "strong arguments" exchanged between MEPs during the preparation of their Legislative Decisions, in Committees, delivering often hard struggles between initially opposed points of view, long before forging a majority at the final vote, sometimes more than a year..

    Therefore, EU Parliament will be "open to your criticism, for discussion and exchange of views", he promissed to Journalists in Strasbourg.

    In this way, Buzek, in fact, highlighted "EuroFora"s main idea, that we strongly advocate since 1997-2007, to systematicaly and actively involve EU Citizens in public debates during the decision-making process of important EU measures, which affect their lives and the society in which they live, (and not only just a few weeks each 4 or 5 Years at the eve of EU Elections)...
--------------------
    This is related also to the symbolic gift that Buzek chose to give to the out-going former EU Parliament's President, Hans Gert Poettering, (2007-2009), his collegue in the ChristianDemocrats/EPP, who brillantly won 2009 EU Elections in Germany : A genuine statute of sainte Barbara crafted in Silesia's black Coal by Polish Miners : Those simple but strong people who fought for social change against some technocrats and bureaucrats disguissed into so-called "real-socialists" of old times. (PHOTO).

    It's enough to have seen a popular open air mass, at Warsaw's center, with many thousands of people, old and young, simple workers and intellectuals mixed together, with references to Poland's history and struggles for survival and liberty, through various ages, (as fex. that organized at the eve of CoE's 2005 panEuropean Heads of State and Government for the beatification of late Pope John-Paul II), in order to understand what such symbols mean..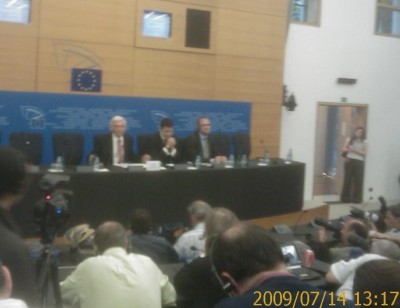 But, overcoming the "Crisis of Trust" with EU Citizens obviously implies also to rectify any errors done in the past, fex. on Turkey's controversial EU bid, with controversial decisions taken in 1999 and 2004 to give a "candidate" status and to start EU negotiations, provoking an unprecedented series of 3 "No" to EuroReferenda and 3 Majoriy Abstentions in EU Parliament Elections : 1999, 2005 and 2009, (even if the latest one succeeded to decelerate and almost stop the drop of participation rates, opening hopes for vote's revival after an electoral campaign clearly critical to Turkey's claims in several mainstream EU countries)
    
    Therefore, Buzek was faced with manifold critical Questions on EU Enlargement, most of them citting concrete examples of certain political problems  :  But his replies were almost always given as a matter of general principle :

    F.ex. Questioned on the suspension of EU - Croatia talks because of a Border conflict with EU Member Slovenia, Buzek prefered to speak about principles :
- "We know that during Enlargement, the process can be blocked by failure to resolve this kind of issues",  This concerns also other enlargments' cases", and "these rules are always in force" he warned.

But Buzek avoided to directly reply to a queston on "French and German EPP' calls to define the Borders of Europe", as a German journalist asked him by making a reference to French President Nicolas Sarkozy, and German Chancellor Angie Merkel's, critical statements on Turkey at the June 2009 Electoral campain.    

- "Concerning Enlargement, there's always the same rules : There have to be Criteria, which have to be respected if a Country wants to join the EU", he started to simply reply.

- "For my country (Poland) it took us 15 Years to fullfil these Criteria", Buzek reminded, indicating, if proportions are kept, that Turkey, fex. would have to spend some 25 years before eventually joining the EU..

- "Countries wishing to join the EU need to Change their Systems", as we (Poland and other former Eastern European Countries) did, he stressed.

- "'For me, meeting the condition of Human Rights is one of the Key conditions for membership in the EU", preferring again to speak from the point of view of General Principles, on the occasion of an untimely question on Serbia (which is not even a candidate yet)...

- "Turkey" has, "first of all", to fullfil (EU) Copenhagen criteria". Bevause, currently, none of them is fullfiled by Turkey", New EU Parliament's President, denounced, speaking later to a group of Journalists, including "EuroFora".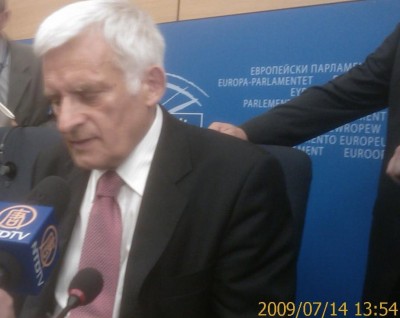 In particular, on Human Rights :  - "We (EU) can never forget Human Rights", because "this is at the very Foundations of the EU", Buzek added.

On the contrary, when he referred to EU Enlargment for the  "Western Balkans Countries ", Buzek appeared upbeat, finding "promising situations", despite "difficulties" in the Past, since "Countries are queuing to become EU members", and this "generated changes", as he said.

As for Russia, Buzek observed that it was a "very important" country, located "in the same Continent", Europe,  "close to our borders", and "we need eachother". "But Russia' has 'differend poblems : "They claim that their system is Democratic, but rules are differend", and we must be "aware of such differencies", fex. "on Human Rights", that we can't ignore, as he said;

Concerning China, where a journalist observed that the recipient of EU Parliament's latest "Sakharov prize" for freedom of thought is "still in prison", Buzek found that since the 1999 events in Tien Amin square, "we see differencies on Human Rights still today", and expressed his "support" for those who try to ameliorate the situation.

On the contrary, speaking recently to "EuroFora" he strongly supported the idea for an EU - Ukraine cooperation, fex. between Airbus and Antonov, in order to build a  less costly but more performant than the old and problematic A400M, new Military Transport Airplane : - "They (Ukranian Antonov Company) can certainly do it. I'm sure they can. It's a good Idea, and I'd be glad if it was done", he told us. (See : http://www.eurofora.net/newsflashes/news/airbusantonov.html )



(../..)
Polls