Home

newsitems

+Texts of all Ukraine Agreements leading to Minsk Summit Germany-France-Ukraine-Russia Peace deal
+Texts of all Ukraine Agreements leading to Minsk Summit Germany-France-Ukraine-Russia Peace deal
Saturday, 14 February 2015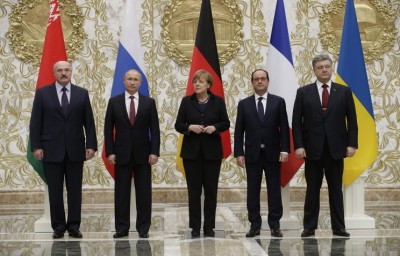 *Strasbourg/- On the occasion of the Entry into Force, Today, Anniversary of "Patrons of Europe" Christian saints Cyrille and Method (from the 9th Century AC), of the "Historic", (as EU's High Representative for External Action Federica Mogherini stressed earlier at EU Parliament in Strasbourg), and most comprehensive ever  sustainable Cease-Fire and Peace process Agreements for Ukraine, decided at the Highest Political level in a Minsk Summit of Heads of State/Government from Germany, France, Ukraine and Russia, (Merkel, Hollande, Poroshenko and Putin), working in parallel with the "Group of Contact",which includes the Donettsk/Luhansk Autonomists, "EuroFora" publishes the Full Texts of All Agreements reached by the two sides of the Ukranian Conflict, with an active involvement of the European/PanEuropean/International Community, from the beginning until Now.

The main reason is the Fact that, as experienced former President of the Biggest Political Group in CoE's PanEuropean Parliamentary Assembly (PACE), and current President of "Novae Terrae" Foundatioh, Italian politician Luca Volonté, strongly Denounced, last January 2015 in Strasbourg, during a Top-level meeting and debate between Leaders of various Political Groups and mainstream MEPs of the PACE, including Russian Duma's President Naryshkin, "most People still Ignore even the main points of what has been agreed on Ukraine".

But also because the latest Minsk Summit's compromise Deals of 11 February 2015, (immediately welcomed and endorsed also by the EU Heads of State/Government's Summit in Brussels Next Day, on February 12), are, in great part, destinated to Facilitate the full Implementation of an Initial, 5 September 2014 Minsk Agreement between the two direct(ly involved sides, as well as to help extend them in practice towards a Peaceful Solution of the Ukranian Conflict at the Horizon in the foreseable Future.

Among the International Actors involved in 4 main Documents trying to broker a Compromise Deal in Ukraine, the 1st was drafted without USA's direct presence (and a Delay of the Russian Representative, hindered to arrive on Time, before Violent Clashes smashed that Deal), but with the participation of 3 Foreign Ministers from EU Countries (Germany, France and Poland), during the Night of 20 to 21 February 2014 in Kiev. But both USA and Russia were directly present in the drafting of the 2nd such Text, which was agreed on April 17, 2017, in Geneva, together with EU's High Representative Ashton and the Ukranian Government, at Foreign Ministers' level. But the most recent ones : Those of the New Series of Deals concluded at Minsk, in Bielorussia, on September 2014 and now on February 2015,  were preceded and accompagnied by an active EU Diplomacy via its Franco-German core, at first Indirectly (f.ex. by Phone-calls, Letters, Tele-Conferences, separate Meetings, etc., between Heads of State/Government) on September 2014, and now even with the Direct, Personal involvement of Heads of State/Government from France, Germany, Ukraine and Russia, (the so-called "Normandy Format", labelled so since the 1st Putin - Poroshenko meeting, prepared by Merkel and hosted by Hollande in France since early July) 2014) on February 2015. Talks under OSCE auspices and OSCE Monitoring is another New Parameter, from Summer 2014 up to this Winter 2015. However, the USA Authorities were always regularly consulted and/or even directly met beforehand.

The participation of the Opposition's leaders (Not represented then at the Parliament), was reportedly Direct and Full, almost at a similar level with then Ukranian President Yanukovich (accused to be rather pro-Russian), only in the 1st, February 2014 Agreement at Kiev, which was immediately topled by an outburst of exceptional Deadly Violence in unclear circumstances. But, on the Contrary, the Opposition (formed afterwards by Russian-speaking People at the Autonomist Ligansk/Luhansk Regions, etc) was almost entirely Absent at the 2nd Deal, on April 2014 at Geneva. However, since the "Minsk" Series of Agreements on September 2014 and February 2015 (Comp. Supra), Opposition's leaders are included in a special "Group of Contact" under OSCE auspices, Indirectly monitored and/or supported by the Main State Actors (particulary Ukraine, Russia, France and Germany), even if they didn't have, until now, any Kiev Government's Official in front of them for any Direct Negotiations, Kiev being represented only by a retired, former President and recently a Humanitarian NGO activist, (something which should, apparently, Change after the latest, February 2015 Minsk Agreement : See Infra).

But a "Constant" cutting through all those 4 Peace Deal Texts is the Fact that, apparently, regardless of the political color of the various successive Governments in Kiev, it has always been, until now, only when those in Power suffer a Setback in the Ukranian Conflict, after events which reveal a much Stronger Opposition than expected, that a New Round of Peace Negotiations starts :

 This happened already during the Last Days of former President Yanukovich's reign, back on February 2014, (who even accused the then pro-USA Opposition to exploit the Time of Talks in order to prepare a "Putch"), but also, later-on, when that former Opposition's leaders had taken over the Government at Kiev, but faced a Popular Referendum in Crimea for "ReUnification" with Russia, as well as an increasing Wave of convergent Popular Uprisings accross the rest of South-Eastern Ukraine Regions where local People were holding Mass Ralies and taking over, one after the other, almost all the Local/Regional Authorities in a Fast-Enlarging pro-Autonomy movement (which almost Immitated Maidan Square Demonstrators' practical Methods on the spot), on April 2014, in reaction to what they had denounced earlier as a "Putch" in Kiev. After many Months of Kiev's Military's Deadly attacks against Autonomist Regions of Lugansk/Luhansk, with a Big Number of Civilian Victims, it's notoriously a sudden "U-Turn" in the Armed Clashes, since August 24, when Autonomists' Militia Counter-Attacked after a Change of Leadership and Methods, Winning Ground throughout many Villages, sweeping fast several areas until Azov's Sea, and arriving up to Surround Mariupol's strategic Seaport from all sides, that Kiev's Authorities immediately seeked a Cease-Fire which was Agreed on September 5, 2014, at Minsk, (and further detailed there on September 19). This time, the Cease-Fire stood, more or less, until Kiev's Goverment openly Denounced the September 2014 Agreements from November 2014, by curiously claiming that Donetsk-Luhansk's Autonomists shouldn't have organized free Elections to choose their Political Leadership, Cancelled the only Measure it had taken according to that Agreement, and Declared the Peace process Stopped, adding even a Total Financial Blockade against the pro-Autonomy Regions, (See also Infra). Since then, Deadly Clashes between the 2 sides Stop and Go several times, resulting into a slow but steady Recovery of their Land by Donetsk/Luhansk Autonomists, including Donetsk's Airport and surrounding areass, until they managed to Surround a 6.000 - 8.000 fully Equiped detachment of Kiev's Military at the Strategic Crossroads of Debaltsevo, of crucial importance for Transport Communications by Car and Rail between the two Capital Cities of the Autonomist Regions, the Russian Border and even their Historic avant-post of Slayansk, (the 1st City Attacked and later occupied by Kiev's Military since the Beginning of the conflict, after a long Resistance).
------------------------------

+ For the 1st Time, however, recently, it is no more only Brutal Force which could simply drop, stop, humper or slam Peace Agreements on the Ukraine issue, just in a Few Hours, or so, as it had happened in the Past, f.ex. after the unelucidated yet "Snipers" and other Provocations which killed both Policemen and Demonstrators in Kiev, triggering Deadly Clashes which smashed the 21 February 2014 Agreement signed between Yanukovich and the Opposition in the presence of 4 European Representatives from France, Germany, Poland and Russia, in less than 1 Day (Comp. Supra), and/or the Start of a Wave of Deadly Armed Attacks against Donetsk/Luhansk pro-Autonomists at Slayansk, killing the First 3 Victims even during the Holy Christian Feast of Easter's Night, just one Day after the Geneva Declaration of April 17, 2014, (etc) :

- On the contrary, when the September 2014, initial Minsk Agreement was first Denounced and declared to have been practicaly Nullified, back on November 2014, (Comp. Supra), Kiev's Authorities were also obliged to Explain their stance by Arguying, (with more or less Credibility), f.ex. that Donetsk/Luhansk Autonomists shouldn't have held Popular Elections in order to choose their Political Leaders, (Comp. Supra), etc... So, it's no more simply with some Deadly unidentified "Snipers" provoking Violent Clashes, and/or  some Bullets Fired overNight by Hooded Killers against Popular Militia guarding their own Village Homes, etc, (as it had occured in the Past at Kiev, on 21 February 2014, and at Sloyansk, on April 2014 : Comp. Supra), that a Cease-Fire and Peace Agreement may, anymore, be nullified in practice, since the new OSCE and "Normandy Format" Top-Level procedures have started to function, more or less efficiently, but with Growing Transparency, Dialogue, Systematic Monitoring, reciprocal Economic Sanctions, and Top Political involvement by mainly European Leaders.

=> Therefore, a thorough Knowledge by the Public in Europe and the World of the Full, precise Text of all Cease-Fire and/or Peace Agreements on the Ukranian conflict, has now become even more Important than in the Past, in order to Help all those involved and/or interested to be able to Analyse, Judge, Debate and Act well informed about the main relevant Facts and what is really at stake, so that eventual gross Manipulations of Public Opinion can't, no more, Mislead People as it had been notoriously done in Past occasions, but, on the contrary, all those who really stand together in favour of the "Peace camp", may find a Stronger public Support, sooner or later, so that they can Advance forward decisively and efficientlyn, until a sustainable Peace is established in that Strategic Country of the Greater Europe.  

On the occasion of the landmark Minsk Agreements reached by 4 European Heads of State/Government of Germany, France, Russia and Ukraine, in parallel with OSCE's  "Group of Contact" including also the Representatives of Lugansk/Luhansk Autonomists, on 11-12 February 2015, "EuroFora" contributes to that purpose by Publishing, ALL the Texts in Full, of the various Agreements which have tried to precede and/or lead towards what was Achieved Now, thanks to the personal initiatives and efforts of Chancellor Angie Merkel, and Presidents Francois Hollande,  Petro Pososhenko and Vladimir Putin, at least some if not all of them would certainly deserve, later-on, a NOBEL Peace Prize, if they are all really decided to succeed to Stop that Horrible Killings of innocent Civilian People amidst Destructions and Sufferings never seen before in Europe since the 2nd World War, by acting decisively and adequately to overcome all Hard Obstacles stil lying ahead, in order to bring back a sustainable, Democratic Peace, reflecting well Europe's Values and allowing its Free Development and Growth.

Last, but not least, most of those Texts, (often, even the slightest concrete "Details"), are due, most probably, to be read and re-read many times, used, cited, modified and/or completed during the forthcoming Days, Weeks and/or Months, until a final result is obtained, possibly at the Horizon of "before the End of the Year 2015", as they reiterate several times on certain Key issues, or Later-on, so that they should all be Easily Accessible in Full at the Internet, at any moment.
                                                                                                                                                                                                                                                                                                            
---------------------------------------------
(A) Kiev Agreement of 21 February 2014
-------------------------------------------------

<< Agreement on the Settlement of Crisis in Ukraine

Final 6:45

Concerned with the tragic loss of life in Ukraine, seeking an immediate end of bloodshed and determined to pave the way for a political resolution of thecrisis,

We, the signing parties, have agreed upon the following:


1. Within 48 hours of the signing of this agreement, a special law will be adopted, signed and promulgated, which will restore the Constitution of 2004 including amendments passed until now.

Signatories declare their intention to create a coalition and form a National Unity Government within 10 days thereafter.
2. Constitutional Reform, balancing the powers of the President, the governmentand parliament, will start immediately and be completed in September 2014.


3. Presidential Elections will be held as soon as the new Constitution is adopted
but no later than December 2014.

New Electoral Laws will be passed and a new Central Election Commission will be formed on the basis of Proportionality and in accordance with the OSCE & Venice commission rules.

4. Investigation into recent acts of Violence will be conducted under Joint Monitoring from the Authorities, the Opposition and the Council of Europe.

5. The authorities will not impose a state of emergency. The authorities and the opposition will refrain from the use of violence. The Parliament will adopt the 3rd amnesty, covering the same range of illegal actions as the 17th February 2014 law. Both parties will undertake serious efforts for the normalisation of life in the citiesand villages by withdrawing from administrative and public buildings and unblocking streets, city parks and squares. Illegal weapons should be handed over to the Ministry of Interior bodies within 24 hours of the special law, referred to in point 1 hereof, coming into force. After the aforementioned period, all cases of illegal carrying and storage of weapons will fall under the law of Ukraine. The forces of authorities and of the opposition will step back from confrontational posture. The Government will use lawenforcement forces exclusively for the physical protection of public buildings.

6. The Foreign Ministers of France, Germany, Poland and the Special Representative of the President of the Russian Federation call for an immediateend to all violence and confrontation.


Kyiv, 21 February 2014

Signatories:

President of Ukraine:     Viktor Yanukovych


For the Opposition:

Vitaliy Klichko, UDAR
Oleh Tyahnibok, Svoboda
Arsenij Yatseniuk, Batkivshchyna


Witnessed by:

For the EU:
Poland        Radoslaw Sikorski     Foreign Minister
Germany     Frank-Walter Steinmeier     Foreign Minister
France        Laurent Fabius         Foreign Minister

For the Russian Federation :     
Vladimir Lukin         Special Envoy    >>
 

-----------------------------------------------------------------
(B) Geneva Statement of 17 April 2014, by MFAs :
---------------------------------------------------------------------

<< Following is a joint statement on Thursday by the four parties - Russia, the United States, the European Union, and Ukraine - meeting in Geneva to discuss the continuing conflict in Ukraine:


The Geneva meeting on the situation in Ukraine agreed on initial concrete Steps to de-escalate tensions and restore security for all citizens.

All sides must refrain from any Violence, intimidation or Provocative actions. The participants strongly condemned and rejected all expressions of Extremism, racism and religious intolerance, including anti-Semitism.

All illegal armed groups must be Disarmed; all illegally seized Buildings must be returned to legitimate owners; all illegally occupied streets, squares and other public places in Ukrainian cities and towns must be vacated.

Amnesty will be granted to protesters and to those who have left buildings and other public places and surrendered weapons, with the exception of those found guilty of capital crimes.

 It was agreed that the OSCE Special Monitoring Mission should play a leading role in assisting Ukrainian authorities and local communities in the  immediate implementation of these de-escalation measures wherever they are needed most, beginning in the coming days. The US, E.U. and Russia commit to support this mission, including by providing monitors.

The announced Constitutional process will be inclusive, transparent and accountable. It will include the immediate establishment of a broad national Dialogue, with outreach to all of Ukraine's regions and political constituencies, and allow for the consideration of public comments and proposed amendments.  
 The participants underlined the importance of Economic and financial stability in Ukraine and would be ready to discuss additional Support as the above steps are implemented. >> 

-----------------------------------------------------------------------------
(C)  Minsk Protocol of September 5, 2014,; by the Trilateral Contact Group
-----------------------------------------------------------------------------------------
<<PROTOCOL on the results of consultations of the Trilateral Contact Group

with respect to the joint steps aimed at
the implementation of the Peace Plan
of the President of Ukraine, P. Poroshenko,
and the initiatives of the President of Russia, V. Putin


Upon consideration and discussion of the proposals put forward by the participants of the consultations in Minsk on September 1, 2014, the Trilateral Contact Group, consisting of the representatives of Ukraine, the Russian Federation and the Organization for Security and Co-operation in Europe [OSCE], reached an understanding with respect to the need to implement the following Steps:


Ensure the immediate bilateral cessation of the use of Weapons.

Ensure Monitoring and verification by the OSCE of the regime of non-use of weapons.

Implement DeCentralization of Power, including by means of enacting the Law of Ukraine "With respect to the temporary status of local self-government in certain areas of the Donetsk and the Lugansk regions" (Law on Special Status).

Ensure permanent monitoring on the Ukrainian-Russian state Border and verification by the OSCE, together with the creation of a security area in the border regions of Ukraine and the Russian Federation.

Immediately release all hostages and unlawfully Detained persons.

Enact a law prohibiting the prosecution and punishment of persons in connection with the events that took place in certain areas of the Donetsk and the Lugansk regions of Ukraine.

Conduct an inclusive national Dialogue.

Adopt measures aimed at improving the Humanitarian situation in Donbass.

Ensure the holding of early local Elections in accordance with the Law of Ukraine "With respect to the temporary status of local self-government in certain areas of the Donetsk and the Lugansk regions" (Law on Special Status).

Remove unlawful Military formations, military hardware, as well as militants and mercenaries from the territory of Ukraine.

Adopt a program for the Economic revival of Donbass and the recovery of economic activity in the region.

Provide personal security guarantees for the Participants of the consultations.


Participants of the Trilateral Contact Group:


Ambassador Heidi Talyavini (signed)

Second President of Ukraine, L.D. Kuchma (signed)

Ambassador of the Russian Federation in Ukraine, M.Y. Zurabov (signed)

A.V. Zakharchenko (signed)

I.V. Plotnitskiy (signed)  >>


-----------------------------------------------------------------------------------
(D) Minsk Agreements of February 11-12, 2015

    a) Statement (by the 4 Heads of State/Government)
    b) Package (by the Contact Group, under OSCE auspices)
----------------------------------------------------------------------------------------

<<Thursday, February 12, 2015

Statement by the President of the Russian Federation,
the President of Ukraine, the President of the French Republic
and the Chancellor of the Federal Republic of Germany

to support the Package of measures to implement the agreements Minsk
adopted on 12 February 2015 Minsk. (See Infra)


The President of the Russian Federation, Vladimir Putin, the President of Ukraine, Petro Poroshenko, the President of the French Republic, François Hollande, and the Chancellor of the Federal Republic of Germany, Angela Merkel, reaffirm their full respect for the sovereignty and territorial integrity of Ukraine.

They are convinced that there is an exclusively peaceful solution is no alternative. They are determined individually for this purpose and to jointly take all possible measures.

Against this background, the Heads of State and Government support on February 12, 2015, adopted and signed Package to help implement the Minsk agreement that was signed by all the signatories of the Minsk Protocol on 5 September 2014 and the Minsk memorandum of 19 September 2014. The Heads of State and Government will contribute to this process and exert their influence on the respective parties to facilitate the Implementation of this package.

Germany and France will provide technical expertise for the recovery of the Banking sector in the affected areas of conflict are available, including the possible establishment of an international mechanism for facilitating social transfers.

The Heads of State and Government share the belief that improved Cooperation between the EU, Ukraine and Russia in resolving this crisis will be beneficial. For this purpose, they support the continuation of the trilateral talks between the EU, Ukraine and Russia on Energy issues with the goal to which Gas package to agree on further follow-up steps for the winter.

They also support trilateral Talks between the EU, Ukraine and Russia, to reach practical solutions to concerns that Russia has expressed with regard to the implementation of the deep and comprehensive free Trade agreement between Ukraine and the EU.

The Heads of State or Government are committed to the same vision of a Common Humanitarian and Economic Space from the Atlantic to the Pacific , on the basis of full respect for International Law and the Principles of the OSCE.

The leaders feel the implementation of the Minsk agreements as a further obligation. To this end, they agree on the creation of a Regulatory  Mechanism in Normandy format, which will meet on a Regular basis, although in principle at the level of Senior Officials from the Ministries of Foreign Affairs.

------------------------------------------------------------------------------

+ Package of Measures for the Implementation of the Minsk Agreements

Published on February 12, 2015

1. Immediate and comprehensive Ceasefire in certain areas of the Donetsk and Luhansk regions of Ukraine and its strict implementation as of 15 February 2015, 12am local time.

2. Withdrawal of all heavy Weapons by both sides by equal distances in order to create a security zone of at least 50 km wide from each other for the artillery systems of caliber of 100 and more, a security zone of 70 km wide for MLRS and 140 km wide for MLRS "Tornado-S", Uragan, Smerch and Tactical Missile Systems (Tochka, Tochka U):
- for the Ukrainian troops: from the de facto line of contact;
- for the armed formations from certain areas of the Donetsk and Luhansk regions of Ukraine: from the line of contact according to the Minsk Memorandum of Sept. 19th, 2014;
The withdrawal of the heavy weapons as specified above is to start on day 2 of the ceasefire at the latest and be completed within 14 days. The process shall be facilitated by the OSCE and supported by the Trilateral Contact Group.

3. Ensure effective Monitoring and verification of the ceasefire regime and the withdrawal of heavy weapons by the OSCE from day 1 of the withdrawal, using all technical equipment necessary, including satellites, drones, radar equipment, etc.

4. Launch a Dialogue, on day 1 of the withdrawal, on modalities of local Elections in accordance with Ukrainian legislation and the Law of Ukraine "On interim local self-government order in certain areas of the Donetsk and Luhansk regions" as well as on the future Regime of these areas based on this law.
Adopt promptly, by no later than 30 days after the date of signing of this document a Resolution of the Parliament of Ukraine specifying the area enjoying a special regime, under the Law of Ukraine "On interim Self-Government order in certain areas of the Donetsk and Luhansk regions", based on the line of the Minsk Memorandum of September 19, 2014.

5. Ensure pardon and Amnesty by enacting the law prohibiting the prosecution and punishment of persons in connection with the events that took place in certain areas of the Donetsk and Luhansk regions of Ukraine.

6. Ensure release and exchange of all hostages and unlawfully Detained persons, based on the principle "all for all". This process is to be finished on the day 5 after the withdrawal at the latest.

7. Ensure safe access, delivery, storage, and distribution of Humanitarian assistance to those in need, on the basis of an international mechanism.

8. Definition of modalities of full resumption of Socio-Economic ties, including social transfers such as pension payments and other payments (incomes and revenues, timely payments of all utility bills, reinstating taxation within the legal framework of Ukraine).
To this end, Ukraine shall reinstate control of the segment of its banking system in the conflict-affected areas and possibly an international mechanism to facilitate such transfers shall be established.

9. Reinstatement of full control of the state Border by the government of Ukraine throughout the conflict area, starting on day 1 after the local elections and ending after the comprehensive political settlement (local elections in certain areas of the Donetsk and Luhansk regions on the basis of the Law of Ukraine and Constitutional reform) to be finalized by the end of 2015, provided that Paragraph 11 has been implemented in consultation with and upon agreement by representatives of certain areas of the Donetsk and Luhansk regions in the framework of the Trilateral Contact Group.

10. Withdrawal of all Foreign armed formations, Military equipment, as well as mercenaries from the territory of Ukraine under monitoring of the OSCE. Disarmament of all illegal groups.

11. Carrying out Constitutional reform in Ukraine with a new constitution entering into force by the end of 2015 providing for Decentralization as a key element (including a reference to the specificities of certain areas in the Donetsk and Luhansk regions, agreed with the representatives of these areas), as well as adopting permanent legislation on the Special Status of certain areas of the Donetsk and Luhansk regions, in line with measures as set out in the Footnote, until the end of 2015. (1)

12. Based on the Law of Ukraine "On interim local self-government order in certain areas of the Donetsk and Luhansk regions", questions related to local Elections will be discussed and agreed upon with representatives of certain areas of the Donetsk and Luhansk regions in the framework of the Trilateral Contact Group. Elections will be held in accordance with relevant OSCE standards and monitored by OSCE/ODIHR.

13. Intensify the work of the Trilateral Contact Group, including through the establishment of working groups on the implementation of relevant aspects of the Minsk agreements. They will reflect the composition of the Trilateral Contact Group.

Participants of the Trilateral Contact Group:

Ambassador Heidi Tagliavini
Second President of Ukraine, L. D. Kuchma
Ambassador of the Russian Federation to Ukraine, M. Yu. Zurabov
A.W. Zakharchenko
I.W. Plotnitski  

--------------------------


+ Footnote (1):
Such measures are, according to the Law on the special order for local self-government in certain areas of the Donetsk and Luhansk regions:

Exemption from punishment, prosecution and discrimination for persons involved in the events that have taken place in certain areas of the Donetsk and Luhansk regions;

Right to linguistic self-determination;

Participation of organs of local self-government in the appointment of heads of public prosecution offices and courts in certain areas of the Donetsk and Luhansk regions;

Possibility for central governmental authorities to initiate agreements with organs of local self-government regarding the economic, social and cultural development of certain areas of the Donetsk and Luhansk regions;

State supports the social and economic development of certain areas of the Donetsk and Luhansk regions;

Support by central government authorities of cross-border cooperation in certain areas of the Donetsk and Luhansk regions with districts of the Russian Federation;

Creation of the people's Police units by decision of local councils for the maintenance of public order in certain areas of the Donetsk and Luhansk regions;

The powers of deputies of local councils and officials, elected at early elections, appointed by the Verkhovna Rada of Ukraine by this law, cannot be early terminated.>>
--------------------------------------------------------------------------------------------
(../..)
-------------------------------------------
***
("DaftNews", as already send to "EuroFora"s Subscribers/Donors, earlier. A more accurate, full Final Version, might be published asap).
***
BRIEF NEWS
00:00 - 09.07.2018

00:00 - 31.05.2018

00:00 - 26.12.2017

00:00 - 26.05.2017

00:00 - 30.01.2017

00:00 - 14.10.2016

00:00 - 24.09.2016

00:00 - 27.07.2016

00:00 - 03.07.2016
Statistics
Visitors: 28940656
Archive
Login Form
Other Menu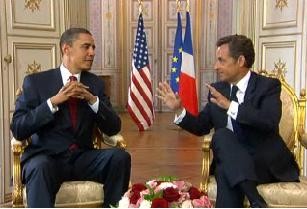 La Turquie, test-clé d'Independance de l'Europe face aux USA, les aménant de chercher en commun des nouvelles idées pour se mettre d'accord ?  
 Le débat, amical mais clair, entre les Présidents Américain et Français, Obama et Sarkozy,  la veille des elections européennes du 7 juin 2009, a montré que la question controversée sur la démande de la Turquie d'entrer dans l'Europe est actuellement le point central et le test le plus pertinent de l' indépendance de la France et de l'Europe par rapport aux Etats Unis.   
 Les electeurs européens, aussi bien en France qu'ailleurs en l'UE, auront une seule chance à trancher, ce dimanche 7 juin 2009, en choisisant leurs eurodéputés pour la période 2009 - 2014, car après ca risque d'être trop tard, vu que tous ceux qui suivent les affaires européennes dépuis des décennies savent qu'en réalité, le moment des décisions sur la Turquie viendra au plus tard en 2013, date rétenue dépuis longtemps pour une importante révision des "Perspectives Financières" de l'UE qui reflètent des choix Politiques fondamentaux.

    Le Président français, (récement encore représentant de l'UE, dans laquelle il joue un rôle important, ensemble avec la chancelière allemande Merkel, et autres leaders européens, ayant une influence notable auprès des Citoyens Européens, comme les derniers sondages montrent), réagissant à la repétition, par le nouveau Président Américain de la vieille position traditionelle de l'Washington poushant toujours vers la démande de la Turquie d'entrer dans l'Europe :

     - "Je ne peut pas laisser détruire l'Europe, (qui) est un élément de stabilisation du Monde", réponda Sarkozy. "J'ai dit au Président Obama que pour moi il était très important que l'Europe ait des Frontières", a-t-il souligné, confirmant la position Franco-Allemande commune, récemment rappellée ensemble avec la Chancellière Merkel.

    - "Il y a une différence (entre France/EU et les USA)...  sur les modalités. La position traditionnelle des Etats-Unis d'Amérique, c'est l'intégration" de la Turquie au sein de l'UE. "C'était la position du Président Bush, du Président Clinton, de tous les présidents américains".     
- "La mienne vous la connaissez : Ce n'est pas l'intégration dans l'Union Européenne. Mais j'ai proposé que nous réfléchissions, l'Europe, la Russie, la Turquie à la création d'un Espace Economique et de Sécurité en commun", a ajout Sarkozy rappelant son invitation de créer quelque chose de neuf et mieux adapté.

    Mais, "cela ne veut pas dire qu'il faut repousser la Turquie dans les ténèbres. La Turquie est un allié dans l'OTAN, (et) une Passerelle entre 2 Mondes, voilà quelle est la meilleure modalité. C'est cela dont nous avons parlé", revela-t-il. Si "nous avons une Différence sur les Modalités, nous n'avons pas une différence sur l'Objectif : Faire de la Turquie un élément de Pont entre l'Orient et l'Occident", Sarkozy assura Obama.

    - "Laissez-nous au moins une légère divergence sur un sujet, cela vous permettra de bien réfléchir pour les prochaines échéances", ajouta Sarkozy en réponse à un journaliste de l'opposition Socialiste qui avait soulevé la question de la Turquie, en la melant (comme un lobby turc notoirement essaie de faire pour exploiter la manipulation de quelques Arabes, la Civilisation Historique desquels fût pourtant detruite par l'ex-empire Ottoman-Turc) avec une question tout à fait différente : celle de la voile islamique (!), avec laquelle elle n'a rien à voir.

    - "Sur la Turquie, Monsieur, vous appartenez à un journal ...qui a appelé à voter, au moment de la présidentielle, pour mon adversaire.... Quel était votre argument à ce moment-là ? Vous disiez : « Attention, Nicolas Sarkozy va trop s'aligner sur les Etats-Unis d'Amérique », et je vois que deux ans après vous dites : « Ah, il y a un sujet sur lequel le Président Obama et le Président Sarkozy ne sont pas d'accord » Cela devrait vous rassurer, Monsieur" , réponda-t-il, en faisant sourire même le président américain, (et laissant entendre que trancher définitivemen la controverse sur la Turquie pourrait être au coeur de l' Elections Présidentielle  en France pour 2012 )
-------------------
    - "Ce que les Etats-Unis peuvent faire, c'est encourager ....TOUT PROCESSUS qui permettra à la Turquie d'être convaincue qu'elle a des amis, que ce soit la France, les Etats-Unis ou l'Europe", réponda Obama, apparamment n'excluant pas, a priori, le point de Sarkozy sur la création d'un espace commun d' économie et sécurité entre l' UE, la Turquie et la Russie (v. supra).

    "Les Etats-Unis ne sont pas membres de l'Union Européenne, nous ne pouvons pas dicter si un pays quelconque adhère ou n'adhère pas à l'UE"; Obama a admis, parlant de la "Turquie, (sur laquelle) le Président Sarkozy et moi nous sommes entretenus sur ce dossier avant".  "Maintenant le Président Sarkozy représente un Etat membre de l'Union Européenne et il a une position différente", opposée à démande turque d' entrée dans l'UE.    
 "La Turquie par contre est un allié de l'OTAN très important. ...La Turquie a fait connaître son intérêt à une intégration croissante avec l'Europe et nous (USA) encourageons cette attitude. J'ai souvent dit que l'adhésion de la Turquie à l'Union européenne serait importante".     
"Mais, (en tout cas) je crois qu'il est important de noter que le Président Sarkozy appuie fortement le travail que la Turquie fait au sein de l'OTAN et je crois qu'il s'intéresse à une intégration économique plus intense avec la Turquie". (Ce qui pourrait se faire, justement, avec un "parténariat privilegié" adéquat et/ou l'idée de créer un espace commun EU - Turquie - Russie  : V. supra).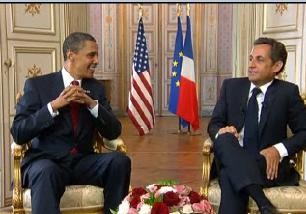 Est-ce que l'effort du Président de la France, soutenu par la chancelière Allemande et l'opinion publique de la plupart des Citoyens Européens la-dessus, de trouver un accord entre l' Europe et l' Amérique sur la Turquie, en proposant de sortir des chemins battus et créer du neuf, en etablissant "un Espace Commun d' Economie et Sécurité" (v. supra), suffira de calmer un lobby traditionaliste à quelques bureaucrates de Washington DC, datant dès l'époque de l' ex-"Guerre Froide", beaucoup plus ancien que le nouveau Président vénu de l' oxygen des "grands lacs" près de Quebec du Canada : Chicago, connu comme "la ville du vent" nouveau ?
-----------------------------------------------------------------------
Le Prémier Ministre Fillon appele à "faire vivre le Rève Européen"
------------------------------------------------------------------------  
 Seul l'avenir le dira. Mais, entre-temps, l' Europe ne peut plus attendre et perdre encore plus du temps et d'energie vitale sur la démande controversée de la Turquie, qui a notoirement menacé d'arrêter l'édification européenne dépuis 1999-2005 :

    Comme le Premier Ministre François Fillon a clairement dit, un peu plus tôt cette semaine, dans un discours éloquent sur les enjeux de l' Election Européenne de ce juin 2009 (V. résumé envoyé aux adhérents d'"EuroFora"),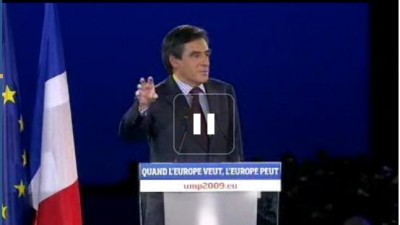 - "S' abstentir, c'est laisser à la Technocratie le pouvoir de dominer" la vie des Citoyens européens, qui devraient prendre l' Europe en branle le corps", et commencer d'agir par toutes les voies politiques démocratiques, prennant conscience que "l' Europe c'est Nous, (i.e. les Citoyens), et "Pas eux !" (i.e. les Technocrates), selon une image symbolique.

    - "Je me souviens de l' Europe obligée de faire Silence, (au Passé), quand "les Grands" décidaient de son sort", rappela Fillon.  "Je me souviens de l'Europe divisée, de l' Europe dominée" par d'autres, '"de l'Europe appauvrie""Je me souviens de Berlin occupé, muré, divisé comme un butin qu'on tire aux dès. Je me souviens du Silence de Varsovie. Je me souviens du Silence de Prague"..   
 - "Nous, les Européens, nous avons bien failli sortir de l' Histoire, et dévenir, pour du bon, les dès d'un jeu joué par d'autres".     
- "C'est pourquoi je ne peux pas concevoir une Europe qui ne serait pas Souveraine, une Europe qui ne serait pas Maitresse d'êlle-même", aujourd'hui et démain, martella-t-il. "Le Monde s'est habitué trop longtemps à une Europe faible, que l'on pouvait traiter avec condescendence".  
 - "Le moment est venu de rélever le défi : Le moment est vénu de montrer que, nous les Européens, avons décidé d'être débout, et d"être nous-mêmes".     
"Dépuis 2 ans (i.e. dès les Elections Présidentielles de 2007), avec Nicolas Sarkozy, nous avons oeuvrer pour relever notre Identité Nationale (de la France), dont nous sommes fiers. Et bien, l'' Identité Européenne mérite tout autant, elle qui prolonge les Génies de nos Nations".


    - "Je crois à la présence d'une Civilisation Européenne", déclara Fillon, largement applaudi par des milliers de personnes ayant entendu une série des Musiques entremelées characteristiques de differents pays européens, et des images lumineuses géantes avec des extraits symboliques de Goethe, de Victor Hugo, de Shakespeare, et d'autres auteurs italiens, espagnols etc celebres à travers l'histoire.

    - "L' Humanisme, la tolerance, la Liberté de la Conscience. La Solidarité. L' Etat de Droit. La confiance placée dans la Science, l' Innovation, le progrès. Toutes ces Valeurs, elles disent clairement où commence et où s'épanuit cette Europe" que nous voulons, observa-t-il.

    En harmonie avec les positions soutenues par le Président du Parlement Européen, eurodéputé allemand, Hans Gert Poettering, et la Chancelière allemande, Angie Merkel, sur la "Dignité Humaine" au coeur des "Valeurs de l' Europe" moderne. Ce qui fait qu'" avec un Elargissement sans fin", même vers la Turquie, c.a.d. "sans Frontières, l' Europe Politique, l' Europe des Valeurs et l' Identité européenne" ne peuvent pas exister, comme a dit aussi le Président francais, Nicolas Sarkozy, recemment à Berlin.

    Fait important : Cette observation de Fillon a été faite le jour-même que le Comité des Ministres du Conseil de l'Europe à Strasbourg concluait une semaine de réunion semestrielle sur les Droits de l'Homme, qui a examiné un grand nombre d'affaires des pires Violations (pex. Tuéries scandaleusement non elucidées, Persecutions et privations arbitraires de Liberté, personnes portées "Disparues", Tortures et "traitements inhumains et degradants", Usurpations illégales des Maisons et Patrimoines privées de Réfugiés, etc., pour lesquelles la Cour Européenne a condamné la Turquie dans plusieurs jugements, dont on attend toujours l' application)...

    - "C'est pourquoi un Elargissement sans fin de l' Europe ne peu pas être un objectif en soi. Parce qu'il ne peut que diluer l' élan européen, et detruire l' Idéntité Européenne"

    -" Voilà pourquoi nous disons, très sereinement, que nous ne sommes pas favorables à l' adhésion de la Turquie dans l'UE", conclua le Premier Ministre de la France; largement applaudi par des gens qui soulevaient le drapeau européen.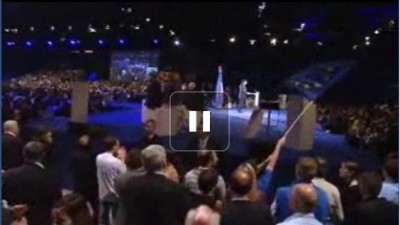 "Ce n'est pas un Slogan de meetings. Ce n'est pas la marque une "Hostilité" au régard de cette grande Nation (i.e. la Turquie), qui doit être étroitement associée à l' UE", pex. par un partenariat priviliegié, ou une autre formule adaptée.

    - "Mais il lui faut des Frontères à l' Europe, il lui faut des Frontières stables, qui lui permettent de renforcer son Unité et son Identité", a-t-il expliqué.

    - "Alors, c'est au nom de cette Europe charnelle, que je m'engage avec vous. Mais, cette Europe-là, ne peut avancer qu' à une seule Condition : celle de l' Europe Politique".

    "Nous avons longtemps douté qu'elle soit possible : Aux années 1970, Henri Kissinger (le notoire ex- Secretaire d'Etat Américain aux affaires etrangères, consideré, à tort ou à raison, comme chef d'orchestre du renversement du Président Allende en Chili, de l' invasion militaire de la Turquie à Chypre, etc), disait, avec une ironie blaissante : - "Ah, l' Europe ? : Quel numero de Télephone ?..." Pendant les 6 mois de la présidence française de l'UE, (7-12/2008), Henri Kissinger n'aurait aucune difficulté de rejoindre l' Europe !", observa-t-il en suscitant des nouveaux applaudissements nourris.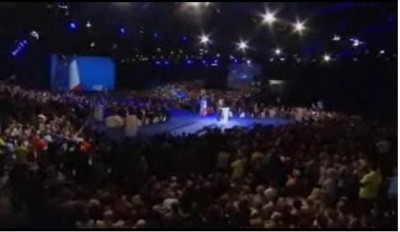 "J'au vu l' Europe Politique se dresser, et prendre ses responsabilités : L' Europe Politique c'est celle qui agit sans délai, et avant les Etats-Unis, pour stopper des faillites Bancaires qui s'enchaînent, qui nous auraint plongés dans une Depression pire que celles des années 1929. L' Europe Politique est celle qui, maintenant, doit mettre un fin à un Capitalisme Financier, qui a perdu sa boussole. L' Europe Politique est celle qui a réussi d'etablir le règles les plus ambitieuses au Monde dans la lutte contre le rechaufement Climatique. Samedi, nous celebrons l' anniversaire du debarquement de la Normandie, où nos amis Américains ont pris une part décisive à nôtre libération. Mais, en décembre 2009, à la Conference (Mondialle) de Copenhague, c'est nous les Européens, qui allons leur montrer le chemin vers cet avénir commun" pour la sauvegarde de l'Environement naturel. L' Europe Politique c'est celle qui, en août 2008, lorsque la Guerre faisait rase entre la Russie et la Géorgie, s'est interposée pour imposer la Paix. Et c'est elle qui doit, maintenant, se doter des moyens Militaires de se défendre par elle-même, pour elle-même", ajouta-t-il en évoquant clairement la création d'une Défense Européenn Autonome.
    "L' Europe Politique c'est celle qui doit bâtir des grands champions Industriels Européens, comme nous avons fait, auparavant, pour (l'avion) Airbus ou (la fusée) Ariadne. C'est celle qui doit exiger la Reciprocité dans les rlations Commerciale avec nos grands partenaires", sans Dumping Social ou Environmental, ni autre Concurrence Deloyale. "C'est celle qui doit se doter comme objectif d'être "le Continent de l'Esprit", réunissant les plus grandes Universités du Monde, en multipliant les Connexions, entre Scientifiques et étudiants."

    "Nous respecterons nos engagements, jusqu'au dernier", souligna le Premier Ministre de la France, peu après que les candidats-eurodéputés de la coalition Gouvernementale (UMP : Mouvement pour la Majorité Présidentielle) ont signé solennement, devant plusieurs milliers des Citoyens, une spectaculaire pancarte-géante avec "7 engagements" pour les Elections Européennes du 7 juin, auxquels figure aussi l'engagement de "s'opposer à l' adhésion de la Turquie dans l'UE".

     - "Parcque ce respet des engagements est une exigence si nous voulons rétablir la Confiance entre les Responsables Politiques et les Citoyens", conclua Fillon, la veille de ces Elections Européennes de juin 2009, après les Abstentions Majoritaires de 1999 et 2004, suivies de 3 "NON" à 3 Euro-Réferenda dépuis 2005, (dates auxquelles, quelques gouvernements du Passé, avaient donné le statut d'un "Candidat" et commencé des "Négotiationa d'adhésion" avec la Turquie, suivies d'un blocage sans précedent de l' édification européenne)..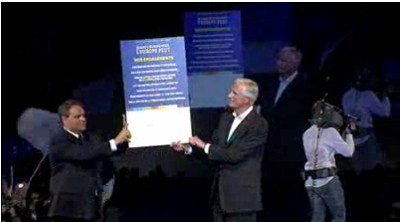 "Nore Europe n'est pas n' importe quelle Europe : L' UE Technocratique n'est pas la nôtre. ... L' UE sans Frontières n'est pas la notre. L' UE desincarnée n'est pas la notre". "Nous portons une idée de l'Europe" qui "n'est pas celle des Statistiques et des Bureaux(crates). L'Europe ce n'est pas qu'une Monnaie. Ce n'est pas qu'un Marché. économique".

- "L' Europe c'est d'abord une Culture. L'Europe c'est une Histoire", a-t-il dit, largement applaudi.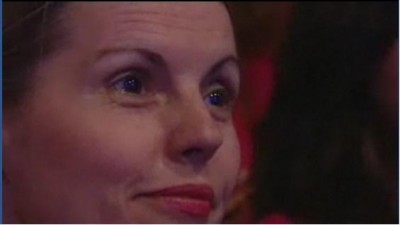 "L'Europe c'est une rencontre entre des Nations qui sont Millénaires et qui sont Brillantes. L'Europe c'est Paris. C''est Madrid. C'est Prague. C'est Londres. C'est Rome. C'est Varsovie. C'est Berlin. C'est Vienne. C'est Athènes : Quant on énonce ces Villes, alors on "sent" nos Héritages et nos Cultures entremelées qui circulent dans nos veines".

    - "Je suis Européen, parcque profondément Français, je sais ce que je dois aux influences de l' Atlantique et de la Méditerannée. J'aime ces Traditions qui offrent à chacun des nos Nations leur éclat. .. J'aime ses saveurs, ses paysages divers. Ils sont également miens, ou, plus précisement, je suis également fait d'eux. Je suis Européen, car, Français, j'aime l' Europe ouverte vers l' Amérique, vers l'Orient, vers l' Maghreb. J'aime les quais de Vénise, ceux d'Amsterdam. J'aime les quais de Thamise où sont vénues pendant des siècles s'amasser les richesses et les nouveautés du Monde. J'aime l' Europe curieuse. L'Europe qui rêve des lointains : L' Europe de Vasco de Gama, de Magelan. de Bougainville, de Charcot, de Monot... Cette Europe qui, aujourd'hui, s'élance vers l' Espace. Je suis Européen parce que Français, j'aime l' Europe qui prospère et qui invente. J'aime l' Europe des Trains à Grande Vitesse. J'aime l'Europe des Satellites et des Fusées. L'Europe de la Mode et des Atéliers d' Artistes. L'Europe des Grands Laboratoires, des Ingéniers. des Entrepreneurs, des Grands Architèctes, des Traditions Ouvrières. Comme rançais, j'aime l' Europe qui dit "NON" à la Tyrannie et qui se soulève à l'appel de la Liberté", a-t-il dit en

 
"Je me sens lié à ces femmes et ces hommes sans nom, qui ont levé la tête, et qui ont sécoué le joug sous lequel .. on les avait fait pliér", dit-il en évoquant pex.. la Révolution Française de 1789, le Siècle des Lumières, l'appel du Général de Gaulle contre l'Occupation NAZI, et les pires heures obscures qu'un  "Fascisme" ou "Communisme" devoyés, suivies de la Guerre Froide avaient plongé l'Europe au Passé.

"Ils sont des millions, ces Héros Anonymes de notre temps, que nous croisons sans le savoir dans nos rues et nos places. Et je ne peux pas concevoir l'Europe sans eux, et sans tous ceux qui poursuivent leur combat contre l'arbitraire et le fanatisme", ajouta Fillon. Faisant pex. rappeler un récent Film allémand, primé au Festival de Vénise, qui décrivait la vie d'un cadre à l'époque d'un régime oppressif, qui avait été chargé d'espioner la vie privée et familiale d'un couple soupçonné d'être dissidents politiques, mais, ému par leur honnêteté humaine et leur sacrifice pour sauver d'autres, a preferé risquer sa place et sa propre liberté pour les sauver, sans même qu'ils le sachent, condamné dépuis à faire un bas boulot d'anonyme perdu dans la foule..


"Quand je vois l'Europe moderne, je vois les résultats de l' Audace de ces hommes qui ont brisé les traditions de conflit et de violence. Je vois des nations soudées autour d'une monnaie unique et protectrice. Je vois 27 jeunesses appelées de grandir ensemble, sans défiance. Je vois 27 peoples unis, qui nous interdisent de jouer les blazés ou les indifférents".

Jettant "un régard lucide sur les errements de la construction européenne", Fillon a observé que "l' Europe n'a pas bésoin d'être idélisée pour être ce qu'elle est ; Cad. une aventure humaine, avec ses faiblesses et ses forces".

"Vous voulez que l' Europe agisse ? Fixez-lui des objectifs clairs. Vous voulez la Démocratie ? Agissez en Citoyens. Vous rédoutez la prétendue Bureaucratie des Bruxelles ? Alors renforcez, par votre Vote, les instances élues au Parlement Européen" qui sont chargés de la contrôler.

- "Si nous voulons faire vivre "le Rêve Européen", .. alors nous avons tous le dévoir de l' engagement", a-t-il conclu, appelant de "engager pour le drapeau tricolore et le drapeau étoilé, car ils symbolisent tous les deux la fierté de nôtre nation et la force de nôtre union".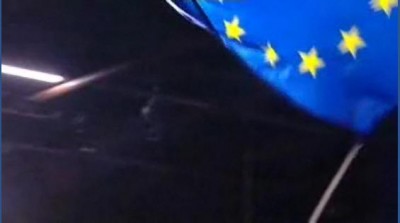 Polls