Αρχική

newsitems

France and Germany launch EU "Autonomy" Strategy in Dual (Defense+Civil) High-Tech.
France and Germany launch EU "Autonomy" Strategy in Dual (Defense+Civil) High-Tech.
Thursday, 13 July 2017

*Strasbourg/Angelo Marcopolo/- Just before Strasbourg-HeadQuartered EUROCORPS, a Franco-German inspiration for EU-Core Military Heads of Staff (Etat Major, together with Spain, Poland, Belgium, Luxembourg, and Liaison Officers from Italy, Spain, and other EU Member States), celebrates at EU Parliament its 25th Anniversary on September 2017, France and Germany decided to launch an European "Autonomy" Strategy in a growing series of "Dual" High-Tech for Security/Defense, as well as Civic New Tools' purposes.

The Move was made at the Highest and most comprehensive possible Level, during Today's Franco-German Inter-Governemental Summit in Paris, where Both new French President Emmanuel Macron and German Chancellor Angie Merkel, speaking at a subsequent Press Conference, HighLighted the main points of a Three-fold Plan, for the Next Few Years, to Strengthen European Defence Policy, Military Capabilities, and effective Cooperation.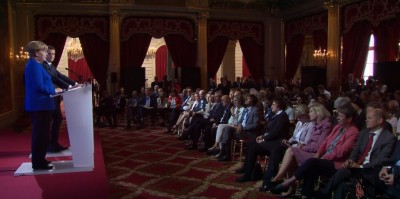 This July 2017 Franco-German initiative includes a concrete Design for a "Reinforced Cooperation" in Defense between Willing EU Member States, according to the Institutional Mechanism foreseen by the Lisbon Treaty, which entered into force on 2010, but Decided to be Used in this domain only at the Latest EU Summit last June 2017 in Brussels, which also Created a European Defense Fund, (See "Eurofora"s NewsReports from the spot, f.ex. at :....), and was "Shared" Today with several other EU Member States' Ministers, as well as EU's High Representative on Foreign and Security policies, Frederica Mogherini, as Macron noted.

- "It's an Important Moment for our Convergence in this area, underlined the New French President, while the German Chancellor stressed that "it's (also) something that Can really Make Europe Advance Forward", while also helping "Protect" and "Ensure our Security", as they respectively resumed.

- Endorsing a German Collegue's (from Nearby Frankfurt)remark that, at least some Specific Projects, as f.ex. that of the Creation of a "New Joint Fighter" Airplane, "have almost a Parfume of Revolution", Macron "Confirmed" that, indeed, "this is a Profound Revolution", "Long-term and Peaceful"; Able to bring "a European Unity on Projects", while Merkel agreed, and stressed, Moreover, that, in fact, "there is a Multitude of such Joint Projects" to create New Tools :

- I.e., in Addition to that "New Generation" of Joint Fighter Airplanes (Comp. Supra - for which a "RoadMap is expected until the Middle of 2018", in order to have "a Timetable"), there are also Projects for "Euro-Drones", "Satellite Coverage" extended on Military issues, as well as "Cyber-Security" implying "Digital Cooperation", (etc), as Merkel noted. Macron had already evoked, earlier, also "Future Systems of Tanks and Canons ("New generation Indirect Shots", according to an Official Document), ...Helicopters", etc.

Relevant Franco-German Documents add also New "Systems of Maritime Patrols", Earth Observation by "Satellite Images", Scientific "Research" and "Technology" Development, particularly on "Dual Digital Tech.", "including Artificial Intelligence, Robotics, Quantum Informatics", etc.
>>> Apparently Emerging through such moves, perhaps the Most Important is a Common Franco-German Political Will to Boost Europe's "Strategic Autonomy" on Defense policy, in the foreseable Future.

This is, indeed, Explicitly noted in the Written Conclusions of the specific Franco-German Council on Defense, (Distributed Today inside the Summit's wider "Press File"), which mentions the Aim of "European Strategic Autonomy" Twice : - Concerning the EU Funding of relevant "Industrial" projects in general, and, in particular, the Space High-Tech. "Military Applications" of "GALILEO" Satellite Navigation System, (equivalent to USA's "GPS", Russia's "GLONASS", China's "Beidou", etc).

Such "Dual" High-Tech. may Enlarge the Participation, in one way or another, of several EU Member States, to those Franco-German Initiatives, as, f.ex., it's indicated, among others, also by the case of Cyprus, which, even if it's one of the few EU Countries which do Not participate at the NATO, (as well as Ireland, Malta, Austria, Finland, Sweden, etc), nevertheless, has Already Started, recently, to cooperate, through a Branch of German Company "PLATH GMbH" (already Present also in France and Switzerland), which was created at Limassol on 2016 ("PLATH Ltd"), for the preparation of Telecommunications' aspects in "Electronic Warfare" and/or "Intelligence" Research and Technology Development due to serve at Modern Smart Tanks used by the German Army.

- "Innovation" was also Stressed by Macron concerning the above-mentioned New generation "Joing Fighter Airplane" project (which seems due to Overcome, in the Future, the current Division of the EU between the French "Rafale" and the Germano-Brittish "Euro-Fighter", etc), "Because these are very Heavy Projects, for our Governments and Armed Forces, which are, afterwards, to be Exported". But, since "Today we have Many Projects and Standards at EU Level, added to Intra-European Competition for International Exports", ("compared" to the USA = "1 to 5", as he pointed out), "We (EU) Need to Simplify things, in order to be More Efficient".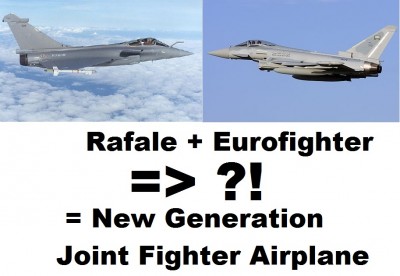 - F.ex., that "New Generation Aircraft's aim is, First of all, to Launch Together a Joint Reearch/Development Policy, and, then, to Use that Both, in our Armed Forces". And, (taking also into account "our Working relations' Policies, which are Different"), thus, "we Can Coordinate (also) our Exports", he added.

+ Merkel stressed, in Addition, that "Germany and France Want to Promote very Actively the European Drone" project, "taking also into account he Modern Forms of Military Operations", where "it's of the outmost Importance, as, f.ex., in Satelite Coverage and in the area of the Army, where there are Convergences".

++ "But there are Also Convergences in Digital Cooperation, which affects the Ministry of Interior and Cyber-Security. We have, here, examined the Whole Area, and Identified Joint Projects", she concluded.
The First Concrete Steps in these Ambitious Directions, are reportedly expected Soon after the forthcoming German Parliamentary Elections of September 24, i.e. from October 2017 and particularly in the Middle of 2018, (i.e., Timely, about 1 Year Before the European Elections of May 2019).

---------------------------------

+ At the Same Moment, the Franco-German duo expressed also its view on the Importance that they Both Recognize to the Euro-American relations, on the Occasion of the New US President Don Trump's visit to Paris, ToNight and Tomorrow Morning, where he has been Invited as Guest of Honor at the Traditional "14th of July" National French Military Parade at the Champs Elysées Avenue, (which, this year, coincides also with the 1st Anniversary of the Horrible Massacre by an ISIS-related Islamist Terrorist which Cowardly Targetted and Killed Many Innocent Civilian People at Nice City, Back on 2016 : See ...).

- Merkel stressed that We (EU) have in Common, with the USA, f.ex. the Fight against Terrorism and several Other Issues, despite some Differences on Climate, etc, where it's important to Talk Together. We (EU) are in Close Cooperation with the USA on Security, and, in this World of the 21st Century, we are all Dependent on Each Other, while Europe's safety, f.ex., canNot Win Alone the Fight against Terrorism, and it's not for nothing that we are NATO Members, as she said.

 - But we understood, recently, that it's also inside the USA that People are raising Questions about Globalisation, and, therefore, we (EU) have also to become Able to Count on Ourselves, she Highlighted.

+ Macron Agreed, in substance, and Added that we must Never Forget History, but ReNew Ties. We (EU and USA) have  Common Struggles and Common Values in this World, even if with Differences and Similarities that we should not forget, but Talk between us. USA is a Strategic Partner for France and Europe in the Fight against Terrorism, for our Collectibe Security, and/or in certain Common Areas in which our Armed Forces work Together, in parallel to various Diplomatic Efforts that we do Together, he observed.

This is in addition to "Multi-Secular Relations" that France has with the USA, he also reminded, evoking something like a Parfume of Lafayette from the 18th Century of the Enlightnment...
In parallel, both France and all the EU don't underestimate the Importance of their Defense relations with the UK, even after "BREXIT", as an Experienced, Top French MEP, politically close to Macron's Government, recently told "Eurofora". (See : http://www.eurofora.net/newsflashes/news/topmepdanjeanonsecuritydefenseandbrexit.html).

---------------------------------

Merkel and Macron spoke Shortly After the Recent "G-20" Summit in Hamburg (Comp. "Eurofora"s NewsReports from the spot, f.ex. : ..., etc), where they Also Stressed the Importance of Strategic Cooperation with Russia, particularly in the common Fight against Deadly Islamist Terrorism targetting Innocent Civilian People throughout the EU, Russia (and even USA), as well as on several Other Issues, such as Syria, Ukraine, etc., (on which Presidents Trump and Putin also exchanged views in Hamburg, at their 1st ever Meeting, which was UneExpectedly Long, and Highlighted the Contemporary Reality of a MultiPolar World, marked also by the Presence of Chinese President Xi Jiping, and other Key Partners of the EU all accross the Globe : Comp. ibid).

(../..)


------------------------------------------


***

(NDLR : "DraftNews", as already send to "Eurofora" Subscribers/Donors. A more accurate, full Final Version, might be published asap).

***

Επικρίσεις κι από ΕΔΑΔ γι ανακρίβειες Εκθεσης Ρεν για Τουρκία και Πρόσφυγες,
(που κατήγγειλε ο Κυβερνητικός Εκπρόσωπος)

- για την αμφιλεγόμενη "Επιτροπή" που έστησε η Τουρκία στα Κατεχόμενα

* Η Εκθεση Ρέν ΠΑΡΕΡΜΗΝΕΥΕΙ, Η ΑΓΝΟΕΙ βασική νομολογία ΕΔΑΔ για Τουρκία !

+ Ο Ρέν αγνόησε και πρόσφατα συμπεράσματα ΕΔΑΔ για Ρεκόρ καταδίκες Τουρκίας για βαριές παραβιάσεις Ανθρωπίνων Δικαιωμάτων όλη την Δεκαετία αμφιλεγόμενης "υποψηφιότητας" για ένταξη σ ΕΕ (+1999-2008) !

--------------------------------------------------------
* Στρασβούργο/ΑΚΜ/+6+ Νοεμβρίου 2008/-
----------------------------------------------------------------
Κι απ το ΕυρωΔικαστήριο εκφράστηκαν παράπονα γι ανακρίβειες Εκθεσης Επιτρόπου Ρεν πάνω στη Νομολογία για την αμφιλεγόμενη "Επιτροπή" που έστησε η Τουρκία στα Κατεχόμενα για Ε/Κους Πρόσφυγες, όπως επέκρινε την Πέμπτη κι ο Κυβερνητικός Εκπρόσωπος, Στέφανος Στεφάνου :

Οπως προκύπτει από αποκλειστικές δηλώσεις που μας έδωσε στην έδρα ΕΔΑΔ στο Στρασβούργο υψηλόβαθμος αξιωματούχος-κλειδί, κι από σύγκριση της Εκθεσης Ολι Ρέν με τη Νομολογία ΕΔΑΔ, ο αμφιλεγόμενος Επίτροπος είτε αλλοιώνει, είτε ..αγνοεί εντελώς κρίσιμα συμπεράσματα ΕΔΑΔ για την Τουρκία !
-------------------------------------------------
- "Στην υπηρεσία Διεύρυνσης της Κομισιόν στις Βρυξέλλες, κάποιοι φαίνονται τόσον ανυπόμονοι να διευρύνουν την ΕΕ, που όταν συναντούν κάποια δυσκολία, κάνουν ότι δεν την βλέπουν !", επέκρινε, αγανακτισμένος, ο έμπειρος Διευθυντής Γραμματείας Ολομέλειας ΕΔΑΔ, τέως υπεύθυνος Τμήματος αρμόδιου για υποθέσεις Ε/Κων Προσφύγων εναντίον της Τουρκίας, Βινσάν Μπερζέρ (Γάλλος), ο οποίος είχε εκδόσει και την επίμαχη απόφαση ΕΔΑΔ στην υπόθεση Ξενίδη-Αρέστη.
-------------------------------------------------
- Αλλοιώνοντας την σχετική απόφαση ΕΔΑΔ του 2008, η Εκθεση Ρεν ισχυρίζεται ότι ο αμφιλεγόμενος "μηχανισμός" που έστησε η Τουρκία στα Κατεχόμενα, ήδη "ΕΚΠΛΗΡΩΝΕΙ κατ αρχήν τις απαιτήσεις",
ενώ το ΕΔΑΔ είχε μιλήσει μόνο για "ΒΗΜΑΤΑ" και "ΠΡΟΣΠΑΘΕΙΕΣ για να δοθεί θεραπεία για παραβιάσεις", που, "κατ αρχήν, ΦΡΟΝΤΙΣΑΝ για τα προαπαιτούμενα".
--------------------------------
Εξάλλου, η Εκθεση Ρεν επεκτείνεται δυσανάλογα σε ..5,5 ΓΡΑΜΜΕΣ γι αυτή την ανακρίβεια, (προσθέτοντας παχυλές αναφορές σε διμερή συναλλαγή Τουρκίας με τον ΜΗ-πρόσφυγα Τύμβιο, που ΔΕΝ είναι καν απόφαση), ενώ δίνει μόνον ...1 (μία !) ΓΡΑΜΜΗ για τη συνεχιζόμενη άρνηση Τουρκίας να εφαρμόσει δικαστικές αποφάσεις ΕΔΑΔ στις υποθέσεις "Ξενίδη-Αρέστη και Λοιζίδου"
-----------------------------------
+ Η Εκθεση Ρεν περιορίζεται να προσθέσει μόνον ότι, "πάντως, το ΕΔΑΔ δεν εκτίμησε άν η διαθέσιμη θεραπεία είναι ΑΠΟΤΕΛΕΣΜΑΤΙΚΗ ΓΙΑ ΟΛΑ τα σχετικά ΘΕΜΑΤΑ", (υπονοώντας ότι θα ήταν ήδη "αποτελεσματική" τουλάχιστον "για κάποια θέματα").

Αλλά το ΕΔΑΔ ξεκαθάρισε ότι, επειδή η Τουρκία "απέτυχε" να διευθετήσει "το θέμα δίκαιας ικανοποίησης" στην υπόθεση Ξενίδη-Αρέστη, ήταν "ΑΔΥΝΑΤΟ για το Δικαστήριο ν ασχοληθεί μ ΟΛΑ τα ...ΕΡΩΤΗΜΑΤΑ ΓΙΑ την ΑΠΟΤΕΛΕΣΜΑΤΙΚΟΤΗΤΑ της θεραπείας αυτής",
...εννοώντας, σαφώς, ότι "η ΑΠΟΤΕΛΕΣΜΑΤΙΚΟΤΗΤΑ" της ΑΝΑΖΗΤΕΙΤΑΙ ακόμα.
----------------------------------------------------
Αυτό τονίστηκε kai σε δηλώσεις που μας έδωσε ο πιο πάνω αξιωματούχος ΕΔΑΔ, και νωρίτερα στο Στρασβούργο ο ίδιος ο Πρόεδρος ΕΔΑΔ, Ζαν-Πώλ ΚΟΣΤΑ :

- "Τίποτα δεν έχει ρυθμιστεί ήδη". "Το ΘΕΜΑ ΜΕΝΕΙ εντελώς ΑΝΟΙΚΤΟ". "Σ εμάς (στο ΕΔΑΔ) εξελίσεται η εξέταση της αποτελεσματικότητας, ή όχι" της αμφιλεγόμενης "Επιτροπής αποζημιώσεων" που έστησε η Τουρκία στα Κατεχόμενα, τόνισε ο κ. Μπερζέ.

- "Εκείνες οι φράσεις, που προστέθηκαν στο παρελθόν σε μιά απόφαση στην υπόθεση Ξενίδης-Αρέστη, αποσκοπούσαν μόνο να ενθαρύνουν την Τουρκία να προχωρήσει πιο πέρα, λέγοντας ότι είχε ήδη κάνει κάποιες "προσπάθειες" σχετικά, και τίποτα παραπάνω !".

- "Αλλ από τότε (τέλος 2005 κι αρχές 2008), ΞΕΠΕΡΑΣΤΗΚΕ κι αυτή η φράση, και πάει να ξεχαστεί" από πιο πρόσφατες εξελίξεις :

-¨"Τώρα, περιμέναμε (στο ΕΔΑΔ) απαντήσεις απ τις Κυβερνήσεις, συμπεριλαμβανομένης της Κύπρου, σ ερωτήσεις που θέσαμε για να εξετάσουμε 8 υποθέσεις "Τεστ", που αφορούν διάφορες καταστάσεις, για να ελέγξουμε άν, και πως θα λειτουργούσε αυτή η "Επιτροπή", ή όχι, και τί πρέπει να γίνει".

=> "Το (Ευρωπαικό) Δικαστήριο θα προχωρήσει στην εκπλήρωση των καθηκόντων του χωρίς να λάβει υπ όψη του τέτοιες ανακρίβειες από κάποιους υπαλλήλους της Κομισιόν", κατέληξε.

- "Τα υπόλοιπα είναι φαντασιώσεις. Μάλλον παρεξήγησαν την απόφαση Ξενίδης-Αρέστη", όπως μας είχε ήδη πεί νωρίτερα.

+ "ΟΧΙ, ΟΧΙ, ΟΧΙ : ΔΕΝ ΑΠΟΦΑΣΙΣΤΗΚΕ ΑΚΟΜΑ αυτό. Δεν μπορώ να πώ, αυτή τη στιγμή, ποιά μπορεί να είναι η κατάληξη. Πρόκειται για θέμα που είναι ακόμα ανοικτό. Θ αποφασίσουμε σύντομα", μας είπε, επίσης, κι ο ίδιος ο Πρόεδρος ΕΔΑΔ, κ. Κόστα, για το ίδιο θέμα, πρόσφατα στο Στρασβούργο.

***
-------------------------
Ο ΡΕΝ ΑΓΝΟΕΙ ακόμα και ΠΡΟΣΦΑΤΑ ΣΤΑΤΙΣΤΙΚΑ ΣΥΜΠΕΡΑΣΜΑΤΑ ΕΔΑΔ για Τουρκία !...
-----------------------------------
>>> Η Εκθεση Ρεν ΑΓΝΟΕΙ δε, ακόμα και πρόσφατα σημαντικά συμπεράσματα ΕΔΑΔ, απ τα οποία προκύπτει ότι, όλη την Δεκαετία αμφιλεγόμενης "υποψηφιότητάς" στην ΕΕ (1999-2008), η Τουρκία διατηρεί ΡΕΚΟΡ καταδίκες από ΕΔΑΔ για βαριές παραβιάσεις Ανθρωπίνων Δικαιωμάτων, όπως δολοφονίες, βασανιστήρια, "εξαφανίσεις" ανθρώπων, αυθαίρετες φυλακίσεις, καταπίεση ελευθερίας λόγου, υφαρπαγές ή καταστροφές σπιτιών-περιουσιών, κπα :

- Οι καταδίκες Τουρκίας από ΕΔΑΔ αυτή την Δεκαετία : 1.857, αγγίζουν το 20% του συνόλου των 47 Κρατών-μελών ΣτΕ, ιδίως για ΒΑΡΙΕΣ ΠΑΡΑΒΙΑΣΕΙΣ δικαιώματος στη ΖΩΗ (177, αντί 96 για Ρωσία, 15 Βουλγαρία, 13 Αγγλία, κα), για ΒΑΣΑΝΙΣΤΗΡΙΑ κι Απάνθρωπες/Ταπεινωτικές μεταχειρίσεις (204 καταδίκες, αντί 127 για Ρωσία, 39 Βουλγαρία, 32 Μολδαβία, κα), ΑΥΘΑΙΡΕΤΕΣ ΦΥΛΑΚΙΣΕΙΣ (329, αντί 193 για Πολωνία, 176 Βουλγαρία, 138 Ρωσία, 42 Αγγλία, κα), ΚΑΤΑΠΙΕΣΗ ΕΛΕΥΘΕΡΙΑΣ ΛΟΓΟΥ (166 καταδίκες, αντί 23 γι Αυστρία, 13 Γαλλία και Μολδαβία, κα), ΥΦΑΡΠΑΓΕΣ/ΚΑΤΑΣΤΡΟΦΕΣ ΠΕΡΙΟΥΣΙΩΝ (446 καταδίκες, αντί 286 για Ρωσία, 270 Ιταλία, 241 Ρουμανία, 60 Μολδαβία, κλπ), κπα.

Αντί να βελτιώνεται, αντίθετα επιδεινώνεται δε μάλλον η κατάσταση, εφόσον αυξάνεται ο αριθμός ατομικών προσφυγών στο Στρασβούργο που καταγγέλουν στο ΕΔΑΔ παραβιάσεις απ την Τουρκία μεταξύ 2006 - 2007, όπως και 2007 - 2008...

- "Λέγεται ότι ο σεβασμός των ΚΡΙΤΗΡΙΩΝ ΤΗΣ ΚΟΠΕΓΧΑΓΗΣ θα πρέπει να ελέγχεται για όλες της Υποψήφιες Χώρες, αλλ υπάρχουν ΑΜΦΙΒΟΛΙΕΣ άν οι αρμόδιοι υπάλληλοι της Κομισιόν ΕΕ πέρνουν στα σοβαρά τη Νομολογία του ΕΔΑΔ, ή όχι !", αντέδρασε έμπειρο κι υψηλά ιστάμενο στέλεχός του : ο Βινσάν Μπερζέ (βλ. πιο πάνω) μιλώντας μας πρόσφατα στο Στρασβούργο.

- "Πχ. πρίν από 2 ή 3 χρόνια, όταν αποφασίζονταν άν θ αρχίζαν "Ενταξιακές" Διαπραγματεύσεις με την Τουρκία, υποδεχθήκαμε (στο ΕΔΑΔ) ένα στέλεχος της υπηρεσίας Διεύρυνσης της Επιτροπής ΕΕ, που έμεινε ΕΚΠΛΗΚΤΗ όταν της περιέγραψα την πραγματική κατάσταση Ανθρωπίνων Δικαιωμάτων στην Τουρκία ! Αλλ, από τότε, εμείς (το ΕΔΑΔ) δεν είχαμε καμμία επίσημη επαφή με την Επιτροπή ΕΕ γι αυτά τα θέματα.." "Ισως μίλησαν γι αυτά μ άλλους απ το ΣτΕ, αλλ όχι με το ΕΔΑΔ", τόνισε.


Polls