Home

newsitems

Did CyberAttack+Faulty "Study" of Group Manipulating WHO influence EUSummit on Virus to Drop Cures ?
Did CyberAttack+Faulty "Study" of Group Manipulating WHO influence EUSummit on Virus to Drop Cures ?
Thursday, 15 October 2020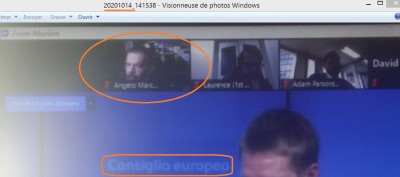 *Strasbourg/Angelo Marcopolo/- The 27 EU Heads of State/Government were due, Today in Brussels, to Debate and Decide on their common Anti-Virus Policy, at a Notoriously Crucial Moment, when a Bigger than expected Return of the Pandemic marked Not Only a "2nd Wave", but, often, Even  a Reversal of the situations in several Countries, with much More Infections than ever in the Past.
However, Astonishingly, they Spoke, mainly, in their Official Conclusions, Only for "Vaccines" (which seem, in fact, Delayed and/or with Security Problems), withOut Saying Nothing for Drugs to Cure, i.e. Therapies, (some of which, Already Exist, But are Scandalously Undermined) !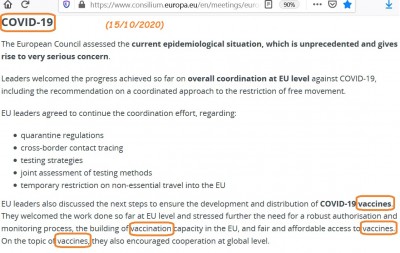 ----------------------

- At an "Off the Record" Press Briefing for accredited Journalists, given by 2 EU Council's Senior Officers at the Eve of that EU Summit (14/10/2020), "Eurofora" asked to Raise a Critical Question.  It was meant to be about the Fact  that EU Council President Michel's Letter (Dated 13/10/2020) to EU Leaders  for the Summit's Agenda, Already, did Not Speak about Cures, Therapies, at all, But Only about Vaccines, repeatedly, (and the Same Strange attitude was strikingly Obvious Also at that Briefing, WithOut Any Explanation...
(+We had prepared, in Addition, also a 2nd Question, on Turkey, But Other Collegues, naturaly, raised something about that, Even if they did Not Cover the Key-Point that "Eurofora" intended to HighLight).
=> Suddenly, when the EU Council's Press Officer in charge Invites us to Speak, ...the Microphone at our Computer, apparently, does Not Work, so that Brussels, Exceptionaly, canNot Hear what is said from Strasbourg by Video-Conference (as usual) ! This is Repeated ...Three (3) Times, (as that EU Press Officer calls "Eurofora" Again and again, Also at 2 Other Occasions), Vainly, until Our Question has to be Droped.., (by what looks as a Sudden remote CyberAttack, as "Eurofora"'s Computer and Web Connections had been Working OK, Earlier, including at Previous Similar Video-Press Conferences with EUCO).
>>> This UnPrecedented Obstacle is so more Regretable that EU Council had Already Proven, Earlier, that it often Takes Seriously into Account, in on way or another, certain Useful and Pertinent Observations made by Journalists, if that may Help Ameliorate things...
F.ex., Recently, "Eurofora" had Raised 2 Topical Questions, on a Similar EUCO's Video-Press Briefing : (1) One on the Fact that the Latest Agenda Changes had Limited the EU - Turkey Issue into Only a "Working Diner", Contrary to EUCO's alleged Wish to hold a "Deep" and Thorough Discussion on that matter, (See: ...), and, (2) anOther, Challenging EU's real "Ambition" on Digitalisation, (See: ...). Afterwards, we were Glad to Learn that in Both these 2 Matters, Positive Changes had been Introduced by EUCO : (1) On the First, EUCO's President Michel Adapted the EU Summit's Ageda accordingly, by Starting much Earlier the Debate on Turkey (circa 4 p.m. at the Afternoon, instead of 8 p.m. in the Evening). (2) On the Second, as an EUCO Officer pointed out Later, Finaly, that EU Summit "Focused on Digitalisation", (i.e. Leaving the "Environment" component for a Next Summit).
-------------------------
+ But Now, on the Contrary, to Michel's Surprising Letter, and to "Eurofora"s Muzzling at the Press Briefing by a Cyber-Attack (Comp. concrete Facts cited Supra), is Added, also, a 3rd Exceptional Event, which Converges towards the Same Direction :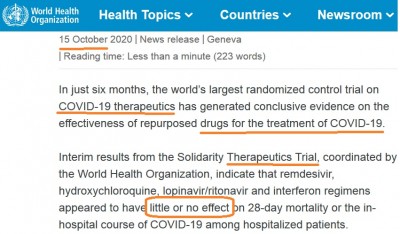 => All out of a Sudden, after 6 Months of Dealing with it, it's Precisely on the Same Day with this EU Summit, due to Decide on EU's Policy against the Virus, that somebody inside the WHO, at nearby Geneva, chose to Publish a Report which Claims that ...All Available Drugs for Therapy would be ...Useless in efforts to Save Human Lives, (if not even Noxious) !
That Astonishing Claim Extended from "HCQ+" up to "Remdesivir", "Lopinavir", and "Interferon", etc., taken All Together... Since Lopinavir and Interferon, reportedly, had Not so Serious Ambitions, while Not Even Remdesivir's Backers didN't really Claim it Might Save Lives, (just that it Might, perhaps, Accelerate Health Restoration at the Beginning), then, it's Obvious that the Main Target was "HCQ+", whose Supporters Notoriously Argued about its alleged Life-Saving potential.
=> So, there, Once Again, it looks as if we were anew vis a vis some Familiar Shady Networks, steming from Outside of the EUCO, But Now Attempting to influence it, at this particularly Crucial Moment, when, following a Recent and Growing "Explosion" of Infections, More than Ever, EU Risks to Become again the Pandemic's World's Center...
>>> As a Cosequence, there are Many Legitimate Reasons to have DOUBTS vis a vis that so-called "Study", (from which Only a Partial and Preliminary Version was Published until Now, at a "Pre-Print" WebSite)  :
 - (1) - First of all, this is "Not a Study of WHO" at all !
WHO is a Global, International Organisation, with abut 192 Member Countries accross the World. But these Trials were made in a Group of Less than 30 Countries, which is Directed by a Committee composed of Rezpresentatives of 10 (Ten) Only Countries, (which have Not been Elected at all by the Total of WHO's 192 Members), i.e. a separate Tiny Minority !...   
Among those 10, the Most Influential looks to be France... I.e. the Country Not Only of President Macron (who has shown that he Accepts to Discuss, even personaly, such Issues), or of Professor Didier Raoult (a Famous and Experienced Pioneer of "HCQ+" Cure, HeadQuatred at Marseille), But Also, (and, Most of all, as far as Bureaucratic Relations wih WHO are concerned), of Controversial Health Minister Veran : A former Assistant of Pro-Genetic Manipulations on Human Embryos, even More Controversial "Socialist" Former Research Minister Fiorasso, (V., f.ex., inter alia, also : ..., etc), and, himself, Notoriously Harsh and Oppressive Adversary of "HcQ+" Cure, who has Prohibited Even to Medical Doctors to Prescribe "HCQ+" for themselves (sic !), Stopped Public Research on that Cure, Threatened to Probibit asap Even All Private, Independent Scientific Researches there (Many, then), and Pushed that WHO's Grouplet (Comp. Supra) to Stop also International Research on that Drug against the Virus, on Pretext, and Immediately after a "Bogus" Fake-Study, with More than +11 "Big Flaws", Initialy Denounced by "Eurofora"s Whistle-Blowing, soon Repercuted by Professor Raoult (thet we had Warned) and Soon +280 Medical Doctors from 5 Continents of the World, (etc), which Resulted into the Authors of that "Bogus Study" being Asked to Show and Prove their alleged Data, and, when they were Unable to do so, they were Obliged to "Retract" their Paper, (the WHO Also Lifting its Suspension of HCQ Trials), Concluding to the Famous, Most Important ever Scandal in Pseudo-"Scientific"  Medias of a corrupted Establishment, that many Named as "LANCET-GATE", just a few Months Ago... (See, f.ex.: ..., ..., ..., etc). Moreover, Veran has just Faced a "Police Search" in his Home, after Judges Opened an Investigation on Collective Criminal Law Complaints lodged by Many French People, Victims of COVID-19 recently.     
      + In Addition, France, (i.e., in real Practice : Mr. Veran's area, as far as Pseudo-"Medical" Bureaucracy is concerned), holds The Biggest Number of Researchers Associated at that WHO Grouplet's Controversial "Study", from Any Other among All the Countries involved...  And the Coordinating Head of that French Team, is someone from nearby "Lyon"'s Bio-Lab, of Highest "Bio-Security" (including "Bio-Warfare"), which has Helped Build ...China's "Wuhan" Bio-Lab : at the World-Famous Original Source of this Deadly Virus (of UnKnown yet Origin, that Several People, including even NOBEL Prize French Professor Montagnieux, Twice Elected former Iranian President Ahmadinejad, etc., think that it might Originate from a Labo...), and largely Engaged into various International Deals, particularly with USA's pro-"Socialist", Barack Hussein Obama-related, Big Bio-Tech Establishment, but Also with Australia, etc.
    >>> That Lyon-led French "Trials" including "HCQ+", had Already been Spoted as Designed in such a way that their Conclusions on "HCQ+" Cure, could not but be, Inevitably, "Catastrophic", (as several Scientists had Warned) !...
--------------------------------------    
    -(2)- In front of such Facts, it's even more Strange, AbNormal and Suspect, that this Who-covered Grouplet's Controversial "Study" does Not yet clearly Say WHO DID WHAT, i.e., particularly at Which Hospitals were EnTrusted the Most "HCQ+"-related Tests, etc.
    => Such Big and Surprizing Ommissions, and LACK OF TRANSPARENCY on several Crucial Medical DATA, (Including, f.ex., Most Patients' Health Conditions, the Ways in which they were treated at various Locations and/or periods of Time, etc), are, indeed, Excessive, Counter-Productive, and Blatatly Anti-Scientific, since, inter alia, they Practicaly Hinder any real Independent Check of their Veracity, Relevance and/or Adequacy !
    >>> When, f.ex., the Authors of such a Controversial "Study" Merely indicate that the Data on which their Claims are Based, result from Many Tiny drops Scattered around ..."405 Hospitals (sic !) in 30 Countries" (re-sic !!), where "11.266 Adults" were Treated against the Virus, How on Earth could Any Serious and Thorough, "Independent Review" be done, in real Practice, by "Peers", Other Scientists, responsible Politicians, the Medias, competent NGOs, affected Citizens, etc., and by the Society at large ?
    - While, as, f.ex., Professor Raoult recently pointed out, for such kind of cases of ill-treating "Big Data", it's "Not Enough" to "only say Whether a Patient took HCW+, or not", eventualy "its Dose" and "how Long", But it's often Important, Also, to know "the Follow-up of the Prescription", "the Moment when this was done", (compared to the Infection's Date), etc. + We should Also Add the "Precautions" taken, since Prof. Raoult obviously administers HCQ+ very Carefuly, to previously Checked Patients, as his Scientific Publications concretely show. (While, on the Contrary, this Controversial, Faulty "Study" speaks even about Deaths related to Heart Problems, withOut specifying if the Patients had been Checked, Beforehand, in order to attest whether they were in Shape to receive HCQ+, or not yet)... ++ Moreover, several Other Observers, Nowadays Criticizd that WHO-covered Controversial "Study" for Not Revealing most Patients' main Characteristics, pre-existing Conditions, etc.
---------------------------------------
    -(3)- The Total Numbers of Patients Tested in that Controversial "Study", reportedly were almost 3.000 for "Remdesivir", and almost 1.500 for "Lopinavir", as well as for "interferon". But, Curiously, Only ...Less than a Thousand, precisely 954, for "HCQ" !
=> Why so Few, specialy for "HCQ" ?
On the Contrary, Earlier, Both various Mainstream Medias, and several Scientific sources, had Often noted that Most current Trials, accross the World, were (by far) related to "HCQ"...
How to Explain that ? What Happened, meanwhile ? Is it, Perhaps, one of the Negative Consequences, (as even US White House's Press Spokesperson had Warned), of that Auful, entirely UnJustified and Scandalous "Scare" that those Unscrupulous Adversaries of "HCQ+" had Provoked themselves to Many People, When they had Grossly Slandered the "HCQ+" Cure, by Falsely Claiming, Even, that, Instead of Saving Human Lives, it would Kill them (sic !), by alleged "Negative Side Events", (that they were, in Fact, Unable to Prove : Comp. Supra) ?
>>> At any case, one thing goes for Sure : With Only about ...900 Patients reportedly Tested with "HCQ+" in that Controversial "Study", it Obviously is, Comparatively, ...Too Small in order to Credibly Contradict French Professor Raoult's Team's directly Opposite Findings, Published Earlier, Based on as Many as about ...3.500 Patients, (and, at anOther Publication, Later-on, More than +5.000, retrospectively), which Notoriously Conclude at a Landmark Rate of Survival !
The fact that the First Claim to have routinely Added a so-called "Control" Group, (where Patients do Not take Any "HCQ+" Cure), in Addition to inevitable Problems of Ethics, (particularly vis a vis a Life-Threatening Virus), is Not Enough in order to give thel a kind of "Truthfulness" uncontestable Proof, Since Various Other Studies, on whatever issues, using such Control Groups, Often give ...Different Conclusions, (as also Raoult pointed out).
=> Have, some Unscrupulous Ennemis of "HCQ+" Therapy, Now ...Fallen Victims of Their own Past Wrongdoings ?
--------------------------------
    -(4)- Both US President Don Trump, (and the North American, wider pro-HCQ+ Movement), as well as French Professor Didier Raoult (Completing with "Z" Later-on), have consistently and Clearly Stressed that, in fact, "HCQ" Against this Virus, should NOT be taken ALONE, BUT TOGETHER WITH "AZ" (Anti-Viral), and Even "Zinc" Vitamin (to Boost Natural Human Immune System), i.e. the famous "Z-Pack".
    >>> But, Nevertheless, Astonishingly, that Controversial, Faulty "Study", undertook the Heavy Responsibility, to Knowingly Restrict the Therapy for those Patients, to Only ...1/3 of the well-known, Full "HCQ+AZ+Zinc" Package, (i.e. giving them Only HCQ Alone, withOut Any "AZ", Neither "Zink" at all) !
    => This Big Fault is a Blatant Contempt vis a vis People's elementary Capacity to Understand things, Added to a Gross Disregard to Human Health and even Life...
--------------------
    - (5)- Last, but not least, the 1st DOSE of the Prescribed "HCQ+" Notoriously stands at about 500 mg at many USA Doctors using that Cure, or about 600 mg, according to French Prof. Raoult.
    But, for that Controversial Faulty "Study", made by a Small Loby Hidden inside the WHO, (Comp. Supra), that Dose is Placed so Excessively High, that they doN't Even Dare simply Show the Number Clearly !... On the Contrary, they ...Whisper a uselessly Complicated Verbal Formula; apparently in a desperate Attempt to, Eventualy, Confuse and/or Trick Readers, by letting them suppose that everything would be just Normal...
    Here it is :  
- "Hydroxychloroquine (oral) : Hour 0, four tablets; Hour 6, four tablets; Hour 12, begin two tablets twice daily for 10 days. Each tablet contained 200mg Hydroxychloroquine sulphate. (155mg base/tablet : a little-used alternative involved 155mg chloroquine base/tablet)".  [SIC !]
    => Did you get it ? ...4 Lines, withOut a Number !
    >>> In Fact, what they mean is Incredible  :
*** For the First Day their HCQ Dose is as High as .... 2.000 or 2.400 mg. (according to the Interpretation to give at that Bla-Bla), Instead of Just ...500 or 600 mg. for the Pro-HCQ camp (Comp. Supra), i.e. Higher than 4 Times More : X 400% !!!!????....
    For a Comparison : Recently, a Counter-Bolsonaro Technocrat made anOther "Bogus-Trial", inter alia, Using ...1.600 mg. of HCQ.
    >>> Immediately, the Pro-Bolsonaro Movement Denounced him as ..."Seeking to Kill" Innocent People, just in order to Snatch a few Votes by Fooling Naive or Ignorant Voters !
    => It's Easy to Imagine what it would Really Mean to Lurre Innocent Patients in order to make them Take, Not 1.600, But 2.000 or 2.400 mg. of HCQ, (Instead of the Normal 500 - 600 mg)...
    Probably, that's why that Controversial "Faulty Study" Claims, by its Graphics, that "HCQ+" Cure might, (according to its Fanaticaly Anti-HCQ Authors), practicaly, ...Kill More People, than the Virus (sic !),
    at the Same Time that Professor Raoult's Team revendicates, Thanks to "HCQ+" Cure, a Survival rate of ...99,5% !
-------------------------------------------------------
    >>> Neither EU Leaders, Nor Europea Citizens, their Health and Lives, should Not become Hostages, Traped by so Sly, Unacceptable Controversies, doubled with just anOther, "'Bogus" or so Grossly "Faulty Study", as those that we've Already seen, (Comp. Supra).
    => If (as Facts Strongly suggest) Such Scandalous Wrongdoings are really Behind the Latest EU Summit's Incredible Decision to Drop Any Mention to (in fact) Urgently Needed Therapies, Limiting itself Only to "Vaccines", as far as Europe's Anti-Virus' Policy is concerned, then, an Urgent Big Change is Obviously Necessary asap, (f.ex. with a New, Well Prepared EU Summit on a European Strategy against the Virus, etc).
    Vaccines seem More and More Delayed, and/or of UnCertain Security, (as, f.ex. UK's "AstroZeneca"'s Double recent Deaths and Blockades, abudantly show, on September and November 2020 : +UPDATED), while, on the Contrary, the Numbers of new, Massive Infections "Explose", particularly in Europe, (f.ex. in France, the UK, Spain, Greece, Hungary, Belgium, etc) Needing Urgent Medical Help, (as People reStart Dying Each Day), that Only Therapy Drugs could provide...
    And, indeed, it seems that an Important Potential Already Exists, in this Direction, in one way or another, (f.ex., for Prophylaxis, Mild Beginnings of Infections, or Serious Last Minute Interventions, Complementary functions, etc), either by Re-Purposed "Classic" Drugs, (such as "HCQ+", DexaMethaZone, anOther one just Announced at Lille/North France, etc), and/or by New such Drugs, (f.ex. Russia's "AviFavir", etc), while More may be, still, Invented, (by Astonishingly "Absent" Yet, but much Needed, Scientific/Technological Research), so that All those concrete Potentialities canNot be merely Ignored or Undemined, in front of the Urgency, no more !

(../..)

("Draft-News")

--------------------------------------
BRIEF NEWS
00:00 - 02.06.2021

00:00 - 18.10.2020

00:00 - 19.06.2020

00:00 - 18.05.2020

00:00 - 20.04.2020

00:00 - 02.02.2020

00:00 - 09.12.2019

00:00 - 27.11.2019

00:00 - 16.11.2019
Statistics
Visitors: 48336759
Archive
Login Form
Other Menu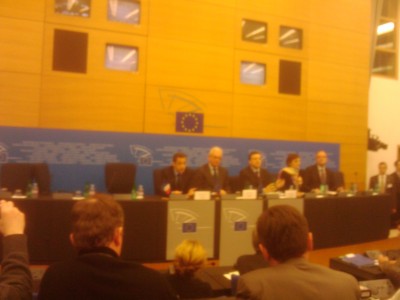 Recent developments proved that Europe can suceed to overcome challenges by aiming at great objectives, and this is needed also in 2009, said EU chairman, French President Nicolas Sarkozy.

    - "It's in the name of Great Ideas, Projects, Ambition and Ideals, that EU can overcome" challenges, stressed Sarkozy at EU Parliament in Strasbourg, in conclusion of a dense 7 months EU Chairmanship. "It's even easier for Europe to have Great projects, able to overcome national egoism, instead of limiting itself only to small projects" (unable to do alike), he observed.     
- "Europe must remain Ambitious and understand that the World needs her to take Decisions". "The World needs a Strong Europe", which "thinks on its own, has convictions, its own responses, its imagination" : "A Europe which does not limit itself into following" others, (as it did in the Past, when it followed USA, f.ex. on Bosnia). On the contrary, "Europe should undertake its own responsibilities", he said, after a series of succes in stopping the War between Russia and Georgia, and organizing the 1st EuroZone's Summit in Paris, which incited the Washington DC G-20 Summit to extend similar decisions World-wide.  

    - "When you sweep it all under the carpet, prepare yourself for hard tomorrows", he warned. "What hinders decisions is the lack of Courage and Will, the fading away of Ideals", he stressed before EU Parliament's 2008 debate on Human Rights and Sakharov prize on Freedom of thought attributed by MEPs to Chinese cyber-dissident Hu Jia, followed by an EU - Turkey meeting on Friday.

    - "I don't abandon my convictions" and "I will take initiatives" on EU level also in 2009, Sarkozy announced later. "France will not stop having convictions and taking initiatives" on Europe. + "It's an Error to wish to pass over the Heads of those who are elected in their Countries" : "It's an integrism I always fought against"', he warned.
---------------------
French EU Presidency faced 4 unexpected Crisis :

- An institutional crisis, with the Irish "No" to EU Lisbon Treaty, just before it started. A geopolitical crisis, wth the threat of War between Russia and Georgia risking to throw Europe back to Cold-war divisions, on August. A World-wide Financial and Economic crisis, arriving at a bad moment before crucial 2009 EU elections. And even a Strasbourg's mini-crisis, with EU Parliament's roof curiously falling down, from unknown reasons, in a brand new building on August, provoking an unprecedented transfert of the 2 September Plenary Sessions...

But it wasn't enough to stop Sarkozy ! On the contrary, it stimulated him...
---------------------------------------

- "The better way to deal with the recent problems of EU institutions (as the "3 NO" by France, the Netherlands and Ireland) is to take them as a "Test" in order to find solutions closer to Citizens' concerns", said later in Strasbourg Sarkozy's new choice as Ministe for EU affairs, Bruno Le Maire.

- On the Institutional front, Sarkozy gave Time to the Irish to think about it, and stroke on December a deal including a New Referendum after the June 2009 EU Elections, in exchange of a promise to keep the rule of "one EU Commissioner for each EU Member Country", and some opt-outs on Defence and Fiscal EU policies, Abortion, etc. If the Irish get a "Yes" Majority, then the institutional package could be completed in 2010 or 2011 on the occasion of Croatia's probable EU accession.

He was accused in Strasbourg to upgrade EU Council and downgrade EU Commision, but he replied that "strong Political initiatives by EU Council reinforce also the more technical role of EU Commission, under the political-technical leadership of its President", all 3 "working together with EU Parliament".


- But, meanwhile, Sarkozy energetically spearheaded an Historic 1st Summit of EuroZone's 15 Heads of State and Government at EU's core, exceptionally enlarged to a partial participation of British Prime Minister Gordon Brown, on October 12 in Paris' Elysee palace, which started to tackle succesfully the growing world Financial crisis.

    It also paved the way for its endorsement by a subsequent Brussels' 27 EU Member States' gathering, before it all come to Washington's G-20 Summit. And "Europe was united, it asked for the 1st G-20 Summit, and it will also organise the next G-20 Summit on April in London", he observed.   
 But a Conference with EU, Russia, African and other Developing Countries, hosted in Strasbourg shortly after Washington G-20 Summit by the French EU Presidency, took a Resolution asking to enlarge participation to Global Economic Governance. Many found, indeed, illogic and unacceptable that f.ex. states as Turkey were given a seat at G-20 level, while all African Countries, and even the African Union itself, representing the greatest Continent on Earth, were excluded...

    Meanwhile, even USA''s "Paulson No 3" Plan, was, in fact, inspired by Europe's No 1 Plan", Sarkozy observed, largelly applauded by MEPs.

    And "Europe showed Solidarity" by mobilizing some 22 Billion credit for Hungary, 1,7 billion for Ukraine, as we do nowadays for Baltic States, etc., he added.

    The move on Economy was extended on December by an EU stimulus' plan totalling some 200 billion Euros, including 5 Billions released by EU Commission for big Projects, as well as various parallel National plans for Economic revival, (fex. 26 billions in France alone). They might appear limited, compared to USA President-elect Obama's reported plan to boost the American economy with 800 billion $, but at least succeded to overcome Europe's divisions for the first time on Economic governance, opening new horizons.

- The French President stressed even harder the unique role of an active EU Council's chairmanship, when he moved swiftly and efficiently, at the beginning of August, to succesfully stop War between Russia and Georgia, at the last minute, which threatened to bring Europe back to Cold War division.

"We (EU) also wanted to avoid a situation like in Bosnia, in the Past, when EU was absent, so that our American friends took their responsibilitues, and EU only followed", despite the fact that the conflict took place in Europe. Now, it was the EU who took its responsibilities".

A roadmap towards a new PanEuropean Security policy, before which all unilateral moves to place new Missiles (from USA or Russia) would be freezed, was proposed by Sarkozy after a meeting with Russian president Medvedev, at the eve of Washington DC's G-20 Summit.

Ukraine's "European" character was stressed at a Sarkozy - Jushenko Summit, September in Paris, while EU adopted on December an "Eastern policy", in which, "I'm convinced that our (EU's) future is to find with our Neighbours the conditions for Economic Development. Peace and Security, by explaining them that.. they must respect (Human Rights') Values, and adopt behaviors different from the Past", explained Sarkozy in Strasbourg.

Meanwhile, the "Union for the Mediterranean" was created, since July's Summit if 45 Heads of State and Government in Paris, as "an organisation for a permanent Dialogue, that we need", mainly in order to tackle the Israeli-Palestinian conflict, by bringing together, for the 1st time, Israelis and Arabs, where "Europe must be present, in order to avoid a frontal clash".

- "If Europe doesn't take its part for Peace in the Middle-East, nobody else will do that in our place", Sarkozy stressed.
-----------------------
    Meanwhile, other EU Agreements were brokered during the French EU Presidency on Immigration, (fex. common Asylum rules, etc), and Climat- Energy :

    - On Climat-Energy, the 2007 German EU Presidency had fixed a triple 20% aim for 2020 (20% renewable Energies, 20% reduction of CO2 emmission, 20% energy efficience/economies), and the 2008 French EU Presidecny realized that, making the necessary compromises in order to modernize EU's industry, but without throwing some former Central-Eastern European Countries into abrupt Economic break down risking "social explosion".

    - Defence-Security EU policy was mainly postponed for April 2009, since both German chancellor Merkel and French president Sarkozy want to strike a deal with the new American president Obama in Strasbourg's NATO Summit.

    However, with all these 4 unexpected Crisis diverting attention to other urgencies, People wil wonder now, what happened to the famous deal proposed by freshly-elected French President Sarkozy on Turkey's controversial EU bid, back on August 2007, to continue EU - Turkey negotiations, but on the double condition that core chapters, intrinsequally linked with EU Membership, will be excluded, and that a collective Reflexion and Debate on Europe's future would start before the end of 2008.

    It was meant to reply to the crucial question : What kind of Europe do we want in 10 or 20 Years from now : A large Market, or a Political Europe, with a popular identity ? In Sarkozy's thinking, presented in his 2 landmark speeches on Europe in Strasbourg, shortly before and after the 2007 Elections, (on February and July 2007), Turkey's controversial EU bid would be incompatible with the second choice.

    It's true that EU Commision's Chairman, Jose Barroso, (who had notoriously declared, as former Portuguese Prime Minister, that he found "nonsense" the idea that Europe might become equal to the US), had repeatedly tried to avoid that Sarkozy's criticism on Turkey might start winning a larger audience in Europe, preferring a discrete "wismens' committee" work. And that most of the personalities later chosen in order to participate in a Committee on Europe's Future, are too much linked with Socialist parties and/or American policies, to be really critical of USA's notorious wish to impose Turkey to the EU, as Sarkozy had noted himself since March 2007..

     - "It's on EU Council's presidency to take political initiatives. EU Commission has other competences", stressed Sarkozy. The "European Ideal" is to "build Europe with the States, not against them". "Ask Europeans to chose between their countries and Europe won't work. You don't choose between your two parents : We must add them together".

    "France and Germany have an Historic Duty to work together, precisely because of what happened to the Past. We have to work hand by hand. We cannot be separated.It goes beyond me and Mrs Merkel today, Mr Schroeder and Mr. Chirac yesterday. It's not a choice, it's a duty to Europe and to the World".  "We need Germany, as Germany needs Europe". Compromise is inevitable, here as everywhere, and each one made some steps towards eachother's positions.

    But "it's true that Mrs Merkel didn't chose her Socialist partners, while I chose mine", Sarkozy said, in an indirect hint that the Socialist Minister of Finance in Germany might be a cause of minor past disagreements in Economy, which were overcome in recent negotiations.

    "We (France and Germany) have particular duties in Europe", but "in a Europe of 27 Member States, it's not enough for France and Germany to agree between them.

    "I always thought that Great Britain has a special role to play in Europe. ... Now, everybody "saw what it cost payed the UK for having been too exclusively open towards the US (and) Financial services. Europe needs the UK, but also the UK needs Europe" :- "We were able to face the hardest moment of the Financial crisis because the UK clearly chose Europe", stressed Sarkozy, reminding Gordon Brown's exceptional participation to the Historic 1st Heads of State/Government Summit of EuroZone, October 12 in Paris (See EuroFora's Reportage from Elysee Palace then).

     - "Some look at Europe with old glasses aged 30 years ago. While we must look at her in relation to what it will be in 30 years" in the Future, Sarkozy concluded.


Polls