Home

newsitems

Controversial EU push on Turkey "Accession" (sic) Risks Boosting BREXIT Supporters' Will at the UK+
Controversial EU push on Turkey "Accession" (sic) Risks Boosting BREXIT Supporters' Will at the UK+
Saturday, 02 July 2016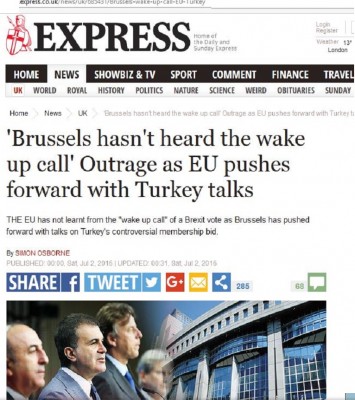 * An Exceptionaly Big Number of British People (see f.ex. Infra) strongly commented the Fact that, as UK Media observed just a few Days after the "BREXIT" Referendum Earthquake, Some inside the EU "didn't Hear the Wake Up Call", as Warned a mainstream German Politician of the Governing CDU/CSU, when, Yesterday in Brussels, the Controversial and UnPopular Turkey's EU bid, placed by EbS TV under the Pompous Title of "Accession" Conference (a Wording which makes a Laugh out of many EU Citizens' Majority Votes in several key Countries and EU Parliament Elections, even EU Heads of State/Governments' Official Decisions since 2005-2009+),  was granted, inter alia, also the Opening of the Core EU Chapter of Finance/Monetary Policies, (that France had formaly included among the 4 or 5 Equivalent to full EU Membership Policies, which had been Excluded from Turkey's EU bid, in Exchange for former President Sarkozy to abstaining from Vetoing EU--Turkey Negotiations, already back on Summer 2007).

A Turkish Minister even went as far as to express, in a subsequent Press Conference in Brussels, an obvious Pleasure for the UK Leaving the EU, because, as he Boasted, this would make "Stronger" Turkey's notoriously Controversial and UnPopular EU bid, since EU would now "Need" Ankara more than ever., (sic !)...

On the Contrary, French main Opposition Leader Sarkozy, had already Agreed with the above-mentioned German Christian CDU/CSU Politician, by having Warned, previously, that the "Summum" of Blunders for the EU would be to Lose Great Britain, and to get ..Turkey, instead.

And those clumsy (or provocative ?) last moves by some in Brussels on Turkey, (while Out-Going US President Barack Hussein Obama's State Secretary Kerry was Visiting there for 2 Days), made right at the Aftermath of the Latest British Referendum, triggered an Unprecedented Big Flow of Damning Critical Comments by many Angry British People, which obviously Risk to Boost "BREXIT" Feelings among a Dangerously growing number of exasperated Critics who see their Democraticaly casted Votes being, in fact, Treated with Contempt.
The "Wake Up Call" Metaphore, linking UK's "BREXIT" and Turkey's Controversial and UnPoplar EU Bid News, was attributed to CSU General Secretary Andreas Scheuer of Germany (Bavaria).

+Meanwhile, Austrian Opposition Leading Presidential Candidate, Hofer, from the Rightist "Freedom" Party, (who had initialy scored a 51,9% Majority in the 2nd Round, before being Ousted by "Green" Candidate Der Belen, with only 50,3%, via Controversial Postal Votes which have just been Cancelled for Irregularities by the Country's Supreme Court, triggering a Replay of that Crucial Election for September 2016), reportedly Threatened a similar Referendum on Exiting from the EU if Turkey was allowed to enter inside the European Organisation.

++ Things might go even more Nasty, in various EU Countries, if a reportedly scheduled Meeting between Turkey and some EU Leaders for July 7, (perhaps on the occasion of the forthcoming NATO Summit in Warsaw, i.e. with the presence of Out-Going USA President Barack Hussein Obama), might, eventualy, Bring Back a Controversial and UnPopular Draft Plan to give a "VISA-FREE" status to 80 Millions of Turks in order to be allowed to Enter and Stay inside the EU for the Half of Each Year, (i.e. 6 Months out of 12), which was also Strongly Criticized recently in EU Parliament, just Before the UK Referendum.

And Concerns about eventual Risks of an imposed "Islamization", often percieved as systematicaly Pushed by the current Turkish Government, are obvious among British People's pro-BREXIT Majority, (as, f.ex., many Social Media publications attest : See also Infra).

+++ Last, but not least, the Turkish Flag colors put, by Socialist Mayors, on Berlin's Branderburg Gate, and reportedly even in Paris' Eiffel Tower, for 9 or 10 Turkish Civilian Victims of a Non-Revendicated Attack Targetting Foreign Tourists at the International Arrivals' section of Istanbul Airport, (which hit also Security and other Staff), while, almost at the Same Time, Nothing was done for the Killing of Many European Civilians (f.ex. 7 from Italy, etc) including Women, at Bangladesh (30 persons killed), and more than ...210 Civilian Victims of anOther Terrorist Attack, including Dozens of Women and even Children in Bagdad (Iraq), both Revendicated by ISIL's Extreme Islamist Terrorists (who remained, on the Contrary, Silent about the above-mentioned Turkish incident) obviously can't but Astonish Observers with its inevitable "Double Standards" Bitter impression over innocent Human Lives.


>>> But What should make those responsible for Taking Decisions on Europe to Think Twice, is also the Additional Fact that even many among People who, on the Contrary, always Stood By a Strong and Inspiring "European Dream" at the Horizon, are Pushed by some to Join that Timely "Wake Up" Call for the EU ... (See : http://www.eurofora.net/newsflashes/news/brexitparadox.html ).
(Comp., f.ex. the Simple, but astonishingly well Fitting, by a Coincidence, Text of a recent Song  citted Infra : Obviously, it's High Time for the EU to get Out of a "Coma", particularly since 1999/2000, "Open up (its) Eyes", "Wake up" Europe's "Sleeping Heart", and Dare Find now Ways to Make Europeans "Dream a Dream .. that No one Else can Touch".
In Fact, despite False Appearances, a Majority of European People "Stood Right Here", "Always in Front" of it, - even if Many of them, that Bureaucrats "Never saw .. as someone who could Love (Europe) well",  "Had to Show (it) the Hard Way", since "Revelations and HeartAches" might "Make" the EU "Realize" what should be done in the Future)...
-------------------------------------------------------

F.ex., Well beyond even "London Sunday Times"' Call for BREXIT at the Eve of the Referendum (that mainstream German Newspaper "Die Welt" had spotted at its Headline Frontpâge News), See also, just Afterwards, the British pro-BREXIT Newspaper "Express" (London) , UpDated on July 2, under the Frontpage Top Heading : "Brussels hasN't Heard the Wake Up Call : Outrage as EU Pushes forwards with Turkey Talks", which was Followed by almost 400 Readers' "Comments", among the most Critical and Upset than ever...

+ Same under "Sunday Express"' Frontpage on "OUT with Britain, In with Turkey : Turks arrive in Brussels and argue EU NEEDS them NOW !", (Pubished on June 30, UpDated on July 1st).

Here it is :

--------------------------

Red Tick Allert
You couldn't make what is happening in the EU now up. From Turkey to .... well everything that they are instigating now. I want article 50 invoked NOW

DaveyKerr
yes why are wee waiting

Red Tick Allert
They say it will be invoked at the end of the year / early next year..... look up when the TTIP will be signed......... if we are in the EU then, we have no way out.

BeppeSapone
Kebabs and haircuts all round.

DaveyKerr
55 million every day good luck

New Forester
Wow..........good luck with that.

Robin123
To think that Cameron said Turkey would join the EU 20 to 30 Years in the future, HA! HA! HA!

RestoreDemocracyToBritainNow
Turkey and its Sharia is not fit to replace a pair of slippers.
For European countries it is democracy OR Sharia - it cannot be both.
Turkey doesn't even know what democracy smells like never mind be able to adopt it for it is entirely alien and contrary to Islam.

ROB
Turkey is not a European power it is a Middle Eastern Country with no Christian beliefs, Britain as done the right thing by leaving the EU before we where out numbered with Muslims.
+8Likes

Morgana
Shameful racist  comments reminiscent  of 1930s Nazism. Full of fear and ignorance. What enlightened educated European  would want to live next door to you? Don't flatter yourselves.....
- 1 Dislike

Spartan Man 5
The Turks are currently .s u c k i n g. up to Russia as a ploy to blackmail the EU, and the odds are that the Brussels bigwigs, pressed by Washington, will fall for it.
+ 4 Likes

Anti DM Dave
She says she needs them in the EU to stem the flow of migrants........ROFL.. yeah! That's very clever Ange, stop one lot, and let in even more from  Turkey.....you couldn't make this up could you?!!
+7 Likes

XCITIZEN of EUSSR
Is the EUSSR really so dumb, as to start the beginning of the end of christian europe?
+10 Likes

Aryan-German
The EU is Secular like Turkey is Secular!

X CITIZEN of EUSSR
Tell that to the Greeks Italians ect ect, and there are 75million muslims in Turkey give or take a few, Turkey was secular, that is starting to change!

RAVEN
Good luck Germany.  You had  all better get your Turkish phrase books out.  Oh and don't forget to learn how to celebrate Ramadam.
+8 Likes

AgendaTen
The EU cannot want Turkey for its wealth, unless they intend asset stripping it and treating the Turks as slaves or conscripts for the new EU army.
+11 Likes

Spartan Man 5
...to complete the Coudenhove-Kalergi Paln for the destruction of Europe's nation states and white Races. ...

barbus10
The only way Turkey will get in is if they chip in €20 Billion a year.
+10 Likes

JBJB
75 million Muslims. Just what the EU needs.  
+17 Likes

silverspurs
Yes. Nigel told you all. Who"s laughing now?
+17 Likes

sylvesterthecat
Brilliant! ... Britain leaves as Turkey joins ! "Fair exchange is no robbery " as we used to say.
Good luck to you all with your new Moslem partners, our former EU friends, as you head for utter disaster! Allah protect you!
+16 Likes

anDobson
So now,all Cameron's lies are starting to unravel,thank God enough of us could see through him and knew what was going to happen if we stayed in.
+19 Likes

sylvesterthecat
We voted out, possibly against the odds but we did it. Someone up there likes us or maybe God IS an Englishman after all.

tlhuerth
As long as a lunatic Erdogan is in power and the political and judicial system in turkey is rotten to the bone they will stay out. Germany will never agree with turkey becoming a member of the EU

AlHamilton
"and said his country had economic and geopolitical weight that would replace the loss of the British."
Can Turkey afford to pay 30 million a day net?
+11 Likes

MaxAngent
No, but they can provide all the Volunteers needed to man the EU Army the Brussels cabal wants.
+10 Likes

Toobi wan
With the money they make from people and oil smuggling,, I'd say yes.
+10 Likes

007
airport attacks were a psyop, false flag. what a coincidence the timing. the african union is under way, the north american union too if trump doesn´t get in, pacific union too is being discussed aswell so the UN world gvmnt is getting closer
+11 Likes

MarieSingewald
because  they thought  that they cud get a remain  vote and sneak Turkey in without anyone noticing till it was too late, guess what you blew it and now the cats well and truly outta the bag
+15 Likes

sunspot
I hear that the US Secretary of State Suggests there could be ways to bypass Brexit.

MaxAngent
That's right E.U. Just keep digging that hole deeper. Visa free travel for the Turks is only another couple of feet down.  Then the fraudulent passport and identity card industry in the sultan's corrupt state can Really kick into high gear!  Anyone and everyone who comes to Turkey can obtain papers for a reasonable price and proceed on their merry way for an extended vacation in Europe.  Enjoy!
+16 Likes

Itsme
who's going to house and feed them Europe .....
+16 Likes

sammichon
Why has Britain spent 750 million by sending a team to Turkey to smooth their entry into Europe, ?
+18 Likes


teeb
Because Cameron said one thing while doing the opposite behind our backs, as per usual
+23 Likes

BattyNoraS
His seamless replacement was to be Bo jo but somehow someone somewhere had a score to settle with him and so the fox (not Liam) is really in the chicken coop.

commonsense
because for some strange reason they would rather give our money to these people than pay the women born in the 50s their rightful pensions and pay for other things too!  I hope the foreign aid bill is stopped as well.
+20 Likes

teeb
7 times the population of Greece, they were not in financial health either when they joined so imagine that side of it alone when it comes to Turkey
+14 Likes

Mike Spilligan
Turkey in the EU will be the final disaster.  Erdogan has been turning that nation increasingly into an Isl**ic republic for 10 years - first as PM, now as President - quite against the principles laid down by Kemal Attaturk after WWI.  Our Foreign Ministry and the EU External Action people just don't seem to have noticed.
+17 Likss

BattyNoraS
Its the N W O going to plan not smoothly but is panning out just as planned.

teeb
Don't they mean Turkey is an economically effluent country. Who on earth do Turkey think they are kidding
+14 Likes

cristal1934
If Turkey's economy is so bloody thriving, how come so many are unemployed and over here scrounging.
+15 Likes

AlHamilton
Median wage is IIRC 650.

NotDaunted
What do the other 27 countries in the EU feel about this? They're already screaming for their own referenda. This, hopefully, will be the last straw!
+17 Likes

silverspurs
Well all you remainiacs should apologize to the LEAVERS And Nigel for believing Camoran about Turkey . Could they join Before we Leave even? Hope we don't have to pay them bailouts and No open borders with them, we cant wait two years to kick in..
+25 LIkes

Itsme
we shouldn't have to wait 2 years...

morganadundee
Turkey Has A Vibrant Economy?  The Average Income is 6,200 Euros A Year!!! Only 50% Work So How They Can Replace Britain Is Beyond Me!!!  But Good Luck With That, We Don't Give A T*ss!!!  UKIP and TRUMP RULE!!!!
+21 Likes

Boris or Nigel for PM
GET ARTICLE 50 UP AND RUNNING NOW!!!
+28 Likes

imabrummie2
I hope the Turks have deep pockets - they will need them to make up for the 15% of the E.U. budget which will be lost when the U.K. does say farewell to this club run by elitists for elitists at the expense of the masses.
+31 Likes

MrsPoldark
Either they are deluded or have been hiding the truth in order to fleece us. If Turkey has the 'economic weight to replace the loss of the British', why have we been giving them so much money? Why have we been financing their attempts at joining the EU? This stinks to high heaven.
Having said that, the EU are welcome to them. As long as we don't have to have them I don't care.
+26 Likes

BattyNoraS
Watch for those "recipricol" agreements they are all so fond of. 1 for you and 1 for me, 2 for you and 3 for me.

Barrybus
Turkey is a middle eastern country with the mindset that goes with it! Erdogan is an i/s/la/mist!
+39 Likes

smitty
it's also in Asia on the edge of Europe.

redwolf
If this is absolutely true , then it is only a matter of time, chaos will reign, and it will be outright madness can one imagine, what will Europe look like? like a mongrel state by state, goodbye europe,  
+27 Likes

jamo
A few more referendums and a bit more blackmail and can rename it the Afro-Asian Union.
+26 Likes

OUT NOW!!!
It will be blood not s--t that hits the fan if this happens, god help the people of Europe because the EU is in EUROPE DESTRUCTION MODE!!!!
+31 Likes

rapthepin
So the sources are true since it was breaking news this morning on Sky News as well so the Remain campaign have lied to us big time.
+26 Likes

MrsPoldark
Of course they have. Yet they are still peddling the rubbish rumour that we are all regretting voting out due to having been lied to. As far as I'm concerned the lies came from the Remain camp and luckily enough people saw through them.
+19 Likes

tonydartford
Will they pay the 350 million a week shortfall?
+25 Likes

kellyandco
Maybe they'll steal more Syrian oil to make the first payment.
+20 Likes

Hayward4591
Europe is done for! Open borders with Turkey will bring chaos and destruction to the EU. Britain did the right thing with Brexit.
+25 Likes

Itsme
the plan is to keep doing this until it all collapses in on itself..that's when the politicians the wealthy the eu elite and the helpers will run down into their underground cities and watch the bloodshed while we all fight.. THAT'S the plan...they didn't build those cities all over the world for nothing...remember these creatures are also Satanists...to sit below and watch the slaughter will be their entertainment....

007
the eu is not meant to last...it has to crumble at some point so they can see in the nwo UN world gvmnt

Pig Sick
The EU are welcome to Turkey, just so long as we are out of it.
+25 Likes

Spartan Man 5
It will bring the Islamisation of Europe ever nearer with only the English Channel between us.
+19 Likes

Pig Sick
Better than free movement because the deal always was to accelerate the acceptance of Turkey into the EU after our referendum. If you'd prefer it at way, then it's your choice. Me, I'd prefer the channel to an open border.
+12 Likes

AlHamilton
Better out of the EU with 20 miles of channel between us and them than in the EU without even the 1 mile Bosporus between us.

By grace
That is why God gave us our borders and the English channel, and also made sure we were an island.

silverspurs
They can still get in UK As they don't play the cricket game.. Beware..

Jenniferjones
Boy oh boy, we got out at the right time.  Let's close our borders now and the EU can do whatever they want when the Turks flood their countries.
+28 Likes

Toobi wan
We are still in it for at least two years, Jennie, if we manage to get out at all, that is. They can do a lot of dmage in that time, through bl**dy mindedness and spite..
+22 Likes

SpudGansroond
We got out just in time. My sister has just arrived back from a holiday in Turkey, she says it was awful. She said the people were grinning idiots and they were unbearably lecherous. They are hard workers who achieve nothing. They don't belong in Europe. The third-world does not belong in Europe. (because that's where they're headed, once in the EU)
+22 Likes

Toobi wan
The majority don't belong in the 12th never mind the 21st century, either
+20 Likes

Hero1972
This is for anyone who has not yet woken up..... The global parasite elite own both sides, thats why they wouldn't let one side fight in and one out, they still remain in control this way. Look wakey wakey there all plants and will send us down the river again thats why A50 keeps getting pushed back.
Nigel is our hero, and he worked 25 years to save us from these mad men, The others have just jumped on his bandwagon. We owe Nigel so much as he has saved us from the people who wish us harm (including our own government)
We must Vote UKIP and get these complete wallys out of the way otherwise we will still be paying into the EU with all the bad things that come with it. They promised A50 the day after the vote, they insisted on using pencils to vote (we woke up on that and used pens!!) when we could have used felt pens or a whole punch or a tear strip. We are being totally conned.....  Please look at the internet on the J03 C0x Hoax and tell me if your not shocked to the core as its now out int the open.
Love you all, lets stand together as people of the UK xxx
+23 Likes


Degs
Well does Nigel reckon we press the button as soon as possible or let it take it,s course

Thanos
Quit mucking around and invoke Article 50 already!
+21 Likes

Marmaduke
Sorry my last was censored.

BattyNoraS
I have been censored 4xs this evening no swear words, no personal abuse yet still censored.

Marmaduke
Tttttttyyyyyyyyiiiiiiih hug. Decks sacsa da da day CDs gfsbgrwfraereafewqvfds gfs cdsvtrefeaffsabgfsbfdafdsabgfsbfdafdsfsgsDgddasfdsewDgfdnhfdweuy.ouy.oou.eafewsZhrmoiy.outwssdanutu,IUDs.piuuytaeeadenuiyloilkurtwqdewqghrymjyrmyrbreadeewqbggenjyr.
Degs
I would get some help with that stammer, If not I need a code breaker

Lord Hawhaw
Thank God we are leaving the EU. The Turks will soon be swarming into the countries which now remain. In any talks with the EU, about trade etc, they must be told in no uncertain terms that control of our borders is NON-NEGOTIABLE!!
+19 Likes

Fouleye
This was the EU plan all along. They didn't want us to know. Cameron knew all along. HE didn't want us to know.
I wonder – how many of the other EU members knew that this betrayal of their cultural security was in the pipeline?
+19 Likes

OUT NOW!!!
They have ALL known for over 40 years!!!!
+12 Likes

Je Suis BREXIT
They forgot to mention ... Turkey , the terror group r&r and re supply haven ........
+13 Likes

5 days ago
Susierose
Fantastic ,Turkey can pay our EU payments ,while they kick us out.
+20 Likes

Mr Al. R. Snackbar
They do not kick us out We have left them for 11 trade deals and hopefully a loose  EFTA trade deal with NO free movement.
+16 Likes

Marmaduke
See the Corbett report.

Marmaduke
Just out.

CYNIC
EU NEEDS THEIR MONEY...FAST......Best of Luck Europe!!!
+17 Likes

(../..)

-------------------------------

Northenmonkey
We are leaving. We don't make threats. Turkey for Christmas for all good Germans.


DemBones
Everyone remembers when Cameron said it would be at least 30 years before Turkey can even be considered...we all knew that the (failed) moves it made to help curb immigration would only have been undertaken if there was something in it for them...

Northenmonkey
He mentioned the year 3000 while secretly bankrolling our embassy in Istanbul to hurry membership along. Why no public inquiry on his illegal use of public funds in the referendum, this issue and the GE?

Brockett
The EU has gone remarkably quiet about Turkey.
The meeting last Friday was meant to be followed by a proclamation that Turkey was being given visa-free entry to the EU and that Turkey was being 'fast-tracked' into full EU membership.
Why no announcement?


Cheeky
Are these EU Eurocrats  CRAZY ?

enoughisenoughdotcom
yep.

Northenmonkey
Not in their world. They want the power over as many countries as they can get, then they will create zer army that vill conquer zer vorld. Sieg.... sorry got carried away on the moment.

silver sun
Years before his death Gaddafi stated that in a few decades the 50 million moo, limes, already in Europe will turn it into a muslim continent within a few decades. Looks like his predictions are coming true. No way does our country need a PM who voted to remain, they will sneak us back into the  destructive regime , out means out 100%.
+12 Likes

AnthonyPaulus1
Don't worry Silver Sun if this country ever tried to take us back in then they would have Civil War on our streets for sure.

Northenmonkey
Damn. you just realised how Islam works.

writeon
... Economists know that vastly disparate economies that have different values and cultures in a common currency does not work ....
Full union means the few rich countries handing money over endlessly to the all poor countries and not just the PIIGS  to have a transfer union. This means convincing the Germans to give huge sums year in year out to the PIIGS and others.
To me all of this doesn't make sense and won't work but I'm not  the type of screaming liberal that runs the EU.

Wildxplorer
"Turkey is a major European power" - is this the bad joke of the day? LOL Turkey isn't even in Europe, for Christ's sake! It's an Islamic country which has nothing to do with our culture, with severe humans rights violations happening every day and they've had, what, 5 terrorist attacks in the past 2 months? Very secure, too! What a wonderful country to have its people move freely throughout Europe... NOT! Merkel, Juncker & co should all be committed to a mental institution at this point, it's beyond crazy what they're doing to our continent!
+8 Likes

silver sun
...."mosques, are going to be a more prominent part of our cities than they were before".... acknowledged ....Germany like other EU countries ...destined to become a strong hold of Islam. Former president Mr C Wulff stated the following in 2010, "Islam, belongs to Germany." ....
+10 Likes

psibernaut
Don't fall for the trap that is Article 50 of the Lisbon Treaty.
Help get us out of the EU by getting everyone you know to sign the petition to repeal the 1972 European Communities Act here :
petition.parliament.uk/petitions/125333
Please spread the word.
+9 Likes

mags1234
just signed
+6 Likes

Toobi wan
These petitions achieve nothing, P, we are allowed them to maintain the illusion we live in a democracy. Look how easily they are hijacked as well like the recent one supposedly from the remainers.
+8 Likes

TRIGGER_ARTICLE_50
True all they do is give names and addresses to the establishment
+4 Likes

Elba
Done.

AgendaTen
It no longer seems to matter to the EU state whether or not a country is economically sound and fit to join the EU. They are now in a blind panic to grab as much territory for the EU as possible before too many other nations see the plot for what it really is. The domination of Europe through commerce and legislation as clearly stated in the 'Madrid Circular' published in 1953....... Presumably all the millions of unemployed Turks will become part of this new army, well they won't have any choice will they?
+11 Likes

JohnBarker
They just move a business from one of the richer countries into the poor country. problem solved.

ILoveTheEU
... Guys pop quiz:
Under what mechanism could Turkey join the EU?
There is one answer. Good luck.
5 Likes

skylark
Britain's politicians must not be short sighted - it's too easy to say 'oh well, Turkey won't be joining the EU for years yet..' - the point is, they WILL be joining at some stage, and we, our children and grandchildren, will have to bear the consequences of a potential mass influx into our country unless we give the corrupt and floundering EU the heave-ho.
It is nothing short of madness to contemplate allowing  millions of muslim Turks into Europe, many of whom would head straight for Britain - the land of free money, housing, health care and education - and we must leave the EU before that can happen.
Make no mistake, the EU will ensure that Turkey joins sooner rather than later, because they are needed to help stop the mass migration of millions of people into European countries.
If the thousands of leftie idiots and spotty kids currently marching in London to oppose the democratic and legitimate result of the referendum are incapable of grasping this, it simply confirms what I've known all along - they're as thick as bricks.
+11 Likes


KenWells
Remember, in I think the 14th Century Islamic invaders got as far north as the middle of what is the Slovak republic. Fortunatekly they were beaten back then, trying to do it by different methods now.

HelloEveryone
The Brexit campaign exposed hard evidence that HMG were helping Turkey join the EU. This was denied by Remain.  However no-one or newspaper has been sued for slander.
As far back as the 1980s, Germany has been using cheap Turkish labour. Massive unrest in the then West Germany.
Cameron once said they're all in it together. Perhaps not just in the UK.....
Heseltine and Soames backed Boris who left Cameron to seem an outer but perhaps they knew he would favour associate membership to keep the German dream alive.  PLOT?....
Did Gove get wind of a plot so stood himself to ensure it didn't happen? He is a thoughtful man not normally given to sudden knee-jerk decisions.
Falling on his sword and damning himself to keep Brexit intact? Heseltine and Soames are really livid so are they knifing Gove to ensure May gets in?
May is a remainer (a pseudo leaver) and will do whatever Heseltine and Soames perhaps wanted Boris to do (associate status?)....
May is also flakey/dodgy about the ECHR.  The lady is for turning... frequently! There is definitely something of the night about May.  
I'll bet Heseltine and Soames know what the 39 Steps are. What games do old men play?
11 Likes

Elba
Heseltine and Soames' loyalties - or lack of them - are well known to take a second place to their own overweening ambitions and they'll do and say whatever is necessary to get their own way. Thy're toxic the pair of them. If they support May then that's another good reason to vote for Andrea!

cdb
yes, eu be strong and alienate and suppress your original citizens and give your power and support to those islam-followers. Please God, have mercy on these fools for I have none.
+9 Likes


Renegade
This would have happened even if we had remained. There was plenty of sewage on the way  and still is if we do not trigger article 50 fairly soon.
+12 Likes

trev57
Amazing, you lot voted to leave and the anti EU rubbish is still ongoing, what's it got to do with you lot, you have had your say and voted to leave, so leave, so the rest of us can get on with forming the future without a load of inward looking nationalists whingeing about everything.
-20 Dislikes

Mark16
We would love to mate, unfortunately our supposed leaders are trying to stitch us up, by again thinking they know better than the population regardless of the vote by public majority.  
+19 Likes

Renegade
Hopefully we won't be clearing the EU excrement off the ground now that we have made the best decision of our lives. I can smell the carcass rotting already.
+11

jamesster
We can not go  forward because you spiteful remainers keep putting nonsensical obstacles in our way !!!
+6 Likes

HONDA1234
"There are also questions over whether Turkey can match EU standards on corruption"
Are they not about the same right now? ....
+22 Likes

Elba
Nice one!

dan_digget
If May gets elected there will  be no Brexit - you can be sure of that.  Brussels know this and are just carrying on.
+30 Likes

tugwilson
No wonder the Europeans want nothing more to do with the EU, is this what the "Remainers" here in Britain wanted ? to get into bed with the Muslin Turks, no surprise across Europe that the EU are looked at as Traitors.
+23 Likes

Splodge
Precisely what I expected and why I voted to leave this bubbling cauldron.
Erdogan, in his talks with Merkel over the migrant issue, will have exacted a heavy price for Turkey's agreement - now the truth is seeping out.
+27 Likes


Robin hood
YOUR RIGHT AND WE ARE STILL COUGHING UP OUT NOW BEFORE A CONSERVATIVE VOTE CHANMGES WHAT THE PUBLIC VOTED FOR<FREEDOM FRON THE CHAINS AND EXPENSE OF THE EU ,....
+13 Likes

Toobi wan
There won't be a German dominated EUssr, once their invited guests start flexing their muscles.
+9 Likes

gatlinburg
similar to the soldiers at the Somme we are all machine gun fodder now.
our elitist leaders allow isl@mist machine gunners access to public places where the people can be slaughtered.
we are all "soldiers" now waiting to be murdered.
turkey in the EU means more murderous savages in the EU.
isl@m should be banned in the EU, ....
+22 Likes

he cuckoo's have landed
( from above )  "  There are also questions over whether Turkey can match EU standards on corruption  "
Should be a formality!
+16 Likes


Splodge
So Brussels will have an applicants list including Turkey and Scotland.
What a dazzling array of talent to choose from!
+17 Likes

the cuckoo's have landed
Must be like being England Football manager.

brokepensioner
If not, doubtless the EU will teach them how to get down to their level !!

George Leave
 Omer Celik said: "Turkey is a major European power." Turkey is not European.
+27 Likes

Toobi wan
Yet!

britannica
'London is threatening to leave'? No, the UK has voted to leave and we are leaving! Get used to it.
+30 Likes


sunnygirl
she needs the money from Turkey, to fill the gap Britain  is leaving. Otherwise Germany will have to stump up Billions extra.
+23 Likes


sunnygirl
she needs the money from Turkey, to fill the gap Britain  is leaving. Otherwise Germany will have to stump up Billions extra.
+23 Likes


abberwocky
Well, desperate or not, they won't get it from Turkey, who are looking to jump on the gravy train!


ILoveTheEU
Turkey is years away from even being considered. And when that does happen, which member state would vote for it?! The  DE is just planting nothing story's with the sole aim of terrifying its readers.
Europe has 99 problems, but this Turkey ain't one.
-16 Dislikes

I McHunt
Baaaaaaaaaaaaaaaaaaa I love EU Baaaaaaaaaaaaa

Splodge
What was the price Erdogan exacted for co-operation over the migrant problem - a heavy one!
Common-sense tells us what Turkey was offered - the only thing they're interested in.

obin hood
TAKE YOUR ROSE COLOURED GLASSES OFF. I Believe if the GERMAN dominated (along with Junker of course ) decide they will short circuit the  entrance of turkey they will .Just look at the way they changed the rules on refugees stopping at the first  safe country .

indacousins
They make the rules,they will change them when needed


euripedes
The idiots need to wake up or public opinion will demand referendums and the EU will be gone inside 3yrs, I know a lot of people in EU countries who all say they want out if Turkey joins, .....
+17 Likes


Toobi wan
So, ...... what does Germany do with the millions of colonists, ....invited into Germany and the rest of Europe , to carry out the Coudenhove Kalergi plan? Will they leave peacefully? if the ones I see around Munich are anything to go by, there is little chance of this ever happening. What ... has done to that country is criminal and ...should be in the dock for it,
I am sure that there is a UN convention which is supposed to prevent a people having an alien culture imposed upon them,
second thoughts, maybe only when it suits.

+21 Likes

Splodge
Spot on Toobi and a very good question.
Once Franz and Hermann realises they will become the minority - then stand by for real fireworks! ....

Toobi wan
Erdogans's quotes to the faithfull :
"The mosques are our barracks, the domes our helmets, the minarets our bayonets and the faithful our soldiers"...

 On the expression, "moderate muslim" :
"These descriptions are very ugly, it is offensive and an insult to our religion. There is no moderate, or immoderate Islam. Islam is Islam and that's it."
There you have it, straight from the horses mouth.
+27 Likes


Mark16
They won't have to fight us. They will simply out breed us as per Erdogan's other comments recently that every Woman should have a family etc, and in 2 or 3 Generations (60 years) Christian Europe is gone.  Glad we are out of it by ballot box at least, now it needs the political will to carry it out on paper.


ectorVictor
Col Gadaffi was so right about Islam, "there's no need for war, all we have to do is wait".
+16 Likes

gofar67
turkey is not a part of Europe never have been they are part of the Arabian world even their football teams should be cast aside
+15 LIkes


MarioA
I can read so much fear here. what happend to you guys. are your situations so bad? really? these populists are rising and that is making me really angry.
-17 Dislikes


Johny Englander

What happened?
September 11 attacks
July 7th attacks
Madrid Bomb,
Charlie Hebdo
Brussels airport
Paris Attack
Mombai Attack
Kenyan Shopping centre
US marathon bomb
Isis : cutting off heads, burning people alive, throwing people from buildings
Do I need to go on? Those all have one thing in common : Islam

+28 Likes


Alien In This World
Tell me again how peaceful islam is. I keep forgetting.


eeb
And the madness continues
+20 Likes


MarioA
Never will turkey be afull member of europe. they won't ever be a fully democratic country. so the eu could talk, but the rules are there.
-13 Dislikes


Toobi wan
The rules are there are until it suits them to revoke and ignore them, Mario
+22 Likes


arthermo
Yees the rules are there, but they are being bent and ignored all the time. If Turkey becomes a power house within the EU then all of Europe is lost to Islam. Germany is terrified that Turkey will open the floodgates on all the muslim refugees currently stuck in their country, these people are patient because they know they have the whip hand, Europe is in deadly danger ....
+17 Likes

Splodge
"Rules" can be amended, twisted and superseded. In this case, they will be!

Elibar
And the EU is famous for sticking to the rules? Sorry but their record in democracy is well-known. If they had their way not just Turkey but Ukraine Albania Azerbaijan (oil) the list goes on. Do you trust them? Not me!


Jackie, Devon
So many European people saying they now want to leave the EU. Will it actually happen though, do they have the bravery of the British?
+22 Likes

Johny Englander
Yes, there are Patriots in every country in Eurpe

Elibar
Not so sure - too many years of Eu brainwashing.

oobi wan
They need the Turks in their Euro army for when the balloon goes up. European troops might be reluctant to fire on fellow Europeans, the Turks would have no such qualms.
+17 Likes

Cuchulainn
"London is threatening to leave..."
London's threatening nothing, we ARE leaving mate!
+27 Likes

MarieSingewald
indeed greater london maybe, not lets face it scotland is a laughing stock  and stands no chance with spain and france vetos ,
id say its pretty much the same of London , tower hamlets etc,  the city cant go nowhere its under the governorship of the Lord Mayor of London  who only answers too the Queen no one else, oh and btw he also is in charge of the London corporation, aka the finance institutions etc, love too see MR Khan  try take  a London  with no city  with him, jumped up so in so is on charge of traffic and travel  building contracts and keeping Londond clean and thats about the sum of his  powers, i think people get confused with mayor of london and lord mayor of london

Dickdastley
Germans and french you have to wake up once turkey gets inside the EU they will take over.and so ends europe the muslim calphate is coming.
+22 Likes

MarioA
i am german and i trust the eu, that this never will happen. why are you so feared of muslims? i am feared of islamists. but fanatists can rise everywhere. so forbid the internet. it's soo dangerous :D
-24 Dislikes

oobi wan
Your faith in the EU is touching, Mario. Muslims have an agenda which is wholly incompatable with what used to be called western civilisation.A civilisation which is not only under attack from islam but also our so called leaders.
+18 Likes

EricSachs
MarioA, it is the intention of the powers that be to eliminate the individual nations and your cultural identity. ...
+19 Likes

Johny Englander
Die Augen offen halten :  Paris Attacken, Brussels Attacken, London Bomben, Madrid Bomben, alles wegen Islam. Ihre media ist korrupt , die zeigen nur halb Wahrheit und oft gar nichts. Laut erste Deutschen Fernsehen habe nur Alt und ungebildet Leute für Brexit gewählt. Wenn das stimmt, wie so habe die Patrioten gewonnen, oder glauben Sie das wir sind eine Insel von 50 millonen ungebildet Rentner  !

abberwocky
And I thought the German people had more sense, and that it was the politics of the mad house to invite all those people in. Germany has slowly declined into the gutter since 1970, when I left.

Toobi wan
Once Turkey are in and the rest of Europe has been absorbed, they intend to start admitting African nations,....
+19 Likes

UK4Ever
No panic. Camoron said they wont be joining until 3000. What? you mean he LIED?! :)
+23 Likes

Weep_For_The_UK
"London is threatening to leave, and Ankara is courting - this cannot be Europe's future."...
+23 Likes

Dylis56
...There is growing discontent in Germany with the number of migrants entering that country and associated crime etc and guess what?  There are elections coming up. Politicians continue to treat the people as fools.
+21 Likes


EricSachs
Turkish president Recep Tayyip Erdogan called last year for the"conquest" of Europe by Islam "through emigration" into Europe and announced that the "conquest is to have the courage, tenacity, and sagacity to defy the entire world even at the hardest times."
The speech, delivered in Istanbul on May 30, 2015, at a public meeting celebrating the 562nd anniversary of the fall of Constantinople to the Ottoman Empire's Muslim armies, has just been translated into English for the first time.
In the speech last year, attended by two million people who cheered him on, Erdogan asked "What is the conquest?" "The conquest is Hijrah, expansion of Islam through emigration, following the example of Muhammad, the founder of Islam, and his followers from Mecca to Medina. The conquest is Mecca. It is to cleanse the Kaaba, the house of Allah on earth, of all the icons. The conquest is Jerusalem"
+22 Likes

Weep_For_The_UK
The EU aren't good at listening to what ordinary people want, nor do they care.
They are only interested in money and power.
They see the ordinary people as little more than bugs, to be stepped on so they can climb higher up the ladder. ...
+22 Likes


TrueBrit
We aren't THREATENING to leave - we are leaving; and have left, in our hearts and  minds !  
This is one of the reasons that the sensible patriots of the UK voted to leave; because Turkey and her 78,000,000 inhabitants are being fast-tracked into the EU ....
+18 Likes


allyShaw
Sad to say I think our politicians have other ideas. The plan is to get May in as PM and she is a remainer remember with no plans for triggering Article 50 and with plans to keep free movement and the European Court of Human Rights. I'm not opening the champagne until it is triggered and I fear it may be in the cupboard a long time.
+10 Likes

enny
If we don't get what we voted for there will be RIOTS triggering a General Election. The British people would take their revenge at the ballot box.

lindacousins
The Champaign will come in useful for bartering,I feel the only change is on the markets.

Elibar
If bartering is what it takes to free us from the evil empire then that's fine by me. .... -LEAVE WHILE WE HAVE THE CHANCE !  IT`S NOW OR NEVER.

Cookyz
Whilst I agree with your sentimens "TrueBrit", I too voted leave. But alas I fear that although we won the referendum the Elite are just changing one Europhile PM with another (May). Pretty soon it will be business as usual. They'll just be a bit more clandestine in how they go about things.

MrAngry
Bring back Madame Guillotine for the traitors.

ByrneYes
Vive Madame Guillotine!

JanetWhite
Heaven help the people of Europe if this goes through, their mass immigration call has lead to the destruction of Europe.   ....
+10 Likes

CAMERONSEND
Turkey will turn europe muslim.
+9 Likes

Weep_For_The_UK
The younger generation voted to stay. And we all know how worldly wise they are. Most couldn't even be bothered to drag themselves out of their pits to vote.
Thank God the younger generation didn't get their own way.
I voted out to SAVE my grandchildren from islamification of the UK.
Getting our borders back is the first step to stop the biggest threat to our way of life since WWII.
+23 Likes

TrueBrit
Absolutely !  And who wants votes for 16 and 17 year olds ?  Get some worldly experience before voting, then the votes are given from the head instead of the heart.  Short-sighted voters who voted to remain won't have their idea of a europe very soon - because it will be just another muslim enclave.
+15 Likes

246ate
WOW !!! maybe the EU is still sleepwalking but just maybe the Germans have at last seen the writing on the wall !!!!   ....
+17 Likes

florence4
Turkey is one Evil Muslim country.
+22 Likes

boatman
And Cameron was the main supporter of getting Turkey into the EU, Until the referendum of course!
+17 Likes

Father Jack lives forever
 Andreas Scheuer......."London is threatening to leave."
I've got news for you matey.....London is not threatening, London is leaving!
+15 Likes

Weep_For_The_UK
Let's put some perspective into this. London is not the centre of the universe and it voted to REMAIN, because it is no longer English. It was the rest of the country that voted leave and London is clinging to our coat tails.

moonsong
There were still people in London that voted to leave and I am one of them, just because of all the foreigners that voted in the mayor voted to stay, doesn't mean that all Londoners voted to stay.

ByrneYes
Not with our money!!!!!!!!!!


Norfolkbumpkin
Ironically, once the summer recess is over and we finally have another PM in place and the dust has settled, Article 50 could be triggered on or about 11th November this year.   That would leave 24 months for the negotiations and therefore we would formally exit the EU on 11th November 2018 - 100 years after the formal end of the First World War.

FubarProjection
Im not going to hold my breath, the powers that be are evil really evil

Londonistani
The EU is going to destroy itself without any help from us. June 23rd was more than Britain's independence day, it was it's day of salvation.
+20 Likes

eddy Bear
It is year 3,000 AD already? Doesn't time fly.
+20 Likes

Satan`s Anus
Yes doesn`t it, but as THEY SAY, a week in politics is JUST LIKE a thousand years in the real world?!!

lifesforliving
12 years a slvae - remember the film - Brussels are re enacting the film - how many Bl ack (sorry) faces did you see in Brussels?

Patriotic defender
The EU are welcome to hordes of Turkish invasion. Under this onslaught the EU will finally buckle and collapse. This path of utter madness the EU is taking will lead to the mass distinction of the native European   
+16 Likes

johsom
Omer Celik said: "Turkey is a major European power.
NO ITS NOT!!! ITS NOT EVEN IN EUROPE IT'S IN THE MIDDLE EAST.
Turkey is a fascist, intolerant, bigoted TERRORIST supporting pariah state. They can keep their fascist racist population where they are.
+21 Likes

ifesforliving
destroyer of Naions and National identity

avid M
What a relief that must be for all the people who Voted for us to REMAIN in the EU.  Turkey was our worst nightmare given the way they would of poured into this country.  
+17 Likes

MikeG
Referring to the Brexit vote, Turkish EU minister Omer Celik said: "Turkey is a major European power.
Turkey is NOT a European nation. It's a Turkic nation. As far as I'm aware, Europeans did not originate on the Mongolian steppes as the Turks did.
Related Turkic nations are Azerbaijan, Uzbekistan, Turkmenistan, and a number of other "stans".
We do not share the same culture, history, or linguistic roots. Turkeys claim to being "European " is predicated solely on its ability to capture Constantinople and occupy that sliver of European territory. I fail to see how that overrides their origins.
+22 Likes

ibar
Yes and aya Sofia had call to prayer today after many years.

Captain-Nemo
....I would not like to be part of any "group" that grants Turkey legitimacy by allowing it to join. The nation is only a pretend democracy, corrupt and riddled with Islamists and crooks.
+21 Likes

cottish jock
...it saddens me 2 see STURGEON running around after these "  CROOKS " . SCOTLAND is better off as part of the U K , the snp  have " LOST " their reason for being when they LOST the " independence " referendum . HER antics in BRUSSELS  is a " DESPERATE  ATTEMPT "  to  show that " SHE " and her party will "BEG "  2 be part of  ...MAFIA . she has not spoke of that over a MILLION SCOTS voted LEAVE .    PS has " taken in " a family of " REFUGEES " yet as she said she would , or is SHE just another HYPOCRITE  POLITICIAN ?.    EX ,,,,,,,,,,,,,SNP ...............now UKIP .............
+20 Likes

bordererxxv
Well said.


RestoreDemocracyToBritainNow
Turkey doesn't follow 'rules' or 'processes' it just invades and demands and closes down all objections and rejections.  Witness what they did to their own press and it is currently bombing the Kurds.
The peoples of Europe had better get a move on for if they think Turkey is going to play by the rules and wait its turn politely then you are all completely and dangerously wrong.
Islam does not respect or recognise or understand democracy and all the freedoms and responsibilities it gives that people have a right to demand - Islam conquers it does not 'join'.
+16 Likes

ForestRunner
The power-mad dictators of Brussels are out of control.
+24 Likes

sammichon
Cameron has resigned, yet he carries on the office, and is allowed to do his fifth column work for Europe whilst he does so, he should go now, before he betrays us further still.
+26 Likes

greenleadergreenleader
Now we know Cam Moron was lying when he stated Turkey will not join the EU for 1000 years.
+27 Likes

right-writes
I seem to remember from my schooldays that Germany formed a strong relationship with Turkey some time back...
I believe it did not go too well.
+17 Likes

RestoreDemocracyToBritainNow
Islamic Turkey does not do democracy.
It does not accommodate free speech, free press, women's rights, child safety, human rights or any other beliefs or opinions - that's the kind of folk the EU wants to bring into the EU to run your lives Europe so if you don't want you or your children and future generations to be under the Sharia iron thumb then you had better get out of the EU project and get Sharia out of Europe.
This is not rocket science - it is inevitable because there is no sharing with Islam and it has no place in the Western world.
+19 Likes

barriedavies2
100% agree with you

Pluto9
Could not agree more....

anglefun
We all know that the EU wants Turkey to join them and will push it through regardless even though Cameron denies it. Either he is blind or he has a plan.
+20 Likes

ANDP
Cameron is just naive.

jaykay
NOT naive - deceitful, dishonest and treacherous to the last.

JBJB
"Turkey a major power in EUROPE". Somebody needs a lesson in geography.  Turkey is part of Asia and always has been.  Its also 99% Muslim. Tell me what countries in Europe have a majority Muslim population?   Europe will come to regret taking Turkey into the EU assuming the EU survives
+21 Likes

Airlie Bird
What do the mean threatening to leave, we have already voted to leave.
Get article 50 triggered now.
+24 Likes

ADavie
This is why Cameron is playing for time, so he can flood this country with Turkish Muslims. My opinion. He as been paid to do it.
+19 Likes

PleasantPeasant
I'd like to remind a few of the European expansionists of a couple of quotations which seem apt.
From 1968: ". It is like watching a nation busily engaged in heaping up its own funeral pyre"., and Denis Healey's First Law of Holes -- "When you're in a hole, STOP DIGGING"
A few Germans may be looking forward to Norman Foster putting a couple of Minarets on either side of the Bundestag dome so that their 'newest  friends' feel at home, but I doubt it's a popular wish.
Looks like we got out just in time!
+21 Likes


huddsman
But we're not out yet!


Eldever
What do they mean 'London is threatening to leave'?
We WILL be leaving, be in no doubt.

+24 Likes


indioutreach
So it is proved that what the Remainers called a lie by the Brexit campaigners DID have a strong basis in reality.
The same with the accusations of the  other two lies. The Remain politicians shouted liar before they read exactly what was said and why and jumped on the bandwagon that itself was a lie.
+24 Likes


saralisa
What are they talking about 'London is threatening to leave'?  We are leaving!
Apart from this I don't believe that Turkey is a european country.  Only 3% of Turkey is in Europe, the rest is in the Middle East.
+24 Likes


donnyboy
What this about U.K.leaving??we voted out and we would be if Ca moron would stop his delaying tactics and invoke article 50,come on you Britex's pile on the pressure,the longer the delay,the more time he and his fellow plotters to try and overturn the wishes of the majority
+23 Likes

Satan`s Anus
But that`s their plan, isn`t it?! Get those Govt.Petitions in and pressure your MPs.

Eldever
They will face the wrath of the people if they try to renege. They know we are watching closely.

Geordie C
Get us out quicker. Sign the petition;
"Repeal the 1972 European Communities Act immediately on EU Referendum OUT vote."


Eutraveller
...... strange is Scotland being dismissed and Turkey helped to join. Turkey fails on so many qualifications for membership.
+16 Likes


Bubblegum
Yea... The past 30 years (whilst in the EU) has been "wonderful"...   We had to 'take in' whoever come our way... No 'ifs' no 'but's'.... All part of the  "Multicultural  Enrichment"   Lots of overcrowded schools and hospital beds,  people living in doorways and under bridges,,    Criminals  that cannot be sent packing.    Austerity packages  cunning disguised to  look as if they have  'nothing to do with the detrimental cost of  Immigration....      Prisons  bursting at the seams with  thousands of  ethnic  criminals,
Housing waiting lists running at  10 years ..
A good example of this ' Enrichment '  can be seen  by the  story that I have every belief to be true and  authentic    'an indigenous young man who was given a flat after a 9 year wait on a housing list...   He went out and spent every penny he had on  things for his new home,     Then come the phone call  from the. Council.   " sorry we have got to withdraw the offer of accommodation as a family from Eastern Europe  have priority needs over 'yours " !!     He  refused to put the phone down until he was told of the  "urgent needs" of this ....family.      "They arrived  12 weeks ago  with several children"   come the reply..  
   " but how is that more pressing than my situation" he retorted    " I was born here, I am living on a settee at my mothers house"   
This is just one example  of the idiocy that has come about because of the HRA  (human rights act ).    a Nigerian come here with multiple illnesses and decided to find accommodation in the most prestigious area of London,   Has since had babies  and has cost - in excess - of £250,000 in housing and child benefits   Has never done a days work and costs the NHS £25,000 a year in treatment for her  HIV..  She cannot be deported because of the HRA. "A right to a family life  etc" .  ( Theresa May the prospective new prime minister )  has said she will  " keep "  the Human Rights act if she becomes PM.. Perhaps she should know about the Somalian family  who overshadows the Nigerian example   (above)  
These may seem  incidental examples  but 'accumulatively'   they are  reasons why we are being bled dry   With a  looming paralysis of our collapsing Social Security budget and the detrimental effect on our infrastructure ...  
Add the whole gambit together and the EU  the HRA  is a combined noose around our neck ...  We have got rid of one  now we need to get rid of the other....

The voice of sanity
The country cameron said won't be in for donkeys years,a bare faced lie,the Dutch vote ignored,another lie,the EU band wagon marches on.
+18 Likes

Scouse
Not for much longer.

janbee
the year 3000 was when Cammy said Turkey would be admitted to the eu. Wow, 3000 already? Time flies eh?


Oi you!
Here in Hungary the people are seething with anger at this . Hungary's border is the gateway to the middle east and since time immemorial the last ditch defense against the invading hoards of the Turks.  
They subjugated  the population for some 150 years  until being forced out with the help of her European allies.  NOW the eu in their wisdom have decided to ignore the wishes of the people of the Hungarian  to give  unfettered access  to this country once again, and they will be able to do sweet    f a . about it .    This country WILL be next to get out...watch this space.
+27 Likes


pingpong
Like this country here - we voted for out of the EU and we now have the remainers calling the shots, all against the wishes of the people. You can see the way they are carrying one – they've forgotten about us, to them we are mere irritants, like fly or a gnat.
The only way is to push for an election and then make a clean sweep - vote these sheisters out and vote in a new government from the people for the people.
+15 Likes


Oi you!
Exactly, The ONLY guy who has been consistent in  telling the TRUTH is Mr Farage . He is a beacon of hope and should be your next PM


anti EU
London now has a Minority of British people, so it doesn't represent how the rest of the UK would vote, as we have seen.
+17 Likes

tabitha
That it is the problem.

sammichon
Unfortunately, It increases the possibility of civil war,


olfen
Turkey made its claim in 1999, negotiations started in 2005.
They negotiate about 35 chapters, one is finished, 14 chapters negotiations are going on, 20 even not started.
Dont think there will be many Turks sitting on Trafalgar square next hundred years
-12 Dislikes


anti EU
Plenty of them in London already.
+16 Likes

Ivor Koph
There are already 500,000 in the UK according to the 2011 census and most of them live in about 5 boroughs in the North of London.
Trying driving through there when Turkey are playing football, it is very intimidating with all the flags flying from houses and cars. Really not sure how many would salute our flag and defend it.
ABB is no longer Anybody but Boris but it is now Avoid Brexit Betrayal.
+16 Likes

spike123
What the EU wants ... The EU gets ..... They make the rules , Its their decision . And if they want to bend the rules they will . Turkey could be a member as early as next year or even before that .
They "need Turkey" . They told us its because they help with migrants .. Which is an insult as they killed thousands of Syrians by assisting ISIS . They need Turkey to Cut the borders off from other countries there, and they are sitting right on top of them ,
The USA loves this, as they have bases in Turkey .

Mike
Turkey is "a major European power"? Back to school for me then, I always thought about 1% was in Europe!
+20 Likes


Freddy
Number one, Britain isnt 'thinking' about leaving the EU they have already left. Hello.
Secondly Turkey is about as 'European' as a Martian living in a tent in Timbucktoo ! Hello.
+23 Likes


tlhuerth
There are always two sides that have to be looked upon if you are reasonable. To talk with Turkey is not bad at all, especially if you want to change Turkey into a true democracy which regards human rights and standards that we take for granted. I don't condemn talking with Turkey at all because it is better than starting confrontation.
-15 Dislike

Freddy
To change Turkey into a democracy would take until the year 3000!! Corruption is endemic and a way of life for them ... Turkey rather than being allowed into a 'European' club, which it clearly isnt, Turkey should start a 'Muslim' union along with its neighbours Syria, Iraq and Saudi amongst others and trade with the EU, but absolutely under no circumstances have freedom of movement.
+15 Likes

tlhuerth
But it is worth a try, isn't it?
-13 Dislike

Alfra
No. Look what's happened in every other muslim country that we've interfered in.
Muslims do not recognise democracy, and never will as they are all controlled by an Islamic regime.
+12 Likes

spike123
Tell that to the Kurds women children that they burn on a daily bases , Or the Syrian intervention , Or the Russian family of the jet pilot they downed and killed , Come off it . They want to sort their own house out before they want to expand their ways on others .. No way .

denzilbell
Your heart is obviously in the right place and I don't condemn you for that, but, Turkey will never be a democracy as we know it because it is not in the Muslim psyche.


spike123
Well I hope in a way they do start making steps to join . This will then hopefully put the stayers arguments to bed and truly expose Camoron for what he really is . I can not see how a man who has stepped down . Gets to pick his successor . Its up to the people to decide who is minister . Not Camoron who has Brought us to our knees . None of his policies should be carried over . And free movement must be stopped . No deal .

Jonna
They're all traitors to the people of Europe the lot of them. .... This has been plotted from day dot.
Since when is Turkey European?? Simple Geography tells you they are not. This is all backed by the Saudis as they want to rule with there barbaric Sharia.
Only man remotely capable, trustworthy and decent enough to fullfil the British people's wishes in Nigel Farage.
+13 Likes

Satan`s Anus
``There are also questions over whether Turkey can match EU standards on corruption, data protection, Europol, judicial co-operation and terror legislation``... LOL?!!!!
Well as ISIS can match EU `Standards,` then it`ll be a walk in the park for Turkey!
+16 Likes


Gobledegook
Yes.. Satan....  You are quite right     Turkey  has got to come up to EU standards  before it is  admitted to that Madhouse Club...    
You give some excellent examples of the struggle that Turkey will have...  LOL !!
However,   just imagine for a moment  what Edinborough    Glasgow and Dundee might look like  ten years from now if Krankie is successful  in her quest to stay attached to the EU now that  it's  breadwinner has exited it's clutches ...
This has nothing to do with  the Colour or ethnicity of Turkey  nor anything else,   
No! This is all to do with the onward march of hundreds of millions of people from every corner of the World  into a European land mass   that is showing signs of   'INFRASTRUCTURAL  FATIGUE' !
 Scotland seems hell bent on going down the same road as  Luton, London, Birmingham and Leicester...  

Satan`s Anus
Krankie & Salmond`s hatred of the English, England and the UK would ordinarily count as a `crime`, BUT as its against the most despised ethnic group in Europe if not the world these days that`s perfectly okay .. hence their raison d`etre to split and join the totally corrupt megalomaniacs in Brussels. Interestingly, many Scots don`t want this at all, its just the `leaders` being treacherous and continuing their hate wars of times gone by and as taught in schools up there.

But they seem to want to cut off their noses to spite their faces still, little realising or accepting the fact that the money that leaves England for Brussels each day and redistributed to others, after the Technocrats have taken their cut obviously, that simply won`t be there any more, so what are they expecting to get from the ever diminishing EU corruption slush pot in exchange for trashing their lands with ill suited immigrants? They`d get next to nothing and would be in a worse place than they are now!

But that`s blind hatred for you..


denzilbell
I agree, I am Scottish and in no way do I support these bigoted and dangerous people. I have always asked the question why do they want independence from Westminster only to want to be ruled by Brussels, it just doesn't make sense. As for their hatred of the English, they are just parochial wee scunners with ideas above their station. I was brought up in a mining village and a lot of the miners were from England, everyone got on and there was no such thing as hatred amongst  them. Banter yes over perhaps the annual international football match but that's all it was. I then joined the Navy and being based down South and unable to travel home at weekends I was often invited by my English mates to visit their homes. All I ever got from the English was hospitality and I will have nothing said against them.


MrAngryModded
Turkey is a Muslim country. It can never come up to our standards.  All it will do is continue the war against us:
"youtube.com/watch?v=t_Qpy0mXg8Y"


Robin Nixon
"London is threatening to leave" - I beg your pardon? Is that how Germany views the current state of Brexit, simply a threat?
+15 Likes

Satan`s Anus
Alas technically he`s right, it was a vote only. Now there`s more horsetrading and shenannigans going on in the background than at a Clinton fairground; We`re not out yet by a long, long way as we`ve more traitors in Parliament and The Establishment than you can shake a stick at.
+16 Likes

Gobledegook
We'll   Yes !     Again you are right in what you say...    Our Home Secretary    - Discounting her  faults  of  failing to get  most things past our judiciary -   Is quite a hard working MP     If pressed  - as our future Prime Minister -  She'd  be  the Lady  to  change the rules by legislation...  But she is a  Remainiac  at heart   And may become compliant to a bit of arm twisting from  people with a lot of power  well  above he political station...    Just saying ....   We really need a Brexiter ..

Bubblegum
Below !! Yes  again  I totally agree..  Whilst  our present Home Secretary may be  looming as our Prime Minster  she may not be able to release her worth  or change much  if she cannot  remove the shackles that bind her to her  many years as a servant of the  Greater Tory  directive !!    In effect our much fought  exit from the EU may come to nothing !!        However,  there is something else to consider here...  'Theresa May    Could  leap out of the fire   Quite easily   And become one of us.    Maybe she has been held in chains for too long and needs to flex her wings.. If she did that   She may become one of the legendary politician's ....

sakonjim
Just hark the wise words from Nigel Farage, everything that has happened with the odious union in past ten years was forecast by Sir Nigel.
+20 Likes

onyButler
.... As for Theresa May, she advocates allowing EU Courts to unlawfully hold power over Britain's,  via its Human Rights Act that bars us from deporting foreign criminals and terrorists.
This court could rule that refusing Turkish immigrants is unlawful.
Angela Leason,  yes, she is pro Brexit, as so a much more sensible choice.

London11
Merely in order to ensure we promote the right person.
Andrea Leadsom for PM!!

Bubblegum
Totally agreed.   And she is a 100% Brixiter   A breath of fresh air

imasumak
The EU doesn't care who the nation is, how criminal and corrupt it is, the EU needs countries to form it's Superstate Financial Dictatorship. Turkey is a Dictatorship joining the EU Dictatorship. That should be very interesting indeed. But at the end of the day, it's all about Money and Power. Since the EU knows that it is collapsing it will take any countries it can get.
However it's collapse is already in motion and nothing can save it. Thank God for that! It is the would be Dragon which St. George and the British people and the members preparing to leave are going to KILL!


snoekie
... were not the Turks German allies, so now theyare being rewarded that she is the leader of Europe, soon to be Europlstan and she demoted to the area designated to women by the faith..

Prayd
That's a hefty ransom to pay a blackmailer. This from a country wanting accession to the club it is blackmailing.
Strange bedfellows indeed, fighting for the bragging rights as to who is the most corrupt. I hope they have many more billions in the pot because the coastline of Egypt is as porous as a tennis racquet.

avidAustralia
When I had a westernised relative of the S hah of P ersia stay with me on English Bay, in C anada, mid 1960's, neither of us had read his holy book: or it may not have happened. The majority faith of most C ontinentals is not governed by the NT (bible) but one to suit R  o me s empire bldg: with force used to encourage converts: not NT free will; love joy peace. Around 600AD this change took place, & was copied by the founder of the faith now dominant in T urkey:f orce also used. The experience of history incl the p artition of I ndia by the British R aj surely proves that if cancer hadn' t been able to disguise itself from my i mmune system, I would not have had to have 7 cm of it chemoed out of my stomach! Or if it had not been on a lymph cell, I would not still be able to try to express concern of the twin d a ngers of a two faced R o  man P M (T heresa) & another faith conning it s way into Aust already building huge worship centres for when they take over. She is a classic case of why her mob were once barred from pos of authority in UK.


DC007
Socialists, their "solution" was to bribe Turkey to hold back the hordes.  Now, big surprise, Turkey wants more.  
It's time for the common people to aggressively take their countries back.
+23 Likes

patriot1943
Muslims want to dominate the world and all these stupid PC western leaders are handing it to them when they put out the welcome mat out.
+26 Likes

AJAX
INITIATE ARTICLE 50 - NOW!
+25 Likes

regpow
Ha ha Turkey will take back 100,000 asylum seekers and give us 10 million Turks.
+23 Likes

Ronnie Pickering
79 million.


regpow
Ha ha Turkey will take back 100,000 asylum seekers and give us 10 million Turks.
ReplyShare1 reply+23

3 days ago
Ronnie Pickering
79 million.

amieMillar
...you have made mistake after mistake by adding Turkey you are threatening the people of  Europe with the reemergence of the Ottoman Empire
making the same mistake Ancient China made when making friends with the Mongols when will you EU Robber Barons ever learn!!!
+19 Likes

Cynical1
"Europe needs a fresh start and a fresh vision and will have to include Turkey."
I fail to see the connection? Why on earth will it 'have' to include Turkey, that's bull***t!
Accelerating Turkeys admission to the EU is just treating the symptoms of the problem, it is not a permanent solution to the migration problem. Besides, the earliest we will leave the EU is looking to be another three years. if they are trying to bully their way in now,  they are going to be a nightmare once in!
I really hope we do leave. My fear is that a lot of changes to the EU will take place that we would otherwise have vetoed and then our feckless politicians will keep us in.


Cynical1
"Europe needs a fresh start and a fresh vision and will have to include Turkey."
I fail to see the connection? Why on earth will it 'have' to include Turkey, that's bull***t!
Accelerating Turkeys admission to the EU is just treating the symptoms of the problem, it is not a permanent solution to the migration problem. Besides, the earliest we will leave the EU is looking to be another three years.
if they are trying to bully their way in now,  they are going to be a nightmare once in !
I really hope we do leave. My fear is that a lot of changes to the EU will take place that we would otherwise have vetoed and then our feckless politicians will keep us in.


Islington
Turkey was buying oil off the bad guys so even if the good guys knew the coo they may have said nothing Now it is going to suffer as no normal person is going to risk going there.

mukarram82
When you have to go to inside the  TURKEY for holidays then it is safe, when TURKEY has to join EU then it is UNSAFE.... What a hypocracy
-8 Dislike

Zibbe961
If hypocracy means protecting what remains of your own culture then call me a hypocrite. Rather that than being outbred in your own country by Muslims.
If you can't see the problem with that then why should I care what you think?
+9 Likes

mukarram82
yea if TURKEY says we wud invest 100 billion every year in UK, then all wud be fine and perfect...

toussaint
Obama already agreed years ago Turkey joining EU.It's an old member of NATO ....
-6 Dislike

TegD
...had already promised Erdogan fast track EU membership. There was no U TURN.... it was all arranged before we voted. THANK GOD WE HAVE LEFT the hellish EU.
+20 Likes

MrAngryModded
We still need to get out...
+19 Likes

robinhoodlegend
European??? ....Turkey is 98% mus lim......oh I forgot....Merkel  'Is lam belongs to Germany' Federica (EU security) political Is lam should be part of Europe (that's the sharia)...Teresa May 'many British people "benefit a great deal" from the guidance offered by Sharia teaching'...... Looks like its an EU super state with the sharia then folks.....what these three idiots fail to realize is they won't even be allowed a voice as women when they get what there pushing for.
+15 Likes

MrAngryModded
Only part of Istanbul is in Europe. Most of Turkey is in Asia but that is an inconvenient fact for the controllers of the EU.
+14 Likes

Mick
We were told before the referendum that this fast tracking of Turkey was scaremongering. Looks like cold reality now.
+17  Likes


mukarram82
why everyone loves to travel to Turkey for Holidays if TURKEY is so bad ?
-14 Dislike

PhilCo58
Being friendly is one thing, it doesn't mean we want to get married!
+13 Likes

Arise Sir Duck
Turkey isn't bad.  That still doesn't make it part of Europe. Or mean that it is in any way compatible with European culture.


MrAngry
'Brussels hasn't heard the wake up call'
They have heard it and chosen to ignore it.
+18 Likes

Mick
As usual.


MrsPoldark
How on earth can Turkey be a 'major European power' when they aren't even in the EU?
Besides which, if they are that major, how come they are always coming begging to us, and why are we always being made responsible for them?
Oh and we are not THREATENING to leave. We are leaving.
+18 Likes


BeppeSapone
At least the Turks will migrate to Germany.... we are well out of it.
+15 Likes

DavyCrockett
One day the EU will collapse of its own arrogance, and the sooner the better.
+21 Likes

psibernaut
Don't fall for the trap that is Article 50 of the Lisbon Treaty.
Help get us out of the EU by getting everyone you know to sign the petition to repeal the 1972 European Communities Act here :
petition.parliament.uk/petitions/125333
Please spread the word.
+16 Likes


egD
Also... and even quicker 'exit' (overnight... legally):
What the government and media don't want you to know; signand spread the word:
https://petition.parliament.uk/petitions/125333


TegD
up to thirteen thousand signatures already. Have you signed>
ReplyShare+8

janbee
signed, thank you


Putins Dog
The EUSSR seems determined to destabilize Europe and destroy its culture, national identity's and religion.
+16 Likes


Hero1972
Breaking news..... The el1te are in a panic after the Wales massive win......
Shares in Brussel Sprouts have dropped......

aelfwald
Don't get excited folks. We Aren't out of the madhouse yet and those Brussels Sprouts will taking advantage of our absence to do all kinds of nasty federalist things.
+15 Likes

Exlancslad
Turkey was not the only ones Cameron did a U turn on, had he won the referendum no doubt he would have thrown his full weight behind their membership, he was happy to tell any lie to get his own way.
+19 Likes

mistermac
The EU will attempt to honour its previous agreement with Turkey and eight other muslim countries - that they will have full and unlimited access to Europe.This is what Cameron tried to hide, so do not trust Brussels !! Read -  balder.org/avisartikler/Barcelona-Declaration-Euro-Mediterranean-English.php.
+19 Likes

ConstantinetheGreat
Turkey is not a European power. Turkey is ....insane .... The arrogance of Turkey is astounding. Turkey is acting like the former Ottoman Empire; and obviously would love to enslave the Balkans and Greece again. Erdogan wants his white Eunuchs to serve him.
+17 Likes

Faith
Indeed he does - he said he wanted to become the next Sultan.

janbee
did he mean sultan or satan?


OUT NOW!!!
googel The COUDENHOVE-KALERGI  Plan and the The NEW WORLD ORDER.....................WAKE UP!!!.......read it and weep!!!
The EU is pushing their plan forward at speed before other countries gets the hell out of the madness. Its all to do with the  g.e.n.o.c.i.d.e. of the white Europen
+22  Likes

mistermac
Absolutely true !!

Faith
Stop panicking the peasants are waking up very slowly I will admit, IF they try to integrate to the extent you suggest, now that the cat is out of the bag so to speak.  I fear they will not have a bunker deep enough in which to hide. The Arab Spring will look like a children's tea party compared to the Tsunami that will await the EU elite.


The ungagged
 ""Turkey is a major European power"
Which part is that ? Only 10% is in Europe. the rest is in Asia.
They are "flabbergasted" that CaMoron said they would not join until the year 3000. That after SECRETLY spending 675 MILLION of taxpayers money on accelerating their joining.
According to the remain group, only the LEAVE group told lies.
Well the LEAVE group got this one right didn't they ?
+22 Likes

John Longstride
To hear a "wake-up call" one first has to be listening ?
+15 Likes

GAW
When would the EU ever hear a wake-up call? Reminds me of that story about Nero fiddling while Rome burned!
+17 Liksssssssss

PeterJ
I hope that we have stopped spending the £2 billion to accelerate the entry of Turkey into the EU, I never understood why Britain was spending this money in the first place, surely this should have been the EU's responsibility?
Anyway, this should be stopped immediately!
+16 Likes

mistermac
This was agreed by Cameron. Please read my comment above.

lorro1216
Good thing we didn't listen to Dodgy Dave , Turkey joining in the year 3000. Just got to stop James May's mother from getting in and completely fu##ing it up
+13 Likes

Red Tick Allert
We need to jump back in time and the original cast make a film called "Carry on Europe".

AlunJones
Check out Coudenhave  Kalgeri  I thought this was a conspiracy theorist thing and I laughed at people who told me of this ,I'm not laughing now nor should citizens of the world
+15 Likes

mistermac
Well said.

Justice4us
https://petition.parliament.uk/petitions/125333
Please sign and then spread the word. Government and media don't want you to know about it.


Christiana
Well many of the fears raised by Project Fear have failed to materialise yet at any rate but it it seems that many fo the issues raised by Nigel Farage - in particular Turkey and mass immigration are here to stay.  They aren't something that is negotiable, they a crucial part of ... future plans for Europe.
+16 Likes

TegD
Spot on. Nigel Farage has NOT LIED to the British people ONCE
-- unlike Cameron, Osborne etc. who have done so throughout. (Especially MAY... who must NOT be next PM).

Mrnewsreader
You would be better change your religion if you invite that country in, they will breed you out like fly`s.

pi_gal
They need Turkey's money to fill the hole left by the UK so the village idiots in Brussels can continue their lives of hot diggity dog fun and fab.

Red Tick Allert
Turkey is skint.

TegD
Everyone except Erdogan -- with his billion pound palace with gold taps.  

TegD
What money? Turkey will TAKE not give. Just been given another 2 BILLION POUNDS today -- making 5 Billion this year by the EU. They are parasites.

X CITIZEN of EUSSR
Just as Bexiteers warned, the EUSSR does as it wants, it is totally out of control !
+29 Likes

jivebunny
as is the MPs who supported remain in the EU referendum who now have the cheek to put themselves forward to be the new leader of the Tory party
+15 Likes

ThanksToLeave
Well with the political elite as the subject I would say outrage is quite mild mannered and timid.

ooyahdevil
Insanity.  Turkey is not European and even worse it is full of the people of the 'peaceful religion' of conquest that evidently thrives on killing, torturing and raping.
+19 Likes

ivebunny
dont worry the people of Turkey have a word with the new leader of the tory party...

a person
Trigger 50 .We need a staunch Brexiteer for PM.
+22 Likes

Wig
We certainly do not need that pretender...April, May or June ... or whatever is convenient to her at the time.
+12 Likes

3 days ago
ThanksToLeave
They will try anything.


ThanksToLeave
Or repeal the European Communities Act 1972, whichever leads to a quicker OUT.

Frantic
Wake up call? If you really believe that after years of planning, wars , splitting whole countries apart and money invested in creating the EU, they will allow 17.5 million Brits to break this up?
This leave vote is smokescreen. Gove will drop out of the race and allow May , a remain supporter to control talks. All planned .

davidl
utter tripe

Frantic
Is Tripe Halal though?

Mrsgin
"London is threatening to leave". Threatening! We Are leaving. Have they not realised this yet?
+20 Likes

a person
Maybe they are being told otherwise?!

OrangePansy
That is what I was thinking, why are they thinking we are just ''threatening'' ?
+11 Likes

jivebunny
well as most of London do not speak english that could explain all this

jivebunny
it seems most of the country do not seem to accept the democratic vote even the politicians

Ash123
Same thing never changes. Liars.

flyonthewall
But dodgy Dave said that Turkey joining the EU would never happen!
+ 23 Likes

SerendipityToo
His argument would probably be that it's Brexit's fault. Just like Osbourne not being able to achieve his fanciful targets.

(../..)

---------------------------------------------------------------------------------------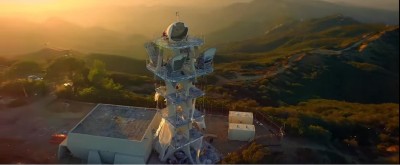 https://www.youtube.com/watch?v=e12KryuLcbs
("Wake Up !", by Vamps - 2015,
Comp. the Song's Lyrics at : http://www.azlyrics.com/lyrics/vamps/wakeup.html)
***

BRIEF NEWS
00:00 - 26.12.2017

00:00 - 26.05.2017

00:00 - 30.01.2017

00:00 - 14.10.2016

00:00 - 24.09.2016

00:00 - 27.07.2016

00:00 - 03.07.2016

00:00 - 01.06.2016

00:00 - 12.02.2016
Statistics
Посетителей: 27178579
Archive
Login Form
Other Menu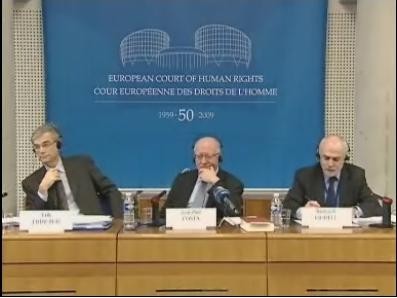 ECHR's President to "EuroFora" on Journalists Gongadze and Adali murders : Principles must apply to all States, without discrimination.

+ ECHR's Statistics on Freedom of Expression (See below).

 European Court of Human Rights' President, Jean-Paul Costa, questioned by "EuroFora" on Journalists' murders, as in Gongadze and Adali's cases etc., strongly stressed all CoE Member States' obligation to make efficient Investigations to find and punish those responsible, and underlined that ECHR's case-law's principles must apply to all without any discrimination.

His call was clearly supported by various Top MEPs who denounced a risk of "Double Standards" if some Journalists' murders are investigated, while others don't.

To avoid such risks, CoE's Parliamentary Assembly adopted a Resolution, on the occasion of Ukranian Journalist Gongadze's murder, "stressing", as a matter of general Principle, "the importance it attaches to the safety of Journalists and political activists, especially those linked to opposition groups, in ALL member states of the CoE". All "crimes against journalists and political activists must be investigated ... as a matter of priority, without political interference".

Costa was replying to "EuroFora"s question on the fact that, after CoE's Committee of Ministers, also CoE's Assembly had just adopted a Resolution on Gongadze murder case, based on an ECHR's judgement of 2005, asking a full Investigation from Ukraine, who has found and condemned  in 10 years of jail 2 executants, but not yet the instigators.

While nothing similar was yet done for dissident Turkish Cypriot Kutlu Adali's murder, with 5 bullets shot at his head out of his Family's home in the territories of Cyprus occupied by Ankara's army, despite another ECHR's judgement of the same year 2005, and despite Turkey's claim that nobody was found among those responsible for the murder, and that there was nothing more to do..

In order to be credible and efficient, CoE's mechanisms shouldn't find a way to at least ask for full investigations of all Journalists' murders anywhere they might be committed, without exceptions ?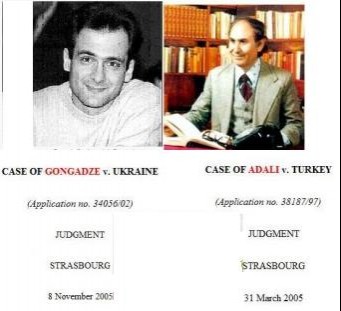 - "On the larger question that you raised, I'd like to say, since we are in a period of stock-taking on ECHR's 50 Years, that the Court's case-law developed certain concepts ....such as the Positive obligations of States, part of which are also the procedural obligations", started to reply ECHR's President.

 - "Whenever Journalists, Lawyers, Defenders of Human Rights, or even simple Citizens are murdered, the States are held responsible, not only if its their own security forces' agents who committed these murders, but also if they didn't make sufficiently substantial and efficient Investigations", he stressed.

- "I want to strongly underline that we (ECHR) have found in many cases numerous violations of Articles 2 and 3 against States, ....(about) murders or torture, ...because they didn't make enough Investigations in order to try to find and punish those responsible".

- "We (ECHR) do that vis-a-vis all 47 (CoE) Member States, without any discrimination".

"Naturally, the circumstances in each particular case may be differend, and we can't ommit to apply the rules of proof, or the rules of criminal procedure".

"But we try, by all means, to apply these principles of our case-law, to all States", he concluded.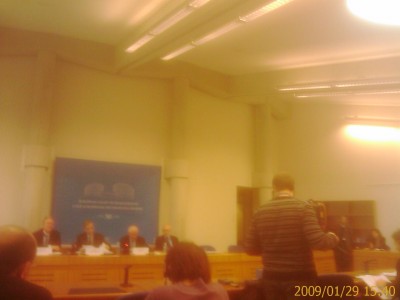 Costa's call was strongly supported by several Top CoE MEPs, from various Political areas

- "To investigate the murder of one Journalist, and not of another, looks like Double Standards", denounced the President of EuroLeft Group in CoE's Assembly, Dutch MEP Tiny Cox.  

- "What is the reason ? Politics or specificity of a case ? Of course, if Cyprus and Turkey are involved, it's always a Political case"..

- "Murders of Journalists should always be fully investigated, because killing Journalists is not only killing persons, but also killing Free Press".  "We (CoE's Assembly) should do our outmost to help People who are working on Free Press and they are under threat or murdered".

Because for Free Politics, Free Press is a pre-requisitive : Parliamentarians  cannot  function without a Free Press. Not investigating, is not protecting ourselves".

So we should investigate all Journalists' murders : We are talking about Gongadze, about the Cypriot man (Adali), about the Journalist murdered in Moscow one week ago, etc", Cox concluded

- "CoE can' look at these cases differently. CoE can't wear Blinckers  !".
- "If the one is investigated, so has to be also the other. Why there wasn't full investigation ? Why's that ?", wondered British  Socialist MEP, Alan Meale.

- "A good idea" would be to "make a Motion for Resolution", and "join all Journalists' murders. Adali and Gongadze etc", said to "EuroFora" EU Parliament Political affairs Committee's President, Goran Lindbland, ChristianDemocrat MEP from Sweden.


(See also earlier News at "EuroFora" on similar issues).
-------------------------------

ECHR's Statistics on Freedom of Expression :

    Almost Half of condemnations by ECHR for violations of Freedom of Expression in 2008, concern Turkey : 20 out of a total of 48 for all CoE's Member States.

    Russia, Poland, France and Moldova were condemned only 3 times. Romania, Greece, Portugal, 2 times, and the other CoE Member States only 1 time, or none.
--------------------
    During the last Decade : 1998 - 2008, Turkey was condemned for violating Freedom of Expression in ..169 cases, while Austria only in 24.

    France and Moldova in 14 and 13, respectively, closely followed by Russia and Poland with 11 and 10, respectively. The rest of CoE Member States had less than ten condemnations.    
    


Polls