Home

newsitems

EUROCORPS+ISAF Chief of Staff General Bavinchove to EuroFora:Afghanistan test boosts dual capacities
EUROCORPS+ISAF Chief of Staff General Bavinchove to EuroFora:Afghanistan test boosts dual capacities
Wednesday, 19 December 2012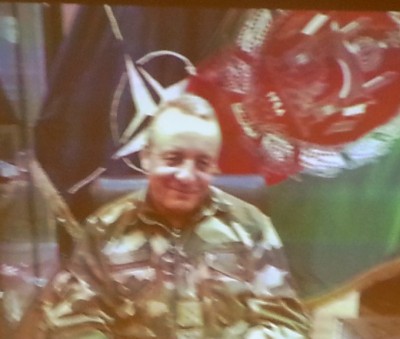 *Strasbourg/Press Club/Angelo Marcopolo/- Speaking via a Tele-Conference from Kabul to Strasbourg, EUROCORPS' Commander, who serves now also as Chief of Staff at the International Force for Afghanistan (ISAF), General Olivier de Bavinchove (France), replied to "EuroFora"s Questions on that unique Multi-National force's potential role in forthcoming developments of EU's Security and Defence policy, while praising also its "Dual", or "Civilian-Military" capacities, (composed by German, French, Spanish, Belgian and Luxembourg full Members, to which was recently added also Poland, as well as several other EU Countries' "Liaison Officers", and able to Mobitor Pluri-modal, Air-Land-Sea, Military, Peace-keeping or Humanitarian operations), at the eve of a January 2013 exceptional European event, currently prepared at its Headquarters in Strasbourg, to celebrate the completion of its Return from a succesful but challenging Top Mission in Central Asia, as well as the 20th and 50th Anniversaries since the creation of such a tool, and since the Franco-German Treaty "of Elysée" which made it possible, respectively (See Infra).
------------------------------------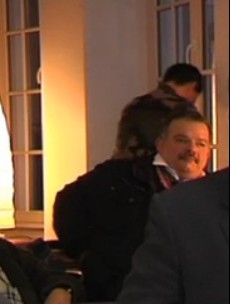 - "EuroFora" observed that ,"Recently, in (the latest EU Summit) in Brussels, interesting developments on EU Security and Defence policy re-started, and you (EUROCORPS and ISAF's Chief of Joint Staff) are at the Heart of all this : EUROCORPS was already twice in Afghanistan, and your (current) Mission is the most important, as more strategic, concluding and high-ranked".

=> Thus, - "Do you sincerely feel that your Experience, both personal and of all (EUROCORPS) officers working together, would usefully serve in the Futiure, also in various other, differend Missions, that you might have at EU's Neighbourhood or elsewhere in the World ?", "EuroFora" asked General de Bavinchove.

- "Because there is recently much talk about such possible developments, precisely from next year : 2013, as if some might be timely waiting for your return" back to Europe, we explained.
------------------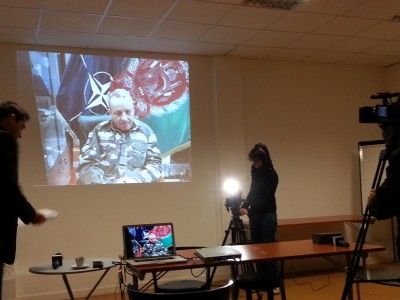 +  "We'll celebrate EUROCORPS' 20th Anniversary, soon in Strasbourg, on the 31st of January 2013), together with the Mayor (Senator Ries) and the Defence Ministers of all EUROCORPS' Countries, who will come there, etc, anounced from the outset, in reply to "EuroFora"s question, its experienced Commander, and currently also ISAF's Chief of Staff.

 - When "(French) President Mitterand and (German) Chancellor Kohl hade decided to create EUROCORPS, 20 years ago, this was part of a Vision for Europe as a (World) power, able to defend itself", reminded, in this regard, General de Bavinchove,

 - "And, I think that this Tool, EUROCORPS, after 20 Years of Experience, even in Afghanistan and various other areas in the World, demonstrates that the idea which was behind its creation, was well-founded", he stressed.

- "The Principles set up since EUROCORPS' creation, Inter-Allies' principles, were very fast joined also by Spain, by Belgium and Luxembourg, etc., and now also by Poland", (in addition to "Liaison Officers" sent to Strasbourg's EUROCORPS Headquarters also by various other countries).

- What our action here (in Afghanistan) also shows is that, with EUROCORPS we already have an immediately Operational (effective) Tool, while we also proved that we can master NATO's procedures, .. i.e. a Commanding Unit able to be projected iat a specified area, in the framework of a Coalition, and to use All the means and processes used by NATO in order to act. It's also for the European Union, a tool which has equivalent capabilities", he added.

- "But, above all, there are 2 Essential elements, which constitute EUROCORPS' main Force, and which cannot be found in any other European Military grouping Today, neither in 2012 nor in 2013" :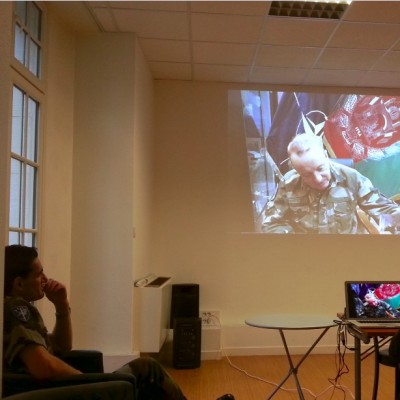 - "It's a Multi-Nationality" dimension, "both in terms of Proportion, f.ex. between French, German, Spanish, Polish, Belgian, etc., who Work Together  every day, Fight together everyday, Planify together everyday, Speak to eachother every day, and thus demonstrate, everyday, that they speak the same Language, share the same Values, dispose the same Capabilities, and that they are Motivated by one and same, common Ideal".

- "And this, even in Long-term Operational plans, here (i.e. also in Afghanistan), inside a Coalition which is mainly directed by our American Friends and Allies, cannot pass without being noticed", particularly when we've "seen that Power of Building this Tool, that represents EUROCORPS, in terms of Mastering Capabilities, and of working (also) inside NATO, in terms of capacity to work together, among Officers from many differend (EU) Countries, and by mastering a certain number of Values, which are extremely Important, particularly when it comes about working for the benefit of a Third Country, as it's the case in Afghanistan".

=> So, "I think that, in the forthcoming 20 Years, there is no room for anything else than EUROCORPS, and this wil be soon explained and demonstrated also at a Political level", the experienced Top General pleaded.

- "Also because, during a period in which we face Financial and Economic difficulties, everybody can see that this Tool (EUROCORPS) proved to be a well-founded, Good Idea ,  now established and also put in practice. And realize that, when it comes to consider the Next 20 Years, and what actions should be undertaken, in order to make it even more Performant and even more Able to fullfil the Political Missions to which we (EUROCORPS) are committed".

- "That''s which made the greatest impression to me, during this EUROCORPS' deployment (in Afghanistan), which I followed since it arrived here, last January (2012), i.e. 2 Months after my own arrival earlier, it was set up, undertook Responsibilities, and fullfiled them, doing its job remarkably well".

- So that, today, it's difficult for me to tell if I'm speaking to a French or to a German or to a Spanish Officer, etc., since, what counts in reality is that I'm adressing myself to an (EUROCORPS') Officer who knows how to do his job, and does it well, according to the directives that he's been given, his national origins having passed, somehow, to the background, and it's his Competence, his Ability to work together, in a Multi-National context, which makes the difference", General de Bavinchov concluded on this point.

------------
+ - At some brief introductory remarks, "You have already evoked, my General, in addition to the purely Military aspects (of EUROCORPS' Tasks), also Intelligence, Logistics, a part of Rule of Law including Law Enforcement, Education, (Economic and Communication) Infrastructures, etc", "EuroFora" went on to observe also.  

-"There is much talk, Today, of what is called the "Dual" aspect of Defence", (i.e. both Military and Civic, etc). "Do you think that, your Experience, in this domain too, which seems of particular importance at this moment, could develop further this Dual, Civilian-Military aspects at the same moment, as integral parts of an efficient, overall Security and Defence Policy ?", we asked ISAF's Chief of Joint Staff.
-----------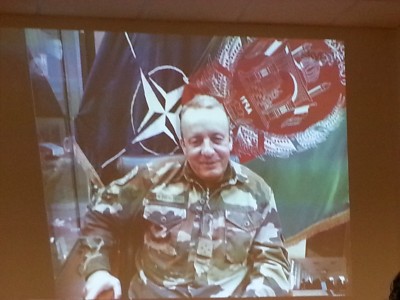 - "It's absolutely Essential, what you call as "Dual" aspects, alias known also as "Inter-Agency". -"It's of Vital Importance !", EUROCORPS' Head stressed from the outset in reply to "EuroFora's" 2nd Question.

 - "Soldiers were very much requested, during these Decades, in all Countries : American, Brittish, French, German, etc., to act in various domains in which they weren't often prepared to act,

+ "But we have, in all European Countries, such capacities, such competences and initiatives. There is very much talk about what is called a "Comprehensive Approach", that is to say the Integration in the Qualifications of these components, which are more Civilian-Military than Militaro-Civilian, and I'm a strong Supporter of that", as he pointed out.

+ In this regard, "EUROCORPS has a unique Chance to be (Headquartered) in Strasbourg, because it's in a big European Capital" city, "where are also located several Great Academic Institutions, f.ex. a School of Political Sciences, the ENA (prestigious French University for the Highest level of Public Administrations, progressively opening also towards Franco-German, panEuropean and even International Education and Training on Governance), but also an important Political presence f.ex. through EU Parliament, the CoE, many Permanent Representations, Consulates, etc. of various European and other Countries, and, being inside such a great City, we (EUROCORPS) have already started to develop relations, already since my predecessor, with all these big Institutions, and we shall continue to do so,

    - Simply "because the Operations of Tomorrow, at whatever Area and Moment we might intervene, are operations placed under the Aims of "Security, Governance, and Development, in the framework of which are absolutely required also several very Specific Know-how (expertise), at various degrees, right from the start :

    - "That's of Fundamental Importance, and has already started to be organized, f.ex. inside the U.S. Army that I can see here, i.e. this kind of Civilian-Military Integration, via one of their own Administrative Processes, with a System of contracts, etc..

    - "At any case, EUROCORPS must be, from this point of view, not only a Laboratory, but also a Tool which will allow to Develop this Integration, and this insertion of Competences and Experiences inside it, in order to be able, in Future Deployments, in Various other Areas, where we shall have to face Differend Challenges than those existing at Afhanistan, to have a better Preparation to Act, right from the Start, and to Judge better the adequate Priorities needed for obtaining the desired Results", he pointed out.

    As I'm a strong Supporter of that, we (EUROCORPS) must, more and more, Integrate those Competences and Capabilities, (also) with the development of Commandment structures integrating these Competences and Know-How, so that this will allow us to be extremely Efficient, in Time Deadlines always measured, which will be assigned to us", concluded General de Bavinchov in reply to "EuroFora"s 2nd Question (See supra).

-------------------------------------------------
+ EUROCORPS' Chief of Staff, General Buchsenschmidt to "EuroFora" on the 3 Symbols of the forthcoming, January 31, 2013 European event in Strasbourg's Headquarters :
--------------------------------------------------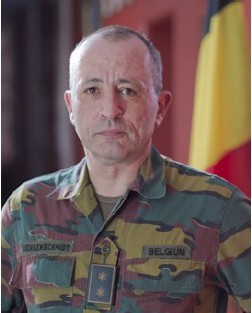 => - "On the 31st of January, 2013, we (EUROCORPS) shall celebrate in Strasbourg no less than Three (3) exceptional Events : - (A) EUROCORPS' return from ISAF's Headquarters at Kaboul (Afghanistan), where General de Bavinchov served as Chief of the International Force's joint Staff", but also the Double Anniversaries of (B) 20 Years since the creation of EUROCORPS (1993), which became possible thanks to the "Elysée Treaty" (C) agreed by Adenauer and De Gaulle 50 Years earlier, on 1963, explained, later-on, speaking to "EuroFora",  the Multi-National force's Chief of Staff, Belgian General Guy Buchsenschmidt.

 - "Elysée Treaty, agreed by Adenauer and De Gaulle, established the Foundations of what could  become, later on, a European Defence Policy, thanks to an Historic move which allowed, for the 1st time, to Germans and French to sit together around a Table and jointly take Decisions mutually agreed, which culminated, later-on, in the creation of EUROCORPS, from 1993", General Buschsenschmidt reminded us.
--------------------------------------


(+ Fast Translation from the Original in French)

(../..)

***

(NDLR : "DraftNews", as already sent earlier to "EuroFora"s Subscribers/Donors. A more accurate, full Final Version may be published asap).

***
(Opinion)
Paris - Bruxelles - Strasbourg, 2 septembre 2008





Le spectaculaire succès du Président français, Nicolas Sarkozy, (en tête de l'UE jusqu'a décembre), à obtenir de suite un cessez le feu inattendu entre la Russie et la Georgie, immédiatement après sa visite aux Présidents Medvedev et Saakashvili, au pire moment de tensions et heurts violents meurtieurs, qui avaient tué plusieurs innocents et provoqué le deplacement forcé de réfugiés par milliers, lui donne incontestablement une stature vraiment européenne :

A ses liens personnels bien connus avec l'Hongrie, la Grece, l'Italie ou l'Espagne, en sus de son amitié avec la chancelière allemande Merkel, son souhait d'essayer d'attirer l'Angleterre au jeu européen, etc, s'y ajoute, maintenant, une réussite, fragile certes, mais importante, au combat pour la Paix dans la "grande" Europe du général De Gaulle, "jusqu'a l'Oural", qui inclut naturellement la Géorgie, l'Arménie et d'autres pays, et ne peut exister qu'avec rapports de confiance et partenartiat stratégique avec la Russie.

Apres avoir réussi à debloquer la situation au Liban, (pays avec liens culturels historiques en Europe), lors du Sommet pour la Méditerranée à Paris, juillet dernier, (comme atteste maintenant le prémier accord d'echange d'Ambassadeurs avec la Syrie), Sarkozy activa maintenant une présidence française de l'EU bien entreprenante, à l'autre bout de l'Europe, à Moscou, où, contrairement à Napoléon, il a été reçu avec soulagement par le nouveau président russe, ami de l'experimenté Vladimir Poutine.

Cet homme politique rélativement nouveau au plan politique européen, avec une vision souvent critique ou même critiquée, à tort ou a raison, mais ambitieuse et concrete a la fois, qui aime s'adresser aux "Européens", comme il dit, n'est-il pas bien placé pour stimuler le fameux débat sur l' "Identité de l' Europe", qu'il a proposé au Parlement Européen récemment à Strasbourg, moins d'un an avant les Elections européennes de 2009 ?

En 2007, il a réussi à faire monter spectaculairement la participation citoyenne aux élections présidentielles en France, obtenant des récords historiques :

N'est-ce pas, justement ce que l' Europe a bésoin, apres 2 abstentions majoritaires sans précedent aux Elections de 1999 et 2004, et 3 "Non" aux réferenda pour ses institutions en 2005 et 2008, pendant une décennie trouble 1999-2008, (marquée surtout par la demande controversée de la Turquie d'entrer dans l'UE eclipsant les avancées de la Monnaie unique et de la liberté de circulation à l'espace Shengen, avec consequences mal-ressenties par la majorité des citoyens, bien au-délà des clivages du passé), qui a failli stopper l'integration européenne ?

Et cela, au moment même ou une globalisation galopante met l'Europe devant un choix crucial entre saut qualitatif en avant, apte à valoriser une occasion historique exceptionelle à se développer résolument, après les vaines destructions, querelles et tensions des guerres "chaudes" ou "froides" qui lui ont couté son rang dans le Monde, ou réculer définitivement en décadence...

Alors, que certains de nos amis à la Commission en Bruxelles, lui laissent au moins un peu d'espace de mouvement, et qu'ils l'aident à tenter d'insufler de l' oxygène frais et vivifiant aux rapports entre les citoyens et une Europe qui a manifestement bésoin et mérite de retrouver d'urgence un nouveau dynamisme populaire, avec un souci de réalisme mais aussi une vision passionante pour son avenir !

Après tout, les Etats Unis d' Amérique ne se sont pas faits à coups de bureaucratie, nécessaire et utile, mais manifestement insuffisante : Sans l'impulsion d'hommes politiques originaux, d'intellectuels vraiment engagés, et, surtout, sans l'enorme énergie émanant de la conscience d'enjeux à la fois pratiques et grandioses, bien resentis par des millions de citoyens, stimulant leur adhésion active comme pioniers d'un nouveau avenir commun à construire, ils seraient encore une ex-colonie périphérique, affaiblie par stériles divisions, passif et impuissant spectateur des convulsions tragiques d'un Monde à la dérive...

Que les vrais "européens" ré-lisent au moins les fameux discours historiques sur l' Europe d'un Sarkozy bien inspiré à Strasbourg, aussi bien avant qu'après avoir gagné les élections françaises, le 21 février et le 2 juillet 2007, après son 1er sommet des Bruxelles, qui a adopté le nouveau Traité de l'UE en conclusion de la presidence allémande : Bonnes lectures pour cet été 2008, afin de préparer l' avenir qui s'ouvrira (ou fermera) à partir des élections européennes de 2009.
Peut-etre revelera-t-il plus, en ce sens, lors de ses 2 discours-debats prochains avec les eurodeputés, prévus lors des sessions plenières du Parlement Européen a Strasbourg en octobre et décembre 2008...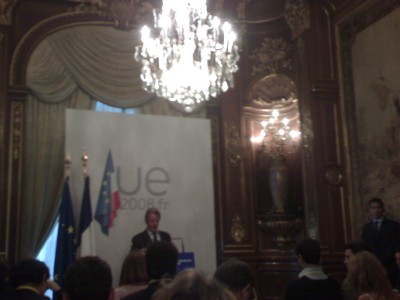 Foreign Minister Bernard Kouchner had already unveiled President Sarkozy's intentions, during a particularly "hot" Press Conference in Paris, where he faced some's insistance for "sanctions", with a call for "a common EU stance". In the meanwhile, he was consulting "all these days" most of his EU, Russia and Georgia counterparts, (as Sarkozy's Spokesman, P-J. Henin confirmed to "EuroFora"). This allowed him to obtained the desired result, as EU Chairman, at a short, exceptional EU Summit in Brussels, afterwards.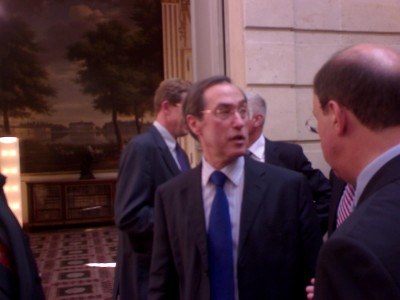 But, Sarkozy's No 1 official, Presidential palace's Secretary General Claude Gueant, active at Elysee during the 2008 Ambassadors' Conference, (together with his Top Diplomat, the experienced David Levitte), is well known for having an overall view : A link with 2009 EU Elections at the horizon ?
Polls