EU Parliament: For Autonomous Space High-Tech, but with Less Funds than for Turkey ?
Wednesday, 08 June 2016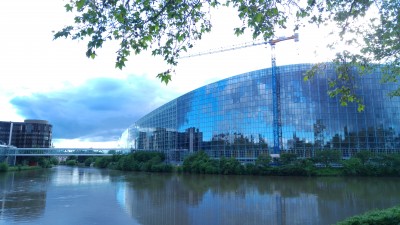 *Strasbourg/Angelo Marcopolo/- An EU Parliament's Plenary Debate, Oral Question, Report and Resolution backed by a Large Majority, together with EU Commission's Statements, as well as a Press Conference by 5 Experienced MEPs, strongly Pushed this week in Strasbourg for an "Ambitious" EU Space Policy, focusing on a Huge Potential both on Economy and Security or Defence High-Tech, and on Europe's "Autonomy" in a Globalized World where Competition Grows Fast, even for its "Independence" on Space Tools, stressing the Need for Adequate Funding, also in view of the Forthcoming Mid-Term Review of the Pluri-Annual Financial Perspectives, as well as facing the Current Mid-Term Debate on Juncker's Investment Plan 2015-2017, at EU Parliament this Morning.
-----------------------------------
RESOLUTIONS ADOPTED
--------------------------------------
Ambitious EU Parliament's Votes, Today, launched a Series of Vibrant Calls for an EU "Defence Union" with "Its own Instruments" of a "Space-related and Military Autonomy" having "Independent Capabilities", particularly of "Dual-Use", "for Both Civil Security and Defence purposes", as well as to forge a "Strategy ensuring ... Europe's Leading position in Space Technologies and Services in Global Markets", with an "Independent Access to Space ... and ... a Level playing field for the European Space Industry".
Mainly because, Nowadays, appears a more "Dangerous and Challenging" "Environment", "both within and outside the Union, including "by Terrorist Attacks and Mass Murder", "Unrest and armed Conflict in our Neighbourhood", Mass "Migration", "Degradation of People's Livelihoods", "Climate Change and Poverty", (etc). So that "the EU Needs to Increase its Role as Security Provider", "ensuring Stability", and "Securing External Borders", (etc). In this regard, "Space capabilities for European Security and Defence are Important, and .. even Vital for ... Day-to-Day Peacetime use", and/or "Crisis Management", up to "full-scale Warfare". At the Same Time, Worldwide "Competition" is "Increasing" "over Space Assets ... and ... critical Infrastructures", (f.ex. "Satellites", etc), providing "Dual-Use operational Capacity.. in areas such as External Action, Border Management, Maritime security, Agriculture, the Environment, Climate action, Energy Security, Disaster Management, Humanitarian Aid and Transport".
+ Moreover, "Research and Development in Space Technology" has "High Investment Return", and also creates "High Quality Software and Harware By-Products, with various Commerical Uses", while "EU Space Activities are of major importance for Scientific and technical, Progress, Innovations, Economic Growth, Industrial Competitiveness, social cohesion, the creation of Skilled Jobs and Enterprises, and new Opportunities for ... Markets", (etc), at the same time that "Access to Space", "Positioning and Timing information, and Earth Observation Data, are Fundamental for ../ European Autonomy". But "the EU still Lacks an integrated and coherent Space Policy", observed 2 Resolutions adopted Today by EU Parliament with a Strong Majority :
---------------------------
VOTES
---------------------------------
>>> Significantly, the Most Popular Issue discussed among MEPs proved to be the Call for an "Integrated, Long-term approach to the Space Sector at EU Level", deemed to have become now "Necessary". This Key point succeeded to Top All MEPs' Votes, by getting a Record-High Number of 567 "Yes", against Only 54 "No" and 53 Abstentions.
2nd Best issue, EU Parliament's move for "the use of Space capabilities in the war Against Terrorism and terrorist organisations, (f.ex.) through the ability to locate and monitor their Training camps", considered to be "Vital", succeeded to attract a Wide Majority of 522 Votes, against Only 137, with 14 Abstentions.
Very Close to that, the "Socio-Economic Benefits", particularly of the development of "Applications based on GALILEO (Satellite Navigation system) capabilities, including ... for (EU's) Common Security and Developement Policy", managed to get another Solid Majority of 512 Votes in favour, against just 146, and 9 Abstentions.
It's true, however, that a move to "Urge" the EU "to develop the necessary (specific Legal) Framework for EU-level Funding", via sustained Investments in Security Defence capabilities of Space policy, received a (Comparatively) Smaller Support, amidst various Hotly Debated issues, with just 412 "Yes", 239 "No", and 23 Abstentions, which represents, However, a crystal-Clear Majority.
But it's Interesting to note also the Astonishing Fact that, even in one among the usualy Hardest Issues, that of EU's relations to NATO, (with which EU should continue a "close Cooperation"), EU Parliament's position that "the EU Must ... ensure, to the Highest possible Degree, (a) Space-related and Military Autonomy", while, it "Must" also "have Its own Instruments, establishing a Defence Union", (even if "in the Long term"), Succeeded to attract, not only a good Majority of 420 Votes, Against just 237, with 15 Abstentions, but Even the Unexpected Support of Several MEPs from Various Political Horizons, usually Accused to be "Euro-Scepticts" :
- F.ex., at least one Leftist MEP, Kohlicek from the Czech Republic, but vice-Chair of the Committee on Industry, Research and Energy, as well as a vice-President of the Conservatives : Helga Stevens of Belgium, from the "New Flamish Alliance", as also another 3 Conservative MEPs, added to Experienced Romanian MEP Monica Macovei, together with Branislav Skripek from Slovakia, the Incoming EU President for the period July-December 2016. Even a vice-Chair of pro-BREXIT Nigel Farage's "Freedom and Democracy" Group : French MEP Joelle Bergeron, a former long-time Member of the "FN" Party of Rightist Le Pen. More Surprizing, several current Members of Marine Le Pen's Rightist "Nations and Freedom" new Group also Supported that move, including 2 vice-Presidents of that Group, both from Italy (Salvini, of "Lega Nord" Party, together with other 3 MEPs), and from Austria, (Vilinsky, of the "FPO", together with another 3 MEPs), as well as German MEP Pretzell from the "Alternative" Party, and Rebega from Romania. But the Most Unexpected was the Support for EU Defence by Nationalists ("Independent/Non Aligned") MEPs, such as 2 Hungarians from "JOBIC" Party, 1 German from "NDP" Party, and 3 Greeks from Rightist "Golden Dawn" Party...
It's true, however, that, at the same time, 7 MEPs from the ChristianDemocrat/EPP Group, (particularly Swedish), and 20 Socialist MEPs, (mainly Brittish, etc), and 4 Liberals, defected towards a "No" Vote, while another 7 Socialists Abstained on the above-mentioned point.
But a Massive "Yes" Vote from the 3 Biggest Groups, particularly of the ChristianDemocrats/EPP, led by Weber from Germany, and of the Socialists, led by Pittella from Italy, as well as of the Liberals, led by Verhofstad, (former Prime Minister) of Belgium, added to the 24 Unexpected MEPs' Support mainly from various Rightists Nationalists (Comp. Supra), succeeded to gather at least a Rock-Solid, Unquestionable Majority (420 against 237), even on that "Hard" Issue of the Creation of a European "Defence Union".
Finaly, the overall Resolution on "Space capabilities for European Security and Defence", drafted by EU Parliament's Rapporteur Bogdan Zdrojewski, a mainstream ChristianDemocrat/EPP MEP from Poland, attracted a Wide Majority of 446 Votes against only 156, with 71 Abstentions.
+ To this was Added also anOther Resolution, on the Economic aspects of Space Policy, (formaly placed under a Heading on "Market Uptake" from "Space" programs, but Debated by EU Parliament's Plenary together with an Oral Question tabled by 15 ChristianDemocrats/EPP, 3 Socialists, 1 Conservative and 1 Liberal MEPs, on the "Industrial" acpects of "EU Space ... Policy"), which was Supported and Voted not just by the 3 Biggest Groups (ChristianDemocrats/EPP, Socialists and Liberals), but also by the Conservatives, "Greens", and "Freedom - Democracy" MEPs, (i.e. Totaling 6 Groups), naturaly gathering during the Votes a Very Strong Majority, (and so UnContested that Nobody Asked to Count the Votes casted...).
-----------------------------------------------------------------
MEPs' Press Conference
--------------------------------------------------------------------------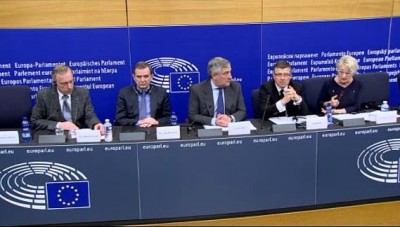 - Speaking earlier to a Press Conference on EU Space Policy, organized Yesterday in Strasbourg by 5 MEPs of the ChristianDemocrat/EPP Group, EU Parliament's vice-President, and former EU Commissioner in charge also of Space, Antonio Tajani from Italy, focused mainly on Space as "an extremely Important sector of Industry, and a Vital component of EU's Re-Industrialisation Strategy", which makes it "clear that we (EU) Can Manage Large-Scale Infrastructures, such as GALILEO, COPERNICUS, EGNOS", etc., able to generate good "Returns for Investments", 'not only for Big Companies, but also for SMEs". Therefore, he experssed the "Hope" that, "at the End of this Year" (2016), EU Leaders will take "Ambitious" Final Decisions in this regard.
- Experienced vice-Chair of the ChristianDemocrat/EPP Group, MEP Jean Marinescu from Romania, optimisticaly said that "EU is on the Way to become a Space Power", and pointed at EU Commission's declared intention to present "on Autumn" 2016 a Draft "Space Strategy". EU shoud "bringTogether all Industry and Governance" Players on Space activities, while a "First Priority" is a consequent "EU Budget" as well as the forthcoming "Mid-Term Review of EU's Financial Perspectives", but also the "Need of (Scientific) Research and (Technologica) Development", he added.
- French mainstream MEP Franck Proust, a ChristianDemocrat/EPP, stressed that "Air-Space's Huge Industry in the EU is Robust" and "a Success for Europe as a whole", but, "at the moment", it stands "at the Crossroads", particularly because "Our (EU's) Clients of Today, will become Competitors Tomorrow", including, "f.ex. India", etc., which still "Need us (EU) for the moment", as far as "Satellites" are concerned, "but Will Soon become able to Launch their own Satellites", he Warned. Therefore, "We (EU) Need to Invent and Look at the Future", in order "to make sure that we'll be Competitive" in front of a Fast-Growing "Globalization". Thus, EU should "Focus on European Technology", as, f.ex., "it's Unthinkable for the USA to have to Launch Satellites by anOther Operator", considering also the Fact that EU currently has "ZERO % Failure in Our Launchers", where "We have a Good Technology". But, at the same time, "We (EU) have seen Problems with Data Protection", in relation with the USA, to the point that, "at the moment, we (EU) are Not Yet Able to Ensure our Clients" about the Security of Data, he pointed out. That's one reason more, for which, in the "Future", we (EU) have to "Look at Innovations", and, considering "our Competitors : mainly USA and certain Emerging Countries", "we Need to Invest", in order "to Keep our Position", he concluded.
- EU Parliament's Rapporteur on Security and Defence aspects of Space Policy, MEP Bogdan Zdrojevski from Poland, another ChristianDemocrat/EPP, observed that there are some "Differences" between "Political Groups", as well as "Different Individuals" : "Some, in the Left, Reject a Security/Defence policy" for the EU on Space, while, on the Contrary, others, "at the Right", even if "they consider Security as a Main Issue", nevertheless, "they think that it should Stay at a National level, and not on that of the EU". To this is added, sometimes, also a Lack of Common Points between All (EU) Member States, so that there is "No Compromise Resolution" acceptable to all MEPs. "Our (EU's) System is Non - Military, Unlike that of China, Russia or the USA, where it's Mixte, including also a Military" component. But "in the EU, it's mainly the "Civil use (of Satellites), "and that's the Right Way to go", he found. In addition there is also "Security on Transports, Data Transmission, etc., while Help of Access for EU Citizens would be Appropriate". Moreover, EU has some "very Different Systems, such as GALILEO, COPERNICUS and GPS+", while "we (EU) Need to Bring Together the Various Sectors, and to Cooperate across Sectors", as he said. But, "what is absolutely Vital, at present, is to Support Long-Term Financing", because, "withOut a Long-Term Financial Security, Technologicaly Complex Projects, would see their Quality Undermined", he Warned. Thus, "We (EU) Need to Ensure a Continuing Investment of Projects". As for "Going into Space", it's better to adopt a "Careful approach", but, even if it might be "Expensive", it can unleash the "Full Protential" of cutting-edge Technologies, he concluded.
- Francoise Grossetete, an Experienced vice-President of the ChristianDemocrat/EPP Group, and its referent on Space Policy, stressed that, Today, "it's High Time", and "Vital for the EU, to Ensure that it remains Independent" on Space-related activities. For that purpose, "We (EU) Must Act Now", at least to "Take Steps Now" : F.ex., "With GALILEO (Satellite Navigation Sysyem), becoming Soon operational, "We (EU) must Develop Chips and Sensors, etc. in order "to be in Condition" to use it on Time : "it's Unacceptrable for us (the EU) to Carry on by Using the American GPS System", even "when we'll be Able to have Our own European GPS !", she stressed. "And another Essential matter is for COPERNICUS" program, "which is all about Earth Observation, Collecting Terrestrial Data, in addition to Ocean Data and even Greenhouse Gases Emmissions Data, we (EU) will be Able to Move Ahead, thanks to this Technology", (f.ex. in order to Ensure that Informations received from Each State are Correct", as far as the Fight against Climate Change is concerned, etc). Here too, "Cooperation is of Vital Importance, in order to Share Data between various StakeHolders". Moreover, "We must absolutely Develop EU's Space Industrial policy, because it's an Essential Pilar" for Growth and Innovation : "We usualy speak about Digital Tech., but also Space Tech. should be Placed at an Equal Footing, because it has an Important and Decisive Impact on Innovation, also for SMEs", she pointed out. "For all that to be the case, we (EU) will Need Financing", and, in order to "make Sure that we Target (at least) the Funding that we have (already) got, f.ex. by Coordinating Strategy with the "Horizon 2020" EU Research and Technology Program. For all that, "We (EU Parliament") are Determined" to act, and "Have to Take Decisions very Quickly", while "Expecting from the EU Council (i.e. from National Governments) to be Bold enough in order to Enter into Battles that will be Succesful", she concluded.
------------------------------------
EU Parliament's Plenary DEBATE :
--------------------------------------------------
+ Meanwhile, inter alia, opening EU Parliament's Plenary Debate on Space, ChristianDemocrat/EPP Group vice-President Francoise Grossetete from France, observed from the outset, that, while "USA Invests, Russia adopted a New Space Strategy on 2014, China started to Launch Satellites, and India understood that it should also play in the court of Space Powers", so that "Europe must do anything it can in order not to be distanced.
Speaking on behalf of the Socialist Group, MEP Doru Frunzulica, observed also that "Satellites could (also) be used" to Monitor "the Flow of illegal Immigrants and their Roots", in order "to Engage with them Faster, Save more Lives, and improve Naval Security", as she pointed out.
For the Conservative Group, Polish MEP Zdzisław Krasnodębski warned that, in nowadays "Global Competition, several Countries develop Anti-Satellite Technologies and Orbital Weapons, making it Necessary for the EU to become able to to Defend their Space Infrastructures". By doing so, Europe should also take care of the "Compatibility" of its Tools with those of NATO, he found.
Many countries are actively developing anti-satellite technologies, including in the field of orbital weapons, which testifies to the militarization of space and the need to develop the ability of European countries by the defense space infrastructure.
"Green" MEP Michel Reimon observed that, Today, even his "Mobile Phone has 10 or 15 elements related to Space Technologies", and urged for the EU to Help Small European Start-ups to use the Data obtained by GALILEO and/or COPERNICUS.
Brittish EuroSceptic MEP Bill Etheridge claimed that "EU was supposed to be about Trade". Instead of the EU, he prefered for the UK itself to develop its National Space Policy, after leaving the EU.
French Rightist MEP from the "National Front", Jean-Luc Schaffhouser suspected an Hypocrisy behind EU's claims for an "Independent" Space Policy, since it doesn't get out of NATO, while the "Dual" (Civil + Military) use of Space Technoilogies might start to be used against Russia, from the next NATO's Summit in Varsaw, he claimed.
German MEP Constance Krehl added that "Earth Observation can be used also in order to Face "Natural Catastrophes".
Experienced former EU Parliament's President and Rapporteur on Scientific Research, Jerzy Buzek, a ChristianDemocrat/EPP from Poland, Warned that, even if EU's "Spending" for Space might look "Expensive", and durate "Many Years", (since a "Technology Advantage" may need up to "3 or 4 Decades", "in Cutting-Edge Space Technologies"), nevertheless, "It's Bad to Do Nothing, because we (EU) shall be Depending on Others".
Italian Socialist MEP Flavio Zanonato asked "a Stable Framework", in order for EU Citizens to seize the Opportunity of Selling Services based on Space Data.
ChristianDemocrat MEO Andrei Kovatcev, from Bulgaria, stressed that Europe will need Space Technologies if it wants to "Play a Global Role", and noted that even Small-Medium Countries like Bulgaria can Contribute Usefuly, f.ex. by Producing special "Food for Austronauts".
Conservative MEP Karol Karski, advised to "Change EU's Financing" schemas, and "Not stay Only to Pre-Existing Figures", in order, also, to "Encourage New Member States" (i.e. mainly in Central-East Europe) "to become More Active" in that field.
"Space Policy implied, First of all, Research, i.e. to Develop Human Potential", observed Greek Conservative MEP Notis Marias, urging to "provide (EU) Funds for Scientists working in that field at All Member Countries", in order to End "the InJustice suffered (f.ex.) by Greek Astrophysicians, obliged to Emigrate because they don't have the Means to pursue their Research in their own Country" Moreover, EU should "Cooperate not only with the USA, but also with Russia, India and China, for Cutting Edge Space Technologies to serve Humankind".
Leftist MEP Joao Ferreira preferred to speak against "Militarisation" of EU's Space Policy, and urged to use Space Technologies also in order to End "Inequalities".
----------------------------------------------
=> EU Commission's Concluding Promisses :
------------------------------------------------------------------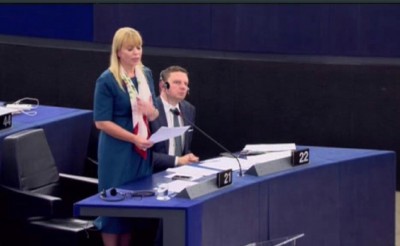 => After also the Debate at EU Parliament's Plenary, Yesterday Afternoon, EU Commissioner in charge of Industry, Market, Businesses and SMEs, Elzbieta Bienkowska, a former vice-Prime Minister of Poland, Replying to "Many" MEPs' observations about a "Link between Space and Defence Policy", took the "Commitment" to be "very Attentive" to that, because she is "in charge of Both Strategies", while "2016 is e very central Year for European Defence" too :
- "We (EU) will have a Global Strategy for Space, and then a Defence action Plan", which would "Focus ... on Cooperation in Research,, .. Industrial projects, .. and Stronger Capabilities". In this regard, "I Agree with those (MEPs) who Call to ensure an (EU) Autonomous Access to Space", because, "withOut that, .. there is No Space Strategy in Europe", that "We Want, and Will be Ambitious", she promissed.
--------------------------------------------------------
Less EU Funds for Space High-Tech, than for Turkey ?
----------------------------------------------------------------------------------
But, nevertheless, EU reportedly intends to give Only 11 Billions until 2020 € for Both 2 landmark EU Space Infrastructures : the Galileo and Copernicus Programs (on Satellite Navigation and Earth Observation, respectively), i.e. Less than it Spends nowadays for Turkey : Just 2,2 Billions € per Year for EU Space Policy, instead of More than 3 Billions € per Year for Turkey, (at least Starting during the Forthcoming Years 2016, 2017 and 2018, probably due to be Extended Further, unless EU's Migration Policy Changes soon enough) !
In addition, the Scandalous spectacle of a Press Room with some Accredited Journalists among whom Not even One doesn't Care to Raise any Question at all during that Exceptionaly Important Press Conference organized by 5 mainstream MEPs, including the vice-President of EU Parliament and former EU Commissioner Antonio Tajani, (curiously Scheduled at the Same Moment that other Journalists had to follow anOther Plenary Debate on Migration policy, once more), was Aggravated by a Counter-Productive Secretariat's Decision to Condemn the EU Space Strategy Debate only into a quasi-Desertic Hemicycle because of a Timing cornered Near .. MidNight !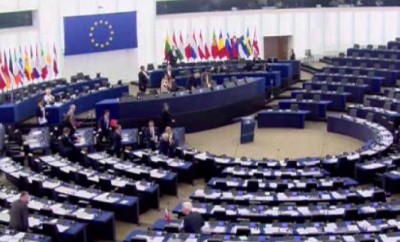 (I.e. exactly as it had done also against a Previous Debate, last February 2016, on a Different, but also Topical Important Issue, on the Human Rights of Young Girls and Women Massively Brutalized by unprecedented Mob Aggressions, most reportedly launched by Thousands of Mass Asylum Seekers/Irregular Migrants flowing through Turkey into the EU, amidst a Strange Absence of any Police Protection, followed even by Attempts to Muzzle and/or Minimise the Horrible Crimes committed against Defenseless and mostly Poor Girls living at Far Away Suburbs, who were Blocked, Attacked and Brutalized at Koeln's Center on the Night of New Year's Eve, as it also occured, mutatis-mutandis, even in several other Cities in Germany, as well as in Other EU Countries, f.ex. Sweden, Denmark, Austria, etc : That "Hot" Debate was also Condemned to take place Near MidNight, in addition to being Banalized by a Heading simply speaking about a recurrent phenomenon of "Violence against Women", to the point that even Important MEPs who were Personaly and Politricaly Interested in that still Pending matter, speaking then to "Eurofora", acknowledged that they had Not even Noticed that the New Issue of Mass Aggressions against Women in Europe had been ever Debated at EU Parliament)...
Is there any Link between these 2, apparently so Different EU Parliament's Debates, (both curiously scheduled in quasi-Desertic MidNight Sessions and otherwise Marginalized), one on High-Tech Space Policy and Europe's Autonomy in the World, and the other on Human Rights of Poor Girls Brutalized by Mass Aggressions of Violent and unscrupulous Mobsters ?
Obviously, if anyone might wish to Hide the notoriously Controversial and Unpopular character, (as well as, in Fact, largely Useless, as UNHCR + IMO Official data Prove, given that the Mass Migration "Tsunami" from Turkey had been Stopped, already, Earlier by several European Countries' decision to setablish Checks at the Borders of the "Western Balkans' Route" : See f.ex., ......), of an EU - Turkey Deal with Big, Unprecedented Concessions from the EU, taken momentaneously Hostage by a Blackmailing Turkish regime, then, he wouldn't, certainly, like at all to have a lot of Publicity about the parallel Needs to Save EU Funds for Space High-Tech and Europe's Autonomy, (instead of Wasting much More for Controversial and Unpopular Deals with Turkey : Comp. Supra), as well as to Protect Poor Girls' basic Human Rights, Safety and elementary Human Dignity in front of Brutal Mobsters, mostly among the Migrants that Turkey had "Selected", as recent Revelations in Brussels and elsewhere Denounced, (f.ex. by Excluding Educated People and de facto Hindering most Christian Refugees, etc). Simply because Both these Issues concern, in fact, European People's Development and Social Cohesion, as well as EU's Autonomy and Strength, instead of Depending on various Foreign Countries, (for Access to Space and/or in order to Guard EU's External Borders)... A really Strong and Human Europe should obviously become Able to do Both by itself.
By the way, speaking of "Mid-Term Review" also of the Juncker Investment Plan, (Comp. Supra), Tomorrow's EU Parliament's Debates will probably have also to Deal with an apparent Paradox : How it comes for the EU to Spend already More than 100 Millions € in full Grants in Greece, for the reception of Mass Migrants from Turkey, out of a Total of reportedly 700 Millions € earmarked for that purpose, while, on the Contrary, despite the Vital Need of that EU Member Country to Fund Competitive Growth and Innovation, nevertheless, it hadn't managed yet to get out of that Juncker Plan, until now, more than just 35 Millions €, and that in reimbursable Loans ? This Strange but Verified Fact was initialy Denounced by an "Eurofora" reader who Published a short but strongly Critical viewpoint in our Forum as early as since the 1st of June : See http://www.eurofora.net/forum/index.php/topic,792.0.html , but it was also Slamed, later-on, even by the Liberal Group at an EU Parliament's Press Briefing, in view of its present Plenary Session in Strasbourg, reportedly at the istingation of Experienced former Prime Minister of Belgium, and current President of Liberal MEPs Guy Verhofstadt...
----------------------------------
However, on Space Policy's Economic aspects, a Joint Draft Resolution Strongly Backed by a very Wide Coalition of Political Groups, both of the ChristianDemocrats/EPP, Socialists, Liberals, and of Conservatives as well as "Greens", "stresses the Need to Strengthen (EU) Funding", particularly "for Development of Downstream Applications and Services", but also to "Better Exploit, for the Space Sector", "the Innovation Potential of Horizon 2020" EU's Program for Science, Research and Technology, as well as, all "EU"'s "Wide Range of Access to Finance Opportuities at its disposal", (such as "Horizon 2020, ESIF, COSME, EFSI, etc").
And a Ouestion to EU Commission raised by mainstream MEPs of the ChrristianDemocrats/EPP, Socialists, Conservatives and Liberals, focusing on "Space Industrial policy", asks "More Resources for Space Research", and, in particular, to "fully use", for that purpose, also "the 1,4 Billion € put aside within Horizon 2020", etc., because Space is of "Fundamental" importance for "Innovation, .. Non-Dependance and Security of Supply in Critical Technologies".
In Addition, a Report on Security-Defence related aspects of Space policy, adopted by EU Parliamebt Today, stresses that "Continued financial Investment is Needed to sustain Technological Research and Development" in that sector, as well as for the EU to "Encourage all Actors in the Technology and Know-how Supply chains to turn their Attention to Space-based Capabilities and Dual-use (Civilian + Military) Technologies of relevance to Security and Defence".
(../..)
------------------------------
***
("DraftNews", as already send to "Eurofora"'s Subscribers/Donors, earlier. A more accurate, full Final Version might be published asap).
 ***
BRIEF NEWS
00:00 - 26.12.2017

00:00 - 26.05.2017

00:00 - 30.01.2017

00:00 - 14.10.2016

00:00 - 24.09.2016

00:00 - 27.07.2016

00:00 - 03.07.2016

00:00 - 01.06.2016

00:00 - 12.02.2016
Statistics
Visitors: 26730476
Archive
Login Form
Other Menu