Home

newsitems

EUParliament Resolution versus Trump on Border/Migration, Refuted by its own Facts, Slams the Left !
EUParliament Resolution versus Trump on Border/Migration, Refuted by its own Facts, Slams the Left !
Thursday, 18 July 2019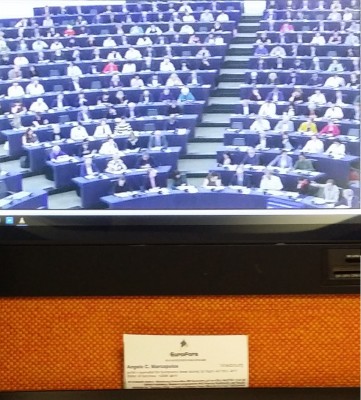 *Strasbourg/EU Parliament/Angelo Marcopolo/- The New EU Parliament, freshly Elected on May for the Period of 2019-2024, Started here with a lot of UnPrecedented Paradoxes :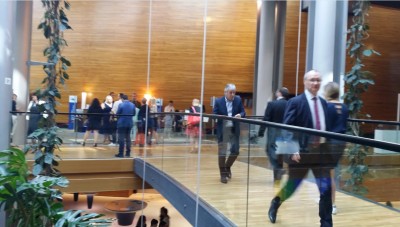 Just after having been recently equiped with a President (Sassoli) from the Socialist Group, ...which Lost the May 2019 Elections, (Won by the ChristianDemocrats/EPP), after having Lost even - 12 Less MEPs also in his own Country, Italy, (where Salvini's Rightists notoriously came 1st, Winning +23 More MEPs : See, f.ex. http://www.eurofora.net/newsflashes/news/euparliamentvotesonsassoliandleyen.html, etc),
Today it adopted a Resolution on USA-Mexico Borders, tabled by Socialists, Liberals and Greens, obviously Aiming to Slam the current US President Don Trump on the "Hot" Controversy (Both in the USA and in the EU, Australia, etc., mutatis-mutandis) of Mass Irregular Migration, while New Presidential Elections are Nowadays Prepared in Northern America for 2020, with the "Primaries" Starting just in a few Months...
Evoking Claims related to "many Deaths", "Appaling Conditions" of Detention, "Family Separation", "rights to water, food, health and shelter", refusal to adopt "the UN Convention on the Rights of the Child", "the Latest Raids by the US Immigration and Customs Enforcement (ICE) agency", "Criminalisation", "xenophobia, hatred and violence", "Recent changes in the migration polices adopted by the Mexican authorities", use of "Army", "economic Coercion and the Threat of punitive tariffs", etc., ... it all Looks as if the Trump Administration would be the Worst in the World, and should be Condemned to Hell by the Voters in the forthcoming Elections, since even the Europeans, (who notoriously Face More Serious Problems of Mass Asylum Seekers/Irregular Migrants), say so !
Compared to that, the Left (in the US, as also in the EU), would be ... innocent "Angels" Flying in the Sky, and should immediately be Voted into Power at the forthcoming US Presidential Election...
---------------------------------
But, Surprisingly, a simple Examination of the Real Facts (even those that the Authors of that Controversial Resolution cite themselves !) proves exactly ...the Contrary !
- First of all, most Key Points faced a Harsh Fight Today inside EU Parliament, where they were Fiercly Contested :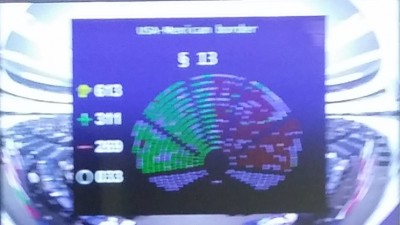 F.ex., a Controversial Claim against the latest Arrests of Irregular Mass Migrants, which Opposed 311 MEPs to 302 (269 Against + 33 Abstentions), since, inter alia, such a Claim was Obviously Contradicted by International Law which recognizes "any Sovereign State"'s ...prerogative to Decide on the conditions of Entry and Stay of Foreign Nationals", as that same Resolution reminded from the outset... (It Adds Compliance with Human Rights, but that does Not Exclude Detention of Illegal Tresspassers).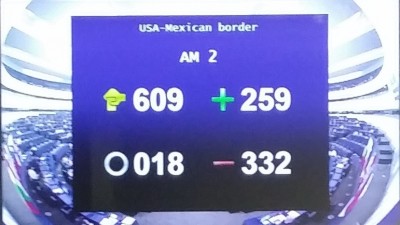 + A provocative Amendment Tabled by Leftist MEPs, who asked to "Recognize" what they called ..."Migrants' Defenders", (concerning Not only "Refugees", Not even Asylum Seekers, but All "Migrants", i.e. even if Irregular !) and "to Refrain from Taking any Measures that Restrict" their activities, which should be "Free of All Restrictions" (sic !), was finaly Rejected by a Crystal-Clear Majority of 332 MEPs Against and 18 Abstentions, facing Only 259 Votes for, (out of a Total of 751).
 
++ Moreover, in Fact, it's Only a Minority of EU Parliament's MEPs who Backed that Controversial Resolution : Indeed, Only 330 Voted that Text, while a Majority of 421 MEPs did Not, (252 Voted Against, 55 Abstained, and 114 were Absent).
------------------
- However, even that Critical Resolution Admits that, during Nowaday's Don Trump's Presidency, "in 2018, the USA was by far the Largest Donor to the UN Refugee Agency, the UNHCR, Contributing a total of USD 1 589 776 543".
- But what it doesn't explicitly clarify, is the Obvious Fact that USA's Abstention from Ratifying "UNO's Convention on the Rights of the Child", until now, (which corresponds at anOther Complaint in that Resolution), has Nothing to do with Trump's current Presidency, in particular, simply Because it has Always been, during Decades, the real Practice of All US Presidents, Both of the Left and of the Right...

- Concerning a Tragic "Number of Deaths" among Mass Irregular Migrants there, unfortunately, it's a Recognized Fact that it "Has been Constantly on the Rise, in the Last Five (5) Years, with a Total of over 1.900 Deaths, occuring Between 2014 and 2018", observes the Resolution.
=> ...i.e. More Time during Barack Hussein Obama's term (Left), than during Don Trump's (Right) : More that 3 Years, instead of only 2 !
+ In Addition, this concerns only "People Trying to Cross into the USA from Mexico", as that Text says, i.e. who did Not Arrive yet Inside the US, so that they had Not been Taken in Charge by the US Authorities, (i.e. an Equivalent, mutatis-mutandis, to People Drawn in the Sea while Trying to Reach Europe).
=> So, Who is really Responsible for those Tragic Deaths, if not, mainly, the Smugglers and Trafficers, as well as all those (mainly of the Left) who Incite (instead of Dissuade) Mass Irregular Migrants to, precisely, "Try to Cross into" USA (or Europe), added to any eventual "Root Causes" at their Home Countries (See Infra) ?
- On the Contrary, as the Resolution observes, "in Recent Weeks (i.e. in 2019) the Mexican Authorities have Significantly Increased the Enforcement Efforts in Migration Policies, leading to an Increase in the Number of (irregular) Migrants Detained and Deported", ...But staying ALIVE !
=> This New Fact simply indicates that the Recent "USA - Mexico" Deal, promoted by President Don Trump this Year of 2019, may have already Started to Work in Practice...
+ To be Precise, what it reportedly provides for, is to Try to Keep Mass Irregular Migrants inside Mexico, while Rapidly Assessing somes' Eventual Demands for Asylum at the USA, during which Time they should be ensured of elementary "Jobs", Health care, and "Education", (perhaps also at Mexico's Southern Regions, near the Borders of Other, Central American Countries, from which Most reportedly, come), according to an official version, (See also Infra).
- Nevertheless, that Controversial Resolution goes on to Denounce also what it calls "the Appalling Conditions in which Migrants and Asylum Seekers, particularly Children, are Held in US Immigration Detention Facilities, which Lack adequate Healthcare, Decent Food, and Proper Sanitation", according to Critics.
>>> But, (even if one Supposed that it might be All 100% True), Who really bears the Most Heavy Responsibility for that ?
- Don Trump wasn't Elected in order to "Detain" a lot of Migrant People inside the USA : Nobody Asked for that ! On the Contrary, he was notoriously Elected, also for his Popular Promise to "Build a Wall" accross the USA - Mexico Border, in order to Stop a Growing Mass Irregular Migration from Arriving inside the USA.
=> This, practically, means that, in that case, ideally, Nobody would arrive Irregularly inside the USA, (or, perhaps, Only a Few), so that, Ipso Facto, there would be No Need to Detain so many Tresspassers as until now !
It would all be as that World-Famous, Historic "Great Wall" in China, (which is, Nowadays, also a notorious Touristic Attraction, and can, reportedly, be seen even by Austronauts from the Space or Moon), which allowed to the Chinese Civilisation to Protect its People from Various kinds of unsollicited Invasions, but, on the contrary, Live and Produce in Peace, Prolonge and Develop its own Characteristics and Capacities, Becoming Over-Millenary, (the Only one in the World with so Long Continuity, since the Egyptians were Destroyed, the Greek, Roman and Jewish brutaly interrupted, etc), and Multiplying the Artistic, Philosophical, Scientific and Technological Findings, a significant part of which was notoriously Collected and Transmitted afterwards to Europe by Marco Polo, with the Result to Help even the European Civilisation and Technology to Grow, build Strong Arms to Defend itself, Navigate the whole Planet, and later Invent Printing Books, (etc).
On the Contrary, since those Invading, Troublesome Populations of Tzengis Khan and various Turkic tribes were Hindered to Go Southwards (towards Beijing), they were, notoriously, Incited to Go Westwards, (mainly accross the "Silk Road", as clearly indicate also the Geographic Outline of Historic Maps of the Entire Chinese "Great Wall"), notoriously Devastating Central Asia and mainly Eastern Europe, Destroying the Greek-Byzantine Empire, and Arriving up to ...the Mediterranean and to half of Budapest in Hungary !
Without any kind of strong Defense, Similar to China's "Great Wall", the Europeans had, notoriously, to Suffer from Various kinds of Foreign even Military Invasions and Occupations, during several Centuries, until the Lepante Naval Battle (1571) and the Defense of Wien (1683), followed by the Liberation of Budapest (1690), in the "Enlightnement" Century, allowed Europe to Start Liberating and anew Develop itself, until 1920-21, up to Anatolia's Plateau. But, Meanwhile, it's USA and Russia who had Developed Faster, towards Becoming the Next SuperPowers in the World, (while China soon re-started to partially and gradually Catch Up, Keeping its "Great Wall" still intact !).
- But, Who Hindered, Nowadays, the new USA President Don Trump to Start Building his (very Popular among American People) "Big Wall" accross Rio Grande's External Borders to Mexico, already from 2017-2018, for which even concrete Plans and Construction Designs had been prepared and circulated, Billions of Federal Budget's Funds reserved ?
>>> It's, notoriously, the Left, (mainly the Dems' Party, added to some RINOS among a few Pseudo-Conservatives of the Establishment), which Triggered and Extensively Deployed a very Stubborn and ProLonged Obstruction, Blocking all the National Annual Budget, even until it Repeatedly Provoked several "Shut-Downs" of Vital Federal Administrations and Services to the People, Stirring various Social Troubles, Spreading a Counter-Productive and even Hostile Propaganda, Exerting continuous Pressure, etc, Until it practically "Killed" that Project of Big Wall to protect the USA-Mexico Border, at least for the Time being...
=> So that it Obviously is, Now, After having done all that, a Blatant Irresponsibility and Preposterous HYPOCRISY, to suddenly Start to Shed so many "Crocodile's Tears", apparently for those "Poor irregular (Mass) Migrants", who have been irresponsibly Incited and Allowed, thus, to Cross the USA - Mexico Borders, many even with their Kids, just to be cought and Detained now by the US Authorities for illegaly strespassing, in a Context where the American People have had already Suffered Enough from the various Socio-Cultural and Economic Consequences of UnBalanced Mass Migration, Drugs' Trafficking, InSecurity and even Killings of US Citizens by various kinds of Foreign Thugs, (since, Often, it's not the Best, but the Worst who Cross Faster the Borders, as they say) allowed to stroll around and/or come and go from allover Latin America again and again, practically unhindered, to the point to provoke Growing Popular Reactions in the US, expressed also in Political Voting...
+ But, that Hypocrisy of some in the Left goes even Further, and Doubles or Triples in Bad Faith, particularly in the case of "Children" : WithOut Speaking about the "Fake" ones, i.e., in fact, for Young Adults, Sustematically and scandalously Disguissed into so-called "Kids", even if they'd be, in fact, Older than 18-22 Years or even More, (as it became notoriously too usual to see in Europe since that UnPrecedented "Tsunami" of More than 1,5 Millions suddenly tresspassing in Europe through Turkey from 2015-2016...), this Drama inevitably Concerns even more or less Real Children, often scandalously Traped in this unacceptable Mig-Mar, and, therefore, several Times "Detained", with or withOut their Families at their side :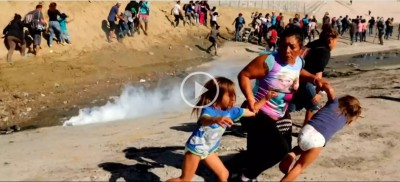 - There, an Additional Problem is that many among the Left, at First Argue that Foreign Children irregularly trespassing the Borders and eventually Detained Together with their Family, f.ex. at various "Tents" placed inside the US, normaly "should Not be Detained at the Same Places or Facilities as Adults", (something which, as a matter of General Principle, is obviously True). But, if and when the US Administration might, eventually, manage to Find a Special Facility for those Children, then, (often the Same Critics !), suddenly become Upset, and Start to Cry and Accuse those Public Authorities to ..."Separate Families !", (which is, also, inevitably, partly true)...
=> Then, Obviously, the Only "Alternative" would be to simply ...Let Go Free ALL those Mass Irregular Migrants, illegaly Trespassing the Borders, under Pretext that someone among them might have had, once, a Kid in his arms, (Before even knowing if it was really "his" Child, or not), as Many had Attempted to Exploit, particularly during the First Part of that 2015-2016 Huge "Tsunami" suddenly Tresspassing inside Europe : I.e., pushing practically to a Deadlock, "Ad Absurdum" !
- Couldn't Most of those Children, in fact, Find some, Comparatively, Better Ways to Live, Together with their Family, at the Other Side of the US - Mexico Border, Free to Move, WithOut having committed Any Illegal Tresspassing of US International Borders, and/or at their Home Country, eventually also with some kind of Regional and/or International Help (See also Infra) ?
-------------------------------
+ But, the ambiant Hypocrisy of that Left goes, here, even Further : F.ex., among others, that Controversial Resolution Claims that "Responding to (Massive and Irregular, Foreign) Migratory Flows, with Repression" (Sic ! Rather : Law Enforcement in Protecting National Borders), would be a main Cause which "Favours XenoPhobia, Hatred and Violence" (sic !)...
>>> However, the Recent Social and Political Experience also of Europe, clearly Shows that the Truth is, naturally, the Contrary !
- I.e., in Fact, it's Particularly when some kind of "Left" and/or "RINO" Governments Irresponsibly and Provocatively leave Massive Irregular Migration, especially Unable and/or UnWilling for Cultural Integration, to Suddenly Inundate and Fill, in Too Big and UnBalanced Quantities, certain Areas, often inhabited by Poor and/or Fragile People, putting in the Schools an Excessive Number of Foreign Kids who doN't even Speak the Language of the Host Country, OverCroud local Hospitals which Struggle Desperately to Cope, with too Long Waiting Lists and Time Breaking Records for any elementary Access to Health Care, Growing InSecurity withOut any real Protection of innocent Citizens Afraid to become Targets of Thugs and/or Bands, as Public Parks are Transformed into Dangerous Places for Young Girls and other Defenseless People by recently multiplying Harassement, Bullying, or even Attacks, local Public Transports become OverCrowded, Normal Shops start to Close, Nobody can, no more, Sell his House or Appartment there at a normal price, Cultural "Ghettos" aggravate their Separatism, (fortunately for our American Friends, at least, they canNot Complaint for an eventual, Fast-Track "Islamization", with too many "Mosquees", "Scarfs", "Burkas", "Djellabas", etc, all out of a sudden Imposed by forceps, as in some parts of Europe), and Socio-Economic and/or Cultural "Appart-Heid" Deepens, (etc), that some People Risk, indeed, to be pushed towards what some call "XenoPhobia", (which, many times, is no more than Simple ..."Phobia", i.e. Legitimate Anxiety and Fear !)...
-------------------------
+ Nevetheless, Moreover, that Controversial Resolution goes as far as to "Call on the US Authorities, ...to Find Non-Custodial Alternatives", withOut Any Condition, and for practically Everybody : I.e. "Both Children and Adults", (Comp. Supra)...
=> OK. Now, How about ...Bulding a Beautifull "Great Wall", as in China ? (Comp. Supra)... + Naturally, Equiped also "With some beautiful Doors", for Legal, Accepted Migration (I.e. Real Refugees and/or Useful Workers), as Don Trump has repeatedly Highlighted ?
----------------------------------

"WALLS" CAN BE also "BRIDGES" !
----------------------------------------------------------

+ As for those who, routinely, Oppose "Walls" to ..."Bridges", as they claim, Everywhere in the World, pompously Boasting that they prefer the latter, they should Realise, at last, that this can be a Big ...Idiocy, a Stupid Nonsense ! Simply Because, Indeed, "Walls" Can, Also, Be "Bridges", by themselfs ! It's enough to just have a Close Look, precisely, to the Historic Masterpiece of China's "Big Wall", as well as into a Geographic Map, in order to immediately Understand that Truth :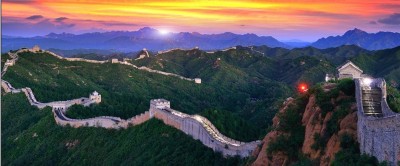 >>> For the Chinese, indeed, this Long and High Buildings, Extending accross Areas of Difficult Access, often for Many Hundreds of Kms, were Obviously Meant ALSO for Protecting the Enclosed (Surrounded) Areas from any kind of Massive Intrusion/Aggression, But, in Addition, to ...Link certain Key, Strategic Locations, situated Far Away, one from another, through an Easy, Solid and Safe PathWay, Leading Fast and Directly towards the desired Destination ! In Fact, it was Not Only a "mere Wall", but much More : Also a kind of HighWay, Safely InterLinking People accross the Mountains' Tops, (almost as the, quite different, Inca's Paths at the Top of Andes' Mountains, in South America)...
It was mainly a 1st Period in the History of China, that usually named "of the Warring States", which apparently Focused, first of all, at Protecting certain Key Centers, between the 5th and 3rd Century BC, (i.e. among Pericles of Athens, and "Alexander the Great" of Macedonia, in Ancient Greece).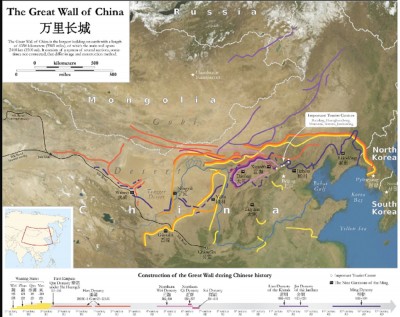 But, once this done, Resulting in a Big Development of the Chinese Civilisation, with the Famous "Empire of Han Dynasty", between the 2nd Cenury BC and the 3rd Century AC, (i.e. among the Roman Empire and the Creation of the Greek-Byzantine Empire, in Europe), on the Contrary, there is a Sudden and Impressive Change in the GeoPolitics of the New "Great Wall" Extensions built then, Because they look much More as very Long Corridors, InterLinking one Key Location to anOther, Far Away, by Crossing even Dangerous Areas, (including Deserts, Steps, UnInhabited Mountains, etc), thanks to Safe Pathways Built at the Mountains' Tops, which are now Extending, more and more Further Towards the ...West, i.e. precisely Parallel to the Historic "Silk Road" Leading towards Europe !
=> To give just a, comparatively, "Small" Example of something Similar, and potentialy Useful in real Practice, Nowadays, precisely on that USA-MEXICO Border and Migration Issue, one may easily imagine, f.ex., that an eventual "Wall" build by US President Dnn Trump on the North-American Side of Rio Grande, could, eventually, (in Agreement with Mexico's Government), Extend also a Branch of the "Wall", Linking that Border Directly towards some Central or even Southern Areas of Mexico, which are notoriously Safer for Migrants and their Families, ("Returned" Back, or simply "Waiting" : Comp. Supra + Infra), since the immediately Adjacent to the Borderline Mexican Northern Regions of "Baja California" and "Chihuahua" States, (as EU Parliament's Resolution Warns), "are among the most Violent in the country", so that, there, "they Risk becoming Victims of serious Crime, including Kidnapping, Sexual Assault and Violence". (Comp. also, on the Mystery of an Exceptionally High Number of "Missing" Persons in those Parts of Mexico Nowadays, Described both in a CoE's exceptional Report focused particularly on Women Lost there, and in a landmark Film, by famous French Director, Benard Tavernier : "In the Electric Mist", shot in Both Sides of the Border).
Such a Possible Extension at an eventual Future "Wall" build by Trump accross Rio Grande, creating a Safe "Humanitarian" Corridor inside Mexico, (Both for Coming, "Waiting", and Returning), could, obviously, be a very Useful and Human Add-on, in real Practice, Inspired from China's Historic "Great Wall", (Comp. Supra).
--------------------
- But, since the Left+RINOS notoriously Hindered any Move to Build that Promissed Wall (Comp. Supra), practically Pushing Trump, at a moment, to Consider, at least, using partially some Units of US Army in order to Help Guard the Border, that Controversial Resolution stresses that the "Army is Not the Right Instrument for Dealing with (Mass Irregular) Migration, ot even "at the Border". Instead, that "Should be Handled by Specialised Police, who have been duly Trained and Instructed to respect Human Rights and Dignity", that Paper advises.
Normaly. But in cases where a Country's and/or Crucial Region's Specialized Security Forces have been Obviously OutNumbered, by a Too Big Quantity and/or Too Large+Long Dispersion of Mass Irregular Migrants, then, an adequate use of Army Soldiers should Not be Excluded.
This has beeen Already done in Hungary and/or various Other European Countries, which, at one moment or another, had to try to use at least also a Part of their National Army's Soldiers, in front of a Huge Amount of Mass Asylum Seekers/Irregular Migrants, who Could Not be Monitored Otherwise, and it Worked, apparently, OK.
+ In France, and elsewhere, Soldiers have been also Catefully but Routinely used, not only to guard External Borders, but even in order to Protect Citizens from Deadly Islamist Terrorist Attacks in their EveryDay Life, (f.ex. in order to go to Church, cross a Down-Town City's Center, etc.), withOut serious notable Problem.
-------------------------------
+ Similarly, that Controversial Resolution also Claims that "Open ...Trade" would be Always a Must, withOut any Exception, and that "Economic Coercion and the Threat of Punitive Tariffs are Counter-Productive, and ...Not liable to Help Sovereign Countries Find Constructive and Sustainable Solutions to Political Challenges, such as (Mass Irregular) Migration"...
 => I.e., Precisely ...the Contrary of what was Recently Proved by US President Don Trump's Idea to Add also Trade Taxation's Pressure in the Incentives used in order to Convince Mexico's Government to Strike and Apply a Negotiated overall Deal Agreement in order to Fight Together to Tackle Efficiently and Properly the Challenge of Mass Asylum Seekers/Irregular Migrants almost from its Roots !
>>> Apparently, (including by setting also with a Crystal-Clear Time Deadline for acton), this has, at least, Incited the Mexican Government to Broker such a Deal with the USA, and Just Start Moving in the Agreed Direction in real Practice, with various "Recent" Changes, (as even that Resolution notes elsewhere)...
- That USA - Mexico Agreement reportedly provides for North American Authorities also to Accelerate the Examination of Asylum Demands, while Apprehending all Irregular Migrants found on US Territory, and sending them Back to Mexico, where, the Government would take care to Dissuade them from Tresspassing anew the US Borders, while also acting in order to Provide them at least with Elementary Healthcare, Education, and even "Jobs", as long as they are still Waiting for a US Reply to their Applications.
+ In Addition, Both the US and Mexico Governments would also Try, Together, but even With Other Partners, to develop useful Cooperation in order to Tackle Wider Issues of Economic/Social Development and Security in the overall Region, particularly around the Southern Borders of Mexico, where Recent Statistics reportedly indicate a Growing Trend to Mass Migration allegedly Fuelled by Economic and Security Problems, particulary during the Last few Years, Between 2011-2019, and mainly around the Central American Countries, such as Guatemala, Honduras, and El Salvador.
=> So that, that when EU Parliament's Resolution on USA - Mexico Borders and Migration, adopted Today, on 18 July 2019, practically Concludes by launching a "Call on the Countries of Origin, Transit and Destination to Work Together to Address the Root Causes of Migration Flows, through a Comprehensive Approach", it pratically ...Follows the overall Logic, precisely, of the above-mentioned USA-Mexico Agreement reportedly Concluded by President Don Trump, (thanks Also to ...Trade Taxes' incitation : Comp. Supra), already, as soon as Since 7 June 2019, i.e. almost 1,5 Month Earlier ! (See: http://www.eurofora.net/newsflashes/news/euturkey-usamexicodealsonmassmigration.html, etc).
=> Perhaps the Only really unquestionably Useful InPut Added Now by EU Parliament's Vote in Strasbourg, in this regard, is MEPs' Decision to "closely Monitor EU Development Aid to the Region (Comp. Supra), in order to Ensure efficient standards of Development, since this can Help Tackle the Root Causes of Forced (sic !) Migration", as they promised.
(../..)
--------------------------
BRIEF NEWS
00:00 - 18.05.2020

00:00 - 20.04.2020

00:00 - 02.02.2020

00:00 - 09.12.2019

00:00 - 27.11.2019

00:00 - 16.11.2019

00:00 - 28.10.2019

00:00 - 08.05.2019

00:00 - 23.04.2019
Statistics
Visitors: 37752743
Archive
Login Form
Other Menu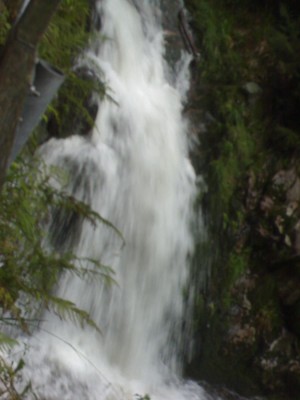 Benedict's "Source" to revitalize Europe : - "The World needs Hope", Pope says, calling to relaunch E.U. via Human Rights !
Paris - Lourdes - Strasbourg : 12 - 17 September 2008.

The vital need to re-launch Europe can be succesfully met by defending fundamental Human Rights of the People, said Pope Benedict XVI in his 1st speech in France, at his meeting with President Nicolas Sarkozy, who currently chairs the EU.

Sarkozy replied by welcoming Christian and other religions' contribution to indispensable Public Debates on crucial issues which affect Human Dignity, Europe, even Humankind, as BioGenetics.

- "When Europeans will see and personally experience that the inalienable Rights of the Human Person .., those of their free Education, their Family life, their Work, ..their Religious Rights, ..are respected and promoted, then, these Europeans will fully understand the greatness of the European construction and will be actively involved in it", Benedict XVI stressed.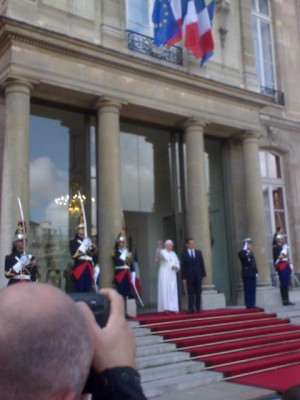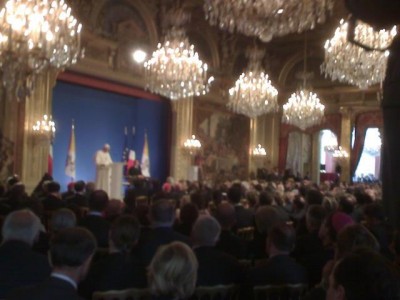 - "It's important that during France's EU Presidency, there is, indeed, a desire for the Church to contribute to protect Human Person's integrity, and I think that there is also a growing Conscience, beyond any polemics, to defend Human Rights, and, thus, contribute to ensure respect for Human Dignity", added to "EuroFora" the Pope's Spokesman, Vatican's Press Director Federico Lombardi.

- "Nobody really told us here that Lisbon Treaty was good for this or that reason to the People. They only told us that we "had" to ratify it, and tried to scare us, but failed", said 2 Irish pilgrims to "EuroFora", after 2 Majority Abstentions in 1999 and 2004 EU Elections and 3 "NO" to Referenda in France and the Netherlands in 2005, followed by the Irish "No" in 2008, during a Decade of EU Crisis since the controversial Turkey EU- bid (1999-2008).
More than .."224 cases of Murders, Torture, "Disappearancies" or Destructions" by "agents of Turkish Security forces", where all those responsible for so heavy Crimes still remain scandalously unpunished, despite regular condemnations of Ankara by Strasbourg''s European Court of Human Rights from 1996 to 2008, were examined the same week by CoE's Ministers, who decided to launch a fresh call "urging" the Turkish Authorities to end this dangerous "virtual Impunity" of criminals, without comparison to European countries.

- "Why not Ukraine, instead of Turkey ?", asked EuroFora a Journalist from "Kiev : the city where it's enough to cross the streets in order to realize that it's a European town", as Sarkozy recently said, before solemnly declaring this week, together with Ukranian President Jushenko and EU Commission's chair Baroso, EU's "recognition that Ukraine is a fully European Country, linked to Europe by culture and History".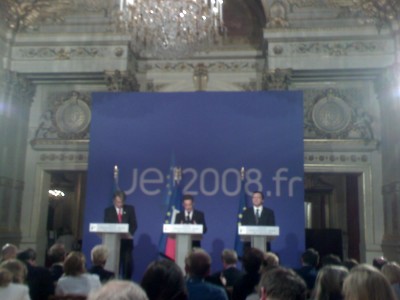 Europe's "Christian roots" and Values, with "openess and mutual respect" to other cultures and beliefs, were highlighted by Sarkozy in harmony with Benedict XVI.

The Human person should be protected "from his inception until his natural death", added the Pope, faithful to BioEthic principles defended by his predecessor and collaborator, John Paul II, of topical importance in France, Europe and the World today, as Sarkozy announced :

- "Fast and important progres in Genetic Science and procreation raise delicate BioEthical Questions to our Democracies", which "involve our view of Humans and Life, and can lead to Social Mutations. That's why they cannot remain only a business of experts", hestressed.

- "It's Politician's responsibility to set a proper framework for such Public Debates", as "France will do on BioEthics in 2009". "Religious and Philosophic traditions must take part, with their ideas and centuries' long experience : A positive Laicity is an open invitation to Dialogue", he said.

- "France engaged in Europe at another Debate on how to make Financial Capitalism more moral", and the "Social doctrine of the Church fits well what is at stake in modern Globalized Economy"

- "But, a "Real Dialogue is not for an elite of a Globalized world : It penetrates deep into the People : That's why Churches should actively participate : .. It's bringing New Oxygen to Public Debates", stressed Sarkozy.

- "Democracy must not be cut off Reason", which is "compatible with Faith", thanks to "the meeting between Christianism and Greek philosophy ", he added, referring to Pope's views. "It means to advance with logic arguments, search what's best and respect common principles of thinking :... It's an everyday need for Public Administration and the Political Debate", he added.
----------------------------
Pope Benedict's 1st visit to France looked like the start of a brillant, manifold demonstration that this was well-founded and could become true in the lives of the People : After its Theoretical foundations unfolded at a "speech to the world of Culture", inaugurating Bernadins' cultural centre, and its dogmatic instrument shaped at an address to the Clergy in the Historic Notre Dame' Cathedral, he started to resolutely reach out to the People :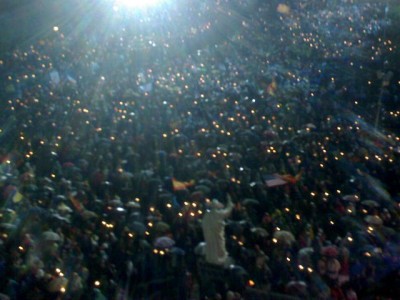 The move went upwards like Bach's music : Begining with a call to more than fifteen thousand enthousiastic Youngsters gathered at Notre Dame's parvis with overnight celebrations, it gained strength in an impressive open-air Mass at Paris'central Invalides'area facing Alexander III's bridge, attended by more than 150.000 people, French Prime Minister Fillon, many Ministers, Foreign Ambassadors, etc, and culminated in a series of pan-European Mega-meetings at Lourdes 150th anniversary, together with all French Bishops, EU Commission's vice-Chairman Barrot, and some 200.000 enthousiastic People from all over Europe and beyond : After a Sea of Lights astonishingly braved Saturday Night's rain, an open-air mass at riverside fields among Pyrenees' Mountains Sunday Morning, was followed on Monday by a Sea of "Compassion" to those facing Health or Life threats, surrounded by an endless gathering of People, whose gigantic dimensions obviously surprised the organisers..

Meanwhile, Benedict had the occasion to speak to the French Priests at Notre Dame of Paris, and with the Bishops at Lourdes, where they prepare a crucial November plenary meeting, due to take important decisions on imminent EU debates and choices about Europe's identity, BioEthics, etc.
-------
- "A new way of thinking about Laicity has become necessary", agreed the Pope with President Sarkozy at Elysee. While keeping the "distinction between Politics and Religion, to guarantee Citizens' Liberty", "religion is important for shaping Consciousness and contributing, together with others, to create a basic Ethical Consensus in society".

- "Searching Essential realities", (as "God" for christians), needs "Speech : "Logos" in greek, i.e. Reason", "able to shape a Community","with creative work transforming Human History". But "Dialogue" is instrumental for "Reason", because it's the way to "search" for Truth", in "Liberty", according to Greek Platonic Philosophy, with Socrates' dialectics. "Reason" implies "Spirit and Liberty", hence the polyphonic "Music" of "Dialogue", in a responsible, "well balanced" way, to avoid "destruction".

Starting with a "Dialogue between christians and intellectual or artistic movements" highlighted at Bernardins' Cultural Center. with former Presidents Chirac and Giscard d'Estain, UNESCO's chair Anastassopoulos, etc., as well as representatives of Muslim Communities, (including a separate Turkish), after contacts with Jews at Vatican's Embassy, the Pope turned towards the People :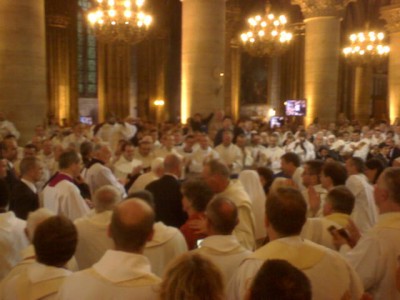 -------------------
To French Priests : "Church built on the rock" !
---------------------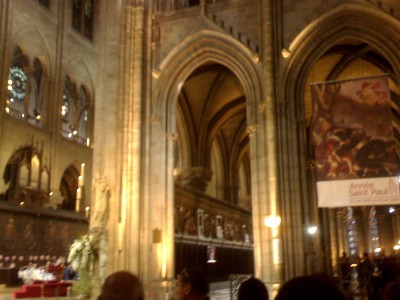 - Speaking to thousands of French Priests at Notre Dame's Cathedral, Benedict highlighted a solid "Church built on the Rock" of conscious and active persons, transmitting "a lively, energetic and sharp" "God's Speech, actively working on Human History".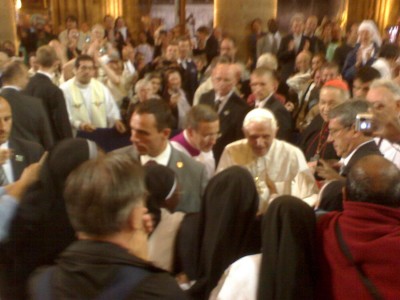 "Praying together" with "representatives of Christian Churches and ecclesiastic communities", (as Orthodoxes, Armenians, Protestants, etc), he called "to reinforce the Unity of the church", against "any form of Division", around Holy Spirit', "the Word","Christ's Justice", and "Love" to fellow- humans : Essentials which "resume all holy scripts", as he said.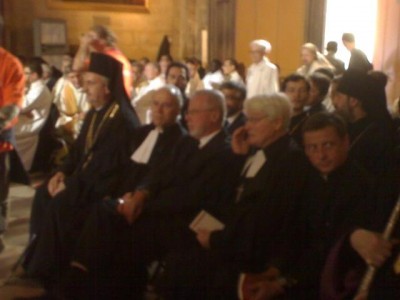 -----------------------
To Young People : "New Horizons"
------------------------
To some 15.000 enthousiastic Young People at Notre Dame's parvis, along Seine's river, Benedict spoke about "the Energy of the Holy Spirit" and "the Mystery of the Cross" : - "The Holy Spirit opens New Horizons to Human Intelligence .. and makes it conscious of the real greatness of Christ's sacrifice, dying and resurecting for World's life".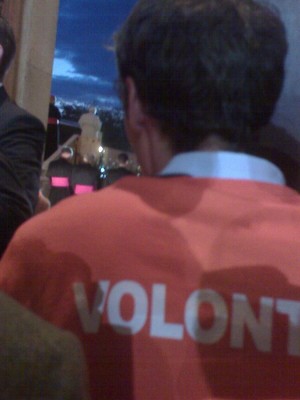 Some "may slander you as crazy, laugh at you, or even persecute you. But, "the Holy Cross is a symbol of God's love", and "givesmoral strength" : "Witness of People's pains, it's at the same time, a precious, unique expression of their Hopes", he told them at Paris' dawn.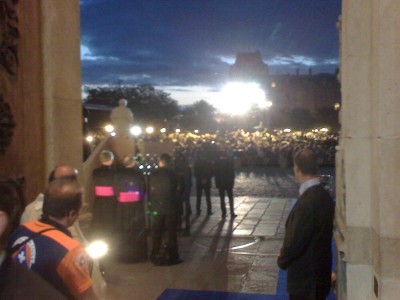 ----------------------------------
Invalides' plateau : "People chosen to become God's friends"
---------------------------------------
At the 1st open-air Mass in Paris' center area of Invalides, facing the Grand Palais, along the river Seine, during an impressive gathering of more than 150.000, French Prime Minister Fillon, Ministers Alliot-Marie, Bachelot, Dati, Jouyet, Assembly's President Accoyer, Senate's Chair Poncelet, former 1st Lady Bernadette Chirac, former Prime Minister Raffarin, many foreign Ambassadors, and other political personalities were present. (While earlier, from the Socialist opposition, Paris' Mayor Delanoye, artist Robert Hussein a.o. assisted at the Elysee meeting).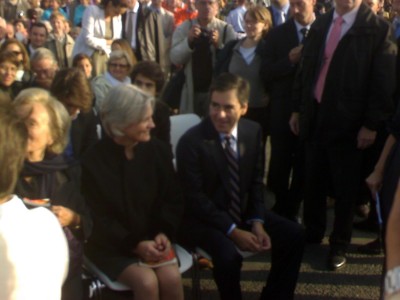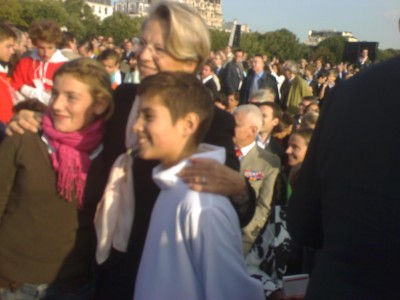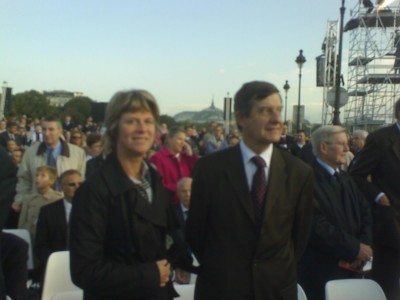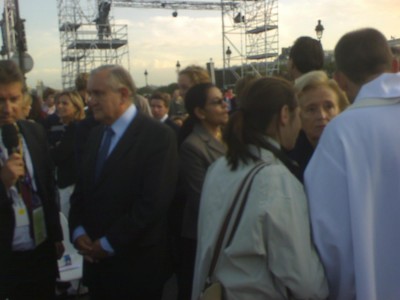 But the "Entry Song" focused on the "People chosen to become God's Friends". The September 11 mass was Dedicated to "Saint Chrysostomus, that great priest of Constantinople", with his "wonderful eloquence and great courage to face challenges", who "made out of despaired and godless people, a people of brothers", opening a possibility to "become all one complete entity", as Pope Benedict reminded.

- "Reason never enters in real contradiction with Faith", stressed Pope Benedict, who prepared his speeches for France during a short Summer rest at Brixen/Bressanone's Seminar, whose Library honors both "Faith and Science".. - "We must use not only our Reason, but also our Faith" : "Get away from Idolatry", "cupidity", "avidity for money, power or even knowledge deviating from essential aims", and other "falses appearances". and "build your Home on the Rock", "with the force that Holy Spirit gives to those who let it act in them", he said to the People of Paris.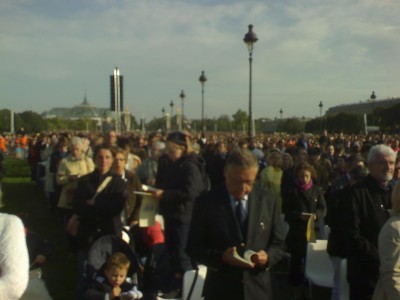 --------------------------------------------------
Benedict at Lourdes : - "Become Light (even) in the Dark !"
------------------------------------------------------------------
- "Our World needs Hope", stressed Pope Benedict, addressing an impressive TorchLight procession at Lourdes' sanctuaries, where a Sea of Lights held by Hundreds of Thousands of People gathered at Pyrenee's Mountains from all over Europe astonishingly kept their flames despite a heavy Rain at a windy Dark Night...

- "150 years earlier (1858 - 2008), ..here, in the cave, ... a simple young girl, Bernadette .. saw a Light". "The everyday life of her Family was, however, made of Misery, Sadness, Sickness, Misunderstandings, Rejection and Poverty... It was hard to live in Jail". Today, "we think to all Human Beings who suffer : The innocent Victims who face Violence, War, Terrorism, Hunger, Injustices, Catastrophes, Hate and Oppression, Violations of Human Dignity and of their fundamental Rights, of their Liberty to act and think. We also think to those who face Familial problems, sufferings from Unemployment, Sickness, Infirmity, Isolation, or their situation as Immigrants, without forgetting those who suffer and die for the name of Christ", he said.

- "But the Shadows of the Earth, did not hinder Sky's Light to shine : <<The Light shines in the Dark>>" ..."A Way full of Light opens in Human History even in its Darkest moments" : ..."As Night falls, Christ tels us : <<- Keep your Lamps alight !>>."Hold a Light while walking in the Night .. sums up our condition as Christians on their way : "We need light, and we are called to become Light !", Benedict stressed to People setting in motion Lights, Flags and Songs with enthousiasm.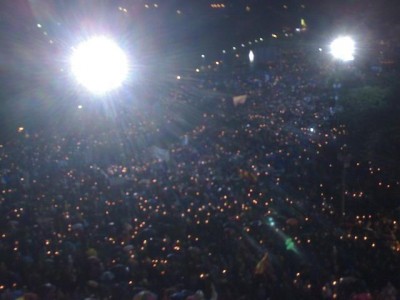 "<<- She looked at me as a Person, who speaks to another Person>>, the poor girl had noted."Light emerges from such a Dialogue", stressed the Pope : "A small Flame called Hope, Compassion and Tenderness dwells inside those who return after being moved by Lourdes' experience". "Christ .. entrusts us with the Mission to let the Light of Charity shine : To make of our Prayers an Act of Love to our brothers and to Fraternal Charity", he concluded.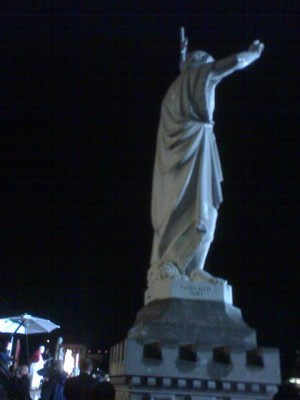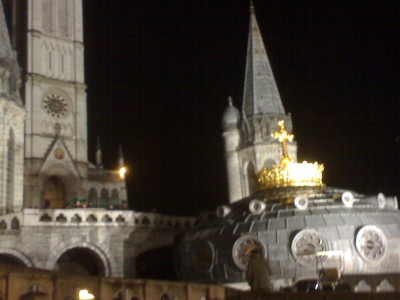 (../..)
Polls