Pagina principale

newsitems

EUParliament slams Turkey Intrusion in Syrian Kurds areas: CeaseFire/Withdraw Army/No-Fly Zone(UNSC)
EUParliament slams Turkey Intrusion in Syrian Kurds areas: CeaseFire/Withdraw Army/No-Fly Zone(UNSC)
giovedì, 15 marzo 2018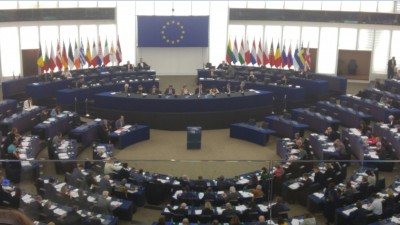 *Strasbourg/EU Parliament/Angelo Marcopolo/(UPDATED)- Just Hours after deadly Turkish Bombings on the surrounded Afrin city,  EU Parliament adopted a last minute Amendment in a New Resolution on Syria, expressing Deep Concern for Turkey's military Intervention in Syria's Kurdish canton of Afrin and other similar areas, calling Ankara to Withdraw its Troops, and, in the meantime, for a CeaseFire, (as UNSC has already asked).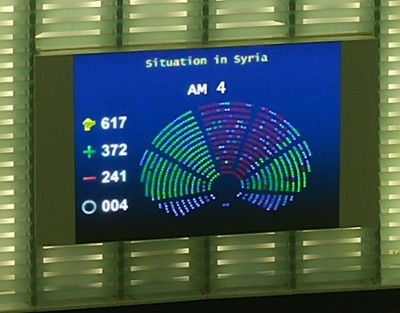 This is contained in a largely supported, new EU Parliament's Resolution on Syria in general, which was drafted jointly by 5 Political Groups, added to a Public Debate where Frederica Mogherini, EU Commission's vice-President and High Representative of EU Council (i.e. of all EU Heads of State/Governments, including France, the UK, Germany, Italy, etc), stressed, already on Tuesday that it concerns "FIRST, Akrin",
+ Today's EU Resolution also "Underlines that the EU should Consider All available Options ..., Including ... the Establishment of NO-FLY ZONES under a UNSC Resolution", (Article 13). 

This Fits particularly Well the case of Afrin, since, in principle, it's hard to find any legitimate interest for anyone among UNSC 5 Permanent Members to, eventually, oppose a Veto against an elementary Protection,
in Front of a Foreign Military Invasion by Turkey, Bombarding a Syrian Kurdish City which Hosts 700.000 People, including Refugees from Other Areas, is Notoriously Peaceful and the Only one to have Never Attacked anyone else, but, on the Contrary, has even Send and Sacrificed several among its Citizens in order to Help the US-led International Coalition to Fight Against the Deady Islamist Terrorists of ISIL's Coward Killers Targetting innocent Civilian People even throughout Europe, including Russia, in the USA and elsewhere in the World.

Already, inter alia, it's also former French President, Francois Hollande, just reportedly Suggested to, indeed, Establish such a "No-Fly Zone" in order to Protect Afrin's current 700.000 Inhabitants.  
------------------------------------

 In particular :

- The 28 Member States strong EU Parliament, for the 1st Time so Clearly, "Express(ed) Deep Concern at Turkey's Intervention", after its Plenary Adopted a Last-Minute Amendment, Today, Thursday 15 March 2018 in Strasbourg.

>>> Interestingly, (and very Topically), this important Addition concerns Not Only Afrin, but Also ALL Other Syrian Kurdish Territories, since the Adopted Text explicitly slams any "Turkey's Intervention in Areas of Syria which are controlled by Kurdish forces" :

=> I.e., also Elsewhere, f.ex. at Manbij, where Ankara notoriously Pressures the USA to Drop the Syrian Kurds and Replace them by Turkey's Military and/or its "Proxies" Jihadists Armed Gangs, etc.


+ Something that the Turkish President Erdogan has repeatedly Threatened to Extend throughout All Syrian areas near the Borders, Traditionally inhabited mainly by Kurdish People, affecting a Huge Territory, (and very Close to the areas where Syrian Kurds notoriously Fought many Hard Battles in order Both to Protect their Populations (f.ex. at Kobane, etc), and, Further, to Help the US-led International Coalition to Win the Fight against ISIS' Deadly Islamist Terrorists cowardly Targetting Civilian People, (f.ex. by Liberating even Raqqa City, until Deir-el-Zor, etc).

----------------------------------------

- In the MeanTime, EU Parliament's adopted New Resolution clealry "Calls for a CEASEFIRE throughout Syria, therefore INCLUDING AFRIN", i.e. Explicitly Applying UN Security Council's latest Resolution on Syria, also in the case of that Syrian Kurdish Canton, currently Facing Deadly Aggressions by the Turkish Military Invasion.

+ Moreover, EU Parliament added, Today, a crystal-clear "Call on the Turkish Government to WITHDRAW ITS TROOPS", (Article 6). 

++ However, since the Word "Immediately", curiously was Not Included in the above-mentioned sentence, (Comp. Supra), Meanwhile, EU Parliament "Demands full Respect for Humanitarian Law, including the PROTECTION OF CIVILIANS", "Warn(ing) against further Deterioration of the ...Humanitarian Crisis", (in the Same Paragraph No 6, which refers to Syrian Kurdish Areas and particularly Afrin).

Because Reports about Civilian People's Casualties are Multiplying, as Turkish-led Armed Aggressions against Afrin City (where even Water was Cut off after a Turkish Attack) are Growing.

In a Premonitory way, EU Parliament also "Reminds ... that Hospital and Medical Personel are explicitly Protected under International Humanitarian Law" : Afrin, indeed, has Only 1 Hospital for Major Operations, to serve a Population of some 700.000...

-------------------------

+++ MEPs confirmed that they are "Seriously Worried about the ... Situation in Afrin", which is currently "Escalating", (as Turkish Military has practiclly Surrounded the City and Started Deadly Attacks against it).

++++ Current Risks, at Afrin, "include", f.ex., even a "possible Confrontation between Turkish Forces and Assad" (Syrian Government's Army), "or Russian Forces" too, while also "Tensions with the U.S." are "Rising", as far as Turkey's Claims to Extend even Further (towards Manbij, etc) its Military Intervention against precious and efficient Syrian Kurdish Allies of the US-led International Coalition against ISIS' Terrorists, (Comp. Supra).

+++++ In fact, "the Opening of New Fronts in Syria is Not in the Interest of Turkey's Security", critically Warns Ankara the EU Parliament, "Echo(ing) the position of the (EU Commission's) Vice-President and (EU Council's) High Representative" for External Action, Frederica Mogherini.

"Call(ing) on the Turkish Government to ... Play a Constructive Role in the Syrian Conflict", EU Parliament points out that this "is also in Turkey's National Interests".

++++++ But, at the Same Time, MEPs' Adopted Resolution also observes "Underlines" that "the Global Coalition against Daesh (ISIS) and Syrian Partner Forces (i.e. mainly the Kurdish-led "Syrian Democratic Forces") have made Significant Progress in the Campaign to Defeat Daessh (ISIS) in Syria", recently (mainly on 2017+).

+++++++ Last, but not least, concerning also Turkey's vociforous Claims around Enforced Population Replacements in the Historically Kurdish areas of Syria, EU Parliament "Demands Respect by all for the Right of Ethnic and Religious Groups and Minorities in Syria, includig Christias and Anyone Displaced, to Continue to live in, or Return to their Historical and Traditional HomeLands in Dignity, Equality and Safety, ...withOut being subjected to any kind of Coercion, Violence or Discrimination", (Article 11).

In Parallel, as a matter of General Principle, (particularly Useful here, Given Turkey's notorious Record on Serious and Massive Human Rights Violations, Genocides, etc), EU Parliament Calls for "Accountability" for the "Atrocity Crimes committed in Syria", f.ex. via "Universal Jurisdiction in Tackling Impunity", by "making Grave Violations of International Law an Offence under National Laws", by "Creating a Syrian War Crimes Tribunal", and/or a "European Network" against "Persons Responsible for Genocide, Crimes against Humanity, and War Crimes", etc., (Article 10).
-----------------------------

+ The Move comes shortly after French Minister for Europe and Foreign Affairs, Jean-Yves Le Drian, replying to 2 MP's relevant Questions at the National Assembly in Paris, Critically observed that there is "Absolutely Not any Excuse for Turkish troops' actions Deep Inside Afrin's zone", so far Away from the Turkish-Syrian "Borders". (I.e., almost Adopting "Eurofora"s recent Publication's Similar Observation : See ...).

- The competent French Minister "Remind(ed) that the Fight Against ISIS  is the 1st Reason for (France's) Engagement in the Middle East, and it's also a National Security Priority".

>>> "But, we are Concerned by the Fact that Turkey's action may Result into Weakening the Pressure itshelf, on ISIS' remainining assets in Syria, while (reducing them) is is the main Stake".

+ Moreover, "UN Security Council Resolution 2401, ... concerns a Humanitarian Truce, which is Imposed to All, including Afrin", etc, he observed clearly.

- Last, but not least, "we (France) Recognize the Essential Role that the Kurds played for the Liberation of (ISIS' former "Capital" City) Raqqa", concluded Le Drian, (who, according to the Polls, is the Most Popular French Minister among all)...

Interestingly, the French Foreign MInister's Criticism of Turkey's Military Invasion even at the Center of Syrian Kurdish Afrin canton's Heartland, was Published, inter alia, also by UN SC Permanent Member China's main Press Agency "Xinhua", etc.

-----------------

- The Turkish Government reportedly Replied by Claiming that "there is Nothing the European Parliament can tell us on this"...

On this point, the Turks might have, at least Partly, got it Right :
In Fact, EU Parliament, also, clearly and explicitly Applies UNO Security Council's Latest Resolution on Syria, in the concrete (and obviously More Opposed to International Law) case of Turkey's Foreign Military Invasion inside Syria's Kurdish canton of Afrin.

- Turkish President Erdogan, reportedly also boasted that EU Parliament's "Statement will go in one Ear, and Out Other !" (sic)...

But that looks Wrong : In Fact, Both UNO's Security Council, and EU Parliament, as well as EU in general, (i.e. its Member States added, as France, Germany, the UK, Italy, and Other 24 Countries), have Various and Many Ways to exert Strong Pressure on Turkey for the Implementation of relevant UN SC Resolutions, and/or International Law's basic Principles, (including in order to Respect the Sovereignity of Independent Countries, as also certain Key Arab Countries, well inserted in Larger Networks,  have just Asked Ankara to do : See ...).

This includes a Wide Spectrum of Various possible Measures, ranging from Legal to Financial or Economic "Sanctions", up to Defence AId to the Syrian Kurds, if not outright Military Interventions, f.ex. by International Coalitions (as those Against Deadly Islamist Terrorists' Aggressions, Piracy, etc), and/or by imposing a "Non-Fly Zone" due to Protect People from being Killed by Unilateral AirStrikes and Bombardments, even from Foreign AirPlanes Illegaly Intruding Deep Inside anOther, Independent Country, and Brutally Trampling its Sovereignity Underfoot (Comp. Supra), etc.

=> - Inter alia, f.ex., it's also former French President, Francois Hollande, who has just, reportedly, Supported openly the idea of a "Non-Fly Zone" over Syria's Kurdish Canton of Afrin...

+ Moreover, this Strange (but also Tragic, because Deadly, including among a Growing Number of innocent Civilian People, notoriously Threatened also by Inhuman/Degrading Treatments by various Violent Islamist Extremists' Armed Gangs pushed by Turkey as its "Proxies", etc) Issue of Arfin, might Hold a Key :

- Indeed,  Turkey's Minister for EU affairs, Omer Celik, cited by "Reuters", went as far as to, in fact, Accuse MEPs to be ... Supporters of Terrorism (sic ! ) :

 - "Calling on Turkey to Withdraw its Troops (from Afrin) is a clear Support for Terrorist organizations" (sic !), Mr. Celik claimed, criticizing the "Decision the EU Parliament has taken" Today... (Comp. Supra).

      * The Fact that Syria's Kurdish canton of Afrin is located in anOther, Independent Country, (where Damascus' Government has repeatedly Protested Officially for such a Blatant Violation of its Sovereignity), and, Most Important, that Afrin was, until now, the More "Peaceful" and "Stable" area of Syria, (as even USA's Defence Secretary Mattis has reportedly observed), where more than "360.000 Displaced People" (including Arabs, Alevi, Yazidi, Christians, Armenians, etc) had sought and found Refuge there for Years, (as International Humanitarian NGOs, "Wikipedia", and many others had noted), as well as that "Afrin NEVER Attacked Turkey", as various MEPs and French MPs have stressed (f.ex. also at the French National Assembly, earlier this Week, in Paris, etc), obviously leave Mr. Celik and all the Turkish Government, indifferent, (Comp. Supra).

    But, just a Look at the Facts, starting by those showing the Way that the Turkish Deadly Military Invasion Evolved inside Afrin, (See relevant MAP, herewith), obviously Raise critical Questions :

    - F.ex., Why Turkey's 1st Move inside Afrin's area, just AFTER, initially Extending its Military Occupation along a Thick Land Strip accross All the BORDERS, between Turkey and Syria, (as Ankara's Government had Claimed - to NATO, France, US, etc-  that it would be its Unique Aim), Suddenly pushed its Army to penetrate even Far Away from the Turkish Borders, Inside Afrin, Until it Reached Alepo's area, (contolled by Damascus Government's Syrian Army), in a way which Cut Off IDLIB's adjacent Enclave and Separated it from Afrin ? (See MAP).

    >>> IDLIB, (located also Near the Turkish Borders, close to the Mediterranean Sea), was, notoriously the Area from where almost all Armed Islamist Terrorist Attacks hd Started, (particularly those of "Al Queda"-like Gangs, but also "ISIS"' Precursors, etc), already as Early as since 2011-2012, (i.e. since the inFamous "Benghazi" Massacre of USA's Diplomats and other Agents, which still remains Ill-Elucidated, but also since the First illegal "Arms-Trafficking" Ship Transports bringing Weapons to various Violent Islamist Extremist Gangs, had Started). Later-on, and "mainly Recently, Idlib has also become a kind of "SnakePit" full of Failed former Islamist Terrorists and/or Other Violent Jihadists", who have Progressively Gathered there, (even Transported by Buses hired by Damascus' Syrian Government, etc), Whenever any Part of Syrian Land was Liberated by ISIS, Al-Queda, and/or Other Islamist Terrorists, etc., according to Systematic last-minute Deals, (f.ex. from Aleppo to Raqqa, Eastern Ghouta and/or Other Damascus' Suburbs, as even just a few Days ago, etc). So that, Nowadays, Idlib reportedly Hosts the Biggest Over-Concentration of various Islamist Extremists and Terrorists from All-over Syria, including more than +30.000 Armed Jihadists !

    => Therefore, After ISIS' Collapse from Raqqa to Deir-el-Zor, etc., it was, notoriously, around Idlib that the main Efforts of the Syrian Government and its Allies (Russia, Lebanese, Iranian Shiites, Popular Forces, etc) were Focused, as the Next Important Push for the Liberation of the Country from the Last Remains of Foreign and Local Armed Jihadists, ...just Before Turkey invaded Afrin.

        >>> A simple Look at a Map is enough in order to realize that, in Fact, IDLIB was located, in relation to Afrin (at its Northen side), and Damascus' + Allied Forces, (at its Southern side), at the Beginning of 2018, almost as ... RAQQA had been during ISIS' "Caliphat", just before being Liberated by Kurds and the US-led International Coalition in 2017 !    

    Indeed, IF the Syrian Kurds of AFRIN (at the North-WEST) had the Time and the Will to Help Damascus' National Syrian Army and its Allies (Russia included, etc), to Free IDLIB from the Last important Islamist Extremists' Stronghold, notoriously Full of AL-QUEDA-like Jihadists, Many Foreigners,

 - mutatis-mutandis, as the Other Syrian Kurds of KOBANE (at the North-EAST) had just done, by Helping the US-Led International Coalition to Free RAQQA + El Zohr from the Retreating ISIS' Terrorists, them too full of Foreigners -

=> then, most Probably, the Overall Syrian Conflict might have Become (Comparatively) much More Easy to Solve, (than what it is until now), with a Negotiated POLITICAL SOLUTION, at nearby Geneva and/or Elsewhere, as the Opposition to the current Regime in Damascus, would have been Liberated from Extremist Islamist Violent and Armed Thugs' Gangs, outright Terrorists ("ISIS" and/or "Al-QUEDA"-like), etc., (Most of them Notoriously Backed and/or Manipulated from various Foreign "Puppet-Masters"),  Focusing mainly on Peaceful (even if Hard) Disagreements to Bridge,

(withOut more innocent Civilian People and Other Victims' Killed or Maimed Bodies atrociously Pilling up, among Destructions and various Brutal, Inhuman/Degrading Treatments, Horrible Threats, particularly by some uncontrolled, Monstruous "Jihadists" pictured in their own Videos Cowardly Sullying killed People's Corpses, and/or Trumpling Under Foot POWs or other Traped People, Committing War Crimes with Total Impunity)...

=> By Rushing, immediately, to (FIRST of all) Cover IDLIB's Snakepit from the Syrian Kurds of Afrin (Comp. Supra), and Afterwards Launching a Sly, Open Aggression, Deep Inside the Syrian Kurdish Canton's Central Heartland, against its Capital City, (where Hundreds of Thousands of Displaced Civilian People had recently seeked Refuge), even Cutting Water, Severing Electricity, Phone/Internat Communications for a Total Population or, reportedly, some 700.000 People living nowadays at Afrin, according to Mainstream Medias,
Turkey apparently seeked to Save the Real Terrorists, but Destroy one of the (Comparatively) Most Innocent and Peacefull Areas of nowadays Syria, in Total Disregard for EU's and UNO's Resolutions, as well as Basic International Law and Human Rights Values.

          

(../..)
----------------

BRIEF NEWS
00:00 - 31.05.2018

00:00 - 26.12.2017

00:00 - 26.05.2017

00:00 - 30.01.2017

00:00 - 14.10.2016

00:00 - 24.09.2016

00:00 - 27.07.2016

00:00 - 03.07.2016

00:00 - 01.06.2016
Statistics
Ospiti: 27530726
Archive
Login Form
Other Menu

    The recent paradox of freezing EU Talks with front-runner Croatia, while continuing controversial EU - Turkey talks, despite Zagreb's acceptance of Refugees' Human Rights to return, that Ankara refuses fex. in Cyprus, while both have "Good Neighborhood" problems vis a vis Slovenia, or Greece, Cyprus and Armenia respectively, can it be justified by the non-fullfilment of EU criteria, as Slovenia says, or, is it "Double Standards" ?    
The question became unavoidable after statements by Presidents of Slovenia and Croatia, Tuerk and Mesic, respectively, to "EuroFora", exclusively or among Strasbourg's journalists this week at the CoE, on the sidelines of its 2009 Summer University for Political Schools, which topically brought them together as successive key-note speakers.

    Comming only a few Months before EU checks Turkey's compliance to its commitments on Cyprus, etc., scheduled for December 2009, this obviously has a special importance for the coherence of EU Enlargement's principles.

     Suspension of EU Negotiations is a normal consequence in case of a Candidate Country's failure to fullfil EU Conditions, such as "Good Neighborhood relations", stressed at first Slovenian President Danilo Tuerk, current CoE's chair.

    But, regarding EU's Criteria,  there shouldn't be any "Double Standards",  reacted Croatian President Stjepan Mesic, commenting the fact that Turkey's controversial EU negotiations continue, while they were recently "freezed" in the case of Croatia, an "unquestionably European Country", which oficially accepts to respect Refugees Human Rights, contrary to Ankara's notorious refusals or reluctance.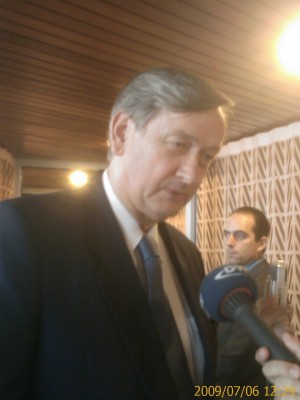 - "EU itself has set as a Criterium (for EU Enlargement) the "Good Neighborhood relations",  and their absence justifies the "Suspension" EU Negotiations, (f.ex. with Croatia), because of a Border dispute affecting the territorial integrity of an EU Member Country, stressed Slovenian President, Danilo Tuerk, CoE's Chairman in office (May - November 2009), speaking to Journalists in Strasbourg including "EuroFora".    
Questioned earlier what "consequences on EU's Enlargement policy" can have the "Ban on EU Membership Negotiations", imposed to Croatia, Tuerk replied that "this question comes down to the fulfillement of (EU) Criteria for membership. One has to look at each Candidate Country ., from the point of view whether it fullfils the Criteria that EU has set. One of them are Good Neighborhood Relations, I'd like to remind. And also, there are other factors, such as Justice, Home affairs, Rule of Law, and others".

    - "Now, ..Candidate Countries are at Different Levels of fulfillement of Criteria", he observed.

    - " Croatia is obviously the closest to that. I'm rather optimistic : I think that in the coming Months we'll have an opportunity to look at all these issues constructively and hopefully we'll be able to make progress". "My main concern, at this point, is the situation in Bosnia : We haven't seen enough progres domesticaly. We haven't seen enough during ..political parties within their country.We need a New Energy, a new energetic move towards the Candidature for EU membership. "Other (Western Balkan) Countries (Serbia, Montenegro, FYROM, Albania) have been making soaring Progress, and I think that they should be ready, in a few Years, for the Candidate status".

    - "As far as the Western Balkans are concerned, .. nobody should be left outside" the EU, Slovenian's President concluded, ommitting to mention Turkey's controversial EU bid.

    - "This process may be seen as Slow, but..  Slovenia has also has also been exposed to various "Booms of Slowness" in our accession period. But now we can say that the process was relatively quick, because changes which occur after becoming EU member, are quite large, and they require proper Preparations before the (EU) membership becomes a new factor, an impacting line for a new (EU) member country".
----------------------------
EU "Solidarity" ?
------------------------------   
Slovenian statements made some participants from certain 3rd Countries as FYROM, etc. claim that "the Principle of EU Solidarity" would "produce a.. rising European Union Nationalism (sic !), against Non-EU Countries", as they said, asking unhappy foreign countries to form a "bloc" to exert pressure on the EU...    
But Croatian President Stjepan Mesic dismissed that, supporting "EU Integration", "after the Economy also in Political" issues, as "the achievement" of our times. In EU there is "diversity, but it's United", he stressed, "EU has to be United so that it can become a central factor of Peace" also at the surrounding areas, he replied.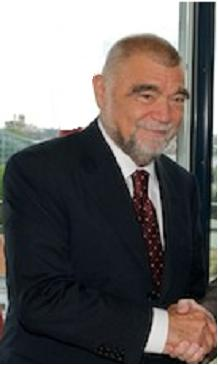 Speaking later exclusively to "EuroFora", the experienced twice President of Croatia, former President of the International "Non-Aligned" movement, denounced "Double Standards" in the way EU treats recently Croatia compared to Turkey :   
 - "I think that there shouldn't be Double Standards", stressed the Croatian President, in reply to a Question comparing the freeze of EU - Croatia talks, with the continuation of EU - Turkey talks, despite the fact that Croatia is an "unquestionably European country", while Turkey's EU bid is notoriously controversial.

    Mesic was reacting to the observation that, even if he confirmed his "respect of Refugees' Human Rights to return, etc. (See infra), nevertheless, EU talks are suspended with Croatia.. While for oher, controversial candidates, who refuse to respect Refugees' Rights to return, etc., as fex. Turkey does in occupied Cyprus and elsewhere, EU negotiations continue".

    - "I believe that Croatia's accession will confirm that all European Countries who fulfill all of the Conditions and achieve European Standards, have to join the EU. There shouldn't be any Double Standards", went on to add in reply President Mesic.

    In this relation, Croatia's President found "of paramount importance", CoE's "mechanisms enforcing ECHR's judgements"
    
    - "On Refugees and Displaced persons, the process will be completed only after the last person demanding to return will be allowed to do so !", President Mesic Croatia stressed earlier, setting a general standard of obvious importance also for otherr candidates, as f.ex. Turkey, often accused to exclude or heavily restrict Greek Cypriot Displaced persons' return to their Family Homes and ancestral land, provoke difficulties to Turkish-Kurd IDPs return to their home regions at the South-East, etc.

    Some "2.000 People are still reported Missing" in former Yugoslavia, for some Years, (as in Cyprus, modern Europe's oldest case, for 3 Decades. Nagorno-Karabach, Tcecnya in Russia, etc, more recently), and Investigations "will only be completed after establishing the fate of the last one of them", he added.
    
    Speaking earlier on "War Crimes", President Mesic stressed that "Leaders are responsible for (the) Wars (of the Past), not the People", and called against Impunity :  "Individuals have to be held Responsible for Crimes. International Penal Tribunals have to persecute those individuals", perpetrators of War Crimes, he underlined.

    Such statements naturally made Mesic rather popular at ECHR, whose President, French EuroJudge, Professor Jean-Paul Costa, looked particularly smiling when he welcomed him later on Wednesday afternoon, after Slovenian President Daniko Tuerk earlier this week.
           

***
Polls