Αρχική

newsitems

EUParliament slams Turkey Intrusion in Syrian Kurds areas: CeaseFire/Withdraw Army/No-Fly Zone(UNSC)
EUParliament slams Turkey Intrusion in Syrian Kurds areas: CeaseFire/Withdraw Army/No-Fly Zone(UNSC)
Πέμπτη, 15 Μάρτιος 2018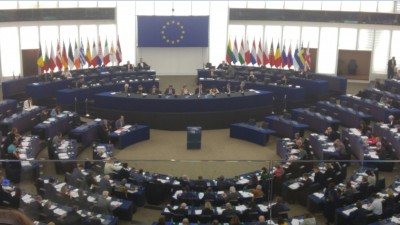 *Strasbourg/EU Parliament/Angelo Marcopolo/(UPDATED)- Just Hours after deadly Turkish Bombings on the surrounded Afrin city,  EU Parliament adopted a last minute Amendment in a New Resolution on Syria, expressing Deep Concern for Turkey's military Intervention in Syria's Kurdish canton of Afrin and other similar areas, calling Ankara to Withdraw its Troops, and, in the meantime, for a CeaseFire, (as UNSC has already asked).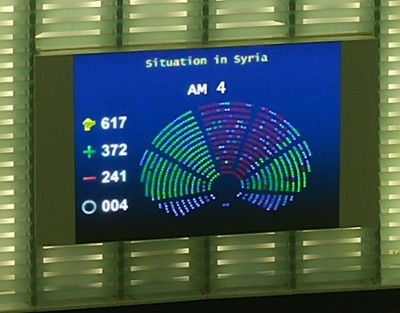 This is contained in a largely supported, new EU Parliament's Resolution on Syria in general, which was drafted jointly by 5 Political Groups, added to a Public Debate where Frederica Mogherini, EU Commission's vice-President and High Representative of EU Council (i.e. of all EU Heads of State/Governments, including France, the UK, Germany, Italy, etc), stressed, already on Tuesday that it concerns "FIRST, Akrin",
+ Today's EU Resolution also "Underlines that the EU should Consider All available Options ..., Including ... the Establishment of NO-FLY ZONES under a UNSC Resolution", (Article 13). 

This Fits particularly Well the case of Afrin, since, in principle, it's hard to find any legitimate interest for anyone among UNSC 5 Permanent Members to, eventually, oppose a Veto against an elementary Protection,
in Front of a Foreign Military Invasion by Turkey, Bombarding a Syrian Kurdish City which Hosts 700.000 People, including Refugees from Other Areas, is Notoriously Peaceful and the Only one to have Never Attacked anyone else, but, on the Contrary, has even Send and Sacrificed several among its Citizens in order to Help the US-led International Coalition to Fight Against the Deady Islamist Terrorists of ISIL's Coward Killers Targetting innocent Civilian People even throughout Europe, including Russia, in the USA and elsewhere in the World.

Already, inter alia, it's also former French President, Francois Hollande, just reportedly Suggested to, indeed, Establish such a "No-Fly Zone" in order to Protect Afrin's current 700.000 Inhabitants.  
------------------------------------

 In particular :

- The 28 Member States strong EU Parliament, for the 1st Time so Clearly, "Express(ed) Deep Concern at Turkey's Intervention", after its Plenary Adopted a Last-Minute Amendment, Today, Thursday 15 March 2018 in Strasbourg.

>>> Interestingly, (and very Topically), this important Addition concerns Not Only Afrin, but Also ALL Other Syrian Kurdish Territories, since the Adopted Text explicitly slams any "Turkey's Intervention in Areas of Syria which are controlled by Kurdish forces" :

=> I.e., also Elsewhere, f.ex. at Manbij, where Ankara notoriously Pressures the USA to Drop the Syrian Kurds and Replace them by Turkey's Military and/or its "Proxies" Jihadists Armed Gangs, etc.


+ Something that the Turkish President Erdogan has repeatedly Threatened to Extend throughout All Syrian areas near the Borders, Traditionally inhabited mainly by Kurdish People, affecting a Huge Territory, (and very Close to the areas where Syrian Kurds notoriously Fought many Hard Battles in order Both to Protect their Populations (f.ex. at Kobane, etc), and, Further, to Help the US-led International Coalition to Win the Fight against ISIS' Deadly Islamist Terrorists cowardly Targetting Civilian People, (f.ex. by Liberating even Raqqa City, until Deir-el-Zor, etc).

----------------------------------------

- In the MeanTime, EU Parliament's adopted New Resolution clealry "Calls for a CEASEFIRE throughout Syria, therefore INCLUDING AFRIN", i.e. Explicitly Applying UN Security Council's latest Resolution on Syria, also in the case of that Syrian Kurdish Canton, currently Facing Deadly Aggressions by the Turkish Military Invasion.

+ Moreover, EU Parliament added, Today, a crystal-clear "Call on the Turkish Government to WITHDRAW ITS TROOPS", (Article 6). 

++ However, since the Word "Immediately", curiously was Not Included in the above-mentioned sentence, (Comp. Supra), Meanwhile, EU Parliament "Demands full Respect for Humanitarian Law, including the PROTECTION OF CIVILIANS", "Warn(ing) against further Deterioration of the ...Humanitarian Crisis", (in the Same Paragraph No 6, which refers to Syrian Kurdish Areas and particularly Afrin).

Because Reports about Civilian People's Casualties are Multiplying, as Turkish-led Armed Aggressions against Afrin City (where even Water was Cut off after a Turkish Attack) are Growing.

In a Premonitory way, EU Parliament also "Reminds ... that Hospital and Medical Personel are explicitly Protected under International Humanitarian Law" : Afrin, indeed, has Only 1 Hospital for Major Operations, to serve a Population of some 700.000...

-------------------------

+++ MEPs confirmed that they are "Seriously Worried about the ... Situation in Afrin", which is currently "Escalating", (as Turkish Military has practiclly Surrounded the City and Started Deadly Attacks against it).

++++ Current Risks, at Afrin, "include", f.ex., even a "possible Confrontation between Turkish Forces and Assad" (Syrian Government's Army), "or Russian Forces" too, while also "Tensions with the U.S." are "Rising", as far as Turkey's Claims to Extend even Further (towards Manbij, etc) its Military Intervention against precious and efficient Syrian Kurdish Allies of the US-led International Coalition against ISIS' Terrorists, (Comp. Supra).

+++++ In fact, "the Opening of New Fronts in Syria is Not in the Interest of Turkey's Security", critically Warns Ankara the EU Parliament, "Echo(ing) the position of the (EU Commission's) Vice-President and (EU Council's) High Representative" for External Action, Frederica Mogherini.

"Call(ing) on the Turkish Government to ... Play a Constructive Role in the Syrian Conflict", EU Parliament points out that this "is also in Turkey's National Interests".

++++++ But, at the Same Time, MEPs' Adopted Resolution also observes "Underlines" that "the Global Coalition against Daesh (ISIS) and Syrian Partner Forces (i.e. mainly the Kurdish-led "Syrian Democratic Forces") have made Significant Progress in the Campaign to Defeat Daessh (ISIS) in Syria", recently (mainly on 2017+).

+++++++ Last, but not least, concerning also Turkey's vociforous Claims around Enforced Population Replacements in the Historically Kurdish areas of Syria, EU Parliament "Demands Respect by all for the Right of Ethnic and Religious Groups and Minorities in Syria, includig Christias and Anyone Displaced, to Continue to live in, or Return to their Historical and Traditional HomeLands in Dignity, Equality and Safety, ...withOut being subjected to any kind of Coercion, Violence or Discrimination", (Article 11).

In Parallel, as a matter of General Principle, (particularly Useful here, Given Turkey's notorious Record on Serious and Massive Human Rights Violations, Genocides, etc), EU Parliament Calls for "Accountability" for the "Atrocity Crimes committed in Syria", f.ex. via "Universal Jurisdiction in Tackling Impunity", by "making Grave Violations of International Law an Offence under National Laws", by "Creating a Syrian War Crimes Tribunal", and/or a "European Network" against "Persons Responsible for Genocide, Crimes against Humanity, and War Crimes", etc., (Article 10).
-----------------------------

+ The Move comes shortly after French Minister for Europe and Foreign Affairs, Jean-Yves Le Drian, replying to 2 MP's relevant Questions at the National Assembly in Paris, Critically observed that there is "Absolutely Not any Excuse for Turkish troops' actions Deep Inside Afrin's zone", so far Away from the Turkish-Syrian "Borders". (I.e., almost Adopting "Eurofora"s recent Publication's Similar Observation : See ...).

- The competent French Minister "Remind(ed) that the Fight Against ISIS  is the 1st Reason for (France's) Engagement in the Middle East, and it's also a National Security Priority".

>>> "But, we are Concerned by the Fact that Turkey's action may Result into Weakening the Pressure itshelf, on ISIS' remainining assets in Syria, while (reducing them) is is the main Stake".

+ Moreover, "UN Security Council Resolution 2401, ... concerns a Humanitarian Truce, which is Imposed to All, including Afrin", etc, he observed clearly.

- Last, but not least, "we (France) Recognize the Essential Role that the Kurds played for the Liberation of (ISIS' former "Capital" City) Raqqa", concluded Le Drian, (who, according to the Polls, is the Most Popular French Minister among all)...

Interestingly, the French Foreign MInister's Criticism of Turkey's Military Invasion even at the Center of Syrian Kurdish Afrin canton's Heartland, was Published, inter alia, also by UN SC Permanent Member China's main Press Agency "Xinhua", etc.

-----------------

- The Turkish Government reportedly Replied by Claiming that "there is Nothing the European Parliament can tell us on this"...

On this point, the Turks might have, at least Partly, got it Right :
In Fact, EU Parliament, also, clearly and explicitly Applies UNO Security Council's Latest Resolution on Syria, in the concrete (and obviously More Opposed to International Law) case of Turkey's Foreign Military Invasion inside Syria's Kurdish canton of Afrin.

- Turkish President Erdogan, reportedly also boasted that EU Parliament's "Statement will go in one Ear, and Out Other !" (sic)...

But that looks Wrong : In Fact, Both UNO's Security Council, and EU Parliament, as well as EU in general, (i.e. its Member States added, as France, Germany, the UK, Italy, and Other 24 Countries), have Various and Many Ways to exert Strong Pressure on Turkey for the Implementation of relevant UN SC Resolutions, and/or International Law's basic Principles, (including in order to Respect the Sovereignity of Independent Countries, as also certain Key Arab Countries, well inserted in Larger Networks,  have just Asked Ankara to do : See ...).

This includes a Wide Spectrum of Various possible Measures, ranging from Legal to Financial or Economic "Sanctions", up to Defence AId to the Syrian Kurds, if not outright Military Interventions, f.ex. by International Coalitions (as those Against Deadly Islamist Terrorists' Aggressions, Piracy, etc), and/or by imposing a "Non-Fly Zone" due to Protect People from being Killed by Unilateral AirStrikes and Bombardments, even from Foreign AirPlanes Illegaly Intruding Deep Inside anOther, Independent Country, and Brutally Trampling its Sovereignity Underfoot (Comp. Supra), etc.

=> - Inter alia, f.ex., it's also former French President, Francois Hollande, who has just, reportedly, Supported openly the idea of a "Non-Fly Zone" over Syria's Kurdish Canton of Afrin...

+ Moreover, this Strange (but also Tragic, because Deadly, including among a Growing Number of innocent Civilian People, notoriously Threatened also by Inhuman/Degrading Treatments by various Violent Islamist Extremists' Armed Gangs pushed by Turkey as its "Proxies", etc) Issue of Arfin, might Hold a Key :

- Indeed,  Turkey's Minister for EU affairs, Omer Celik, cited by "Reuters", went as far as to, in fact, Accuse MEPs to be ... Supporters of Terrorism (sic ! ) :

 - "Calling on Turkey to Withdraw its Troops (from Afrin) is a clear Support for Terrorist organizations" (sic !), Mr. Celik claimed, criticizing the "Decision the EU Parliament has taken" Today... (Comp. Supra).

      * The Fact that Syria's Kurdish canton of Afrin is located in anOther, Independent Country, (where Damascus' Government has repeatedly Protested Officially for such a Blatant Violation of its Sovereignity), and, Most Important, that Afrin was, until now, the More "Peaceful" and "Stable" area of Syria, (as even USA's Defence Secretary Mattis has reportedly observed), where more than "360.000 Displaced People" (including Arabs, Alevi, Yazidi, Christians, Armenians, etc) had sought and found Refuge there for Years, (as International Humanitarian NGOs, "Wikipedia", and many others had noted), as well as that "Afrin NEVER Attacked Turkey", as various MEPs and French MPs have stressed (f.ex. also at the French National Assembly, earlier this Week, in Paris, etc), obviously leave Mr. Celik and all the Turkish Government, indifferent, (Comp. Supra).

    But, just a Look at the Facts, starting by those showing the Way that the Turkish Deadly Military Invasion Evolved inside Afrin, (See relevant MAP, herewith), obviously Raise critical Questions :

    - F.ex., Why Turkey's 1st Move inside Afrin's area, just AFTER, initially Extending its Military Occupation along a Thick Land Strip accross All the BORDERS, between Turkey and Syria, (as Ankara's Government had Claimed - to NATO, France, US, etc-  that it would be its Unique Aim), Suddenly pushed its Army to penetrate even Far Away from the Turkish Borders, Inside Afrin, Until it Reached Alepo's area, (contolled by Damascus Government's Syrian Army), in a way which Cut Off IDLIB's adjacent Enclave and Separated it from Afrin ? (See MAP).

    >>> IDLIB, (located also Near the Turkish Borders, close to the Mediterranean Sea), was, notoriously the Area from where almost all Armed Islamist Terrorist Attacks hd Started, (particularly those of "Al Queda"-like Gangs, but also "ISIS"' Precursors, etc), already as Early as since 2011-2012, (i.e. since the inFamous "Benghazi" Massacre of USA's Diplomats and other Agents, which still remains Ill-Elucidated, but also since the First illegal "Arms-Trafficking" Ship Transports bringing Weapons to various Violent Islamist Extremist Gangs, had Started). Later-on, and "mainly Recently, Idlib has also become a kind of "SnakePit" full of Failed former Islamist Terrorists and/or Other Violent Jihadists", who have Progressively Gathered there, (even Transported by Buses hired by Damascus' Syrian Government, etc), Whenever any Part of Syrian Land was Liberated by ISIS, Al-Queda, and/or Other Islamist Terrorists, etc., according to Systematic last-minute Deals, (f.ex. from Aleppo to Raqqa, Eastern Ghouta and/or Other Damascus' Suburbs, as even just a few Days ago, etc). So that, Nowadays, Idlib reportedly Hosts the Biggest Over-Concentration of various Islamist Extremists and Terrorists from All-over Syria, including more than +30.000 Armed Jihadists !

    => Therefore, After ISIS' Collapse from Raqqa to Deir-el-Zor, etc., it was, notoriously, around Idlib that the main Efforts of the Syrian Government and its Allies (Russia, Lebanese, Iranian Shiites, Popular Forces, etc) were Focused, as the Next Important Push for the Liberation of the Country from the Last Remains of Foreign and Local Armed Jihadists, ...just Before Turkey invaded Afrin.

        >>> A simple Look at a Map is enough in order to realize that, in Fact, IDLIB was located, in relation to Afrin (at its Northen side), and Damascus' + Allied Forces, (at its Southern side), at the Beginning of 2018, almost as ... RAQQA had been during ISIS' "Caliphat", just before being Liberated by Kurds and the US-led International Coalition in 2017 !    

    Indeed, IF the Syrian Kurds of AFRIN (at the North-WEST) had the Time and the Will to Help Damascus' National Syrian Army and its Allies (Russia included, etc), to Free IDLIB from the Last important Islamist Extremists' Stronghold, notoriously Full of AL-QUEDA-like Jihadists, Many Foreigners,

 - mutatis-mutandis, as the Other Syrian Kurds of KOBANE (at the North-EAST) had just done, by Helping the US-Led International Coalition to Free RAQQA + El Zohr from the Retreating ISIS' Terrorists, them too full of Foreigners -

=> then, most Probably, the Overall Syrian Conflict might have Become (Comparatively) much More Easy to Solve, (than what it is until now), with a Negotiated POLITICAL SOLUTION, at nearby Geneva and/or Elsewhere, as the Opposition to the current Regime in Damascus, would have been Liberated from Extremist Islamist Violent and Armed Thugs' Gangs, outright Terrorists ("ISIS" and/or "Al-QUEDA"-like), etc., (Most of them Notoriously Backed and/or Manipulated from various Foreign "Puppet-Masters"),  Focusing mainly on Peaceful (even if Hard) Disagreements to Bridge,

(withOut more innocent Civilian People and Other Victims' Killed or Maimed Bodies atrociously Pilling up, among Destructions and various Brutal, Inhuman/Degrading Treatments, Horrible Threats, particularly by some uncontrolled, Monstruous "Jihadists" pictured in their own Videos Cowardly Sullying killed People's Corpses, and/or Trumpling Under Foot POWs or other Traped People, Committing War Crimes with Total Impunity)...

=> By Rushing, immediately, to (FIRST of all) Cover IDLIB's Snakepit from the Syrian Kurds of Afrin (Comp. Supra), and Afterwards Launching a Sly, Open Aggression, Deep Inside the Syrian Kurdish Canton's Central Heartland, against its Capital City, (where Hundreds of Thousands of Displaced Civilian People had recently seeked Refuge), even Cutting Water, Severing Electricity, Phone/Internat Communications for a Total Population or, reportedly, some 700.000 People living nowadays at Afrin, according to Mainstream Medias,
Turkey apparently seeked to Save the Real Terrorists, but Destroy one of the (Comparatively) Most Innocent and Peacefull Areas of nowadays Syria, in Total Disregard for EU's and UNO's Resolutions, as well as Basic International Law and Human Rights Values.

          

(../..)
----------------



  Ten Years of ECHR : 1998 - 2008 show need of Revival in 2009-2010 coinciding with 2009 EU Election   
A threefold, coordinated move by new Top French Political actors in the 2009 EU Parliament Elections, expressed in Strasbourg a will to boost Europe's Political dimension close to Citizens' concerns, going from protection of Economy to defence of Human Rights.    
The move met an exceptional ECHR's call for a "revival" of Human Rights' protection mechanism', in a Mega-Conference, early 2010.   
Obviously focusing on June 2009 Elections to EU Parliament, it involved from the outset the recently nominated "dual" Head of French Governing Party (UMP)  Michel BARNIER and Rachida DATI :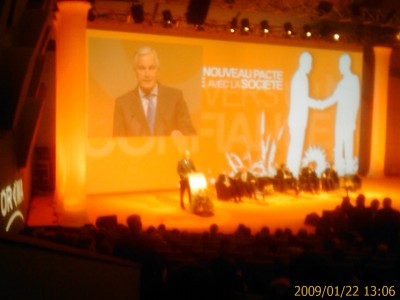 - "As President Sarkozy has clearly said, we (France) are in favor of a Strong, Sovereign and Independent, Political Europe, which protects its Citizens, and not for a large Super-Market, nor for a Europe under influence",
    "This goes for everything, including Energy", added to "EuroFora" the experienced former EU Commissioner, Minister of Foreign affairs, currently of Agriculture and Sarkozy's new pick as Leader of the Governing party UMP to EU 2009 Election, Michel BARNIER                                              .                             
  - Human Rights are important because they are at the Heart of the Political Europe that we aspire for : I.e. a Europe able to act and protect its Citizens, stressed also the New French Minister for European affairs, Bruno LE MAIRE, while meeting Strasbourg's Journalists at his first visit to the CoE.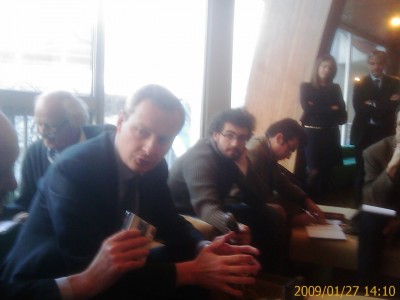 This is one of the main interests for CoE, which is also a natural place for cooperation between EU countries and Russia or Turkey, which was recently helpful at the Middle East crisis, he added.
The move gained momentum with French Minister of Justice, Rachida Dati's main observations at ECHR's 5Oth Anniversary :   
- "While we are seeking Europe's Borders and Identity, you (ECHR) remind us also of its Values", Human Rights, Dati noted.   
Citizens seek more and more often ECHR's help, and the tempo accelerates, Europa awaits a symbol, while national legal orders are not freezed   
And she expressed "support" to ECHR President Jean-Paul Costa's call to satisfy the vital need to revigorate the PanEuropean Court by deciding big changes at a High-Level Conference open to a large audience, a kind of "Etats Generaux" of Human Rights, at the beginning of 2010.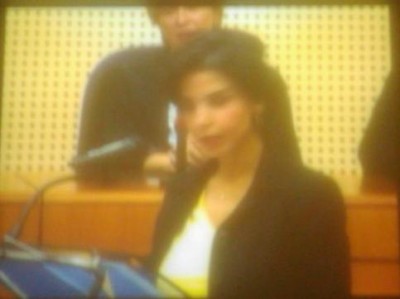 It's not so much the recently growing number of applications for Russia or Ukraine etc, which seems to be Costa's main concern : In fact, the cases declared "admissible" are much fewer...    
But rather the persistent violations of Human Rights, sometimes very grave (ie. murders, torture, abritrary deprivation of liberty, oppression of freedom of speech, destructions of homes/properties, etc), despite numerous, repeated condemnations by ECHR. So that CoE's Ministers, due to "supervise execution" of ECHR's judgements, are overloaded.   
F.ex. most Media noted that Turkey still remains, even in 2008, the 1st among 47 CoE member States in the number of condemnations by ECHR :  257, compared to 233 for Russia, with a population more than the double..    
The problem is that it's not the 1st time at all : During all the last Decade 1998-2008, Turkey was condemned by ECHR much more than any other State, and for particularly grave violations :   
- 1.652 condemnations, compared to 605 for Russia, 548 for Poland, 494 for France, 476 for Ukraine, etc.   
Italy's second place with 1.394 condemnations is a misleading false appearance : In fact, most of them (999) concern mere "procedural delays" in national courts. Same for France.   
On the contrary, Turkey was condemned 180 times for Killings, 192 times for Torture or Inhuman/Degrading treatments, 340 times for arbitrary deprivation of Liberty, 528 times for "Unfair trial", and 169 times for oppression of Freedom of speech, (etc). And the latest, 2008 numbers, indicate no change in this trend, (See supra).   
The current Spanish CoE Presidency (November 2008 - May 2009) has made of the implementation of ECHR's judgements its 1st Priority.   
ECHR's President, Jean-Paul Costa, stressed in its 2009 Annual Press Conference, CoE Member States' obligation to implement the judgements, according to Article 46 of the European Convention on Human Rights.   
Moreover, if CoE's Committee of Ministers delays to ensure implementation, then, the repetition of violations in similar cases provokes a multiplication of complaints tabled to the Court, which overload the mecanism for the protection of Human Rights, denounced Costa.          
A series of Debates on "the situation of Human Rights in Europe", focusing on the "need to fight against Impunity" of perpetrators of grave crimes, is  currently prepared by CoE's Parliamentary Assembly for the session of June 2009.  
The final Timing comes shortly AFTER the EU Elections, but the main Reports should have been adopted before.
Meanwhile, French President Sarkozy and German Chancelor Merkel's recent call "for a Political Europe" in 2009 EU Elections (See earlier "correspondence from Paris, Elysee Palace), seems more and more endorsed also by other EU Countries' Top MEPs :
Thus, f.ex., EU Parliament's 1st vice-President, Greek MEP Mrs Rodi KRATSA, speaking to "EuroFora", agreed that 2009 EU Election would be a "naturally good" opportunity to debate what really interests EU Citizens : "The Future of a Political Europe, able to face the Economic Crisis, with a Culture and identity which attracts the People"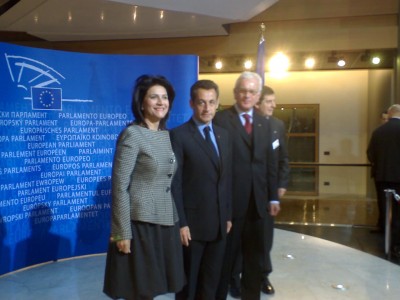 (Photo taken earlier during Sarkozy's 1st visit at EU Parliament, in 2007 : Sarkozy and Merkel's Ideas for a Political Europe inspire also other EU politicians accross the continent)..
.
Polls