Accueil

newsitems

CoE Report+ECHR back EU Parliament Spokesman Duch reply to EuroFora Q. on Torture Impunity in Turkey
CoE Report+ECHR back EU Parliament Spokesman Duch reply to EuroFora Q. on Torture Impunity in Turkey
mardi, 11 janvier 2011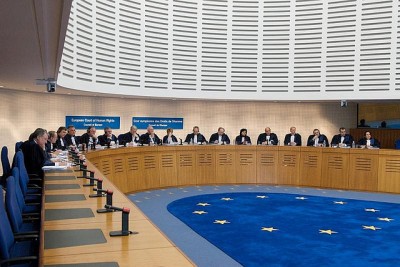 Findings just revealed by the long-awaited and Unanimously adopted CoE's new Report on ECHR judgements' implementation, published today, confirm and strengthen considerably the impact of EU Parliament's Spokesman Jaume Duch's recent reply to the question raised by "EuroFora"s question on the strange fact that a 11/2010 Draft Resolution on Turkey, as it was initially, curiously omitted even to mention persisting, scandalous and dangerous, Impunity of Torturers in Turkey, as it results from recent ECHR condemnations of Ankara's Authorities for persisting until the end of 2010 to practically cover up Torturers even of a small Child aged only 12 and of a young Girl who committed suicide after serious ill-treatment by Turkish State's agents, etc., prolonging until now a more than 15 years-long ECHR case-law (1995-2010), as if nothing hadn't changed in substance on this core-issue of elementary Human Dignity and Rights, despite a Decade of controversial, impopular and increasingly expensive Turkey's EU bid (1999-2010).
- ECHR "has already found Many Times, in cases raising Similar Issues, ...that ..Art. 6" of the PanEuropean Convention vainly asking for an "Efficient Remedy" against Torture and Inhuman/Degrading Treatemnts, "is violated" in Turkey,  continuing to block any sanction against those responsible, denounced recently EuroJudges (See infra).
Even Identified Torturers' Impunity persists in Turkey until now, revealed recent ECHR's judgements issued at the end of 2010 in Strasbourg, on grave cases of Torture against a Child aged only 12 and a Young Girl, condemning Ankara for such atrocities committed both at the Massacre-stricken City of Izmir, (the over-Millenary Smyrne),  making even more doubtful a controversial Turkey's insistance to oblige the CoE to hold a May 2011 Conference on Human Rights' Court's Future in such a place marked by unpunished Crimes of the Past (1922) and apparently full now even of unpunished Torturers, among Turkish "Security" Agents, even of Young Girls and small Children aged only 12, as ECHR has just found on December 2010.  (See infra):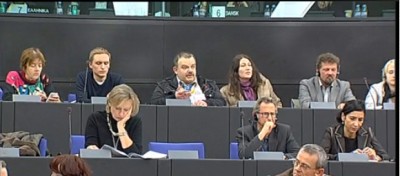 - "EuroFora" had asked EU Parliament's Spokesman and Press Director, Jaume Duch, among other questions, also if, at his knowledge, EU really took into account today CoE's findings on Human Rights, (the core business of the PanEuropean Organization particularly since the 2004 Warsaw CoE Heads of State/Government Summit), as it had been advised also by a landmark Report of €uroZone's President, Prime Minister of Luxembourg, Jean-Claude Juncker, on EU - CoE cooperation.

Because, apparently, one would say that this wasn't, no more, the case for an initial Draft 2010 Resolution on Turkey,  which, despite its overall balanced stance (including, f.ex. strong Criticism on Freedom of Speech problems), astonishingly ...didn't even contain this year the word "Torture" and/or "Inhuman-Degrading Treatments", while, on the contrary, in addition to some CoE's Reports denouncing the persistance of such problems in Turkey, ECHR repeatedly condemned the Turkish Authorities for persisting Impunity of Torturers, including these last Days (of December 2010), even for serious Torture of a Young Girl and a Child aged 12 !...

Therefore, "EuroFora" asked Duch if there was, according to his experience, any chance to update, at least on such a  key point of core Human Rights, that initial Draft 2010 Resolution on Turkey.

- "The European Parliament takes always seriously CoE's Reports, and (this goes even) much more seriously the ECHR's Judgements", the experienced Duch stressed in reply to "EuroFora"s question, as a matter of general principle.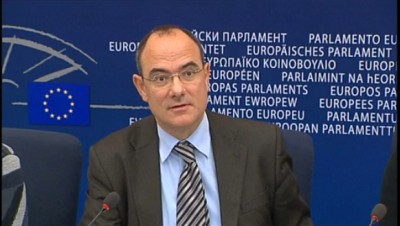 -  "However, at the same time, EP fixes his position on Turkey at least 1 time each year, but probably more" times, he reminded, speaking during the introductory Press Briefing of the December 2010 Plenary Session.

- "So", if it isn't done right now, then, "it might be necessary to wait, perhaps, a Next Opportunity for the EU Parliament to determine its stance on Turkey, in order to examine the impact of this CoE's (and ECHR's) stance", Duch carefully advised in conclusion.
Something which, normally, should be rather Easy to do even before the final adoption of the above-mentioned 2010 Draft Resolution on Turkey's controversial EU Negotiations, since it had not been yet voted not even in Committee, so that both its own Rapporteur, the experienced Dutch ChristianDemocrat MEP Ria Oomens-Ruijten, and/or any other MEPs, might eventually table some relevant Amendments to be discussed, voted and hopefully adopted, later-on, by the Foreign Affairs and Human Rights Committee, and/or at least by EU Parliament's  Plenary Session which is due to debate, vote and definitively adopt MEPs' 2011 stance on Turkey soon.
----------------
CoE, 2011 : "IMPUNITY CONTINUES TO REIGN" in TURKEY for Torture, Killings+ !
-----------------------------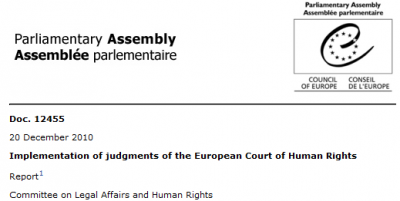 - "Impunity continues to reign" in Turkey, particularly on serious violations of Human Rights, such as Torture, Murders, Arbitrary Deprivation of Liberty, etc, "by Turkish) Security Forces", mainly due to "the absence of effective investigations", as many cases prove, until now, denounces CoE's Report published on 2011, after being adopted at the end of 2010 by CoE Assembly's Legal and Human Rights Committee on a Draft presented by its Chairman, the experienced Cyprus' ChristianDemocrat MEP Christos Pourgourides, which was Unanimously endorsed at the end of December 2010 by all present MEPs.

- "A Significant Problem remains outstanding in the series of Shortcomings still apparent in investigating Abuses by (Turkish) Security Forces", mainly Torture, Killings, abritrary deprivation of Personal Liberty, the Report adopted by CoE Assembly's Legal/Human Rights Committee, denounces from the outset on Turkey, before final Public Debate, Vote and definite adoption due by CoE Assembly's Plenary in Strasbourg on January 26, 2011.

A particularly numerous "Group of cases" of ECHR condemnations vis a vis Turkey, still pending for execution, "highlights the fact that, despite the passing of many Years, Impunity continues to reign, in the absence of an effective investigation", denouced CoE's  Report, which was published after the end of CoE Assembly's Legal Committee's Chairman, MEP Purgurides' delayed visit to Turkey, at the beginning of 2011.

+ Moreover, regarding the issue of "MISSING Persons" in Cyprus after the 1974 Turkish Military Invasion/Occupation,  "additional Measures are required to ensure effective Investigations into the Fate of missing persons", C. That said, no answer has been given so far by the Turkish authorities to the Committee of Ministers' request for information on the concrete measures envisaged in the continuity of the work of the Committee on Missing Persons in Cyprus with a view to the effective investigations required by the judgment
-----------------
ECHR : Turkey condemned for Impunity of Torturers, even of Child aged 12, Young Woman, etc, until now (12/2010)
-----------------------
After a Child tortured when aged only 12, it was more recently the turn of a Young Girl in her 20ies, who attempted to commit suicide in Turkish Prisons after being arrested on mere suspicions of political affiliation, and reportedly humiliated, tortured and raped, by Turkish State's Agents who scandalously remain all Unpunished until 2010, that led ECHR to twice condemn Turkey recently for the persisting Impunity of Torturers.

In both cases, during a long "period" starting from around 2003/2004 up to 2010, i.e. "which durates more than Seven (7) Years", as ECHR noted,  denouncing also the fact that it "has already found Many Times, in cases raising Similar Issues as in this case, that ..Art. 6" of the PanEuropean Convention vainly asking for an "Efficient Remedy" against Torture, "is violated" in Turkey.

The moves were anounced by ECHR after a Human Rights session of CoE's Committee of Ministers, whose rotating Chair, currently Turkey, (as a Cold War-aged Member of the PanEuropean Organisation, which has 47 Members, fom Iceland to Russia and Azerbaidjan, and Special Status-holders USA, Canada, Japan and Mexico, etc), apparently escaped without strong criticism for the Longest and most Numerous backlog of Non-implemented ECHR judgements which repeatedly condemn the Turkish State for particularly serious cases of Torture already since 1996 up to 2010, i.e. more than 15 Years : I.e. since the famous "Aksoy" case, of a young boy who became Handicaped after being tortured in jail and was shot and Killed when he insisted to bring the 1st-ever Turkish Torture case at the ECHR  as early as since 1995. Continued by his Father, asking "one €" in "the Memory of his (tortured, handicaped and murdered) Son", Aksoy case has given rise to a long series of similar cases, since then, which multiply in Strasbourg because Ankara apparently doesn't really implement ECHR's case-law, not even after getting a controversial and notoriously impopular EU negotiations' bid, resulting in more than 800 Millions € of grants paid by the EU each year to Turkey, even during the present period of Global Financial Crisis...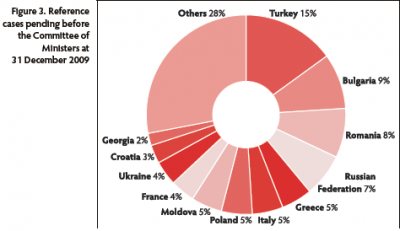 CoE's own recent Graphics clearly revealed in early 2010 the fact that Turkey holds an uncontested PanEuropean Record, bypassing by far all others among CoE's 47 Member States, in Non-implemented yet, serious cases where ECHR's judgements have vainly (?) condemned Ankara many times, particularly for serious, grave Violations of the Human Rights to Life, Freedom, and respect of Human Dignity (which protects against Torture and Inhuman/Degrading Treatments). In consequence, Ankara somes largely on Top in the percentage of important ECHR judgements still "Pending" for Execution at CoE's Committe of Ministers for many years, until now.
-------------------------
    (a) In the 1st of these recent Torture cases, the scandalously persisting Impunity of Torturers in Turkey, even of a Child aged only 12, was strongly condemned by the European Court of Human Rights at the end of November 2010 in Strasbourg :

- ECHR strongly denounced the "quasi-Impunity" attributed to the presumed Torturer among Turkish State's Agents, mainly by several "lacunas", and "absence of prompt reply and diligence" by the competent Turkish Authorities.

- Even if the suspected Torturers had been identified, several among the denunciations made by the Victims, a Poor Family,  had been also rejected by the Turkish Courts under pretext that they didn't pay an amount of money (too big for their Poor Family) for a bureaucratic procedure.

- Victim's Mother denounced that Turkish Policemen, abusing of various pretexts, repeatedly arrested and ill-treated her Child aged only 12, probably because they wanted take revenge after she had sued them herself for Rape !  She said that the Child aged 12 "was arrested by (Turkish) Policemen while it was in School", and, after being "insulted", hit at the Head several times by Turkish Policemen while in Custody, who also pressed his kneck with their hands, and (afterwards) ..seized him by his Hair", the Child was "thrown ... at an Isolated cell, and afterwards "Beaten" by them, until "her son came back Home full of Blood and with a red eye".  A Medical Report found echymoses and hematomas at the Child's thigh and right eye, that ECHR found that "they had been provoked by the (Turkish) Police during Custody". By being "Beaten after put into Custody", the Child aged only 12, was submitted to "physical Pains and mental Suffering", which "can inspire feelings of Fear, Anxiety and Inferiority able to Humiliate and Degrade" his person.

- In consequence, EuroJudges concluded that "there was no normally available, nor sufficient (Legal) remedy" against Torture, "at Izmir".

- Observing that the identified Torturers were either entirely acquitted or all sanctions against them were suspended, ECHR found that Turkish Authorities "used, in fact, all national (Turkish) rules.. in order to Avoid any effective Condemnation of the prosecuted (Turkish) Policeman", (i.e. searched for Torturers' Impunity).

- In particular, "ECHR recalled that such a Failure ("Lack") of rigour in the application of the Penal and Disciplinary Law System, as in this case, doesn't dissuade (Turkish) Security Forces from commiting illegal acts, as such which are denounced by the applicant".

- ECHR reminded Turkey that Torturers cannot be legally covered up by Impunity through Time "Prescription", "Amnesty" or "Pardon", and Sanctions against them cannot be legally "suspended", etc., because of the particular Gravity and Seriousness of this kind of violation of Human Rights.

  +The Victim's Father also "denounced (excessive) Procedural Delays in Penal Law cases against (Turkish) Policemen". ECHR observed that, "in this case, the procedure started on .. 2003, .... and is still Pending" on 2010, i.e. for "a period" which "durates more than Seven (7) Years" (2003-2010) !..

In conclusion, ECHR "reminded" that it "has already found Many Times, in cases raising Similar Issues as in this case, that ..Art. 6" of the PanEuropean Convention vainly asking for an "Efficient Remedy" against Torture, "is violated" in Turkey.
------------------------    
       (b) In the 2nd of these cases, ECHR condemned anew Turkey for a persisting until now, total Impunity of Torturers, even against a Young Girl in her Twenties, again on December 14, 2010 :

- The Victim denounced that she had been "beatten by the (Turkish) Policemen when they arrested her", afterwards "she tried to throw herself out of the (Turkish) Police car which brought her to a Hospital", and,just one day later, "she tried to commit Suicide inside her Jail", because "she was haunted by the Memory of the Torture that the (Turkish) Police Agents inflicted to her", including by "Stripping her Naked, Insulting her, hunging her by her arms, tying her with ropes to a turning Wheel", "throwing icy water" to her body, "submitting her legs, fingers and Genital organs to Electrochocs" and "burning cigarettes" on her, "penetrating her Vagin with a Club", etc, at 2 differend Turkish "Police interrogations" both "at Diyarbakir" and "at Izmir", and "Raping her". Moreover, "at Izmir", Turkish Policmen "Photographed her Naked and Threatened to send the Photos to her Husband if she denounced the inflicted Torture".  That's why the victim,  "tried to Protect herself against more Torture by committing Suicide", as she denounced at various occasions later, ECHR noted.

- After some Medical Doctors used by the Turkish Police hastily claimed that they "didn't find any trace" of Torture, on the contrary, an Independent, Collective Report by the Order of Medical practitioners at Izmir, which checked the victim "15 times", from various "converging" points of view,  revealed that they "arrived at a Definitive Medical Conclusion that, during the period she was kept in custody, the victim had faced Tortures, and was Raped during these sessions of Torture".

- But, the Turkish Courts repeatedly droped any prosecution against the identified Turkish Policemen accused of Torture and Rape having provoked even Suicide attempts, claiming that they didn't see enough "proof", mainly because the Victim had "delayed" to act efficiently against her torturers, and rejected her complaint, already from 2004. This was also the claim of the Turkish "Government" itself, all these Years, until 2010 included, ECHR noted. But the Victim denounced that "she had faced Threats by the (Turkish) Policemen during the Mecical Examinations made under Custody", and that "those (Medical) Doctors (chosen by the Turkish Authorities) refused to note her complaints in their Reports", so that "they were not credible". Moreover, the victim "was a Mother who felt so Ashamed for having been submitted to Rape, that Speaking about that had pushed her to commit Suicide", and, despite being "an Analphabet, she had done whatever she could be expected from her" to alert the competent Authorities which had failed at their Duty to find, investigate and punish her Torturers. In parallel, "in order to make her drop her complaint for ill-treatment", "during all that Procedure before the Courts", the Turkish "Police Agents harassed herself and her Family", she denounced.

- ECHR observed that the Turkish "Attorney, despite an early Medical Report attesting of physical traces on the victim's body and her own denunciation that she had been sublitted to Rape during her Detention in prison", nevertheless, "hadn't deemed necessary to.order an examination.. neither to open immediately a Penal Investigation", as he should."This Delay (by the Turkish Authorities) to start a due enquiry, constituted a Serious Obstacle in the establishement of the Facts and provoked Difficulties into observing eventual traces of Violence on her body", ECHR criticized. Moreover, the Turkish Authorities didn't bring the Victim to a Hospital for a Medical Examination but only ..."5 Months Later (!) after she denounced" Torture and Rape, ECHR noted, while, in addition, "the Judicial Procedure" before the Turkish Courts "had a duration of more than 5 Years" more, "without any convincing explanation" for this supplementary gros delay, in blatant "Contradiction to the Celerity required in cases of Ill-treatment" complaints, ECHR found. Therefore, the Turkish State had Failed vis a vis its Duty to give "a Fast Reply from (its) Authorities" despite the fact that this "is Essential in order to preserve the Public's Trust in the Rule of Law", Failing also to "avoid any apparent Complicity or tolerance regarding illegal acts committed by Public Agents", ECHR stressed in conclusion, Unanimously Condemning Turkey for Violating the Article 3 of the European Convention of Human Rights which strictly prohibits Torture.

(NDLR : Fast Translations from the Original full ECHR Judgements, available only in French).

----------------------------
=> Controversial Izmit (over-Millenary Smyrne)..
---------------------------------
+ The Fact that both these 2 cases in which ECHR condemned Turkey for a particularly scandalous total Impunity of Torturers, even of a Child aged only 12 and of a Young Woman, took place at Izmit (originally Smyrne), raises also a more Topical question :

Obviously because the over-Millenary Smyrne, is the City where even old Religious Priests were notoriously burned alive, many People brutally killed, Family Homes burned down, and all its over-Millenary Greek lawful Population chassed away by Turkish troops, becoming Refugees, their Homes and properties looted and usurpated, obliged to flee their Ancestral land by a massive "Ethnic Cleansing" imposed by Terrorist Massacers committed against unarmed Innocent People, without anyone among their Criminal Perpetrators ever being brought to Justice : The above mentioned New (See ECHR's 11 + 12/2010 Judgements on Torture cases, cited supra), and old (1922) Facts, obviously render that place even more inappropriate for a .. Human Rights PanEuropean Conference, that Turkey tries to oblige the CoE to organize at Izmir (Smyrne) on May 2011 for the Future reform of the ECHR itself, risking to discredit Strasbourg's Court by linking its Future with an unpunished Massacre and massive "Ethnic Cleansing" of innocent People.
It would, indeed, be an obviously Dangerous Paradox if CoE conceded to Turkey's pressure to impose  to EuroJudges, CoE's Experts, European Politicians, etc. to ...debate Human Rightswhile risking to be "welcomed", monitored, sorrounded, met and escorted by Torturers, including some of those Turkish Police Agents who committed such horrible Tortures, even of a Child aged 12 and/or a Young Girl, etc. in a  City notoriously marked by an unpunished Massacre and Ethnic Cleansing, (while many People personally affected by the unpunished Massacers, as, f.ex. Children of Refugees, etc., are still alive today)..

A place marked by unpunished, Massive Brutal Atrocities of a recent Past, and where horrible Torture, even of Children or helpless Young Women, etc. remains totally Unpunished until now ( 2010), as ECHR proved, is certainly not an appropriate place from which anyone might ever thing to make Credible Promisses to Europeans for a bright Human Rights Future...

-----------------------------------
+ Verheugen or Hamilton ?
------------------------------------
Meanwhile,  Former EU Commissioner on Enlargement, Verheugen (Soc) who had notoriously claimed that .. "Torture in Turkey is not Systematic" (sic !), in the framework of his well known attempt to impose, at any price, Turkey's impopular EU bid, has just got a .. systematic Job, openly hired, paid and directed by Turkey, as Commercial Expert of the Turkish Foreign Trade office. !..  
The astonishing, and extremely unusual, if not shocking fact, (given also Verheugen's former EU Commission's portofolio on EU's Enlargement, during crucial years for Turkey's controversial, impopular and expensive EU bid), was strongly denounced by a MEP of the same Political Group as Mr. Verheugen : Socialist MEP Antigoni Pericleous-Papadopoulou from Cyprus, who raised issues of Incompatibility and possible Conflict of Interests in a written Question tabled on 2010 to EU Commission's President José Barroso.

Barroso's written reply, communicated by MEP Pericleous to "EuroFora", reveals that a competent EU body examined, indeed, recently, this controversial aspect of former Commissioner Verheugen's job at a Turkish Exports lobbyist, but, reportedly, didn't manage to find it, at that moment, irregular.

- "That's not good !". But "I understand that he (Verheugen) has opened a Consultant's business at Potsdam", reacted another German, ChristianDemocrat MEP, the experienced, long-time

- "What is the most important of all, is that Human Dignity must be respected !", laconically, but substantially, reacted also the President of Germany's Konrad Adenauer Foundation, experienced former EU Parliament's President, Hans Gert Poettering, to an "EuroFora"s relevant question.

+ MEP Pericleous' reaction also reminded that Verheugen's notorious wish to push Turkey's controversial, impopular and expensive EU bid, also had led him to hastily claim, back on 2004, that a controversial 5th version of a UN Secretariat's Draft, prepared by a Brittish former UN Official (who even spoke Turkish, but not Greek at all ..), would have been .. perfectly in conformity with EU's Values, despite many controversial exceptions and heavy derogations against Human Rights, f.ex. of Refugees, "Missing" persons, etc., as well as clear Risks, instead of, at last, succeeding to guarantee a real Peaceful reUnification of the Country, (f.ex. by creating Common Interests to all its Citizens), on the Contrary, to lead to a dangerous slippery slope towards generating Separate, Dissending, Conflicting Interests (even Economic), usually pushing to Conflicts, particularly if they are cynically exploited by neighbouring 3rd Countries, as in Cyprus' past history..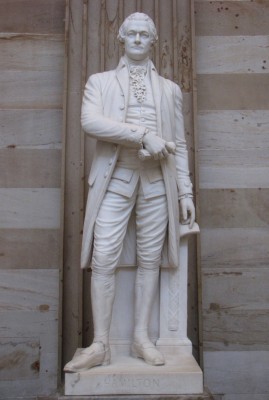 Something that the famous American Constitutionalist, Alexander Hamilton, had strongly denounced, and warned against, in his Historic "Federalist" Papers, launching a call to save USA's Future from a repetition of similar bloody Crisis as the former Civil War, by building a really Unified Country, in a way based into generating Common Interests, to be dealt with by one efficient Federal State.  Hamilton's ideas and active contributions were, notoriously, decisive in order to help North America pass from a mere, shaky and unstable Con-Federation, to a stable and functional Federal State : the USA.
***

BRIEF NEWS
00:00 - 02.06.2021

00:00 - 18.10.2020

00:00 - 19.06.2020

00:00 - 18.05.2020

00:00 - 20.04.2020

00:00 - 02.02.2020

00:00 - 09.12.2019

00:00 - 27.11.2019

00:00 - 16.11.2019
Statistics
Visiteurrs: 53704151
Archive
Login Form
Other Menu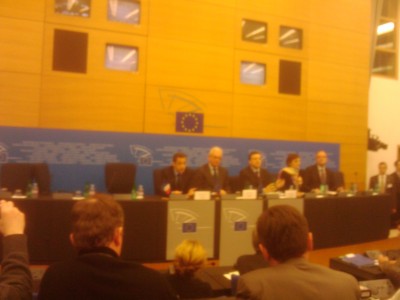 Recent developments proved that Europe can suceed to overcome challenges by aiming at great objectives, and this is needed also in 2009, said EU chairman, French President Nicolas Sarkozy.

    - "It's in the name of Great Ideas, Projects, Ambition and Ideals, that EU can overcome" challenges, stressed Sarkozy at EU Parliament in Strasbourg, in conclusion of a dense 7 months EU Chairmanship. "It's even easier for Europe to have Great projects, able to overcome national egoism, instead of limiting itself only to small projects" (unable to do alike), he observed.     
- "Europe must remain Ambitious and understand that the World needs her to take Decisions". "The World needs a Strong Europe", which "thinks on its own, has convictions, its own responses, its imagination" : "A Europe which does not limit itself into following" others, (as it did in the Past, when it followed USA, f.ex. on Bosnia). On the contrary, "Europe should undertake its own responsibilities", he said, after a series of succes in stopping the War between Russia and Georgia, and organizing the 1st EuroZone's Summit in Paris, which incited the Washington DC G-20 Summit to extend similar decisions World-wide.  

    - "When you sweep it all under the carpet, prepare yourself for hard tomorrows", he warned. "What hinders decisions is the lack of Courage and Will, the fading away of Ideals", he stressed before EU Parliament's 2008 debate on Human Rights and Sakharov prize on Freedom of thought attributed by MEPs to Chinese cyber-dissident Hu Jia, followed by an EU - Turkey meeting on Friday.

    - "I don't abandon my convictions" and "I will take initiatives" on EU level also in 2009, Sarkozy announced later. "France will not stop having convictions and taking initiatives" on Europe. + "It's an Error to wish to pass over the Heads of those who are elected in their Countries" : "It's an integrism I always fought against"', he warned.
---------------------
French EU Presidency faced 4 unexpected Crisis :

- An institutional crisis, with the Irish "No" to EU Lisbon Treaty, just before it started. A geopolitical crisis, wth the threat of War between Russia and Georgia risking to throw Europe back to Cold-war divisions, on August. A World-wide Financial and Economic crisis, arriving at a bad moment before crucial 2009 EU elections. And even a Strasbourg's mini-crisis, with EU Parliament's roof curiously falling down, from unknown reasons, in a brand new building on August, provoking an unprecedented transfert of the 2 September Plenary Sessions...

But it wasn't enough to stop Sarkozy ! On the contrary, it stimulated him...
---------------------------------------

- "The better way to deal with the recent problems of EU institutions (as the "3 NO" by France, the Netherlands and Ireland) is to take them as a "Test" in order to find solutions closer to Citizens' concerns", said later in Strasbourg Sarkozy's new choice as Ministe for EU affairs, Bruno Le Maire.

- On the Institutional front, Sarkozy gave Time to the Irish to think about it, and stroke on December a deal including a New Referendum after the June 2009 EU Elections, in exchange of a promise to keep the rule of "one EU Commissioner for each EU Member Country", and some opt-outs on Defence and Fiscal EU policies, Abortion, etc. If the Irish get a "Yes" Majority, then the institutional package could be completed in 2010 or 2011 on the occasion of Croatia's probable EU accession.

He was accused in Strasbourg to upgrade EU Council and downgrade EU Commision, but he replied that "strong Political initiatives by EU Council reinforce also the more technical role of EU Commission, under the political-technical leadership of its President", all 3 "working together with EU Parliament".


- But, meanwhile, Sarkozy energetically spearheaded an Historic 1st Summit of EuroZone's 15 Heads of State and Government at EU's core, exceptionally enlarged to a partial participation of British Prime Minister Gordon Brown, on October 12 in Paris' Elysee palace, which started to tackle succesfully the growing world Financial crisis.

    It also paved the way for its endorsement by a subsequent Brussels' 27 EU Member States' gathering, before it all come to Washington's G-20 Summit. And "Europe was united, it asked for the 1st G-20 Summit, and it will also organise the next G-20 Summit on April in London", he observed.   
 But a Conference with EU, Russia, African and other Developing Countries, hosted in Strasbourg shortly after Washington G-20 Summit by the French EU Presidency, took a Resolution asking to enlarge participation to Global Economic Governance. Many found, indeed, illogic and unacceptable that f.ex. states as Turkey were given a seat at G-20 level, while all African Countries, and even the African Union itself, representing the greatest Continent on Earth, were excluded...

    Meanwhile, even USA''s "Paulson No 3" Plan, was, in fact, inspired by Europe's No 1 Plan", Sarkozy observed, largelly applauded by MEPs.

    And "Europe showed Solidarity" by mobilizing some 22 Billion credit for Hungary, 1,7 billion for Ukraine, as we do nowadays for Baltic States, etc., he added.

    The move on Economy was extended on December by an EU stimulus' plan totalling some 200 billion Euros, including 5 Billions released by EU Commission for big Projects, as well as various parallel National plans for Economic revival, (fex. 26 billions in France alone). They might appear limited, compared to USA President-elect Obama's reported plan to boost the American economy with 800 billion $, but at least succeded to overcome Europe's divisions for the first time on Economic governance, opening new horizons.

- The French President stressed even harder the unique role of an active EU Council's chairmanship, when he moved swiftly and efficiently, at the beginning of August, to succesfully stop War between Russia and Georgia, at the last minute, which threatened to bring Europe back to Cold War division.

"We (EU) also wanted to avoid a situation like in Bosnia, in the Past, when EU was absent, so that our American friends took their responsibilitues, and EU only followed", despite the fact that the conflict took place in Europe. Now, it was the EU who took its responsibilities".

A roadmap towards a new PanEuropean Security policy, before which all unilateral moves to place new Missiles (from USA or Russia) would be freezed, was proposed by Sarkozy after a meeting with Russian president Medvedev, at the eve of Washington DC's G-20 Summit.

Ukraine's "European" character was stressed at a Sarkozy - Jushenko Summit, September in Paris, while EU adopted on December an "Eastern policy", in which, "I'm convinced that our (EU's) future is to find with our Neighbours the conditions for Economic Development. Peace and Security, by explaining them that.. they must respect (Human Rights') Values, and adopt behaviors different from the Past", explained Sarkozy in Strasbourg.

Meanwhile, the "Union for the Mediterranean" was created, since July's Summit if 45 Heads of State and Government in Paris, as "an organisation for a permanent Dialogue, that we need", mainly in order to tackle the Israeli-Palestinian conflict, by bringing together, for the 1st time, Israelis and Arabs, where "Europe must be present, in order to avoid a frontal clash".

- "If Europe doesn't take its part for Peace in the Middle-East, nobody else will do that in our place", Sarkozy stressed.
-----------------------
    Meanwhile, other EU Agreements were brokered during the French EU Presidency on Immigration, (fex. common Asylum rules, etc), and Climat- Energy :

    - On Climat-Energy, the 2007 German EU Presidency had fixed a triple 20% aim for 2020 (20% renewable Energies, 20% reduction of CO2 emmission, 20% energy efficience/economies), and the 2008 French EU Presidecny realized that, making the necessary compromises in order to modernize EU's industry, but without throwing some former Central-Eastern European Countries into abrupt Economic break down risking "social explosion".

    - Defence-Security EU policy was mainly postponed for April 2009, since both German chancellor Merkel and French president Sarkozy want to strike a deal with the new American president Obama in Strasbourg's NATO Summit.

    However, with all these 4 unexpected Crisis diverting attention to other urgencies, People wil wonder now, what happened to the famous deal proposed by freshly-elected French President Sarkozy on Turkey's controversial EU bid, back on August 2007, to continue EU - Turkey negotiations, but on the double condition that core chapters, intrinsequally linked with EU Membership, will be excluded, and that a collective Reflexion and Debate on Europe's future would start before the end of 2008.

    It was meant to reply to the crucial question : What kind of Europe do we want in 10 or 20 Years from now : A large Market, or a Political Europe, with a popular identity ? In Sarkozy's thinking, presented in his 2 landmark speeches on Europe in Strasbourg, shortly before and after the 2007 Elections, (on February and July 2007), Turkey's controversial EU bid would be incompatible with the second choice.

    It's true that EU Commision's Chairman, Jose Barroso, (who had notoriously declared, as former Portuguese Prime Minister, that he found "nonsense" the idea that Europe might become equal to the US), had repeatedly tried to avoid that Sarkozy's criticism on Turkey might start winning a larger audience in Europe, preferring a discrete "wismens' committee" work. And that most of the personalities later chosen in order to participate in a Committee on Europe's Future, are too much linked with Socialist parties and/or American policies, to be really critical of USA's notorious wish to impose Turkey to the EU, as Sarkozy had noted himself since March 2007..

     - "It's on EU Council's presidency to take political initiatives. EU Commission has other competences", stressed Sarkozy. The "European Ideal" is to "build Europe with the States, not against them". "Ask Europeans to chose between their countries and Europe won't work. You don't choose between your two parents : We must add them together".

    "France and Germany have an Historic Duty to work together, precisely because of what happened to the Past. We have to work hand by hand. We cannot be separated.It goes beyond me and Mrs Merkel today, Mr Schroeder and Mr. Chirac yesterday. It's not a choice, it's a duty to Europe and to the World".  "We need Germany, as Germany needs Europe". Compromise is inevitable, here as everywhere, and each one made some steps towards eachother's positions.

    But "it's true that Mrs Merkel didn't chose her Socialist partners, while I chose mine", Sarkozy said, in an indirect hint that the Socialist Minister of Finance in Germany might be a cause of minor past disagreements in Economy, which were overcome in recent negotiations.

    "We (France and Germany) have particular duties in Europe", but "in a Europe of 27 Member States, it's not enough for France and Germany to agree between them.

    "I always thought that Great Britain has a special role to play in Europe. ... Now, everybody "saw what it cost payed the UK for having been too exclusively open towards the US (and) Financial services. Europe needs the UK, but also the UK needs Europe" :- "We were able to face the hardest moment of the Financial crisis because the UK clearly chose Europe", stressed Sarkozy, reminding Gordon Brown's exceptional participation to the Historic 1st Heads of State/Government Summit of EuroZone, October 12 in Paris (See EuroFora's Reportage from Elysee Palace then).

     - "Some look at Europe with old glasses aged 30 years ago. While we must look at her in relation to what it will be in 30 years" in the Future, Sarkozy concluded.


Polls