Home

newsitems

EU-China and G20 Summit: "In big Pressure, Firmer Knot": Kristoff Wang + "People to People" links
EU-China and G20 Summit: "In big Pressure, Firmer Knot": Kristoff Wang + "People to People" links
08. 07. 2017.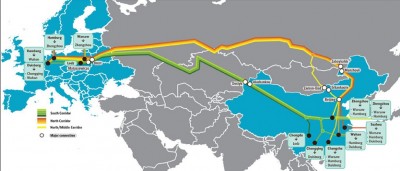 *Hamburg/G20 Summit/Angelo Marcopolo/- On the occasion of the 2017 "G20" Summit at Hamburg, Terminal Hub of EU - China trans-Continental Train Links, (inaugurated by Chinese President Xi Jiping on 2013), Exceptionally, "Eurofora" dedicates an Article not to a Head of State, but to simple EU Citizen, like you and me, who, however, evokes a particularly important reality that concerns us all, and points towards a Big Horizon :

It's like in that Famous Masterpiece of a Flamish Painter, of the European "ReNaissance" era, at the Netherlands, (Near this Seaport City of Hamburg, which Hosts the 2017 "G20" Heads of State/Governments Summit, these Days), which shows Many Bigger and Bigger Levels of the World, artfuly Reflected or Evoked even at a Tiny Mirror held in the Hands of a simple Human Person.
------------------------------------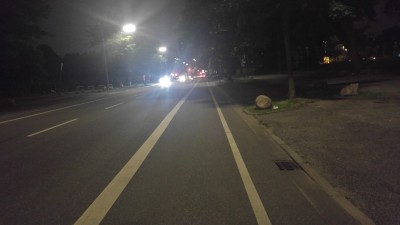 >>> After having Harshly Suffered, and practicaly Hindered to work in elementary conditions, (including Time and Energy, etc), for at least 1,5 Days, mainly because of an Exceptional, UnPrecedented, Never seen Before, and UnExpected Total Blockade of All Public or Private Transports in a Large Area of Hamburg, officialy attributed by Local Authorities to Demonstrations, which are unfortunately usual and expected on "G" Summits, (Contrary to the usually efficient and friendly, Federal German Government Press Office repeated Official Papers, which had Urged all Journalists to Drop any Independent means of transport, i.e. even simple Bicycles : an Error !, in order to use, instead, "Public Means of Transport" : See f.ex. ....), Obliging to Walk several Kms, even at MidNight, or under a Heatwave, including with Heavy luggages, sacs/computers, etc, with a Leg feeling awful Pains and holding Crutches, during Hours and Hours Wasted, exactly at the Moment that we should all Try to Work Fast and Efficiently, Both for Unique occasions of Important Contacts and Press RDV, as well as for Timely Publications, etc, suddenly, at the Last of 3 Days in Hamburg, a Real Big Change occured :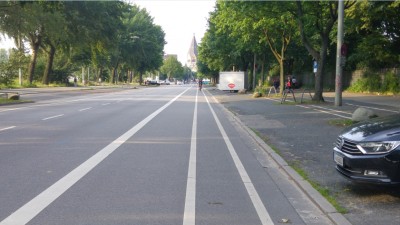 - The competent service for Journalists' transport, at the International Media Center, after hesitating (obviously influenced also by some Misleading Local Medias' exagerated presentation of alleged Brutal and Violent "Clashes", even in certain concrete areas and hours that we had just witnessed to be rather "Calm"), finaly Agreed to let us use one among the "Many Shuttles", which (as we were told by the Head of that service at the IMC), until then, were being kept Empty and Unused, precisely because of all those Local Media and Local Police Reports about .. "all" adjacent (and even several Far Away) Roads being ...always "UnSafe", and, therefore, Blocked...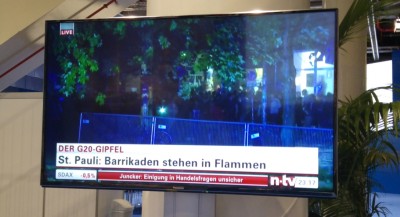 Thanks God, or by pure Chance, (if not, Simply because many among the above-mentioned, excessively Alarming Local Reports in Hamburg were Inaccurate : Comp. Supra), this, time, it Worked well !  So that we managed, - with the Precious, indispensable Help of IMC's competent Service for Medias' Transport, particularly in case of unforeseen Urgency, as Nowadays, (Comp. Supra), - at least to Reach the Medias Center on Time for some Concluding Press Conferences, and to Arrive, afterwards, later this Evening, to the nearest Railway Station (Totaly Isolated when we had Arrived : See ...), on Time to Catch our Train Back Home to Strasbourg !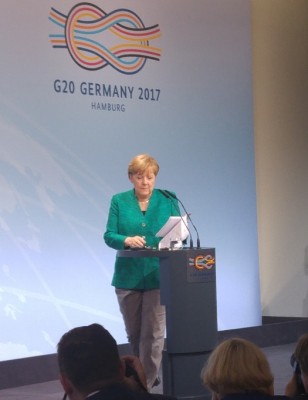 (Meanwhile, Chancellor Angie Merkel kindly presented her "Excuses" for the extensive Blockades, at her Press Conference in the International Media Center, and promised some Indemnisation to the Victims, noting the fact that "some had Difficulties to come and go to their Hotels", - including even USA's 1st Lady, Melanie Trump, at least once, as it was reported by the Medias.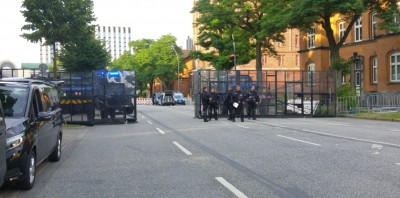 But, in fact, it seems that most Problems were due mainly to Local Authorities of Hamburg, and Not to the Federal Government of Berlin, given also that most of its Agents, when correctly informed, did their Best to Help Journalists a.o.).

>>> However, one among the Best Surprises was unveiled at the Last Minute : 
- The efficient and serious Driver who had Kindly Helped us Twice, revealed that he was Not Only German, but also ...Chinese !!!

Indeed, he said, Smiling, that he was Named "KRISTOFF WANG", (approximative re-writting of an Oral indication), and that his Father has been already an "European-Chinese", even before himself was born in Germany...

Using myself the Name "MARCOPOLO" (a simplification of the initial Family Name), which obviously reminds that of the Historic Venitian who notoriously visited China and lived there, before Returning back to Europe and Writting a unique Book ("of the Wonders"..), which Helped Boost Technologies, Science, Printing Machines, even the Navigation of Oceans (Later linked with the Discovery of America), etc., as Early as since about 1.200+ AC, but withOut managing at all to bring European and Chinese People closer to each other yet,

and Knowing that even a Collective Effort, Previously in Ancient History, to voluntarily Bring Together all then Known Big Civilisations : that of ancient King "Alexander the Great", at about 300 BC., after Advancing also in Egypt, in Ancient Persia, in India, etc., up to the point to Reach a part of the Famous "Silk Road", over the Himalaya Mountains, had finaly Failed to reach China,

=> we were, naturaly, positively Surprized to Find out, that, at last, Nowadays, something like that "Eur-Asia" Civilisation and Peace "Bridge" evoked at Popular British Music Rock Group "MUSE"'s well known Song, had, in Fact, already Started to Exist, in real everyday Live, silently but efficiently, among the People !

Our Emotion was even Stronger, given that we, inevitably thought about our Son, (a French Citizen, of also Greek Origin, Born and Educated in Strasbourg, i.e. side by side also with Germany and its Culture), who is Living and Working for many Years, precisely in China (Shanghai)...

- Indeed, he had almost a Similar Age and Height as this sympathetic Young German-Chinese, who was now, standing, right in front of us, with a large, Friendly Smile, (which also reminded, a bit, our Son, as we spontaneously told him).

And his Children, (our Grand-Children), in Future, would probably become, them too, "European-Chinese", precisely as this Young and Strong-looking, Friendly Kristoff Wang !

The recent European Ceremony in Memory of Historic German Chancellor Helmut Kohl, attended by more than 190 Heads of State/Government, Top EU Officials, Key Ministers, MEPs, etc, at EU Parliament last Saturday in Strasbourg, (See "Eurofora"s NewsReport from that Exceptional Event, at : ...), reminded also the Fact that one among the many Concrete Measures that had been Decided during his era of European ReUnification, has been the Creation of the "Shengen" Area of EU Citizens' Free Movement and Security, back in the 1990ies, which has Started to allow, for the 1st Time in History, for the European People, under certain elementary conditions, to move accross National Borders, meet and exchange with eachother, even Live and Work at anyone among EU's Member States and beyond (f.ex. also Switzerland, Norway, etc).

=> This New Collective Reality has already Started, silently but regularly, to also Forge a Growing Number of Couples, Families, and Children, (particularly Frequent f.ex. around Strasbourg's Franco-German "core" of the EU), who are currently engaged, "de facto", in a process of Creating, slowly but steadily, a brand New, real and authentic "European People" of the Future...

Scandalously - due to artificialy provoked (and often even Deadly in a Dark Past) Divisions of Europe, at least until recently, which Delayed too much such a process of Integration - a Big but Real Paradox was the Fact that, for the Time Being, the Only place in the World, where really European Families have been created, since long, is the small, peaceful and sympathetic ...Latino-American Country of Uruguay !  

Indeed, it's only there, until now, that, f.ex., a former President of the Country, (the Famous old "Musica"), reportedly stems from Italian, French, Spanish and Russian Origins, all together, and something Similar would go also for his Wife, a long-time Senator, as well as for Many more among Urguay's Predominantly European-Origin Population...

But German Interior Minister, Thomas de Maiziere, very close to Chancellor Merkel, (that "Eurofora" was Surprized to unexpectedly Meet at EU Parliament in Strasbourg last Saturday, during the Ceremony for Helmut Kohl, even if his venue had not been officialy anounced there), has had the Good Idea, in a Recent Past, to Try to Count, at least, the Total Number of EU Citizens living and established in Germany, who had come from various Other EU Member Countries : He Found (and Published) then, some Interesting Figures, which revealed that, in Fact, the "European Migrants" had already Bypassed, recently, by their Bigger Number, almost All Other Groups of Immigrants from any Other Foreign, Non-European Country in the World !

As for France, f.ex., already the former President Nicolas Sarkozy, (brillantly Elected on 2007, and Top Winner of the 2009 European Elections, as well as Winner of the 2015 Elections to the Leadership of the Main Opposition Party of the Center-Right, before being, curiously and scandalously Undermined in an UnPrecedented and Controversial "Primary" for 2017 Presidential Candidates, where practicaly Anyone could Vote, even ...Adversaries of his Party !), notoriously is of French, Hungarian and Greek Origins, and his latest Daughter will also Add an Italian origin, by her Mother : Sarkozy's Wife, a reknown Singer, i.e. even a 4rth European origin...

However, if European Integration should, normaly, be something Natural, at least until recently, here, on the Contrary, Nobody has spoken yet of, or seriously analyzed, an eventual ... Euro-Chinese Integration, as far as People are concerned.

And this, Despite such Important Historic Realities, as :

- "Alexander the Great"'s above mentioned, unfulfilled Dream to Unite the 2 most Ancient Civilisations still Living Today : those which emerged from Ancient Greece and China, (Comp. Supra), as Early as, already since around -300 BC.;

- Marco Polo's round Trips to and from China, at about 1.200 AC., which brought so Many Ideas from Beijing's a.o. areas, that they Revolutionarized Europe's Technologies, Science, Editing of Books, even Oceans' Navigation, etc;

- De Gaulle's famous "Multi-Polar World" International Strategy for France and all Europe from the 20th Century AC., in favour of a More Balanced and Democratic Global Community, (to which, Chinese President Xi Jiping has repeatedly referred, f.ex. during his contacts with France and other Europeans) ;

- China's 2006 Offer to participate and co-Fund the European Satellite Navigation System "GALILEO" (Later droped, mainly by partial inAction from EU side then !), followed by a Growing Number of various Chinese Investments in Europe, as well as the 2015 EU - China Summit in Brussels (Comp. "Eurofora"s NewsReports from BRX then, f.ex. : ....), after which, a Strategy of regular Exchanges, Cooperation, Common Projects, Training of Young Scientists, etc., beteween EU's and China's Scientific Research, (initaly due to Boost also Joint Euro-Chinese Industrial co-Productions of Merchandises destinated to be sold at Foreign Markets), could, eventually, Boost also "People to People" links in the foreseable Future.

(etc).

=> Thus, it was, indeed, a Timely Surprize to Find, precisely on the occasion of a "Global" Summit as the "G20" here in Hamburg, this July 2017, that, in Fact, "European-Chinese" People already Existed, Lived and Worked among us all,  Here and Now, even without knowing that before...

Therefore, it was a pitty that we couldn't take a Photo of a real "Euro-Chinese", as KRISTOFF WANG, smilling Friendly, in front of his Solid and Efficient "MERCEDES-BENZ" Shuttle Car, (with which he had just Helped bring "Eurofora" from "G20"'s International Media Center, until the nearest Railway Station, in order to get Bakc to Strasbourg by Train), both because our Smart-Phone Camera was Out of Electricity, and due to "Security reasons", which imply to Protect the Identification of Heads of State/Government Summits' Agents dealing with Logistics, including Not to Publish their Photos...

But We will Never Forget the Friendly Smile of that "European-Chinese" Young Man, who Looked almost like - and could have been-  our Son, and simply but efficiently Helped us at a practicaly Difficult moment, (due to Violent Demonstrations and/or Misleading Local Medias Informations : Comp. Supra) during that, si particular, 2017 "G20" Summit in Hamburg.

 [  NDLR: By the way, concerning Trump's Famous Complaint, about Foreign TRADE EU-USA : I.e. that he had seen Plenty of German/European "MERCEDES-BENZ" Cars in New York, But Not any American "CHEVROLET" Car in Europe, as he had said, "Eurofora" can ensure him of the Fact that, at least in Strasbourg - i.e. at the Franco-German "Core" of the EU- we Found a beautiful "CHEVROLET" Car, parked near our Family Home, as the following original Photo proves :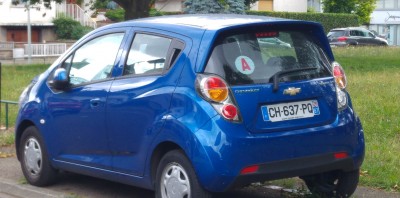 However, it's also true that the user of that car told "Eurofora" that Chevrolet would have Stopped Selling its Cars in France, and perhaps more or less in the rest of the EU, about 2 Years Ago, i.e. during former US President Obama's era, keeping, nevertheless, its Maintenance/Spare Parts service]                                       -------------------------------------------------------------

Meanwhile, by a Coincidence, at a Heads of State/Government level :

 - Chinese President Xi Jiping, and his Wife, (a Music Artist, active also in Red Army and Humanitarian events), have Recently succeeded to be among the rare personalities that New US President Don Trump repeatedly saluted, in public, as his "Friends", (as he reminded anew, here, at the 2017 "G20" in Hamburg, Germany).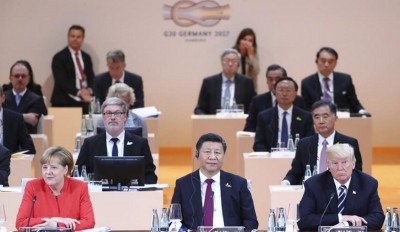 They had, indeed, the Good Idea to prefer, instead of a merely Official visit to Washington DC, better a Calm and relaxed Personal/Family meeting in Florida, at the area where Trump used to go, with his own Family, f.ex. immediately after his Big Surprize Victory at the (Hard Fight of the) November 2016 US Presidential Election, as well as in Christmas/New Eve, etc.

I.e., as if, in fact, (in addition to an adequate handling of Big Politico-Economic Issues), they joined the famous "People to People" approach of the "Human Factor", to the purely Political and/or official Diplomatic Protocol approaches, succesfully.
------------------------


+ These Days, on the Occasion of the G20 Hamburg Summit, (where he was seen cited between the Host : German Chancellor Angie Merkel, and the New US President Don Trump : See relevant PHOTO) President Xi Jiping hosted, earlier here, a BRICS' Leaders meeting, in order to prepare the BRICS' own Summit, due to be held in Xiamen City (S/E China), on September.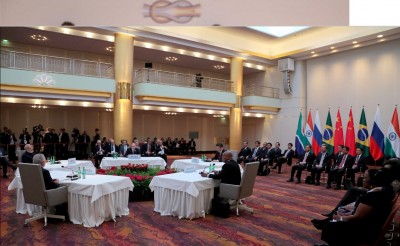 ++ Xi also made Bilateral Working Meetings here, inter alia, with the New Presidents of USA and France, Don Trump and Emmanouel Macron, respectively, (the Latter anouncing a Series of forthcoming joint projects and "Inaugurations" in French or Chinese soil, at the foreseable Future).

----------------------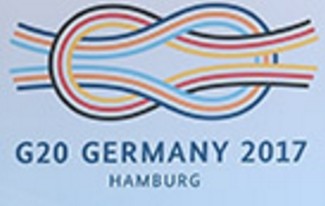 * Meanwhile, in view of several, sometimes growing, Big Callenges, Merkel Evoked the Symbol of 2017 "G20" Summit, rightfully noting that it's, precisely, in Moments of "Greater Pressure" that a (Maritime or other) Knot which may Link People Together, becomes more Tight and Firm...

Something which, naturaly, goes Both for the "Human Factor", and for the necessary Consciousness on what might be really at Stake in important Political Issues, and even for all Humankind.

----------------------

Kristoff Wang is from Bavaria, and likes Alpes' Mountains, he told "Eurofora".

The Euro-Chinese Young Man, (almost at the same age as our Son, working in Shanghai), would certainly love, a fortiori, also Himalaya Mountains, source of many Rivers flowing at the Indian and the Pacific Ocean, the Biggest in the World.

But, something in his Kind, Friendly smile, while saluting "Eurofora" on our Return Trim to Strasbourg, makes guess that he'd also be fond of the Human Factor element, at the Historic, UNESCO World Heritage site "Mount Tai", between Pekin and Shanghai, to which had pointed President Xi Jiping right from the outset of his Election, back on 2012, as a Symbol for "close Ties with the People", "who are true Heroes" and "the Source of Strength" for Political Leaders, whose "Responsibility", in order "to live up to the Expectations of both History and the People", "is Heavier than the Mount Tai, and our Road Ahead is Long", (See : http://www.eurofora.net/newsflashes/news/chinajinpingandcoe.html ).
(../..)


-------------------------------


***


("DraftNews", as already send, Earlier, to "Eurofora" Subscribers/Donors. A more accurate, full Final Version, might be published asap).


***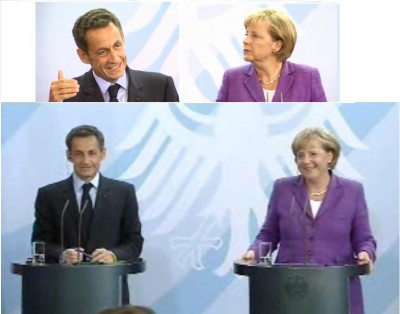 Before the end of 2009, France and Germany will take strong initiatives to open "new Horizons" needed by Europe and the World, going well beyond the current Crisis' management, anounced French President Nicolas Sarkozy and German Chancellor Angie Merkel, reassuring that both a judgement on Lisbon Treaty by nearby Karlsruhe German Federal Court, and the forthcoming National Elections in Germany would confirm their capacity to act.    
They were replying to Press questions in Berlin, after key-regional elections on Sunday, where Merkel's ChristianDemocratic party kept everywhere a strong 1st and won the possibility to forge a New Majority with Liberals at the largest of 3 Landers : Saxony (4 millions inhabitants), while its main competitor, the Socialdemocrat party fell to unprecedented lows : Tackled by the small "Linke" (left) party in Saarland (1 million inhabitants), it became even smaller than it in Saxony and Thuringen (3 million inhabitants), where SPD arrived only third. While its usual partners, the "Greens" also fell down, contrary to CDU's new partners, the FDP Liberals, who go up.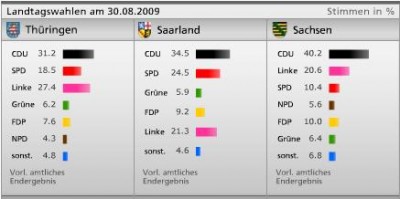 - "At any case, at the end of the year (2009), if things go as scheduled, we shall take strong initiatives, showing that Europe needs a Franco-German axis, as well as the World, even if it never excludes other" countries to join, replied Sarkozy to a question if France and Germany will revive the "European dream", by "relauncing the EU motor" for the Future, with actions going further than the mere management of the global crisis, (as it was done fex. in the Past with the creation of the "Euro" Monetary zone, etc).

    - "I am convinced that the Franco-German friendship must be constantly nourished by New Projects", he added."There are many areas of cooperation where we intend to take, very soon, some Franco-German initiatives, which will allow to open more Horizons" to the EU, Sarkozy stressed.

    But if "we don't speak about that now, it's only in order to avoid interfering in important elections coming in Germany", he observed. However, "we have already started to consider the Future with the (German) Chancellor, and what we can do in order to honour our predecessors". "We are already speaking about that, and we are preparing things". "I am working very well together with Mrs Merkel, and I wish that it goes on", Sarkozy concluded.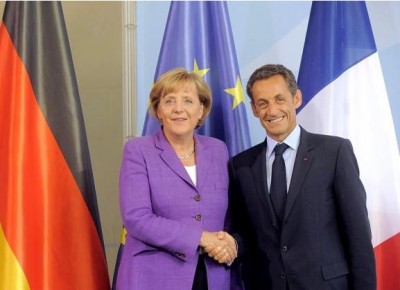 - "It's important for EU's credibility that France and Germany advance forward together", stressed Merkel from the outset. "Don't worry about Germany's capacity to undertake initiatives" with France, she added. "France and Germany will be perfectly able to make proposals" for the EU.

    -  "After-crisis" plans must be prepared, meanwhile, with measures "advancing progressively", Merkel anounced. And, for the short term, we must deal also with EU Citizens' dismay since they feel that it's a Scandal for some in the Financial Markets to be paid with excessive "Bonuses", etc, she agreed with Sarkozy.

    - "Abuses in financial markets must stop", stressed also Sarkozy. Backing Merkel's announcement that France and Germany call for an EU meeting to forge "a crystal-clear European position" in view of the G-14 Summit at Pittsburg, he warned that "everyone will have to undertake his responsibilities, in front of World's Public Opinion. particularly those who don't want to make the same effort of regulation as France and Germany".

    Moreover, "Global Trade cannot be correctly dealt, without taking into account also Environmental and Social rules", Sarkozy added, referring to recently expressed positions against Unfair Competition via Environmental and/or Social Dumping, (See earlier "EuroFora"'s publications).

    Such moves are obviously linked to the need to ensure at least an elementary respect for Human Rights by Third Countries, (f.ex. exploitation of Children's work, etc) in order to avoid, precisely, any such Social Dumping.

    - "EU has Values, protecting Human Rights and Human Dignity", and "it cannot close its eyes" in front of grave violations, particularly "Torture and/or killings", added, indeed, Sarkozy.

    Thus, "the time comes, where decisions must be taken". But, in case of "Sanctions", "all International opinion should be convinced of the need to take action", he observed.

    Expressed on the occasion of recent developments in Iran, the same principles should logically apply also to other similar cases, including fex. that of Hundreds of ECHR judgements' condemning f;ex. Turkey for grave crimes, (as Torture, brutal Killings, Enforced "Disappearances", Destruction of Family Homes, harassments and oppressive violations of Freedom of Speech, etc).

    Meanwhile, questioned on (EU Commission's chair)  Barroso's bid to succeed himself for a second mandate, they both expressed a "wish" or a "feeling" that "EU Parliament"'s various political Groups might fix a date for decisions "during September". However, is he is endorsed before the entry into force of the Lisbon Treaty, it will be legally necessary to re-vote anew for a full term of office afterwards, according to EU Legal Experts, revealed recently in Strasbourg the experienced former President of EU Parliament's Constitutional Committee, German Socialist MEP Jo Leinen. And Germany will not vote for Lisbon Treaty's ratification but only "on September 8 and 18", revealed Merkel, ( i.e. after EU Parliament's plenary session in Strasbourg).

    - Therefore, "for EU Commissioners' appointment, it's too early yet, because we must wait for the ratification of Lisbon Treaty" by all 27 EU Member countries, including naturally Ireland's Referendum on early October, said to "EuroFora" the influential President of EU Parliament's largest group of MEPs, Joseph Daul, expressing, however, the hope that a controversial deal with the head of the Socialist Group of MEPs, Martin Schultz of Germany, might hold for Barroso alone, at a forthcoming vote due to fix the Strasbourg plenary's Agenda.

    But MEPs reportedly just "postponed" for 1 week all their previously scheduled group meetings (See : http://www.euractiv.com/en/future-eu/barroso-unveil-summer-homework-week/article-184825 );

    However, while the choice of a new EU Commission's President by EU Parliament is supposed, according to many MEPs' wish, take place according to EU policy issues, paradoxically, this would mean that Barroso's bid would pass before even the anouncement of France and Germany's "initiatives" for EU's "new Horizons"...
Polls