Αρχική

newsitems

EUParliament Press Head Duch to EF: Citizens Start Preparing Historic Deal with States/MEPs/EUCom
EUParliament Press Head Duch to EF: Citizens Start Preparing Historic Deal with States/MEPs/EUCom
Thursday, 16 September 2021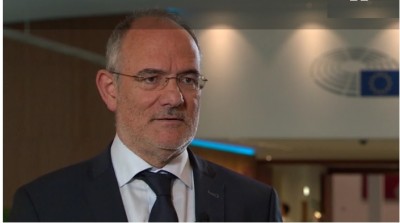 *Strasbourg/Angelo Marcopolo/- The Beginning of an "UnPrecedented in History" process : "Citizens Negociating with States, MEPs, EUCommissioners", etc, will Start to be meticulously Prepared during the Next 3 Days, by Citizens' Panels, at EU Parliament in Strasbourg, during the Weekend : Friday to Sunday, 17 - 19 September 2021, as the Experienced EU Parliament's Press/Communications' Director, Jaume Duch-Guillot, stressed to "Eurofora".

- Several Dozens of Journalists are due to Carefuly Scrutinize a Long and Detailed Process, according to which, EU Citizens' Panels will strive to Build their Positions on the Future of Europe, Starting by the "Economy, Social Justice, and Jobs", Following with "Education, Youth, Culture, Sport", and Concluding, for this 1st Step, with "Digital Transformation", (according to a Draft Programme).

The Participants are mainly invited to Find concrete "Visions" for Europe's Future in those areas, Build operational "Topics" from them, and Conclude with what is called active "Streams", for the Plenary, apparently due to be Transmitted by  "Ambassadors", elected among them.

Their 1st Half of a Day (Friday) is mainly Dedicated into Meeting and Knowing Each other, as well as the Procedure, and Organizing. It's during the 2nd Full Day (Saturday) that Citizens' Panels are due to Focus on their proper Work, by Finding EU Citizens' "Visions", formulating "Topics", and preparing "Streams". Finaly, at a Last Half of a Day (Sunday), they are due to Discuss, Change, or Aprove their "Streams", as well as "Ambassadors", before a Final family-Photo (re-Named "Group-Photo", since there will be about 200 EU Citizens here, out of a Total of 800)...

------------------------

- In fact, what is "Essential, is that it's the 1st Time in History, for a Process of Discussions on Europe's Future, there is a Direct Debate Between Citizens  themselves, at the Beginning, and Afterwards between Citizens and MEPs, Ministers, EU Commissioners, etc. That is to say, it's the 1st Time that a Citizens' InPut is Accepted at the Institutional Discussions", Jaume Duch stressed to "Eurofora".

 - "And this will Start here, in Strasbourg, Tomorrow !", he Highlighted. In fact, "they (Citizens) will Start, at First, Discussing Between them, but Afterwards, when they will have Reached at Conclusions, they will Discuss also with all the Others, the Institutional representatives", he analysed.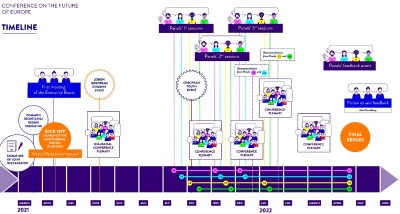 - Thus, "During the Next 2 Months, they (Citizens' Panels) will Discuss mainly Between them. But Afterwards, they will Discuss also with the Others", (i.e. "Institutionals"). "It's all in a Draft Agenda, that you should ask to be provided with", Duch advised.

------------------------------

- I.e. it all Starts with the (Web) Platform, Follows with Panels of Citizens, and then at the Plenary, where it becomes Crucial, resumed, earlier this week in a Briefing (14/9/2021), Guy Verhofstadt, Head of EU Parliament's Delegation to the CFE.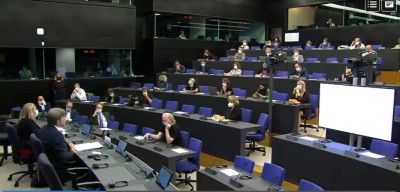 - Meanwhile, 3 Interim Reports on Citizens' Proposals in the Conference's Web Platform are due to be Distributed this week, as well as on November 15, and before the End of the Year (2021), he added, (Hopefuly Not Blocking with an Intermediary, EU Citizens' Original Publications, visible at CFE's Website)...

Until Now, the Most Popular Issue seems to be "Democracy", (i.e. there where the Main "Eurofora"s Project has been Notoriously Published, Before being Supported, on main Principles, by Both EU and CoE MEPs, See: .., etc). Surprizingly, However, the 1st Question allowed to the Press came from ...Outside the EU (the BREXIT's UK), and from a ..."Financial" Paper ("FT"), Instead of an EU Human Rights/Democracy-focused Media... (it was about Hindering Victor Orban's Supporters to use the CFE's Website for Discussing their Ideas).

- However, at any case, "this is a quite Short Conference, since it would be Over at about March 2022", (with a Huge Pressure on the French EU Presidency to Act, then : i.e. rather Before the Final Round of the crucial French Presidential Election), Verhofstadt Warned...

- And, to a Question whether he wouldn't like to have, precisely, a much Longer EU Conference, particularly for People's Debates, he reacted by Pointing mainly to the Fact that, what is Important is that such a Novel Procedure, for the 1st Time, incites the Politicians of Representative Democracy "to Reply" to Citizens' critical Observations, Proposals or Queries : I.e. practicaly pointing at ..."Eurofora"s main Project's Idea about "Dialogue" between Citizens and Politicians Before Decisions !
 

BRIEF NEWS
00:00 - 02.06.2021

00:00 - 18.10.2020

00:00 - 19.06.2020

00:00 - 18.05.2020

00:00 - 20.04.2020

00:00 - 02.02.2020

00:00 - 09.12.2019

00:00 - 27.11.2019

00:00 - 16.11.2019
Statistics
Επισκέπτες: 54975751
Archive
Login Form
Other Menu
Αρμοδιότερα "ΜΕΓΑΘΗΡΙΑ" ΚΟΜΙΣΙΟΝ ΕΕ. ΕΝΔΙΑΦΕΡΟΝΤΑΙ ΓΙΑ ΚΥΠΡΟ, ΕΚΤΟΣ Oli ΡΕΝ !...

>>> Κι ο Γάλλος ΖΑΚ ΜΠΑΡΩ, - ΑντιΠρόεδρος Επιτροπής ΕΕ, αρμόδιος για Θεσμούς. Ανθρώπινα Δικαιώματα, κα, (κι ενώ συνεχίζεται κι η Γαλλική Προεδρία ΕΕ)...

-  Δηλώσεις που μας έδωσε ο αντιΠρόεδρος Κομισιόν ΕΕ, ενώ συνάντησε στο Στρασβούργο και τον Πρόεδρο ΕυρωΔικαστηρίου Ανθρωπίνων Δικαιωμάτων, Ζαν-Πώλ ΚΟΣΤΑ
-------------------------------------------------------------
* Στρασβούργο/ΑΚΜ/ + 16 Οκτωβρίου 2008/-
---------------------------------------------------------------
    Θετική προδιάθεση για να παίξει ίσως ουσιαστικό ρόλο σε παρακολούθηση συνομιλιών για το Κυπριακό από Ευρωπαική Επιτροπή, μετά κι από αμφιλεγόμενη στάση για Τουρκία του Φινλανδού Επιτρόπου για Διεύρυνση κ. ΡΕΝ, που έχει αμφίβολη αρμοδιότητα εφόσον η Κύπρος είναι Κράτος-Μέλος ΕΕ από 2004,
    εξέφρασε ένα απ τα πιο σημαντικά ηγετικά στελέχη της, ο ΑντιΠρόεδρος της Κομισιόν, αρμόδιος σε "τομείς-κλειδιά", όπως Θεσμοί κι Ανθρώπινα Δικαιώματα, Ζακ Μπαρώ.

    Αυτό προκύπτει κι από αποκλειστικές δηλώσεις που μας έδωσε ο κ. Μπαρώ, ο οποίος έχει ιδιαίτερη επιρροή σήμερα ένεκα της Προεδρίας ΕΕ απ την χώρα του τη Γαλλία (μέχρι και τέλος Δεκεμβρίου 2008), ενώ συνάντησε στο Στρασβούργο και τον Πρόεδρο του Ευρωπαικού Δικαστηρίου Ανθρωπίνων Δικαιωμάτων, Ζαν-Πώλ ΚΟΣΤΑ :

     - "Θα θέσω το ερώτημα", μας ανακοίνωσε ο αντιΠρόεδρος της Ευρωπαικής Επιτροπής, σ απάντηση σχετικής ερώτησής μας για πιθανή ανάμιξη των υπηρεσιών που διευθύνει ο ίδιος.

     Εστω κι άν "δεν ξέρω ακόμα" τί θα γίνει, "θα το κοιτάξω" αυτό το θέμα, πρόσθεσε, εκφράζοντας ετοιμότητα κι ενδιαφέρον.

    - "Ναί, βέβαια", συμφώνησε δε με παρατήρησή μας ότι κάτι τέτοιο θα ήταν "λογικό", εφόσον η Κύπρος είναι πλέον Μέλος ΕΕ μετά το 2004, και στις επίσημες αρμοδιότητές του για Θεσμούς ΕΕ, Ελευθερίες κι Ασφάλειες του Πολίτη, περιλαμβάνονται πολλά απ τα πιο "καυτά" θέματα που τίθενται στις συνομιλίες για το Κυπριακό, όπως και "παρεκλίσεις" από Κοινοτικό Κεκτημένο, ελευθερία μετακίνησης, Εκλογές, κι άλλα Ανθρώπινα Δικαιώματα, κττ.

    Δεδομένου κι ότι θα ήταν ΑΡΜΟΔΙΟΤΕΡΟΣ καθ ύλην απ τον Κο. Ρέν, που περιορίζεται σε θέματα Διεύρυσνης ΕΕ, προκειμένου για την Κύπρο, Κράτος-Μέλος ΕΕ μέσα στην "καρδιά" Ευρωπαικής ολοκλήρωσης. όπως τόνισε και συμβολικά κι η πρόσφατη Ιστορική 1η Σύνοδο Κορυφής Αρχηγών Κρατών/Κυβερνήσεων των "15" ΕυρωΖώνης, που προσκάλεσε στο Παρίσι ο Γάλλος Πρόεδρος Νικολά ΣΑΡΚΟΖΗ, προεδρεύων ΕΕ, νωρίτερα αυτή την εβδομάδα, με συμμετοχή Προέδρου Κύπρου Δημήτρη ΧΡΙΣΤΟΦΙΑ, επιτυγχάνοντας σημαντικές αποφάσεις έναντι Οικονομικής Κρίσης, που δέχθηκαν κι οι υπόλοιπες χώρες ΕΕ στις Βρυξέλλες αργότερα. (Πρβλ. 4 σύντομα Νέα που εστάλησαν από Παρίσι, απ το Προεδρικό Μέγαρο Ηλυσίων, Κυριακή 12/10/08).
   
    + Εξάλλου, "με την πρόσφατη Χάρτα θεμελιωδών ελευθεριών της ΕΕ, κι εν όψει της επικείμενης επικύρωσης της Συνθήκης της Λισαβώνας, θα έχουμε και μια σαφέστερη Νομική βάση για θέματα Ανθρωπίνων Δικαιωμάτων", πρόσθεσε,

    Την ίδια στιγμή, απάντησε δις με ξεκάθαρο "Ναί" σ ερώτησή μας γι "ανάγκη παρακολούθησης των συνομιλιών για το Κυπριακό απ την Επιτροπή ΕΕ".

    Επι πλέον, ο κ. Μπαρώ συμφώνησε μ ερώτησή μας άν η ΕΕ επιδιώκει να διευκολύνει την εφαρμογή αποφάσεων ΕΔΑΔ :    
    - "Βέβαια  : Αυτό είναι και το νόημα που έχει η συνάντησή μου με τον Πρόεδρο του ΕΔΑΔ, Ζαν-Πωλ Κόστα στο Στρασβούργο : Να δούμε πως η ΕΕ θα μπορούσε να διευκολύνει την πρακτική εφαρμογή των αποφάσεων του ΕυρωΔικαστηρίου, αυτό είναι φανερό. Κάτι που θα μπορέσουμε να κάνουμε ακόμα καλύτερα με τη Συνθήκη της Λισαβώνας", είπε.

    >>> Αυτό έχει επίκαιρη σημασία για την Κύπρο εφόσον πρόσφατο Ψήφισμα ΚΣΣΕ στο Στρασβούργο τάχθηκε υπέρ "μιας Λύσης του Κυπριακού που να βασίζεται και πάνω στη Νομολογία ΕΔΑΔ", για πρόσφυγες, εγκλωβισμένους, Αγνοούμενους, κπα.

    Αξίζει να υπενθυμιστεί δε κι ότι το "Πάγωμα" 8 κεφαλαίων στις διαπραγματεύσεις Τουρκίας μ ΕΕ εν όσω αρνείται να εφαρμόσει ανηλειμένη υποχρέωσή της να παύσει το "Εμπάργκο" εναντίον Πλοίων κι Αεροπλάνων από Κύπρο, αποφασίστηκε απ την ΕΕ όταν ο κ. Μπαρώ ήταν αρμόδιος για θέματα Μεταφορών, (όπως μας είχε προ-ανακοινώσει τότε, κι είχαμε δημοσιεύσει).

Polls