Home

newsitems

EU Regions Committee Head +CLRAE v.Chair Lambertz to EF on Tabarnia Split from Catalonia in Spain
EU Regions Committee Head +CLRAE v.Chair Lambertz to EF on Tabarnia Split from Catalonia in Spain
Tuesday, 27 March 2018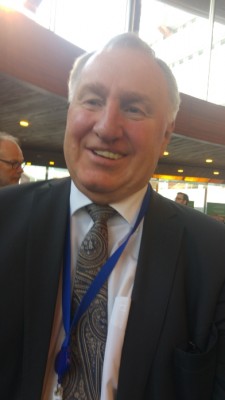 *Strasbourg/CoE/Angelo Marcopolo/- EU Regions' Committee new President in Brussels, and CLRAE vice-President in Strasbourg, Karl-Heintz Lambertz, speaking to "Eurofora" on the latest Developments of the Catalan Issue in Spain, observed, inter alia, also that the Recent Popular Moves for a Detachment of the so-called "Tabarnia" Area from Catalonia Region, (fuelled mainly by Political Disagreements on a Controversial and Failed Unilateral Secessionist Attempt by Former Leaders of the latter), is Not a Unique Phenomenon, since it has Similar, even if not totaly Identical, Examples also elsewhere in Europe (See Infra).
+ And, additional Facts found by "Eurofora", clearly indicate, that the overall "Tabarnia" Issue, might be much More Serious than it seems at First Sight, (as we shall see Infra)... 
--------------------


Lambertz is also a Long-Time Leader of the German-speaking Region in Belgium, and an Experienced vice-President of CoE's PanEuropean Local/Regional Democracy Watchdog : the 47 Member Countries-wide Congress of Local and Regional Authorities of Europe (CLRAE), as well as a Writer of comprehensive Books about Regions in Europe, with a Deep and Extensive Knowledge of Regional realities throughout the entire Continent, and well beyond.
----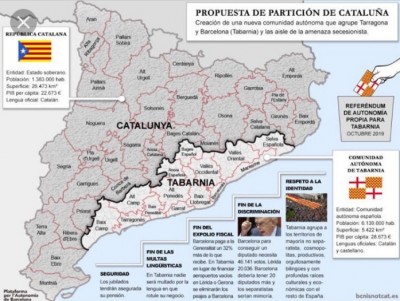 "Tabarnia" is a rather New reference to a Coherent and the most Important Part of Catalonia's Region in Spain, which reportedly pre-existed, as a satirical Geo-Political Idea, at least since 2012, but Became Famous mainly after the December 2017 Spanish Local/Regional Elections (see: http://www.eurofora.net/newsflashes/news/spanishunionistsgrowincatalonia.html, etc), and particularly since a Big Popular Demonstration in Barcelona, at the Beginning of March 2018.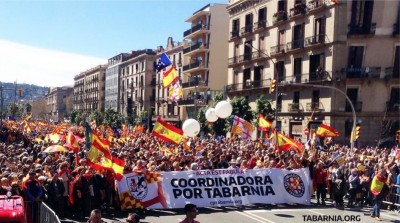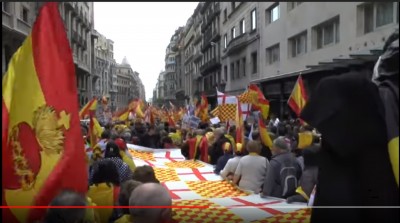 Opposed to the Unilateral Secessionism from Spain, pushed by Catalonia Region's Former Leaders, on the Contrary, the Supporters of "Tabarnia" Idea want, for their Area, to Leave and Get Out of such a controversial, separatist Catalan reality, by Becoming Autonomous, while still Remaining inside the Spanish Country and in the EU.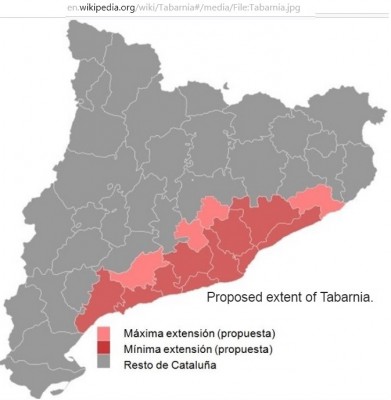 Their Geographic Area includes mainly Barcelona (Capital) City and Taragona, as well as Many Other adjacent Lands, which extend accross Most of the Seaside, and Bring Together some among the Richest and more Developed Parts of the Spanish Catalan Region, (See relevant MAPs, attached herewith).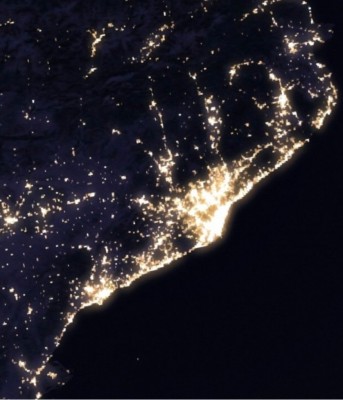 (Tabarnia's area, as seen from the Space - "Plataforma por Tabarnia")
------------------------------


>>> Most Important : In that "Tarbania" Area, a more or less Clear Majority against the pro-Unilateral Secessionism or Independentist Parties has Recently Won the Greatest Number of Votes, particularly in the December 2017 Regional Elections in Spain's Catalonia, in Addition to the Fact that the Separatist Parties Only got, Region-Wide, a Minority of 47%, (receiving a Slightly Larger Number of Seats just Because the current Catalan Representative System notoriously Favors particularly the Outer and/or Rural Areas, which are Backing them, in a way which obviously Provokes an InEquality among Voters, and/or more or less UnDemocratic Results on the Number of Representatives : See http://www.eurofora.net/newsflashes/news/spanishunionistsgrowincatalonia.html).

Indeed, as relevant MAPs Published also by "Wikipedia" clearly show, in the "Tabarnia" Area, (around Barcelona and most of the Seaside), Most of the Voters have Refused the Separatism, (as Also in some Other, but Smaller and Differend Areas, Located Elsewhere).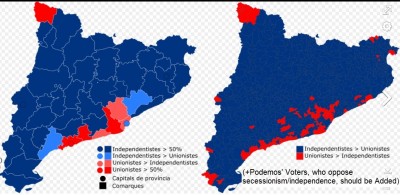 And this Localized Phenomenon should, in Fact, be even Stronger than what these "Wikipedia" MAPs show, Because they, curiously, Exclude the "Podemos" Voters, who (without necessarily supporting directly that "Tabarnia" idea), are, however, Against Separatism, them too...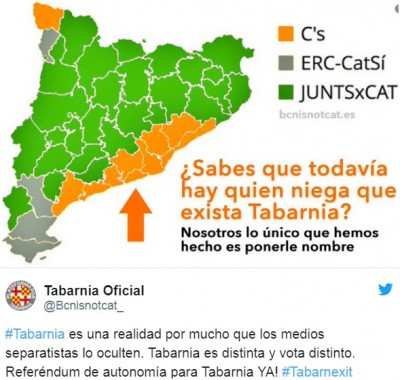 => So that, the "Tabarnia" Movement obviously Supports a clearly Localized Revendication of an Area whose Population Mostly feels United Together by a Barcelona/Taragona-Centered Majority Aspiration towards a Distinct Common Identity, proclaimed to be Both ..."Tabarnian", and Catalan, as well as Spanish and European, (as its Fans Explain even at several, specially dedicated Websites).

The assumed Fact that it's also, for many, a Satirical "Parody" (See Infra), does not exclude the Additional Fact that, at any case, it's, UnQuestionably, Based on a Localized Political Will clearly Directed Against Catalan Separatism.

------------------------------

- It's in this overall Context, that Presidet Lambertz told "Eurofora", in particular, that a Similar (even if Not necessarily 100% Identical) Move, as that of "Tabarnia"s aspiration to Leave a Separatist Catalonia, for anOther Region, Exists Already also Elsewhere in Europe :  

- As, "f.ex., in Italy, and particularly at the Region of Venice", a Part of which had expressed the Wish to Go Elsewhere (inside the Italian Country), as Lambertz observed, in Reply to a relevant "Eurofora"s Question.

- However, Lambertz, (who is an eminent member of the Socialist Group inside the CLRAE), also Added, at his own Initiative, and speaking more widely about the Manifold Developments about the Catalan Issue, from Various and Different aspects, that he did "not like" some Other Attempts by certain Politicians to Exploit the Catalan Controversy for this or another Political Interest, as he said, as a matter of General Principle.
----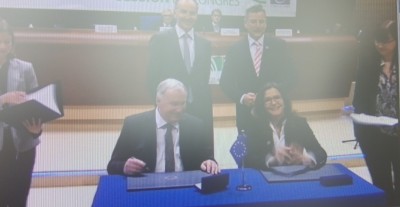 - But it's also a Fact that ECR's President, who Signed Today a "revised Cooperation Agreement" with CLRAE's President, Gudrun Mosler-Törnstrom from Austria, while Speaking at CLRAE's Plenary about Prospects to extend EU's Cooperation towards various Non-EU Foreign Countries, even Out of Europe, was, by a Symbolic "Coincidence", visibly sitting Aside a Seat offiicialy reserved for ..."China" :  I.e. the Only UN SC Permanent Member which has Not Yet any Official Status inside the CoE in Strasbourg, (Russia and USA already having one, as well as the UK and France), and notoriously does Not Like "Secessionist" movements in any Region, at all... (See relevant PHOTO).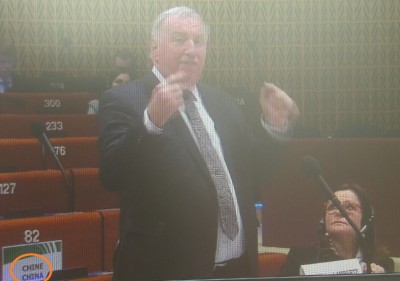 ------------------------------------------

+ Moreover, anOther Official of the CoE, (Strasbourg's PanEuropean Organisation for Human Rights, Democracy and Rule of Law), Afterwards told "Eufofora" that (in a Different Context),  the Canadian Law has a provision for any Region which might, eventually, wish to Seek to become Independent, that If a Part of it, eventually, Wishes, on the Contrary, to Stay inside the Country (Canada), then, it's Free to do so...
 
Canada holds, already since 1996+, a Special Status inside the CoE, (as also the USA, Japan, Australia, Mexico, etc), and some of its Representatives are Often Active, particularly in various CoE's Inter-Governemental Committees, as well as, especially in CoE's Parliamentary Assembly, etc.

--------------------------------------------------------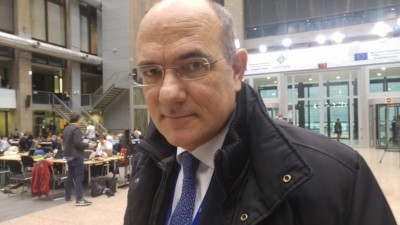 - Meanwhile, Clarifying further that "Tabarnia" Movement Issue, while Speaking to "Eurofora" earlier in Brussels, the Experienced EU Parliament's Director of Communications (including Press/Medias), Jaume Duch, (who knows well Barcelone since his own origin was from that City), stressed that it was, initially, a mainly "Satyrical" or "Comedy" Move, staging "a Parody" of the Secessionists, to whom they are Opposed in Catalonia.

+ In Addition, "they (i.e. "Tabarnia" Supporters) don't speak about Secession from the Spanish Country, but just for the Departure of their Area from the current Catalan Region, on the Level of Local/Regional DeCentralisation", Duch further Clarified explicitly.
 
---------------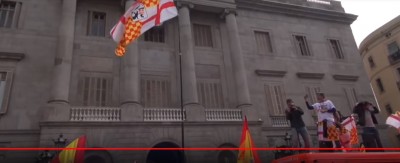 Having, indeed, in Addition to a Distinct, specific Name, Flag and Territory, as well as Core Political Ideology, also ... a potential "President", (initially Personified in the face of Comical Theater/Cinema Actor Albert Boadella : whose "¨Presidential Address" got more than 300.000 Views in "YouTube"),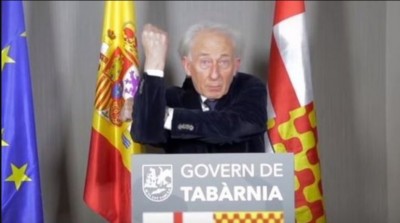 "Tabarnia" (whose "Official" Twitter Account -among Many- has now almost 60.000 Followers), however, particularly after the Success of its March 2018 Popular Demonstration (whose Organizers revendicate about 200.000 Participants),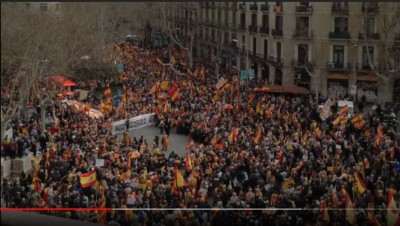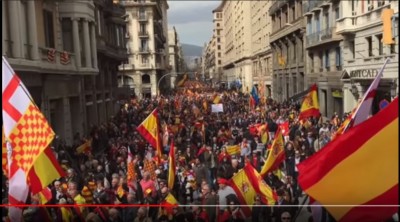 and some 110.000 Web Viewers of its Press Conference in EU Parliament during the latest EU Summit in Brussels on 22/3/2018,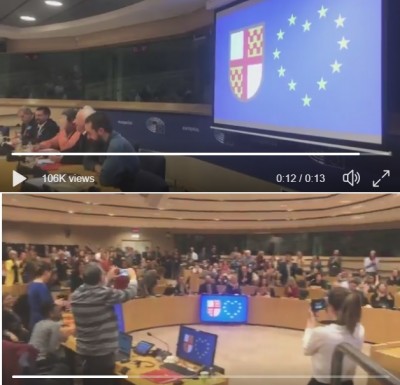 as well as 648.000 Mentions of its Name in Twitter only Last Christmas already, nowadays Cited by "BBC", "EuroNews", etc., it might Become a quite Serious Affair, sooner or later.

"Tabarnia" has, at least, the Merit to substitute rapidly wide-spreading Critical Public Debate, with a sense of Humour based on Serious Facts, to Abrupt Unilateral Moves by a Minority Risking to provoke Dangerous Violent Conflicts, and, at any case, it has certainly Not Stopped from making People Speak about her !...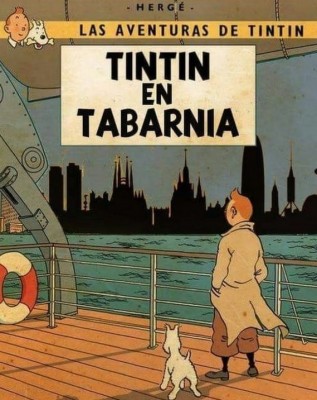 ------------------------------
Last, but Not Least : Facts even indicate that "Tabarnia" Supporters' Wish to get rid from what they percieve (Rightfully of Wrongly, More or less) as a Band of Money-Driven Selfish Egoists, and/or Hypocrits, Oppressive (f.ex. the Exclusion of the Spanish Language from Official Documents in a Secessionist Catalonia, etc), Violent, Corrupted, etc., as an Explicit Cartoon published by "EuroNews" clearly shows (See relevant ScreenShot+ attached herewith), may be, in substance, much More Right than they think :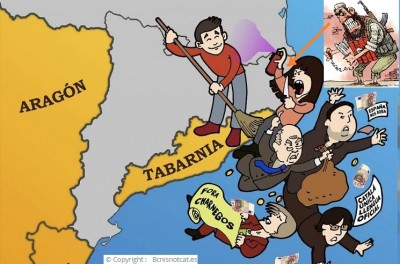 >>> Indeed, the Notorious "Star" of Catalonian Separatists, Carles Puigdemont, has been Born, Worked Most of his Life, and was Elected as Local Representative (to Catalonia Region), always Based at the far away, remote Province of Girona, (at the extreme North-East of Spain, close to France's Borders : I.e. exactly there where came from also the notorious "Imam" of Ripoll City's radicalized Mosque, Together with a Band of other Deadly Islamist Terrorists, that he Led towards the Recent atrocious Massacre which Cowardly Targetted innocent Civilian People in Barcelona (i.e. inside "Tarbania"'s Area) on August 2017, Killing more than 15 and Wounding + 130 Persons ! (A Massacre which, obviously, could have been Much More Deadly and Destructive, reportedly Targetting also the World-Famous Christian Church of "Sacred Family", if that Imam had Not made a Blunder, by Exploding his shelf-made Bombs before reaching his real Target... See :
http://www.eurofora.net/newsflashes/news/barcelonaterrorrevealseuropeanpoliticalproblem.html
).
---------------------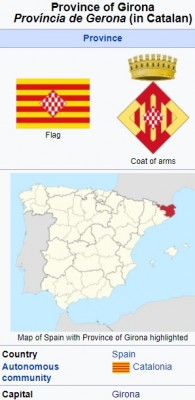 >>> Astonishingly, Puigdemont was Born at Amer City, between Ripoll City (Base of that Terrorist RingLeader Imam), and Girona City, all of them Located very Near to EachOther and inside that Province of Girona, in Catalonia, at the North-East of Spain, facing the French Borders, (See relevant MAP), but Out of, and Far Away from the "Tabarnia" Area, where the Victims of that Massacre were Located...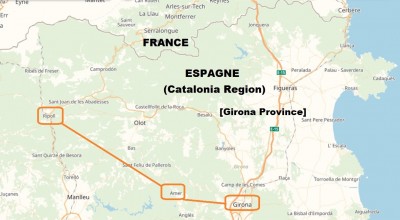 Puigdemont reportedly Worked as a Journalist "in Various Local Publications" from 1982, Before becoming, Later-on, Head Editor of one among the Local Medias at Girone : "El Punt" (now Extinct), infamous for having been "the Most Heavily Subsidized by the Catalan Region's Government", as "Wikipedia" Denounces. This Helped him to find a Job, for a while (1999-2002), as Head Editor of a Regional "Catalonia News Agency", totaly Owned by that same Catalan Government, before Falling Back Down to the Provincial Level, Briefly apointed as Head of a Cultural Center run by Girona City, (2002-2004).

Shortly Afterwards, he Starts a Political Career at the Lowest Local Level, in the Municipal Council of Girona, before becoming Mayor of Girona City (2007-2011+), while, almost at the Same Time, he had been elected as one among the Representatives of Girona Province to the Catalan Region's Assembly.
---
After Waiting until 2016, then, Suddenly, he is Propulsed at the Head of Catalonia, as President, by a Deal Between his Party, CDC, (currently PDeCAT), and the Small Leftist CUP Party, several  Members of which were already Known for their Relations with Controversial local ...Muslim Lobbies, including even with Persecuted and Condemned Dangerous Extremist Islamists, accused to be Mixed in Terrorism, (See :
http://www.eurofora.net/newsflashes/news/barcelonaterrorrevealseuropeanpoliticalproblem.html
).

Key Members of that CUP Party (thanks to which Puigdemont got the Top Job in Catalonia) had Earlier Worked with some Lobbies of Muslim Aliens pushing towards a Right to Vote for Foreign Immigrants to Local and Regional Elections, and even, in order to Free from Prison for Jihadist and Terrorism-related activities, a Butcher - Imam of a Suburb of Barcelona who had been in the Past the ... Indoctrinator of Ripoll's Imam, the radicalized Islamist Terrorism Ring-Leader from Girona Province, and Guide of Barcelona Massacre of 2017 (Comp. Supra) !

=> In Only 1 Year's Time : on 2017, Puigdemont pushed for an UnPrecedented and illegal Unilateral Secession Referendum in Catalonia, which provoked a Serious Crisis in Spain, with obvious potentially Dangerous Repercussions all accross Europe...
Sighnificantly, these Sudden 2016 and 2017 Big Upheavals, (Puigdemont's Election to Catalonia Region's Presidency on 2016, and the subsequent 2017 illegal Referendum for Unilateral Secessionism and Independence, added to the August 2017 Barcelona Massacre by Islamist Terrorists Cowardly Targetting Civilian People : Comp. Supra), Occured shortly Afther the Local/Regional Elections of 2015, where those (CUP and Others) Local Politicians who had Earlier (f.ex. between 2007-2011, etc) worked with the above-mentioned Foreign Muslim Lobbies and/or even Convicted Islamist Extremists, Jihadists and Terror suspects (including the InDoctrinator of Ripoll's Imam, the Ring-Leader of Barcelona Massacre : Comp. Supra), were Elected, for the First Time, at Key Positions in various Catalan Local and Regional Organisations, (Comp.:
http://www.eurofora.net/newsflashes/news/barcelonaterrorrevealseuropeanpoliticalproblem.html
), while, already, "in 2013, nearly a Third (1/3) of those Arrested in Spain on Charges related to Islamic Extremism were Based in Catalonia", (according to the World-Famous British Newspaper "Guardian").
---


+ The "Guardian" also reminds the Fact that, Back "in July 2001, two months before the 9/11 Attacks in New York, Mohammed Atta, who Led the attacks, met Ramzi Binalshibh, the Link-man between Atta's group and al-Qaida, in Cambrils" : ... i.e. there where One among the Two Deadly Islamist Terrorist Attacks (including that in Barcelona) were Committed by Ripoll Imam's Armed Gang on August 2017 (Comp. Supra) !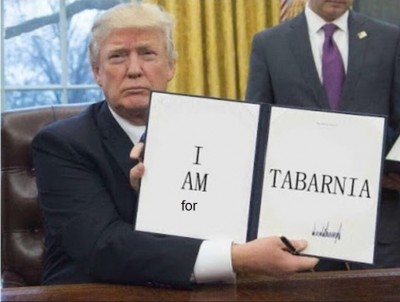 (Even Trump to become pro-Tabarnian ? - "Plataforma por Tabarnia"/BBC/Eurofora)
-----


=> From All these Facts, it seems really Possible, and even Highly Probable, that "Tabarnia"s Move Out of the Rest of Catalonia (Comp. Supra), might, indeed, Help Tabarnian People to get rid (as they Wish : See relevant Cartoon published by "Plataforma por Tarbania", shown Supra), Not Just of Corruption-related, but also of various Islamist Extremism and/or Terrorism-Related Politicians among those Catalonian Separatists...

+ And, on this occasion, Puidgemont's astonishing, Long-Term Personal and/or local Links to his remote Province of Girona, where "Local People (were) Shocked to discover (that) Barcelona Killers lived among them", (as that, above-mentioned, 2017 "Guardian" Article stressed from the outset), Might even Help to, eventually, Avoid having to use so Harsh Methods as (currently) Arresting and Jailing Puigdemont during his Transit by Car from Finland towards Belgium, through Germany, in view of a possible Extradition to the National Spanish Government :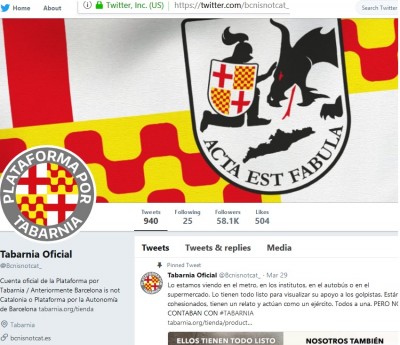 => Thanks to the above-mentioned "Tabarnia" Popular Movement's Dream, indeed, it might, eventually, become Possible, in the foreseable Future, to Simply ...Expulse such Dangerous Separatists, as Mr. Puigdemont is accused to be, Back to his Remote Catalan Province of Girona, somewhere Between his Natal "Amer" City, and Barcelona Islamist Terrorist Massacre Ring-Leader's, Ripoll Imam's radicalized Mosque, located Nearby (Comp. Supra), i.e. far Away from a Brand-New and Independent "Tabarnia" Region of Spain, Away from Barcelona City, but Out there, in the Wilderness...
(../..)


--------------------------


***


("DraftNews", as already Send to "Eurofora" Subscribers/Donors earlier. A more accurate, full Final Version, might be published asap).


***
 
BRIEF NEWS
00:00 - 09.07.2018

00:00 - 31.05.2018

00:00 - 26.12.2017

00:00 - 26.05.2017

00:00 - 30.01.2017

00:00 - 14.10.2016

00:00 - 24.09.2016

00:00 - 27.07.2016

00:00 - 03.07.2016
Statistics
Visitors: 28227954
Archive
Login Form
Other Menu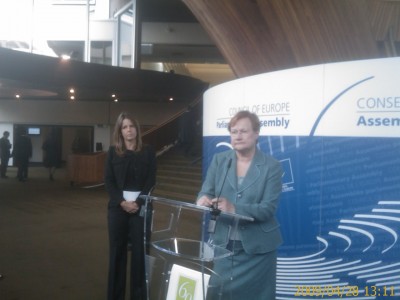 People in Europe and the World expect from CoE to make a succes of its "Monitoring" for Human Rights and Democracy, despite difficulties, said Finland's President Tarja Halonen to "EuroFora" at a crucial moment for the mecanism built 15 years ago by the paneuropean organization which celebrates its 60th Anniversary in 2009.
Halonen, known as "Mother" of CoE's "Monitoring" mecanism, a long-time MEP and former Foreign Minister before becoming Finland's President, holds a long experience in the mattter, after also serving twice as CoE and EU Chairwoman in the past. That's why she is well placed to judge how CoE's "monitoring" should deal today with some crucial issues of importance both to CoE and to the EU.
The move came just a Month before a crucial, last visit to Turkey, scheduled for June, by the President of CoE''s "Monitoring" Committee, Ukranian MEP Serge Holovaty, to finalize his Report on Ankara, the CoE Member State with the longest Monitoring procedure. From its results depends its overall credibility.
This is a Test-case, because, in fact, it's in order to avoid Sanctions threatened against Turkey by a CoE's Assembly's April 1995 Resolution for grave Human Rights violations, Democracy gaps, the continuing Military Occupation in Cyprus, the unresolved Kurdish problem, Aegean differend with Greece, etc., that MEPs decided to create, for the 1st time on April 1996, a "Monitoring" proces, allegedly destinated to check, without excluding Countries who did not fulfill all CoE's standards.
In the Past, the obliged withdrawal of Greece's Military regime and of its "Civil" cover-up out of the CoE had helped bring back Democracy in 1974. But, on the contrary, since April 1996, the idea was to "monitor" Human Rights' respect while keeping most concerned Countries inside the CoE. After Turkey's oldest example, this was extended also to several former "Eastern" European Countries, even if CoE's Assembly has imposed to some of them (fex. Ukraine, Russia, etc., after Belarus, Serbia, etc) various "Sanctions", that Ankara always avoided. Curiously more succesful even than .. USA itself, (a CoE "Observer" since 1995), which has been at least threatened with sanctions some years ago..
EU-effects of CoE's Monitoring process became obvious between 2001-2008, since the "closure" of this procedure, when CoE felt that a Country had met most of its Human Rights, Democracy and Rule of Law obligations, (i.e. the "Copenhagen Criteria" for the EU), helped trigger Negotiations with the EU for "Accession" or other closer relations : This occured already before the 2004 and 2007 EU Enlargements to former "Eastern" European Countries, as well as for the commencement of "accession" negotiations with Croatia, and of "open-ended" negotiations with Turkey in 2005.
    But a stricking new development are Holovaty's recent findings that on core Human Rights issues as Torture and Freedom of Expression, Turkey, even "5 Years after" CoE closed its "Monitoring", back in 2004, inciting EU to start accession Negotiations in 2005, still presents grave problems.
    His findings are of crucial importance after a 2008 CoE Resolution called, "if need be", to "seriously consider the possibility of Re-Opening the Monitoring procedure for Turkey" : A move which might affect Ankara's controversial EU bid, since EU Accession Negotiations are based on the Hypothesis that the Candidate fullfils the "Copenhagen Criteria" (See above)..
-------------------------
    Holovaty expressed his will to check  "Matters still Outstanding" and  those that he "didn't have an opportunity to discuss" at an earlier visit this year, "in order to discuss the more complex issues in greater depth", at his forthcoming New Visit to Ankara, before the December 2009 EU Summit.  This is all based on the 2004 CoE Resolution which stresses that, CoE "will continue.. post-monitoring Dialogue with the Turkish authorities,...in addition to a 12-points list,..and on any Other Matter that might arise in connection with Turkey's Obligations as a CoE member state".
    CoE's Resolution also asks  from Turkey "to secure the proper Implementation of Judgements, particularly in the Cyprus v. Turkey InterState case", of 2001, which concerns also the plight of many Hundreds of MISSING People. It adds Turkey's obligations to "execute" ECHR's Judgements in the Loizidou case,..and in particular adopt General Measures to avoid repetition or continuation of Violations found by the Court" to the detriment of Refugees.
    Nevertheless, Holovaty said to "EuroFora" that "MISSING" persons,"might be included" and cannot be excluded, but he has yet to examine the situation "to find out  which issues will be raised" to the Turkish Government.
    Therefore, "EuroFora" asked Halonen, as the Historic "Mother" of CoE's Monitoring mecanism, if she thought that, "whenever there are grave Human Rights Violations, as fex. "MISSING" persons, attested even by ECHR's judgements, they should be always checked by a Monitoring process. Or could they be forgotten ?"    
     - "We (CoE) must be, at the same time, Fair, Realistic, but not in the mind that "now we have Forgotten", etc., replied to "EuroFora"'s question Halonen, speaking as a matter of general principle.
    - "When we think of those People that are suffering from the lack of Democracy, of Human Rights, and of the Rule of Law", "we should find a base on how to deal with the (Monitoring) system more rapidly"', she stressed.
    - "Sometimes it's very difficult to combine Transparency and Effectivenes together, particularly in this specific case", she went on to say. But, "I have not found a (CoE Member) Country who could be insensitive in this sens", Halonen answered concerning grave Human Rights violations attested by the ECHR.
    - "I have no ready-made answer. I have the expectations that you, in the CoE, will, step by step, find the different types of the monitoring systems."
    Also "because this is a part of the UN's Post-Conflict system, (fex. when it comes to Cyprus' MISSING persons), and it's a more Global system". So that, "If we make a succes in Europe, the others will follow", throughout the World.  "But they expect that we (Europe) are this opportunity, this Opportunity to make a Succes", Halonen concluded.
    In addition, she advised to extend CoE's Monitoring to all its 47 Member States, "because, as long as we hear that, all these monitoring systems are "OK for the neighbor, but not for me", "it's very difficult" to understand. Something which could make easier to Compare...
    Finnish MEP Jaako Laakso, former CoE Rapporteur on the Occupied Territories of Cyprus and one of the 5 Signatories of the Historic CoE's call to create the "MONITORING" mecanism since 1996, was more specific :  - "We (CoE Assembly) have to find a way for the issue of Cyprus' MISSING People to be better followed", he stressed, anouncing his intention to "speak to Mr. Holovaty" about that. "There might be also other ways", added Laakso.
    - The 2008 "Year had been a very Bad one for Turkey with regard to Human Rights in general, and Freedom of Expression in particular", denounced, meanwhile, Holovaty's preliminary Post-Monitoringh Draft Report by Holovaty, published by the CoE on April 2009.
    "Amnesty International believes that freedom of expression is not guaranteed given the various articles of the Criminal Code that restrict it. .. "For example, 1,300 Websites are said to have been closed down by the (Turkish) authorities in 2008" ! While "the new Turkish Criminal Code was used to bring a total of 1,072 proceedings between June 2005 and April 2008, and led to the conviction of 192 people", for expressing views. "Representatives of the Özgür Gündem newspaper, which specialises in Kurdish affairs, ..complained about Numerous Attacks on their Freedom of Expression ...as was everyone who advocated a settlement to the question by means other than the intervention of the army" "According to their figures, 19 Newspapers had been suspended 43 times between 4 August 2006 and 4 November 2008" !...
    Moreover, on 2008,  CoE's "Ministers adopted its 4rth Resolution on the execution of the judgments of the ECHR, ...and outstanding issues regarding 175 Judgements and decisions relating to Turkey delivered between 1996 and 2008...  concerning Deaths resulting from the excessive use of force by members of the Security forces, the failure to protect the right to life, the DIisappearance and/or death of individuals, Ill-Treatment and the Destruction of property". CoE's " Ministers urged the Turkish authorities ...to ensure that members of Security forces of all ranks can be prosecuted without administrative
authorisation" for "serious crimes". Holovaty reminded.
"Nonetheless", Holovaty heard anew of "Several cases of Violence committed last year (2008) by the (Turkish) security forces". Amnesty International speaks of Many Cases of ill-treatment and Torture in the prisons and by the police". "Including, fex."'the death of Engin Ceber, a young man of 29 who died on October 2008 as a result of the TORTURE allegedly inflicted on him by police officers, prison staff and members of the gendarmerie. He was part of a group of people arrested on September 2008 during a demonstration and Press Conference in Istanbul'. Proceedings against suspects are "on-going" in this case.
- " I therefore noted an Obvious Contradiction between the Government's stated "zero tolerance" policy.... of Torture and other forms of ill-treatment, and the different testimonies given", denounced CoE's Rapporteur.  Turkish "authorities must make considerable efforts to guarantee that proper investigations are carried out into allegations of abuses by members of the security forces and that perpetrators are effectively punished" "In this respect, I have requested detailed Statistics on the number of Investigations, acquittals and convictions in cases involving allegations of abuse in order to show the positive impact of the measures taken to date", Holovaty said, repeating a permanently unsatisfied CoE's demand to Turkey since a Decade...
    - "The Political Crisis that shook the country in the spring of 2008 highlighted the Weaknesses of the (Turkish) Constitution", which comes from the Military regime of 1982, "and the Urgent Need of Reforms", stressed from the outset CoE's Rapporteur in 2009. In particular, "the ...Democratic functioning of state institutions, including the independence of the judicial system, are crucial", he observes.
    But, "the Electoral  system and the ways in which it is circumvented do not appear to give those elected complete Legitimacy, and tend to pervert the course of direct universal suffrage", denounces Holovaty, observing that, even 5 Years later, Turkey did not yet change the 10% nationwide Threshold for a party to take any seat, which is "far higher" than the "3%" maximum in Europe and already condemned as contrary to European Standards by the CoE.
    + Moreover, EU Parliament's 2009 Report on Turkey, drafted by Dutch MEP Ria Oomen-Ruijten and adopted in Strasbourg on March, expresses "Concern over the Failure of the (Turkish) Judiciary to prosecute cases of Torture and Ill-treatment, the Number of which is Growing". EU also "is concerned about continuing Hostility and Violence against Minorities" in Turkey. It also "calls on the Turkish Government to launch, as a matter of Priority, a Political Initiatve favouring a lasting Settlement of the Kurdish issue, (while "condemning violence.. and terrorist groups"). EU "regrets that No progress has been made on establishing full, systematic Civilian suprevisory functions over the (Turkish) Military".
    The final results of Holovaty's 2nd and last visit to Turkley will be known later this year, and, at any case, before EU's December 2009 Summit.
Polls