Home

newsitems

ECHR: Open Questions on f. leftist Cyprus Leader Christofias for seized Syria/Iran Arms' Explosion
ECHR: Open Questions on f. leftist Cyprus Leader Christofias for seized Syria/Iran Arms' Explosion
Thursday, 13 July 2017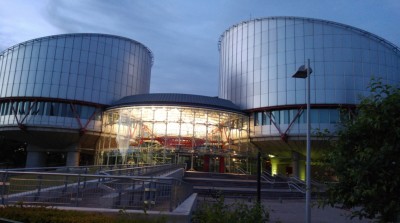 *Strasbourg/Angelo Marcopolo/-  A 7 Members Section of the 47-Members Strong ECHR, ruling on a case of 13 Killed and 62 Wounded People, by a July 2011 Explosion of Ammunitions Seized from a Ship related to Syria and Iran because of Arms' Embargo, lodged by the Widow and 2 Orphan Kids of a killed Guard, Left many Questions still Open, about the Responsibility of former President of the Republic, and f. Long-Time Leader of Main Opposition Party AKEL (Leftist), Dimitris Christofias (DC).

An Independent Investigator, a Lawyer appointed by the Government of Cyprus, had Earlier Concluded that Christofias bears Main Responsibility for such a Deadly Incident: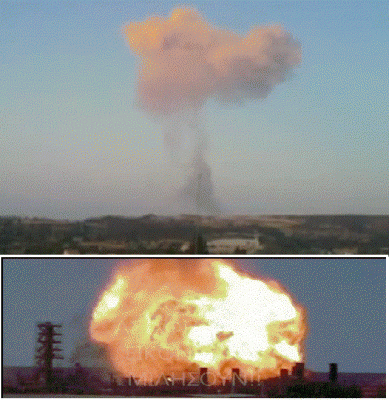 Indeed, his Official 600 pages-long Report found that "the Fate of the cargo had been Decided by the Executive, which, Headed by the President, had completely Failed to take the necessary Measures to handle the matter, including Keeping the cargo Safe in Cyprus. ... the President, over and Above his state office and his institutional capacity, ...had Undertaken to Deal with the dangerous cargo Himself, had had ultimate Control over it, and had been Responsible for taking important Decisions on the subject". This refers "not only to the President's Statutory and ex officio Political Responsibility, but Also his Significant Personal Responsibility for the Tragic event and its Consequences".
Therefore, "the President bore the Greatest Responsibility for the Inadequacy, Negligence and Remissness that had been shown, and had Failed to take Care of, or at least take Basic Measures to ensure the Security of the Citizens ..., and in particular that of the Soldiers and Firemen" who were killed or wounded, ECHR's Judgement clearly notes from the outset.

+ Moreover, Both a Legal Complaint lodged to the Criminal Law System, (Attorney General and Criminal Courts), by a Head SchoolTeacher, God-Daughter of Historic 1st Cyprus' President Makarios, as well as a Collective Petition signed by many Thousands of Citizens, and a Long Series of UnPrecedented, large Mass Protest Demonstrations, regularly organized right in Front of Cyprus' Presidential Palace during Christofias' term of office, repeatedly Urged that All those Responsible for the Killings and the Destruction of the Country's Biggest Electricity Supply Installation, be throroughly Investigated, Charged and Prosecuted, without any exception, including, particularly, Christofias himself, for whom they all asked to Lift his presidential Immunity, (according to Article 45 of Cyprus' Constitution). Comp. "Eurofora"s NewsReport at: http://www.eurofora.net/newsflashes/news/cypruspeopleaskchristofiastoresign.html .

[The Leftist, then Governing, Politician, initialy Ordered to Police and Security Forces to Brutaly Attack and Dissolve by a lot of Gas and violence, that UnPrecedented Popular Demonstration of Protest, and this was done, in a very Harsh way. But the Next Day, the Leader of the Main Opposition Party then ("Democratic Rally"): Nicos Anastassiades, a mainstream ChristianDemocrat/EPP Politician, (who is the Current President of Cyprus Today), Strongly Denounced such an Oppressive move by Christofias, and launched a Vibrant Call to Respect People's Democratic Right to Express their Views on Important Issues for the Society by Peaceful Public Gatherings. Such a Strong and Principled Reaction from Anastassiades, really Helped to Saveguard the People's Right to Demonstrate in front of the Presidential Palace, as they Regularly did, indeed, during a Long Period of Time, from now on, and Reinforced his Popularity, Contributing to his subsequent Win at the February 2013 Presidential Election, later-on, that he won on a Program including Many Legal, Political and Practical Reforms explicitly destinated to Ensure a more or less important "Accountability" of all State's Officers, vis a vis the Citizens, (including the President of the Republic himself), which was Promissed to Become a quite UnPrecedented Innovation in the History of Democratic Life.]

Meanwhile, the Chief of Cyprus' Naval Forces, Amiral Ioanides, was among the Numerous Victims of that ill-elucidated, Huge Explosion near the Florakis Naval Base - in honor of General Florakis, f. Chief of all Cyprus' National Guard, who had been killed at a strange Helicopter Fire/Crash on 2002, together with Senior Officer Demenagas, in charge of Greece and Cyprus' Joint Air Defense, by a coincidence, ...exactly the Same Day of 2002 that EU Parliament's Foreign/Defense policy Committee was Voting, in Brussels, Crucial Amendments on the 1st "European Sky" Draft Directive, including some which were Hotly Disputed by Turkey. By another incredible Coincidence, Both these 2 ill-elucidated Brutal Killings of Top Cyprus' Defense Leaders occured at a quite Similar Date : OverNight from 10 to11 July, (i.e. almost on the Anniversary of General Florakis/Demenagas Earlier Killings) !  

Amiral Ioanides' role would, naturaly, have been of paramount Importance also for the Defense of emerging New Energy Sources', Oil-Gas' Findings and Development activities in Cyprus' EEZ's Seabed, often Disputed by Turkey's interferences. Moreover, the adjacent New Big Electricity Factory, entirely Destroyed by that 2011 Explosion of Seized and Stocked Ammunitions (Comp. Supra), was absolutely Necessary for Cyprus' Energy Needs, and might, even, have been Used (with some Adaptations) in order to Transform Oil-Gas Findings into Electricity, easier to Transfer towards EU's mainland.

Ioanides' Young Son, at a very Emotional moment, spoke, later-on, to (and was largely Applauded by) many Thousands of Demonstrators regularly Gathered in front of Cyprus' Presidential Palace, asking Justice and particularly Christofias' prosecution (Comp. Supra).

Practicaly at the Eve of the Tragic Incident (Monday, 11 July), the former Cyprus' President was visiting Geneva, for UN-sponsored Talks on Cyprus' issue, in the presence of UNO's Secretary General, Ban Ki Moon, (Thursday, 7 July), that "Eurofora" covered there,  (See our Press Publication at: http://www.eurofora.net/newsflashes/news/bankimoononcyprus.html), where we were Surrprized by an Exceptionaly very ...Nervous Christofias, (for reasons that he did not reveal), including an Inexperienced Press Secretary (that Mainstream Newspaper of Main Opposition Party DS/ChristianDemocrats-EPP, of Nowadays Cyprus' President Anastassiades, soon Denounced, in 1st Page Headline News, as a new ..."GOEBBELS" of neo -NAZI inspiration, for his alleged Attempts to Oppress and Muzzle Dissident Journalists, whose Political Criticism he didn't like: See authentic Photo-Document).

"Eurofora"s co-Founder met former President Christofias at Various Occasions, during More than a Decade, between 2001 -2012, (f.ex. at the CoE or EU Parliament in Strasbourg, EU Council in Brussels, UNO Talks in Switzerland, Elysée Palace in Paris, etc), but Never Before - Neither Afterwards - we didn't found him so Upset as on 7 July 2011 in Geneva UN Talks, which was, obviously, an UnPrecedented, Exceptional and Unique moment, provoked by Unclear and Unknown yet Causes:

Was it, perhaps, because ECB's then President, Truchet from France, had reportedly Warned him about an imminent Excessive Debt, with Financial Risks, Urging to take some UnPopular but Necessary Measures, particularly against Clientelism, asap, (as Truchet Revealed Afterwards, at an EU Parliament's Hearing in Strasbourg), and/or because Something hadn't, perhaps, gone as well as he wanted at those 2011 Geneva UNO Talks, or, perhaps, also due to Strong Press Criticism against an UnPrecedented Brutal and Violent Oppression, even of Peaceful Popular Demonstrations in Greece, End of June 2011, by the Police at the orders of a discredited "Socialist" PASOK Government in Athens, (which practically ..."Disappeared" from the Mainstream Political spectrum, Later-on) ?  

It's True that Christofias, curiously, Postponed, Immediately Afterwards, a key National Council meeting, Together with all Other Political Parties' Leaders in Nicosia, (initialy Scheduled for Friday, July 8), where he should have Explained his stance at Geneva (Comp. Supra), Changing its Date for Monday, July 11 ... I.e. precisely the Date of that Murderous and Destructive Explosion (Comp. Sypra), which gave a Pretext to Again and again Postpone that RDV several Times in a Long Row, going into Deep Summertime ! So that, when, at last, a Moment Arrived, only Many Weeks Later, for a National Council on those Geneva July 7 UN Talks, then, All Politicians' and Medias' Attantion had been, meanwhile, Focused mainly on that Mysterious "Explosion" and its Consequences, so that almost Nobody paid, no more, sufficient Attention into Finding out what had really Happened back on July 7 in Geneva ...

Today (on 2017) it's for Historians to Find out the Truth of this UnPrecedented Enigma, concerning the Real Motivation of all those Strange and UnPrecedented, as well as Unique/Exceptional Christofias'  moves or spontaneous/provoked reactions, around that Special Geneva UN Talks of July 7, 2011,  practicaly at the Eve of the Deadly and Destructive Explosion of July 10 to 11 in Cyprus' Island's Southern Coasts (Comp. Supra).

>>> But, it's a  Fact that, Nonobstant all the Above-mentioned, convergent Critical moves, raising Key Questions on Christofias' own Responsibilities, (Comp. Supra), and the manifold Importance of the present Affair, (See also Infra), he was Neither Charged, Nor Prosecuted for that, at all, and the subsequent Judicial Enquiry did NOT Include his Wrongdoings.

All this happened During Christofias' ending Term of Office, (until late 2012), Before a New President (issued from the Former Opposition: the Current President Nicos Anastassiades) was afterwards Elected by Cyprus' People at the Beginning of 2013.

=> That's why the Widow and 2 Orphan Children of a Killed National Guard, Michael Heracleous, represented by Lawyer and former ECHR's Member (EuroJudge) Loukis Loucaides, lodged a formal Application to ECHR in Strasbourg, Denouncing an at least procedural Violation of Article 2 of the European Convention on Human Rights, which protects Life. They also denounced a Violation of Article 13, which concerns the "Effectivity" of the protection of Human Rights.

-------------------

ECHR's well established Case Law has consistently affirmed that, as a matter of General Principle, in cases of Loss of Lives, Efficient and Transparent Investigations must be made in order to Find, Prosecute and Punish all those Responsible.

In this regard, Many Important Questions still Remain UnAnswered, even After the Ruling of an ECHR's Chamber published Today :

* 1) This Judgement does Not say whether Christofias was really Guilty, or Not :  This crucial Point of Substance still remains Open.
And underlining the Exceptionally Scandalous Gravity of this affair, ECHR compared this Christofias' affair with that of "Ümraniye" case : That of a Poor Family atrociously Killed at her Home by an Explosion of Shit and Waste at a District of Istanbul in Turkey, where unscrupulus Local Managers had let a Rubbish tip Dangerously Accumulate Near Poor People's Homes, "Exposing" them "to All kinds of Risks"....

* 2) Neither does ECHR say now How should have been Interpreted Cyprus' Constitution about Lifting the Immunity of DC, or not : This also Remains an Open, UnAnswered Question, (See f.ex., §37 of this Judgement, etc).

* 3). ECHR does Not even say, Today, whether a Sufficient and Transparent Investigation was ever Made, or Not, by the competent National Authorities, since it claims that these Appliquants, in this Concrete Application, would Not have Contested at all the Efficiency of the Official Investigationn (f.ex. § 36 - 38 of the Judgement Published now).
This seems, however, in Contradiction with ECHR Chamber's previous Observation that the Applicants had Complained that the Attorney General's "Duty to Effectively Investigate the Fatal Explosion that had led to their relatives' Death", "had Not been done" because of the Non-Prosecution of former President Christofias (§25, ibid).

+ Moreover, ECHR does Not also say whether the applied "Prosecutorial System" in Cyprus might have some Loopholes, or not, particularly concerning the fact that "it is the Attorney-General, ... who Decides whether there is enough Evidence to justify criminal Proceedings in respect of a particular person" (§ 36), Simply Because it Claims that "the applicants have Not Complained regarding Any "Institutional Deficiencies" in the criminal Justice or the prosecutorial System", as such.

So that, logically, this Question too, would Still remain Open.
This point is Important, Particularly when it concerns a Notoriously Controversial individual as Former Attonney General Petros Clerides, (Nothing to do with Long-Time President Glafcos Clerides, Neither with the New Attorney General, former Judge, Costas Clerides,  UnRelated) : i.e. the Only 1 in the History of Cyprus who was obliged to Resign (on 2013) after Strong and Wide public Criticism accusing him to have MisHandled several Big Cases.

F.ex., among others:

- He was Photographed provocatively Laughing inside Christofias' Palace and with his Cronies, just the Day After a Collective Petition, concerning that Deadly Explosion,signed by many Thousands of Cyprus' People, and even a Legal Complaint lodged by a Head Teacher, God-Daughter of Historic 1st Cyprus' President Makarios, both Asking for Christofias' Prosecution, (Comp. Supra), had been officialy Presented to his Office, where arrived also a Damning Report by an Independent Investigator appointed by the Government, (See, attached Herewith, that Photo, which, obviously, does Not give a good Impression of Impartiality to the People)...

- P.C. was largely Criticized for the way he mishandled not only that Deadly Explosion affair of July 2011, but also that of the Most Deadly Airplane Crash in Cyprus' History: that of "Helios" Company, nearTurkey's Bordersn back on August 2005; as well as for Dragging his feet in the Investigation of the Brutal Killing of a Young Russian Girl, shortly after Refusing to be Exploited as a Prostitute by her Boss, (the famous "Rantsev" case, Cited by Today's Judgement, where ECHR has Condemned in 2010, precisely, the Lack of any Effective Investigation :
An UnForgetable case, particularly after the Emotional Calls for Help by the Aged Father of the Victim, including in a Press Conference at the CoE in Strasbourg, in Letters addressed to "Eurofora", etc., vainly Seeking Truth and Justice on his Daughter's Brutal and Unelucidated Death) ; but also in the case of Poor Ukranian Sailors, scandalously Abandoned alone and Unpaid by their Boss, at a Cyprus' Seaport, where they Risked to Starve and were even reportedly Ill-Treated by some Policemen, (withOut Petros Clerides making any Prosecution against the Culprit); and even in a Case of Journalist's Freedom, lodged with a Written Complaint by a Lawyer, Wife of a Victim, back on 2008, (to which P.C. did Not even Dare Reply by Writting, but Only Phoned for a Brief Oral Contact, in which, when he found himself Unable to Reply to the Legal, Political and Human Arguments presented, he merely ... Closed Brutaly his Phone, withOut Giving the Slightest Answer, as "Eurofora" heard - Tape Recording available); etc. Finaly, Mr. P.C. was notoriously found, once again, Personaly Mixed in a Scandal where he Droped any Sanction on a Car Driver found dangerously Drunk and Evading Taxes, who was ...his own Son !

+ Moreover, even the System itself, of Attorney General's "Discretionary Power" to Initiate, or Not, a Prosecution against those Denounced for Crimes, was Strongly Criticized also at the level of CoE's various Monitoring Bodies competent on Human Rights/Democracy/Rule of Law issues, (including by ECHR), as "Eurofora" has observed in Strasbourg.
-----------------------------------
> But this ECHR Chamber claimed, in fine, that it would Not Exist any Right, fot anyone, to ask for a particular Suspect to be Prosecuted, (despite the eventual Importance of his Involvement): -"Article 2 does Not entail the right to have third Parties  Prosecuted – or Convicted – for a Criminal offence", according to that ECHR's Chamber (§31 + 37 , ibid).

+ Today's ECHR Chamber's Ruling also Claims that it would "Not" be its "Task to ... Decide Whether, in the Cirumstances, the Attorney-General could or should have Lifted the President's Immunity", or Not, (ibid).

=> Only Based on such Considerations, just "in the Present Case" (i.e. Not necessarily in General), this Chamber's Ruling Claims that "it canNot be said ... that the domestic Authorities Failed ... to conduct an Effective Investigation, capable of leading to the establishment of the Facts and Identifying and, if appropriate, Punishing those Responsible".
It's Exclusively "having regard to the above", i.e. Argying Only the above-mentioned Claims, that an ECHR's Chamber "rejected" now, specifically "The Application" of the Widow and the 2 Orphan Children of the Brutally Killed Guardian, qualifying it as "manifetly Ill-Founded", (by Copying a Wider,"Passe-Partout" Wording of the PanEuropean Convention's Article 35 §3(a) and 4).

-------------------

>>> Nevertheless, Curiously, at the Same Time, ECHR reiterated its Established Case-Law, acording to which, States are Obliged to Investigate and Prosecute all those Suspect of having unduly Exposed the Life of Victims to Dangerous, Life-Threatening situations. (§ 28  of this Judgement):

-  I.e., even Opposite to its own previous Finding that, as a matter of General Principle, "those Responsible for enDangering Life" Must be ''Charged with a criminal offence or Prosecuted",  because, Otherwise, an Ommission of that, "may amount to a Violation of Article 2" (Protection of Human Life) of the PanEuropean Convention on Human Rights.

+ Moreover, such a Conclusion appears Contrary also to anOther ECHR Judgement's earlier Finding, which "Sum(s) up" what is "Required" by the Convention in affairs of Human Life, concerning the "Minimum Standards" that the "official Investigation" must "satisfy", Stressing that "the competent Authorities Must ...of their Own Motion, Initiate Investigations capable of ... Identifying the State Officials ... Involved, in Whatever Capacity (NB), in the Chain of Events in issue", (§ 29, ibid).

But, Obviously, this was Not done at all (by that Attorney General), as far as Christofias is concerned, Despite the Fact that he, UnDeniably, played the 1st Role in the Chain of Command at this affair ..., (Comp. Supra).

An Investigation including Christofias would, However, be useful for Both Sides, since he apparently had at least some Interesting things to Claim while Attempting to Alleviate or Hide his own Responsibilities:  As, f.ex., the critical Observation that a Summer Heatwave over Dangerously Abandoned Ammunitions, would Not, normaly lead to an Explosion ..."at 4 o'clock in Early Morning", as he pointed out much Later, apparently Implying that Something Else might have provoked the Tragedy : An extreme, but Not Excluded a priori Hypothesis, that does Not seem to have been really discussed in depthh, neither fully examinated.

----------------------------------------------

=> Therefore, in a so Important affair, as that of the Explosion at "MARI/FLORAKIS" Naval Base, concerning 13 People Killed and 62 Wounded, as well as a former Long-Time Top Political (Leftist) Leader, and Weapons' Embargo, around Syria/Iran, etc. on 2011, and Destroying a Country's Biggest Electric Energy Supply Factory, (etc)

 - i.e. approximatively  Equivalent to the infamous ..."BENGHAZI" Killings/Arms Smuggling rumours' affair of Hillary Clinton, which broke out on 2012, but still Occupied a lot the Latest, 2016 US Presidential Election Campain -

given also all those Controversial, Thorny and Complicated, but obvious, possible Legal Controversies mentioned Above, (Comp. Supra),

it canNot be Excluded that, in a Few Months from now, ECHR's Grand Chamber (with 17 Euro-Judges), might, eventualy, be invited to pronounce itself on this ECHR 7-Membes' only Chamber's Ruling published Today.

Such a Legaly possible and Legitimate (Comp. Supra) Development canNot be Excluded "a priori", if the Applicants' (the Widow and 2 Orphan Kids of a Brutally Killed Guardian)Lawyer, an Experienced former ECHR's Euro-Judge known in Strasbourg, decides to ask from the competent ECHR's Panel to Confirm the Reference to ECHR's "Great Chamber" for a Fresh, Wider and more Careful Review by a Bigger Number of much More Experienced Euro-Judges, than this Simple "Chamber" of Only 7 Members,  Headed by a Young and New Chairwoman just elected, in her New Job, only on ...February 2017 !
Accompagnied also by at least another 3 "New" EuroJudges, just Elected during the Last 3 Years (2015, 2016, and even ... April 2017 !), - but Only with 1 (one) Euro-Judge already Working in the ECHR at the Moment of that Deadly Explosion at the "Mari/Florakis" Naval Base : a Socialist Spanish Judge, Alone in that Chamber to have started Working at the ECHR Before that 2011 serious Tragic Incident), she couldn't, obviously, dispose, already now, of the Same Means and Experience as ECHR's Great Chamber's 17 mostly Long-Time Euro-Judges, obviously Able to have much More Chances to reach a Better Balanced, more Seriously Examined, and Convincingly Motivated, Final Decision, with a fully-fledged, Better and throroughly Motivated ECHR Judgement, in such an Important, Tragic, and Standard-Setting Case.


----------------------------------

Last, but not least, this ECHR Chamber's ruling, (in fact Decided already since Last Month : on June), wasn't made Public but Only on the 13th of July, i.e., when most European News Journalists should, normaly, either attent or follow remotedly, what was going on, in Paris, between Macron, Merkel, and Trump, who were notoriously visiting the French Capital, Exceptionaly, the one after the other, (followed by Israeli Prime Minister Netanyahu, Later-on).

Moreover, the relevant Press Communiqué Dated July 13th, does Not even Mention this ECHR's Judgement, Despite the obvious  Importance of this Affair, concerning a former President of an EU Member State, the Arms Embargo affecting Syria and Iran, Russia and USA, as well as the UN, a Tragedy with 13 Killed 62 People, the Accountability of States' Highest Authorities, (etc).

----------------

The Only (Brief) Public Mention of this Important Affair by the Secretariat of ECHR had been done Back on ... July 7, i.e. again a Notoriously OverLoaded Date, coinciding with the Opening and the Most Crucial Day of the 2017 "G20" Summit in Hambourg (Germany), where "Eurofora" was (Comp., f.ex.: ....), and 2 CoE's Human Rights' Conferences in Strasbourg, as well as the UN Secretary General, Guterres' arrival to Nearby Geneva, for the crucial Conclusion of an Important Quadrilateral Political Top Meeting on Cyprus' Issue, (with the UK, Greece, Cyprus and Turkey)...I.e. PanEuropean/International Events that Medias like "Eurofora" should, normally, strive to Attend or Follow...

Event then, it's Barely Mentioned, in one word, Only at the End of a Press Release, Lost among a Bief List of usualy "Banal" and/or Repetitive Cases, that ECHR's Secretariat usualy Choses to Not Present at all.

But, such an UnDeniably Important and Tragic Case, certainly Deserves a Better treatment than that...

Will ECHR's Great Chamber be given a Fair Chance to do so ?
-------------------------------
BRIEF NEWS
00:00 - 09.07.2018

00:00 - 31.05.2018

00:00 - 26.12.2017

00:00 - 26.05.2017

00:00 - 30.01.2017

00:00 - 14.10.2016

00:00 - 24.09.2016

00:00 - 27.07.2016

00:00 - 03.07.2016
Statistics
Посетителей: 29259678
Archive
Login Form
Other Menu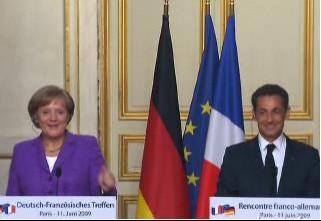 The official presentation of a "Program" respecting People's choices voted in the June 7, 2009 EU Elections, to be debated in EU Council and EU Parliament during its 1st Session on July in Strasbourg, is the No 1 Priority, according to Democratic principles, for the Franco-German axis, said the main winners at the ballot box, French President Nicolas Sarkozy and German Chancellor Angie Merkel.
They stressed  that the New EU Commission's President must have a "Program" in favor of an EU which "protects" its Citizens, regulates financial markets and aims at a "Political" Europe" : a wording they have used as incompatible with Turkey's controversial EU bid.
They also declared ready for a "political" endorsment of "Mr. Barroso's candidacy" in June's EU Council, considering that an official decision would have to be made after EU Parliament's debates and votes, possibly from next month (July), with the legally necessary final acceptance shortly after Lisbon Treaty's entry into force, hoped for September or October.

- "A Program, and Mr. Barroso" : This resumes, in substance, the anouncements made by Sarkozy and Merkel, on the question of current EU Commission's President, Barroso's declared wish to succeed to himself for a second mandate, to be extended during the following 5 years.

 In their 1st meeting after EU Elections, they observed that "the Franco-German axis counted in European Elections' campaign... But, we both keep a realistic view : We saw the number of those who abstained, and we must absolutely give them an answer. We also see the disilusionment of an important number of Europeans vis a vis Europe, and we are aware of the responsibilities we have".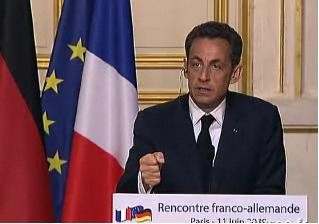 - The "Duty" of the new EU Commission's President, after June 7, 2009 EU Elections' result, "is to act for a Europe which protects the Europeans, to commit himself into working for a better Regulation of Financial transactions, ... and to have a Political will for Europe", underlined Sarkozy.

Therefore, "we have asked M. Barroso... to clarify, to officialy present the intentions he has", he anounced.

- "We want to speak also about the Programme", explained Merkel.

- "It's important that for the next EU Parliament's mandate (2009-2014) we take the right Decisions for Europe.  Obviously on Persons, but mainly Decisions on Issues", she stressed.

- "It's not simply a question of a Person, it's also a question of a Programme". We are "really asking Mr. Barroso to commit himself on a Program, and on Principles, on Values", Sarkozy added.

EU President-in-office, Czech Prime Minister Jan Fischer, accepted the Franco-German stance :

- "Barroso must present his Programme. The Czech Presidency agrees with that", Fischer reportedly said later, after meeting Sarkozy.

But Press reports from Brussels claimed that Barroso had preferred to be officially appointed by EU Council since June, (i.e. next week), "because this was implied by the current Treaty of Nice, according to him", and considered any delay until the possible ratification of the new, Lisbon Treaty on September/October, as "undemocratic".

- "At any case, independently of what Germany and France ask, it's also EU Parliament's wish". "We shall propose Mr Barroso's candidacy... But even in the framework of Nice Treaty, EU Parliament has to be associated in this Decision", the French President observed.

If this is correctly done, then "we support Mr. Barroso's candidature", and "if the (EU) Parliament agrees, we might ratify this decision since July", (i.e. next month), they both said.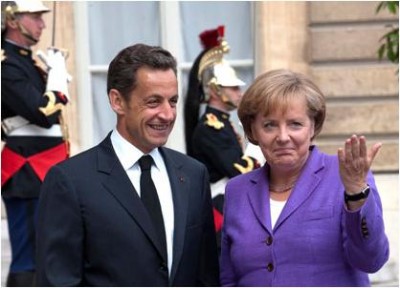 - "France and Germany support Baroso's candidacy, But we want to speak also on the Program. We believe that this Program should be established in close cooperation with EU Parliament, and that's why we have followed an appropriate way", said Merkel.  - If EU Parliament wants, this election can take place on July,  but this must be done in full agreement.
- "We shall support Mr. Barroso's candidacy, without doubt", said Sarkozy. "But we have asked from Mr. Barroso, as I told him yesterday, to put into detail.. his intentions, at the eve of his 2nd mandate, if the situation avails itself.

    France and Germany "don't want to take an Official Legal Decision by writting" during "the next (EU) Council" (on June 18-19), declared Sarkozy.  Because they prefer, at this stage, only "a Political decision" on June, "so that we (EU Council) can work together with EU Parliament", which starts to meet only Next Month, since July in Srasbourg, "leaving a Legal decision by writting for later".

    - "If the Conditions are fuillfiled in EU Parliament, we (EU Council) are ready to give the agreement and make it offficial", said Merkel

    - "But, now we are working in the base of Nice Treaty. If tommorow we want to work in the spirit of Lisbon Treaty, we have to find a proper way", she added.

    - "Of course it's Legally complicated, because we are going to make a Political proposal to the forthcoming Council, for an EU Commission's President, on the basis of Nice Treaty : So, we (EU Council) will not appoint the Commissioners. Only the President.  If EU Parliament agrees, it could endorse this position on July", explained Sarkozy.

    But, on Autumn, "if Ireland ratifies Lisbon Treaty, there will be, at any case, a 2nd Decision, to appoint the Commission's President, this time on the basis of Lisbon treaty, and then, we, the EU Member States, would have to appoint (also) the EU Commissioners", he added.

    As for the precise Timing :  - "Everything is suspended until the Irish vote... Now, we must all make everything possible to help Ireland to say "Yes"" to Lisbon Treaty... The Irish Referendum, ..will take place either on September or on October. It's a Question which depends on the Irish. And,  then, we shall have the Choice of the Candidates for the permanent Institutions of Europe".

    However, "if Ireland says No, we, French and Germans, have to assume our responsibilities, and we'll do so", he concluded.

    But British and Swedish governments were reportedly eager to have a final EU Council decision on Barroso since this month, on June's European Council. While the other EU Member Countries are divided, several of them preferring to wait until EU Parliament pronounces itself, on July, and/or until Lisbon Treaty might be ratified by Ireland at the beginning of the Autumn. Barroso's current mandate ends on November.

    There are also various, contradictory and/or unpredictable reactions inside EU Parliament vis a vis Barroso's wish to continue a 2nd mandate, because many MEPs are openly or secretly opposed, reluctant, or hesitating.

    In the biggest EU Countries, as France and Germany, EU Citizens voted on June 2009 EU Elections for a renovated, non-technocratic but Political Europe which cares for its Citizens, with an Identity, Values and Borders, declared incompatible with Turkey's controversial EU bid, by mainstream, pro-European Governing Parties. Similar choices were also supported in several other small or medium EU Countries.

    On the contrary, whenever, in other Countries, Governing and other mainstream Parties didn't make these choices or eluded them, EU Citizens massively voted for euro-Sceptics whenever they were the only ones to to promise anti-bureacratic change and oppose Turkey's demand to enter into the EU, (f.ex. in the UK, Netherlands, etc).

    It's seems to be an Open Question whether Sarkozy and Merkel's conditions will be really accepted by Barroso, who was appointed on 2004 in a different political context, (with Socialist Prime Ministers in Germany, France, etc), had rejected in the Past the idea of EU becoming "equal to the USA" as "ridiculous", and pushed for Turkey's contoversial EU bid, trying to "soften" or contain the changes desired by the People who voted for Merkel and Sarkozy with another policy vis a vis Turkey on 2005 in Germany and on 2007 in France, as they did all over Europe on 2009.

    In addition to many EPP Governments, it's 3 remaining Socialist Prime Ministers : Gordon Brown in the UK, Zapatero in Spain, and Socrates in Prortugal, who support Barroso, as well as Liberal Swedish Prime Minister Reinfeldt. But their Parties lost the June 2009 EU Elections.

    Questioned whether there was still "Time" for "other" possible "Candidates", Sarkozy and Merkel did not deny, nor made any comment on that, but simply said that "it's not for us to make publicity for any candidates. We anounced our choice ("A Program, and Mr. Barroso"). But we respect any other candidate".

    Among various other names cited are former Belgian Prime Minister Verhofstadt, former UNO's Human Rights Commissioner Mary Robinson of Ireland, Italian former EU Commission's vice-President Monti, etc. Meanwhile, Luxembourg's PM Juncker, (who had been unanimously accepted by EU Council for EU Commission's Presidency on 2004, but refused), announced his intention to resign from "EuroGroup"'s Chair. Thus, he might be available for another Top EU job.

    As "EuroFora"'s "opinion" said (See publication dated 9/6/09) : - "If the current candidates (i.e. Barroso, etc) to the Top EU jobs promise and guarantee to respect People's democratic choices, then, it's OK".

"Otherwise, Europe must find new candidates, really motivated and able to implement these democratic choices of the People."

    Because, "in Democracy, the forthcoming choices for EU's Top Jobs,...should be made according to EU Citizens' Votes in June 7, 2009 European Elections, and main EU Governments' strategic policies".
        

***

Polls